California is built for road trips. We've got 163,000 square miles of mountains, desert, redwood forest, beaches and pastoral landscapes. And while driving the Pacific Coast Highway or doing a lap of Yosemite, Kings Canyon and Sequoia National Parks are popular (more on them below), there are a whole lot of other backroads and coastal drives that await you.
So, we've compiled our favorite baker's dozen of California road trip itineraries. These CA road trip ideas cover the whole state, north, south, east and west and all of them promise stunning landscapes and epic adventures.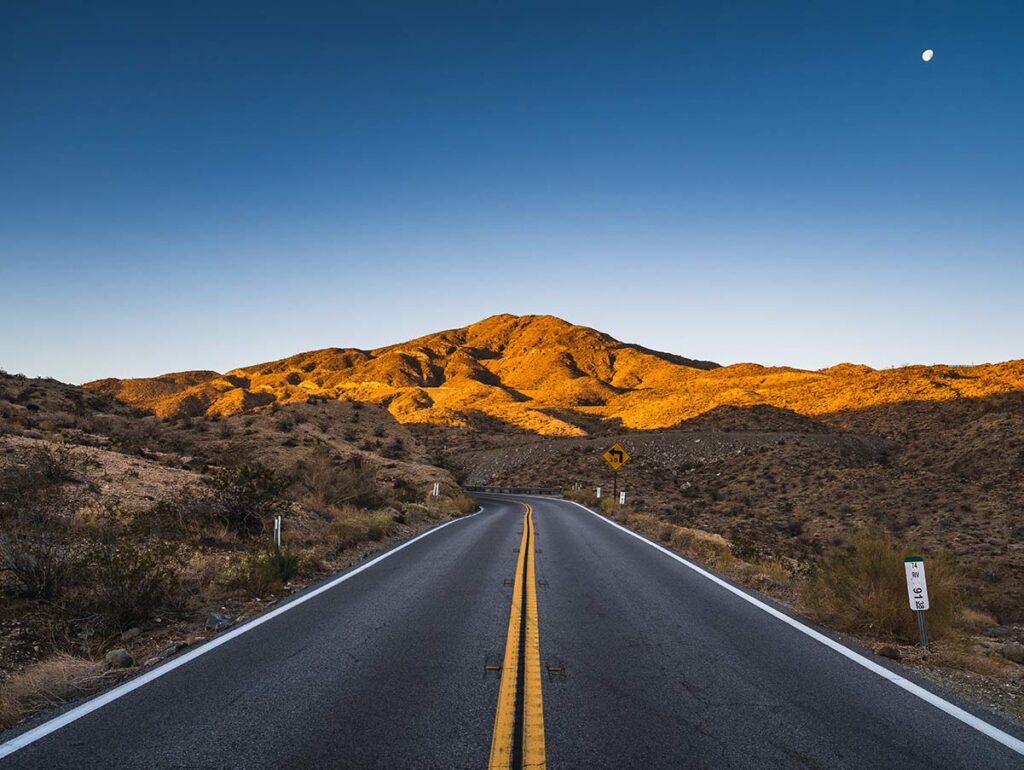 (This article contains affiliate links. This means that if you choose to purchase, I'll make a small commission.)
Our 13 Fave California Road Trip Itineraries
This CA road trip planner has a lot of detail. Each itinerary has mileage info and suggested number of days along with a rough idea of which roads to take. We're also suggesting some itinerary highlights, when to go and some top stays along the way.
We think you should read the whole thing, so that you can get itinerary ideas for multiple trips. But if you're in a hurry, please use the table of contents to skip around to the areas which most peak your interest.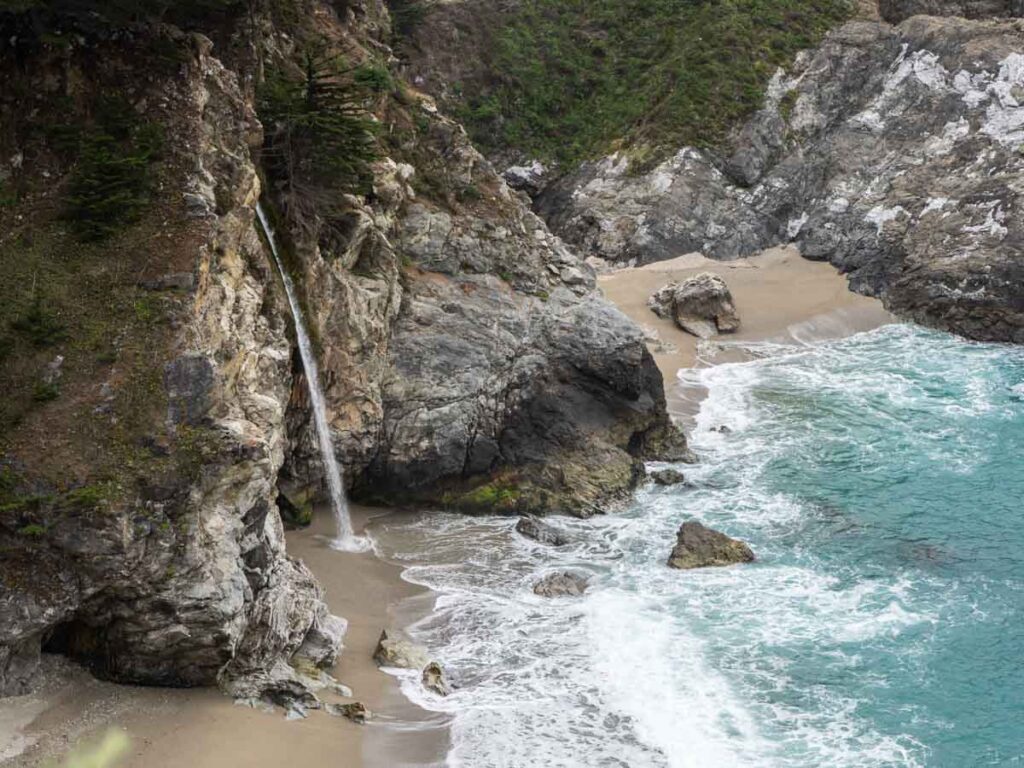 Pacific Coast Highway: SF to LA
Start: San Francisco
End: Los Angeles (you can do the reverse, but pullouts are easier to do north-to-south.)
Miles: 460
# of Days: 3-6
Route: Highway 1 all the way down
The Pacific Coast Highway is America's classic road trip and hand's down the most popular California road trip itinerary. It actually runs the full length of California from the Oregon Border to San Diego. And we cover more sections of it in the North Coast and South Coast road trips below.
But the section from SF to LA is a fave Cali road trip for the sheer jaw-dropping scenery. If you need some convincing, check out our advice on why we think Big Sur is so worth it.
Just go ahead and bookmark our SF to LA PCH itinerary. It's a 5-7 day slow roll down the coast which is optimized for epic coastal views, marine life, wine tasting and fun beaches.
On the northern section of the drive, key stops include whale watching in Monterey Bay, the Monterey Bay Aquarium, and the 17-mile drive through Carmel.
Once you hit Big Sur, our favorite stops include the Point Lobos State Park, Garrapata Beach, redwoods in Pfeiffer Big Sur State Park, McWay Falls, Pfeiffer Beach (purple sand!), Sand Dollar Beach, the Piedras Blancas lighthouse, Hearst Castle and elephant seals at Ragged Point.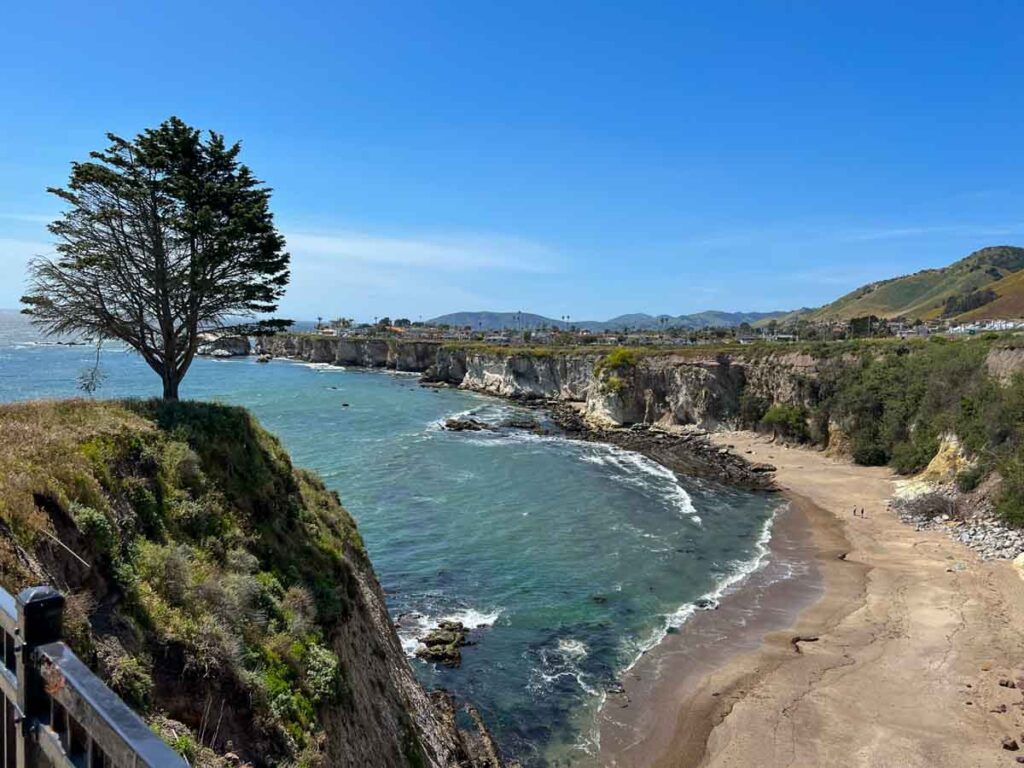 After Cambria, you can head inland for wine tasting in Paso Robles or stay on the coast road. You can visit quirky Harmony town, do some fun hikes and eat cookies in Cayucos, or take on some activities in Pismo Beach, like visiting Pismo's best beaches or doing some Edna Valley wine tasting.
In the southern section of the hike, you can visit the quirky Solvang Danish town, do yet more wine tasting in Los Olivos and swing into Santa Barbara to visit the mission and art galleries. Then it's a long roll down Highway 1 past some of Northern LA County's prettiest beaches.
When to Do the PCH
Summer is the busiest time to visit Big Sur. And winter is very tricky because winter storms often close Highway 1 through Big Sur. We favor April/May or September-November for the finer weather and slower pace.
Notable Places to Stay on the PCH
The Hyatt Carmel Highlands is a 5-star splurge with killer views. For something more low-key amidst the redwoods, you can also rent glamping cabins in Big Sur. Get an ocean view (with free sunsets!) at the Vespera Marriott in Pismo Beach.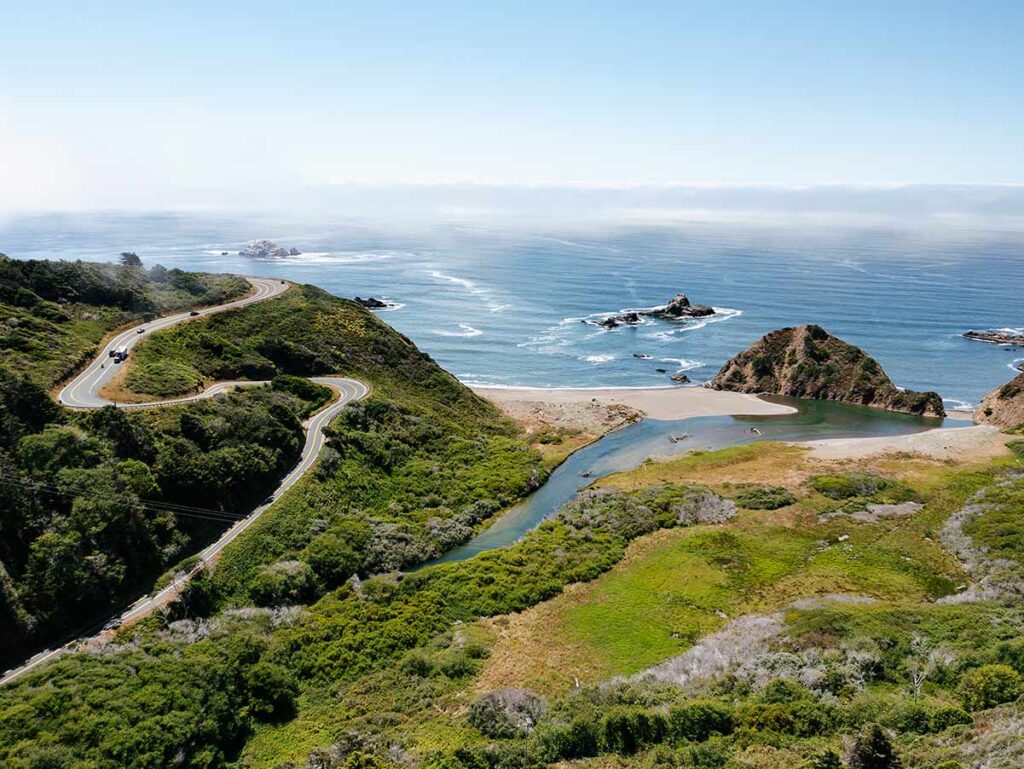 Pacific Coast Highway: North Coast
Start: San Francisco
End: Leggett
Miles: 210
# of Days: 3-5
Route: Highway 1 all the way up
This northern section of the PCH is less popular than the Central California section, but it's notable for its rugged coastline, Tule elk, some of our favorite northern California coastal towns. And if you're thirsty, there's no shortage of wine tasting throughout this region.
On the southern end of this road trip, notable stops include Muir Woods (reservations in advance are required), the Marin Headlands and dog-friendly Stinson Beach (one of our favorite CA hippie towns.)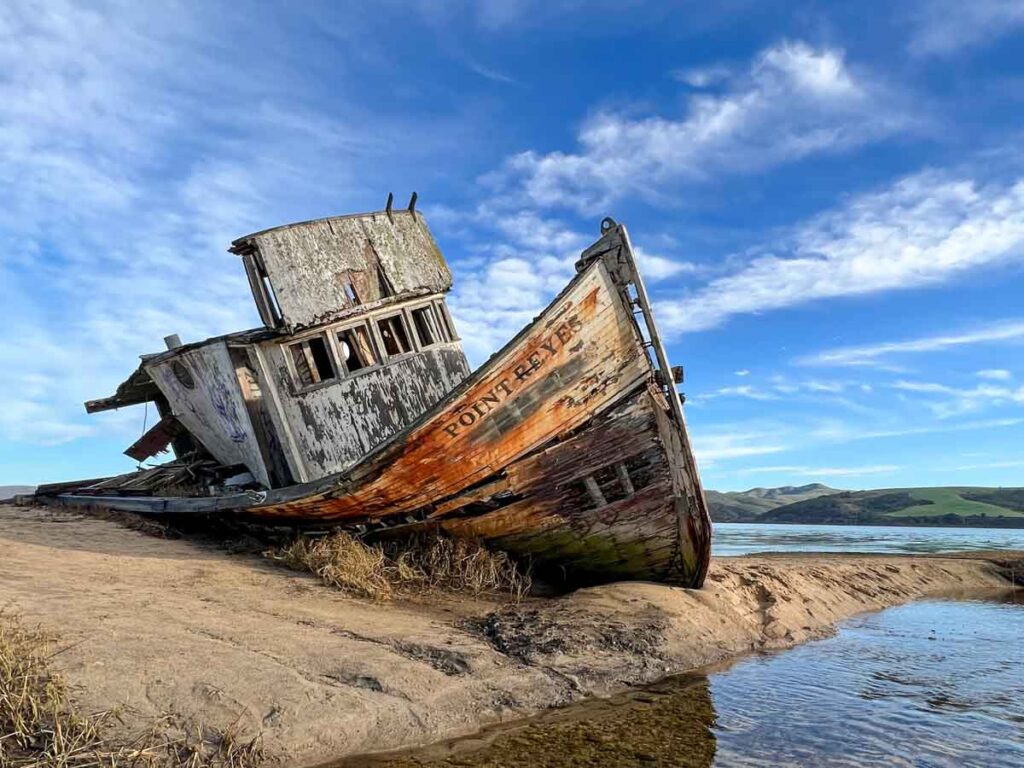 In the mid section, Point Reyes National Seashore is worth at least a full day, with tons of hikes, Tule elk, elephant seals and the lovely cypress tunnel. There are also wine and cheese tasting rooms nearby. Cute Bodega Bay is worth a stop, as are the Sonoma Coast, Fort Ross and Salt Point State Parks.
There's also a ton to do in and around Fort Bragg and Mendocino. Detour onto Highway 128 to visit the Anderson Valley vineyards and take a stroll through the Hendy Woods redwood groves. You can also find coast redwoods and a fern grove in Van Damme State Park, killer sunsets on the Mendocino Headlands, a quiet cove at Jug Handle beach and the skunk trail and rail bikes in Fort Bragg.
We are (arbitrarily) ending this routing in Leggett on Highway 101, but you can combine this California road trip plan with the one for the North Coast redwoods and do both as a loop.
When to Do the North Coast
This part of California receives a ton of rain between December and March. Any other months are fine and April/May and Sept/Oct are quieter times to go.
Notable Places to Stay on the North Coast
The Palace Hotel in SF is one of the city's oldest and it offers afternoon tea in their stunning atrium lobby. For some oceanfront bathing, the Seamist cottage in Bodega Bay has an ocean front hot tup and the North Cliff hotel in Fort Bragg has ocean view bathtubs with a fireplace.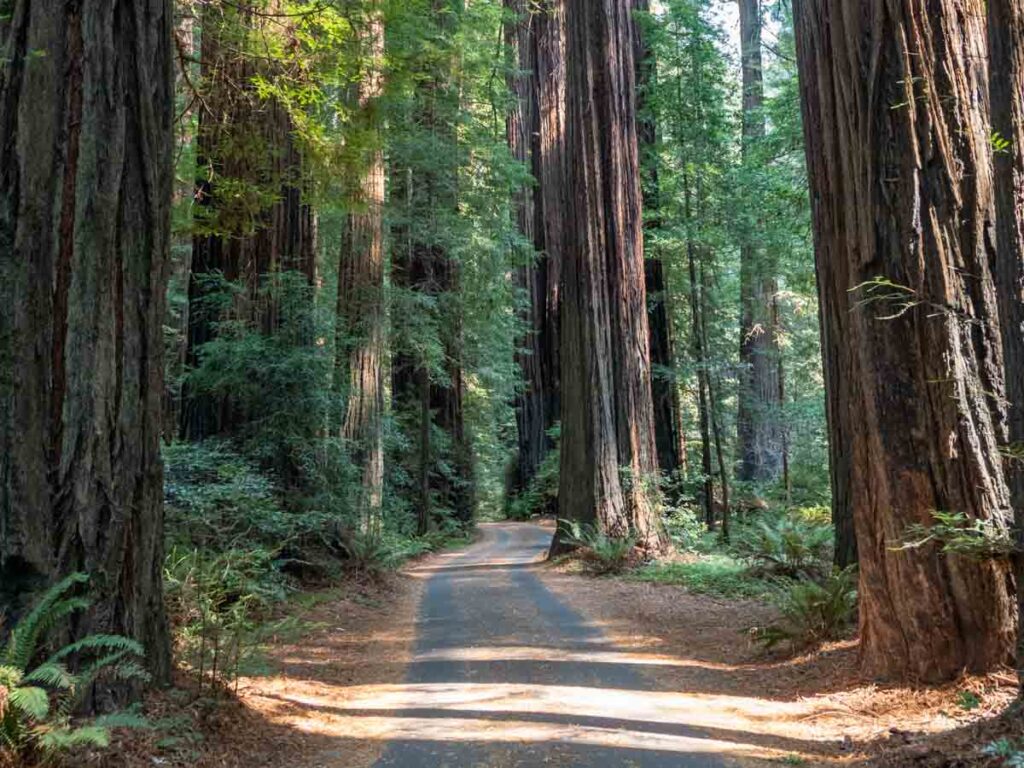 North Coast Redwoods
Start: San Francisco
End: Crescent City
Miles: 355
# of Days: 4-7 days
Route: Highway 101/Highway 1 all the way up
This is one of our favorite California road trip itineraries for all of the forest bathing opportunities. California's North Coast Redwoods can easily be done as a loop in conjunction with the coastal route just above. Or, if you are keen for some serious me-time in the trees, you can just focus on this particular itinerary.
This road trip covers 13 state parks, one national park and some whacky roadside attractions…all focused on Coast Redwoods. We have a very thorough redwoods road trip itinerary with a full FAQ, map and trip planning ideas.
But here are some of our favorite highlights: The Avenue of the Giants scenic drive in Humboldt Redwoods State Park, the scenic Drury parkway drive in Prairie Redwoods State Park, the Roosevelt Elk in Prairie Redwoods, the wacky Trees of Mystery, the Lady Bird Johnson grove in Redwoods National park, and the groves and Boy Scout hike in Jedediah Smith Redwoods State Park.
Phew, that's a lot of trees!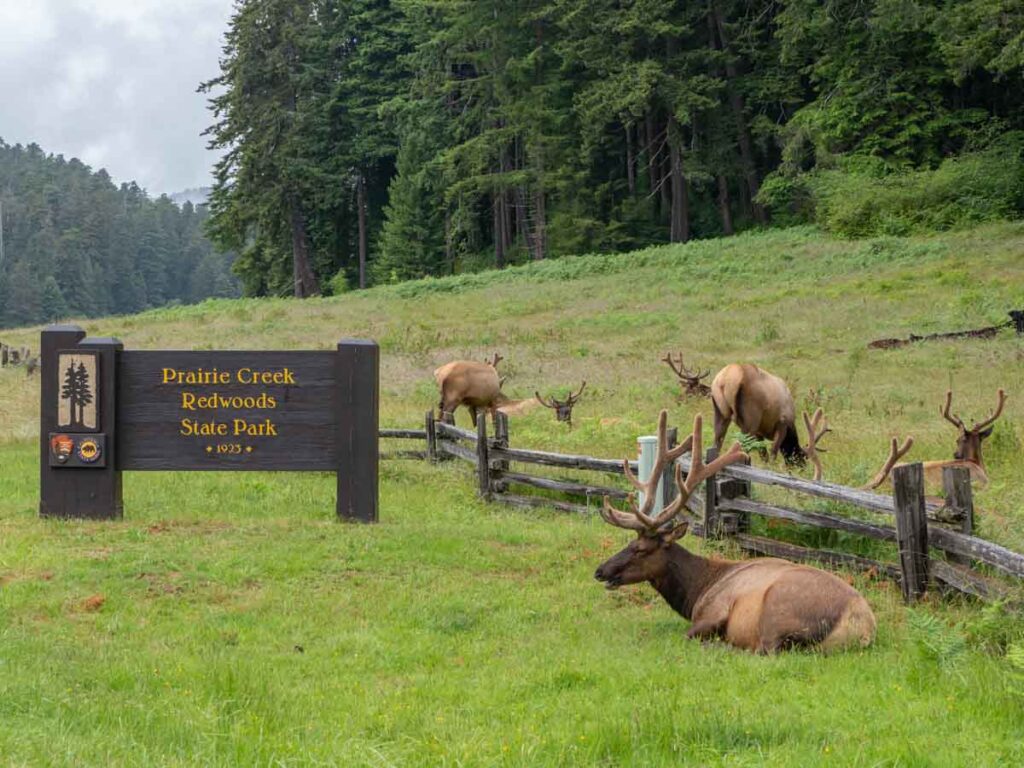 When to Do the North Coast Redwoods
This part of California receives a ton of rain between December and March. Any other months are fine and April/May and Sept/Oct are quieter times to go.
Notable Places to Stay in the Redwoods
There aren't a lot of fancy hotels in this part of California. You'll want to look for cozy inns and places that give you forest or ocean views. You can go glamping in the woods near Trinidad, or at the Mendocino Grove, or lodge at the Lighthouse Inn in Crescent City is near Jedediah Smith and close to downtown restaurants and the actual lighthouse.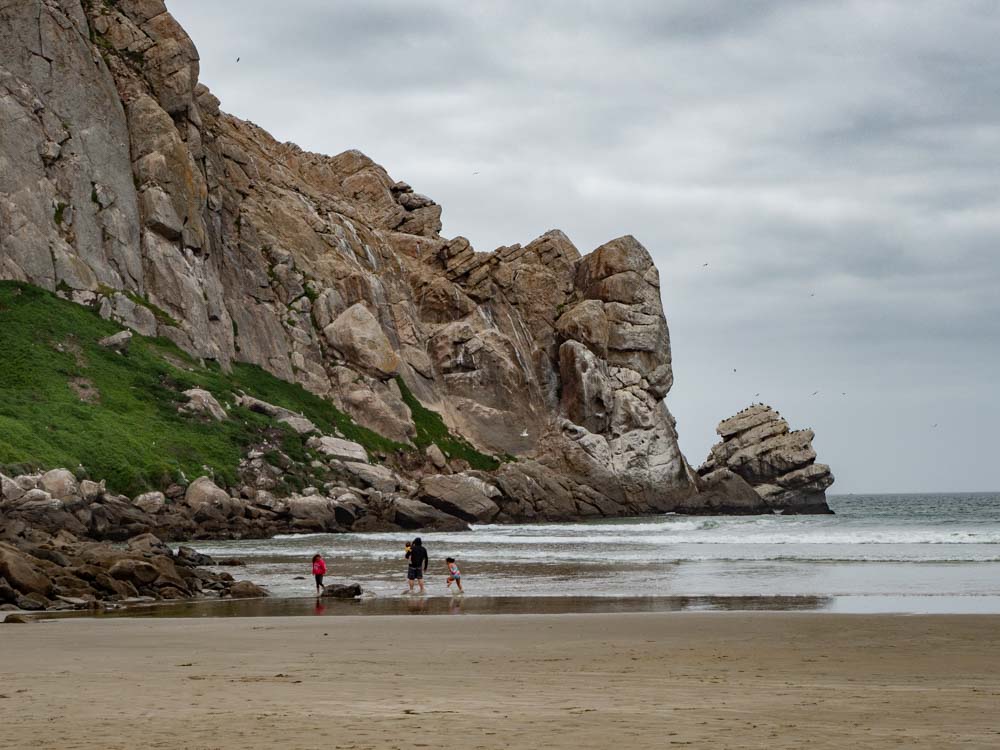 The Central Coast Loop
Loop: Between Monterey and Santa Barbara
Getting There: ~2 hours from LA to Santa Barbara or SF to Monterey
Miles: 506
#of Days: 3-5
Route: Highway 1, Highway 101, Highway 33
Many folks just drive down Highway 1 through Big Sur, which is certainly worth the views and the beaches. But there are some really great things to see and do on the Central Coast's interior.
This itinerary goes down (or up) the coast and then laps back, taking some little known scenic roads. This whole region has a chill vibe and you can use that to set a leisurely pace for your road trip.
Drive…stop at a beach…drive…stop for a walk…drive…have a long lunch…drive…do a wine tasting…wash rinse repeat.
All of the key stops that we noted on the PCH itinerary above are still relevant. But some of our favorite interior stops include: wine and olive oil tasting in Paso Robles, the San Luis Obisbo Mission, eating danish in Solvang, and the Carrizo Plain National Monument (if the spring flowers are blooming).
We also recommend taking a winding scenic drive through Los Padres National Forest. It goes from Ventacopa to Ojai on Highway 33. And for that matter, it's really fun to wander around the wine country backroads in Paso Robles and Los Olivos. Even if you aren't into wine, the countryside is really beautiful.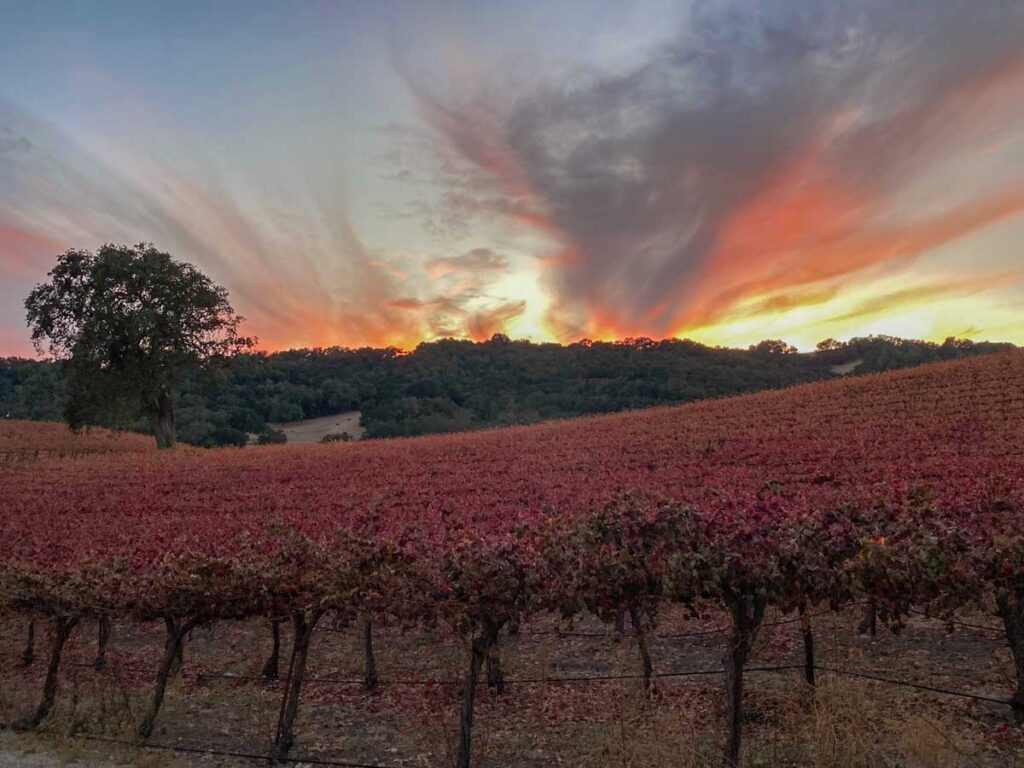 When to Do the Central Coast Loop
This route is really fun in the summer, after the June gloom fog clears. The Carizzo Plain often blooms in early April. And there are fall wine harvest festivals, which is a great time to visit Pismo Beach.
Notable Places to Stay in on the Central Coast
There's the completely over the top Madonna Inn in San Luis Obispo, the Ojai Valley Inn (with spa!), and yet more glamping tents and trailers at the Flying Flag in Buellton (near Solvang).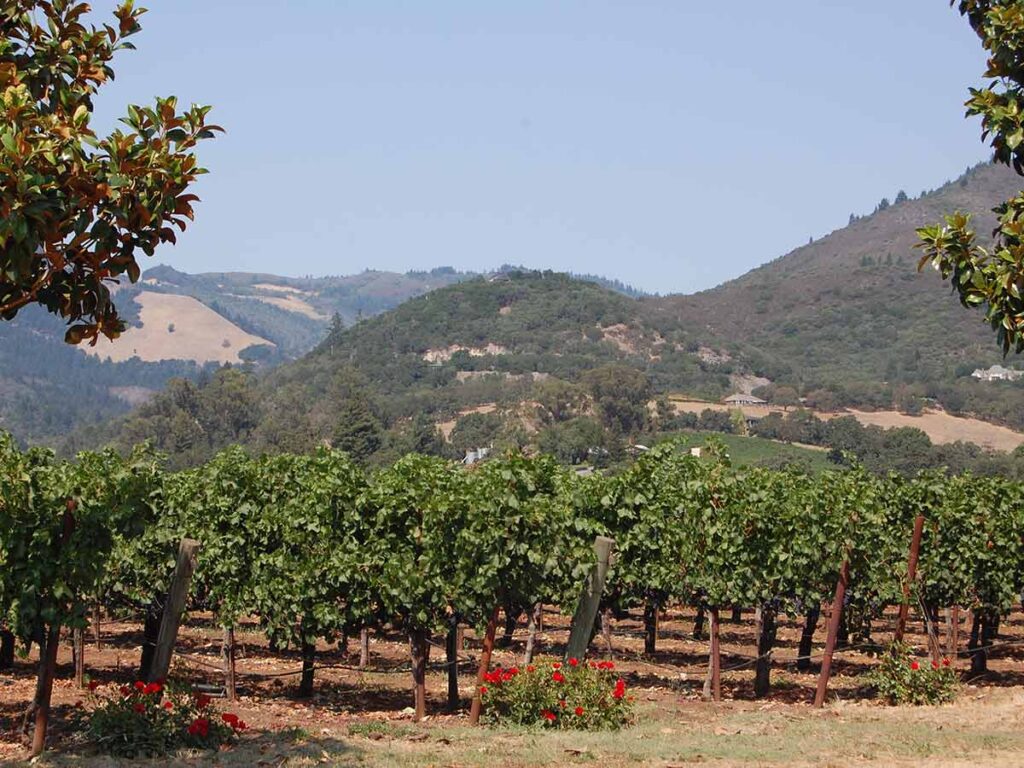 Napa/Sonoma Wine Country Drive
Start/End: Loop from San Francisco
Miles: 213
# of Days: 3-4
Route: Highway 101, Highway 29, Highway 128, Highway 116
Many people just go to either Napa or Sonoma and hang out in one spot for wine tasting. But it's worth extending your wine country stay and doing a wider loop because you'll find lovely country drives, state parks, fine cheeses and fun on the water.
This wine country drive is a loop which starts in SF, goes up Napa Valley and down through Healdsburg, with a side trip to Guerneville before heading down Sonoma Valley. If you want to go wine tasting, especially on a weekend, it's best to get reservations in advance.
In Napa Valley, start by taking a wander around Napa's downtown shopping and art district. The Oakville Grocery is a great place to pick up picnic provisions and you can do a mud bath in Calistoga. From there, branch off of Highway 128 and take the slow road to the Petrified Forest and Safari West, before heading into Healdsburg.
Healdsburg has a really cute downtown with galleries, boutiques and a great indy bookstore. Heading southwest on Westside road will take you along the Russian River and past the Armstrong Woods State Park (redwoods!) to quirky Guerneville. If it's summer you can do a lazy river float along the Russian River, or take a cedar bath at the Osmosis Day Spa. Then head south to groovy Sebastopol where there are three dairy tasting rooms from the California Cheese Trail, Finally, heading back east, taking Highway 12 down Sonoma Valley.
Take a hike in the Trione Anondel State Park or visit the Jack London State Historic Park, then taste some yummy private label Jack London wine at the Kenwood Winery. Sonoma has the well-preserved Sonoma Mission, a chill downtown square and a couple more cheese stops.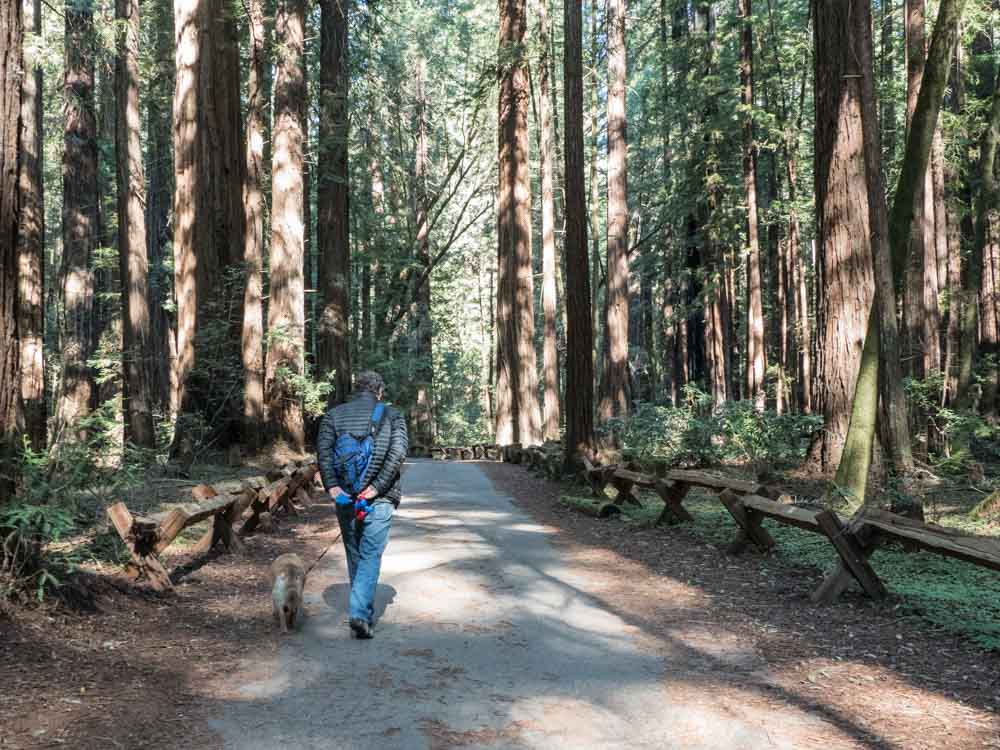 When to Do the Napa/Sonoma Drive
This region gets a lot of rain in the winter. Which is not to say that you can't visit during that time, but pay attention to the forecast. The fall is a fun time because of the wine harvest festivals. Any weekend from May to September is going to be very busy, so book ahead.
Notable Places to Stay in Napa/Sonoma
Go for some Buddhist vibes at Bann in Oak Knoll, Dr. Wilkinson's spa is a quirky boutique motel with mud baths, Autocamp Russian River has the full glamping experience with luxury tents and Airstreams, or a historic ranch stay at the Beltane in Glen Ellen.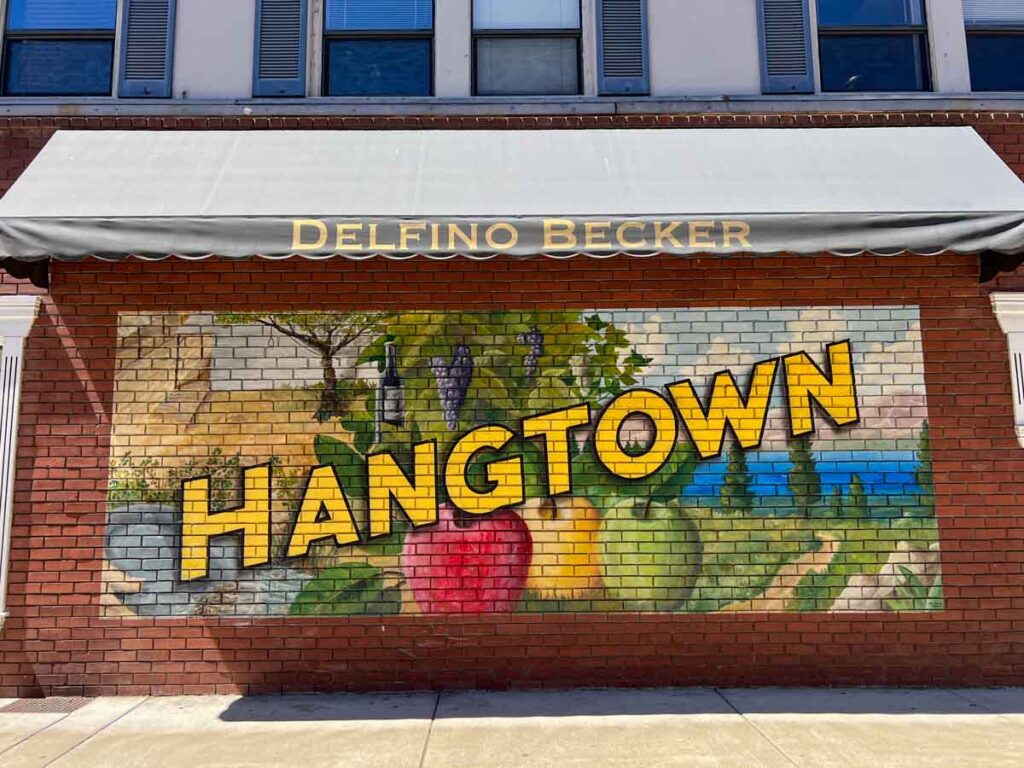 Highway 49 Gold Country Route
Start: Mariposa
End: Nevada City
Miles: 186
# of Days: 2-4
Route: Highway 49 all the way up
By most measures, California's economy is one of the largest in the world. And it all started when, in 1849, gold was found in them thar hills. This historic Highway 49 route, also known as the Golden Chain Highway, takes in some of California's well-preserved gold rush history and it has a lot of fun activities for kids and history buffs.
The key on this itinerary is to take it slow and take advantage of the many historic markers and tiny little towns along the route. Start in Mariposa, which is also the western gateway to Yosemite National park. It also has a historic park with gold rush exhibits and one of the oldest (and loveliest) county courthouses in the state.
There's another small county museum in Coulter and a nice vista along the Don Pedro reservoir. If you're keen on covered bridges, you can take a detour to Knights Ferry. Otherwise continue to Jamestown for the Railtown 1897 State Historic Park, and then through Sonora to the Columbia State Park. It's an oldey timey gold rush town and living museum.
Take a side trip up Highway 4 to Calaveras Big Trees State Park for some Giant Sequoia trees. Then north to Indian Grinding Rock State Park and then the adorbs little town of Sutter Creek. If you are into wine, there are a lot of places to stop in the stretch between Sutter Creek and Placerville.
North of Placerville, you'll find the Gold Bug Park and Mine and Sutter's Mill, which is where gold was initially found. You'll find the Empire Mine State Park near Grass Valley along with a cute historic downtown in Nevada City, before ending the trip at Malakoff Diggins State Park.
If you have extra time, stay on Highway 49 and then take the Gold Lake Highway scenic byway to Highway 395.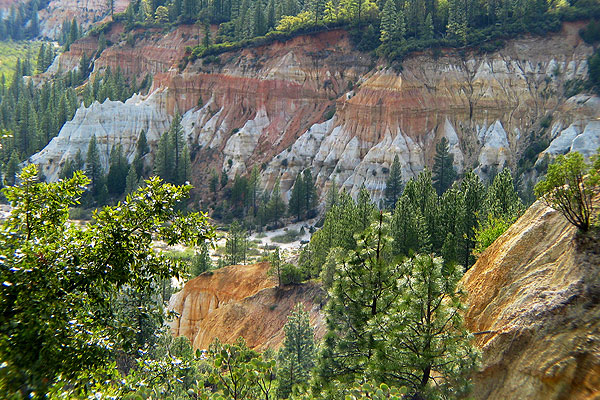 When to Do the Gold Country
Unless there have been heavy winter storms, you can do this drive any time of year. Although expect to find cold winter temps in some of the state parks and Nevada City.
Notable Places to Stay in Gold Country
Bed, breakfast and wine at the Hanford Inn in Sutter Creek. The National Exchange Hotel was built in the throes of the gold rush and it occupies a sweet spot in downtown Nevada City. Or you can go glamping at the Autocamp Midpines, which is just 5 miles from Mariposa.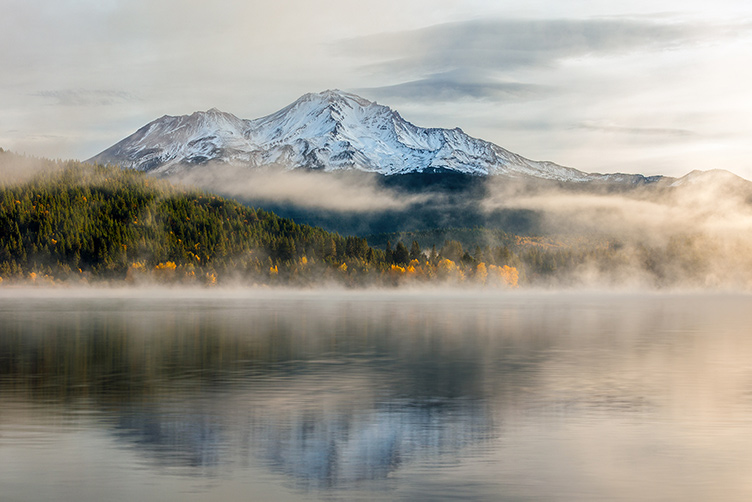 The Lassen/Shasta Volcanic Legacy Highway
Start: Mount Shasta
End: Lassen National Park
Miles: 93
# of Days: 2-4
Route: Highway 89
The official Volcanic Legacy Scenic Highway actually starts at Crater Lake and the full drive is 500 miles. But this alternative routing is shorter and takes in the best bits of the California section. On this drive, you get a lovely mix of volcanic geology, waterfalls and charming historic communities.
This part of northern California is not nearly as popular as places like Lake Tahoe or the PCH, so you can enjoy a relaxed pace and a strong dose of outdoorsy vibe with this itinerary.
Key stops include historic Dunsmuir, Weaverville Joss House State Park, Shasta State Historic Park, Burney Falls, Bumpass Hell hydrothermal pool, Devastated Area interpretive trail and Lake Almador.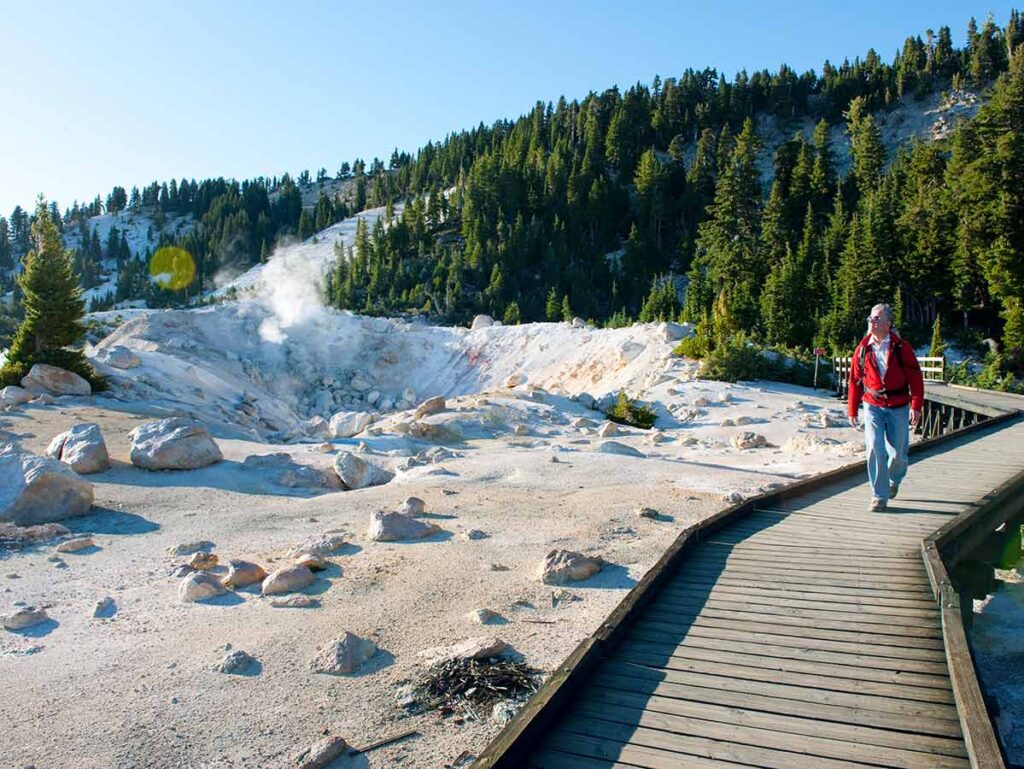 When to Do the Lassen/Shasta Drive
Late May through late October. The waterfalls are best in spring, but the main road through Lassen is closed in the winter.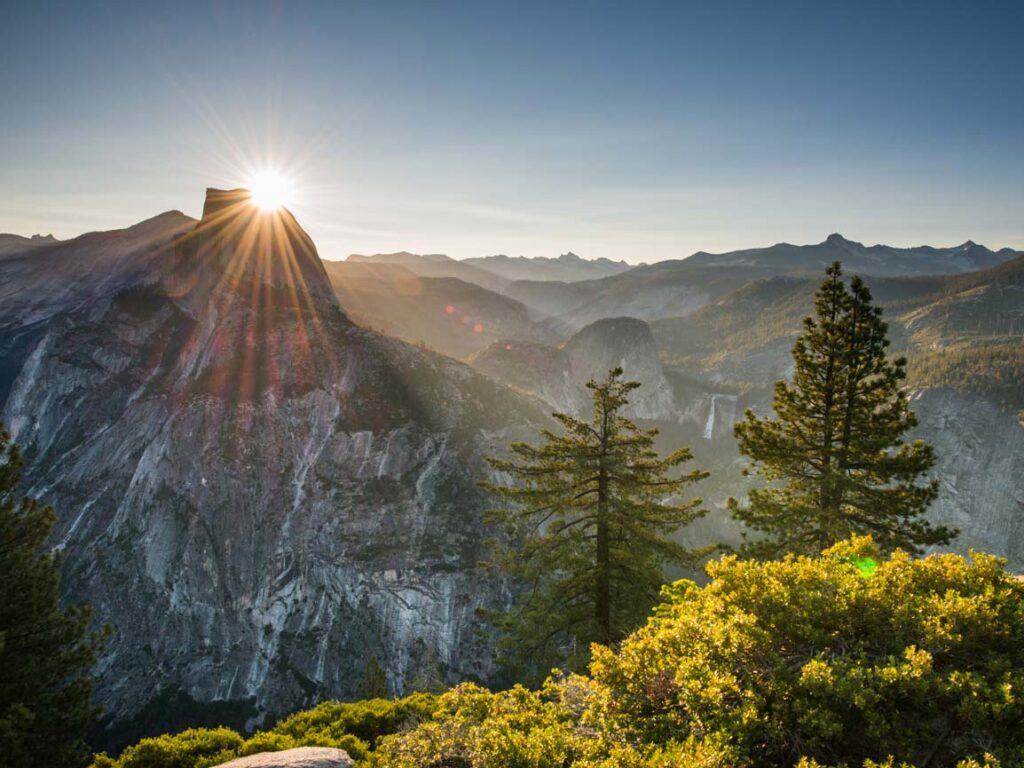 National Park Trifecta: Yosemite, King's Canyon and Sequoia National Parks
Start: Three Rivers
End: Groveland
Miles: 276
# of Days: 4-6
Route: Generals Highway, Highway 180, Highway 41, Highway 120
This California road trip itinerary is optimized for sheer awe inspiring nature.
Sequoia National Park is famous for their giant Sequoia trees and Kings Canyon has conifer forest and the deepest canyon in North America. There's a scenic route connecting the two parks. The Generals Highway covers the best-of Sequoia National Park and Highway 180 covers the best-of Kings Canyon, including the Giant Forest, Grant Grove, and trails to Mist Falls and Zumwalt Meadow.
Yosemite is California's most popular national park, and for good reason. It presents the best of the Sierra Nevada mountain range with pine forests, giant Sequoia groves and soaring granite peaks.
Valley highlights include the Mariposa grove, Glacier Point overlook, Vernal Falls, Mirror Lake loop, and Yosemite falls. In the upper reaches, there's the scenic drive over Tioga pass, tons of hikes and the Merced grove. Consider cribbing part of this SF to Yosemite itinerary if you're also keen to add on some Gold Country.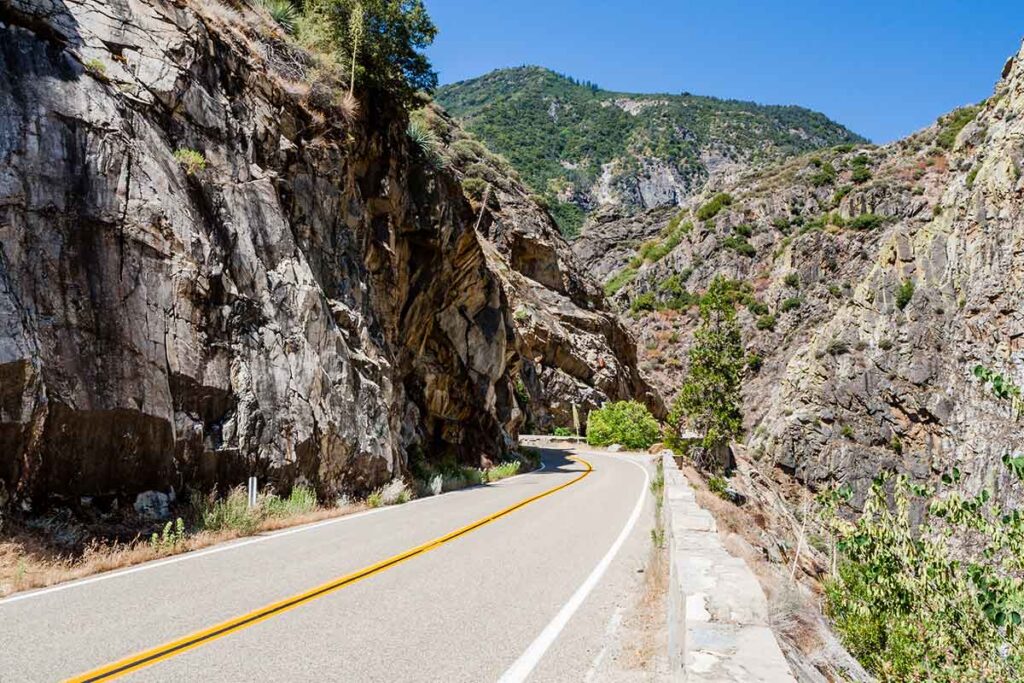 When to Do the National Park Trifecta
Mid-spring through late fall is best. The parks are open throughout the year, but Tioga Pass and the higher elevations will be closed for snow. You can do Yosemite Valley in the winter, but keep an eye on the National Parks site for closures.
Notable Places to Stay on the Trifecta
The Ahwahnee is Yosemite's historic inn and it has great views and lovely architecture. They Tenaya Lodge is located in the southern section of Yosemite, offering free park entrance and amenities for the kids. And Autocamp in Midpines is a cool glamping option near-ish to Yosemite Valley.
However you stay, even if it's a modest motel, book early for these parks.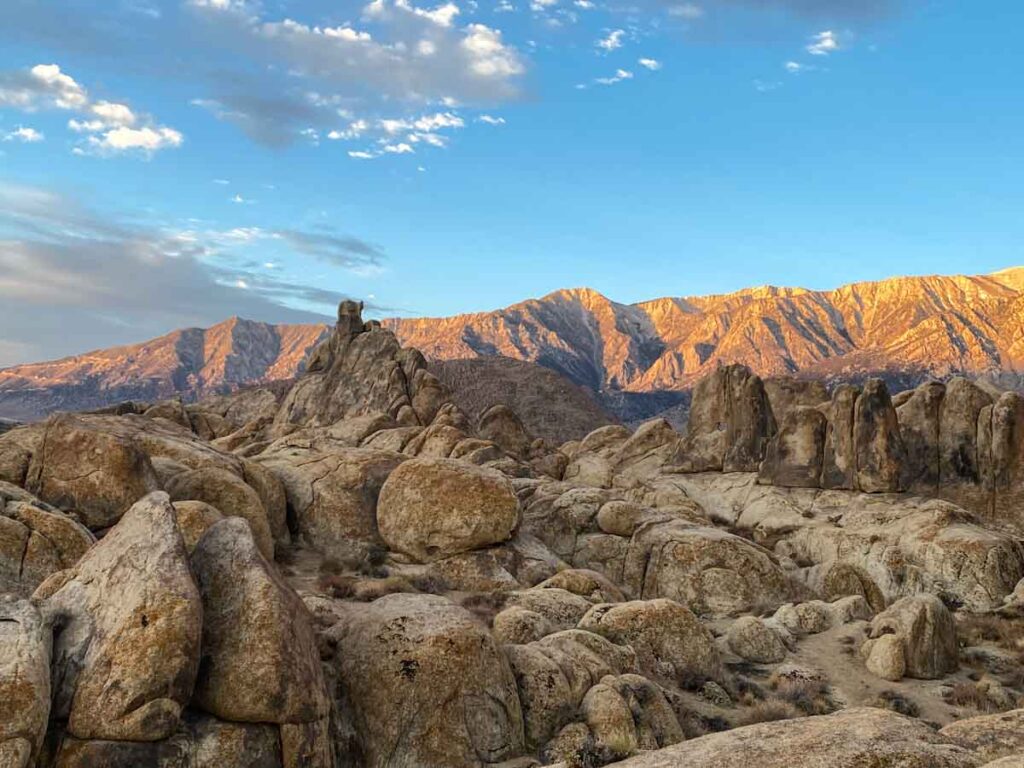 Highway 395 Eastern Sierra Drive
Start: Bridgeport
End: Lone Pine
Miles: 147
# of Days: 4-6 days
Route: Highway 395
The Eastern Sierra doesn't get as much love as the Western Sierra (and Yosemite), but there's a lot there for people who like crazy geology, hot springs, ghost towns and sparsely populated forests.
This drive is a straight down (or up) Highway 395 and can easily be combined with a visit to Lake Tahoe, the higher elevations of Yosemite National Park or Death Valley. We've got a full 5 day Eastern Sierra itinerary along with detailed stay and play guides for both Bishop and Lone Pine.
Some highlights on this itinerary include: Mono Lake and its moonscape, Bodie Ghost Town State Historic Site, the June Lake Loop, Mammoth Lakes, the Devil's Postpile National Monument, Convict Lake, Hot Creek Geologic site, the Laws Railroad Museum, Manazar National Historic site, and the Alabama Hills.
And if that isn't enough for you, there are about 2 million acres of National Forest lands which feature alpine lakes, scenic canyon drives and more hiking and fishing than you'll ever have time for.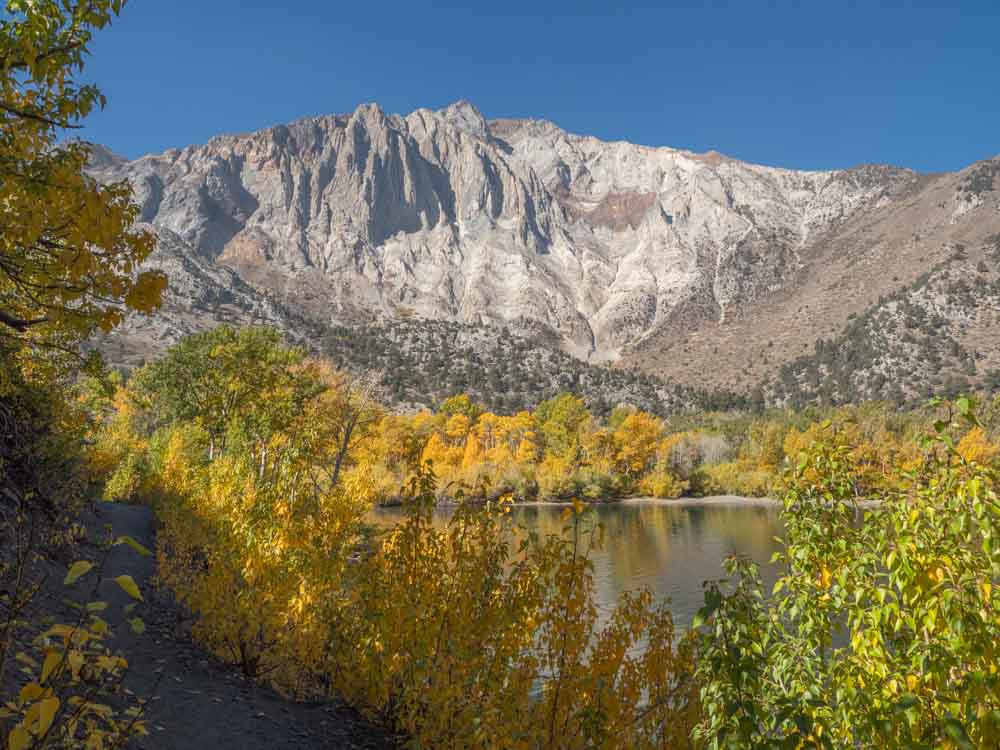 When to Do the Highway 395 Drive
Unless you are a skier, winter is not a great time as many of the forest areas and Tioga Pass (via Yosemite) will be closed. Summer is a great time to visit, but it will be hot in the southern end. This is one of our favorite California road trip itineraries for October because the fall color is unbelievable.
Notable Places to Stay in the Eastern Sierra
Just for grins, you can rend a covered wagon at the Virginia Creek Settlement motel. And if you want to pick a central spot for your base, there are tons of condo rentals in Mammoth Lakes.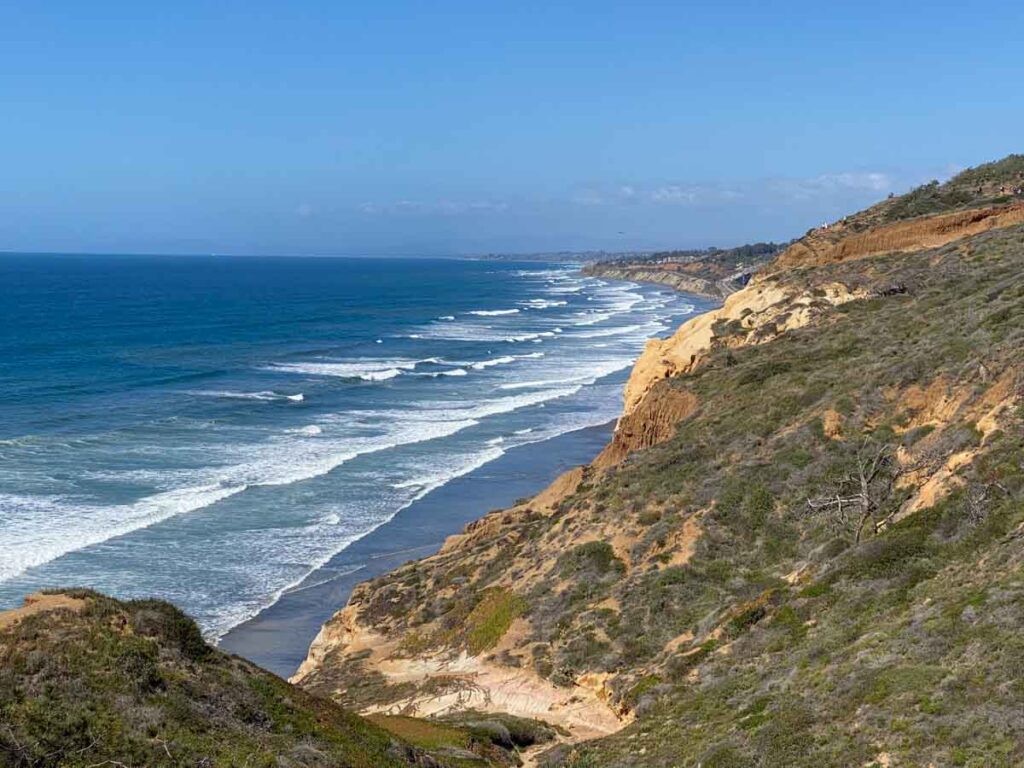 South Coast Beaches: LA to San Diego
Start/End: Los Angeles or San Diego
# of Days: 2-4
Miles: 120
Route: Highway 1, I-5, Coast Highway/El Camino Real
Forget Disneyland, the San Diego Zoo and the California Missions. This SoCal road trip itinerary is all about the shoreline. And there's 120 sweet, sweet miles of it between the Los Angeles and San Diego airports.
For this road trip, be sure to override the Google mapping instructions. It will always steer you on the large freeways and this itinerary is best done on the Pacific Coast Highway (Highway 1) and the slower surface roads.
Key stops in greater LA include: Manhattan Beach (stroll or bike The Strand), Huntington Beach (10 miles of uninterrupted sand), Newport Beach (electric Duffy Boat rentals), Catalina Island (old school beach resort) and Laguna Beach (Crystal Cove State Park), and Dana Point (whale watching).
Key stops in greater San Diego include: Carlsbad (spring ranunculus flowers), Encinitas (Moonlight Beach), Solana Beach (San Elijo Lagoon), Torrey Pines State Reserve, and La Jolla (sea lions and tide-pooling).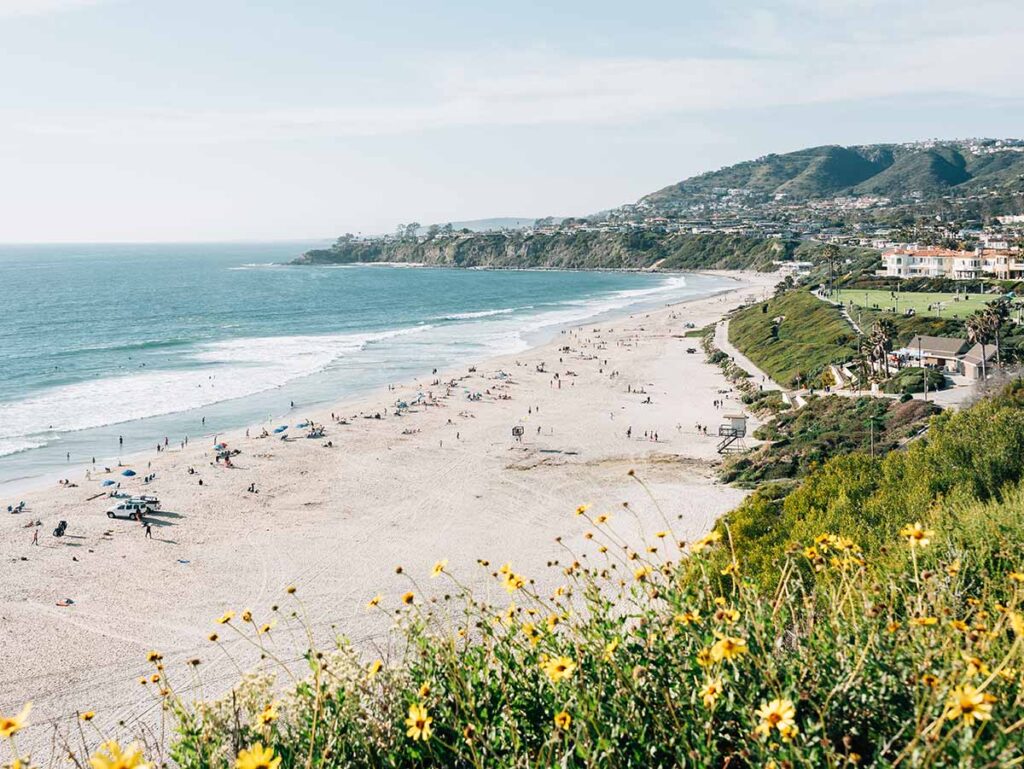 When to Do the South Coast Beaches
Try to avoid the May/June gloom season. Otherwise, go for it!
Notable Places to Stay in on the South Coast
Laguna Beach House, is a unique surf-themed ocean-front stay. The Hotel del Coronado is an old-school 130 year-old luxury resort hotel with historic architectural features and a prime spot on the beach. The Sea Bird is an oceanfront hotel in Oceanside, with a spa!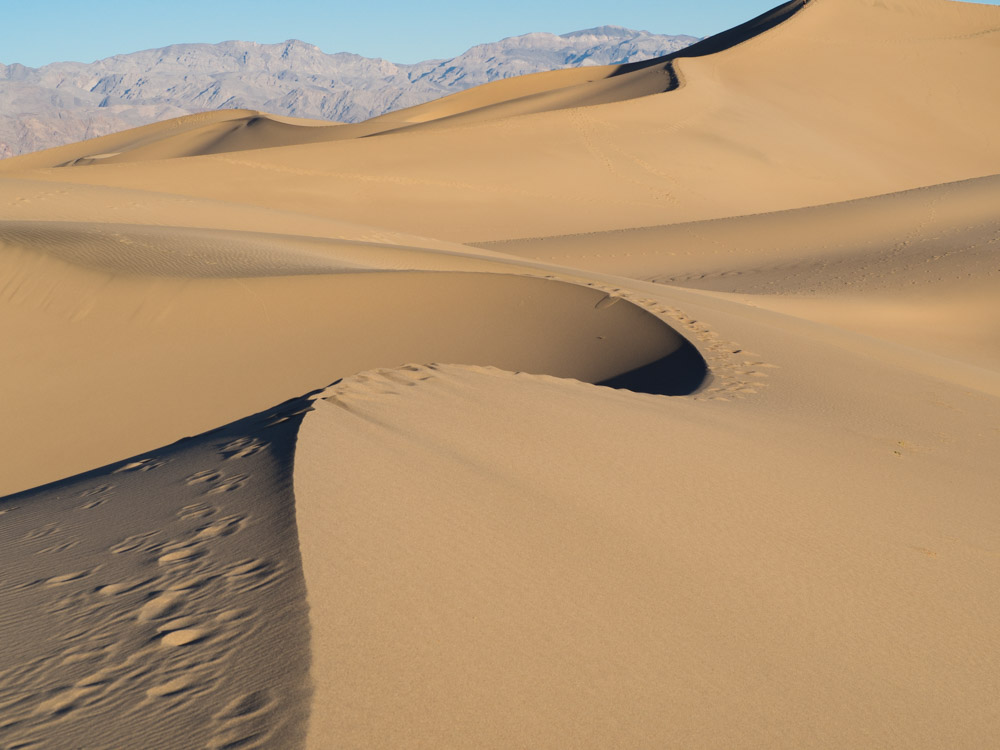 California Deserts Loop: San Diego to Death Valley
Start/End: San Diego
Miles: 822
# of Days: 7-8
Route: San Diego, Julian, Salton Sea/Bombay Beach, Palm Springs, Joshua Tree National Park, Kelso Dunes, Death Valley National Park, Ballarat, San Diego
This is one of the best winter California road trip itineraries for its vast open landscape. The southeastern California deserts include both the Sonoran and Mohave deserts. And what to some people is a whole lot of brown, to us is a surprisingly diverse ecosystem with a lot of subtle beauty.
And this lap from San Diego (or LA) shows off the best of CA's deserts. This itinerary has a fun mix of forest, desert, weird geology and even offbeat art projects.
The first section includes Julian (apple cider and pies), Anza Borrego (hiking and metal sculptures), Slowjamistan (a weird micronation), the Slab City squatter community and the East Jesus art installation.
Center yourself in Palm Springs, taking in the mid-century vibe, palm oasis' and a scenic lap around the Palms to Pines drive.
Spend at least a day in Joshua Tree (two is better), using our Joshua Tree hiking guide to prioritize which areas to explore, then head into Joshua Tree town for more quirky art projects.
Ignore the Google mapping instructions for how to get to Death Valley and instead, take the slow way to Death Valley via the Amboy Crater and Kelso Dunes. Then use our Death Valley visitor's guide to plan your time there.
On the way back to San Diego, take the Trona Wildrose road out via Ridgecrest, stopping at Ballarat Death Valley Ghost town on the way out.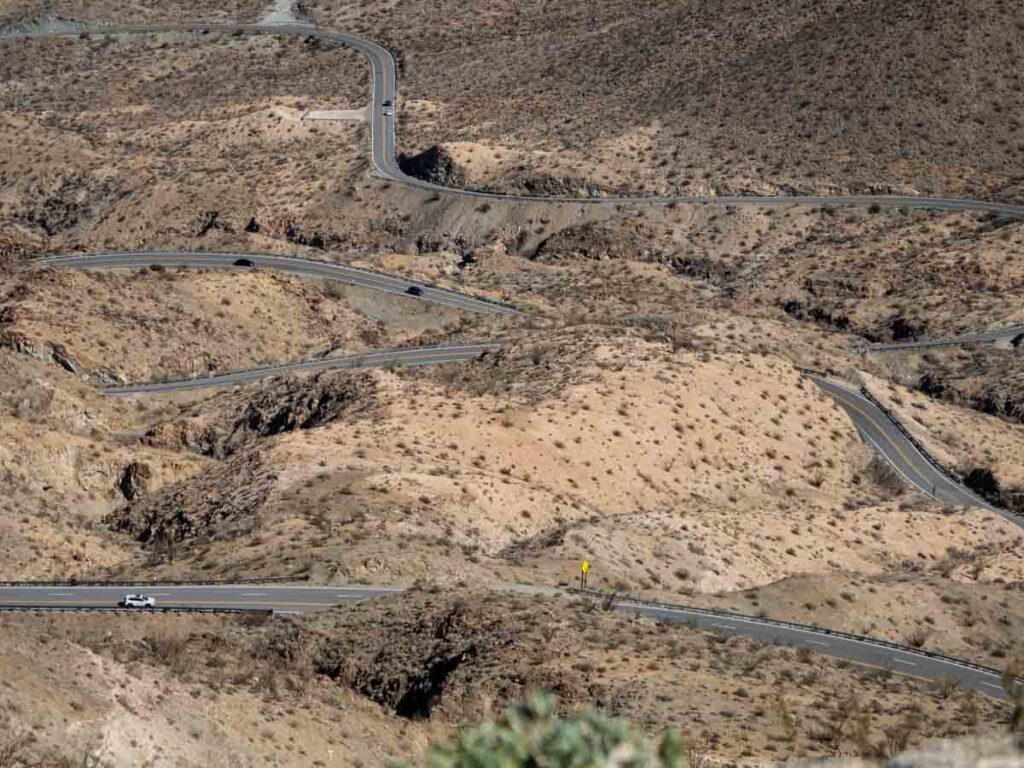 When to Do the California Deserts Loop
This whole region is volcanically hot in the summer. October to April is best and going between Thanksgiving and New Year's is a very quiet time to be in the National Parks.
Notable Places to Stay on the California Deserts Loop
In Palm Springs, go for the Fleur Noire, a low-key spot with floral murals and rosé all day. Joshua Tree town has a ton of quirky trailers and cabins to rent, and the Inn at Death Valley is a fancy historic inn right in the heart of the park.
We've also got camping guides for Death Valley, info on hotels and motels in and near Death Valley, and also for Joshua Tree campgrounds.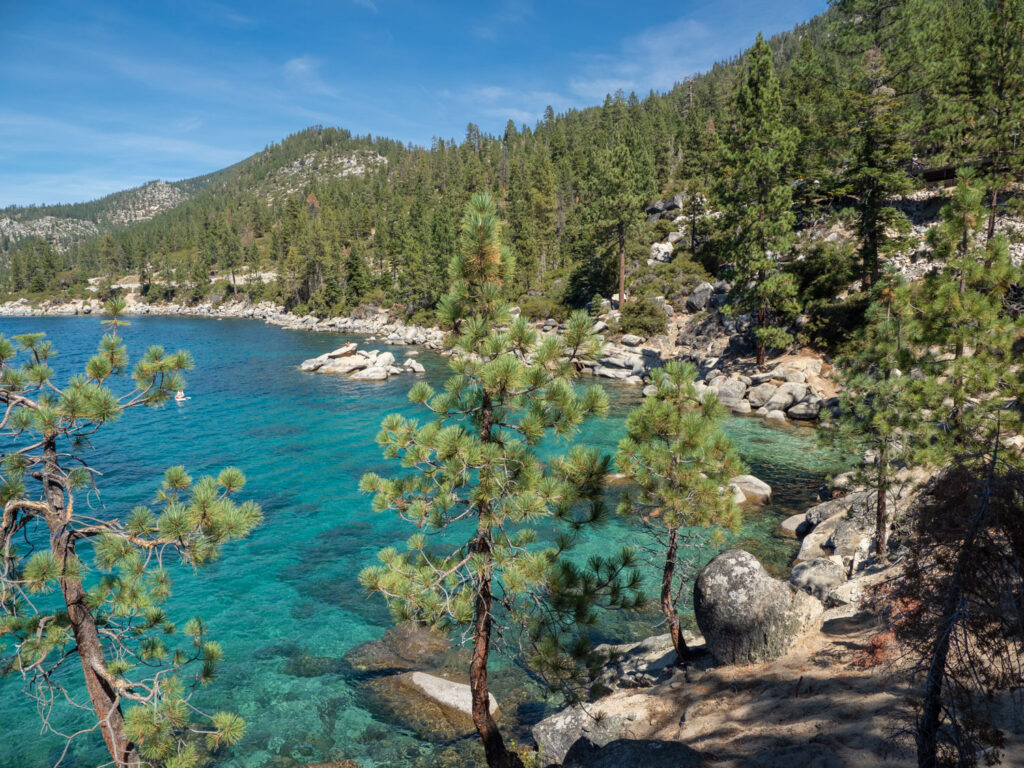 The two CA road trip itineraries below combine several of the plans noted above into one larger itinerary.
The Best of the Sierra Nevada Scenic Drive
Start/End: Anywhere along the loop
Miles: 900-1,000
# of days: 12-14 days
Glue together the Yosemite/Sequoia, Highway 49 and Highway 395 road trips into one epic, mountain adventure. This itinerary does a full lap around the Sierra Nevada range, with Lake Tahoe at the north end and Lake Isabella at the south end.
After you finish up Highway 49, head over to Lake Tahoe, where you can do a scenic drive around Tahoe. Head over to Highway 395 via either historic Carson City or take Highway 88 over Monitor Pass.
Once you've lapped Highway 395, ignore the Google maps instructions and head back over to the western Sierra via Highway 178 and Lake Isabella.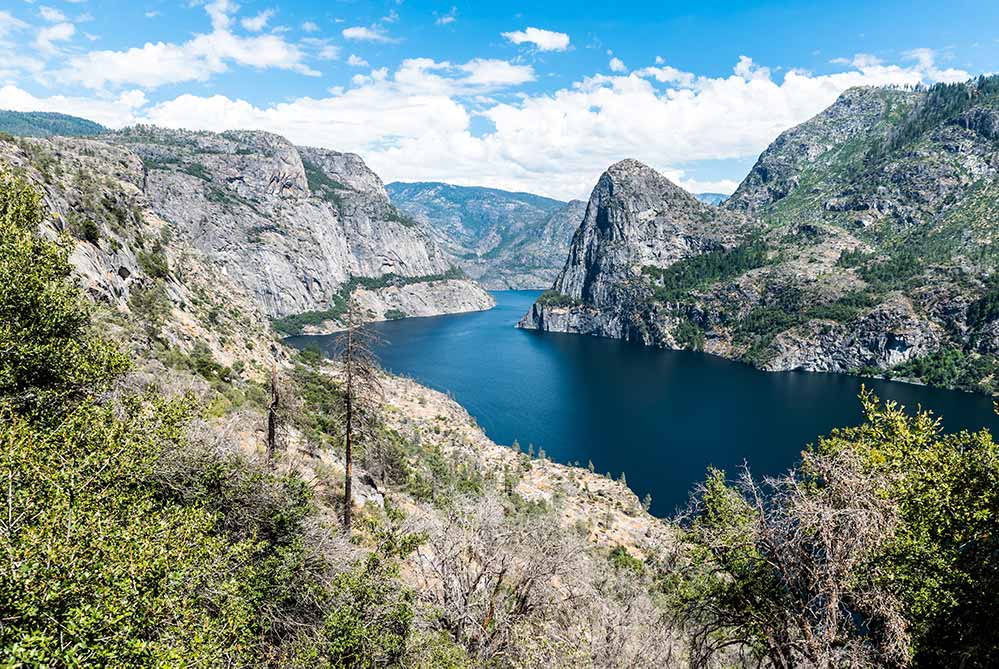 When to Do the Best of the Sierra Nevada Scenic Drive
This drive is best done between late May and early November. You'll avoid snowy road closures. For any portion of the trip that occurs on a weekend (especially in Yosemite and Tahoe), be sure to book lodging ahead.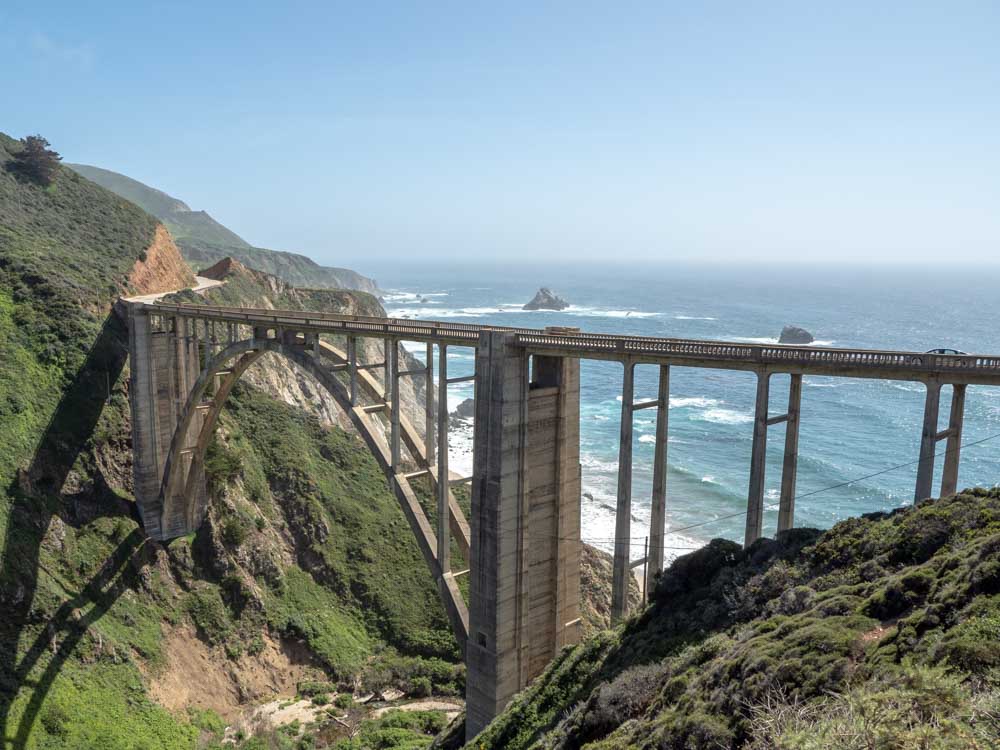 The Best California Road Trip Itinerary (in 2 Weeks)
Start/End: San Francisco or LA
Miles: ~1,000 miles
# of Days: at least 14, more is better
This loop combines two of the most popular road trips in California: Yosemite/Sequoia and the Pacific Coast Highway from SF to LA.
You can do the drive in either direction, however we like doing the PCH from north-to-south as it's easier for the scenic pullouts. Do not underestimate how much driving this is, so get an early start everyday and bake in some down time.
If you have extra days and want to spend some time in San Francisco, we have travel tips for SF first timers and a local's guide to San Francisco.
If you don't care to visit SF, just use Highway 152 to cut over from Yosemite directly to Monterey and start down Big Sur. If you don't care to visit LA, head northeast from Ventura, on the scenic Highway 33 through the Los Padres National Forest to Ventacopa, then east from there.
When to Do California's Most Epic Road Trip
November through April are the worst weather for both the Sierra Nevada range and Big Sur. You'll also get some June gloom along the coast. We like April/May or July-October for this route.
Nothing behind me, everything ahead of me, as is ever so on the road.

Jack Kerouac
Got that right Jack! Enjoy your epic California road trip. Whichever of these routes you take, you are sure to have a most grant adventure.
Share these best California road trip itineraries with your friends: