Explore the real SF with this local's guide to weird, unusual and cool things to do in San Francisco. This guide for the cool places to go in SF was developed by locals. We know what's up in SF and we promise to deliver you a good time.
So peruse this list and put together your own offbeat itinerary. If it's your first time visiting SF, be sure to check out these SF travel tips for more practical advice on how to craft a great trip.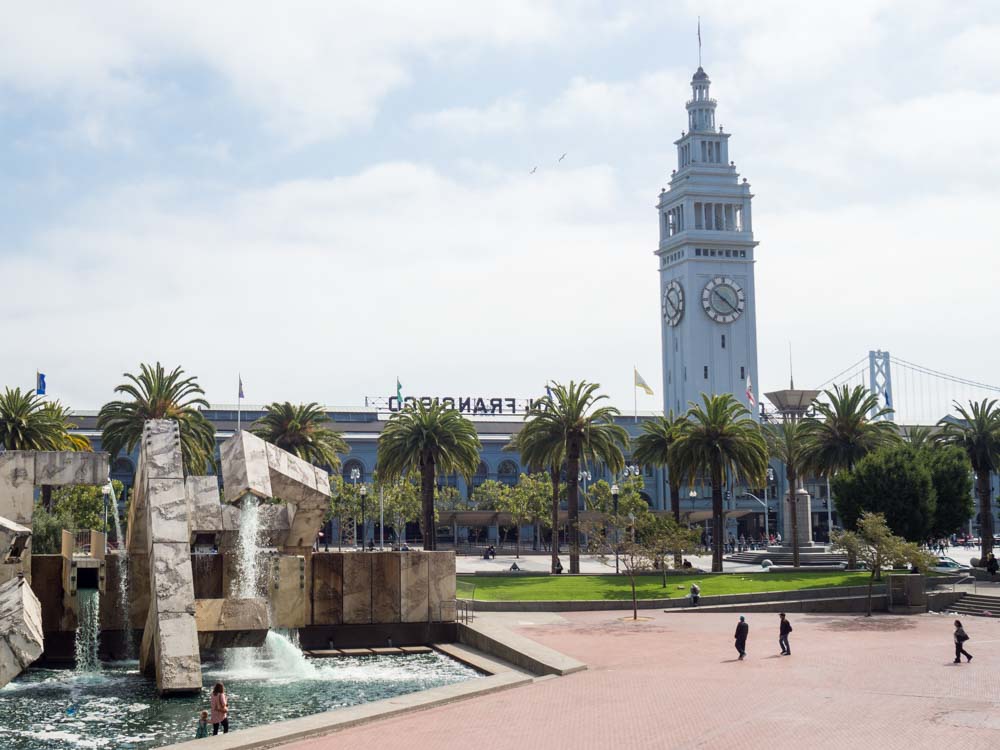 (This article contains affiliate links. This means that if you choose to purchase, I'll make a small commission.)
30 Cool Things to Do in San Francisco
San Francisco defines counter culture for the US. Starting with the gold rush through the civil rights movement and into the dotcom boom, successive waves of hopeful newcomers full of ideas and itching for a better future have infused the city with creativity and an anything-goes attitude. The city is open, liberal, creative, sexy…and kinda weird. Sure, go to Pier 39 or ride a cable car or whatever, but if you want a true taste of the city, then make time for some of these cool things to do in San Francisco.
"San Francisco is a city of startling events"

– Mark Twain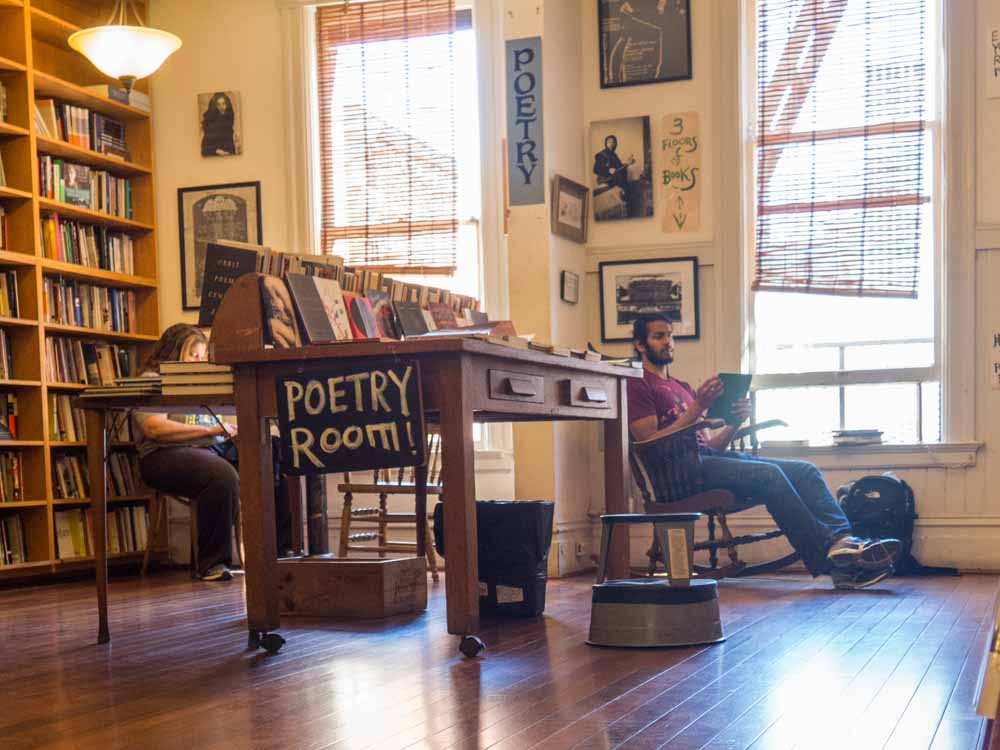 City Lights Bookstore & Vesuvio Bar in North Beach
San Francisco is a city of great neighborhoods. Pick one and you can kill an afternoon just hanging out and soaking up the vibes. One of the best for literary lovers is North Beach.
City Lights is the most famous bookstore in San Francisco. It's an SF institution founded in 1953 as a bookstore and performance venue. They gave voice to the Beat Poet movement and the store is a touchstone for San Francisco's ongoing counter culture. The store still gives space to ideas that are outside of the mainstream with a poetry room and an eclectic collection of staff pics. Wander around, buy a book and then go upstairs to the light filled poetry room and settle into a cushy chair for a good read.
Alternatively, if you are thirsty you can take your book next door to the Vesuvio bar. On your way over there, you'll pass Kerouac alley, where there are literary sayings embedded into the pavement. The saloon itself was established in 1948 and was the chief watering hole for Neal Cassady, Dean Moriarty, Jack Kerouac and other Beats. Have a beer, read your book and spend some time checking out the art on the walls.
Tips for Visiting: City Lights and Vesuvio are located on Broadway in the North Beach neighborhood.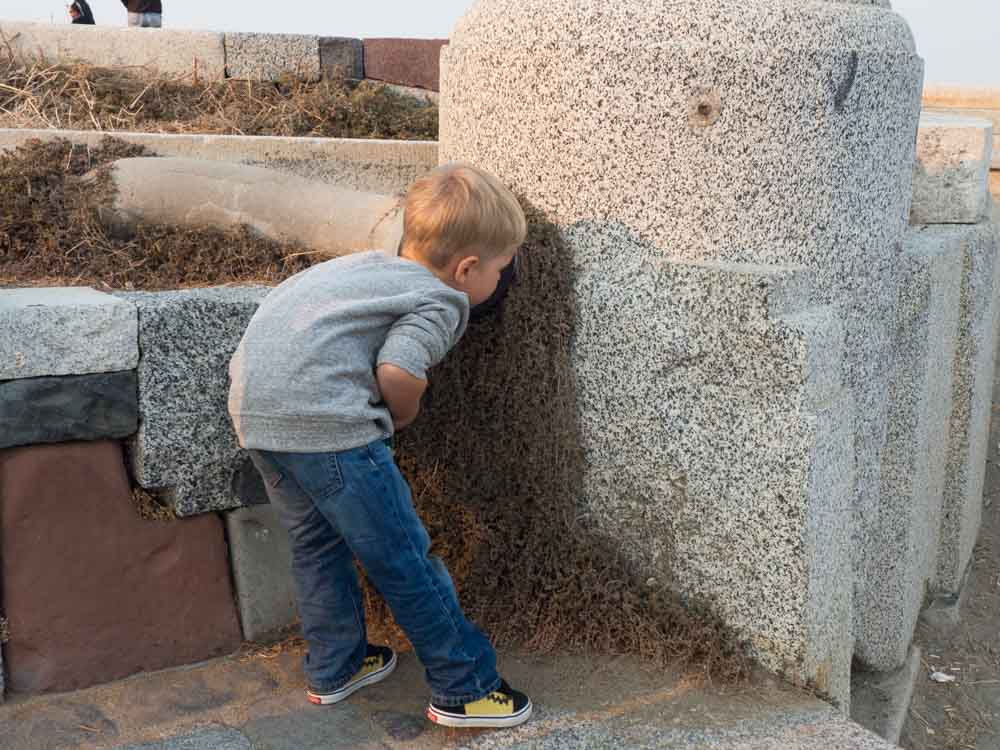 The Wave Organ in the Marina
(Recommended by Carole of Berkeley and Beyond)
Located directly across from the Marina Green near the Golden Gate Yacht Club, this waterside park was originally part of the Exploratorium, SF's hand's on science museum. More than twenty pipes situated in the bay provide a unique symphony of natural music. Though this features is what brings most people here, it is also a spectacular spot for a picnic or to folic in the shallow waters while enjoying a close view of the Golden Gate Bridge. Note that the organ performs best at high tide.
Tips for Visiting: The Wave Organ is a public sculpture and is "open" all the time. You can get to it by walking around the west side of the yacht harbor and past the yacht club to the jetty point.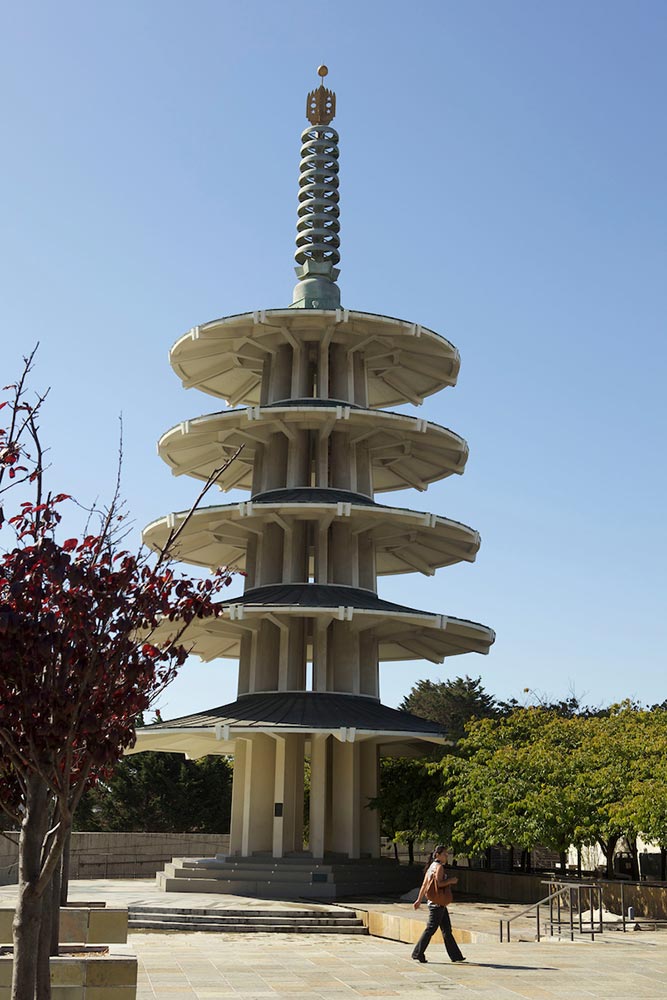 Kitchy Japanese Culture in Japantown
(Recommended by Jessica of A Passion & A Passport)
Japantown is not to be missed on any trip to San Francisco. If you've ever been to the country, or want to get a small taste of Japanese culture, you'll highly enjoy your time in this area. Japantown has kitschy gift shops, karaoke bars, specialty grocery stores, and pika pika photo booths.
Come hungry because there are loads of Japanese treats to try– from takoyaki (fried octopus balks) and red bean buns, to ramen and fresh sushi. Don't miss an adorable crepe from Belly Good Cafe and Crepes, and a taiyaki ice cream cone from Uji Time Desserts. Looking for the craziness that is Tokyo? Come visit the area during the Anime and Cosplay festival, a super geeky event where everyone dresses up in wigs and anime costumes.
Tips for Visiting: Japantown is very compact and runs between Sutter /Geary & Laguna/Fillmore. The Anime and Cosplay festival is usually in July.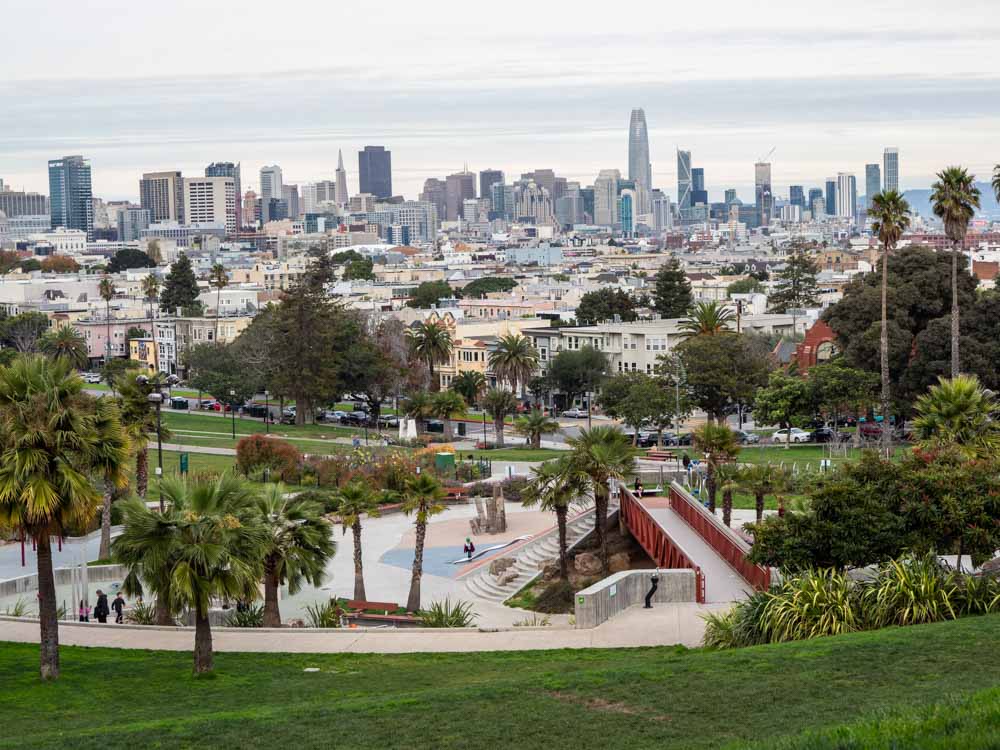 Lounge Around in Dolores Park
(Recommended by Lia of Practical Wanderlust)
Dolores Park is one of the most authentic and totally unique things to do in San Francisco, and we locals absolutely love it. If SF were a college campus – and sometimes it kinda feels like one – Dolores Park would be its quad. DoLo is San Francisco's little green patch of fun in the sun, offering gorgeous sweeping views of the city in a location that's convenient to multiple kinds of public transit.
Dolores Park is not your typical park. Each corner caters to a different community. For instance, there's a playground, but it's actually in the LGBT corner. There's a whole section for people with dogs and another with out of control toddlers. But most people enjoy their day at Dolores Park by popping open a bottle of booze, lighting up a few joints, plugging in an amp, and letting it all hang loose with 17 different musical varieties. It's a giant lawn party and it's San Francisco at its most ridiculous (which is saying a lot because San Francisco is ridiculous).
Tips for Visiting: The park is located in the Mission on Dolores (at 18th)—just down the street from the Dolores Cemetery (see below). Bring an open mind and if a dude with dreads down to his knees comes by with a machete and a cooler and offers you a drink, BUY IT. That's Jesus and his rum coconuts are heaven.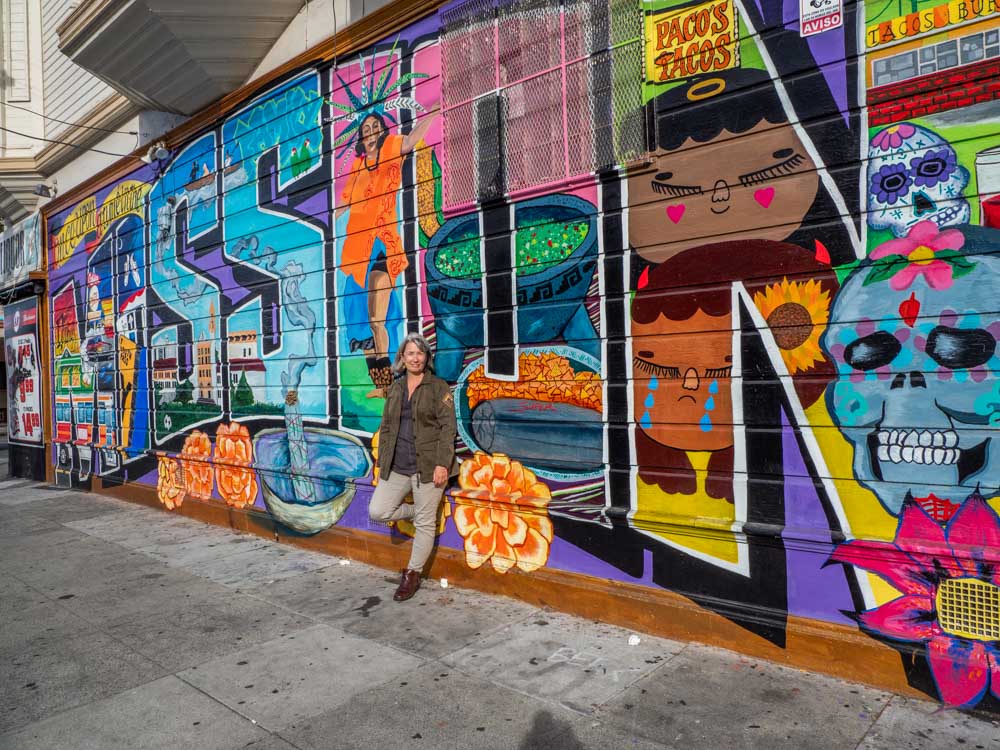 Check out the Mission Murals
If you visit Dolores Park, then be sure to leave some time to scope out the murals in the Mission. While there is street art all over San Francisco, the Mission has a highly concentrated brew of images and messages that are very particular to the Latino culture of the neighborhood. There is street art all over the Mission but three primary locations are absolutely thick with it: the 24th street corridor between Mission and York streets, Balmy Alley and Clarion Alley.
Tips for finding the murals: Use my Mission Murals guide to get a history on the murals and a guide and map for finding them.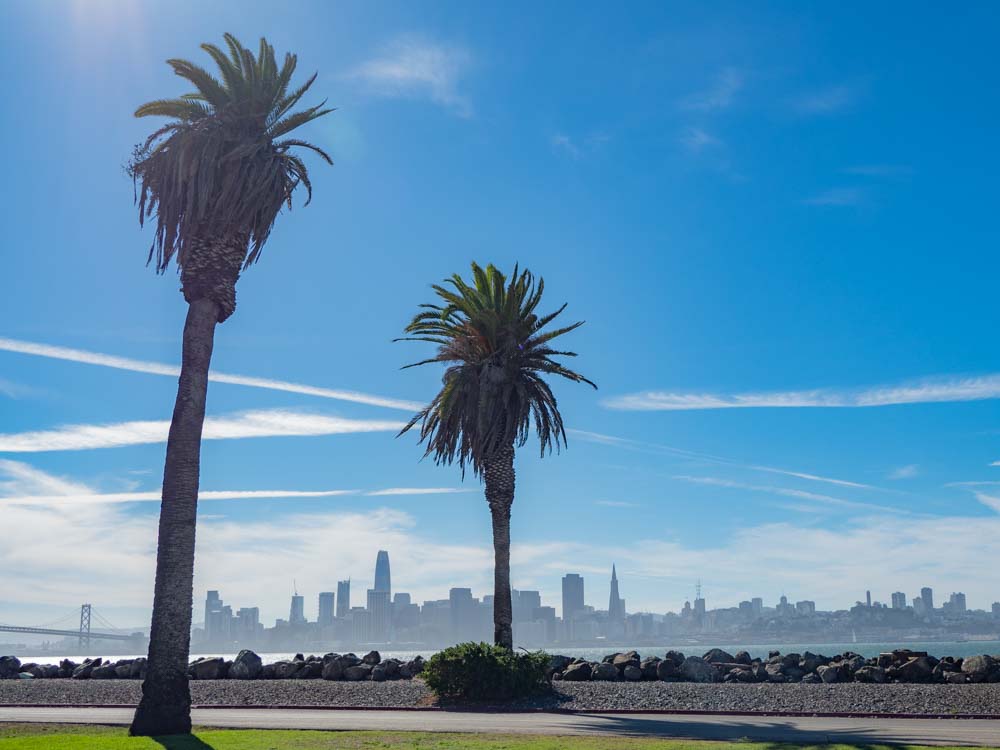 Treasure Island: Wine, URBEX and Views
Treasure Island was just a sand bar in the bay until it was filled in for the 1939 World Fair Exposition. The island was then re-purposed as Pan Am's transoceanic airport hub and then yet again as an army base. It's now transitioning once again into one cool neighborhood with a random assortment of things to see, do, eat and drink. It's one of San Francisco secret spots for wine tasting with seven tasting rooms.
If you like URBEX, you can lurk the abandoned base huts. If you are into history, you can check out the Art Deco building that was once the palace hall for the expo but now holds a small history museum. If you want views, then eat lunch at the Mer Sea. They are a funky restaurant made of shipping containers with good salads, good sandwiches and mile wide views across the bay.
Tips for Visiting: Saturdays and Sundays are best for the wineries.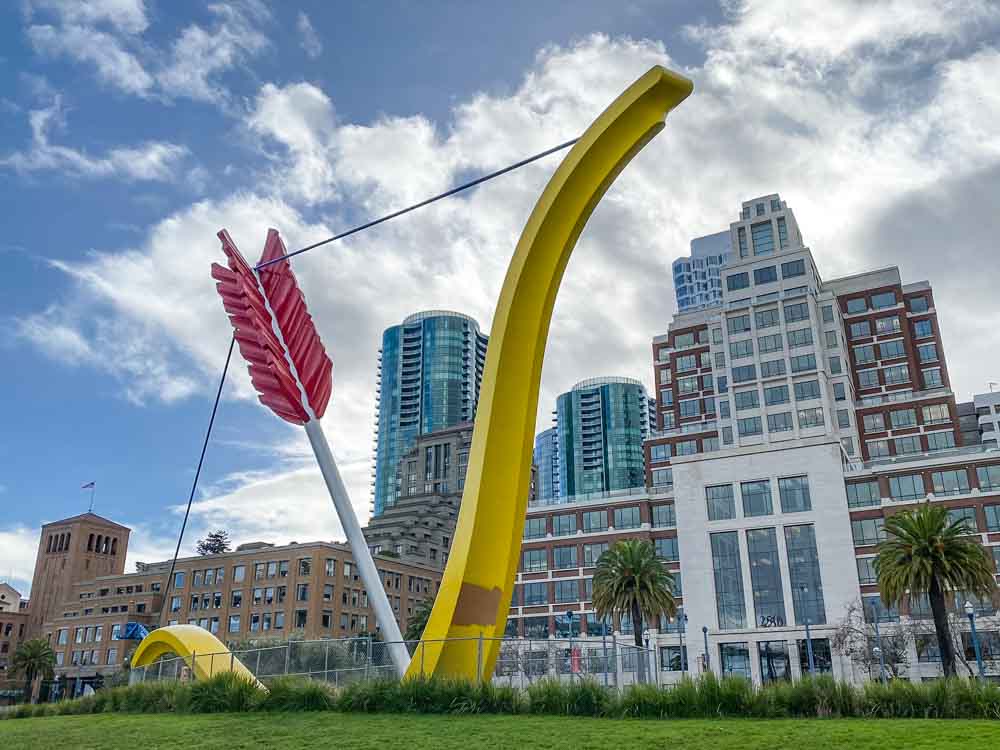 Stroll Along the Embarcadero
This wide pedestrian boulevard used to be an unsightly overhead freeway. When it collapsed in the 1989 earthquake, the city made the wise decision to scrap the freeway and turn the area into pedestrian and public transportation corridor. The Embarcadero makes our list of favorite walks in SF, because it's a nice, chill urban stroll.
The three mile walk starts at 2nd and King and curves north around SF's eastern edge, ending near Pier 39. All along the walk, you get killer views of the bay and you can make a day of it by stopping into the Pier 24 art gallery, getting food at the Ferry Building, visiting the Exploratorium science museum and visiting the resident sea lions at Pier 39. It's the perfect way to kill a sunny afternoon.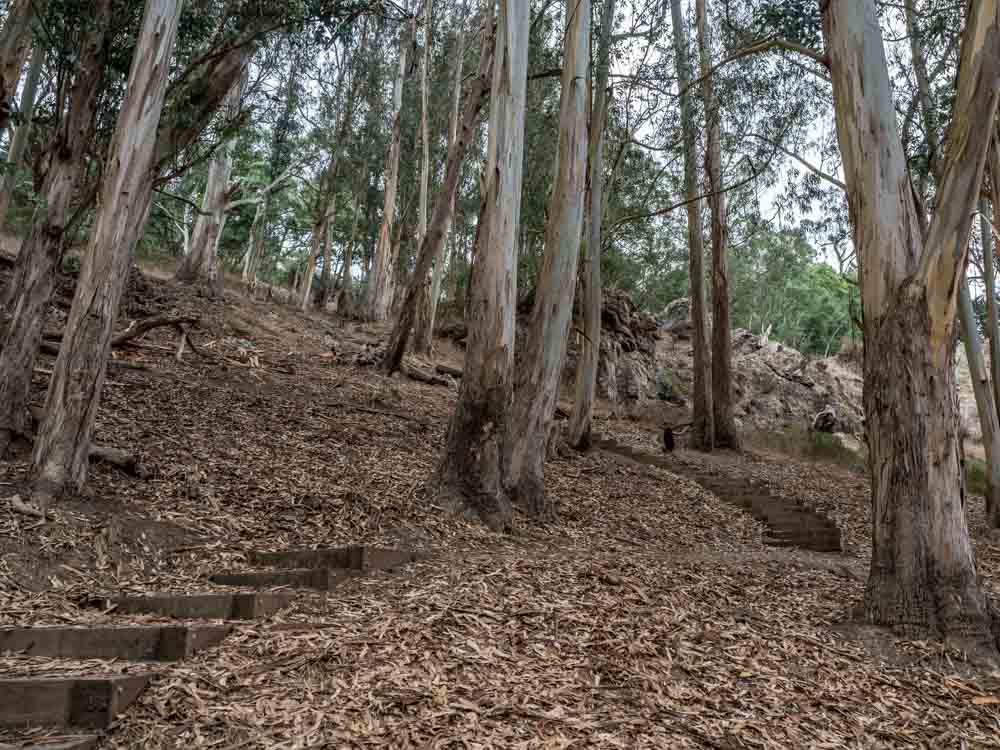 Take a Hike in Glen Canyon
Glen Canyon is an urban forest tucked away in a little visited outpost of southern SF. The two mile round trip stroll follows Islais creek through riparian habitat populated by great horned owls and red-tailed hawks with opportunities for bouldering. Glen Canyon is actually a key stop on SF's Crosstown trail, which is a cool 17 mile urban hike that traverses the city.
Tips for visiting: Get there via the Glen Park BART stop.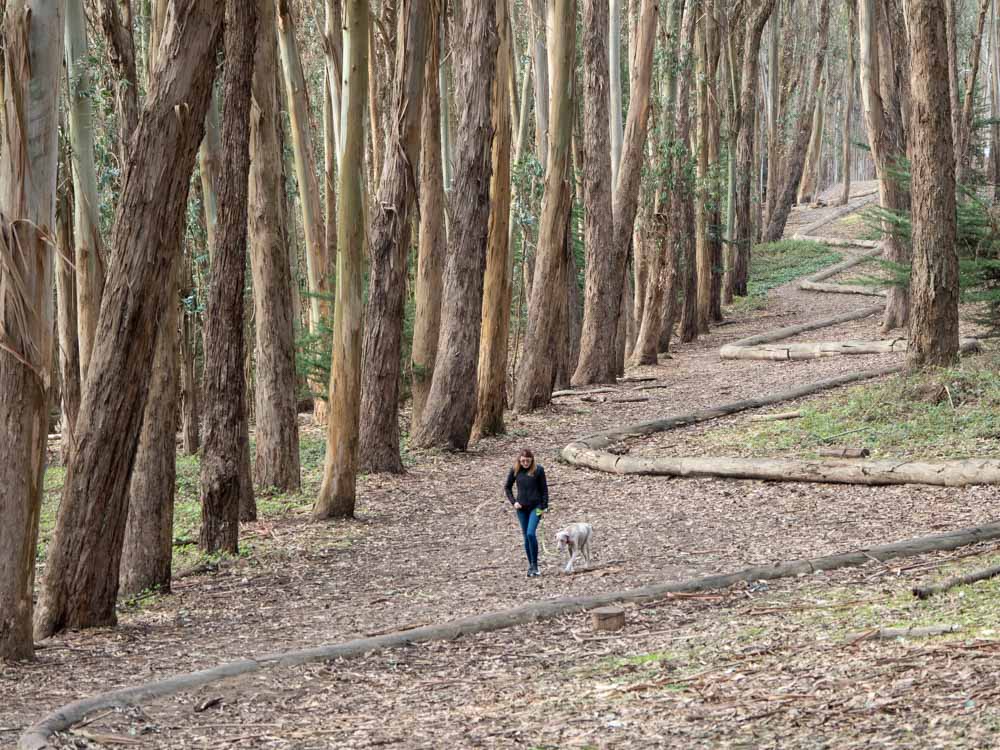 Stroll the Goldsworthy Line & Lover's Lane
This peaceful little spot in located in the Presidio. The logs are part of an art installation by Andy Goldsworthy and they line a wavy path through the eucalyptus trees. The Presidio is part of the national park system and it's the largest urban national park in the US. They have twenty four miles of hiking trail, with plenty of cool spots for taking pictures. Get our full guide to SF's Presidio for more ideas. We've also got a guide for hiking in the Presidio and two of those trails go near Lover's Lane.
Pro Tips: Google "Goldsworthy Line" to find the location and be aware that parking will be tricky on the weekend.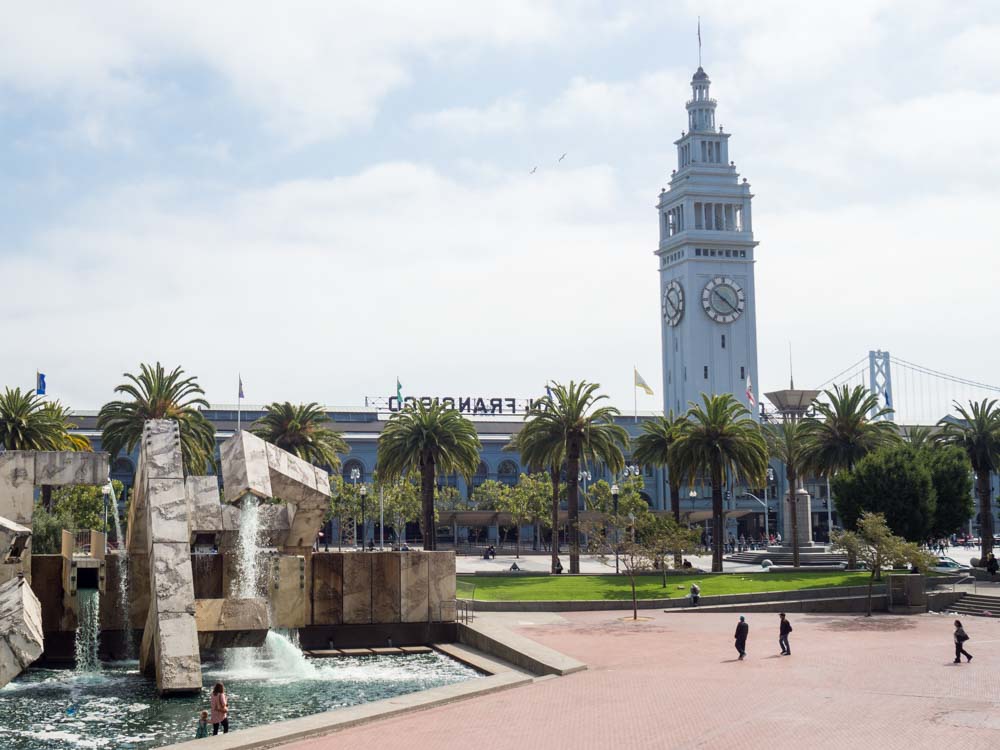 Eat Street at the Ferry Building Farmer's Market
Not only are there fantastic purveyors inside the Ferry Building, but three days a week you can find them outside too. The Ferry Building hosts a fantastic farmer's market three days a week. Not only can you get fruit and veg, but the market also hosts folks selling prepared foods (like hummus and pastries) as well as food trucks for a range of global cuisines.
Tips for Visiting: Tuesday and Thursday 10a-2p and Saturday 8a-2p.
Try Humphry Slocombe's Boozy Ice Cream
Admit it, you've always wanted boozy ice cream for breakfast, haven't you? Well, you can get it at the Humphry Slocombe stall in the Ferry Building.
The Beaux Arts landmark is an actual, working ferry building. Its vaulted halls were lovingly restored in 2003 and re-purposed as a magnet for foodies and boozers. Some of their uniquely local food items include an artistically hand-poured cuppa from Blue Bottle Coffee, fresh oysters the best bagels in SF and olive oil.
But the "secret breakfast" ice cream from Humphry Slocombe is the best. They hand crafted ice cream with both bourbon and corn flakes in it and it's the best thing going at the Ferry Building. Get a double scoop.
Tips for Visiting: Go earlier in the day to avoid lines.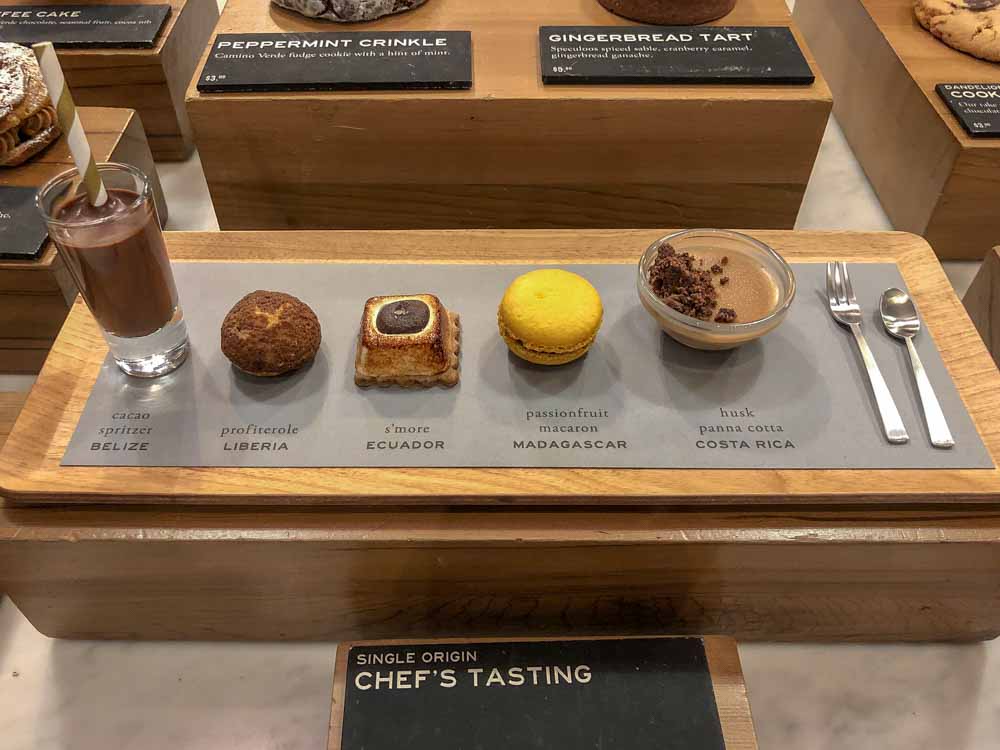 Indulge in Freshly Made Chocolate at Dandelion Chocolates
If you eat or drink nothing else on this list, you must east some chocolate from Dandelion's. They don't just make chocolate bars, they manufacture their own chocolate from scratch. It starts with the dude in the back room, picking through the beans and continues through the whole process. This means that Dandelion smells like Willy Wonka's factory and you are going to want to live there. They have single origin bars for sale as well as coffee, hot chocolate and decadent treats.
Tips for Visiting: Located at 740 Valencia. They also have an outpost in the Ferry Building.
Take a Guided Foodie Tour
Take a foodie tour of the famous Ferry Building and farmer's market. It's a two hour tour with a culinary expert. Check times and book here.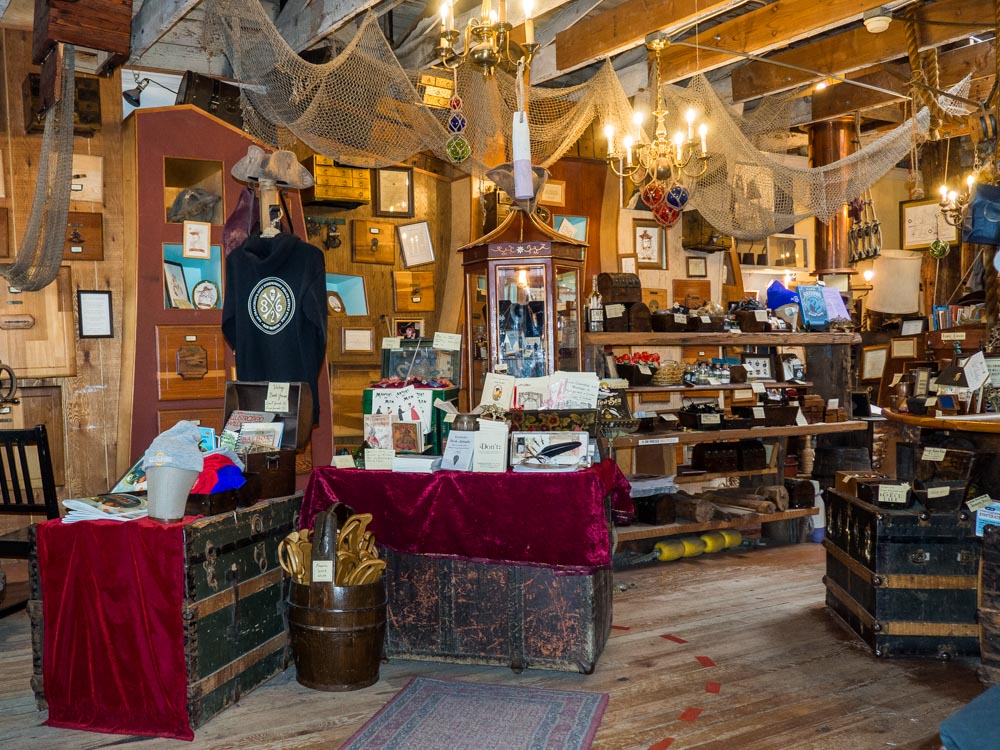 I don't know why, but there is a lot of just plain weird stuff to do in San Francisco. Is it an acid hangover from the 60's? Perhaps the legalized marijuana? Or just a culture that rewards creativity? Either way, check out some of these totally unique activities in SF and have fun doing it.
Visit the 826 Valencia Pirate Store
Ahoy, avast, there are pirates in the Mission. Become a pirate at the 826 Valencia Pirate store. 826 is a nonprofit literacy program started by author Dave Eggers. They teach kids creative writing. They are also outlaws who run their own pirate store. You can visit the store and pick up all of the garb and gear that you'll need to take to the high seas.
Tips for visiting: 826 Valencia is located (unsurprisingly) at 826 Valencia in the Mission.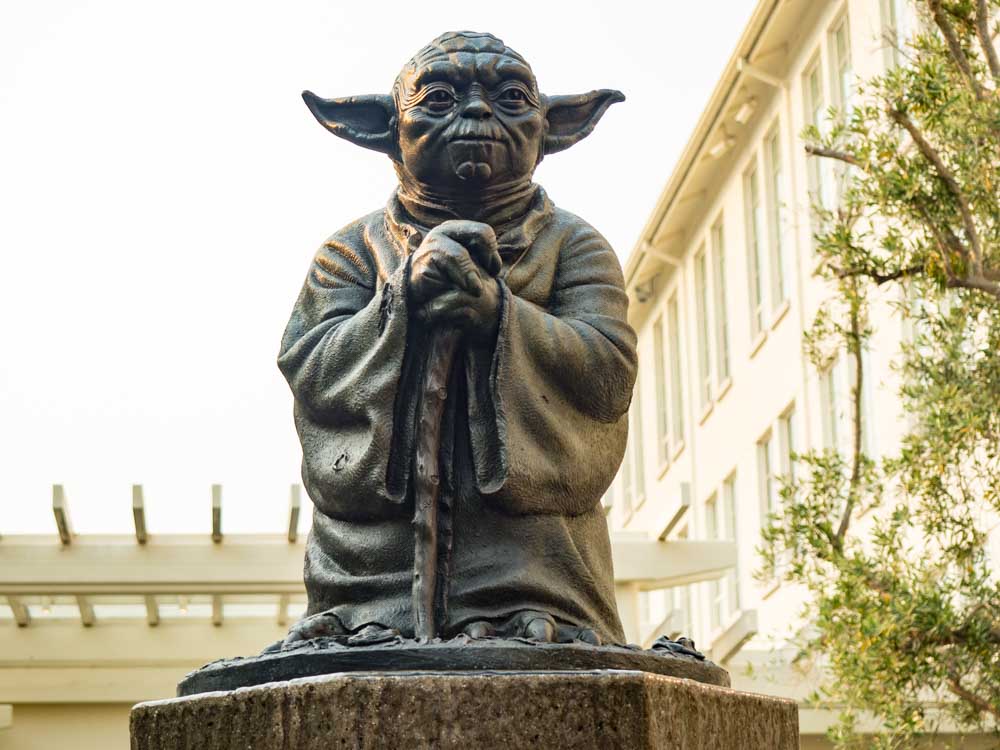 Find the Yoda Statue in the Presidio
The Yoda Statue and Fountain is a hidden spot tucked away in the Presidio National Park at the LucasFilm headquarters. This is the coolest of cool things to so in San Francisco if you are a Star Wars nerd. While there, you will find not only a life-size Yoda statue at the park, but also a bevy of franchise memorabilia (including Darth Vadar's costume!!) scattered about the LucasFilm lobby behind the fountain.
Tips for Visiting: Yoda is located at Building B courtyard, 1 Letterman Drive and can be accessed 24/7. You can see Yoda anytime but to see the memorabilia in the lobby, visit on weekdays during normal business hours. There is free 15 minute parking at the building, but you are more likely to find parking on the weekends.
Walk the Mosaic Tiled Steps
There are a series of lovely mosaic tiled steps throughout San Francisco. They add a subtle pop of art into what are otherwise normal residential neighborhoods. The steps in the image above are called the Lincoln Steps. They are located at California & the Lincoln Park golf course. You can also seek out the Hidden Garden Steps (16th ave and Kirkham) and the 16th Ave Tiled Stairs (16th ave and Moraga). Here's a full guide to the mosaic staircases.
Tips for Visiting: The stairs are open all the time.
Take the Seward Street Slides
(From Paroma of Year of the Monkey)
These giant slides are made of concrete and tucked away in the Seward mini park, which is located in the Castro. You'll have to bring your own flattened cardboard boxes to slide down and perhaps a young niece/nephew/child to not look totally out of place?? (just kidding, adults also can and do have fun over here).
A short distance away is Kite Hill Park which provides a breath-taking view of the city and the panorama is totally worth the huffing and puffing to get to the top.
Tips for Visiting: The slides are located on 30 Seward street.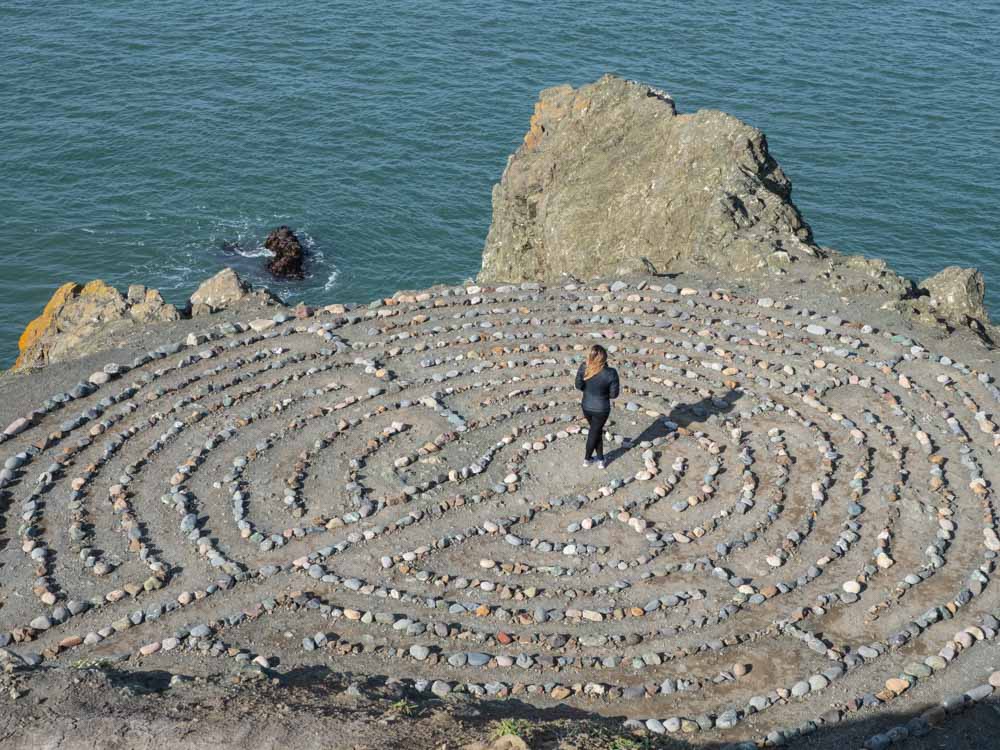 Land's End Labyrinth
This hidden spot on the northwestern tip of San Francisco seems random, but it was a very deliberate installation by artist Eduardo Aguilera in 2004. It's just off the Land's End Trail down a steep descent to a narrow spit of land. Most people just come for the selfie, but I recommend actually walking the full labyrinth. Since you need to keep your head down while winding through it, you get a big reveal at the end when you look up to see a full view of the Golden Gate Bridge.
Tips for Visiting: Don't go when it's been raining, the trail will be too muddy. Here's a full guide for the Lands End trail.
Good Vibrations Antique Sex Toy Museum
SF is an anything-goes city where you can let your freak flag fly and be as openly and actively sexual as you wish. Nudity at every parade- OK! An S&M themed street fair that raises money for charity- why not?! SF's rainbow-colored Pride Parade is one of the largest in the world. The city happily embraces it's adult-ness and offers up some interesting cultural experiences for anyone with an arched eyebrow and an open mind.
That attitude about sexuality makes it the perfect market for sex toys. Good Vibrations has been in business since 1977 and they'll sell a full array of whatever you desire. The owner had a small collection of antique sex toys and when customers learned about it, they began bringing in items to donate to the store. The collection snowballed and has now become a sort of crowd-sourced sexy museum. Is there an app for that?
Tips for Visiting: Good Vibrations is located on Polk at Sacramento.
Nighttime Tour of the Tenderloin
The Tenderloin is a rough neighborhood located just west of the fancy shops at Union Square. It has a rich history in jazz and blues music, theater and civil rights activism. It also has a lot of down-on-their-luck residents and a homeless problem. The Tenderloin Museum offers a history of the neighborhood through their exhibits and they also have a history tour, which has to be one of the least touristy things to do in San Francisco. The tour will take you to some interesting spots, giving you an unvarnished look at SF, far away from the pretty shiny stuff. You can read more about offbeat SF and the Tenderloin museum in this piece by Passport & Plates.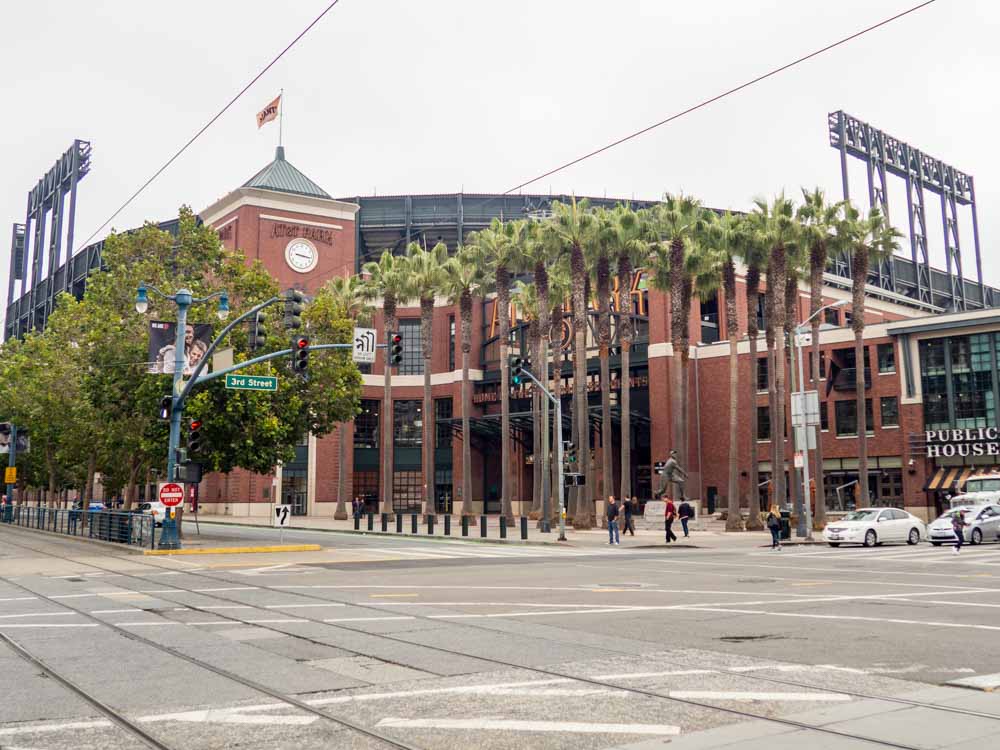 SF Local's Walk Tours
San Francisco City Guides is a unique walking tour opportunity. These offbeat tours are designed by locals who are vetted for really knowing their topic. You can see Alfred Hitchcock's SF, explore SF's historic LGBTQ neighborhood in The Castro, find Gold Rush locations or learn about the Coit Tower WPA murals. The tours are free, but a $15 donation to the guide is much appreciated.
Tips for Visiting: Here's the schedule.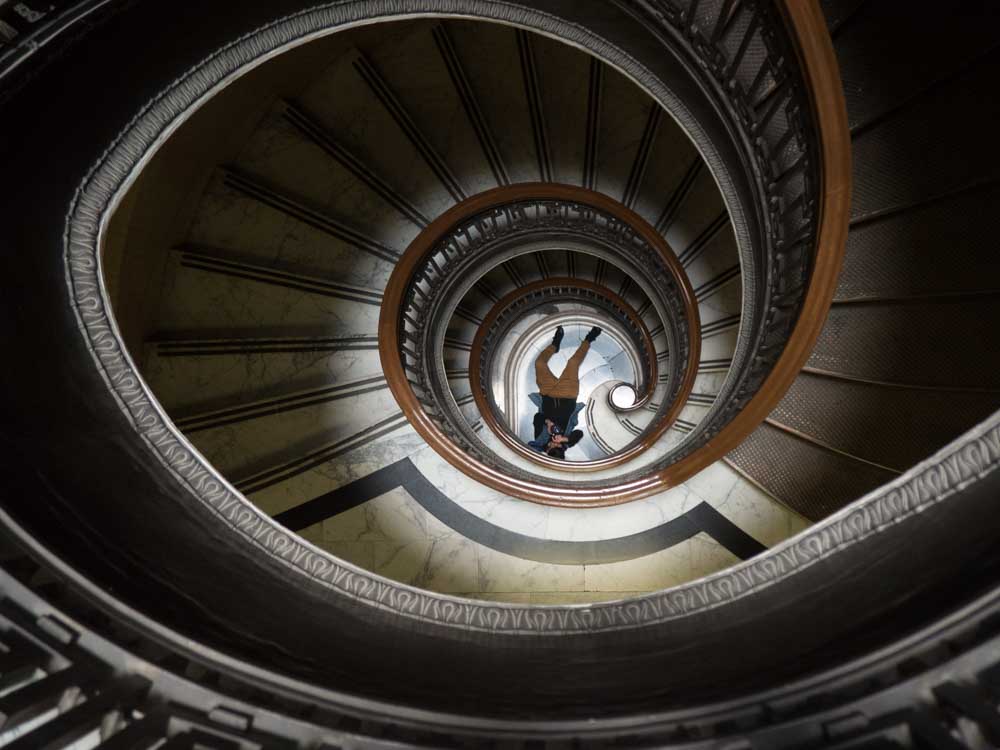 The Mechanics Institute Tour
I do love a beautiful library and if you are a book nerd, then the Mechanics Institute is the most cool thing to do in San Francisco. It was founded in 1864 as a learning center and library housing practical books on trades for skilled artisans. It bumped around to various locations and narrowly escaped the Great Fire of 1906 before finding its current home on Post street.
The library houses a public space for movies and events, a chess room, reading room and active library. The tour itself will take you through a tight rabbit-warren of book stacks that have been creatively crammed into the small space allotted.
The most notable feature in the building is the beautiful curved staircase leading up through the building. It's a great Instagram spot.
Tips for Visiting: The Mechanics Institute is on Post street (at Kearny). If you just want to see the staircase, you can visit the building anytime during normal business hours. Check their schedule for tours.
Go Retro at Lucky Strike Bowling Alley
This isn't your grandma's bowling alley of yesteryear. Lucky Strike has a full food, drink menu and lounge areas in addition to the bowling lanes. It's located right across the street from the Giant's stadium and is a popular place to go before the games. It's best to reserve lanes in advance as it gets busy, particularly during happy hour.
Tips for Visiting: Lucky Strike is open daily from 4pm-10am, with expanded hours during baseball home games.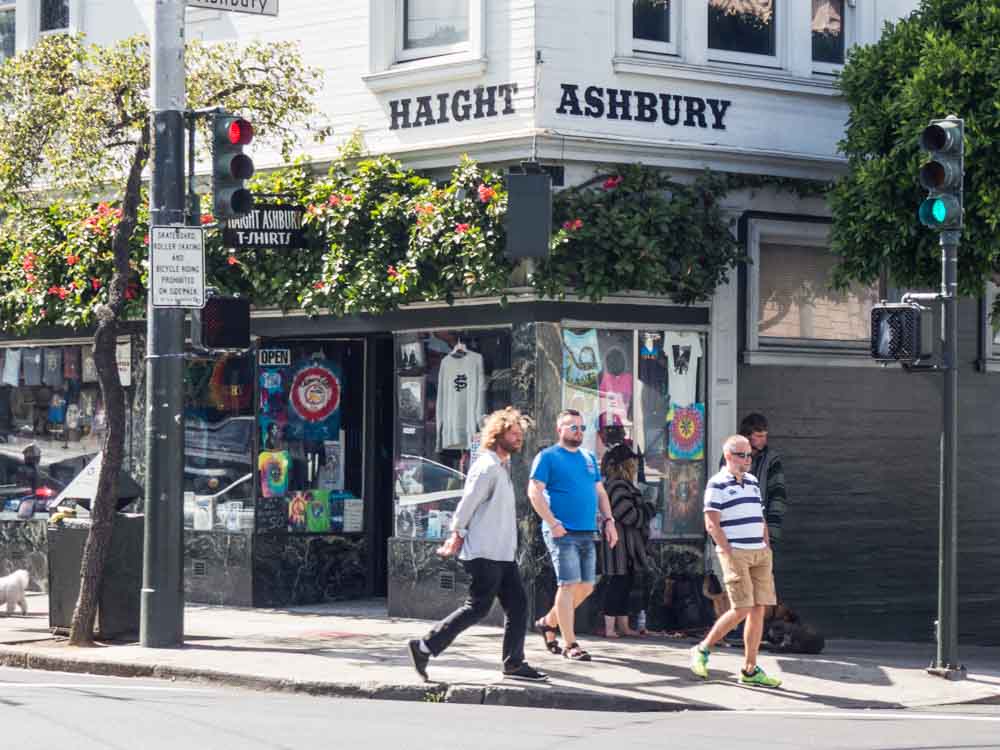 Relive the Summer of Love at Amoeba Music
Amoeba Music is a really fun place to go in San Francisco if you are into old school music. They carry vinyl, and both new and used CDs. They don't fear the obscure and they also still stock plenty of Janice Joplin, Jim Morrison and other bands who helped create the protest music of the late '60's. The staff is happy to help you find what you are looking for but they kindly ask that you refrain from dropping into the store if you have also been dropping acid.
Tips for Visiting: Amoeba located on Haight street.
San Francisco Love Tour
San Francisco is the original California hippie town. You can experience more of the Summer of Love, with a psychedelic mini-bus tour. The two hour tour takes you to a few of the top tourist sites and is delivered with a side dish of cultural factoids and groovy 60's music.
Tips For the Tour: Check times and reviews and book it here.
Take a Spin on the Leroy King carousal
Nothing is more nostalgic and wonder-inducing than a carousal. The Children's Creativity Museum operates the historical LeRoy King carousel. It was originally built for San Francisco but due to the 1906 earthquake and other circumstances, it wasn't installed there until 1998. While you take your ride, squint your eyes and you can almost see 19th century San Francisco spinning by.
Tips for visiting: The carousal is located South of Market near the Moscone convention center and available for a spin on the weekends.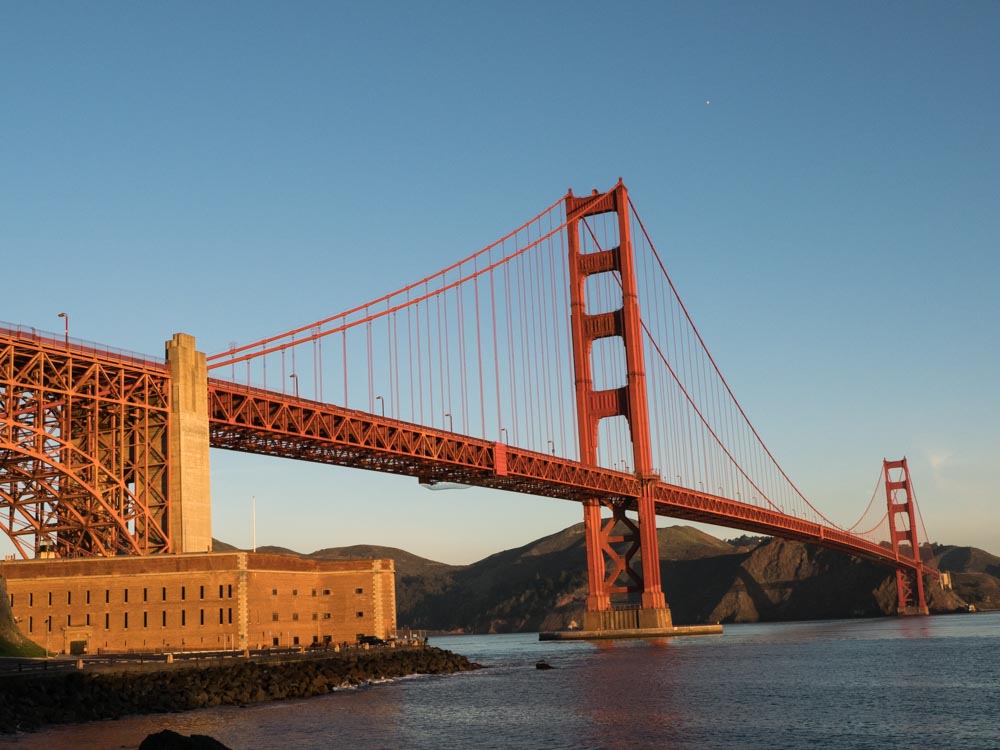 Explore Fort Point and Gun Batteries
SF is one of the most expensive housing markets in the country and space is at a premium. So, you may be surprised to find that there are some undeveloped and abandoned historical sites laying around. The following creepily cool places in San Francisco tell a ghostly history of the city, starting with Fort Point.
The Golden Gate bridge is one of the most popular sights in San Francisco. But before walking or biking over the bridge, spend some time underneath it and explore the Fort Point civil war fortress. Ever prepared, California was always building gun buttresses for a fight that never came (note Angel Island below).
The fortress sits just underneath the southern span of the bridge. Once you've explored the fort, walk up to the bridge on the battery trail and you'll find yourself strolling past a number of former gun batteries aimed at protecting the entrance to the bay. There are also more forts, gun batteries and other ruins on both sides of the bridge. More advice in our article for finding cool Golden Gate Bridge views. Alternatively, you can check out our full guide for how to visit the Golden Gate Bridge, which includes a lot of logistical information.
Tips for Visiting: Fort Point is only open Friday-Sunday but you can walk the bridge and trails anytime. Learn more with these interesting facts about the Golden Gate Bridge.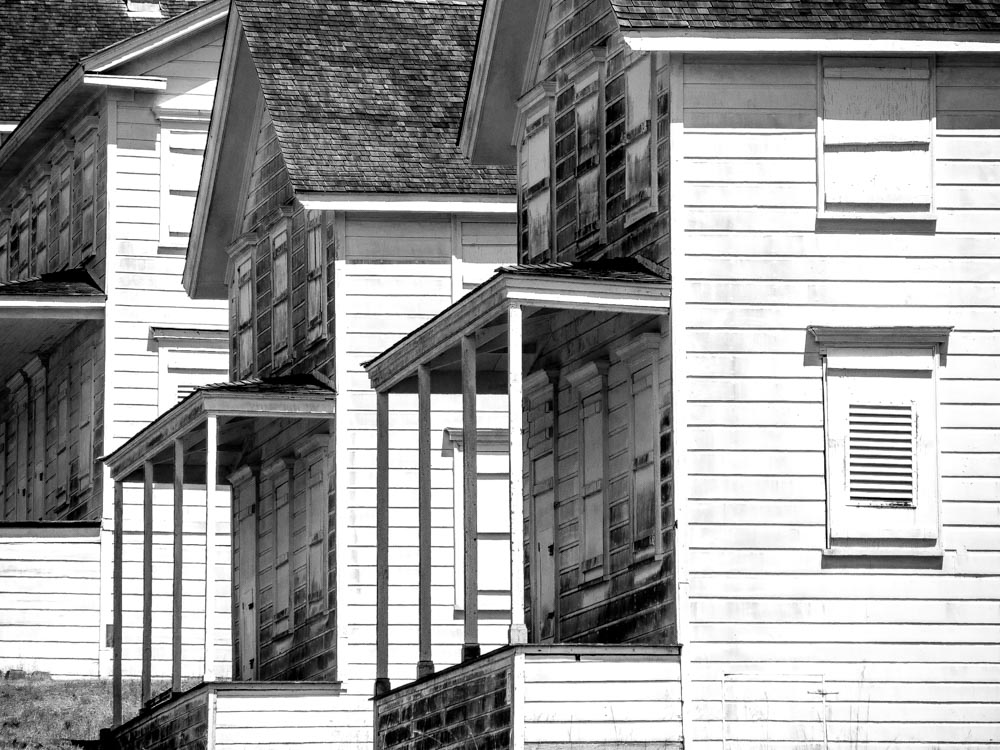 Go URBEX hunting on Angel Island
Angel Island is located in the middle of the bay, just north of Alcatraz. It's now a state park, but its past is layered with military history. It was a military post during the civil war, an immigration station, a WWII Japanese internment camp and cold war missile site.
Most of the structures related to these military endeavors are abandoned, but the park itself is open for business. Angel Island is also a great activity in SF for hiking and nature, and their trails will give you 360' views of the San Francisco bay.
Tips for Visiting: Take the ferry from Pier 39 and rent bikes on site for a self-guided tour. Bring a lunch and plan to spend the better part of a day exploring the island. Check out this Angel Island State Park guide more information.
Read More: Get the full downlow on all CA parks with our complete California State Parks list (with map).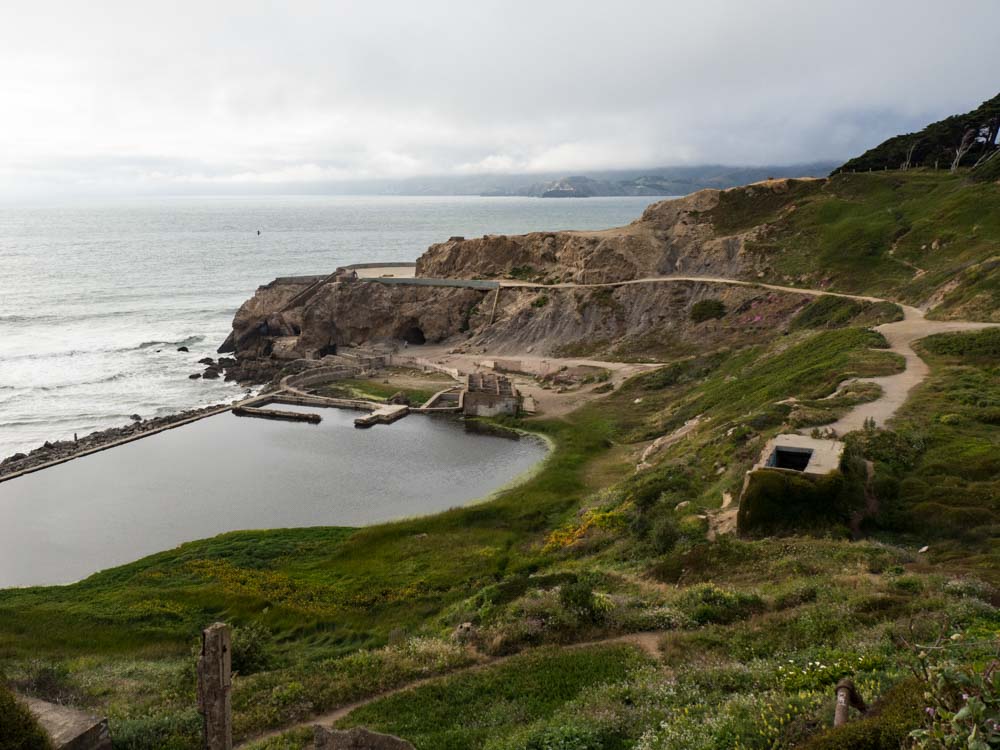 See Cliffside Views at Sutro Baths
The Sutro Baths ruin is at the very western edge of San Francisco. The cliffside site offers expansive ocean views set against the eerie ponds of the ruin, making it an interesting spot for San Francisco photography. The baths were originally built in 1894 by an eccentric self-made millionaire who had a dream to provide healthy, inexpensive swimming for the masses. It was built to house 10,000 people at a time.
People did use it in the beginning but the ambitious scale was its ultimate undoing. As the popularity of the baths began to wane in the early 1900's the expenses outweighed the income and it ultimately fell to ruin.
Tips for visiting: This part of the park is best visited by car. The baths and nearby coastal views are great spots for taking pictures.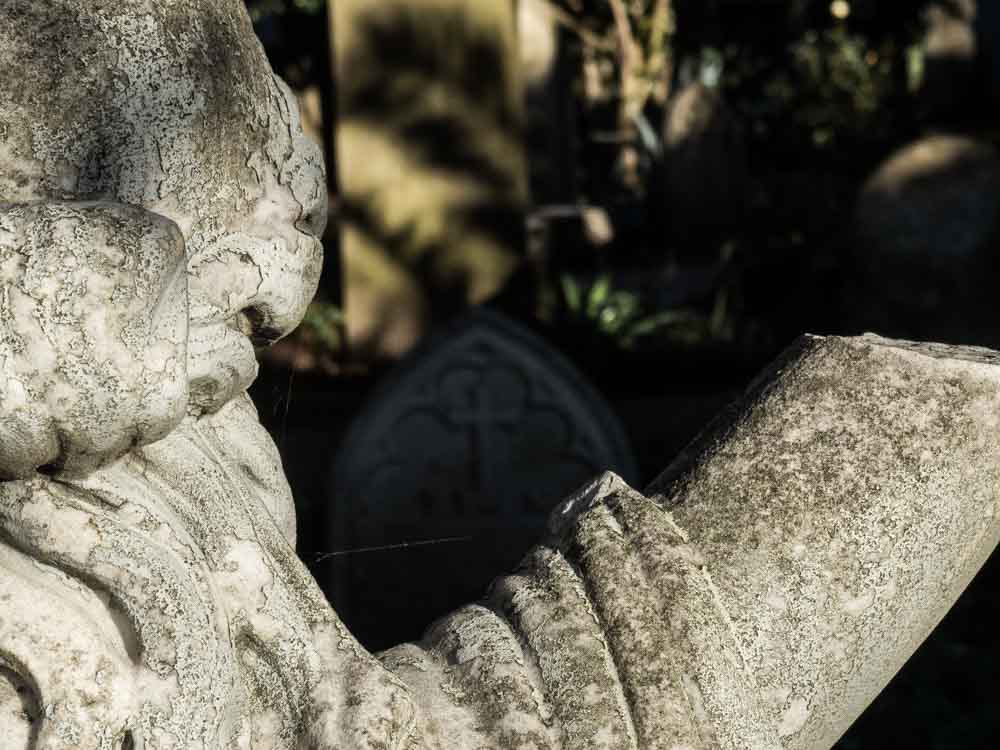 Creep Around the Mission Dolores Cemetery
Mission Dolores was founded in 1776 and is the oldest intact building in San Francisco. The mission was part of a string of Spanish settlements called the Camino Real. The settlements drove north from Mexico up through what is now the Sonoma wine country.
The site houses an active Catholic church and grounds which include the historical Mission Dolores cemetery. The cemetery pays tribute to the first nation Miwok's who were the city's original citizens and who, ironically, were eradicated partly due to disease and expansionism brought in by the Spanish. It also has grave-markers for other notable people who were instrumental in the establishment of San Francisco.
Mission Dolores is a moody, quiet and creepy sort of oasis in what is otherwise a very busy neighborhood. If you are a photographer, visit in the late afternoon. The sun throws deep shadows onto the building walls and gravestones.
Tips for Visiting: The Mission is on Dolores street. The suggested donation is $7 and the Mission is open most days.
Phew, that's a lot of unusual things to do in SF. But we locals promise that if you do even a smattering of this list, you'll get a feel for SF's quirky fun vibe and counter culture ethic. Have you experienced something delightfully weird in SF? If so, please comment below and share with others.
Plan Your Trip to SF
Save time planning your trip to SF with these insanely useful links:
Share these cool things to do in San Francisco with your friends and pin the post!