In 1967, San Francisco kicked off the hippie movement with the Summer of Love and our boho culture has been going strong ever since. This is your guide to the top 10 hippie towns in California. Use it to construct a series of weekend getaways and enjoy these counter culture, artsy and bohemian towns in California.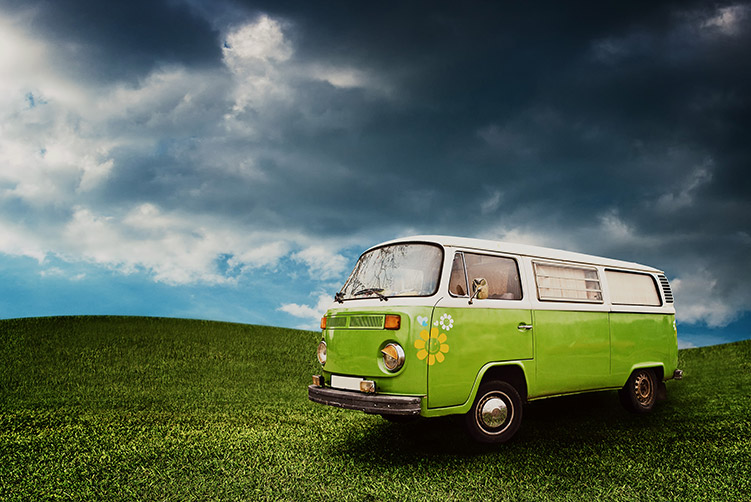 Top 10 Hippie Towns in California
Yes, we have a lot of hippie towns in California, but they aren't part of a monolithic culture. Some are more artsy, some are more peace and love, some have a distinctly new age vibe while others have more of a surfer dude culture. And frankly, some of these town are still high from the 1960's. So, use our delightfully colorful and completely subjective infographic to find the hippie, artsy town in California that's right for you.
(This article contains affiliate links. This means that if you choose to purchase, I'll make a small commission.)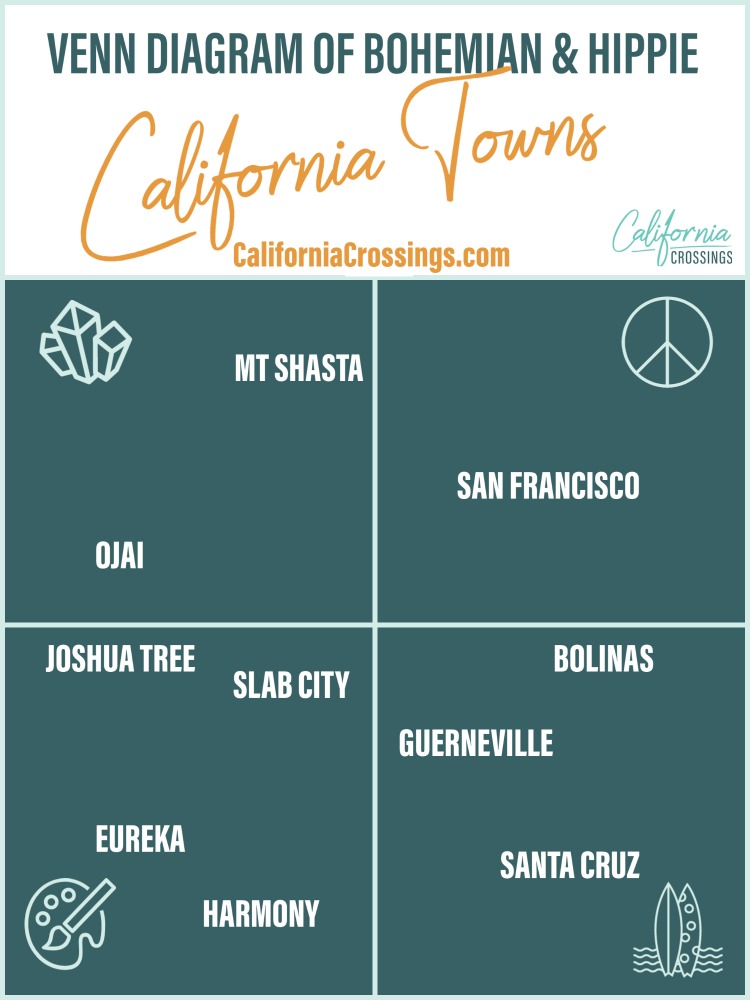 The following list of hippie communities is ordered from north to south.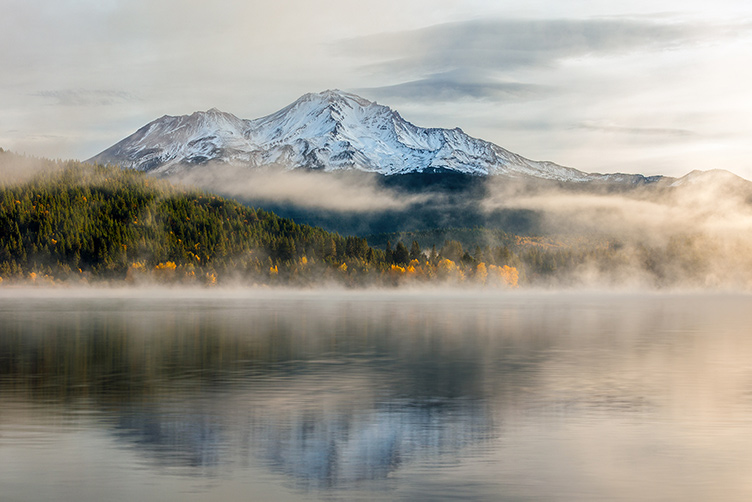 Mount Shasta
Venn diagram zone: Hard core new age.
In addition to being a cool mountain town with winter skiing and summer watersports, Mount Shasta is also the home to quite a variety of legendary beings. There are the ancient Lemurians, who are apparently living in a subterranean hidden city under the huge Mount Shasta volcano. There are the humanoid lizard people, who also live underground. Then of, course there are all of those UFO sightings, the most recent of which occurred in February of 2020. Also, Big Foot lives in this bohemian California town and they have a large wooden sculpture downtown to prove it.
You can learn more about all of these supernatural residents in this article, suffice to say that it's no wonder that Mount Shasta has been a magnet for mystics, spiritual pilgrims and believers. Have a cozy stay at the McCloud Hotel.
Here are three bohemian things to that you can do in Mount Shasta:
Visit one of their six crystal stores and load up on some energy.
Visit the creepy abandoned Juniper Lodge Motel in nearby Macdoel.
Take a scenic drive to the three McCloud River waterfalls.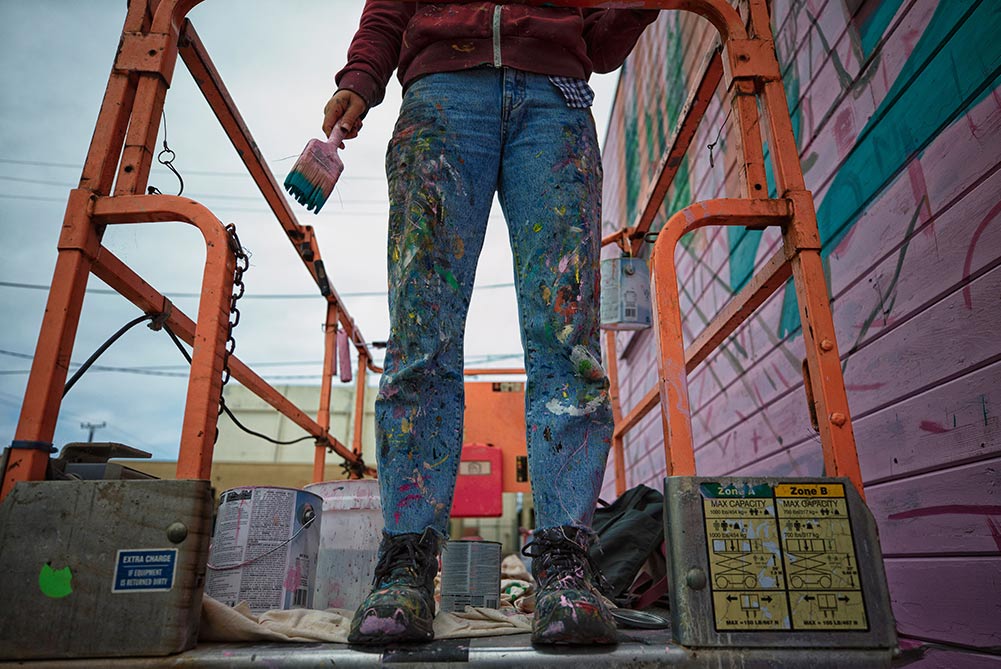 Eureka
Venn diagram zone: Devoted to art.
Even before it became legal, growing pot was was Humboldt County's primary cash crop. For some towns, the resulting culture entrenched paranoia and an aversion to outsiders. However, for Eureka, the result is a free-spirited artsy community. In 2017, this bohemian California town developed a strategic arts plan designed to foster a renaissance in the community. It includes a hippy, inclusive ethic that values "listening, sharing and supporting". Stay right in old town in this lovely historic lilac Victorian.
Here are three ways that you can experience Eureka's arts culture:
Check out their series of cool, painted utility boxes.
Visit during the Eureka Street Art festival (or at least check out the murals when you visit).
Visit the Morris Graves Museum of Art.
Check out this article on where to find the best California street art, which features Eureka and 9 other cities.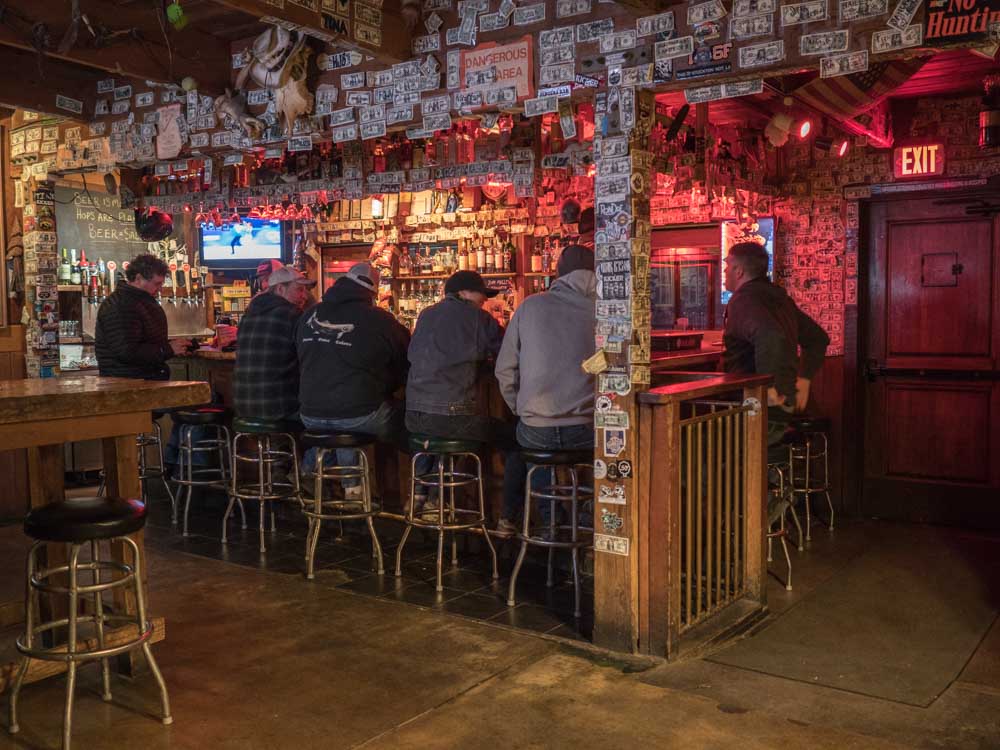 Sonoma County and Guerneville
Venn diagram zone: Laid back surfer vibe with a locovore ethic and a whiff of smoke.
Narrowing down to just one California hippie town for Sonoma County is a tough call because the whole county has a boho vibe. You can experience the locovore food movement on the California Cheese Trail. Visit the nuclear-free zone in Sebastopol while checking out their Patrick Amiot Junk Art trail. Or tuck away to the tiny, but artsy Occidental, which is in the redwoods on the Bohemian Highway.
If you base yourself in Guerneville for a weekend getaway, you can also soak up some if its LGBTQ history and visit the local funky hot mulch spa. We also recommend visiting Stumptown Brewing for some pulled pork and an intense intellectual conversation about the pros and cons of different marijuana cultivation techniques. Stay right near town in the super-friendly self-catering Cottages on River Road (fire pit included!)
Here are three other things to do in the area:
Commune with nature by hiking in the Armstrong Woods State Park.
Commune with nature by taking a slow stroll down Somona county's dog-friendly state park beaches.
Drink wine and feel good about it at some of Sonoma County's organic and biodynamic wineries (like Benziger and Horse and Plow).
Read More: Get the full downlow on all CA parks with our complete California State Parks list (with map).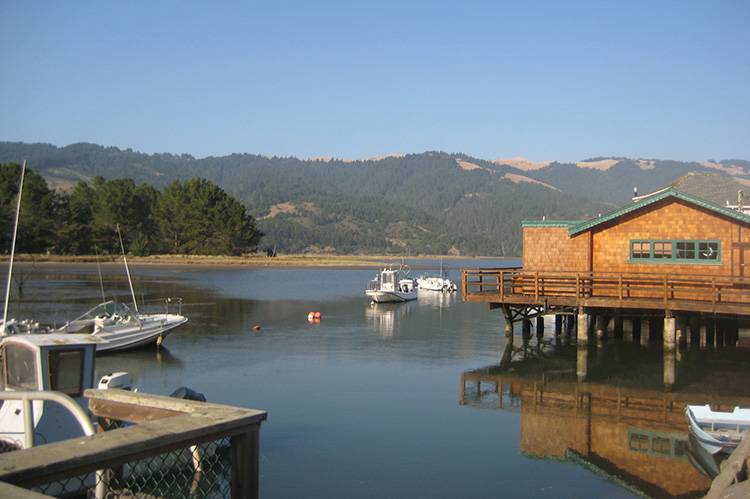 Bolinas
Venn diagram zone: Peace, love, understanding with a great surf break.
Bolinas sits inconspicuously at the tip of the Point Reyes Seashore. It's truly one of the original hippie towns in California. During the 70's they had a lot of commune members, artists, writers and other alternative types living in Bolinas. A community moratorium in 1971 ensured no growth for this tiny hippie beach town of 1,600 people, so not changed much since then. If you are staying the night, check out this super cute wood cabin for rent in Bolinas.
If you want to find Bolinas, better Google map it, because the town also voted to remove all street signs leading down from Highway One.
If you do find it, here are three cool things to do there:
Go surfing.
Check out the Lady of Bolinas Shrine.
Chillax on Bolinas Beach.
Bolinas also makes our list of chill Northern California coastal towns. Check out the list for more weekend getaway ideas.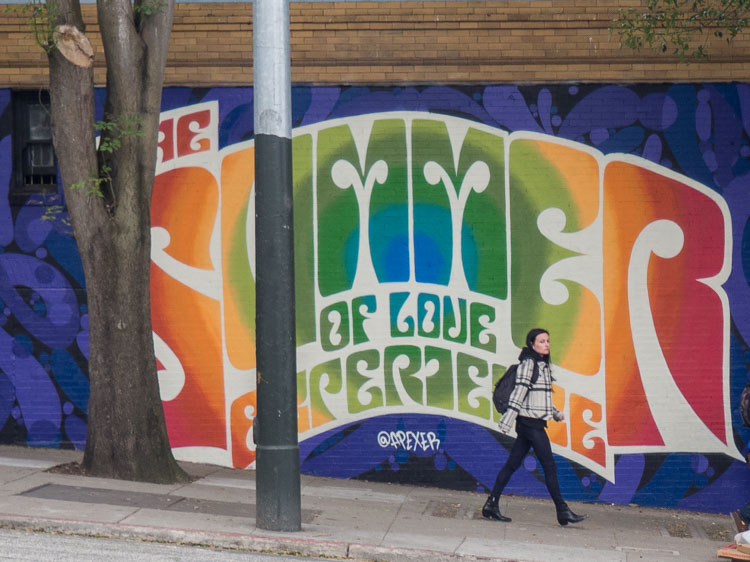 San Francisco
Venn diagram zone: Peace, love and public nudity.
San Francisco is the most hippy town in California, nay all of the United States. In 1967, San Francisco's Summer of Love kicked off the hippie movement and its counter culture ethic was a psychedelic swirl of protests, free love, flower power, mind-altering drug trips and the maturation of rock & roll as a major art form. The corner of Haight and Ashbury streets were ground zero for all of that.
Like elsewhere in San Francisco, there has been some gentrification since 1967. However, the neighborhood has retained its hippie flair and there are still plenty of groovy things to do in Haight Ashbury. Here are three ideas for you:
The Land of the Sun store has tie-died garb, incense, Grateful Dead merch, Bob Marley posters and bongs.
Check out the Grateful Dead house on Ashbury at Waller. It's a private residence and you can't go into it. But stand out front, pop in your ear buds, play some Dead and imagine yourself on the street in 1967.
Take a San Francisco Love tour in a vintage VW van.
You should also check out this article on unusual things to do in San Francisco, all of these activities have been vetted by locals. Stay in the heart of the Haight in the Stanyan Hotel.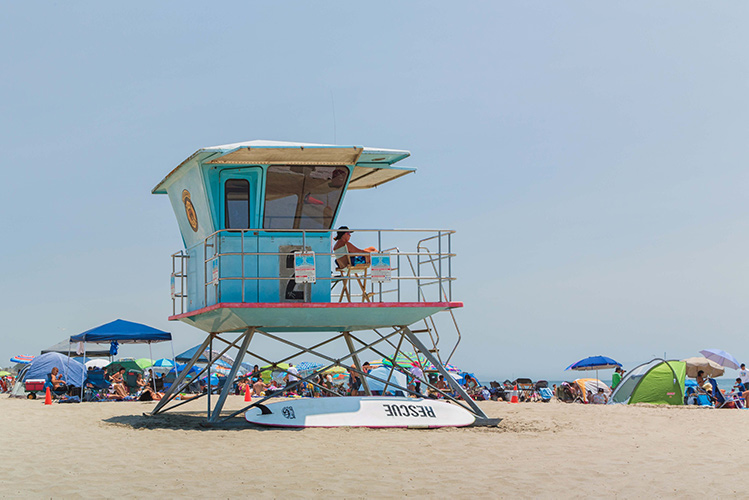 Santa Cruz
Venn diagram zone: Tree hugger and laid back surfer vibe.
Some of SF's Summer of Love rolled south to Santa Cruz. The city established itself as a beach resort town in the early 19th century. However it was the opening of the University of California/Santa Cruz campus in 1965, that cemented the city's reputation as a prime surfer hangout and hippie town in California. The 70's also brought an environmental movement that helped to pave the way for the establishment of notable state parks and reserves.
Santa Cruz is now a cultural mash-up of surfer dudes, university students, laid back nature-lovers and left-leaning hippies. Discover it for yourself with this weekend getaway in Santa Cruz. Look into renting an amazing Santa Cruz tree house or beach house for your stay there.
Here are three ideas for things to do in Santa Cruz:
Watch the sunset at Natural Bridges State park.
Commune with the redwood trees in Nisene Marks State Park.
Shop local at Bookshop Santa Cruz.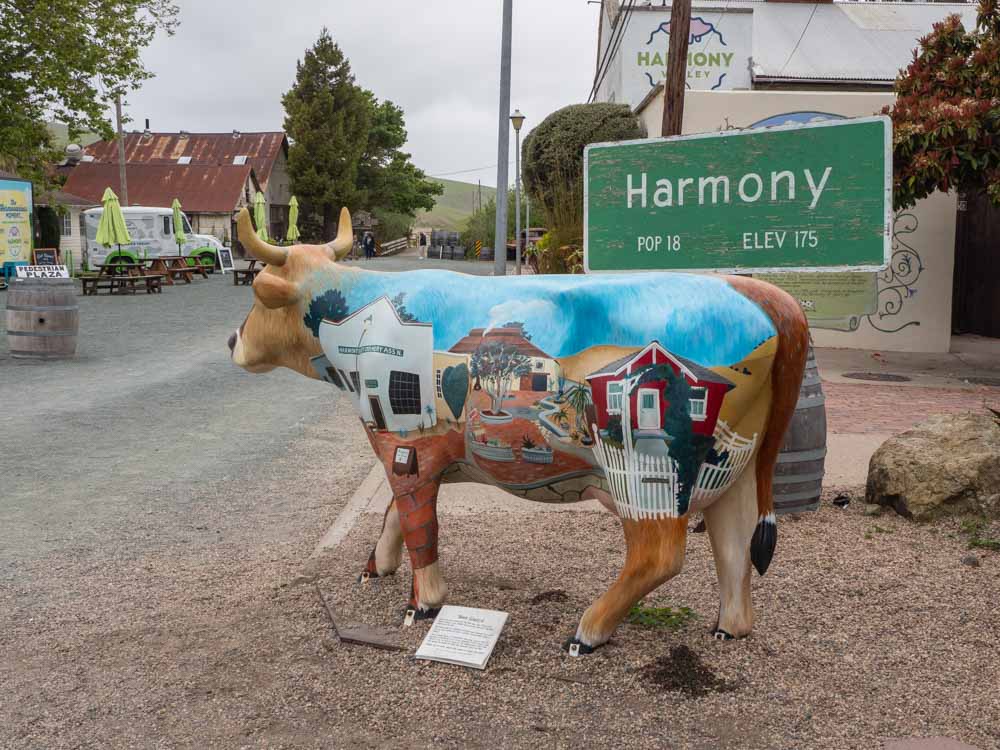 Harmony
Venn diagram zone: Tenacious artsy town with the smell of salt in the air.
This town's name alone qualifies it as an artsy town in California– but there's more to the story than that. Harmony got its start as a dairy region in 1869 and was prosperous until the dairy was shut down in 1955. There was a resurgence in the 1970's when counter-culture types moved in seeking a slower pace of life and a place to practice traditional crafts.
The whole town was sold in 2014, but it still houses a small population of artisans making and selling art objects, locally hand blown glass, and pottery. They also have some hilarious cow sculptures, with are worth seeing. You can also book a local stay in this cute historic red cottage.
Check out our full guide to the history of Harmony (and how to visit). Just to temp you, here are a few things to do there:
Visit the glass blowing works and pottery store.
Go wine tasting at Harmony cellars.
Add Harmony to a weekend getaway in Cayucos and explore more of the Central Coast.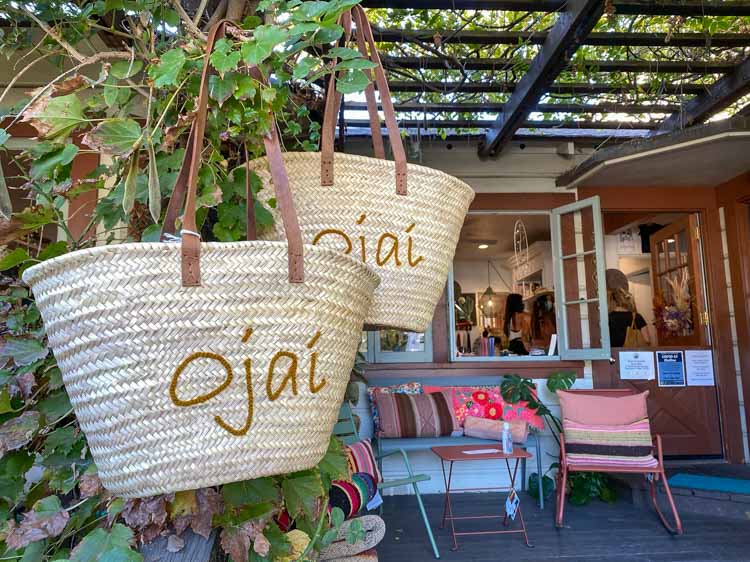 Ojai
Venn diagram zone: Upscale new age with a boutique addiction.
Ojai is frequently described as a nouveau hippie California town. New age believers are convinced that there is a vortex ley line running through the valley. In 1922, celebrity mystic Jiddu Krishnamurti had an epiphany in Ojai and as a result, famous seekers like Charlie Chaplin and Greta Garbo visited and helped to put it on the map. Since Ojai is only 90 miles from LA, you'll still find Hollywood gliterati hanging out there for day trips.
Ojai is a small town, but they've made room for six spas (including one gives you a Native American narrative during your treatment), herb walks, meditation centers and a metaphysical research library. They also have an adorable, historic downtown center with tons of boutiques featuring artisans, home goods and clothing. Stay at the Ojai Ranch Inn and you'll be steps from the Ojai trail.
Here are three things to do in Ojai:
Gallery and boutique stroll on Ojai Avenue.
Take the Friends Ranches farm tour.
Take a hike on the Ojai Valley Land Conservancy.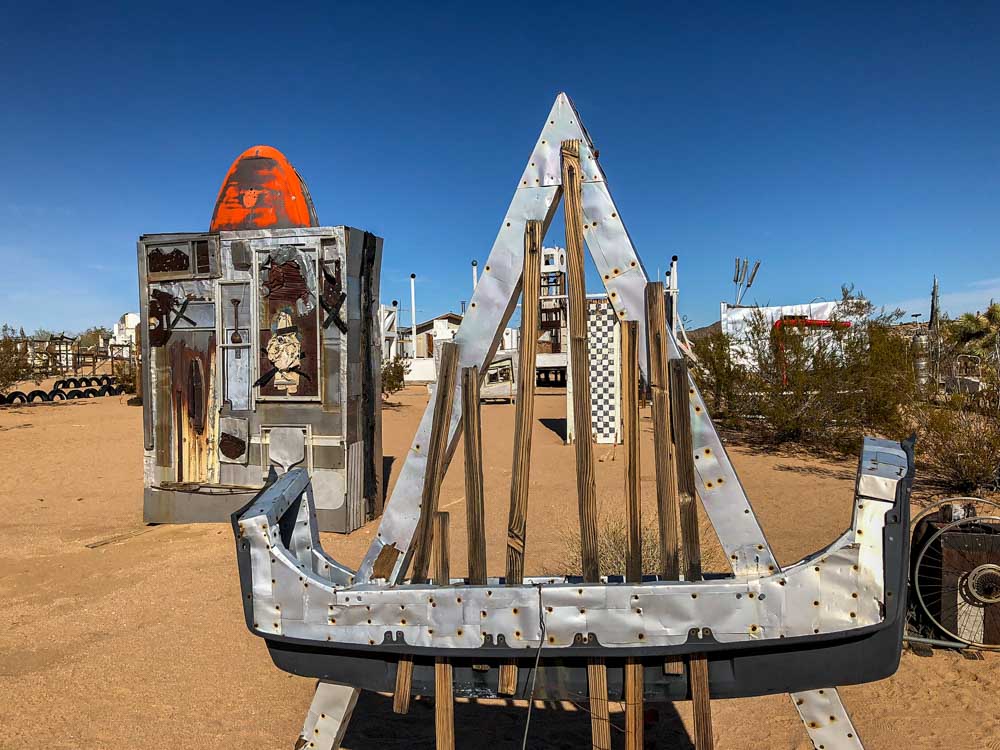 Joshua Tree
Venn diagram zone: Hard core artsy California town with a strong sense of humor.
Joshua Tree town isn't just the gateway for visiting Joshua Tree national park, it's also a very cool artsy town in its own right. The arts culture started with the arrival of mid-century artists who came to the region looking for desert landscapes. A gallery scene arose in 29 Palms during the 1960s. Over the next few decades, galleries and studios spread along the highway 62 corridor.
Today, there are a lot of quirky sculpture gardens, arcane museums and cool art galleries to explore. And if you like your tourism with an intergalactic flair, there is also a UFO landing site and a prisoner of war cabin from an alternative dimension. Here's what to do there:
Start with this list of cool things to do in Joshua Tree, specifically designed for extraterrestrials, culture vultures and weirdos (like me).
Tour the Keys Ranch inside the National Park. You'll get park history with stories regaling the area's murderous miners.
Envelop yourself in kitsch by renting a historic Joshua Tree cabin or a glamping trailer.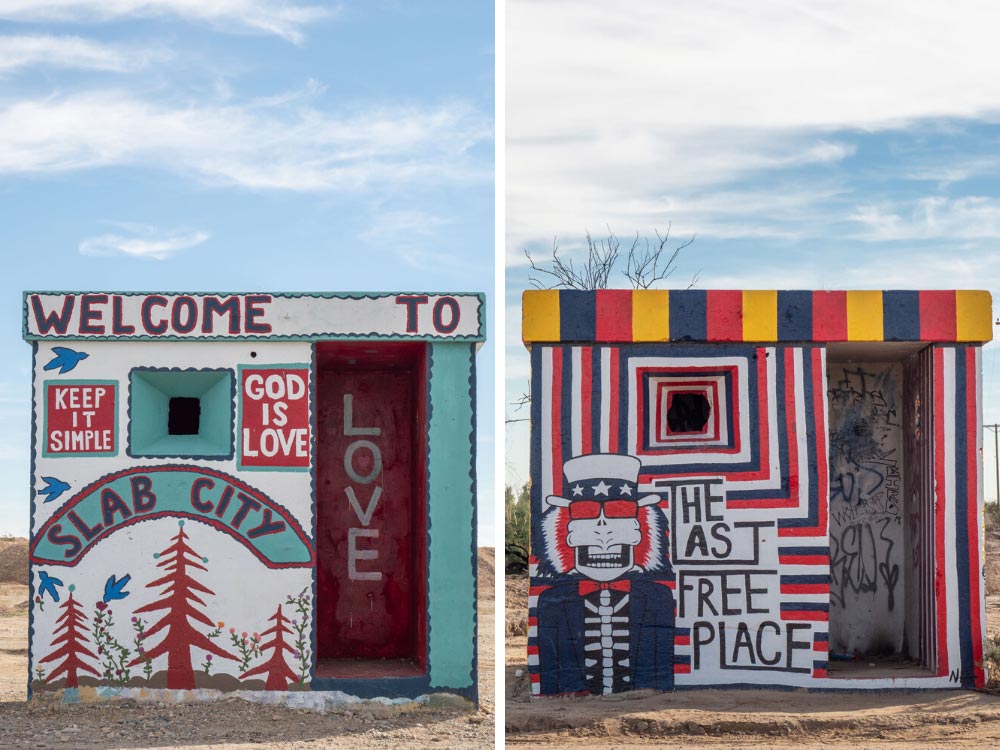 Slab City
Venn diagram zone: Live and let live, get high for breakfast and make some art out of found objects.
Slab City is an off-the-grid squatter camp for retirees, disaffected Millennials and general drop-outs. It's not quite hippie culture, but it's certainly counter-culture. Some of the full-time residents are living out a creative experiment in how to live and grow food in this extreme desert. Seasonal residents are simply looking for a place to live cheaply away from the trappings of suburban life.
But there is a very creative vibe in Slab City with two music venues, a sculpture garden and a touching artistic monument celebrating one man's passion for the God. Check out this article, which will give you background and things to do in Slab City. You can also stay on-site at Spyder's Ponderosa camp.
Here are a few highlights:
Salvation Mountain was a passion project created by Leonard Knight, who celebrated his religious fervor by creating a massive colorful monument on the landscape.
East Jesus is a sculpture garden full of oddments made of found objects. It's very Burning Man. Check out our article on the East Jesus artist collective before visiting.
Visit the Slab City Library, a free library run by volunteers.
Share this bohemian towns in California with your friends on Pinterest: