Harmony, California is a tiny hamlet just a stone's throw from a quiet stretch of the Central Coast. According to Aarika Wells, "Part of the charm of Harmony is that it's not…over crowded. There's a sense of peacefulness". Wells is a resident of Harmony, and she also acts as its unofficial historian, docent, greeter, giver of directions, artist-in-residence and guardian of the lost and found box.
She's right about the peacefulness. The town's handful of historic buildings are tucked into some of San Luis Obisbo's prime pasturelands. The town is artsy without being showy and its open design and pedestrian main street encourage strolling and browsing. It's for this reason– and also the town's quirky history– that we've designed Harmony, CA one of the more bohemian towns in California.
We visited Harmony on our recent getaway to Cayucos and I later spoke to Aarika hoping to get the scoop on how the town came to be.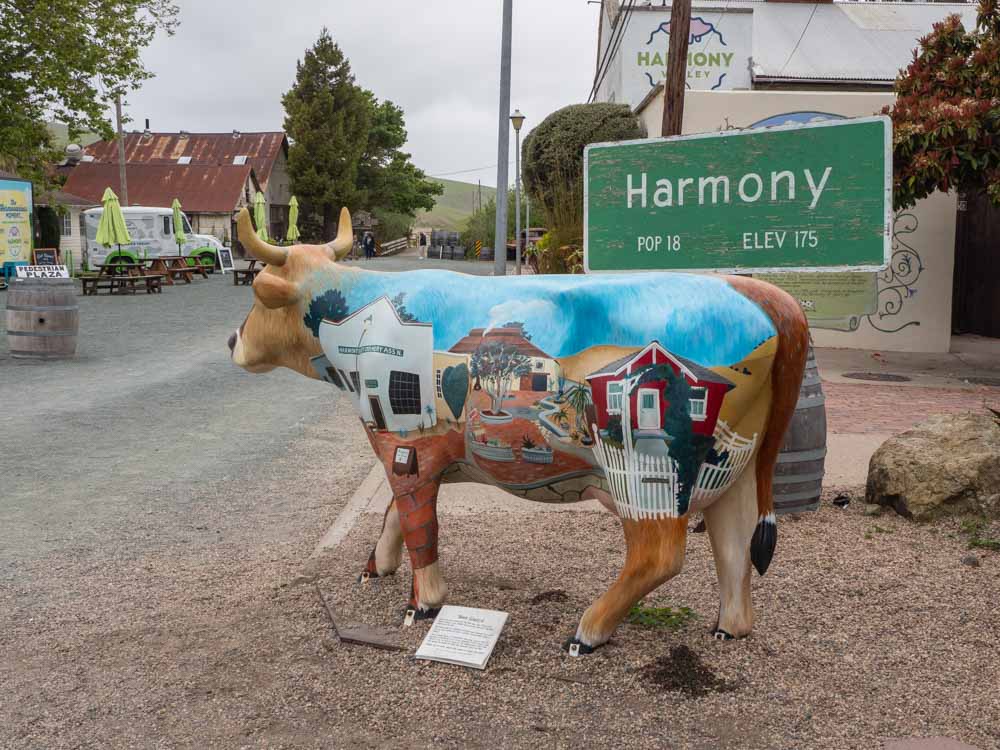 Harmony, California's History
This whole stretch of coastline was originally settled by the Chumash people, who have lived on the Central Coast for over 10,000 years. Their homeland ranged widely in Central and Southern California, covering coastline from Malibu to Cayucos. The Chumash were advanced basket makers and fishers, using kayaks to navigate the coastline.
The Spanish Portolà expedition, camped in the area during the fall of 1769 and they began establishing Missions shortly thereafter. In order to encourage settlement and economic activity, the Spanish began giving land grants. By 1880, dairy operations were in full swing. In fact, according to Aarika, between 1880 and 1920, this region produced more dairy product than anywhere else in the world, and the farmers responded by starting a dairy co-op.
The co-op operated in Harmony until it moved to San Luis Obisbo in the 1930's. But the town persisted, largely because there were still farmers in the area, gathering in the tiny downtown to use the post office. William Randolph Hearst used to stop by the town as well, picking up fresh dairy products for his castle.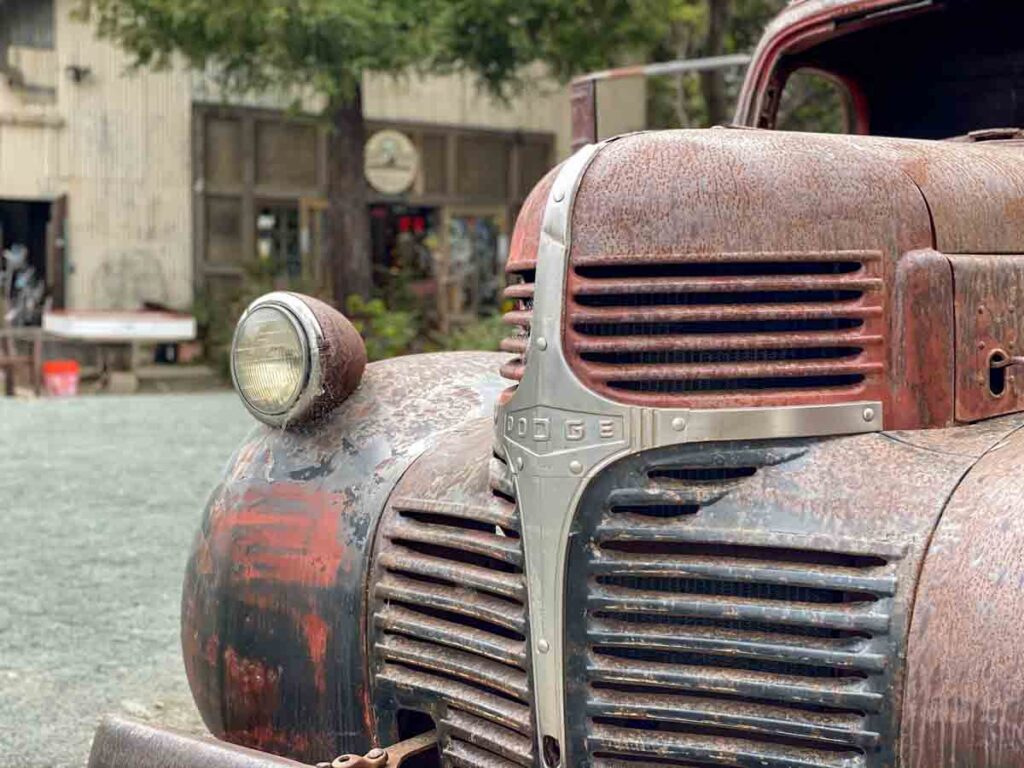 Unfortunately, like many small American towns, Harmony got bypassed by Highway 1 freeway construction and began a slow slide into decay. In 1970, the historic downtown core was purchased by a private party, who began slowly rescuing it from obliteration. Aarika says that owners Fields and Casper "saw a little colony that could be converted into different shops and galleries". Their vision was to keep the original co-op culture, but convert it from dairy into a more artsy endeavor, which helped to foster the bohemian culture in Harmony.
The town is now owned by Alan Vander Horst, and he has continued that ethic by continuing to restore the town, and also growing its business opportunities.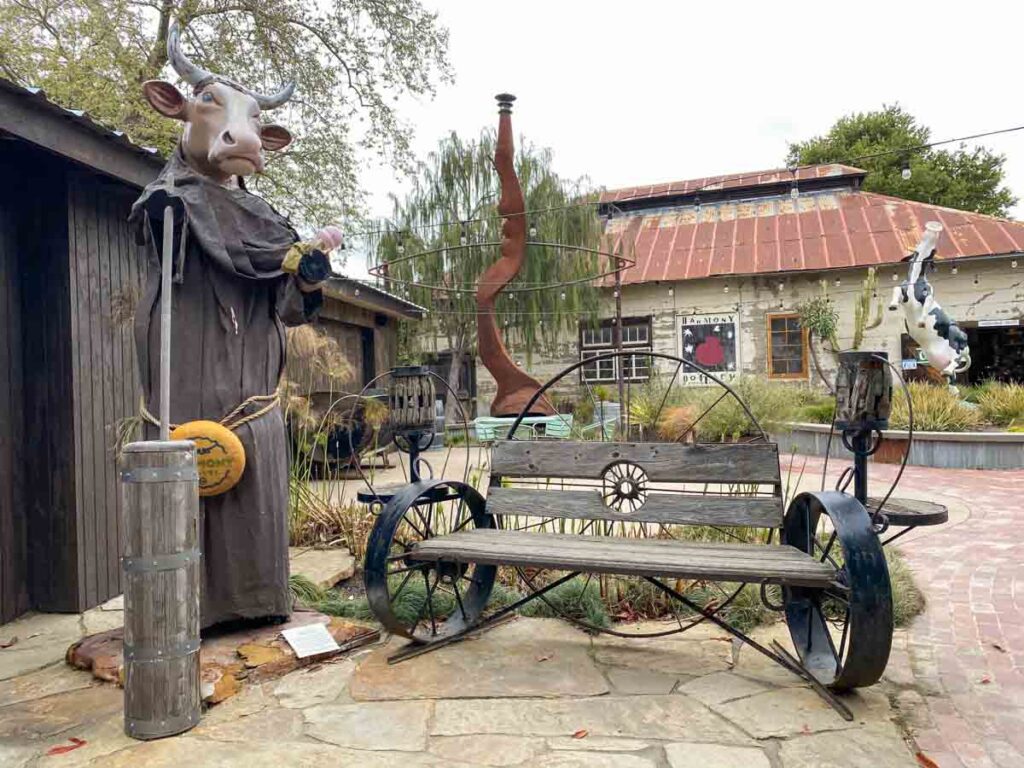 How Did Harmony Get Its Name?
There is a whole mythology about how Harmony got its name. The town and surrounding land had been called both Green Valley and North Cayucos. There were murmurings of murderous dairymen, some talk of rivalries over who made the best cheese, and some violent family quarrels. This was all allegedly followed by some sort of kumbaya moment when everyone agreed to live in peace and harmony.
The truth is probably more banal. You see, the first known usage of "Harmony" was signage for the one room schoolhouse, which was built in 1877. It was called "Harmony Valley School House". Then came the Harmony Valley Creamery, followed by the Harmony Post Office. The enduring legitimacy of the post office and the fact that Harmony, California had its own legit zip code is probably what caused the name to get codified into property records and zoning.
But I do like the more hippie version and believe that it's appropriate for the boho, artsy vibe that now embodies the town.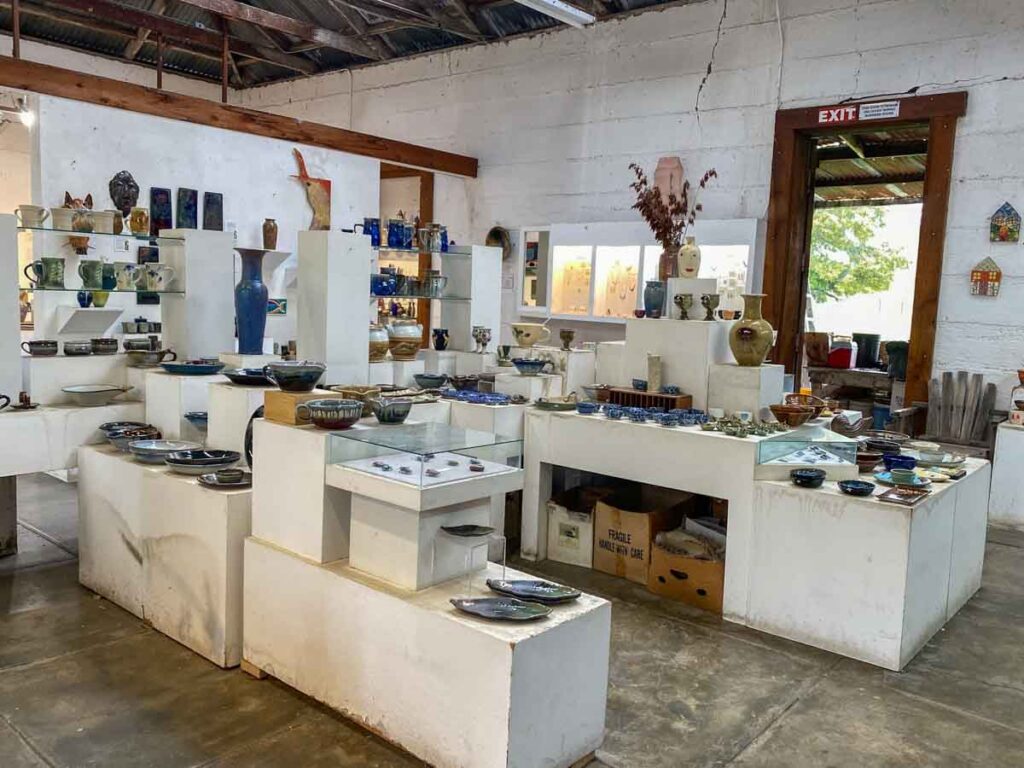 Things to Do in Harmony
This tiny town is really just a wide spot in the road, but, there are some surprisingly fun things to do in Harmony. You should definitely carve out an hour or two for it if you are passing through on a Pacific Coast Highway drive.
Harmony Pottery Studio and Gallery
This large pottery gallery has a mix of both practical pottery pieces (like mugs) and lovely art pieces. The owner of the studio has made many pieces himself but he also curates a world class collection of ceramics.
Hours: Open everyday 10a-5p.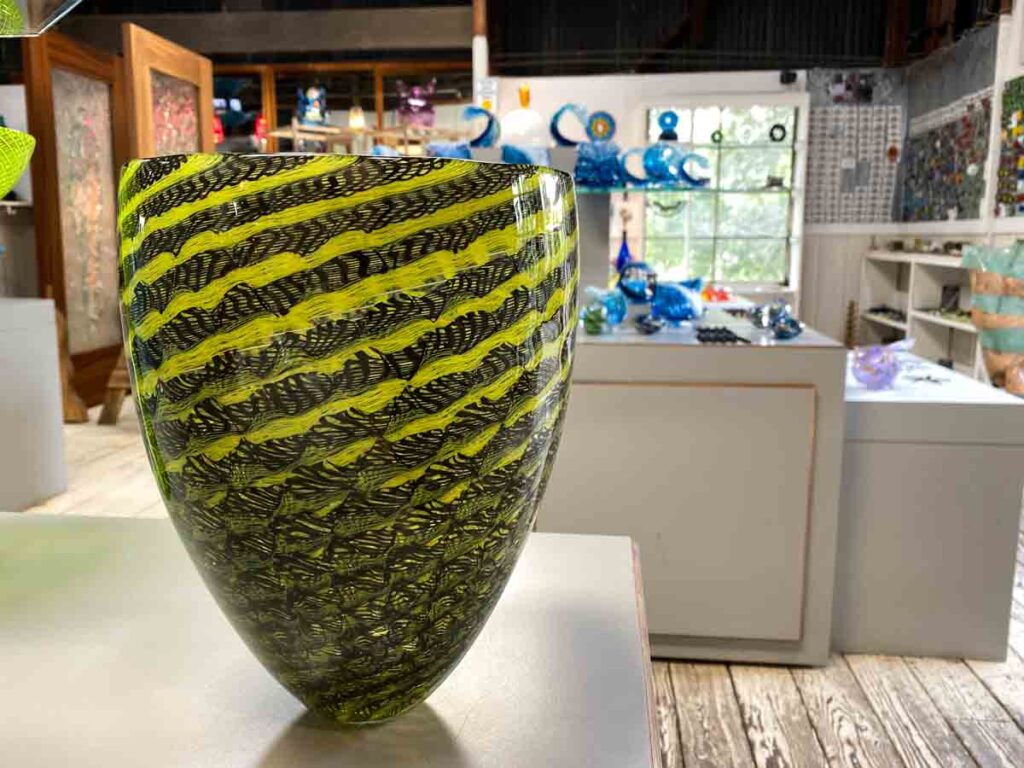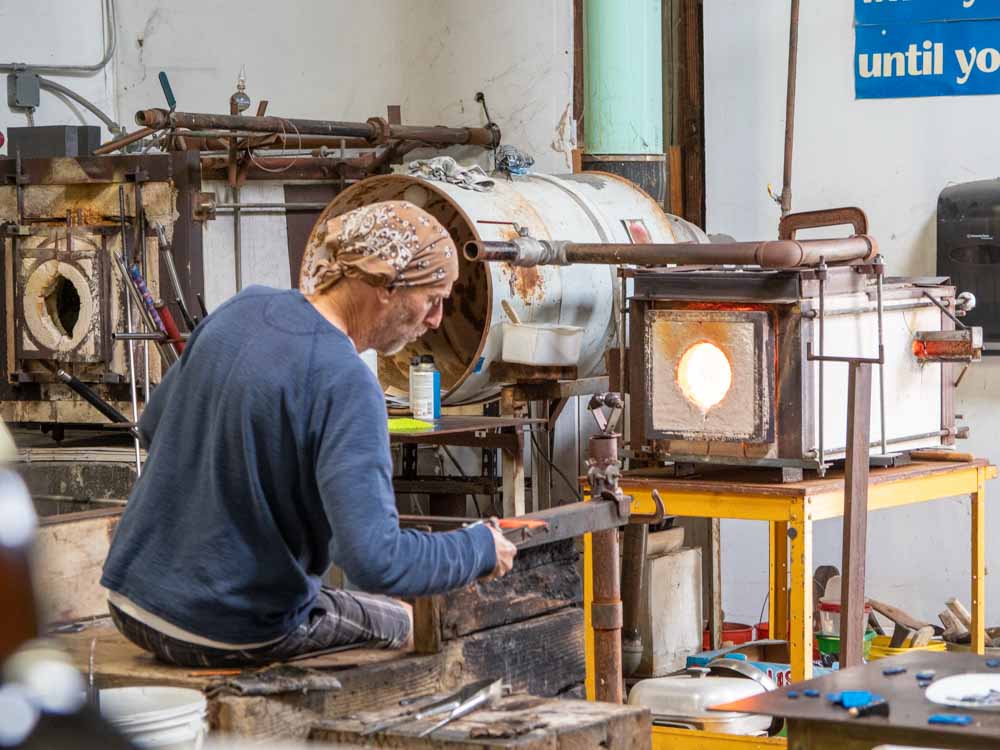 Harmony Glassworks
Eric Dandurand has created a cooperative glass studio that definitely lives up to the town's name. He makes his own pieces (check out his iridescent bowls and vases), but he also provides space for local glass blowers, who work in the store in exchange for studio time. Dandurand also invites the occasional global artist-in-residence to work on site.
Hours: Daily 9a-5p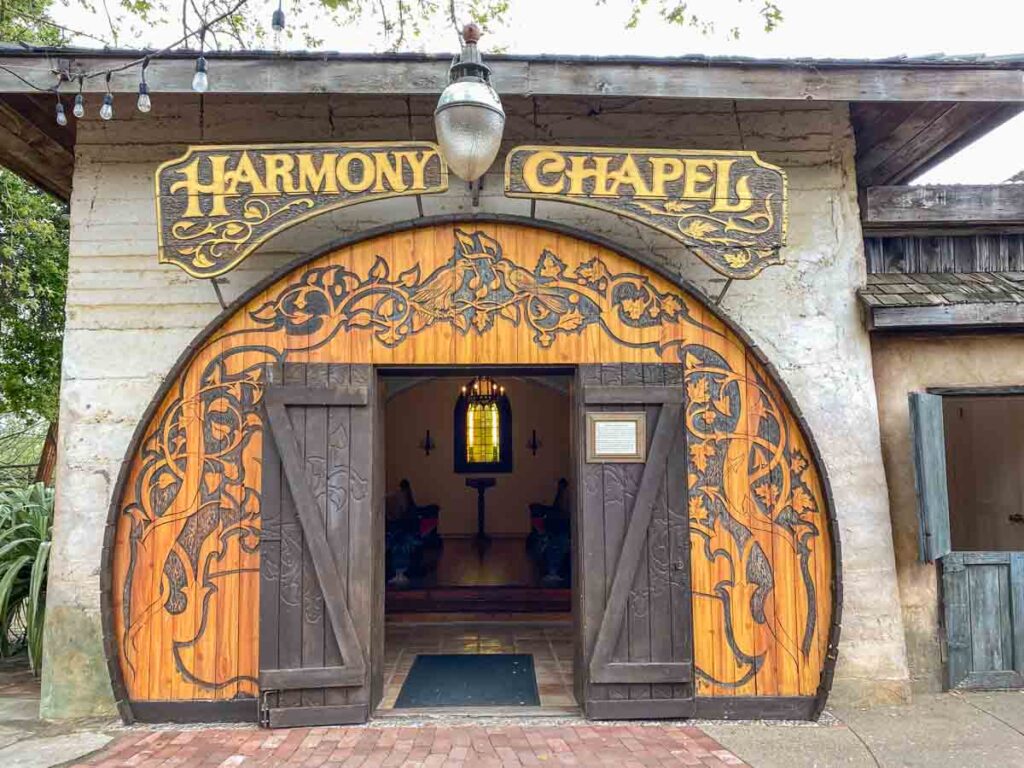 The Harmony Chapel
You can actually rent out the whole town for events, and many people do just that for weddings. There is a cute little Harmony chapel worth checking out. When you are finished doing that, you can take your own selfie at the extra-large picture frame just north of the chapel.
Hilarious Cow Sculptures
Aarika told me that Harmony is where "Highway 1 meets cow pasture" and the town certainly takes its cows seriously. Town owner Alan Vander Horst actually sponsored a public art event called the Cow Parade. Plain white cow sculptures were given to artists, who were allowed to paint them however they wished. The resulting art was then auctioned off for charity. This is similar program to the Heart sculptures initiative in San Francisco.
You can see more of the cow sculptures in and around San Luis Obisbo.
The cow in the courtyard playing frisbee is called "Daisy" and she was a gift from New York City. She sits in the middle of a lovely garden courtyard. There is also another funny sculpture of a monkish cow wearing a wheel of cheese and eating an ice cream.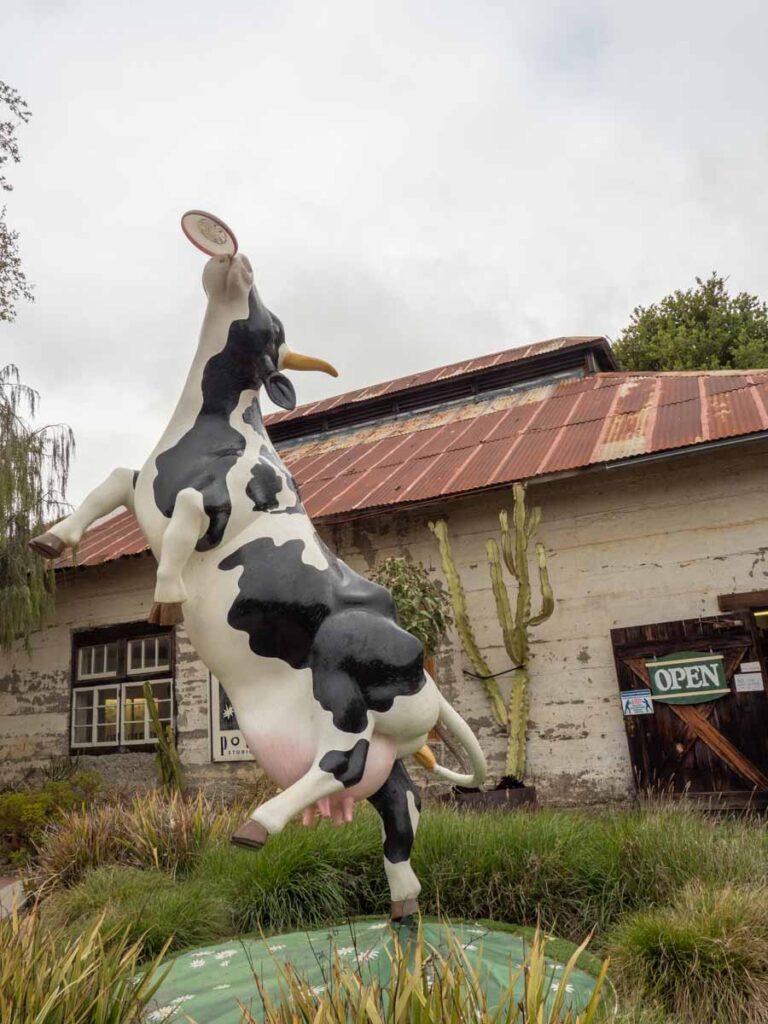 Harmony Ice Cream
You can still get some yummy Harmony Valley Creamery ice cream from a food truck on the main drag.
Hours: In the summer they are open daily 11a-5p. Otherwise, just weekends 12a-5p
Harmony Food Truck
Harmony is working on expanding its food offerings and they've recently started up a cheese themed food truck. They have items like raclette, poutine and grilled sanwiches.
Hours: In the summer they are open daily 11a-5p. Otherwise, just weekends 12a-5p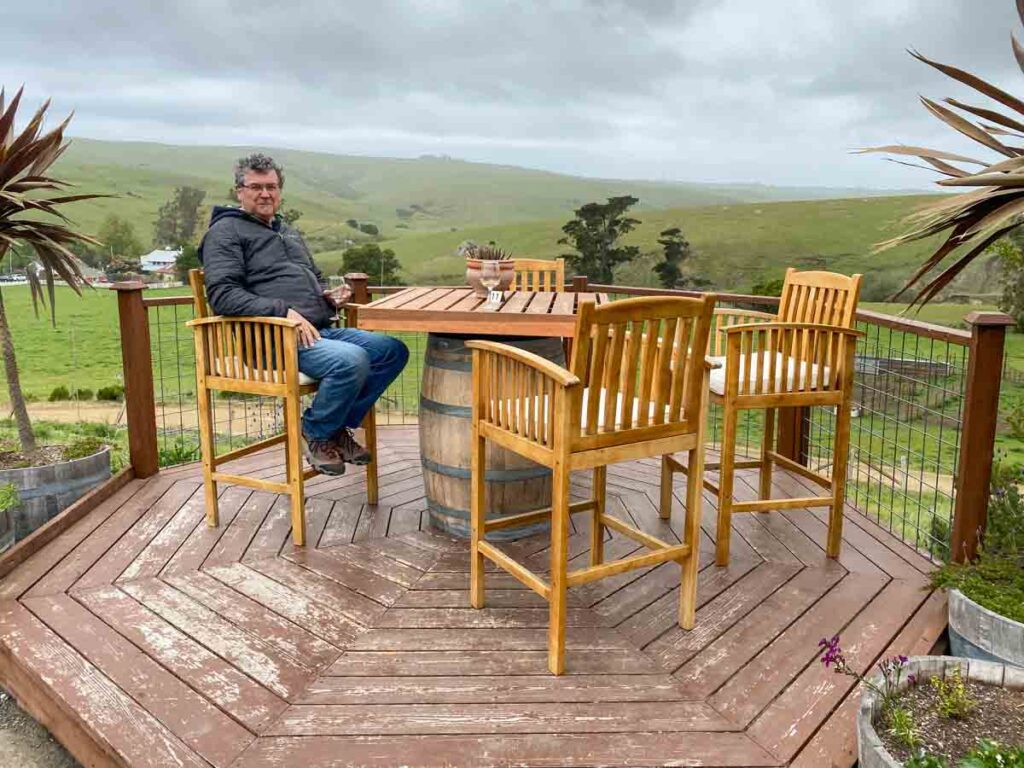 Wine Tasting in Harmony Cellars
Harmony Cellars in not technically part of the town of Harmony, but they are friendly neighbors. The winery is located just up the hill from the town and it's one of just a few tasting rooms on this part of the coast.
They are committed to producing fine wines at affordable prices (which isn't the case with many Paso wineries). They source their grapes from around the Central Coast and they make some yummy Zinfandel, Tannat and Petit Sirah. But the real treat is their large outdoor deck, which overlooks pasturelands. They do get busy on the weekends and reservations are recommended.
Hours: Daily 10am-5pm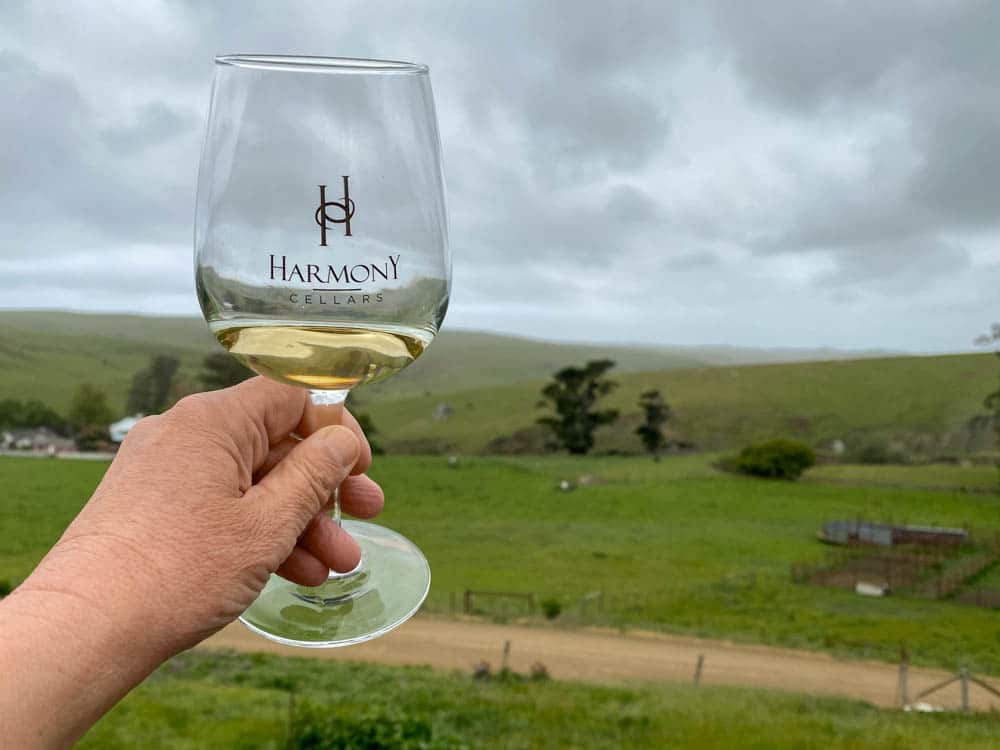 Got Questions? We Have Answers!
Is Harmony a Real Place?
Yes. Despite the murky history of Harmony's name, it is indeed a real place. There is a historic downtown as well as a lot of pasture acreage surrounding the town.
Who Owns Harmony?
Historic Harmony, California is a 2.5 acre plot of private land owned by Alan Vander Horst.
How Far is Harmony from Los Angeles
The town of Harmony, CA is 240 miles north of Los Angeles. It's located on Highway 1 and will take about 4 hours to get there from LA.
How Far is Harmony from San Luis Obisbo
Harmony is 28 miles and 31 minutes north of San Luis Obisbo.
How Far is Harmony from San Francisco
Harmony is 230 miles (and 4 hours) south of SF.
What is the Population of Harmony?
That is a trick question. There is one person living in the traditional historic downtown of Harmony. But there are about 18 total people living in the greater Harmony Valley area. There are also four cow sculptures and countless actual cows living on the land.
More Fun Stuff to Do on the Central Coast
Share the story of this quirky California town with your friends on Pinterest: