If you're trying to figure out the best time to visit Big Sur, there isn't one clear and simple answer to that question. When to go will depend upon what you want to see, whether you can plan ahead and whether you can tolerate crowds.
We've visited Big Sur in all seasons and regardless of when you go, Big Sur is so worth visiting. The redwood forests, marine life and epic ocean views are all waiting for you. But certain seasons have their advantages. So this guide for when to visit Big Sur will give you weather information, tips on how to avoid crowds, the best and worst times to go, and a whole slew of travel tips.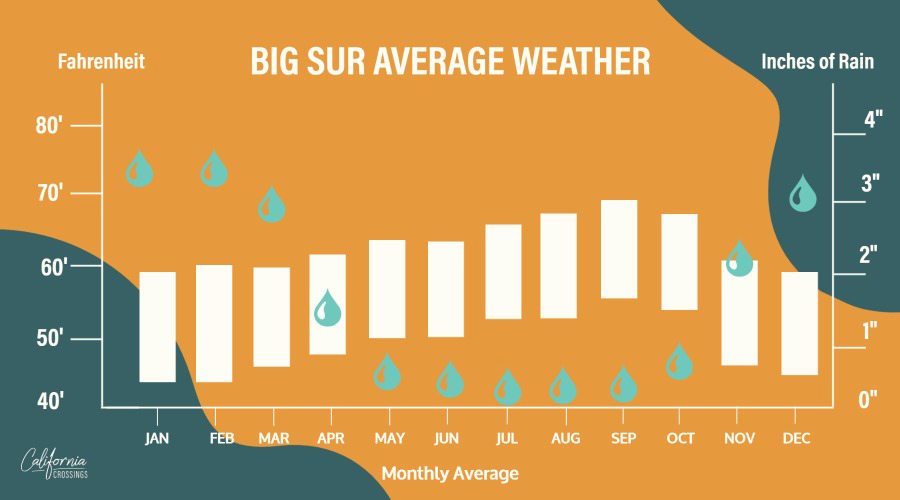 (This article contains affiliate links. This means that if you choose to purchase, I'll make a small commission.)
Weather in Big Sur
Big Sur has classic coastal weather which typifies north/central California. The weather is often cool and foggy. Like the Pismo Beach weather, there's little variation in the temperatures across the months, and layering up is always a must.
And while the temperatures may not vary much, there's a lot of variation of rainfall during the year. You can expect little-to-none in the summer months, but heavier storms from November through March.
When is the Best Time to Visit Big Sur?
We like visiting all of the Northern California coastal towns in April/May or September/October. And this is also the best time to visit Big Sur because the weather is pleasant, it's less likely to be foggy, and you'll avoid the summer crowds. Better yet, try to do Big Sur during on weekdays and you'll avoid even more crowds.
When is the Worst Time to Visit Big Sur?
The rainy season from November through March is the most difficult time to visit Big Sur. If the storms are really heavy, they can trigger mud slides, which will take out parts of scenic Highway 1. If the storms are also very windy, downed trees and debris can close trails.
That said, the weather is very capricious. Some years there are no closures. And even when there are closures, the road may be out for only a day or two. Or it could be out for weeks or months. If you are traveling through Big Sur during this season, always check road conditions with Caltrans or the Monterey District Forest Service roads page.
And if you encounter a road closure, you can backtrack north and then take Highway 101 to Paso Robles and then back over to Highway 1 to hit the southern portions for the coast. This will cost you an extra 2-3 hours, but it routes you through some nice wine country.
When is the Busiest Time to Visit Big Sur?
Summer weekends are the very busiest time for Big Sur. School's out and everyone is vacationing. You can still visit during that time but here are a few tips for making it more pleasant:
Book your lodging well in advance. And if you can't get something inside of Big Sur, look for hotels in Pacific Grove or Monterey to the north or Cambria to the south.
Go out early or late. Point Lobos, the Bixby Bridge overlook, and Pfeiffer Beach have limited parking and they get very busy. Be the first (or last) one there and you won't have to worry about it.
Explore southern Big Sur. Many people never venture further than the McWay Falls at Julia Pfeiffer State Park. But if you go further south, you'll find the dog-friendly Sand Dollar beach, elephant seals at Ragged Point, the Piedras Blancas lighthouse and a lot of overlooks with uncrowded pullouts.
The Best Time to Go to Big Sur: Season by Season
There are no absolutes about the best time for visiting Big Sur. Each season has its pros and cons. Here are some reasons to visit at any time of year.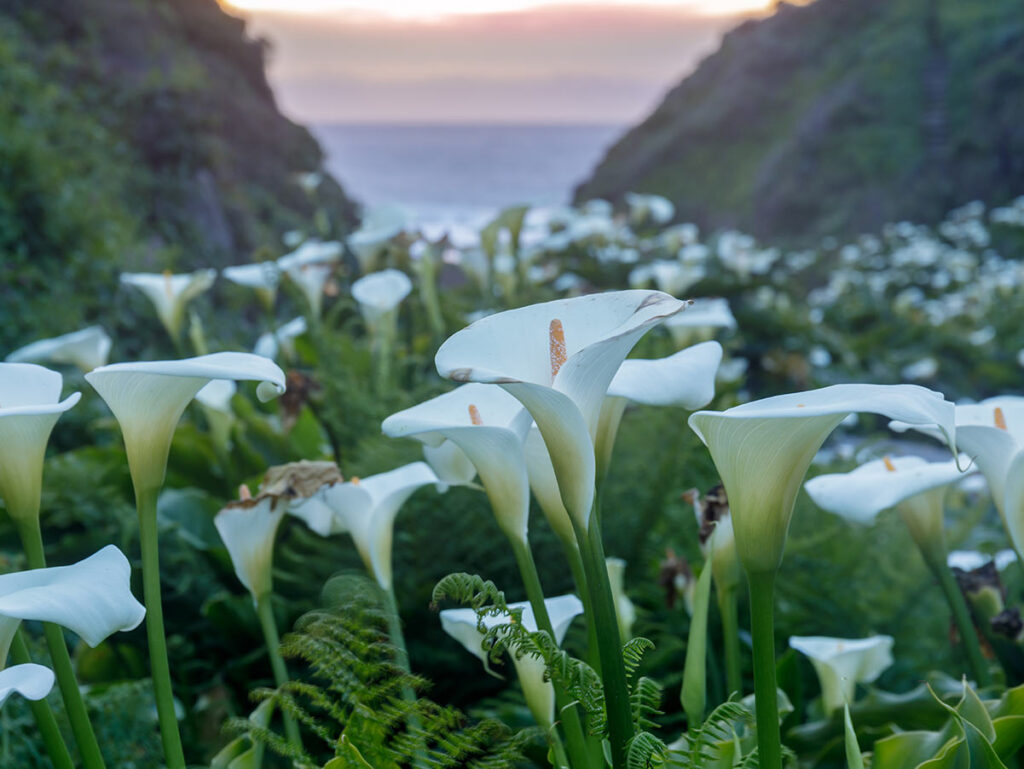 December, January and February
If the roads are open and there isn't rain forecasted, winter in Big Sur can be spectacular. The rains green-up the terrain and the calla lilies at Garrapata beach (pic above) often start blooming in mid-February.
We think that December and January are the best times to visit Big Sur for spotting gray whales as they make their annual migration south to the Baja Peninsula. At Ragged Point, there is also elephant seal breeding and birthing going on during January and February.
The Big Sur foragers festival usually occurs in January or February and events include walk and talks, and chef's tastings.
Getting camp spots is always tricky in Big Sur. During the winter months, Andrew Molera State Park sites are closed and Pfeiffer Big Sur limits its camp spots near the river.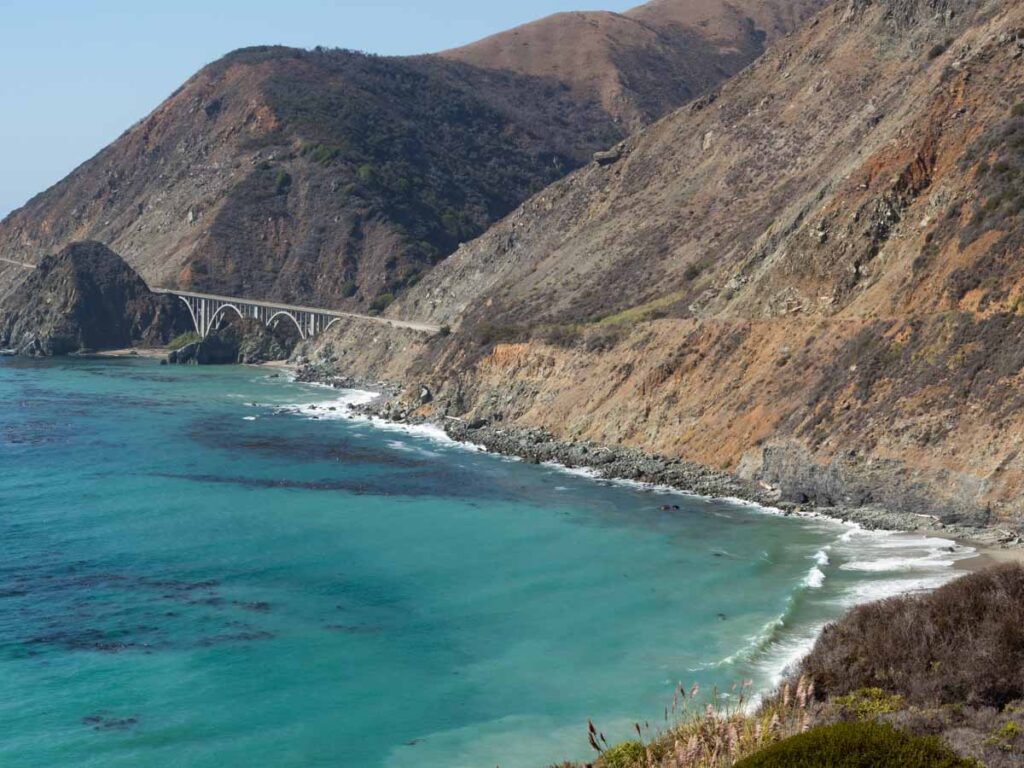 March, April and May
In spring, the greenery and wild flowers start hitting their stride in March. In addition, April and May are less busy, less rainy and almost as warm as the summer. In fact, the spring is our favorite time to visit anywhere in California.
March marks the beginning of the return migration of the gray whales and the elephant seal pups are still at Ragged Point.
April hosts the huge Big Sur Marathon, which is usually the last Sunday of April. Unless you are participating in the marathon, it's not a great time to visit as the roads will be closed on the day-of.
In mid-May, Carmel-by-the-Sea hosts their annual art festival, which features artists, sculptures and live music.
June, July and August
The summer is the best time to go to Big Sur if you're itching for a classic American road trip. And driving down the Pacific Coast Highway through Big Sur is one of the best road trips in the country. The roads are open, the trails are (usually) open and the ocean is glorious.
Carmel hosts an annual Culinary week in early June. It features prix fixe menus, immersive food experiences and other culinary events.
If you visit Big Sur in the summer, sure to book your lodging way in advance. And if you want to eat someplace special (like Nepenthe), get advance resos for that too.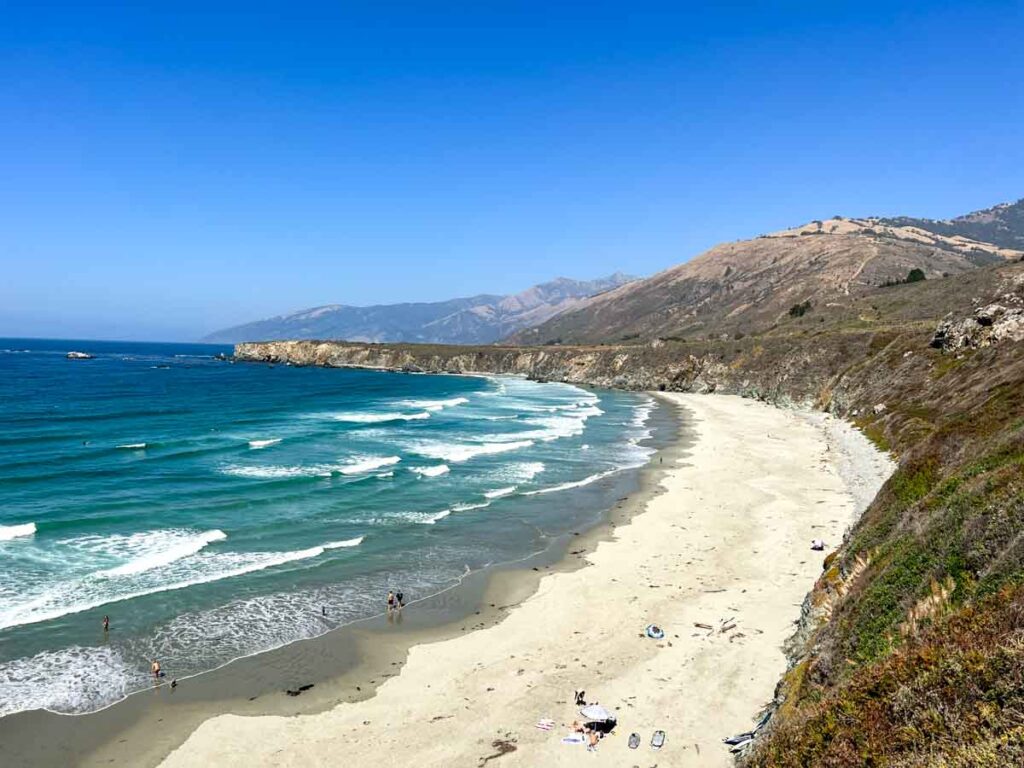 September, October and November
Like the late spring, September and October are among the best times to go to Big Sur. The weather is great and the crowds have died down. For a wildlife fix, the elephant seals will start returning to Ragged point in mid-fall. And during the summer and fall, the migratory humpback whales make an appearance to feed in Monterey Bay.
The Big Sur Jade festival is a fundraiser for a local school and it usually occurs the first or second weekend in October. The event features jade and rock artists, and musical entertainment.
The Big Sur Food & Wine festival occurs the first weekend in November. The event features special tours, chef's tables, winemaker panels and various tasting events.
The Big Sur River Run is a 5/k walk/run that runs along the river course near Pfeiffer Big Sur State Park. It usually occurs in late October.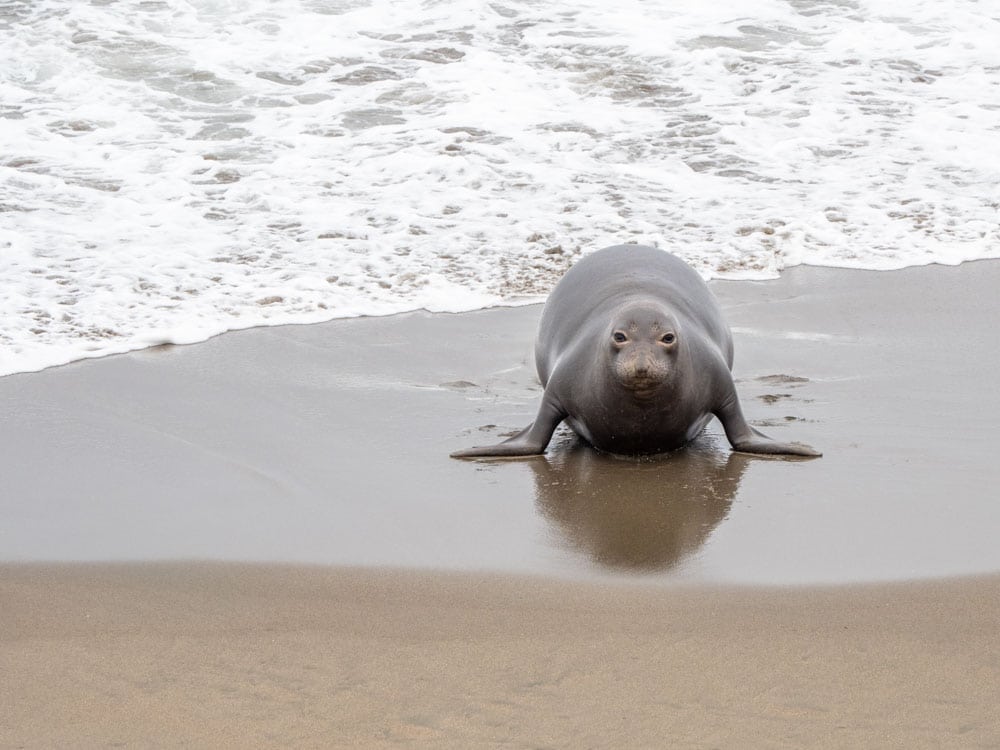 Plan Your Big Sur Trip
Regardless of the season, we've got a ton of resources to help you plan a trip to Big Sur and the Central Coast.
If you're short on time, start with our guide for how to spend a day in Big Sur. It will help you prioritize the highlights, while still getting you down the coast. If you want to camp, we've also got a guide that lists ALL of the key camp spots in Big Sur. Pro tip: book way early and don't expect it to be cheap. (and that goes for booking hotels too.)
If you are flying to the area, use our Big Sur airport guide to figure out which airport is the closest and/or most convenient for you.
If you want to explore north of Big Sur proper, we've got suggestions for how to spend a day in Carmel-by-the Sea and also things to do in chill Carmel Valley.
If you want to explore south of Big Sur proper, check out our profile of quirky Harmony, which is one of the most hippie towns in CA. We've also got tips for things to do in Cuyucos, which is cute little dog-friendly town with a great cookie bakery.
And if you are camping your way down the coast, be sure to book a camp spot at Pismo State Beach. That state park has the best beach access on the central coast. And while there, do some of these Pismo Beach activities.
Share the best times to visit Big Sur with your friends: