Pismo Beach is one of our favorite Central Coast beach towns. It's a key stop on our Pacific Coast Highway itinerary. It's also centrally located, with Paso Robles just an hour to the north, Solvang an hour to the south and Morro Bay, San Luis Obispo, and Cuyucos within striking distance. Pismo is blessed with a trifecta of fantastic beaches, wine country and a chill vibe.
We love the Central Coast and have visited Pismo multiple times in the past few years. So to help you with your own visit we've compiled an extensive list of the very best things to do in Pismo Beach which offers something for everyone who visits.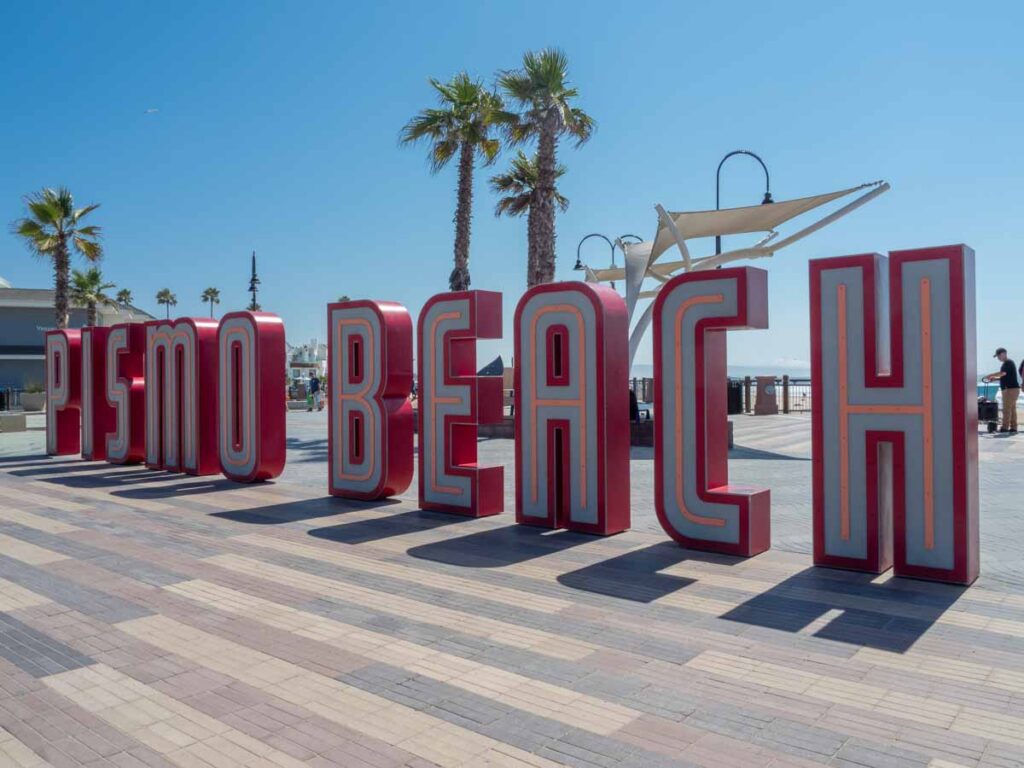 (This article contains affiliate links. This means that if you choose to purchase, I'll make a small commission.)
Where to Stay in/near Pismo Beach
Luxury Beachfront: Vespera Resort, Marriot Autograph Collection. This 4-star resort is located right in town. They have large rooms, a pool and a ton of outdoor seating areas with fire pits. Check reviews and book here.
Mid-range Beachfront: The Inn at Avila Beach. This quirky 3-star place has balconies, free breakfast, afternoon pie and ice cream and soaking tubs. Check reviews and book here.
Budget & Pet-Friendly: The Agrarian Best Western. This motel is located in Arroyo Grande. So, no ocean views. But it's pet-friendly, offers free breakfast, has a pool and is easy on the wallet. Check reviews and book here.
If you are thinking of camping, check out our guide for Pismo State Beach Park, it includes tips on where to get the choice spots and how to snag reservations. The park has three different campgrounds featuring 40 RV spots with hook-ups, 120 tent spots and 250 primitive spots in the off-road dunes. RVs up to 36 feet are allowed.
FAQ for Visiting Pismo Beach
How Many Days for Visiting Pismo Beach?
There are a lot things to do in Pismo Beach on this list, and you'd need 5-7 days to cover everything. But you can do a lot in Pismo on a long 3-day weekend by picking just a couple of beaches, hikes and other Pismo attractions.
Is Pismo Beach Swimmable?
Sort of. The water is quite cold on the Central Coast. You can go into the water and people even swim laps, but you'll need to brace for the temperature and be very watchful of rip tides. You may want to consider going in at some of the more sheltered coves, rather than Pismo, Grover or Oceano Dunes.
Is there Free Parking in Downtown Pismo?
Yes. If you park a few blocks east of the beach area.
When is it Busy in Pismo?
Pismo bets very busy, particularly on summer weekends and holidays. This goes for both regular lodging and for the campgrounds. If you can swing it, shoulder season April/May and Sept/Oct are great weather and less crowded.
We've also got some detailed on when to visit Pismo. It includes monthly weather averages and seasonal events.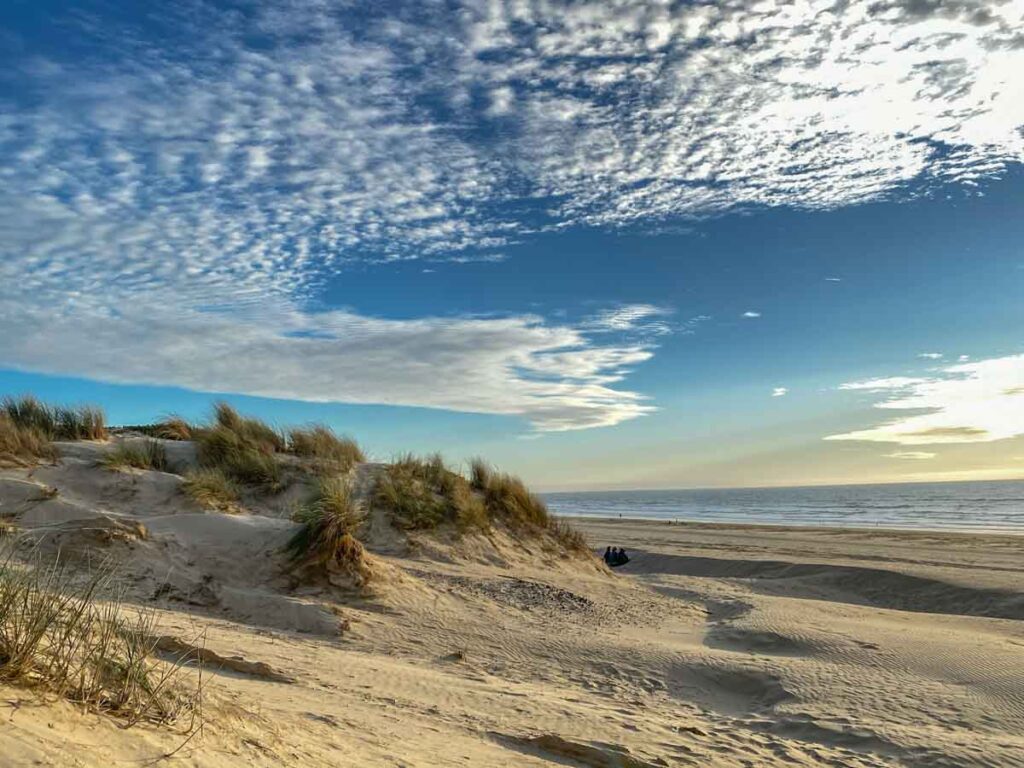 22 Things to Do in Pismo Beach
1. Take a Good Long Stroll on Pismo Beach
Taking a long slow walk on Grover Beach is one of my favorite things to do in Pismo Beach. The beach does not disappoint.
What you might think of as "Pismo Beach" is actually three different uninterrupted beaches: Pismo Beach, Grover Beach and Oceano Dunes. The three beaches together are over four miles long and quite wide. So there's plenty of room for cars, dogs, runners and slow strollers.
Actually, you could probably ignore everything else on this list and just spend time at the beach. If that sounds like paradise, check out our guide to Pismo's best beaches.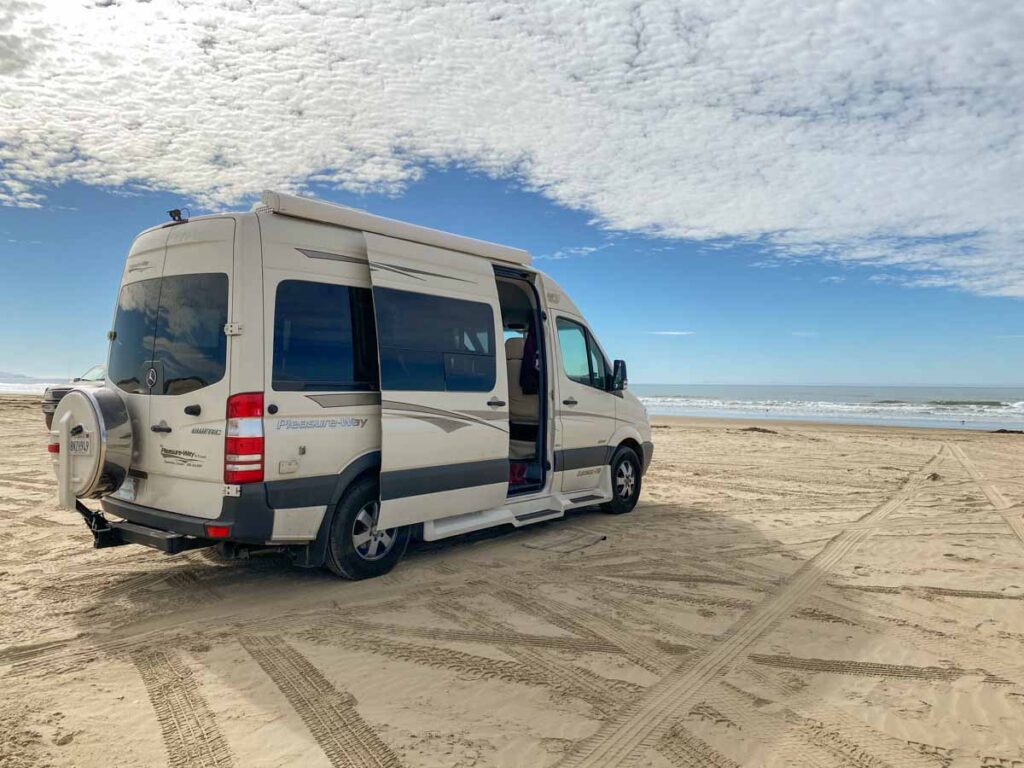 2. Drive On the Beach, or Go Off-Roading
Pismo beach is known for being able to drive on the beach, something that isn't permitted anywhere else in CA!
The Oceano Dunes State Vehicular Area has 1,500 acres of off-roading in the dunes. The state issues day-use permits on demand. They issue 1,000 permits per day for street legal vehicles, and 1,000 "green sticker" permits for pure off-road vehicles. Most cars with OK clearance can simply drive up and down the beach, but if you want to drive the dunes, you'll need to have a vehicle with proper off-road cred. And I wouldn't drive the beach in a slow slung car. You can access the beach at Grover Beach or Oceano Dunes.
If you don't own an off-road vehicle but want to give it a try, you can rent an ATV starting at $75/hour. Check pricing and pre-book with BJ's, Steve's, Arnie's ATV, or Sun Buggy.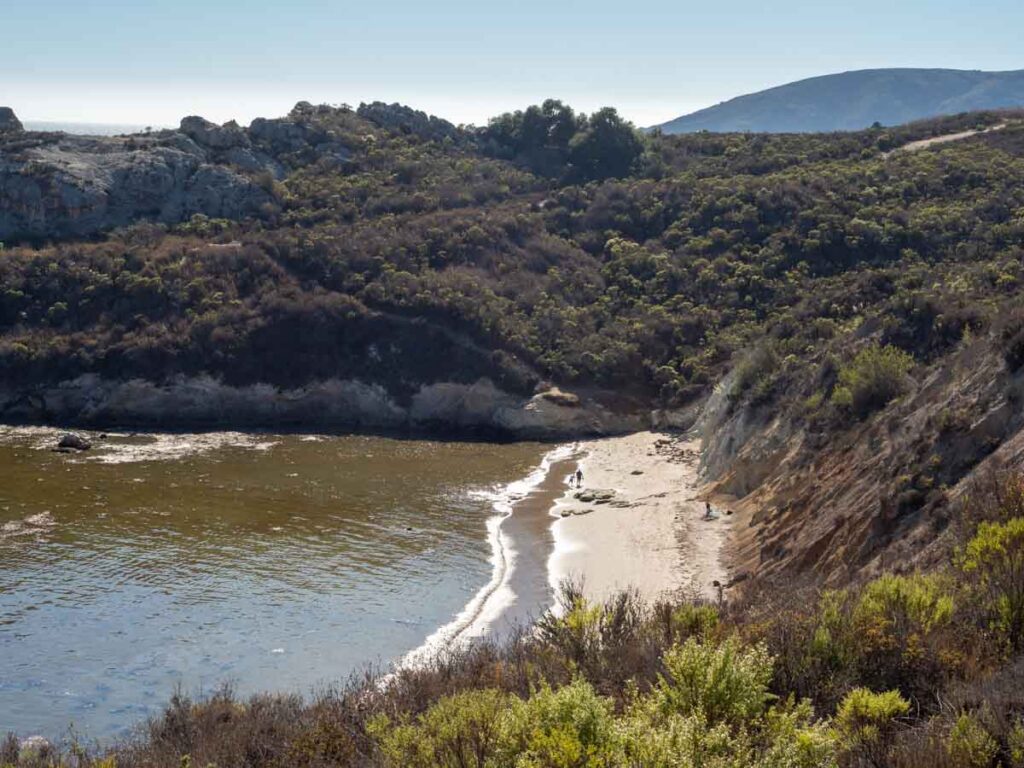 3. Visit Pirate Cove
Pirate Cover definitely has an edgy vibe to it, and there are sometimes nude sunbathers on the beach. You can take the 2 mile walk from Bluff drive or a .5 mile walk from the Shell Beach Bluff trailhead parking. Both go out to the to Cave Landing trail (and the sea cave), or you can simply chill on the beach, which is protected from rough water.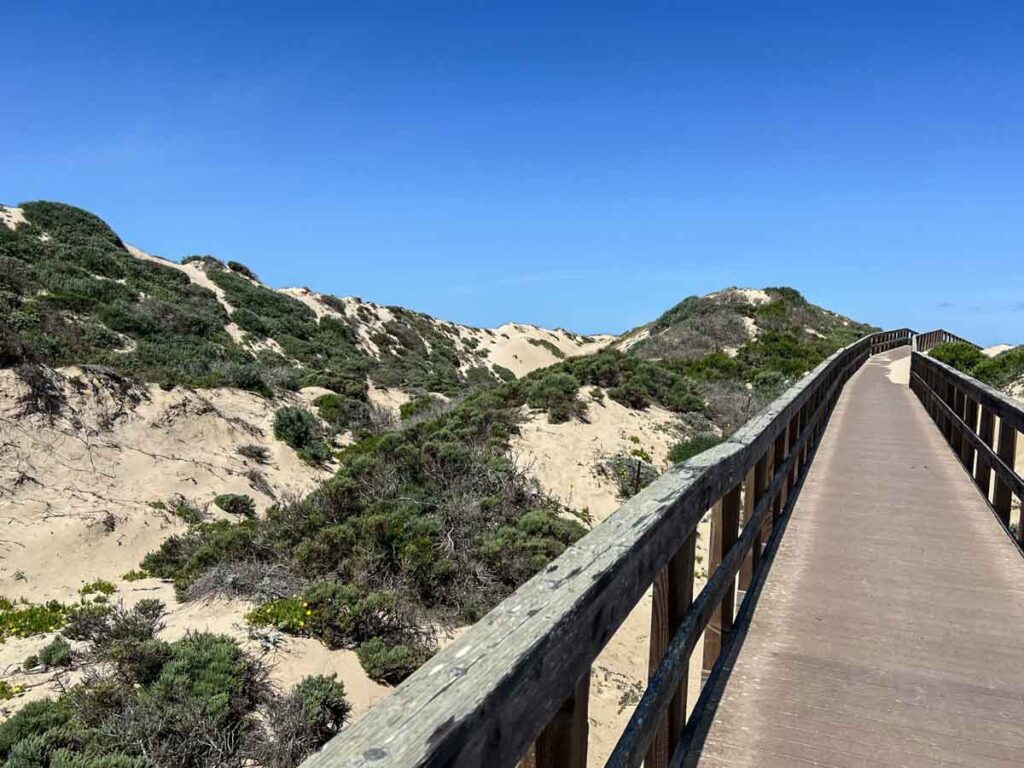 4. Visit the Oso Flaco Boardwalk and Beach
Oso Flaco is located in a quiet southern section of the Pismo State Park, accessed from Oso Flaco lake road. The 2.2 mile out and back walk features birding, local plants and a boardwalk that goes past Oso Flaco lake, and over the dunes to the beach.
5. Visit the Rancho Guadalupe Dunes Reserve
Rancho Guadalupe is what to do in Pismo if you want to get away from it all. The reserve is down the coast in Guadalupe. It's a quiet beach, perfect for strolling, picnicking and gazing at the sand dunes.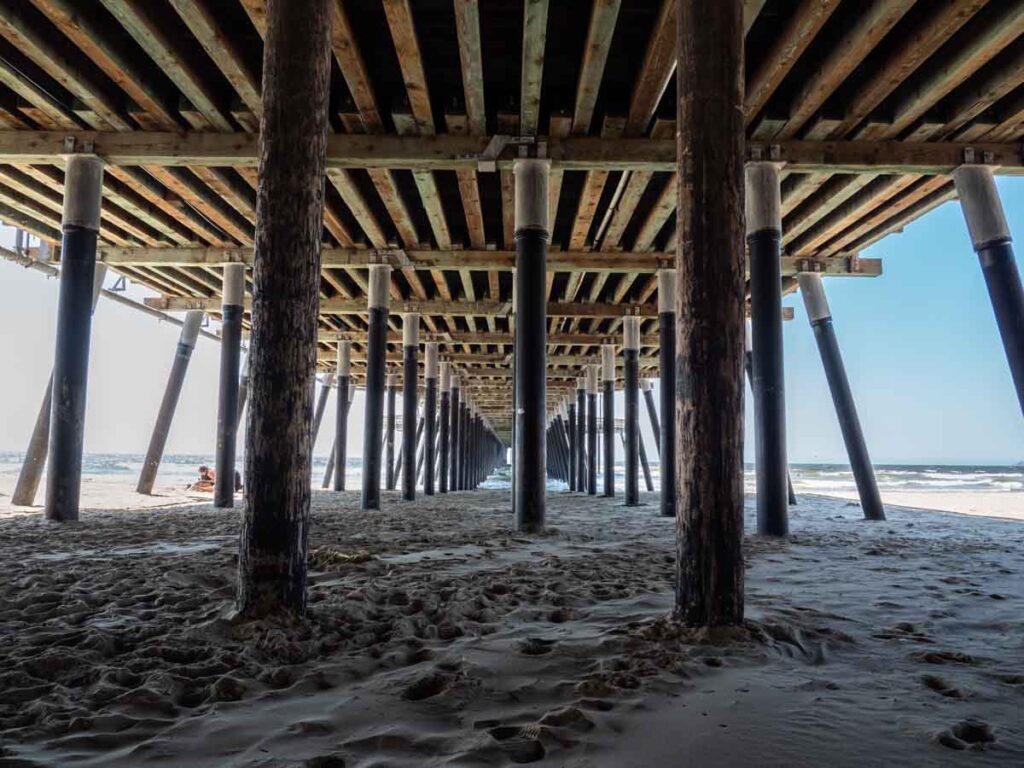 6. Wander the Pismo Pier
This 1,200 foot pier is perfect for a quick stroll and nice beach views facing back towards town.
7. Take a Selfie at the Pismo Beach Sign
The Pismo Beach sign (located at the top of the article) is located right next to the pier and it's a very popular spot for a selfie. It does get crowded though, so maybe try to do it early in the day when it's less busy and the light is more favorable.
8. Hike the Pismo Reserve
The Pismo Reserve is an 880 acre greenspace managed by a land conservancy nonprofit organization. There are 11 miles of trail with a range of choices from the easy 3.8 mile Spring to Spring trail or the longer 7 mile Discovery and Panhandle loop.
The reserve has killer ocean views and spring wildflowers.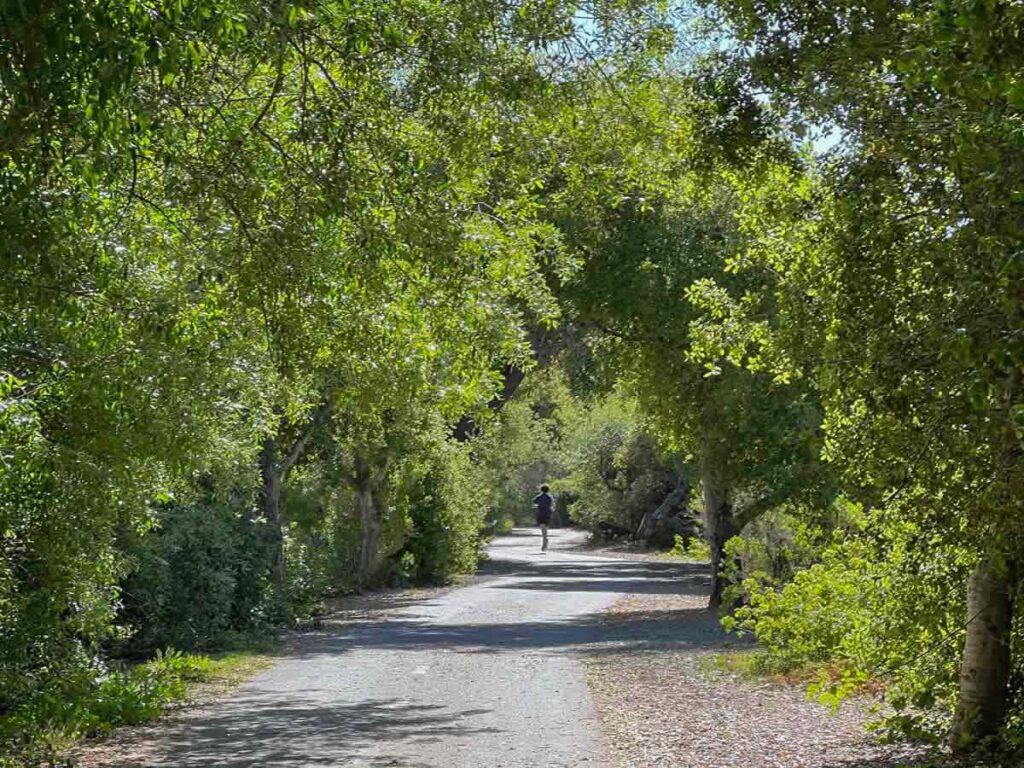 9. Walk the Bob Jones Trail
The Bob Jones trail is a 5 mile out and back that goes between Avila Beach (at the golf course), along the San Luis Obispo creek toward Highway 101. It's good on a hot day as there is a reasonable amount of shade. And the fairly flat terrain is also bike and kid-friendly.
10. Walk the State Park Meadow & Lagoon Trails
In addition to walking on the beach, the state park has a series of interconnected trails that will take you through the dunes. The Meadow Creek Trailhead starts north of the golf course and covers the dunes on a boardwalk. The Oceano lagoon trail is a 1.3 mile loop that's flat and kid-friendly. When done, stop into the Oceano Dunes Visitor Center for more info on the local flora and fauna.
11. Visit the Monarch Butterfly Grove
Butterfly season is from November to January. The monarchs come down from Canada or the Northern Rockies to overwinter in Pismo's relatively warmer climate. The grove is open sunrise to sunset and it's free to visit. If you have kids, you may want to download the Agents of Discovery app, which offers a monarch mission.
12. Take the Edna Valley Scenic Drive
There's more to see in and around Pismo that just the beach. You can take the slow way to Edna Valley vineyards by doing a ~22 mile loop of Highway 227 and Price Canyon road.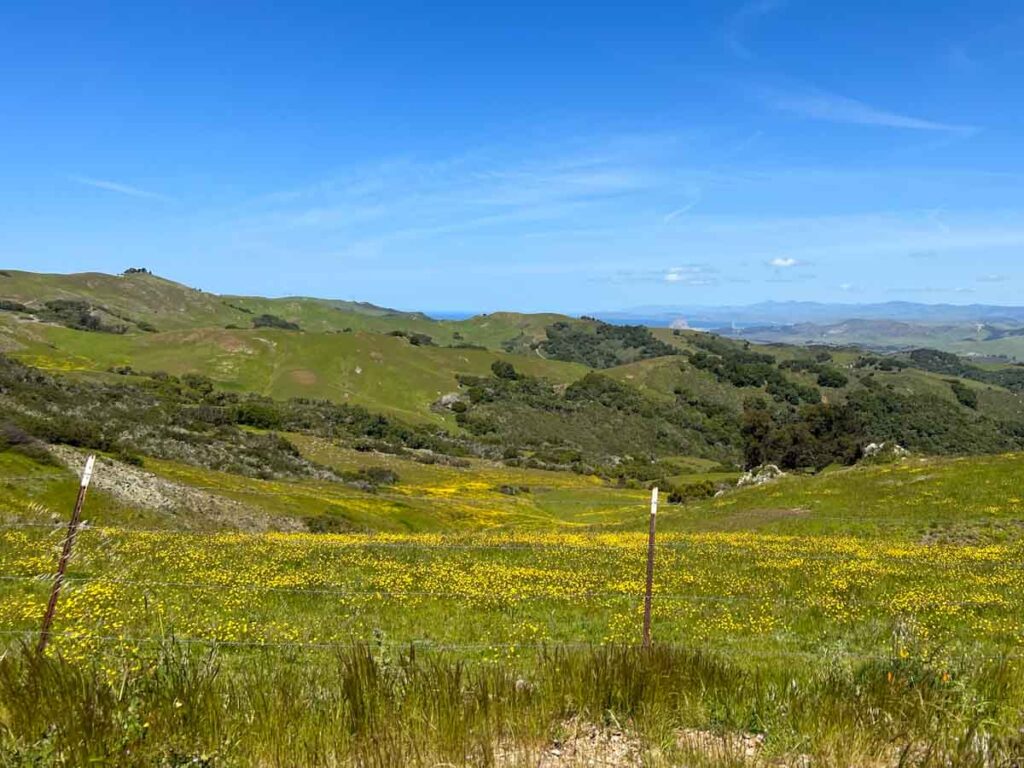 13. Take the Prefumo Canyon Scenic Drive
For a longer drive, consider taking a loop from See Canyon Road to Prefumo Canyon Road, returning to Pismo via San Luis Obispo. This drive is a really unique thing to do in Pismo and many visitors aren't aware of it.
The ~45 mile drive has all of the views. Half of it transits lovely oak forest and the other half tops out at the peak of the canyon as it winds through pastoral lands.
There is a 2 mile section where See Canyon meets Prefumo Canyon and the road turns to dirt. I navigated it fine in my Prius, but I would suggest doing it after heavy rains.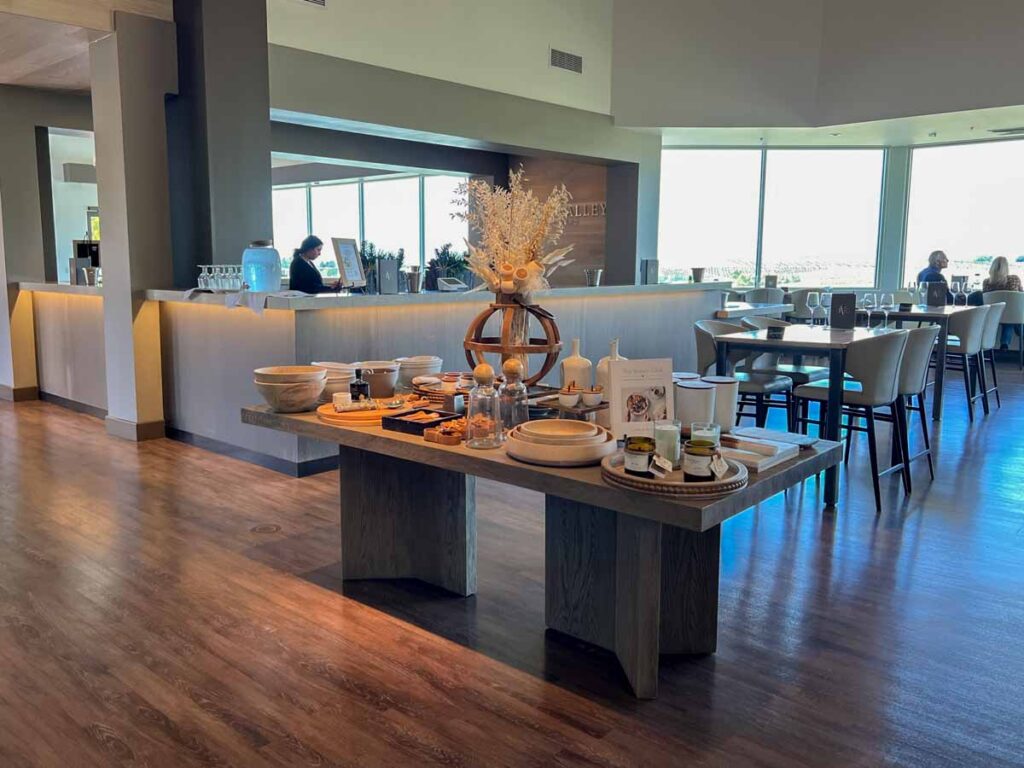 14. Go Wine Tasting
Either of those scenic drive will take you near some tasty wineries. In Edna Valley there are 11 tasting rooms. See Canyon Road has the Kelsey See Canyon Vineyard. Avila Beach has a tasting room, as does Arroyo Grand, and downtown Pismo has several.
Use our complete Pismo wine guide to figure out where to go.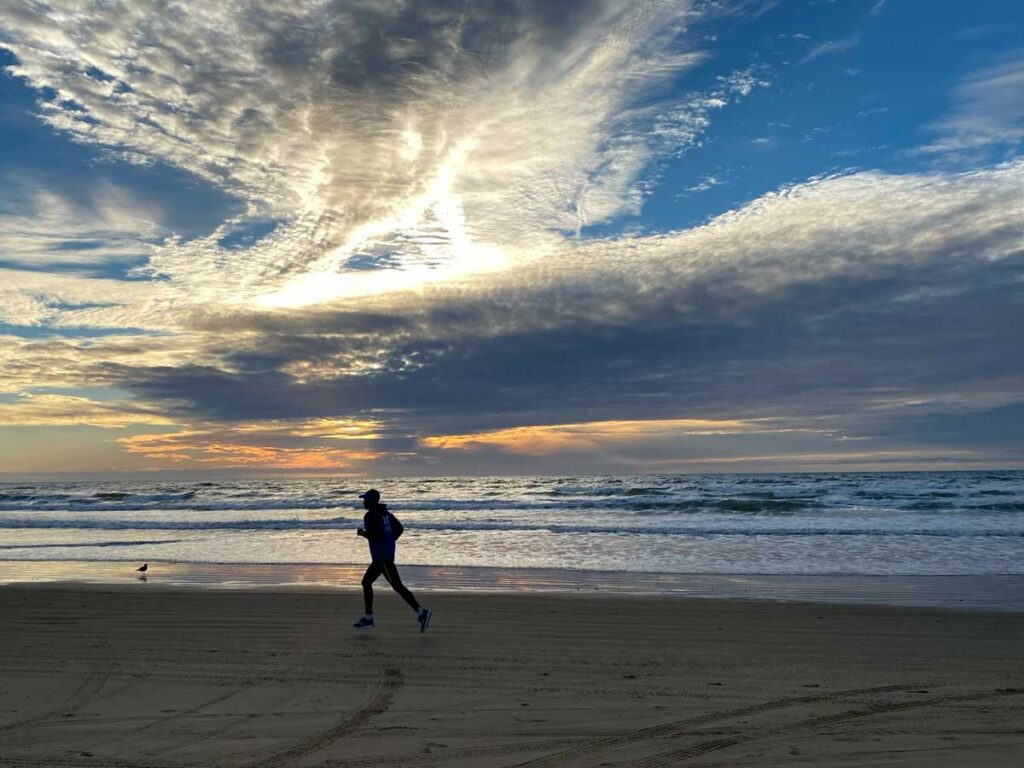 15. Find a Killer Spot for Sunset
Pismo Beach faces almost directly west, so you're going to get a great sunset from almost anywhere. But a few of my favorite spots include: Pismo Pier, the bluffs at Dinosaur Cove and the top of the dunes at Grover or Oceano Dunes beaches.
16. Whale Watching
Be sure to pay attention to the whale migration season. The last time I was in Pismo, the Humpbacks were having a feeding orgy, doing that behavior where they fly out of the water with open mouths before crashing back down. It was a spectacular display.
The Humpbacks feed in Northern California from April to as late as December but summer and fall are the sweet spot. The Gray Whales migrate south around January and back north around late March. And there are dolphins and porpoises around all the time.
I've seen them from Oceano Beach. But you can also perch on the clifftops at Dinosaur Cove or Shell Beach near the Ventana Grill for a higher level view.
17. Chill Out in Arroyo Grande
The Arroyo Grande village is just slightly south of central Pismo. It's a cute little street with a small park, wine tasting room, indy bookstore, cute boutiques and a ton of good restaurants. Go in the late afternoon and stroll the shops before having dinner.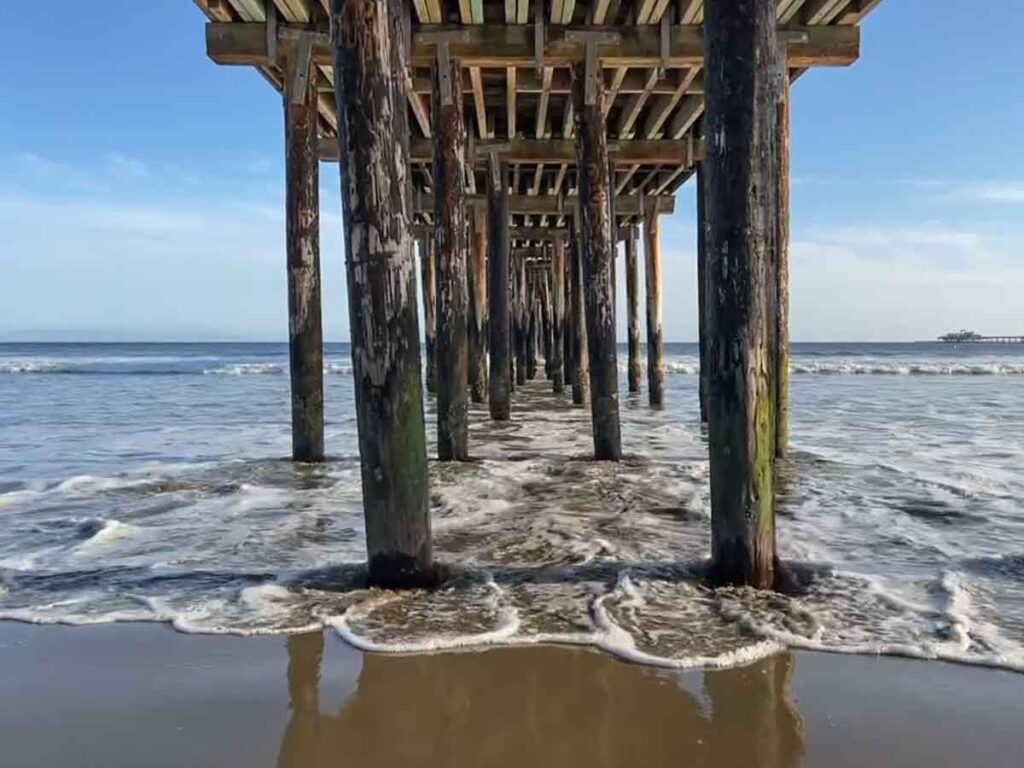 18. Chill out in Avila Beach
On busy weekends, downtown Pismo can feel a bit overwhelming. So, just decamp to Avila, which is just to the north. You can stroll the dog-friendly beach, walk out on the pier, have a wine tasting, stroll the shops or have a nice beach-front lunch at Blue Moon or Custom House.
19. Visit the Avila Barn
The Avila Barn is like your favorite little country store. The kids will like checking out all of the animals on site, which include heritage chickens, mini-donkeys, goats and cows. The adults will like wandering around the store, which sells local produce, flowers, gifts and household items. They also have a snack shack and ice cream.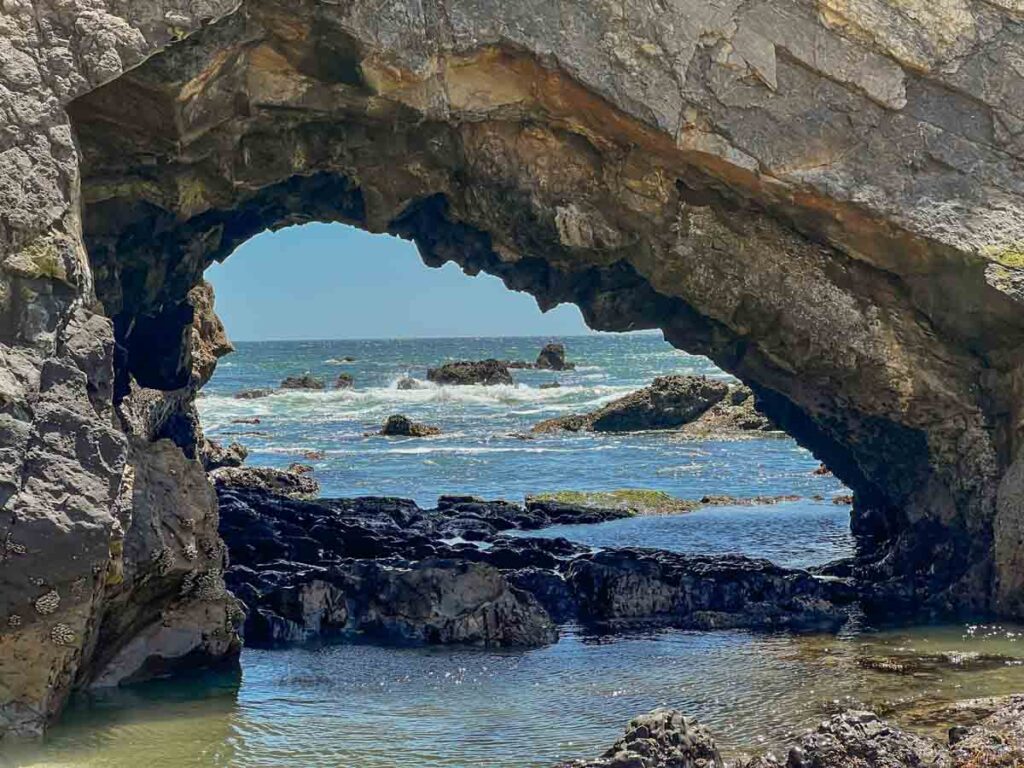 20. Play Around at Dinosaur Cove
The kids will also like Dinosaur Cove, which has a killer play structure. But the area is fun for adults too. There a dirt pedway that runs a circuit around the park, with plenty of benches for gazing at the ocean. And if you head south a bit toward the Inn at the Cove hotel, you can use their stairs to descent to the beach cove.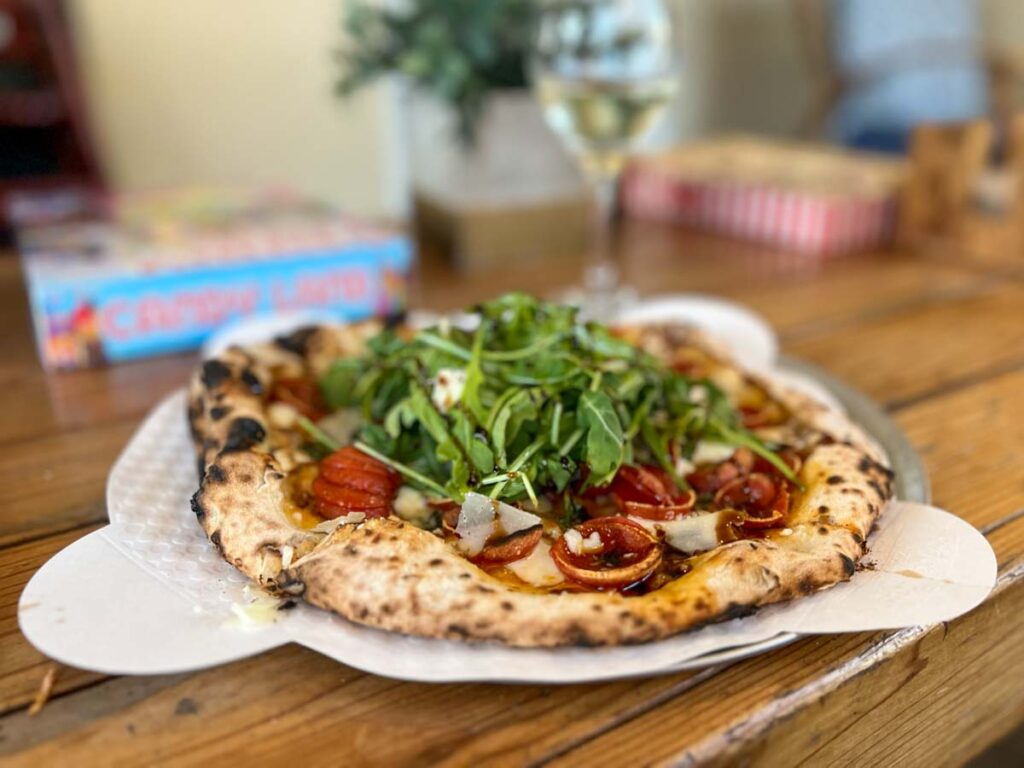 21. Find Some Good Eats
There's no shortage of good eats in the Pismo area. Here are a few tasty options for you:
Big breakfast: Huckberry's
For the sweet tooth: Old West Cinnamon Rolls
Picnic lunch: Depalo and Sons
Pizza with killer crust: Palo Mesa
Old school Italian: Guiseppe's
Views for days: Ventana Grill
22. Find Some Fresh Brews
There is also no shortage of good brews. Here are some more tasty options for you:
Shell Beach Brewery: They don't actually brew their own beer, but they have a large selection of local beers and a generous food menu.
Blast and Brew American Eatery: They carry some of their own private label beers along with other local choices and an extensive food menu. Their outside deck also has ocean views.
Pismo Brewing: Specializes in ales with a snack menu and selected entrees.
Kulturhaus: A range of their own ales along with a local rotating tap. They also have sausages and snacks.
Manrock Brewing: Lots of pale ales, IPAs and pizza.
Apogee Brew: Micro brewer with a small rotating selection.
Humdinger: 12 different beer options and snacks, sandwiches and salads.
See More of the Central Coast
Share these things to do in Pismo Beach with your friends: