Carmel-by-the-Sea is a charming seaside town in Monterey County that is a regular staple on all kinds of California tourism lists (including our list of cute coastal towns in NorCal). This pretty-as-a-picture small town is about 2.5 hours south of San Francisco and makes for a perfect day trip for those looking for California beach life with an European flair.
From the picturesque Tudor style architecture to shopping, good eats, wine tasting and incredibly scenic spots, your day trip to Carmel will be filled with lots of fun activities and will leaving you wanting more!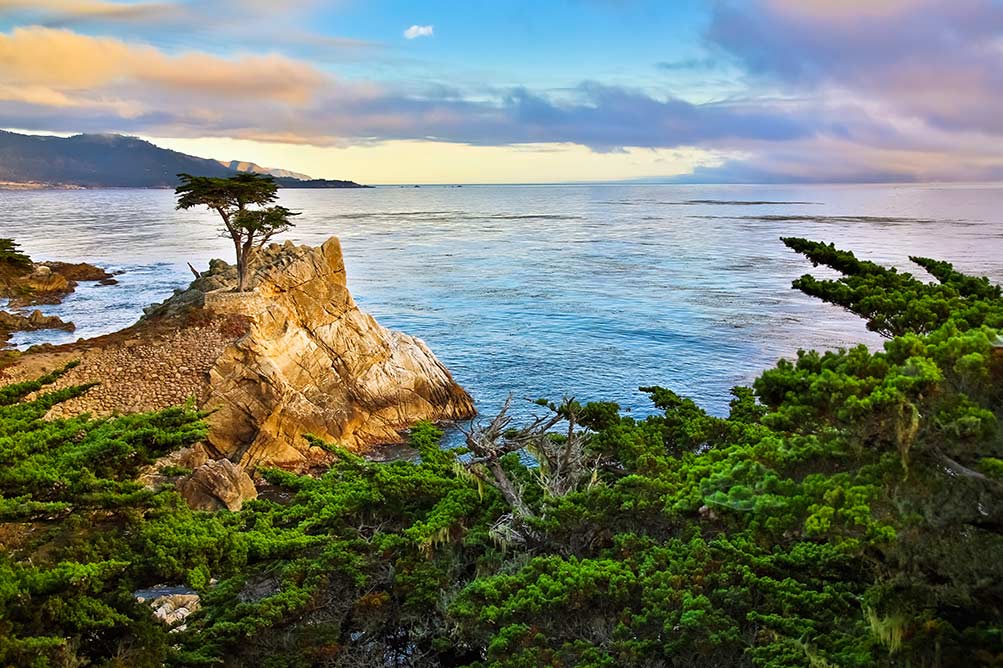 Tips for Planning Your Carmel Day Trip
How to Get from San Francisco to Carmel
From San Francisco to Carmel is 116 miles and will take approximately 2 hours (or 3 hours during heavy traffic). The more scenic way is down 101 to Highway 17, over to Santa Cruz and then down Highway 1. The more inland route of Highway 101 is shorter.
If this is your first time driving down Pacific Coast Highway southbound, we highly recommend doing so on for at least one leg of the trip. Although it may shave some time off your Carmel one day itinerary, the scenic vistas along this road hugging the coast are totally worth it!
How to get from San Jose to Carmel
From San Jose to Carmel is 75 miles and should take about an hour and twenty minutes. You can take either Highway 17 over to Santa Cruz and then down Highway 1 (which is the more scenic route). Or Highway 101 down to Castroville and then Highway 156 to Highway 1 (sometimes faster during rush hour).
When are the Best Months to Visit Carmel?
August through October are great times for visiting Carmel. They are the warmest months and the skies are very likely to be clear. That said, Carmel has moderate weather year round. Dressing in layers is your best option. Wear sturdy hiking shoes or sneakers if you plan on outdoorsy activities (of which there are plenty in this area)
How Busy is it in Carmel?
Carmel is super popular with locals and tourists and the town simply spills over with tourists over the weekend. For a quieter, more relaxing experience, simply visit during a weekday. You'll have the town pretty much to your self with no long waits at restaurants.
Are Carmel and Carmel-by-the-Sea the Same Place
Yes. The official name of the town is Carmel-by-the-Sea, but everyone just calls it Carmel.
What is the Nearest Airport to Carmel?
If you are coming from outside the Bay Area, the closest airport to Carmel and Big Sur is the Monterey Regional Airport. However, their flight schedules are limited and a Bay Area airport might work better for you. Our guide for the closest airport to Carmel/Big Sur will help you figure out the right choice for your itinerary and budget.
When is the Best Time to Visit Carmel
The best time to visit the Central Coast is April/May and September/October. The weather is mild and less foggy, the summer crowds have died down and there's still tons to do. Check out our guide for when to visit Big Sur, it includes a weather chart and info on events and wildlife viewing in the area.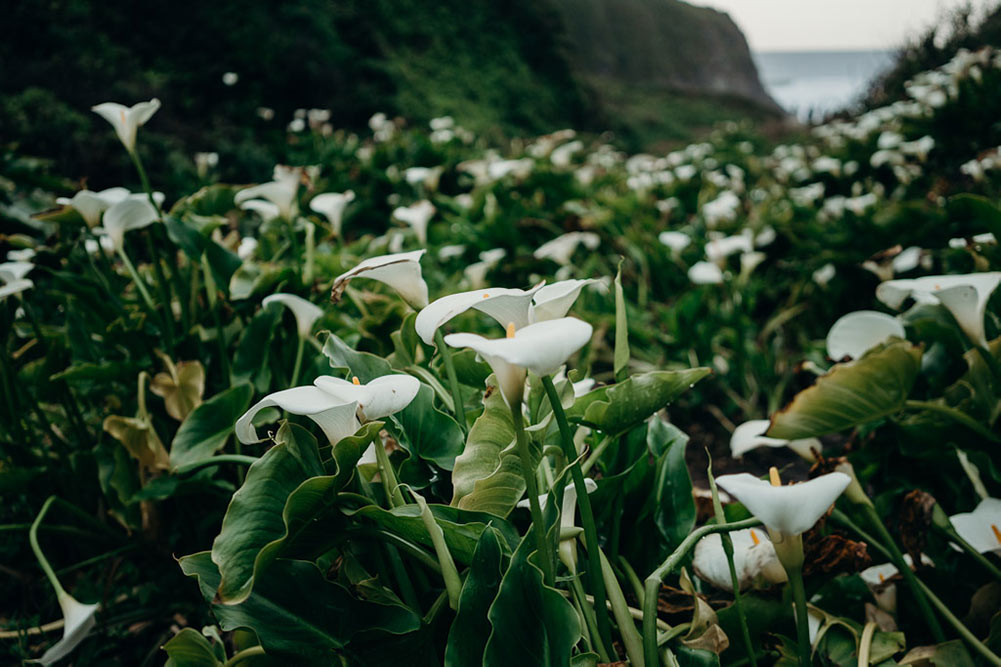 (This article contains affiliate links. This means that if you choose to purchase, I'll make a small commission.)
Where to Spend the Night in Carmel
In case you're day trip to Carmel runs long and you decide to spend the night, I've got you covered. Carmel can get pretty pricy in terms of hotels and B&Bs, but here are few reasonable options for you to consider:
I have been to Carmel nearly a dozen times during my 11 years of living in San Francisco with Babu, my Tibetan Spaniel Mix. We almost always end up choosing Briarwood Inn, which is not only dog friendly and spacious, but also has a fun wine and cheese hour and a decent continental breakfast.
My other suggestion is Green Lantern Inn which is budget friendly (and dog friendly too!). Both these Inns are in downtown Carmel and are within walking distance to amazing restaurants, wine tasting rooms and the beach.
Things to Do on a Day Trip to Carmel-by-the-Sea
Let's face it, one day in Carmel may not be enough to see everything and you'll almost certainly need a weekend getaway for a more relaxing experience. However, there are still a few things you can do in the limited time that you have for your Carmel day trip. Depending on what floats your boat, i.e. your preferences, I have a range of activities for you to choose from.
Since you only have one day for Carmel, you'll want to pick 3-4 of the following things to do plus one restaurant meal.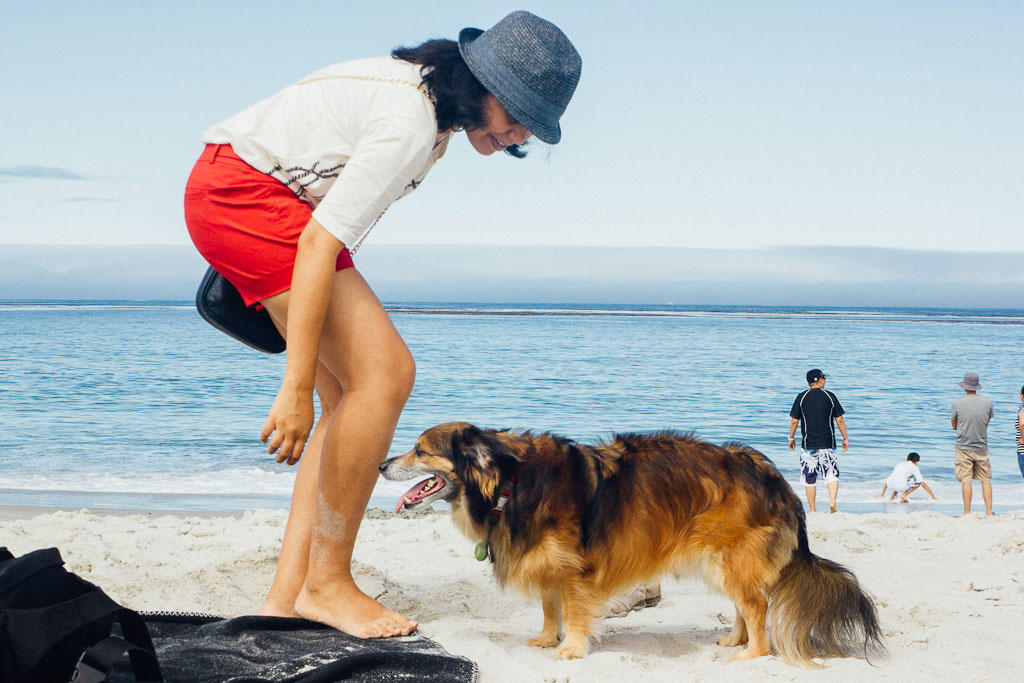 Outdoorsy Things to Do in Carmel
Carmel Beach: Carmel is known for its namesake beach at the end of Ocean Avenue with silky white sand and foamy blue waves. This beach is both biped and pup friendly but does get pretty crowded during the day!
Point Lobos Point Lobos State Natural Reserve: This slice of heaven on earth is right outside downtown Carmel and will take your breath away with scenic hikes, spectacular views of the ocean and coastline. If you may be so lucky, then you may spot California's prized marine mammals like seals, sea lions, otters and migrating gray whales. The entry fee is $10 per vehicle and dogs are not allowed here.
Mission Trail Park and Nature Preserve: If you love hiking, then this dog friendly trail is a mere 8 minute drive or a brisk 20 min walk from downtown Carmel. It's a great idea after a delicious lunch.
Garrapata State Park and Bixby Bridge: Carmel is the gateway to Big Sur, a portion of any central coast road trip and it's a transcending experience on the Pacific Coast (Plan a full road trip using our PCH itinerary). Although covering all of Big Sur will take an additional 2 days (which you can plan using our Big Sur road trip guide), I recommend at least "dipping your toes" on the journey by visiting at least one of these two attractions; the Garrapata State Park and beach and/or Bixby bridge, both of which are within 15 miles of Carmel.

Bixby bridge is the second most photographed bridge in California after the Golden Gate Bridge whereas Garrapata beach is best visited in Spring when its covered with wildflowers and Calla lilies are in full bloom in the valley nearby.
Read More: Get the full downlow on all CA parks with our complete California State Parks list (with map).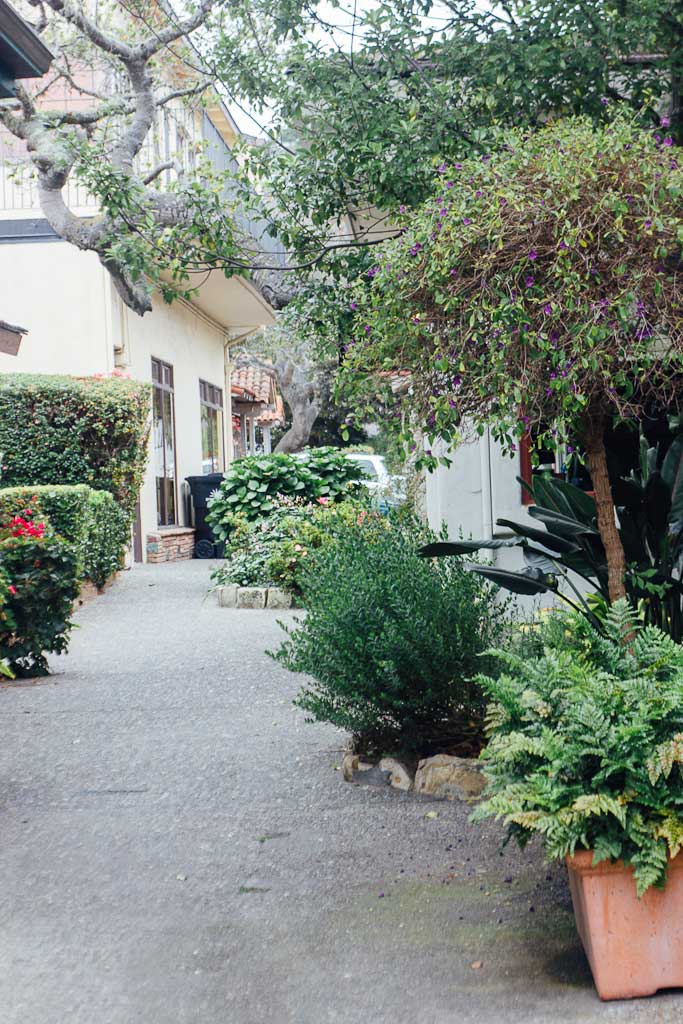 City Lovers Guide to Downtown Carmel
Carmel is an extremely navigable small town. Downtown is actually a grid and the best way to explore it is by walking around!
Downtown Carmel: Carmel's downtown is as cute as a button and extremely navigable. I highly recommend getting lost in the warren of flower laden lanes and stopping by the boutique stores during your one day in Carmel. Don't forget to stop by Carmel bookstore and the secret garden next to it!
Dining: Carmel is quite the dining mecca with an array of restaurants serving Californian-American fare with an Italian influence. However, my favorite is the Oaxaca restaurant Cultura Comida y Bebida serving lip smacking dishes from Mexico's flavor capital. My other favorites are La Balena, Carmel Bistro Giovanni, Casanova, Mundane (Tapas), Little Swiss Cafe and Stationary (both are great for breakfast/ brunch).

All places have outdoor/patio seating and welcome dogs. For those with a sweet tooth, I recommend checking out Carmel Bakery, Lula's (for artisan chocolates) and Patisserie Boissiere, a French bakery and restaurant.
Wine tasting: Monterey county is home to dozens of appellations and you're in wine country wherever you go in California, so why not indulge in some wine tasting. Fortunately for you, Carmel has several tasting rooms at your disposal right in downtown. My favorites are Dawn's Dream Winery and Galante vineyards-. Both very friendly venues! If you are REALLY into wine, then knock loose some time for a drive up Carmel Valley. It's very chill and there are tons of wineries along the drive.
Art Galleries: If you are an art aficionado, Carmel is teeming with art galleries for you to explore! My favorite is Gallery Mar on Dolores Street.
Carmel Mission Basilica and Museum: This is the second of the 21 Missions in California which laid the foundation of the modern day state and its urban centers. The Mission was built in 1770 by Father Junipero Serra who is also buried here. The Mission also features a museum, gift shop and a charming courtyard. Dogs are not allowed inside the Mission.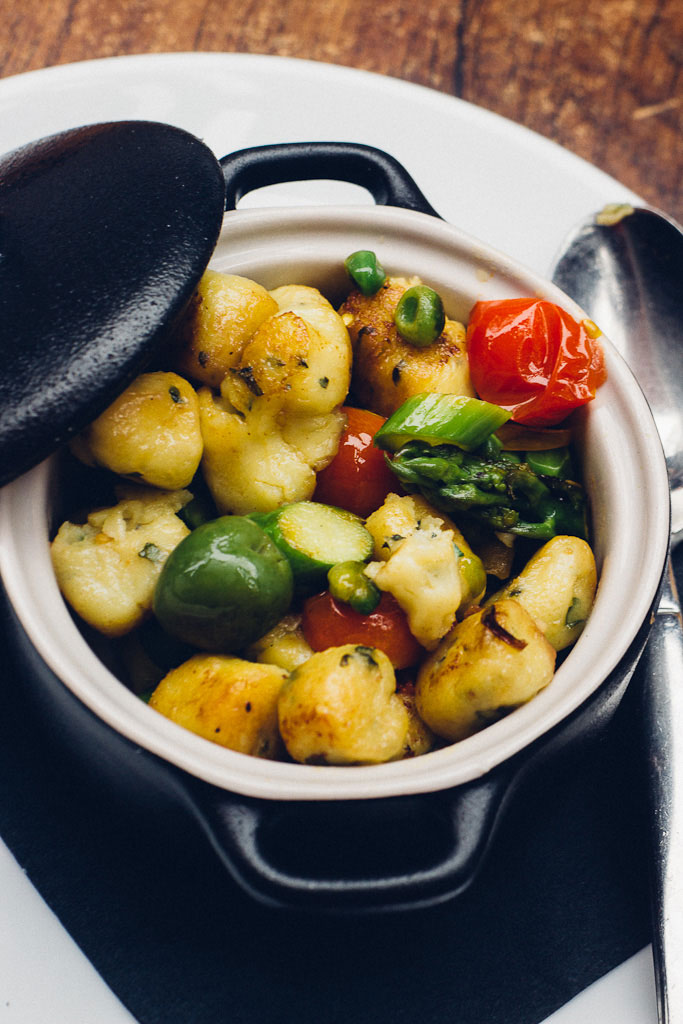 17 Mile Scenic Drive
No Carmel itinerary can be complete without at least the mention of the wildly popular scenic 17 mile loop that runs between Monterey in the north and Carmel in the south. This loop winds around some epic landmarks in this region such as Pebble Beach and Lone Cypress. The drive should be part of your Carmel-by-the-Sea day trip if you can squeeze out an afternoon for it. The entry fee is $10.75/vehicle.
I hope you enjoyed reading this post on all the fun things to do in Carmel in one day. Hopefully you are planning for your next California trip already! Thanks so much for stopping by!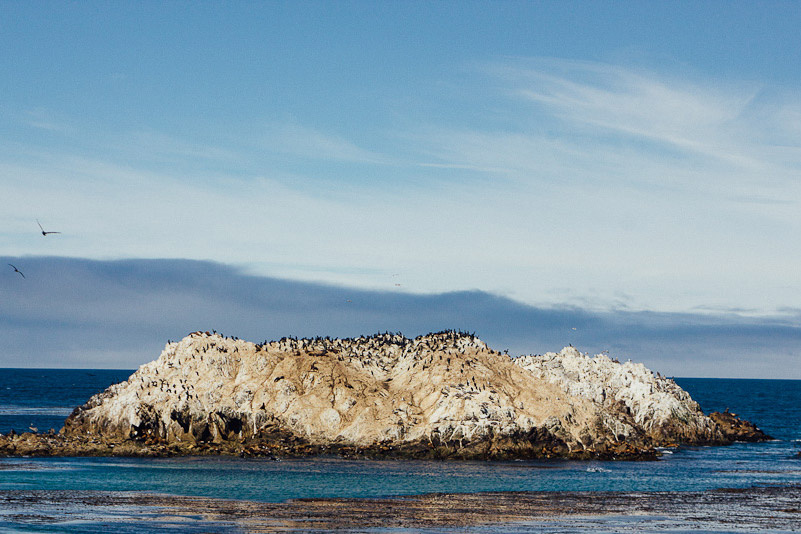 Thanks to our guest author Paroma Chakravarty for sharing her ideas for this Carmel day trip. You can find her (and more of her adventures with her dog) at the Year of the Monkey.
Explore More of the Central Coast
Share this day trip to Carmel on Pinterest: