Carmel-by-the-Sea is one of the most popular destinations on California's Central Coast. But dang (!), it does get busy on the weekends. Look, we do recommend that you check it out, and we even have a weekend getaway itinerary for Carmel. But if you are looking for some serious down time, you'll want to go inland and make the most of our recommended things to do in Carmel Valley.
This lovely valley is a short 20 minute drive away from Carmel but the vibe could not be more different. Carmel Valley feels like Carmel-by-the-Sea's chill country cousin. You know, the one who invites you over to their porch on a Sunday for a long lunch and and a glass or two of their home grown wine.
In fact, most of the wine tasting that you do in downtown Carmel is actually sourced from either Carmel Valley wineries or from vineyards located in the nearby Santa Lucia Highlands. Another bonus is that the weather is a consistent 5-10 degrees warmer than coastal Carmel. Are you convinced? Great! Keep scrolling to get tips for visiting and some ideas for what to do in Carmel Valley.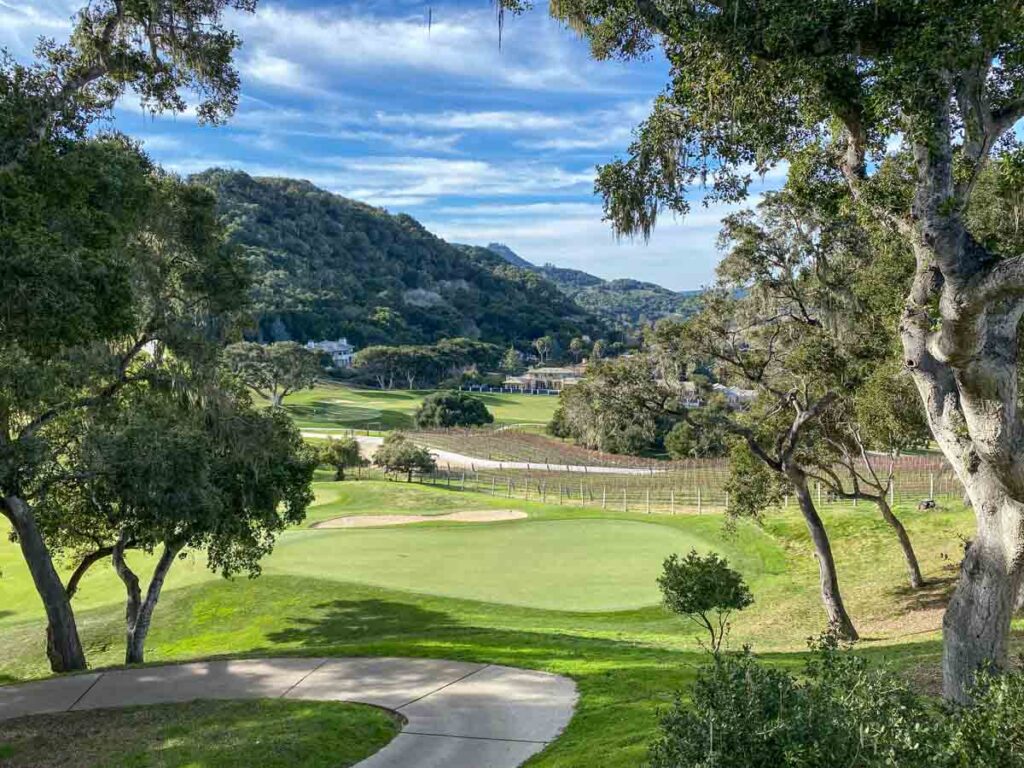 10 Chillax' Things to Do in Carmel Valley, CA
What follows are our top recommendations for how to spend a chill weekend getaway in Carmel Valley. Do all of them…or embrace slow travel and just pick a couple.
1. Take a Slow Drive Through the Valley
Carmel Valley is a lovely green patch hemmed in by the Santa Lucia Highlands. There's a lot of wide open space occupied by farms, vineyards, golf courses and designated preserves. So part of the charm of visiting the valley is to slowly drive it.
It's just 30 minutes from Carmel-by-the-Sea to Carmel Village. But you can extend the drive by going up to Tassajara Road and looping back. Or diverting from Salinas on Highway 68 and taking the Laureles Grade to drop into the valley.
2. Take a Spa Break at Carmel Valley Ranch or Bernardus
You can work off your stress by scheduling some spa time. The Carmel Valley Ranch has the lovely Aiyana spa, with private terraces on the hill overlooking the valley. Treatments also gain you access to the nice pool area and the hot tub with infinity views over the valley.
Alternatively, you could book into the Bernardus Spa. You can get spa packages if you are staying in the lodge, and they also offer full access to their pool area. And…bonus…they also make their own wine there.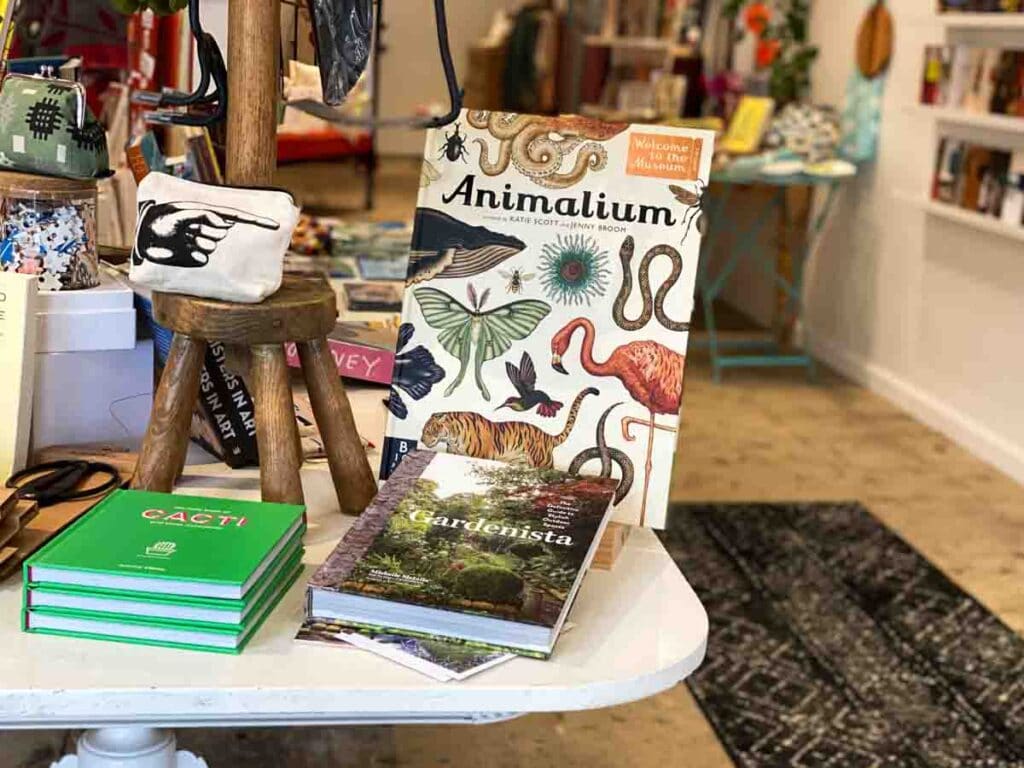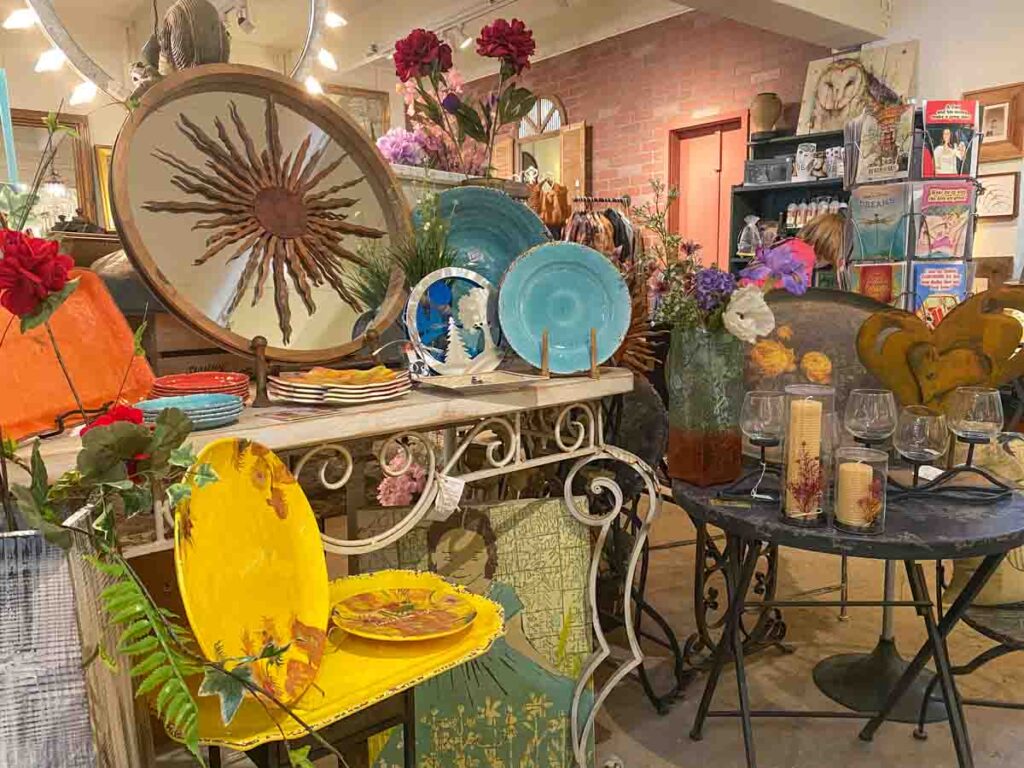 3. Check out the Cute Boutiques
Carmel Valley Village is pretty small. But you can still spend some time wandering around their cute shops. You can stop into the Leonoff glass gallery, which has some lovely art pieces. The nearby Avant Garden and Home has fun home goods. The Olivia & Daisy bookstore has a great curated collection of fiction and some adorable kids books. And you can pick up some organic olive oil at the Quail & Olive.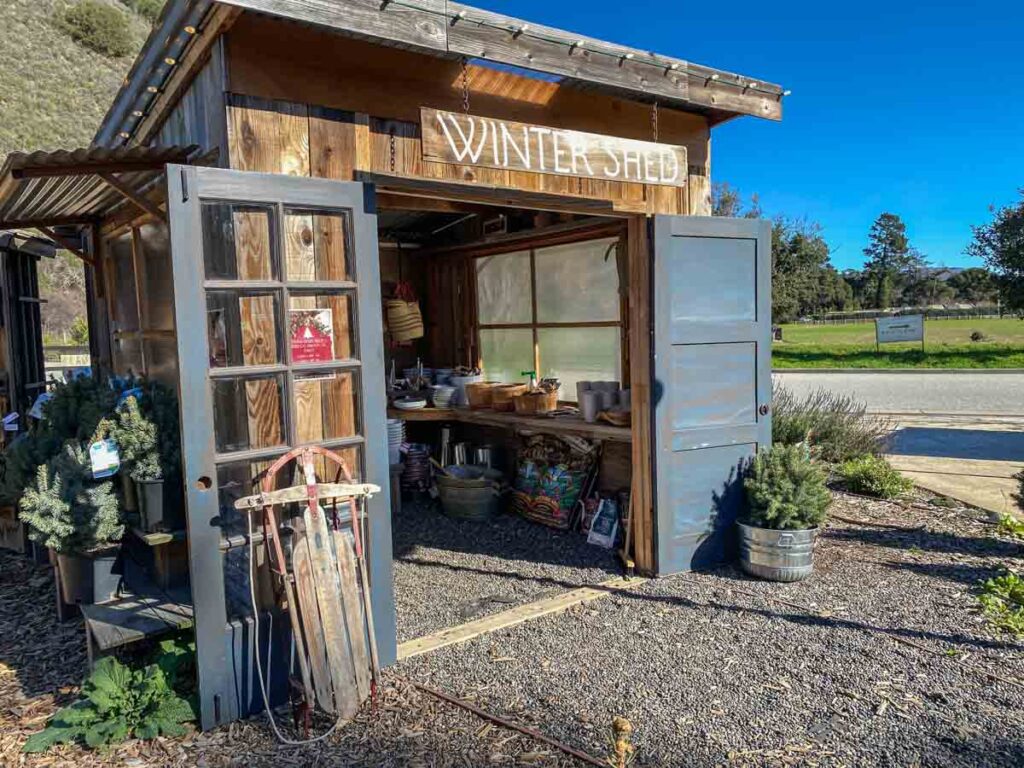 4. Wander Earthbound Farms
You know those boxes of organic lettuce greens that you get at the grocery store? Chances are the you are purchasing them from Earthbound Farms. because they pioneered organic farming in the US. And–they have a cute local farm stand right in Carmel Valley. The farm stand has a small produce market, foodie products, gardening gifts and a cafe. Outside is a demonstration garden, herb garden and labyrinth. Along with a picnic area and some extra extra large Adirondack chairs.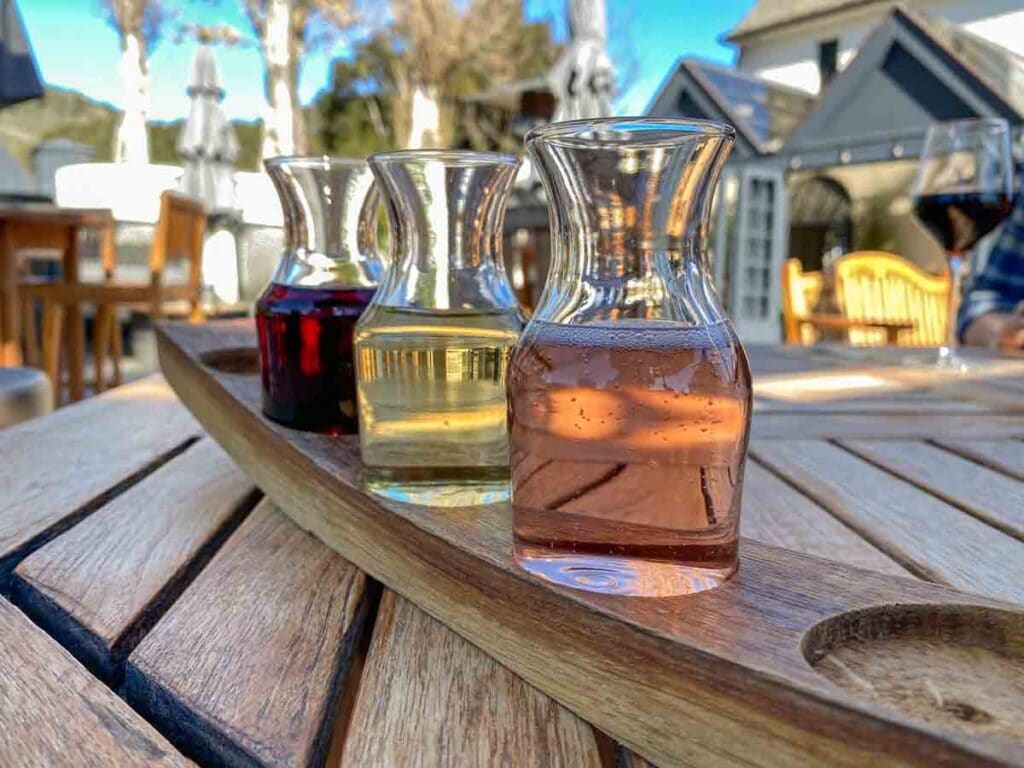 5. Eat a Slow Boozy Lunch at Folktale Winery
There are quite a few wineries in Carmel Valley (noted below). But it's worth calling out Folktale Winery as its own destination. In addition to the lovely grounds and wine tasting, they also have a full service restaurant and a shop with one of a kind gifts and home goods.
For the food, they have delicious wood fired flatbreads and super fresh salads. They also do cheese and charcuterie boards and a massive Sunday brunch.
Their dining patio is sunny and delightful and it's a great place for a wine flight and a slow lunch.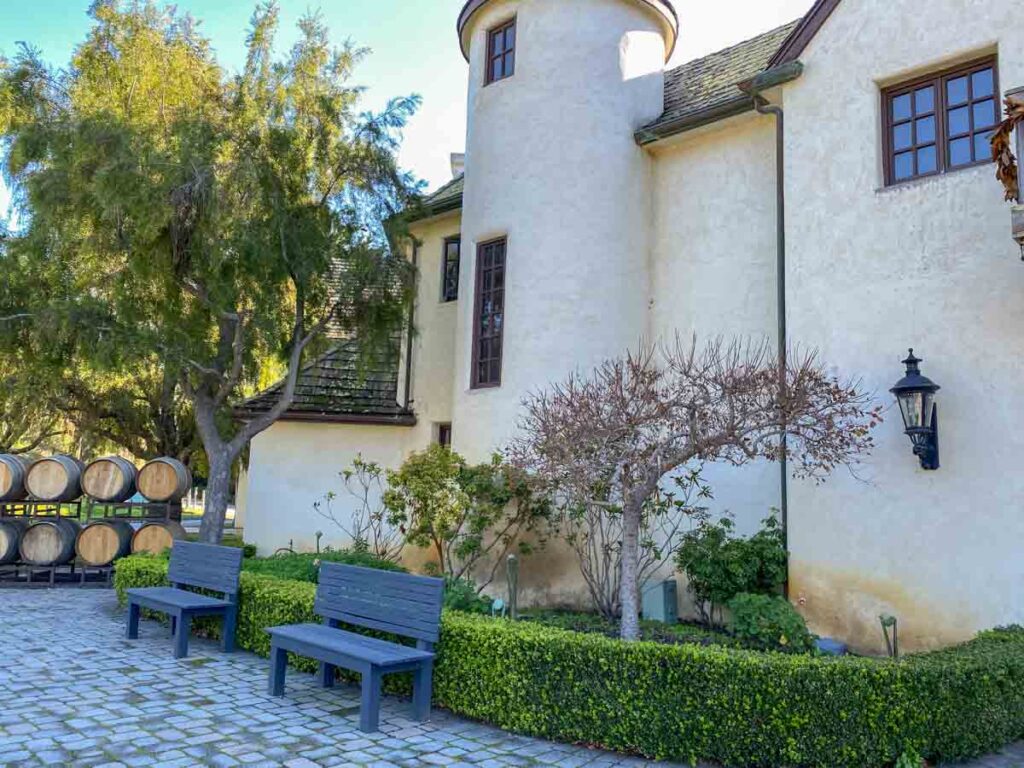 6. Go Wine Tasting Downtown
There are tons of wineries in Carmel Valley…more than you have time for…or could safely drive away from after visiting. But if you want some convenience without a lot of driving, you can find quite a variety of wine tasting experiences at the Carmel Valley Village wineries. There are 26 tasting rooms…right in town.
Boekenoogen uses European techniques and they specialize in Pinot Noir, Chardonnay and Syrahs, which are characteristic of the Santa Lucia Highlands. Cowgirl Winery has a relaxed vibe with Rose, white blends, Malbec, Chardonnay and Pinot Noir. Bernardus Winery specializes in Cabernet Sauvignon, Merlot, Cabernet Franc, Petit Verdot, and Malbec. And Joyce Wine Company is a wine bar featuring small lot wines from around Monterey County.
For busy weekends, it's best to get reservations in advance and note that many of the wineries aren't open on Tuesday or Wednesday.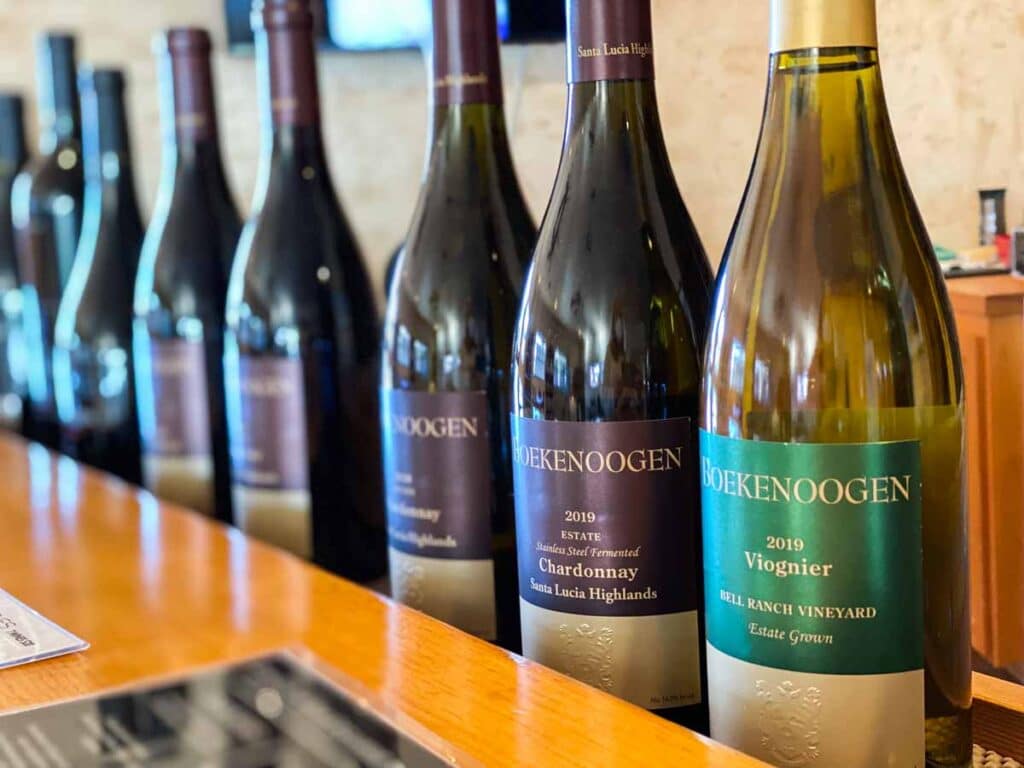 7. Play a Round of Golf
The Quail Lodge has a gold club with a 6,500 yard, par 71 course. They also have a 9 hole putting course, pool, tennis and pickle ball courts and clubhouse dining. Carmel Valley Ranch offers an 18 hole course with stellar views overlooking the valley. The club also has a bar and clubhouse and patio with firepits.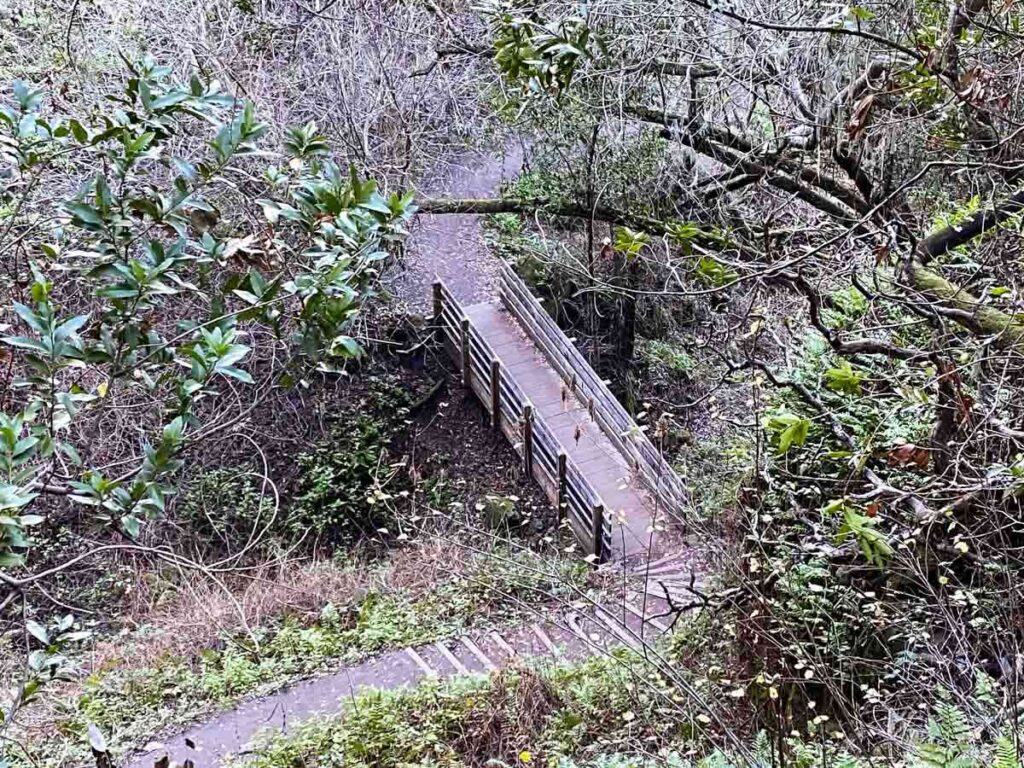 8. Take a Hike in Garland Ranch
Garland Ranch is one of the nicest properties in Monterey County's open space district. The landscape covers willows along the river through oak woodlands, and then it goes all the way up to the crest of the Santa Lucia Highlands. This lovely landscape comes with the extra bonus of being dog-friendly.
You can take it easy with the 1.5 mile Lupine Loop trail. Or go for the views on Waterfall/Garzas Canyon loop, which is 5.5 miles and1,500 feet of elevation gain. There are a ton of crisscrossing trails and you can do as much or as little as you wish.
Some of the hike is in shaded woods and some is in open chaparral, so be sure to bring plenty of water, especially on warm days.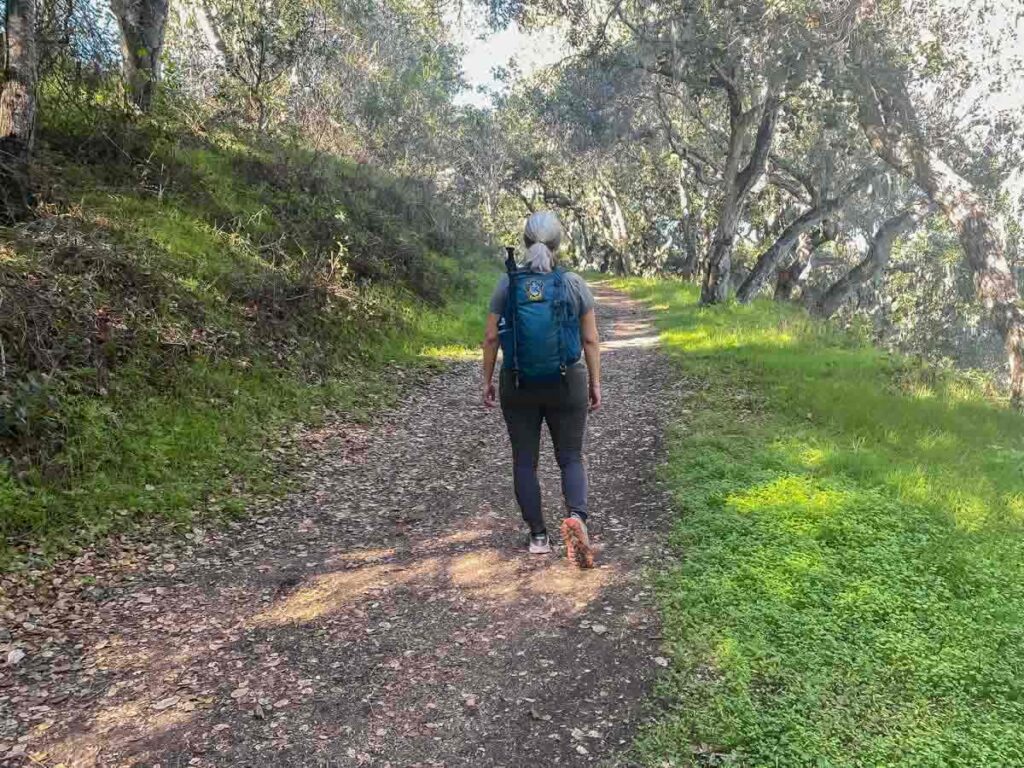 9. Take a Hike in Palo Corona
Palo Corona is located right at the beginning of Carmel Valley. It's 10 miles in length and covers 4,500 sprawling acres. You can do the easy 2.3 mile Palo Corona river loop. Or the longer 5.7 mile Pond/Vista/Inspiration Point trail, which will give you valley views.
Unfortunately, these hikes are not dog-friendly.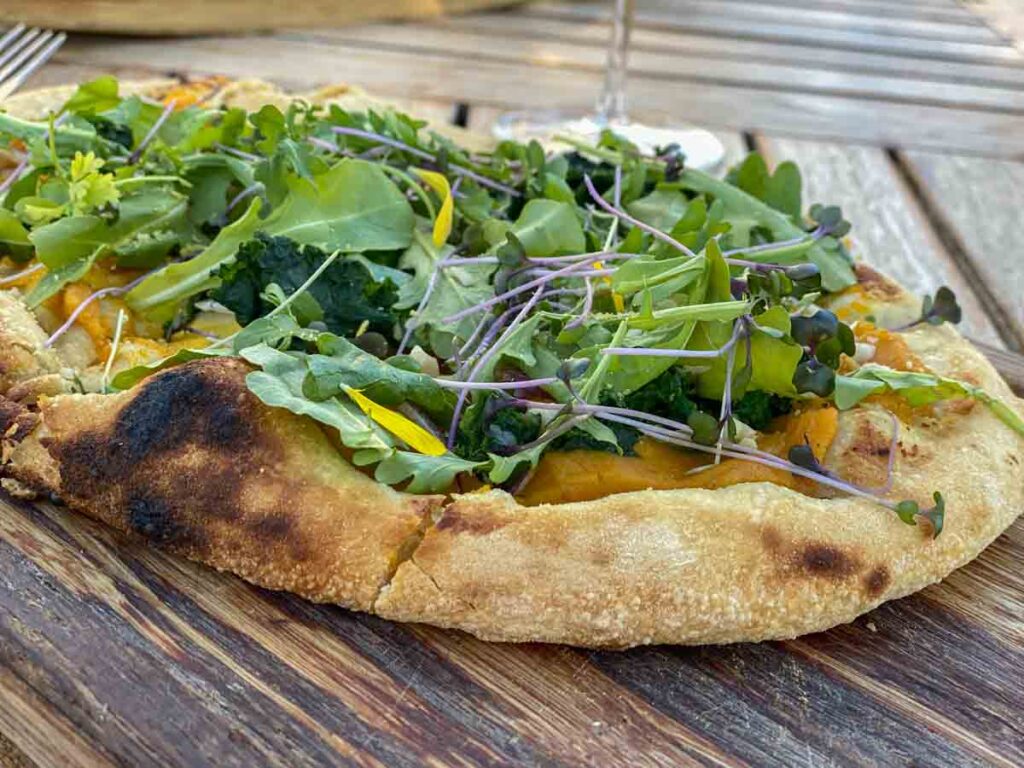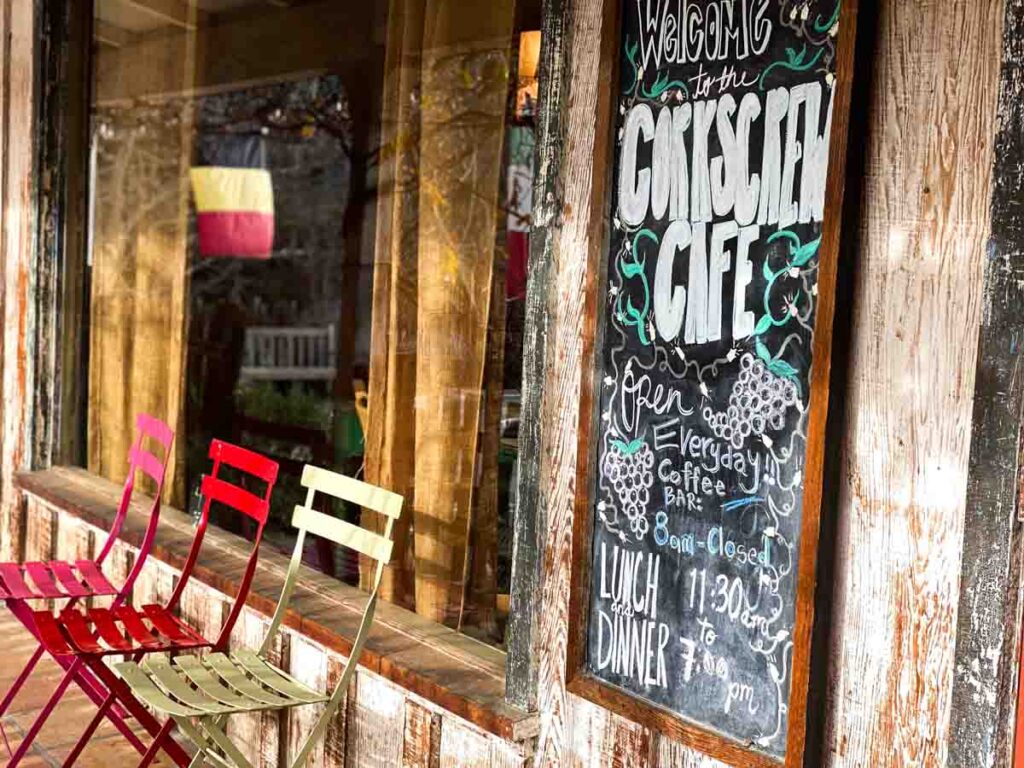 10. Track Down Some Good Eats
If you are looking for where to eat in Carmel Valley, you have quite a bit of choice for both price point and cuisines. In addition to the aforementioned lunch/brunch at Folktale Winery, check out the following:
Craft Beer: The Trailside Cafe in Carmel Valley Village has casual eats with a long list of California draft beers.
California Cuisine: The Corkscrew Cafe has wine-friendly food like pizzas, salads and wood fired salmon.
Breakfast: The Wagon Wheel specializes in breakfast and brunch in a quaint setting. Try the biscuits and gravy or the traditional pancakes.
Picnic: Jerome's Carmel Valley Market is a nice little market right in the downtown village. They've got a great deli with sandwiches to go. So, stop there and then go on one of those hikes mentioned above.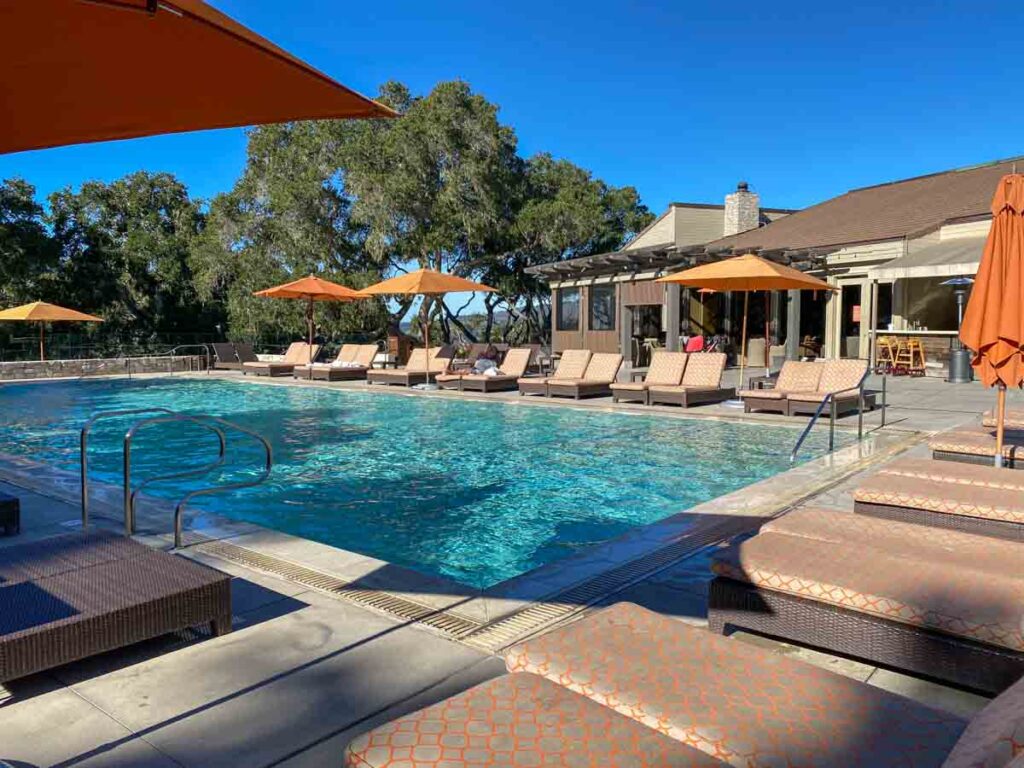 Where to Stay in Carmel Valley
(This article contains affiliate links. This means that if you choose to purchase, I'll make a small commission.)
Resort Splurge: If you want to treat yourself, the Carmel Valley Ranch has all of the 5-star amenities. They have large, dog-friendly rooms with valley views and lots of privacy. The room service breakfast is fantastic. And the on-site amenities include exercise classes, a spa, pool, hot tub, golf and hiking trails. Check reviews and book here.

Moderate Price: The Carmel Valley Lodge is a well-rated, moderately priced option. They have nice grounds, a pool and they even throw in a continental breakfast. It's also conveniently located very close to the Carmel Valley Village, you can do some wine tasting while avoiding driving afterwards. Check reviews and book here.

Glamping: The Saddle Mountain Ranch is a very family-friendly glamping and RV park. They have a range of lodging options from simple tent sites, full RV hook-ups, luxury glamping tents and cabins. On-site amenities include 5 miles of hiking trails, a pool and a playground. Book it here.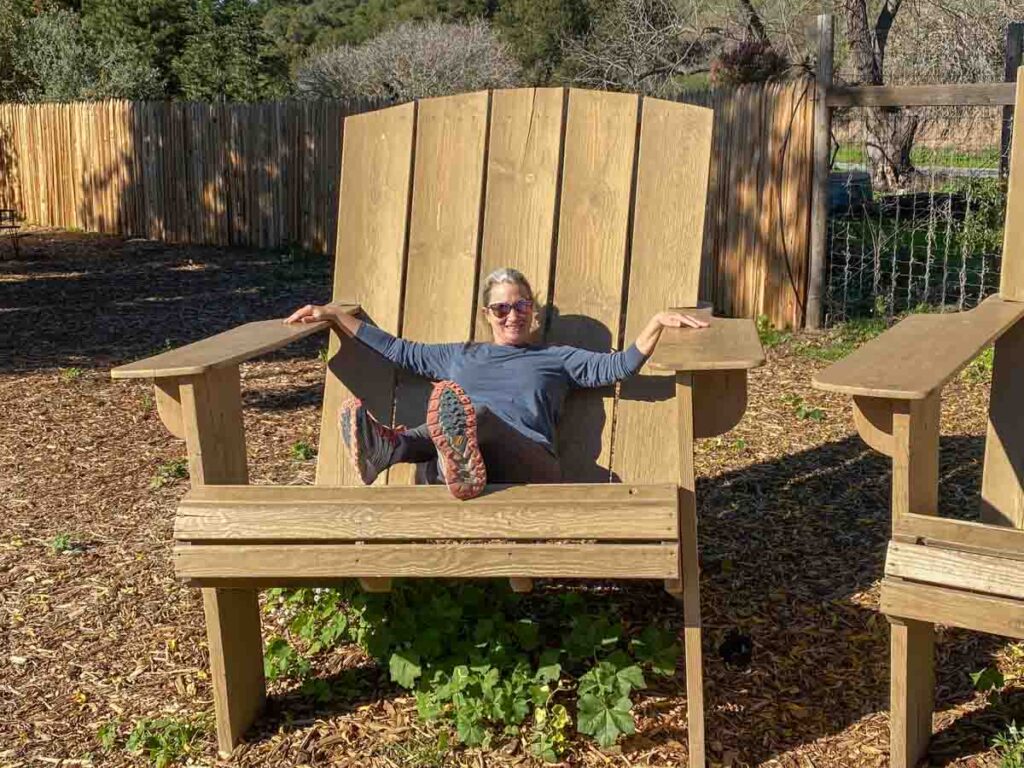 More Weekend Getaway Ideas for the Central Coast
Share these things to do in Carmel Valley with your friends: