California has 841 miles of coastline but the 96 miles through Big Sur is inarguably the prettiest stretch This dramatic coast has gobsmackingly beautiful views with rocky cliffs, quiet beaches, tons of hikes and marine life.
That there is even a California scenic byway in Big Sur is a bit of a miracle, considering how hard it is to build on such steep terrain. But Highway 1 is an engineering marvel, clinging to the Santa Lucia Mountain range like a stubborn ribbon of promise.
There's a lot to do in Big Sur and you could certainly spend several days exploring it. But because it's a compact coastline, you can definitely hit up the highlights on a whirlwind Big Sur day trip.
Whether you are roadtripping the region as part of an epic Pacific Coast Highway trip, or you are simply doing a Big Sur day trip from San Francisco, we've got you covered.
We live in the San Francisco Bay Area and have been to the area many times, so you can trust us when we tell you that Big Sur is so worth it. We've got the scoop on all of the best things to do in Big Sur, including the top state parks, a few cool hikes, must-see overlooks, beaches and even a super secret detour.
Let's get started!
How to Get to Big Sur
From San Francisco to Big Sur: The drive is 120 miles and approximately 2.25 hours, which you can do via Highway 17 through Santa Cruz or Highway 101 and Highway 156 through Castroville.
From San Jose to Big Sur: This drive has similar routing to San Francisco, but it's only 80 miles and 1.5 hours.
From Los Angeles to Big Sur: Obviously, you can't reasonably do a day trip to Big Sur from LA. But you can certainly add it into a larger road trip, or make it a nice three day weekend. From LA it's 331 miles and 5.5 hours up Highway 1.
This stretch of Highway 1 is fickle. Storms and rock slides can sometimes wash out the road, which happened as recently as February 2021. Check Google maps or Caltrans for the most current road conditions. If you are interested in flying, check out our resources for finding the best airport for Big Sur.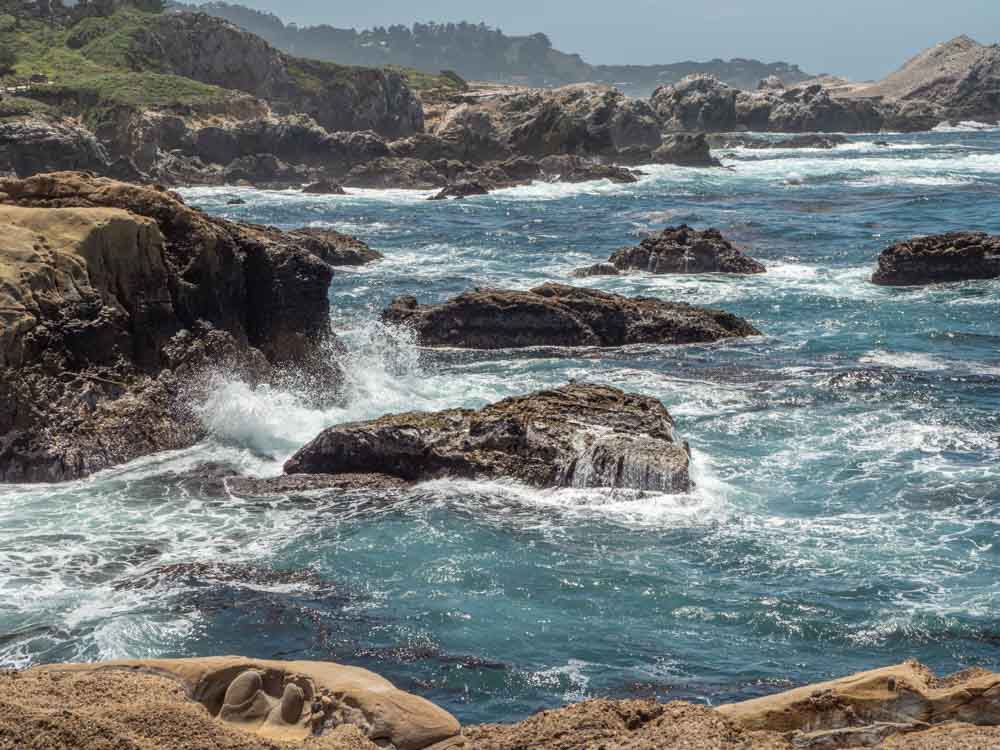 The Best Direction for a Big Sur Road Trip
Regardless of your origin point, a Big Sur road trip is best done north-to-south. All of the beaches, nearly all of the overlooks and many of the state parks are oceanside and the west side lane gives you the best views.
If you are day tripping from San Francisco, going north/south is your natural routing anyway. The fastest way back to SF from southern Big Sur is to go through Cambria, over to Paso Robles and back up Highway 101.
However, if you have an extra half hour, we recommend taking the super secret detour over Nacimiento-Fergusson road into Jolon. The road begins just north of San Dollar Beach. It's a lovely winding detour over the Santa Lucia mountains through forest and pasture land. But check before you commit because that road is sometimes closed.
If you are doing a larger PCH road trip, we still recommend a north-south route for the entire coastline. Plan the trip using our 5 day Pacific Coast Highway itinerary, which goes from San Francisco to LA. It has key stops and suggested places to stay and eat. You could also include Big Sur into a shorter Central Coast road trip, which could include visiting Cayucos and also Harmony town, which are both just south of Cambria.
If you are coming north from LA, be mindful of oncoming traffic. There aren't many left turn lanes on this stretch of Highway 1. Stay alert and use your turn signals liberally.
Commonly Asked Questions about Big Sur
When is the Best Time to Visit Big Sur?
August through October are great times for visiting Big Sur. They are the warmest months and the skies are very likely to be clear. Big Sur has moderate, but cool weather year round and December through March are the rainiest months. Check out our article on when to visit Big Sur. It includes a weather chart and season-by-season tips for what to do and see.
Are There Redwoods in Big Sur?
Yes! There are quite a few coast redwoods in Big Sur, particularly in the state park lands east of the highway. Check out the Buzzard's Roost hike in Pfeiffer State Park. In Andrew Molera State Park, check out Coyote Flat, Panorama and East Molera trails. In Julia Pfeiffer Burns State Park, try the Ewoldsen trail. Or do the Lime Kiln Creek or Hare Creek trails in Lime Kiln State Park. Get more info on all of the redwood groves in California.
Is Highway One Dangerous?
It can be if you aren't paying attention. Highway 1 through Big Sur is a narrow 2-lane road, and some sections have neither guardrails nor shoulders. So, follow the speed limit and use your turn signals.
Is Big Sur Busy?
It can be, especially on holiday weekends, so, be sure to get an early start. Or try taking a day off work during the midweek to avoid the crowds.
When Did the Big Sur Road Go In?
Work on Highway 1 started in 1912 but really got rolling in the 1920's. Depression-era public works projects in the 1930's funded the extensive construction of roads and bridges, like the graceful Bixby Bridge. By the 1950's, America's interstate highway system and the PCH were complete, fueling California's mid-century love affair with road tripping.
Are Dogs Allowed in Big Sur?
Dogs are not permitted on any of the state park trails. However, they are permitted on paved roads, of which there are quite a few in Pfeiffer Big Sur State Park. They are also allowed on Pfeiffer Beach, Garrapata Beach, Sand Dollar Beach, William Randolph Hearst Memorial Beach and the walkways along the Piedras Blancas elephant seal rookery. Some of the restaurants also welcome dogs.
Is There Cell Service in Big Sur?
Not much. You may want to print this article and cache our map below.
How to Get the Most of Your Big Sur Day Trip
This article is formatted for doing Big Sur in a day, but you can certainly use it to build a longer weekend getaway. There are a LOT of cool things to do in Big Sur and if you only have 8 hours, something has to give. Here's our strategy for how to prioritize:
Don't try to include Carmel or the 17-mile drive into this day trip. You can use our Carmel day trip guide to plan a separate getaway or add a day for a longer Big Sur road trip. You can also detour from Salinas and go down through chill Carmel Valley wine country.
Do all of the overlooks and pullouts (like McWay Falls and Bixby Bridge). These are quick stops and worth the time for all of the eye candy that you'll get.
Pick one beach to visit.
Pick 1-2 state parks. Pick one if you want to do a longer hike or two if you want to do shorter walks.
Know your interests. If you love flowers, then road trip Big Sur in the spring and visit the Calla Lily valley. If you are a book nerd, then be sure to visit the Henry Miller library (and also check out our list of great indy bookstores in SF). If you brake for wildlife, then be sure to see the elephant seal rookery.
*** Please note that due to the Dolan wildfires in 2020, some state park areas in Big Sur are closed for restoration. Check the state parks pages if are interested in hiking the eastern interiors of Pfeiffer State Park, Julia Pfeiffer State Park and Lime Kiln State Park. ***
13 Best Things to Do in Big Sur
If you get an early start and prioritize, you should be able to experience the best of Big Sur, from top to bottom. The following things to do in Big Sur are a mix of popular stops and along with few offbeat or less popular things sprinkled in.
All of the California state reserves and parks charge a $10 entrance fee, with discounts available for seniors, veterans and the disabled. But the cool part for Big Sur day trippers is that the fee tag is good for any state park property all day. So just pay once and keep the tag taped to your windshield. You can also use any of the California state parks annual passes. But there are 12 different annual passes, so use our guide to figure out which CA park pass is right for you.
You should also note that many Big Sur attractions have similar sounding names, but they aren't necessarily co-located. Every other thing is called "Pfeiffer", including two very different state parks and a beach. There are also several "Garrapata" things to do with different parking areas.
Read More: Get the full downlow on all CA parks with our complete California State Parks list (with map).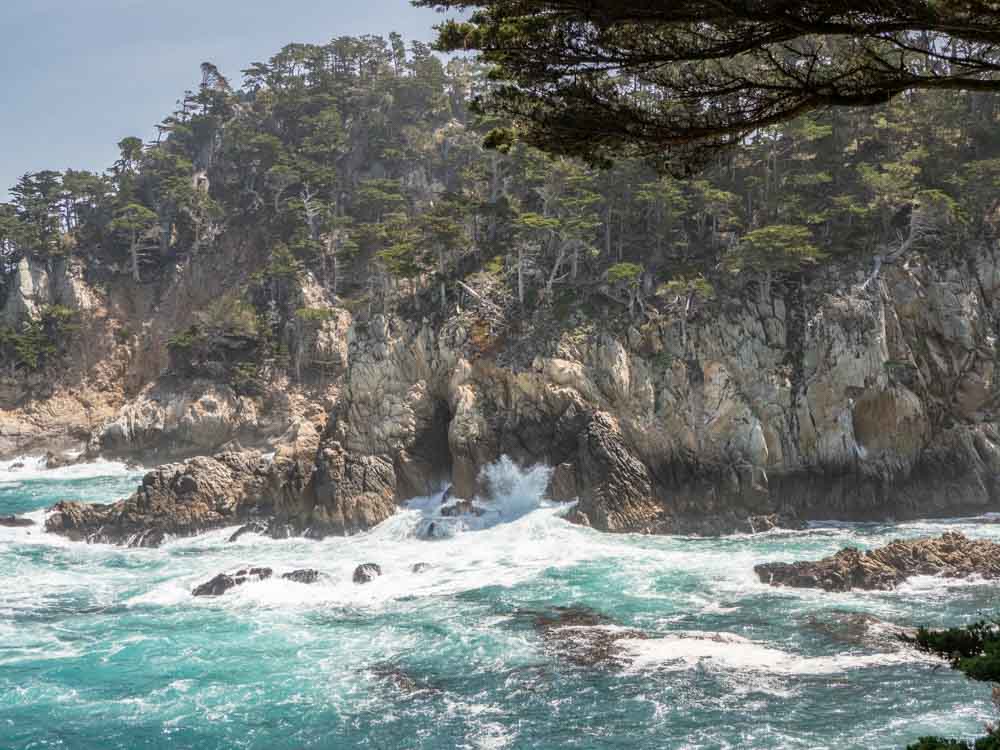 Point Lobos State Natural Reserve
Point Lobos is definitely one of the most popular stops on a Big Sur day trip…for good reason. This state nature preserve has the perfect coastal trifecta of marine mammals, craggy coastline and views for days. We recommend doing the full, 6.7 mile loop trail around the peninsula. You'll see all of the coves, cypress forest, pine forest, tide pools, flowering meadows (in the spring), migrating gray whales (in the winter) and sea lions (all year). Ask at the entry kiosk about guided tours.
If you are short on time, do the cypress grove trail (for trees) or the south shore trail (for sea lions).
Hours: 8am-6pm
Logistics: Parking is very limited so get their early, or plan to park on the road shoulder and walk in.
Garrapata State Park
If you are keen to maximize ocean views, then be sure to prioritize Garrapata State Park. The park has two miles of beach front with coastal hikes, diverse vegetation and marine mammals. The most popular trail is the Soberanes Point trail, which laps the bluff in 1.8 miles. For something harder, you can go inland on the 5.4 mile Soberanes canyon trail which has redwoods and panoramic views.
Hours: 8am until 1/2 hour after sunset.
Logistics: For the blufftop walk, park at gates 8, 9 or 10. For the canyon hike, park at gate 8.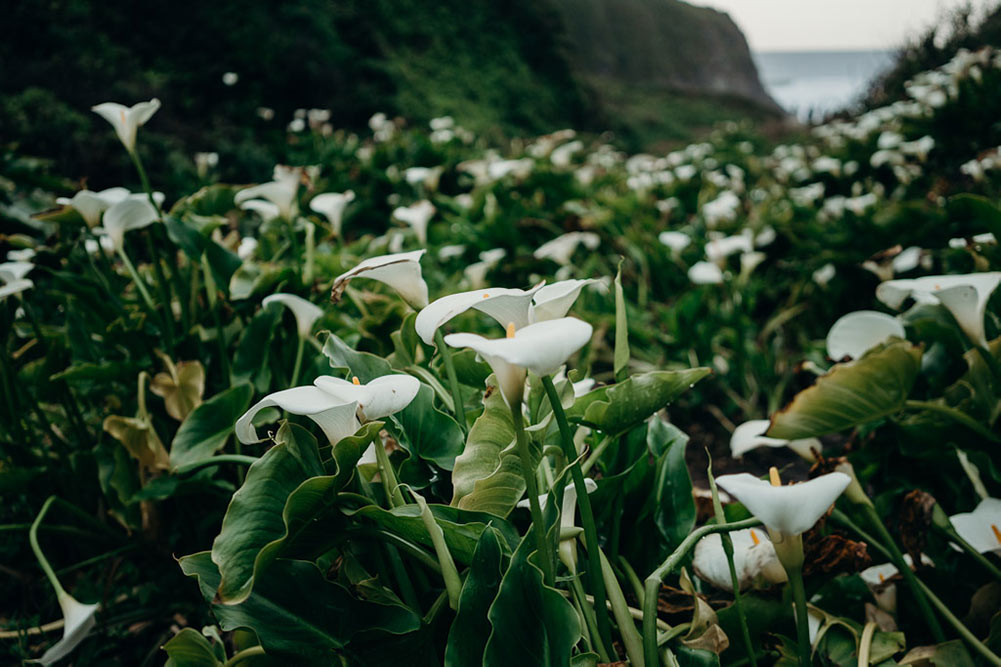 Garrapata State Beach & Calla Lily Valley
The Garrapata State Beach and Calla Lily Valley are actually part of the broader Garrapata State Park. But we're calling them out separately because they offer a very different experience and they are located several miles further down the coast.
The spot is particularly beautiful in the early spring, when the Calla Lilies are in full bloom. But the beach ain't no slouch either with a mile of soft sugar sand. Even better, this is one of the few beaches and trails that allow dogs.
Hours: 8am until 1/2 hour after sunset.
Logistics: For the Calla Lily valley, park at the pullout at gate 18. For a larger beach parking lot, use gate 19.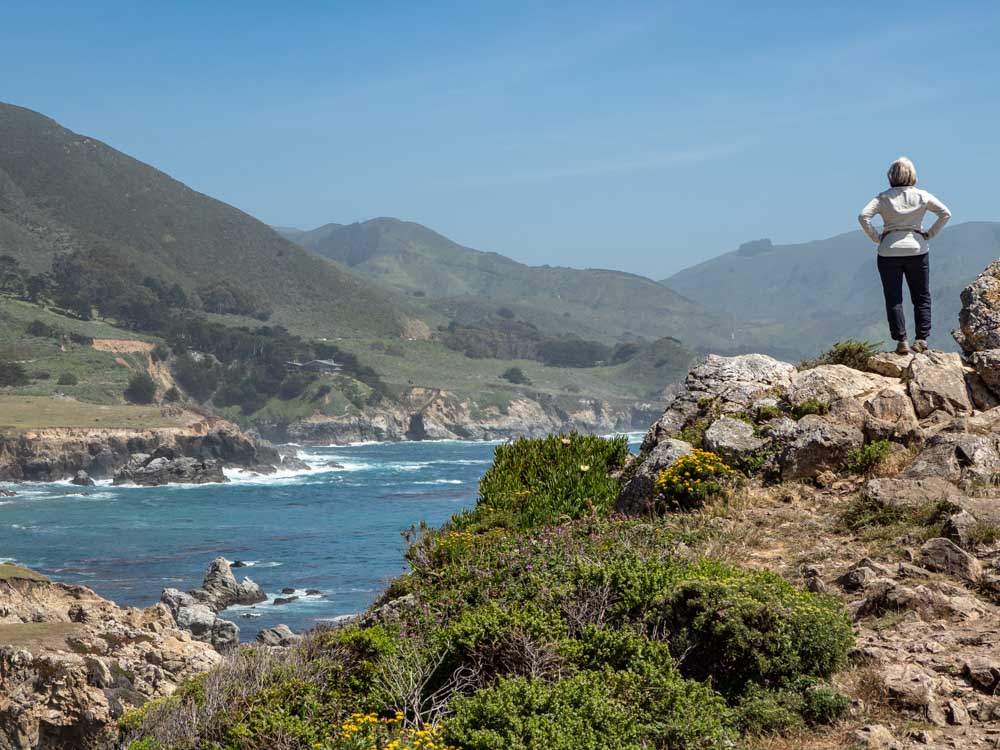 Rocky Point or Notleys Landing Viewpoint
Once back in the car, make a pit stop at Rocky Point or Notleys Landing for a great viewpoint (they are right near one another). These stops offer a wide-angle view of Big Sur's mid coast. There is a restaurant at Rocky Point with outdoor patio serving up great views.
Logistics: Rocky Point has a good sized parking lot whereas Notleys Landing is a small pullout.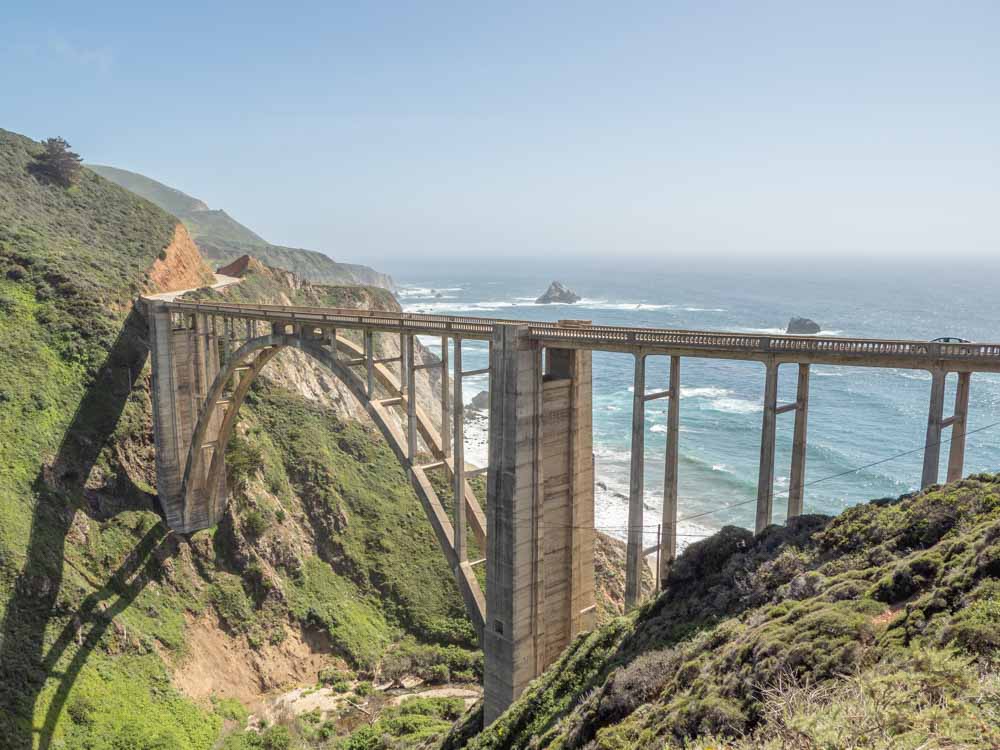 Castle Rock Viewpoint & Bixby Bridge
We have the depression to thank for the lovely Bixby Bridge. The road through Big Sur would not have happened if it weren't for public works projects that were funded by the New Deal. Bixby Bridge spans its namesake creek with an Art Deco vibe.
There is a very small parking lot at the Castle Rock turnout and also room for a handful of cars on the east side Coast road. If you are on the east side, spend a few minutes walking up the road for an alternative view of the bridge and the creek below
Just south of the bridge are three more turnouts that are worth a quick stop: Hurricane Point, Sea Otter Refuge and Great Sur.
Logistics: This is one of the most popular stops on the Big Sur day trip and it gets very clogged. Be very careful about how and where you park and mind the oncoming traffic.
Andrew Molera State Park
After another 8 miles, Highway 1 begins to veer inland. Andrew Molera is one of the less developed state parks in Big Sur. Like Garrapata, it straddles both sides of Highway 1, offering both forest and beach hikes. For an easy beach hike, try the 2 mile Andrew Molera beach trail. If you want some forest, take the 2.6 mile Bobcat trail.
Hours: 8am to sunset.
Logistics: Most of the trails are accessible from the main parking lot.
Pfeiffer Big Sur State Park
Most of the wild parts of Big Sur are protected by the Pfeiffer Big Sur State Park. If you are wondering why everything is called "Pfeiffer", it's a family legacy of Michael and Barbara Pfeiffer. In 1869, they settled at Sycamore Canyon and commenced ranching, farming and beekeeping. Rather than sell out to a developer, their son John sold 680 acres to the state of California in 1933. The park has since grown to over 1,000 acres.
Pfeiffer Big Sur is all about the forest. You can take the easy 1.5 mile Pfeiffer Falls trail or the longer 2.6 mile Buzzard's Roost trail for redwoods. This state park also has a large campground, a cafe and a small grocery store.
Hours: 8am-sunset
Logistics: The park has four day use lots. Check the map to figure out which one is near the hike that you want to do.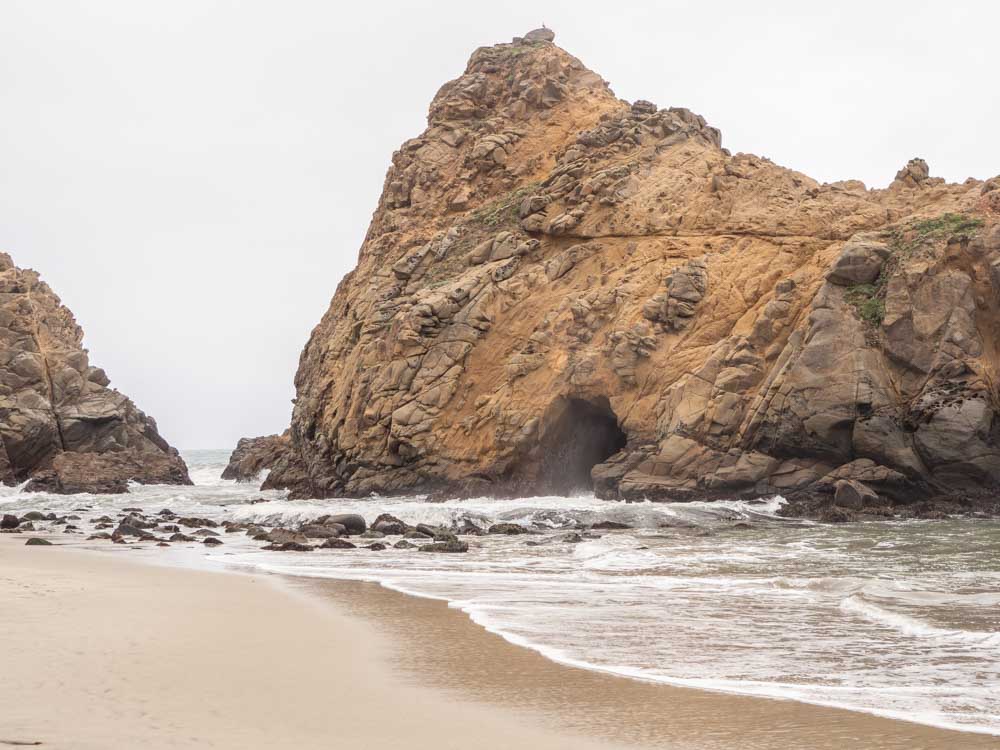 Pfeiffer Beach
Pfeiffer Beach is one of the coolest beaches on this Big Sur itinerary. It has a large, arched keyhole rock and unique purple sand on the north end of the beach. The beach isn't large, but it's a nice spot for tide pooling and taking a chill pill.
This beach is not a state park. Rather it's managed by the National Forest Service, so your day use park pass won't work here. Also note that the beach is quite popular and the parking lot will fill up on busy days. The beach is hard to find and it isn't sign-posted. Turn right onto Sycamore road before the Pfeiffer Canyon Bridge. I you get to the Big Sur Bakery, you've gone too far.
Hours: 9am to sunset.
Logistics: Day use fees are $12. You should be able to use your national parks pass to access the area, but the forest service guidance on this is inconsistent.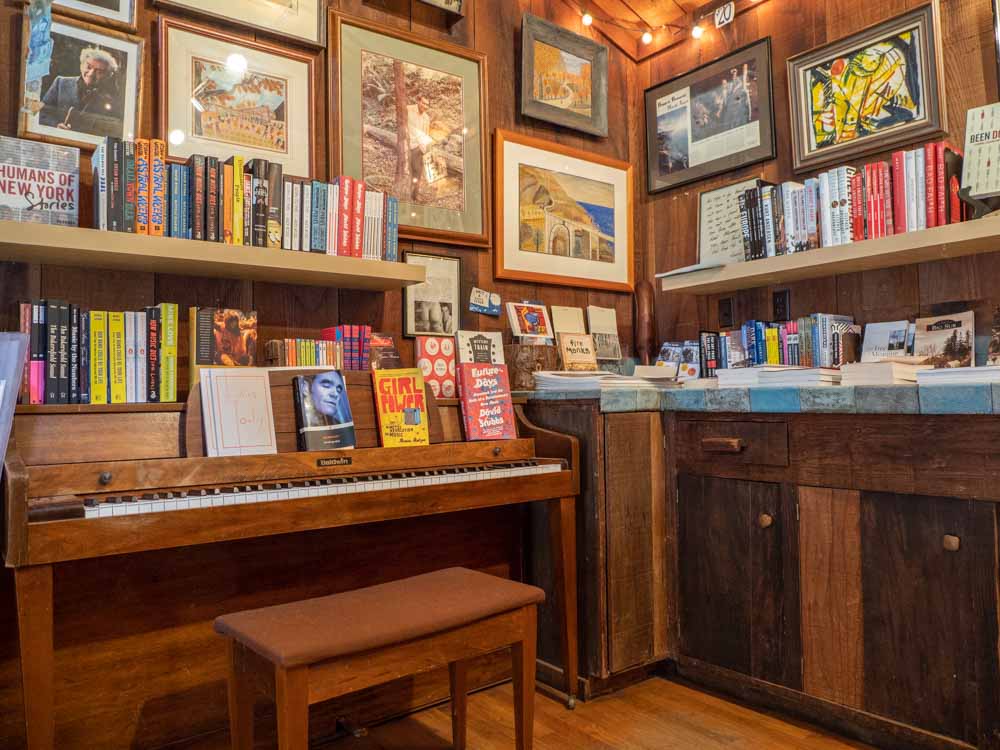 Henry Miller Library
This quirky spot is a both a bookstore and a library where Miller used to hang out. The library's mission is to champion the literary, artistic and cultural contributions of Miller. The library is also a cultural center, public gallery and workshop space for Burning Man types.
They celebrate local author's in the store and the guy who runs it will give you the scoop on Big Sur culture and hidden spots. Check their schedule because they often have events in the evenings and on the weekends.
Hours: Thursday-Sunday 11am-5pm.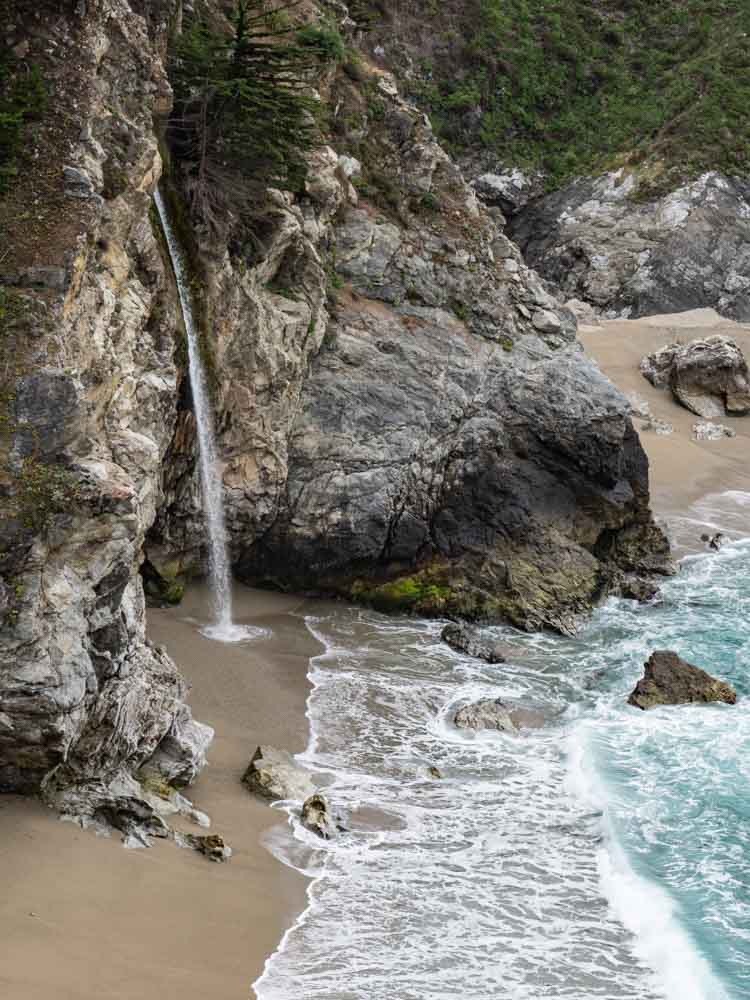 Julia Pfeiffer Burns State Park & McWay Falls
Julia Pfeiffer is considered one California's original frontier women. She moved to Big Sur in 1869 and spent her life there as a rancher. Pfeiffer used to ranch in the area of what is now the state park and when Helen Hooper Brown donated the property to the California, she requested that it be dedicated to her friend.
The park is characterized by steep canyons and ancient redwood trees, and it's the southernmost point where the coast redwoods are found. You can explore them for yourself by taking the 5.8 mile Ewoldsen loop trail or simply take the 1 mile trail down to the overlook for McWay Falls.
The falls are one of the most iconic spots in Big Sur. The McWay creek careens down the steep canyon, dramatically spilling over the cliff before swimming off into the sunset. There is a fenced walkway which goes out to an overlook. The cliff is very steep you can't hike down to the beach or the falls.
Hours: 8am to sunset.
Logistics: There is a medium sized parking lot and bathrooms at the main park entrance. If it's full, you can sort of park along the road, but it's a tight fit and mind the traffic.
Limekiln State Park
Limekiln's 700 acres also houses a large section of redwood forest, ferns and a spectacular waterfall. In 1887, a lime and timber company used the land to extract thousands of pounds of limestone. Ruins of the lime kilns are still on site and can be viewed from the .5 mile Limekiln trail. You can also take the 1.4 mile hike to the Limekiln Falls and there is a small beach on site.
Hours: 8am to sunset.
Logistics: There is a decent sized day use lot right off of Highway 1.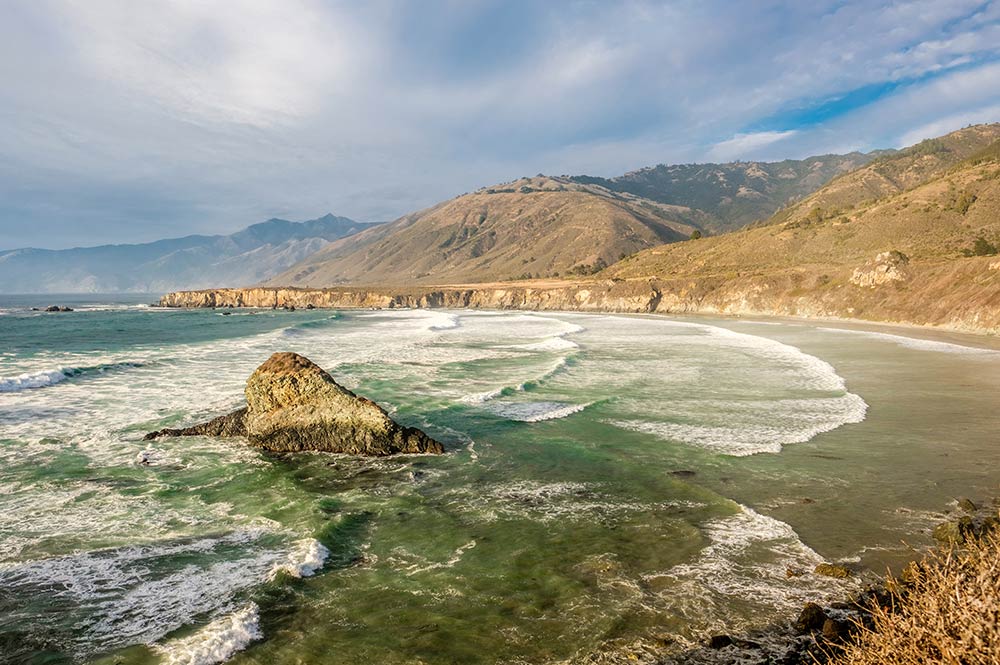 Sand Dollar Beach
Head down the road for 8 more miles and you'll find Sand Dollar Beach. It's a lovely crescent-shaped beach with peaceful beachcombing and tidepooling. San Dollar is a great spot to just escape the car for a while and chill out.
The beach is part of the Los Padres National Forest and is also managed by the US Forest Service. And– it's dog friendly!
Hours: 10am-6pm
Logistics: There is a small parking lot on site. The turnoff is a little hard to spot, if you get to the Plaskett campground, you've gone just a little too far. There's a $10 day use fee, but it's free if you park along the road and walk in.
Piedras Blancas Elephant Seal Rookery
Many people don't go much past Sand Dollar, or they zoom through southern Big Sur on the way to somewhere else. I'm certainly guilty of doing that. However, if you are into wildlife, you need to stop at the Piedras Blancas Elephant Seal Rookery.
Unlike migratory whales, the elephant seals can always be spotted at Piedras Blancas. The males, females and pups come and go throughout the year according to various lifecycles that include: mating, birthing, molting and resting. The pic above was taken in April and features molting females.
There is a ~1 mile long pathway that runs north-south of the parking lot, with plenty of opportunities to observe the seals. If you want to get jazzed for your visit, you can watch the live elephant seal cam. If you are keen on history, you can also visit the nearby Piedras Blancas lighthouse.
Hours: Dawn to dusk.
Logistics: There is a generous parking lot with no fees, and also no bathrooms.
Big Sur Driving Map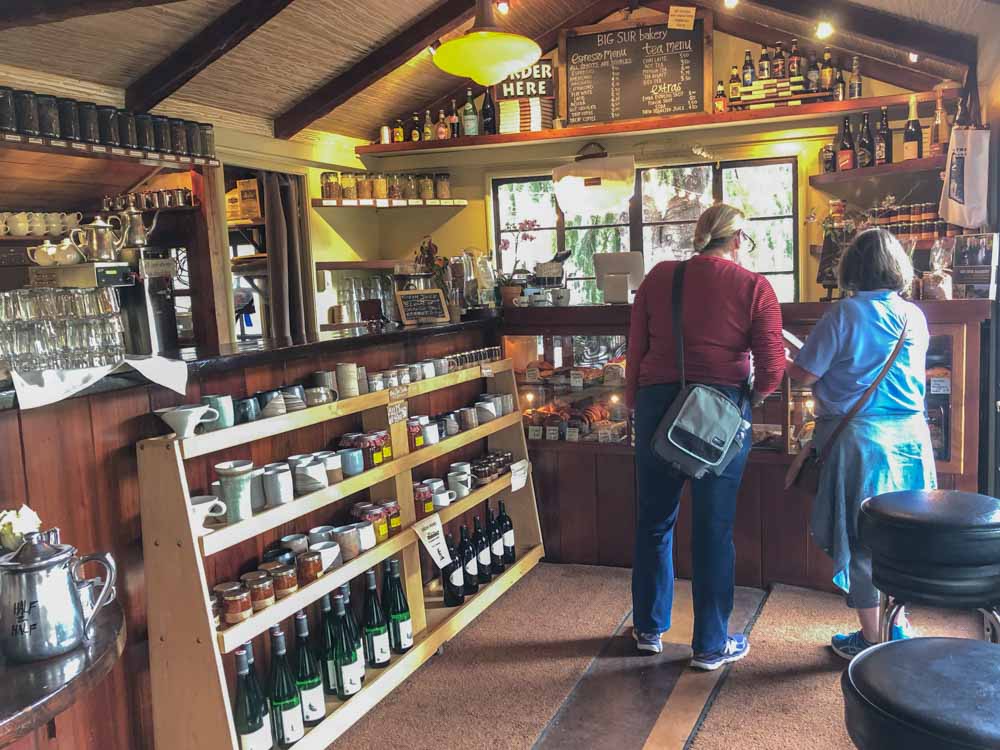 Where to Eat in Big Sur
Big Sur isn't a thriving metropolis of foodie destinations. There are few restaurants along the coastal part of the trail, with more being found on the middle inland section.
You may want to consider bringing a picnic and eating lunch on one of the beaches mentioned above. Compagno's Deli in Pacific Grove has fresh, massive sanwiches and other picnic fixins'.
Rocky Point has a good restaurant, with burgers, salads a wide beer selection and killer views. The Big Sur Bakery will hit your sweet spot with coffee, sweet breads, cookies and muffins. If you want something more substantial, try the nearby Big Sur Taphouse, which serves sandwiches, burgers tacos and tap beer. The Taphouse also has a deli.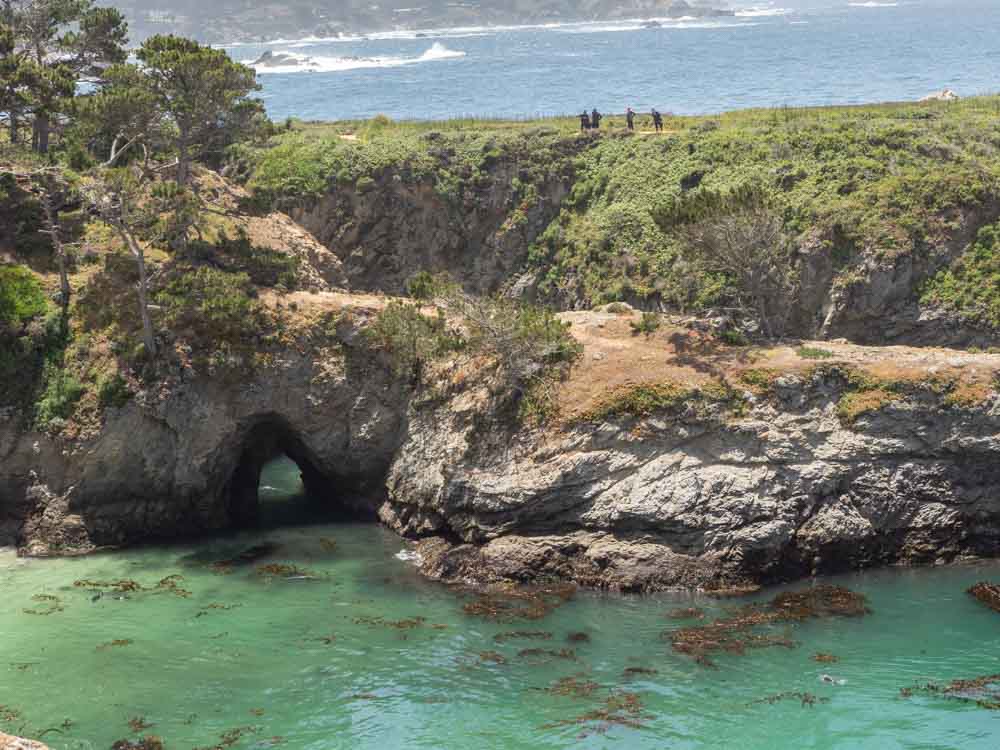 (This article contains affiliate links. This means that if you choose to purchase, I'll make a small commission.)
What to Take
If you need to rent a car, all of the major companies are located at SFO, Oakland and San Jose airports. Get your best rental car deal by comparing prices with Rentalcars.com.
Here are a few other things to pack for the trip:
Bring a cooler. Consider getting a plug-in cooler, which uses your car's 12 volt plug to keep things cold.
Pack layers. You'll experience warm to cool to foggy and back again, all within one day in Big Sur. Bring layers and a hat or buff.
Proper hiking pants. For the longer trails, hiking pants with zippered pocks are a must. I love the hiking pants from Kuhl. They are breathable, stretchy and have zippered pockets. I'm also a big fan of Columbia hiking clothing. They strike the right balance between price and quality and their clothes have a more generous cut.
Proper hiking shoes. You don't need heavy hiking boots for a Big Sur day trip, but if you are doing the forest hikes, you should at least invest in some trail runners or light hikers. We've put well over 1,000 miles on the Hoka Speedgoat trail runners. They have strong foot cushioning and great grip.
A roadside safety kit. This roadside safely kit includes things like a warning triangle, jumper cables, glass breaker, multi tool, cable ties and small first aid kit. These kits also make a thoughtful, if tragically practical Christmas or birthday gift.
A road atlas. I wasn't kidding about the lack of cell signal on the coast, so go old school with the California Road & Recreation Atlas. It's rather detailed and will serve you well on future road trips.
Where to Stay in Big Sur
Just in case you want to stretch a day trip to Big Sur into a weekend getaway, you may want to look into some lodging options. If you just want a reasonably priced motel, then staying in Monterey, Carmel or Pacific Grove is your best bet. The Green Lantern Inn is budget friendly.
You could also look at the Monterey Peninsula Inn is a well-reviewed basic motel only a few blocks from the beach in Pacific Grove. (Read reviews or book at Hotels.com or Trip Advisor.
If you want to go 5 star and fancy, book the Hyatt Carmel Highlands.The rooms have kitchenettes, a luxurious bathroom and the dining room and bar have amazing sunset views. (Read reviews or book at Booking.com)
We've also got a full guide to all Big Sur campgrounds.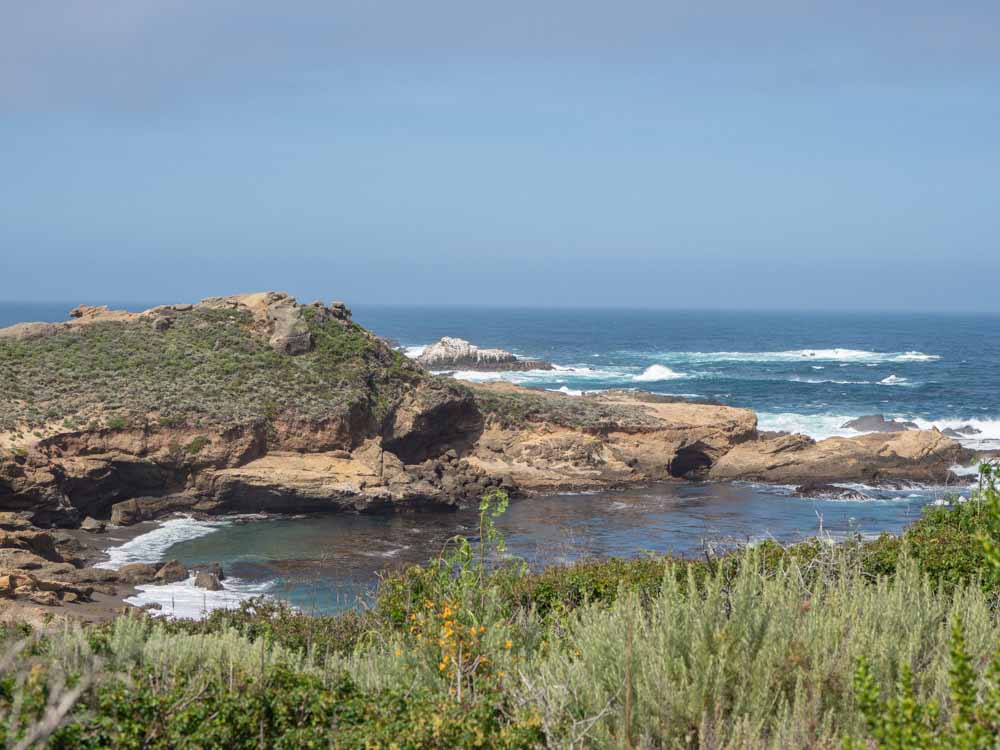 More Northern California Road Trip Getaways
Book some vacation time and start planning your next day trip or road trip.
If we are always arriving and departing, it is also true that we are eternally anchored. One's destination is never a place but rather a new way of looking at things.

– Henry Miller (Big Sur and the Oranges of Hieronymus Bosch)
True that Henry. Wise advice for anyone soaking up Big Sur. May the vast coastline and quiet forests help you find a new way of looking at things. Happy trails!
Share this Big Sur day trip with your friends on Pinterest: