Planning a road trip? Well, California is the best place in the US to do it. We have 164,000 square miles of varied landscape that includes rugged coastline, pine and redwood forest, desert and pastoral chaparral. So, buckle up and hit the road for one of these 20 epic scenic drives in California.
There are 68 official (and a lot of unofficial) scenic byways in California and you could spend all of your vacation time exploring them. But we are nothing if not helpful here at California Crossings and we've complied a list for you to help you get started.
What follows is a curated selection of scenic routes culled from our own experiences, and also sourced from a hive mind of California hikers, RVers and road enthusiasts.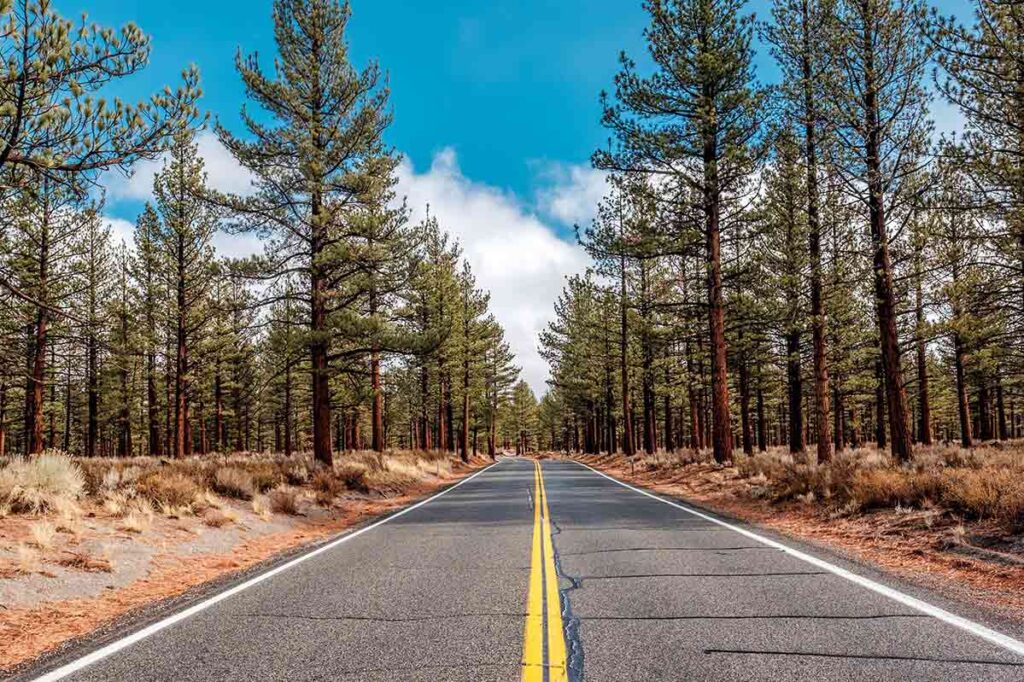 We've broken up the list into two sections. The first covers epic multi-day drives, which you can do as individual scenic road trips, or you can combine them together to do the full circuit of California.
The second list has shorter drives, which you can do in a few hours or up to a day. Many of these begin or end in LA, SF or San Diego or they can supplement one of the multi-day trips.
Quick links to:
10 Multi-Day Scenic Drives in California
10 of California's Best Drives to Do in a Day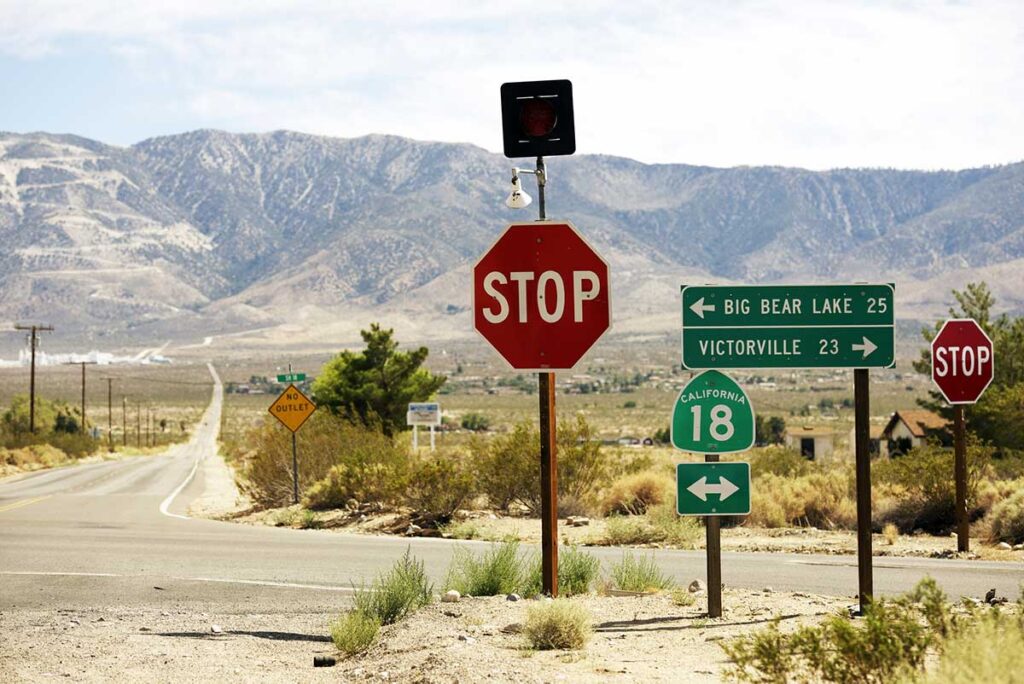 (This article contains affiliate links. This means that if you choose to purchase, I'll make a small commission.)
How to Prepare for Your Road Trip
For starters, if you are doing one of California's scenic routes—especially in the summer–especially on the coast—or maybe up into the pine forest—then you may want to rent a convertible—or perhaps a Mercedes C Class. Yes, it's an indulgence, but the wind in your hair and a car that really sticks to the road, will add a lot to the experience.
Or, maybe you don't own a car or are from out of state and need a rental car. Either way, find your best pricing by comparing all of the different rental car providers on Rentalcars.com.
In addition to topping up your fluids and checking your tires, you may also want to bring a roadside safely kit which includes things like a warning triangle, jumper cables, glass breaker, multi tool, cable ties and small first aid kit. These kits also make a thoughtful, if tragically practical Christmas or birthday gift. You should also pack a plug-in cooler, which uses your car's 12 volt plug to keep things cold.
If you do a lot of road trips, get the annual California State Parks Poppy Pass (which is $125 and good at almost all state parks). But CA also has 11 other discounted passes, so use our guide to find a park pass this is right for you.
You should also look into an National Parks America the Beautiful annual pass ($80). In addition to the national parks, it also works in National Forest fee areas and usually allows you to score a discount on campgrounds.
Get a Map!
Google Maps is fine and all but sometimes an old school map is better for finding backroads and byways. We love the Benchmark California Road Atlas. It has a lot of detail, showing state parks and campsites as well as both paved and dirt roads.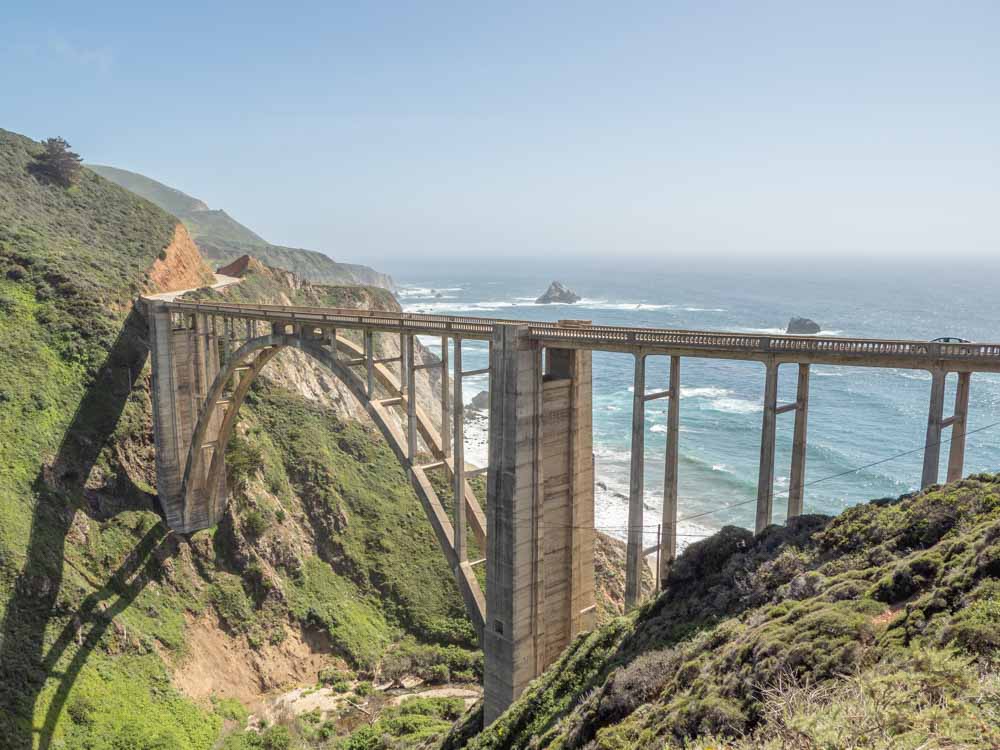 10 Multi-Day Scenic Drives in California
Pacific Coast Highway 1: SF to LA
Starts and Ends: San Francisco to Los Angeles
Miles: 479
# Days: 5 days/4 nights. Sleeping in Pacific Grove, Big Sur, Cambria/Cayucos/Morro Bay and Solvang/Santa Barbara.
When to go: Can be done any time but spring and fall have the best weather.
Routing
Start in San Francisco > Highway 1 to Monterey through to Pismo Beach > Highway 101 to Solvang and Gaviota > Highway 1 through Santa Barbara > end at Santa Monica.
Highway 1 is our most famous road (arguably) the best scenic road in California. It runs from Smith River on the Oregon border to Dana Point in San Diego. One of the most popular sections of the road is from San Francisco to Los Angeles.
This 479 mile stretch of the PCH is great for people who like to do a mix of things. There is the rugged coastline, hiking opportunities, wine tasting and kitschy California towns. You can use our 5-day Pacific Coast Highway itinerary as a base for building your trip.
Top stops
Brake for marine life at Año Nuevo State Park, the Elkhorn Slough otter safari, the Monterey Bay Aquarium, or the Ragged Point Elephant Seal rookery at Piedras Blancas.
Take your time through Big Sur, because the coastline is particularly lovely there. Here's our Big Sur day trip guide.
If you like funky small towns, stop at either Harmony for the cow sculptures and glass blowing studio, or at Solvang for their Danish architecture and pastries.
Go wine tasting in Santa Barbara.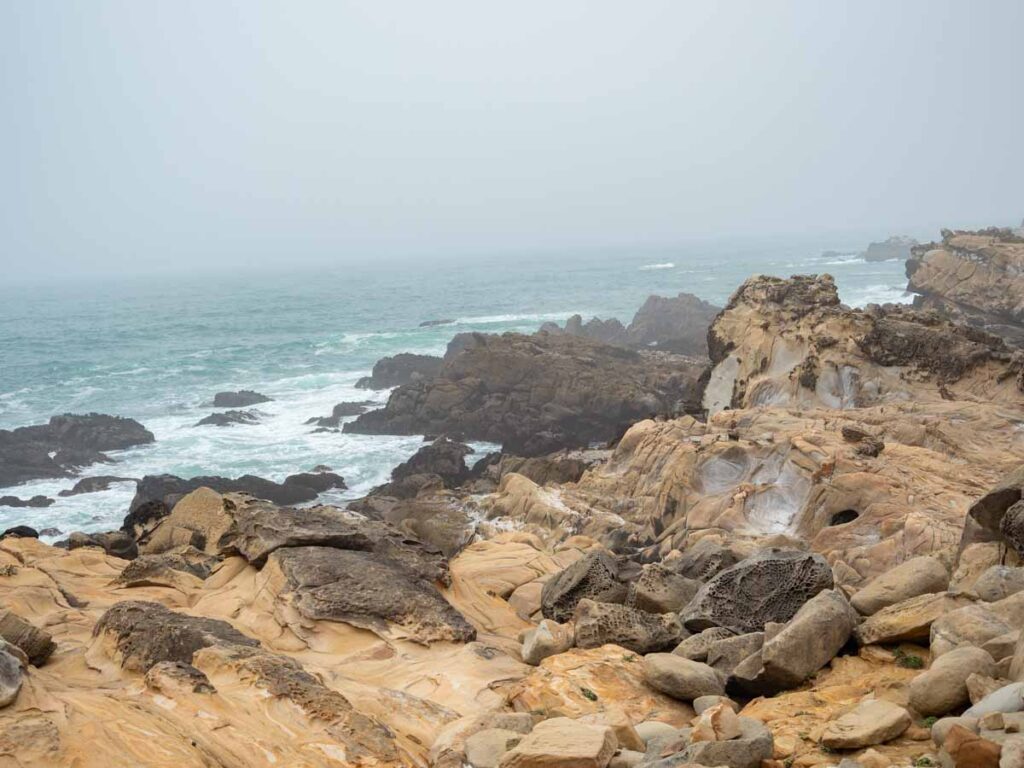 Pacific Coast Highway 1: SF to Fort Bragg
Starts and Ends: San Francisco to Fort Bragg
Miles: 178
# of Days: 3 days/2 nights. Spending the night in Gualala and Fort Bragg.
When to go: Can be done any time but spring and fall have the best weather.
Routing
Start in San Francisco > Highway 101 to Marin City > Highway 1 west to Muir Beach > Highway 1 north through Sonoma County, Jenner, Point Arena and Menodino > end at Fort Bragg.
Northern Highway 1 is the perfect California scenic highway for someone who wants to get far away from it all. Driving over the Golden Gate Bridge commits you to 225 miles of an unbroken mountain chain which separates California's gentle countryside from it's uncompromising coastline. California's northern coastal drives are dotted with cozy coastal towns and pounding surf.
In fact, the drive from Mendocino over to 101 is also quite lovely. You can make a loop of it by combining this great California scenic drive with the Redwoods itinerary below.
Top Stops
Hand out in quirky Bolinas, which is a surf town that made our list of the best boho towns in CA.
Take a drive out to the Drakes Bay lighthouse in Point Reyes.
Stop at historic Fort Ross and then again at nearby Salt Point State Park for a blufftop walk (and some cool sandstone formations).
Take a hike through the fern forest in Van Damme state park near Mendocino.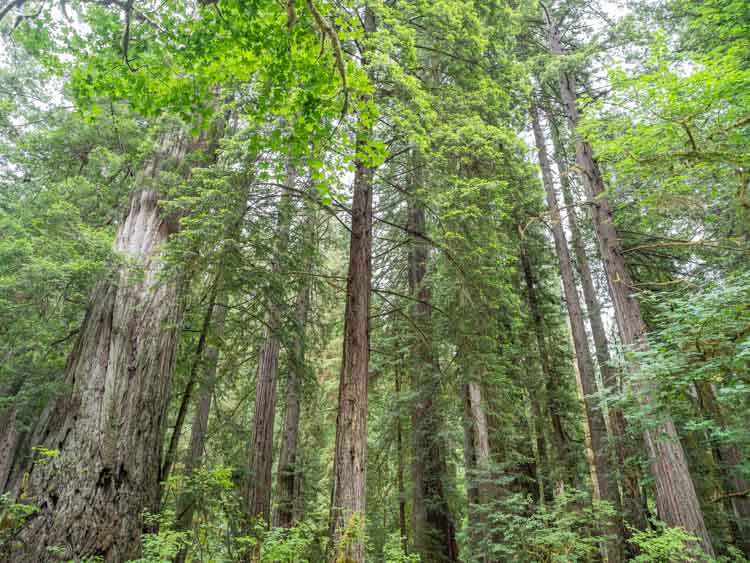 The Redwood Highway
Starts and Ends: San Francisco to Crescent City
Miles: 363
# of Days: 4 days/3 nights. Spending the night in Ukiah, Eureka and Crescent City.
When to go: Anytime is fine but it can be rainy from December-March.
Routing
Start in San Francisco > Highway 101 all the way through Healdsberg, Ukiah, Leggett and Eureka > Highway 1/101 to Crescent City > End at Jedediah State Park.
This is one of our favorite (and less traveled) California road trip itineraries.
This California scenic highway is all about our ancient Coast Redwoods and they only grow in northwestern California. The Redwood Highway flies through one redwood forest after another. There are two significant groves just north of San Francisco (Armstrong and Muir Woods). But the party really starts once you get to Leggett, 180 miles north.
This drive has several scenic detours and be sure to stop frequently. There are tons of rivers, trails and many short walks to heritage trees.
Key Groves (South to North)
Muir Woods (Mill Valley).
Armstrong State Park (Guerneville).
Chandelier drive-through tree (Leggett).
Richardson Grove State Park (Garberville).
Humboldt Redwood State Park and Avenue of the Giants (Philipsville). Take Highway 254 for the scenic drive through the park.
Prairie Creek Redwoods State Park (Berry Glenn). Take the Newton B. Drury Scenic Parkway through the park.
Del Norte Coast Redwoods State Park.
Jedediah Smith Redwoods State Park.
Get more information on all California redwood groves using our guide. And then design your itinerary using our redwoods road trip guide.
Read More: Get the full downlow on all CA parks with our complete California State Parks list (with map).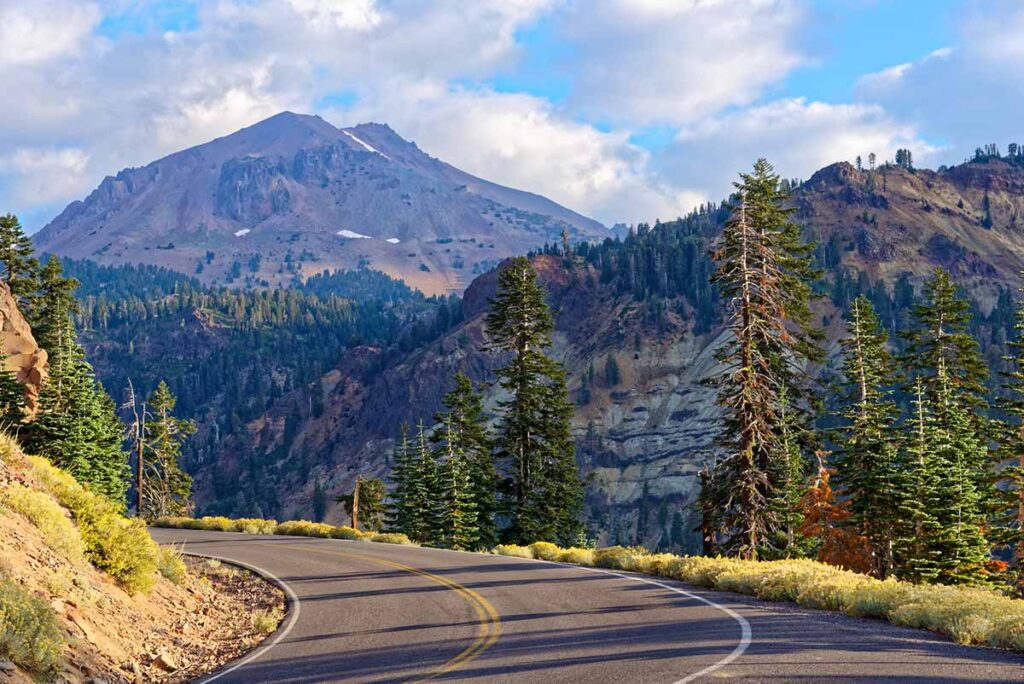 Volcanic Legacy Scenic Highway
Starts and Ends: Mount Shasta to Lassen National Park Loop
Miles: 249
# of Days: 5 days/4 nights. Spending one night in Mt. Shasta/Dunsmuir/Burney, 1 nights near Susanville/Lake Almanor, 2 nights in Lassen.
When to go: Late May through late October. The waterfalls are best in spring, but the main road through Lassen is closed in the winter.
Routing
Start in Mt Shasta > I-5 south to Dunsmuir > Highway 89 southeast, then Highway 299 to Burney > Highway 89 south to Old Station > Highway 44 southeast to Susanville > Highway 36 west through Lake Almador > Highway 89 north to end at Lassen National Park
The official Volcanic Legacy Scenic Highway actually starts at Crater Lake and the full drive is 500 miles. But this alternative routing is shorter and takes in the best bits of California. On this drive, you get a lovely mix of volcanic geology, waterfalls and charming historic communities.
This part of northern California is not nearly as popular as places like Lake Tahoe or the PCH, so you can enjoy a relaxed pace and a strong dose of outdoorsy vibe with this itinerary.
Top Stops
Visit historic Dunsmuir for a classic alpine village experience.
Stop for the trifecta of waterfalls near Mt Shasta: Burney Falls, Hedge Creek Falls and McCloud Falls.
In Lassen National Park, check out Bumpass Hell hydrothermal pools, visit summit lake and take the Devastated Area interpretive trail.
Do a lap around Lake Almador.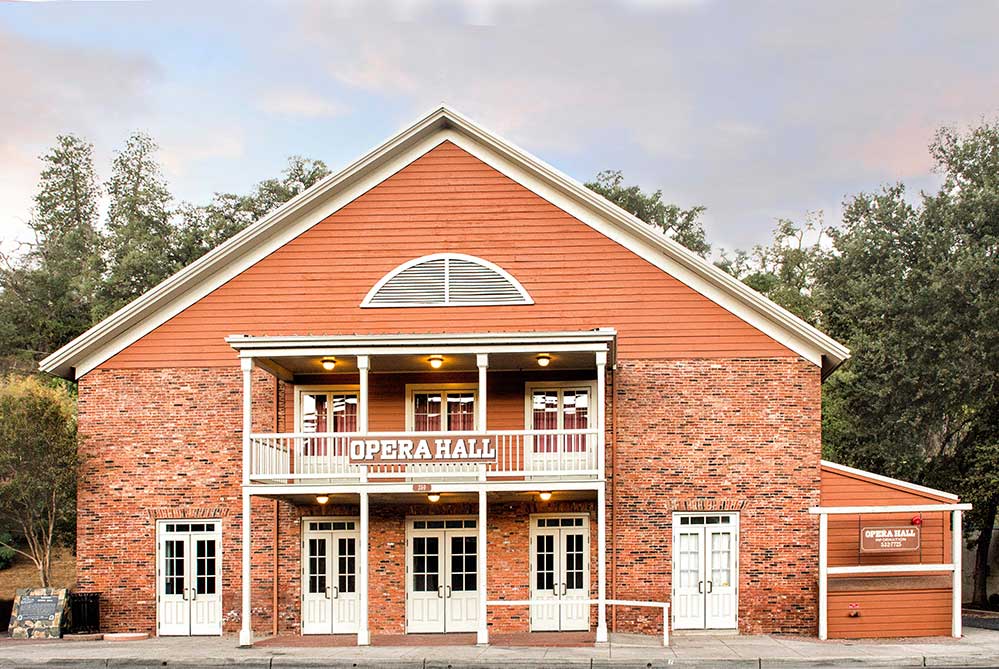 Highway 49 Gold Country
Starts and Ends: Sonora to Gold Lake
Miles: 260
# Days: 5 days/4 nights. Spending the night near Sonora, Sutter Creek/Jackson and 2 nights around Nevada City/Grass Valley.
When to go: April-November. Most of this itinerary sits at ~3,000 feet, so it can be cold and snowy in the winter.
Routing
Start in Sonora > Highway 49 north to Angels Camp > Highway 4 to Calavaras Big Trees > Highway 49 north to Placerville, Grass Valley, Nevada City and Bassets > Gold Lake Highway to end at Gold Lake.
When gold was discovered at Sutter's Mill in 1848, the subsequent enthusiasm opened a migratory floodgate that brought 300,000 people to California. There are mining towns all over California, but the north/south route of Highway 49 covers a rich collection of historic mining towns that are still alive and kicking, as well as some state historic parks and ghost towns. This drive also travels through the Stanislaus and Tahoe National Forests, so there are lots of opportunities for hiking and redwoods.
Most Highway 49 itineraries end in Nevada City, but we recommend that you take the extra time to do the additional 67 miles up the Gold Lake Highway. It has pristine alpine lakes, trails, fishing and waterfalls.
Top Stops
Four state historic parks: Columbia State Park (near Sonora), Marshall Gold Discovery State Historic Park (Placerville), Empire Mine State Historic Park and Malakoff Diggins State Park (both near Nevada City).
Calavaras Big Trees State Park for redwoods.
Wine tasting in Amador County, which is north of Jackson and Sutter creek.
Visit friendly farm stands in Placerville along Highway 49 and Carson road.
Stroll historic downtown Nevada City.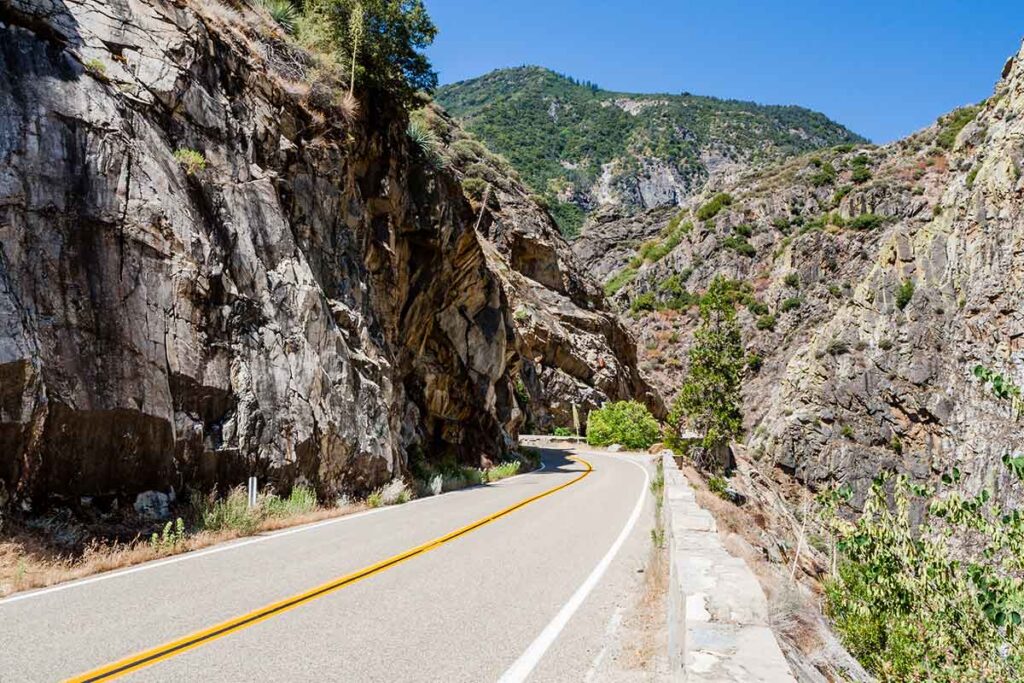 Sequoia and Kings Canyon National Parks
Starts and Ends: Sequoia National Park Foothills Visitor Center to Zumwalt Meadow in King's Canyon
Miles: 80
# Days: 3 days/2 nights. Spending both nights in Three Rivers or Badger.
When to go: Mid-spring through late fall. The parks are open throughout the year, but the scenic drive can sometimes be closed due to winter snow.
Routing
Start at Sequoia National Park Foothills Visitor's Center > Generals Highway to Grant Grove Village > Highway 180 to Kings Canyon > end at Zumwalt Meadow.
Consider this your best California drive for sheer awe inspiring nature. Sequoia National Park is famous for their giant Sequoia trees and Kings Canyon has conifer forest and the deepest canyon in North America. The park planners for Sequoia and Kings Canyon National Parks very thoughtfully planned a scenic route connecting the two parks. The Generals Highway covers the best-of Sequoia National Park and Highway 180 covers the best-of Kings Canyon.
These two great scenic California highways only add up to 80 miles, but you'll want to take your time doing it. Not only is are the roads curvy and slow, but there are tons of hikes and lookout to see along the way. This routing is also a great side trip if you are road tripping from San Francisco to Las Vegas.
Top Spots
Sequoia groves in the Giant Forest (Sequoia park) and Grant Grove (Kings Canyon).
See the General Grant tree, which is the oldest living tree in the world.
Get spectacular views at Morro Rock.
Get out of the car and hike one the area's great tails, like Mist Falls trail, Zumwalt Meadow or Buena Vista Peak.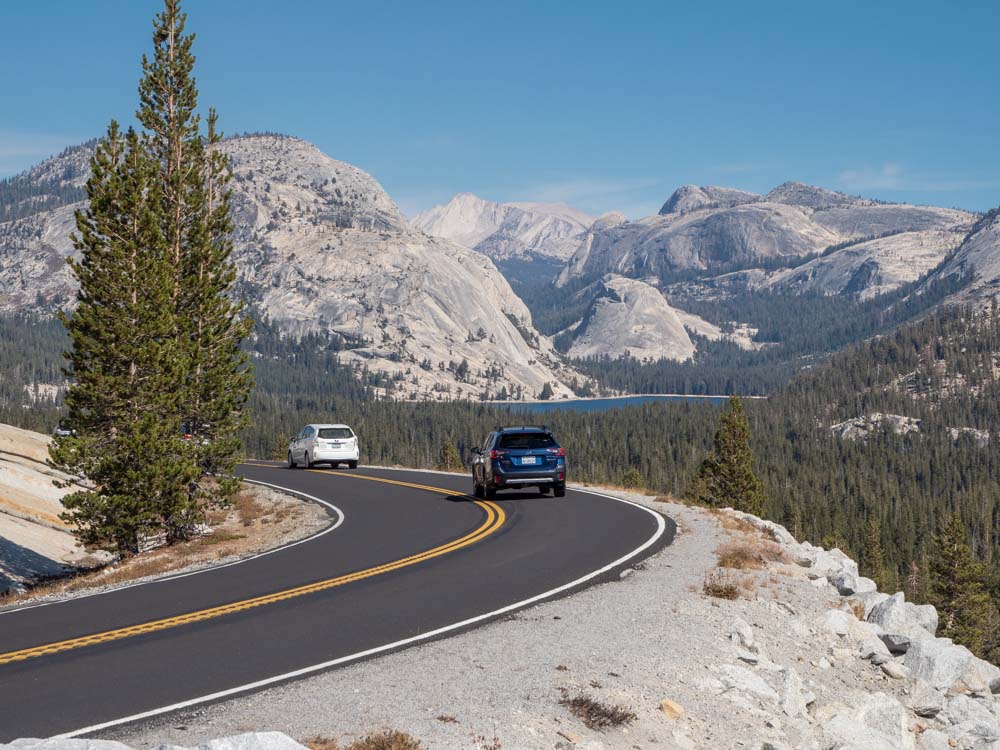 Yosemite & Tioga Pass
Starts and Ends: Fish Camp to Groveland
Miles: 350
# Days: 5 days/4 nights. Spending one night each in Fish Camp/Wawona, Yosemite Valley, Lee Vining and Groveland.
When to go: Late May-late November. Tioga Pass is closed in the winter.
Routing
Starts in Fish Camp > Highway 41 to Wawona > Wawona Road to Yosemite Valley > Big Oat Flat Road to Highway 120 > 120 east over Tioga Pass to Lee Vining > West back over Tioga Pass > End at Groveland.
Yosemite is California's most popular national park, and for good reason. It presents the best of the Sierra Nevada mountain range with pine forests, giant Sequoia groves and soaring granite peaks. If you have two weeks, the Yosemite driving route would pair nicely with the Kings Canyon/Sequoia scenic drive, the Highway 395 route and/or the Gold Country itinerary.
This Yosemite itinerary loops both scenic Highway 41 and Highway 120 as a way to get to and from Yosemite. It's written to be from SF, but you can following similar routing from Los Angeles. It's nice because it includes some fun things to do outside of Yosemite– like seeing Modesto's almond blossoms in the spring, Knight's Ferry and the Sugar Pine Railroad.
Top Stops
The Mariposa grove of redwoods.
Glacier Point overlook.
There are a lot of hikes in Yosemite Valley including: Vernal Falls, Mirror Lake Loop and the Yosemite Valley Loop trail.
The drive over Tioga Pass is an event in itself and be sure to take advantage of the pullouts.
Visit the Merced grove of redwoods.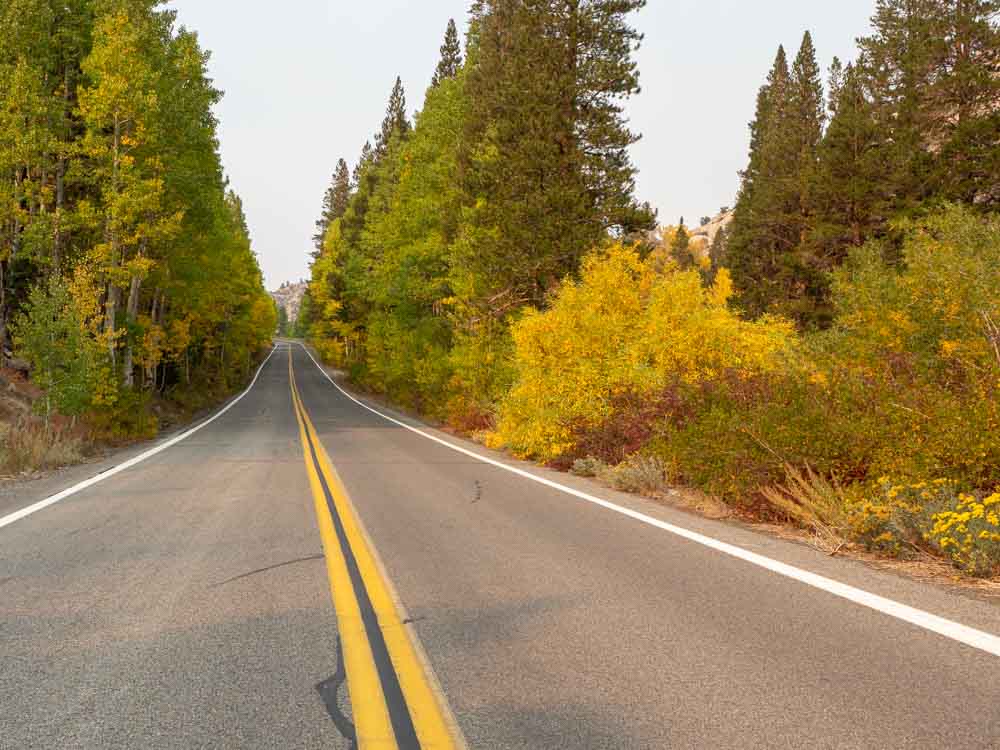 Eastern Sierras and Highway 395
Starts and Ends: Bridgeport to Lone Pine.
Miles: 147
# Days: 5 days/4 nights. Spending one night each in Bridgeport, Lee Vining/June Lake, Bishop and Lone Pine.
When to go: April to November. The road is open all year, but many of the hikes and lakes aren't accessible in the winter.
Routing
Start in Bridgeport > Highway 395 south through Lee Vining, Mammoth Lakes, June Lake and Bishop > end in Lone Pine.
Highway 395 is one of the most off the radar scenic roads in California. People tend to buzz through it while transiting from Yosemite (just above) or Death Valley (just below). But it has some of the most surprising scenery in California and it's worth its own road trip.
This route is 147 miles and would would only take 2.5 hours if you were bombing through. But the sheer number of things to do in this desert valley demands that you spend more time. This region has hot springs, funky geology, alpine canyons with lakes and pine trees, historic sites, movie filming locations and the oldest trees in the world.
Use our detailed Highway 395 itinerary and map to plan your trip.
Top Spots
Visit Bodie Ghost Town, which is one of California's most well preserved old mining towns. Use our Bodie guide for your visit.
Hit up some lovely lakes like the June Lake Loop or Convict Lake.
Take a soak in one of the area's many hot springs, such as Travertine Hot Springs near Bridgeport.
See the jillion year old Bristle Cone Pine trees.
Visit filming locations and scramble around the red rocks in the Alabama Hills.
One other reason why Highway 395 is such a great road trip is because on your way to this scenic drive, you pass through other scenic drives. Here are 6 scenic California highways that land in the Eastern Sierras:
Highway 50 through Lake Tahoe: This is an official Forest Service Scenic Byway and the best northern route to 395 in the winter.
Highway 190 through Death Valley: This is an official American Byway and a nice southern detour to use in the winter.
Highway 88 through Markleeville: Just south of Tahoe and transiting mountain passes and high meadow. Open in the winter unless there's a big storm.
Highway 4 Ebbetts: This road is also an American Byway. It starts at Angels Camp and is a lovely, narrow high mountain pass. Not open in the winter.
Highway 108 Sonora Pass: 108 starts in Sonora and cuts a steep path through the mountains. Stunning granite peaks, but not good for long trailers and not open in the winter.
Highway 120 Tioga Pass: Yet another American Byway noted above. Also not open in the winter.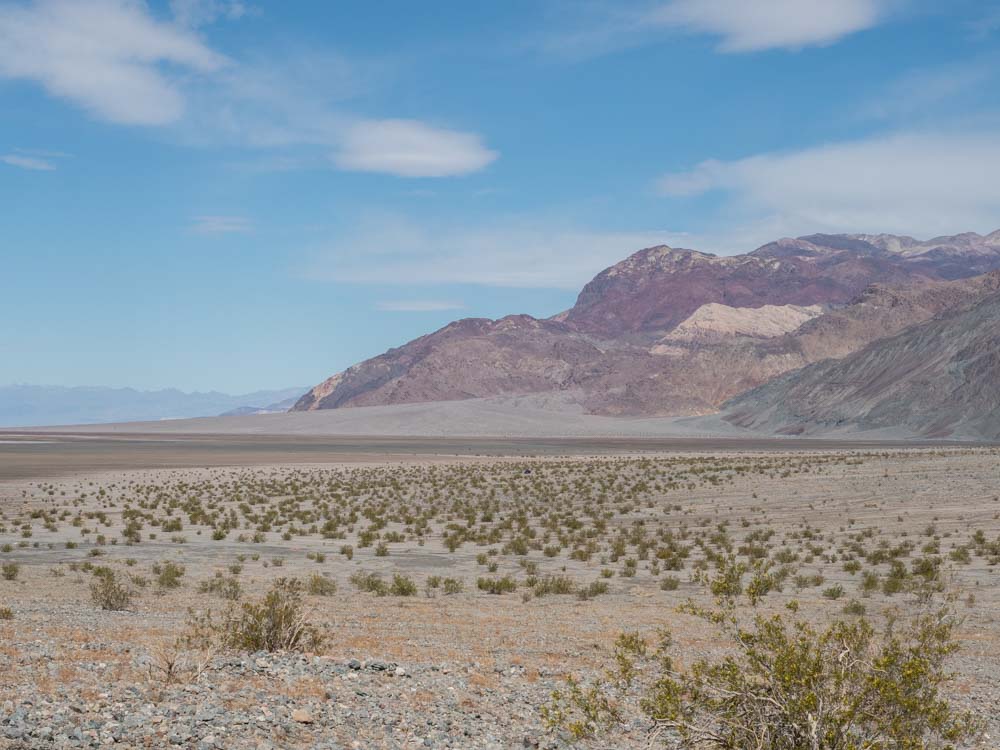 Death Valley National Park to Joshua Tree
Starts and Ends: Lone Pine to Joshua Tree National Park
Miles: 365
# Days: 5 days/4 nights. Spending 2 nights in Furnace Creek and 2 nights in Joshua Tree.
Routing
Start in Lone Pine > Highway 190 to Furnace Creek > Badwater Road south to Shoshone > Highway 127 south to Baker > Kelbaker Road through Mohave National Reserve > Amboy Road south to end at Joshua Tree.
This scenic drive is all about the Mohave Desert. The route includes spare desert landscapes, sand dunes, huge craters, mining history and some surprising hikes. Death Valley is a study in contrasts because the region has both the highest spot in the continental United States (Mount Whitney) and also the lowest (Badwater Basin).
Joshua Tree is covered in its sentinel trees and also has some surprisingly funky art in town. And don't take the fast way driving between the two, because a detour to the off-the-radar Mohave National Reserve is worth the time.
Plan your trip using our epic Death Valley guide, which has links to both one day and two day itineraries then supplement with our Joshua Tree itinerary.
Top Spots
Take a hike in Death Valley and check out either Golden Canyon and/or Sidewinder Canyon.
See Death Valley's Mesquite Dunes and/or Zabriskie Point at dawn.
Visit the Kelso Dunes and nearby Amboy Crater in the Mohave Preserve.
Take a Joshua Tree hike that explores mining history, like the Barker Dam or the Lost Mine Loop.
Explore some outdoor sculpture gardens, a crochet museum and a POW cabin from an alternative dimension in Joshua Tree town.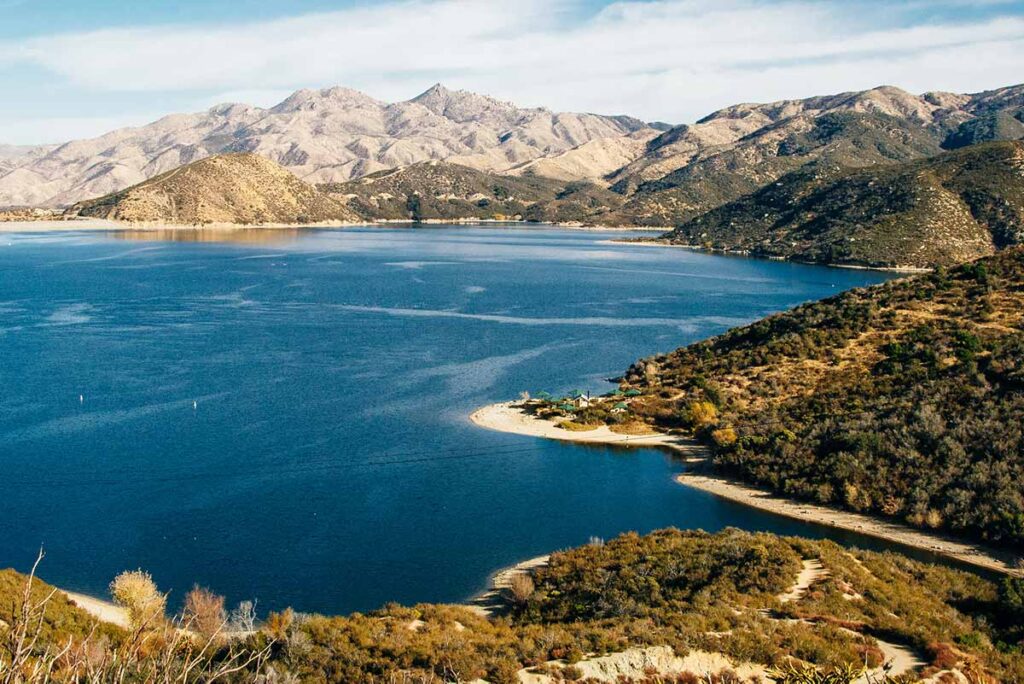 Rim of the World Byway: LA to Big Bear
Starts and Ends: Los Angeles to Big Bear round trip
Miles: 236
# Days: 2 days/1 nights. Spending the night in Big Bear
When to go: Anytime, but bring chains in the winter.
Routing
Start Wildwood Park > north and east on Rim of the World Byway (Highway 18) through Lake Arrowhead and Running Springs > end at Big Bear. There is an alternative routing that returns to LA on Highway 38.
Sure, you could do this as a day trip, but since you are going to be spending most of the time and mileage just getting out of LA, why not spend the night and enjoy Big Bear? Most of this drive is on the Rim of the World Byway, which is a famous California road that runs through the San Bernadino National Forest. This drive is epic– with forested mountains, lakes and views for days.
Top Stops
Be sure to stop at the many scenic pull-outs.
Take a side trip to Lake Arrowhead from Highway 18, stopping into the Road Trip shop to pick up some swag.
Take a hike on the Castle Rock or Heart Rock.
Explore the Standield Marsh Wildife boardwalk.
Rent a boat or kayak and take a float on Big Bear.
10 of California's Best Drives to Do in a Day
Sometimes, the classic Sunday Drive is exactly what you need to refresh your spirit and our next 10 California scenic drives will help you do just that. All of these drives are under 100 miles one way and a few are under 50. So if you are based in San Francisco, San Diego or Los Angeles, use these ideas for a great day trip.
There are also a few additional drives that are launched from popular recreation areas (like Lake Tahoe). So if you are already vacationing in the area, you can tack on a scenic route to fill out your itinerary.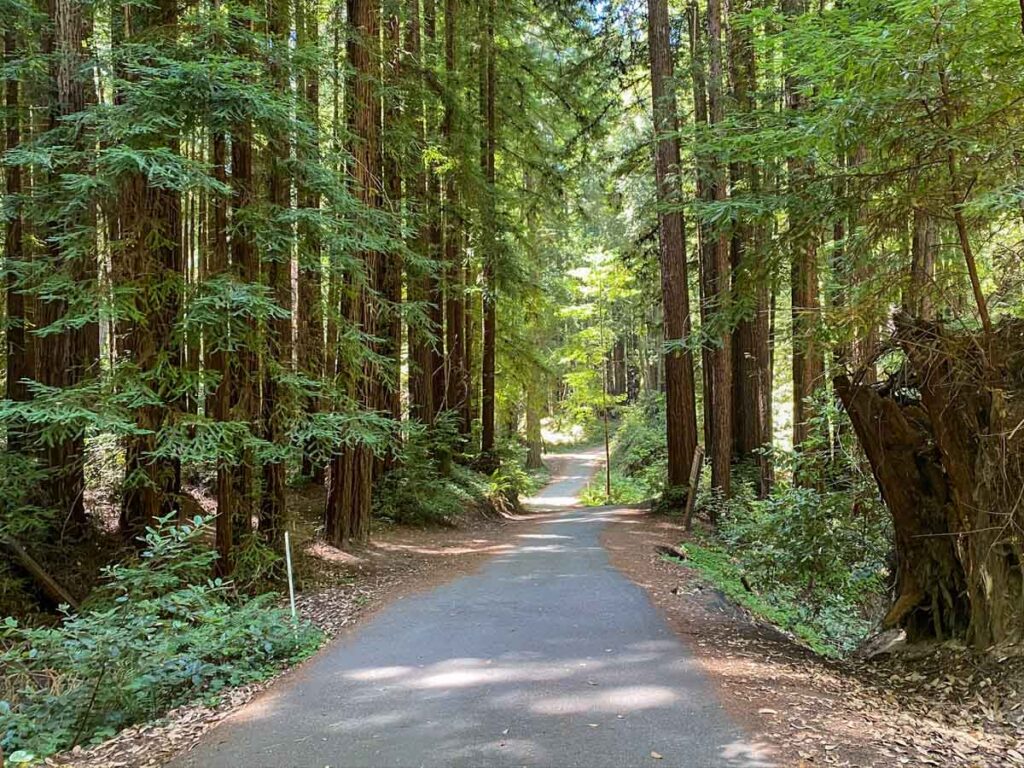 Skyline Boulevard (Highway 35)
Starts and Ends: Highway 92 to Summit Road in Santa Cruz
Miles: 42
When to go: Anytime
Routing
Start at Highway 280 and Highway 92 in San Mateo > West on Highway 92 to the crest > south on Skyline Boulevard > end at Summit Road in Santa Cruz.
This road is the perfect Sunday drive if you live in San Francisco or a nice mountain detour if you are traveling there. It transits lovely oak and redwood forest. You can stop at Alice's restaurant for some nosh, hike on one of the many trails (like Windy Hill Open Space) or visit Henry Cowell State Park for the redwoods.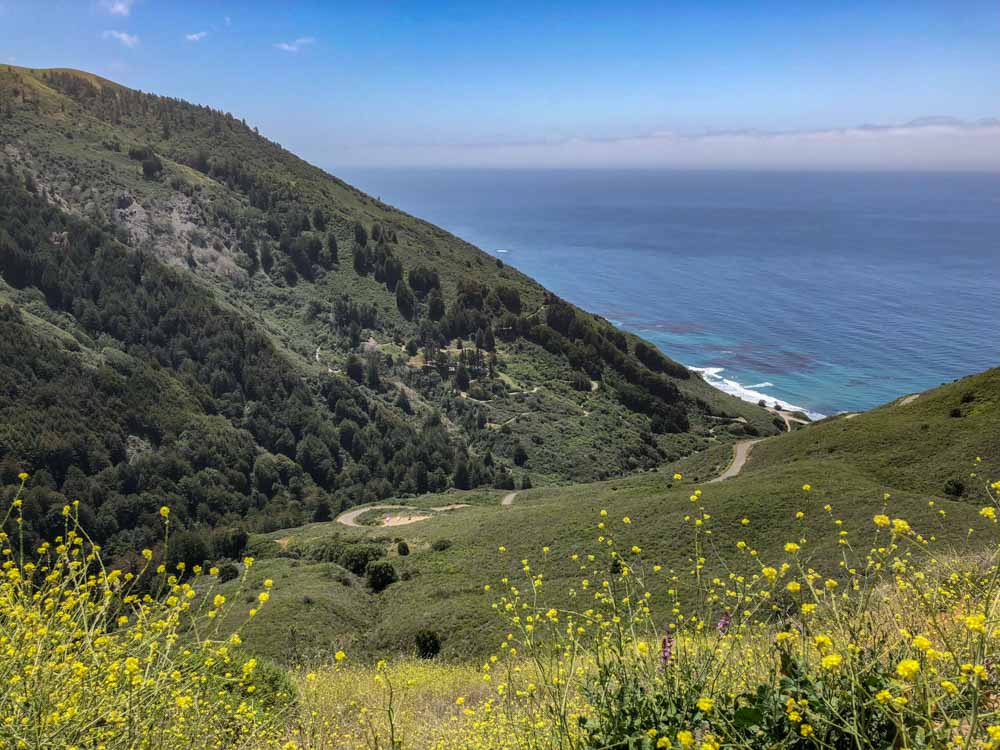 Nacimiento-Fergusson Road
(Check before taking this route as it is sometimes closed.)
Starts and Ends: Highway 1 at Kirk Creek Campground to San Lucas or Bradly
Miles: 48
When to go: Anytime and especially if Highway 1 in Big Sur is closed.
Routing
For north Highway 101: Start at Kirk Creek Campground in Big Sur > east on Nacimiento-Fergusson road to Jolon > north on Jolon road > end at San Lucas and 101.
For south Highway 101: Start at Kirk Creek Campground in Big Sur > east on Nacimiento-Fergusson road to Jolon > south on Jolon road > end at Bradley and 101.
This little used forest road is a great detour from Big Sur to Highway 101. It's a lovely forest that rolls down into pastureland and open space. You can use it to loop Big Sur back to the Bay Area, or head over to Paso Robles. It's also quite handy when Highway 1 washes out in Big Sur. There aren't any key stops, but do the pull out just up the hill from Big Sur and look west for a nice ocean view. Then spend some extra time doing some fun things in Paso.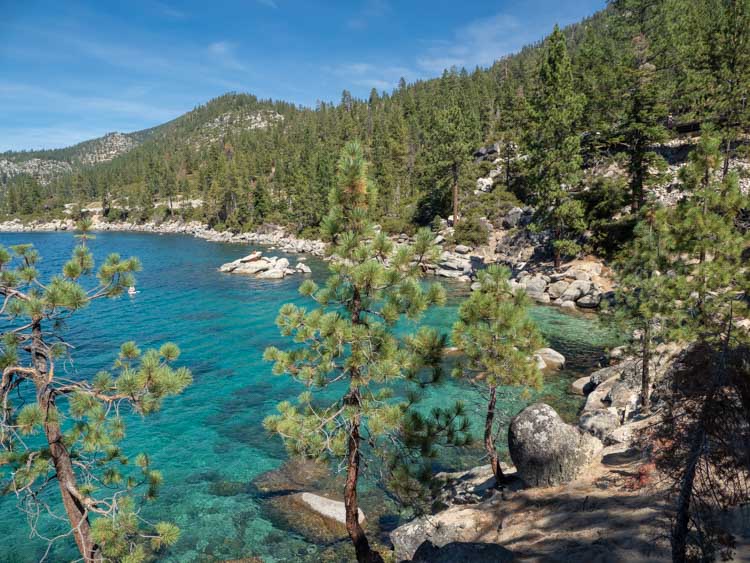 Lake Tahoe Scenic Loop
Starts and Ends: A looping circuit around the lake
Miles: 74
When to go: Anytime, but the west side can be closed during heavy storms
Routing
Start in South Lake Tahoe > west on Highway 50 to Tahoe Valley > north on Highway 89 through Emerald Bay and Meeks Bay to Tahoe City > east and south on Highway 28 through Kings Beach, Incline Village and Sand Harbor > south and west on Highway 50 to end at South Lake Tahoe.
If you are spending any time in Tahoe, then you should definitely take the time to drive the full circuit around Lake Tahoe. You get to see the lake from all angles and there are lots of pullouts, beaches and state parks to keep you busy.
You can do the drive in as little as two hours, or take all day using our Lake Tahoe driving guide (with map!)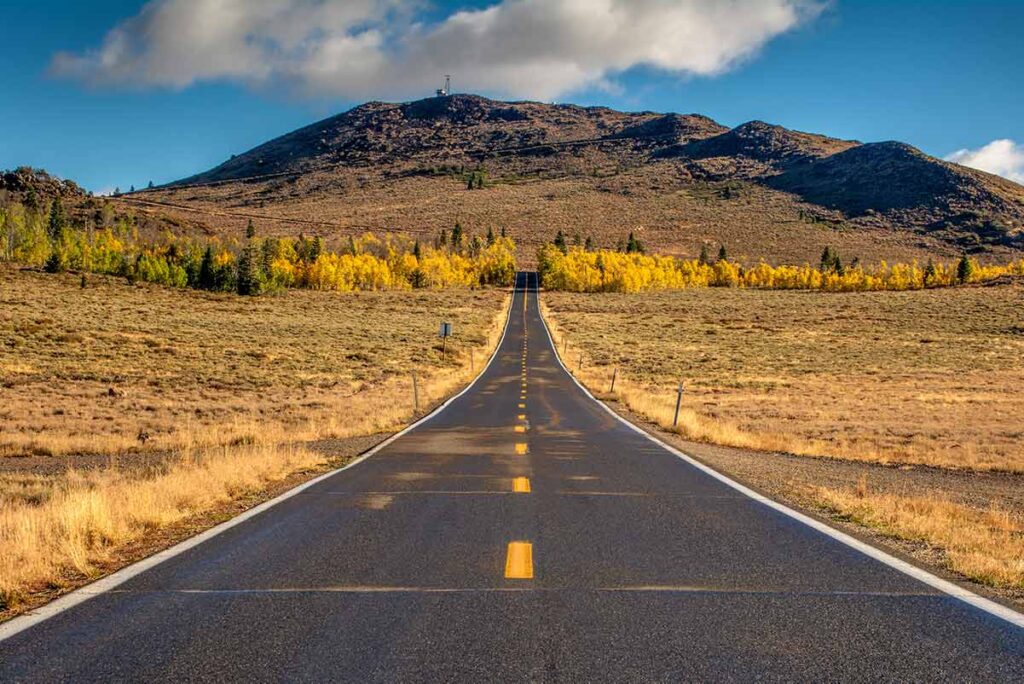 Highway 89 to Markleeville & Monitor Pass
Starts and Ends: South Lake Tahoe to Monitor Pass
Miles: 30
When to go: Anytime, unless there has been a big storm
Routing
Start at the Tahoe Valley Y intersection > South on Highway 50 to Meyers > south and east on Highway 89 through Alpine Village and Markleeville > end at Monitor Pass.
This drive starts in Tahoe's dense forest before topping out in lovely high meadows. While on the drive, you can check out Markleeville's cute general store and the nearby Grover Hot Springs.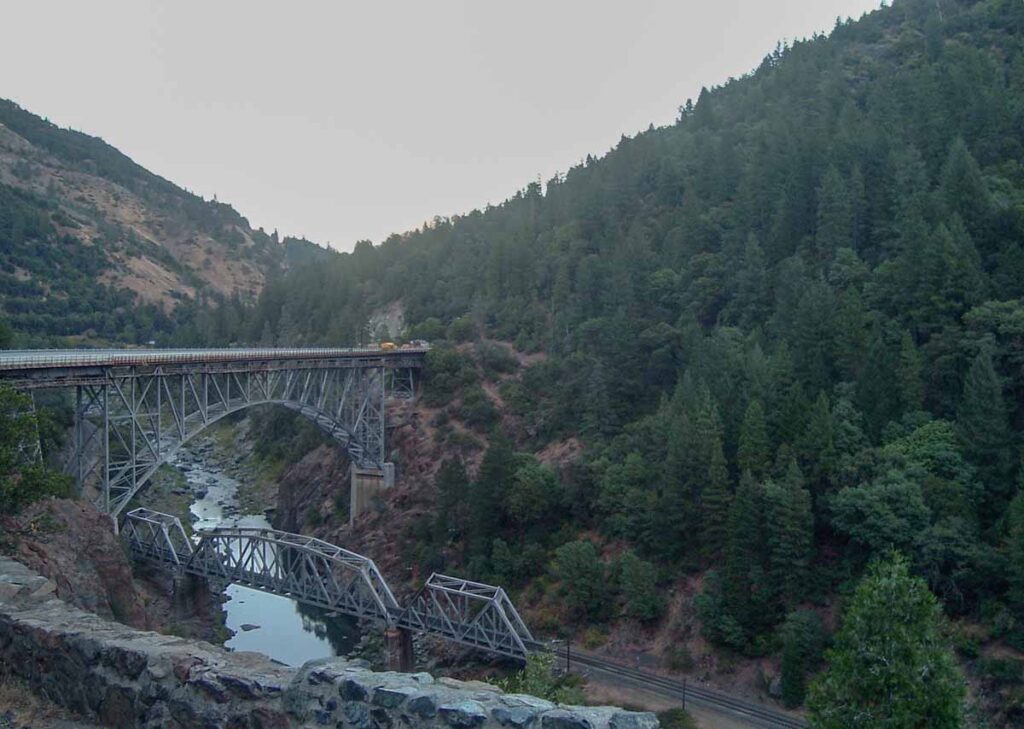 Feather River Highway
Starts and Ends: Oroville to Highway 89 near Indian Falls
Miles: 67
When to go: Go for spring wildflowers and waterfalls or fall color
Routing
Start in Oroville > North and east on Feather River Highway (Highway 70) through Wicks Corner, Feather River Canyon and Indian Falls > south on Highway 70 through Quincy > end at Highway 89 and Graeagle.
This drive goes through the dramatic mountains and steep canyons of the Plumas National Forest. Along the way, you'll go over cool bridges, see rail tunnels and hike on old coach roads.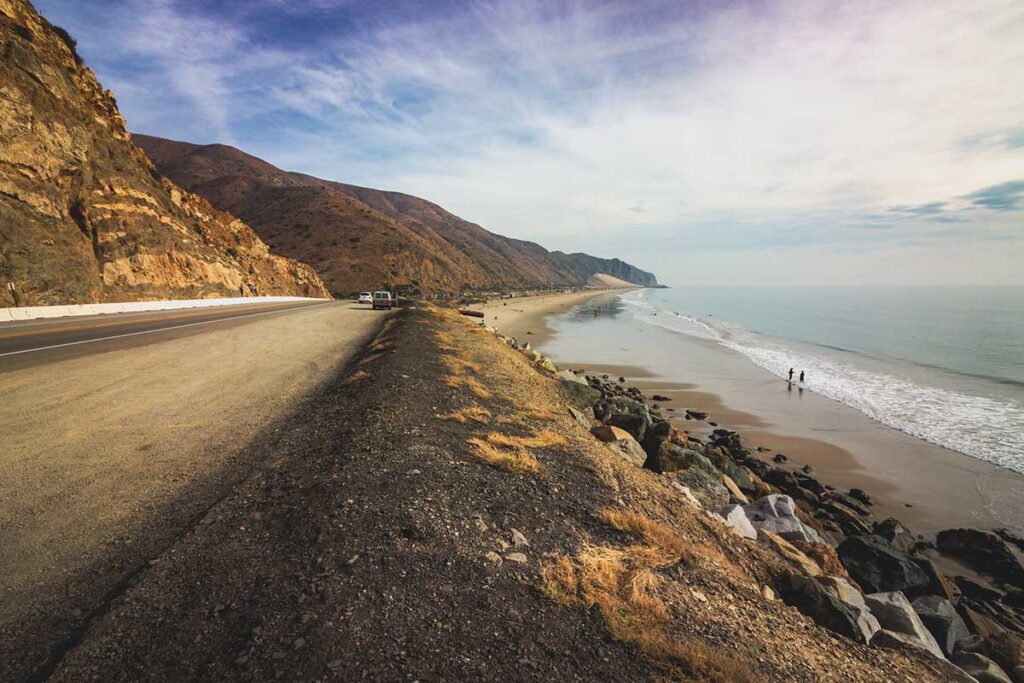 Santa Monica to Point Mugu
Starts and Ends: Santa Monica to Sycamore Cove Beach
Miles: 33
When to go: Any sunny day.
Routing
Start in Santa Monica > Highway 1 north through Malibu and Sycamore Cove Beach > end at Point Mugu.
Because this is why I recommended that you rent a convertible way back at the beginning of this article. This is the classic Southern California beach drive. And just because it's been done to death in the movies, doesn't make the scenery any less spectacular. Make a beach day of it by stopping at one (or more) of the seven state beach parks that dot the drive.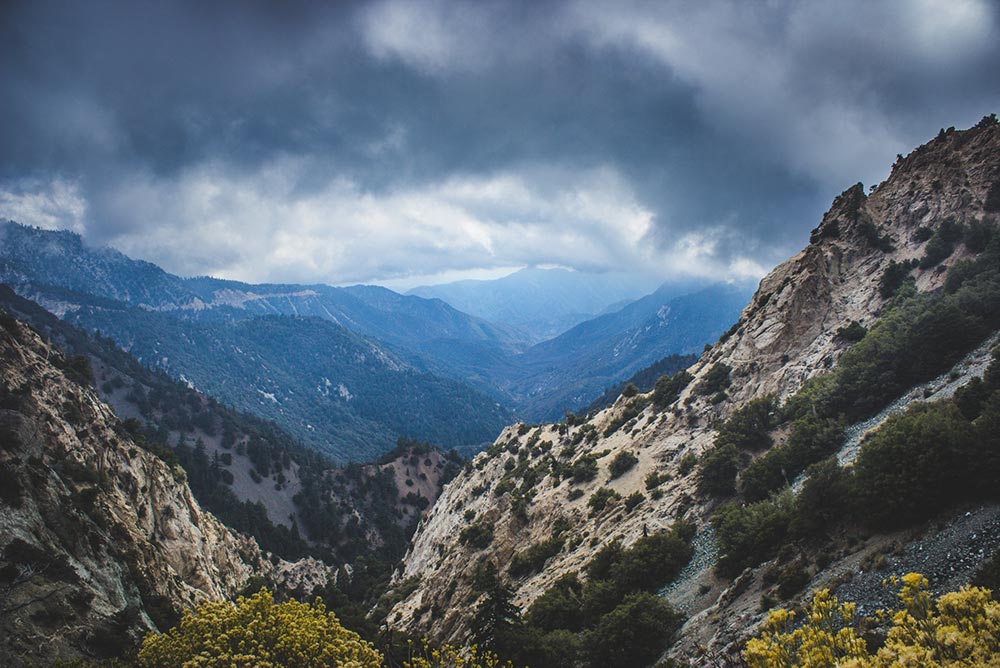 Angeles Crest Scenic Byway
Starts and Ends: Pasadena to Highway 138 (near Phelan)
Miles: 42
When to go: Anytime, unless there has been recent snowfall.
Routing
Start in Pasadena > I-210 north to La Cañada Flintridge > northeast on Angeles Crest Byway (Highway 2) through the Angeles National Forest and Big Pines > end at Mountain Top Junction.
This is one of Southern California's best drives. It ascends up and winds its way through the Angeles National Forest, through chaparral, and montane forest, transiting the highest and most scenic ridges of the San Gabriel mountain range.
Take the time to use the pull-out viewpoints and visit the Wilson Observatory along the way.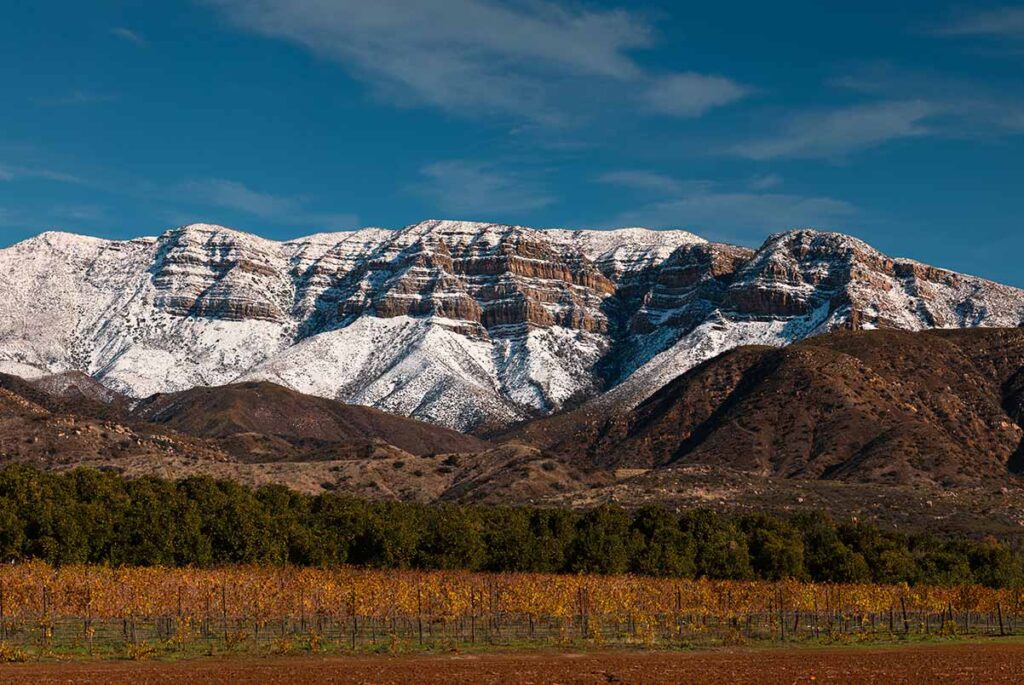 Ojai to Ventacopa
Starts and Ends: Ojai to Ventacopa
Miles: 50
When to go: Anytime
Routing
Start in Ojai > north on Highway 33 > end at Ventacopa.
This twisty, turny road goes through the Padre National Forest. The drive is characterized by alpine forest with some long straightaways as you approach the Carizzo Plain. This is a nice drive if you are doing Ojai for a weekend getaway, or you can do it as a long detour between Santa Maria and Santa Barbara.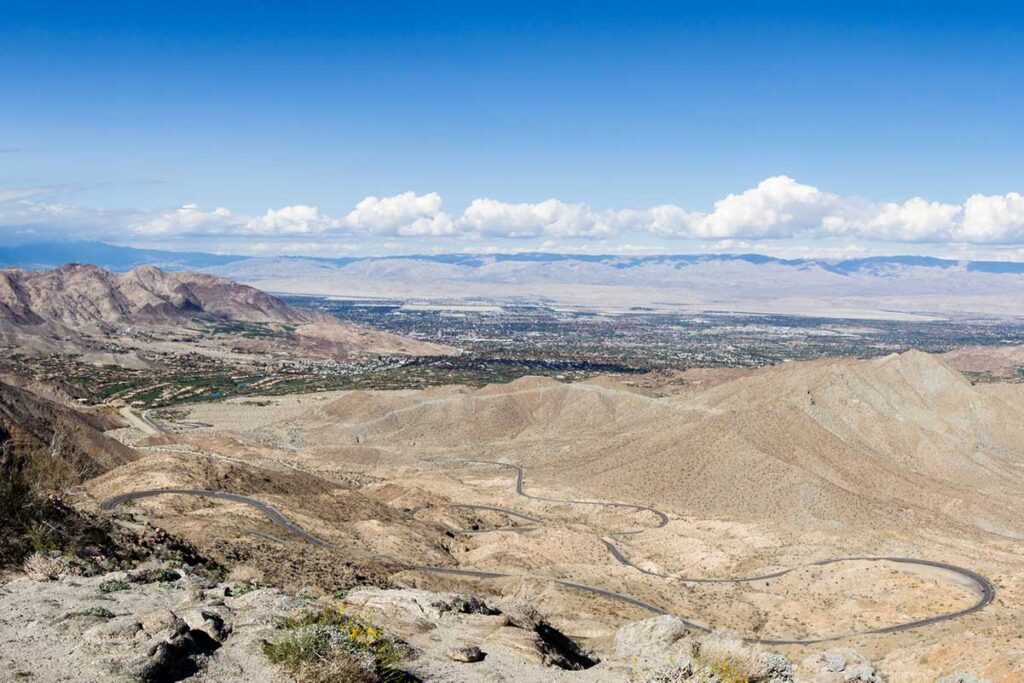 Pines to Palms Scenic Byway
Starts and Ends: San Jacinto Mountains Visitor Center (Palm Desert) to Banning
Miles: 62
Routing: South on Highway 74 to north on Highway 243
When to go: Anytime, but summer will be pretty hot.
Routing
Start at the San Jacinto Mountains Visitor Center > south on the Pines to Palms Byway (Highway 73) to Mountain Center > north on Highway 243 to end at Banning.
This is one serpentine drive, snaking from the low desert up to the pinyon pines and back again. Make a pit stop for lunch in Idyllwild and be sure to stop at the Indian Vista viewpoint. After the drive, you can take the Palm Springs tramway to get a high level view of the Coachella Valley. Our guide for the Palms to Pines drive will give you 5 reasons to do it and 9 key stops.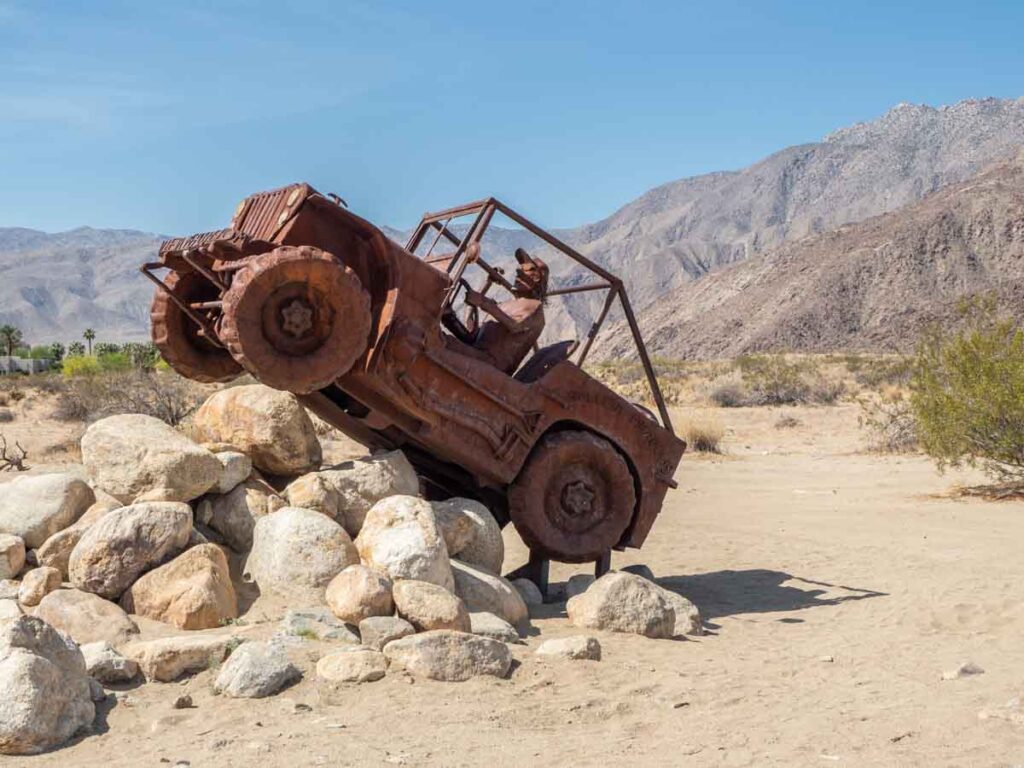 San Diego to Anza Borrego
Starts and Ends: San Diego to Borrego Springs
Miles: 42
When to go: Early fall through late spring.
Routing
Start at San Diego/Santee > Route 67 to Ramona > Highway 78 to Santa Ysabel > south on 79 to Julian > east on Highway 78 to end at Borrego Springs.
This drive takes you through spare desert landscapes with cool geology and wide open views. Just before Ramona, stop for a selfie at Potato Chip rock. Don't forget to pick up bread and lunch at Dudley's in Santa Isabel and then carry on to Anza Borrego State Park and the massive metal sculptures by Ricardo Breceda.
There is nowhere to go but everywhere, so just keep on rolling under the stars.

Jack Kerouac, "On the Road"
True that Jack. We hope that this list of scenic highways in California will give you everywhere to go and keep you rolling under the stars. Now, go hit the road!
Share these scenic drives in California with your friends on Pinterest: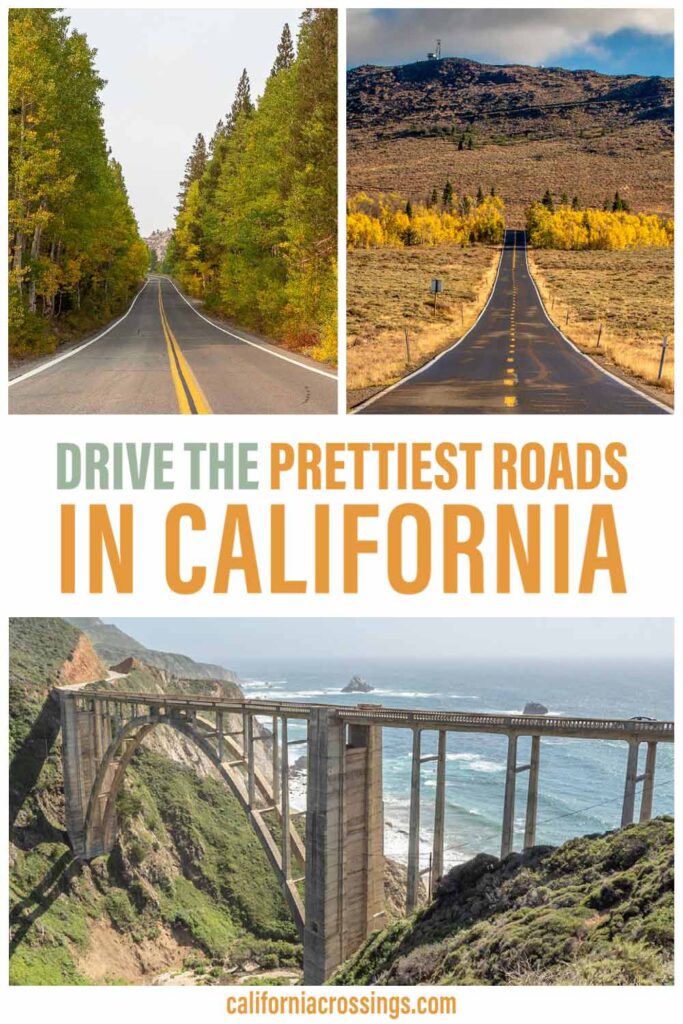 See our webstory on classic California drives.