Most people travel because they want to expand their horizons and make their lives larger. However, taking a San Francisco to the redwoods road trip is guaranteed to make you feel small. At least relative to the towering Coast Redwoods that populate Northern California. But this trip is so worth it. There is something so absolutely peaceful about walking among these gigantic trees. The forest is lovely, it smells great and it's a testament to California's conservation ethic that these groves remain for us to enjoy.
And this is why we've featured this drive on our list of California's best road trips.
We want to help you get the most out of this trip and our guide will give you a detailed itinerary for driving from San Francisco to Redwood National Park (and back again). It includes the key redwood parks, scenic drives, advice on where to stay, quirky roadside attractions and a map.
You are going to fall in love with these trees! So, to get some inspiration for future redwoods road trips, check out our guide to ALL 43 California redwood parks. It includes groves in the San Francisco Bay Area, Central Coast and the Sierra Nevada range.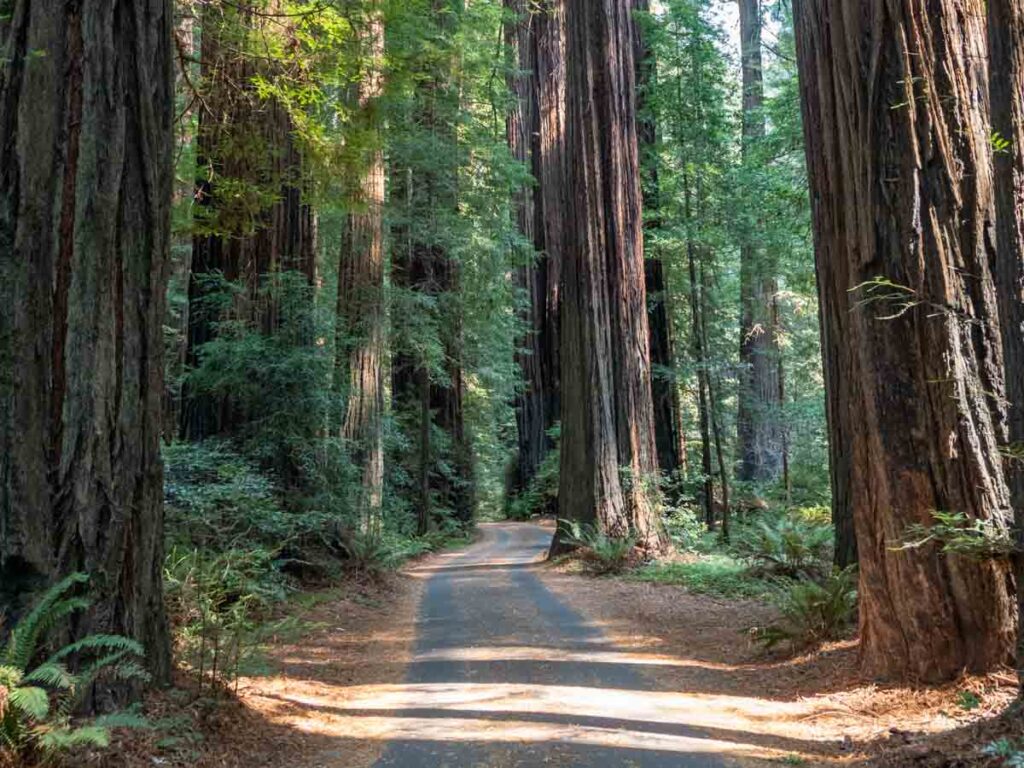 San Francisco to the Redwoods Road Trip FAQ
How Many Days Do You Need to See the Redwoods?
You can cover a lot of ground in 4 nights / 5 days. This itinerary is primarily focused on the northern most redwood parks. But if you want to add on more time for the coast or Sonoma wine country, then you can do a longer 6 night / 7 day trip.
How Far is it from San Francisco to the Redwoods?
This itinerary covers redwood groves in far northern California. It's 125 miles from San Francisco to the redwood grove at Hendy Woods (our first stop) and then 356 miles from Jedediah Smith Redwood State Park back to San Francisco (our last stop).
But there are redwoods as close as Muir Woods (16 miles), Samuel P Taylor (30 miles) or Big Basin State Park (58 miles), if you are looking for a local hike.
How is the Mobile Reception in Redwood Country?
It's OK in the larger towns but very poor on the scenic drives and in the redwood parks. You may want to cache or print this itinerary and your maps.
Who Manages These Redwood Parks?
People think that they want to visit "The Redwood National Park". And there is indeed a Redwood National and State Park. However, most of the the coolest and most accessible redwood parks between San Francisco and the far north are actually state parks.
Do I Need a Park Pass to Visit?
Of the most popular redwood groves, here's what's free: Jedediah Smith State Park, The Avenue of the Giants scenic drive in Humboldt State Park, the Drury scenic drive in Prairie Redwoods State Park and the Lady Bird Johnson grove in the Redwood National and State Park.
Other parks may require a day use fee and most of the attractions are fee-based.
Check out our guide to California park passes to see if an annual pass makes sense for you.
Are the Roads Slow in the Redwoods?
Yes! Even if you drove straight up 101, once it becomes the "Redwoods Highway", the road slows and narrows. The road to Mendocino is slow and twisting and the coastal section between Trinidad and Crescent City is also narrow.
But that's what makes this redwoods road trip so fantastic. Take your foot off the gas, make time for scenic pull-outs and for heaven's sake, get out of the car and go forest bathing.
Are Dogs Allowed in the Redwood Parks?
According to official State and National Park dogma, dogs are allowed on roads (dirt or paved) and in campgrounds, but not trails. Unofficially, I had a Jedediah Smith State Park ranger tell me that they don't worry about it too much if your dog is leashed and you pick up after it. You'll need to use your own best judgement.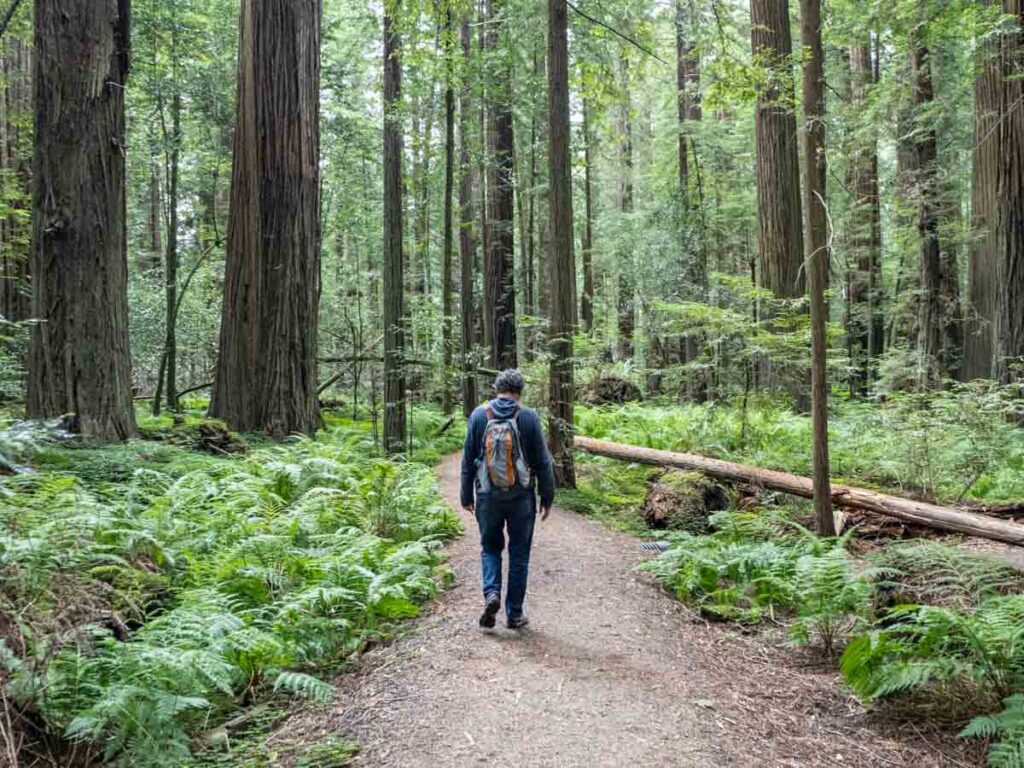 California Redwood Forest Map
This map includes all of CA's redwood forests, including the ones mentioned in this itinerary.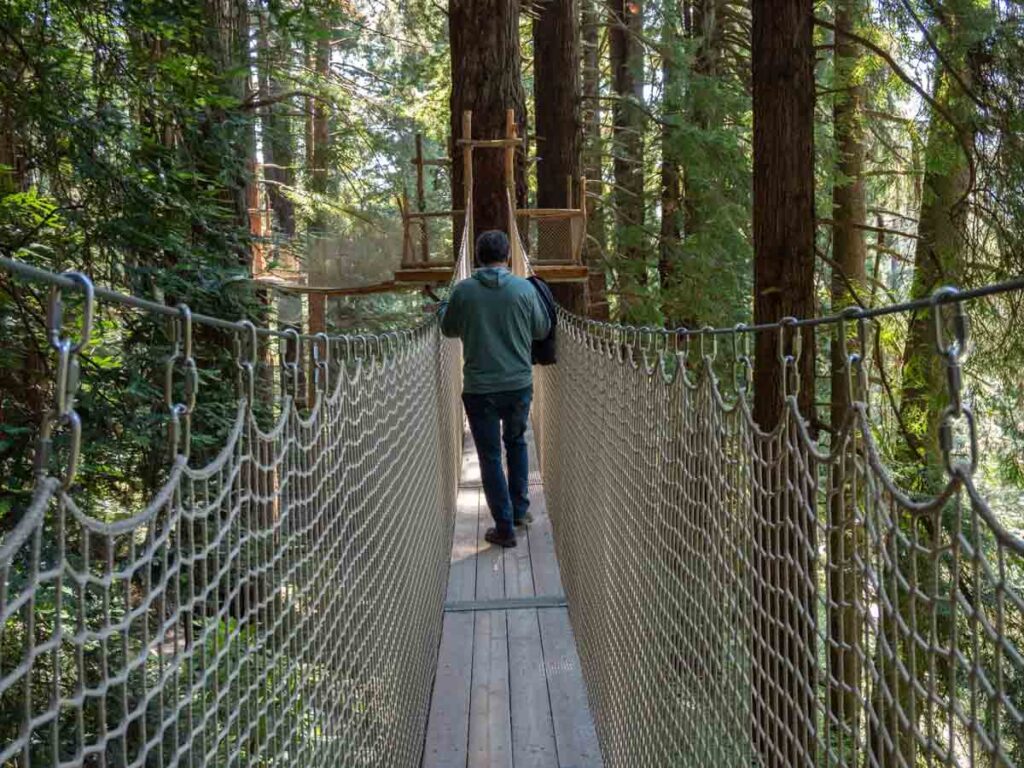 (This article contains affiliate links. This means that if you choose to purchase, I'll make a small commission.)
Whacky Roadside Attractions in the Redwoods
Definitely make time on your redwoods road trip for at least one kooky roadside attraction. Some are as simple as a drive-through tree and others have elevated walkways and tree sculptures. And yet others celebrate Bigfoot. These are listed south to north:
Leggett: The Chandelier Drive-Through Tree. It's $10 to drive through and there is also a small gift shop.
Phillipville: There is the living Chimney Tree, which is free. There's also a nearby cafe.
Myers Flat: This location has the Shrine Drive-Through Tree. It claims to be the oldest of the drive-through trees and the attraction also has some additional trees, large stumps and a gift shop. It costs $10.
Weott: Bigfoot is real! And he wants you to buy chainsaw sculptures and kitschy gifts. The Legend of Bigfoot gift shop is located in Garberville. It's more of a store than an attraction, but you can take your picture with the Bigfoot statue.
Eureka: The Sequoia Zoo in Eureka has recently unveiled an elevated walkway among their redwoods. Visiting the zoo costs $24 for adults and part of the walkway is ADA compliant.
Klamath: The Trees of Mystery attraction has a lot going on. It's got a strong Paul Bunyon vibe with a forest walk, elevated canopy walk, gondola ride and a gift shop that includes a small museum featuring Native American art. It costs $20 for adults.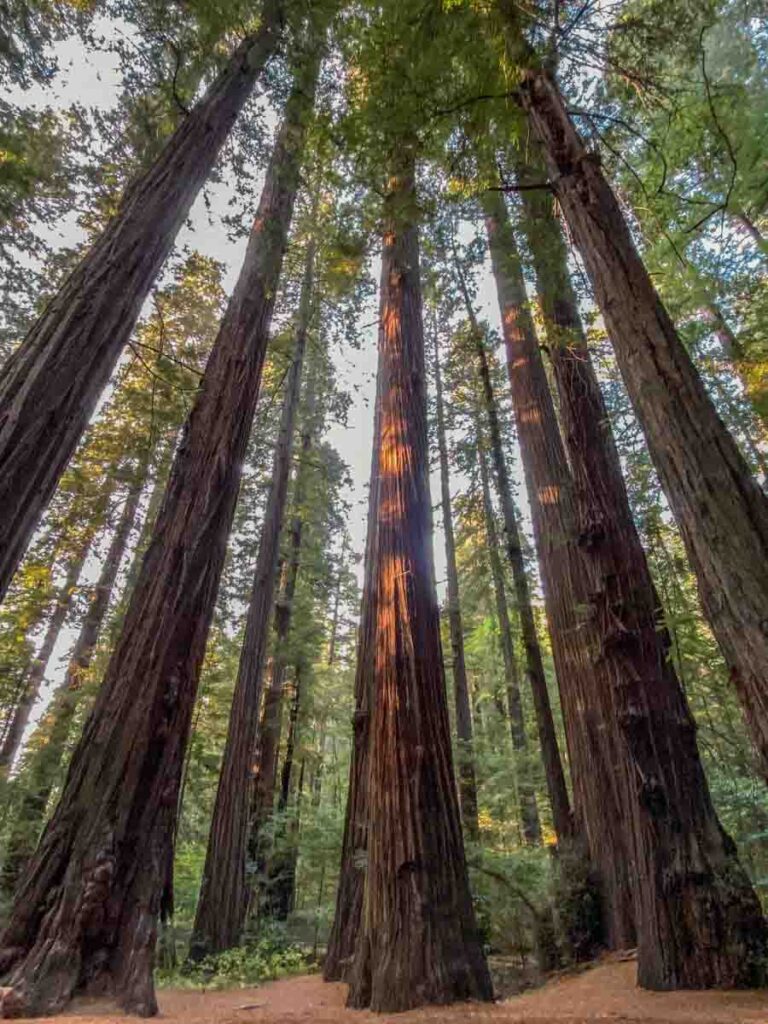 San Francisco Redwoods Road Trip Itinerary
What follows is a five day, four night itinerary that goes from San Francisco to Redwood National Park. But it's all about the journey and not that particular destination, because this itinerary includes 13 state parks and scenic drives that all feature Coast Redwoods. This itinerary actually lists more things than you will likely have time for.
A good rule of thumb would be to target no more than 3-4 stops per day. We've indicated the "must do" parks and drives. Beyond that, we have tried to give you enough information about the others to help you decide what sounds cool to you.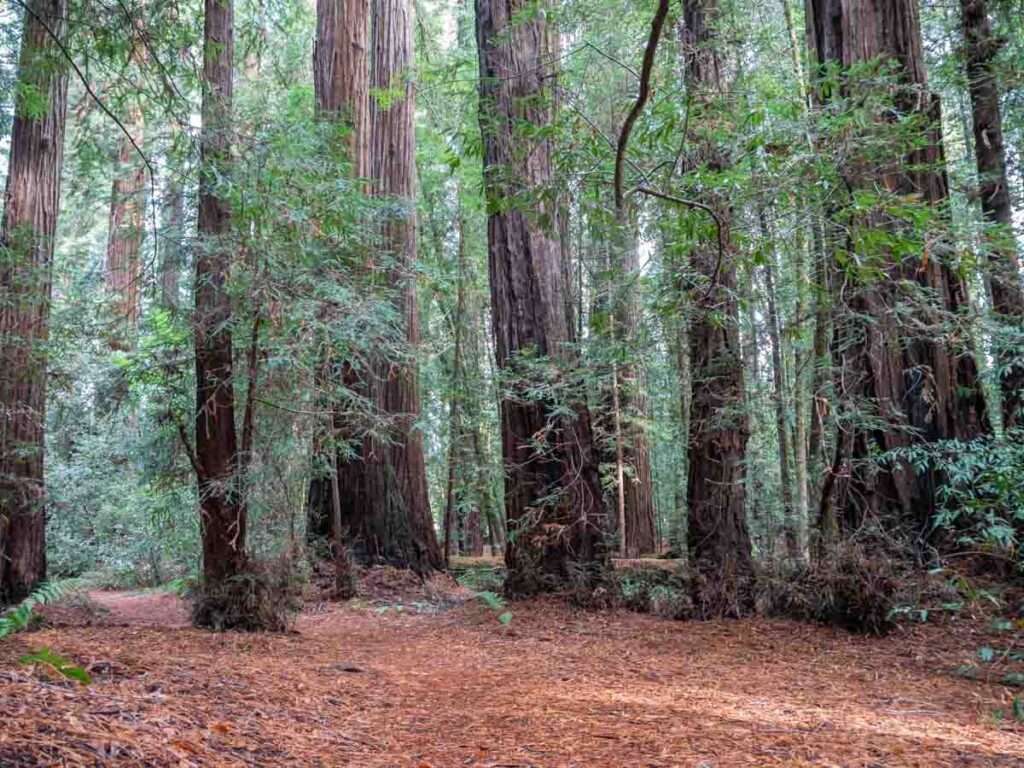 Day 1: San Francisco to Mendocino
Routing: North Highway 101 Cloverdale > west Highway 128 to Mendocino
Distance & Drive Time: 155 miles, 3.5 hours
Key Redwoods Stops
Hendy Woods State Park: The park offers swimming, kayaking, camping and hiking. The Big Hendy Grove is easily accessible from the day use area. You can also access the Little Hendy Grove or take the 4.5 mile Grand Tour Loop. Here's our full guide to Hendy Woods State Park.
11 mile Redwood Tunnel to the Sea: There is a lovely scenic stretch of redwoods west of Navarro River to where Highway 128 meets Highway 1. The drive cuts through Navarro Redwoods State Park. Just take a slow drive along this section and take in the scenery.
Van Damme State Park: Van Damme is just a few miles south of Mendocino and it features coast redwoods, a fern canyon and pygmy forest. You can take the 4 mile loop of the Fern Canyon and Old Logging Road Trails. Alternatively, if you are in a hurry, you can simply access the pygmy forest from the Airport Road. Here's our full guide to Van Damme State Park.
Other Things to Do
Stop at Anderson Valley Brewing in Boonville or at one of the many Anderson Valley vineyards, which are dotted along Highway 128 between Booneville and Philo.
Wander around Mendocino's cute historic downtown.
Catch sunset at Mendocino Headlands State Park.
Where to Stay in Mendocino
There are some pretty romantic stays in Mendocino, like the Sweetwater Inn which has rooftop views and a day spa. Or your could go for some cozy romance with this wooded cabin with modern architectural touches.
They have a cool glamping spot at Mendocino Grove which features tents for couples and groups.
You can find campgrounds at Albion River, Van Damme State Park, Navarro Beach, Hendy Woods and Russian Gulch.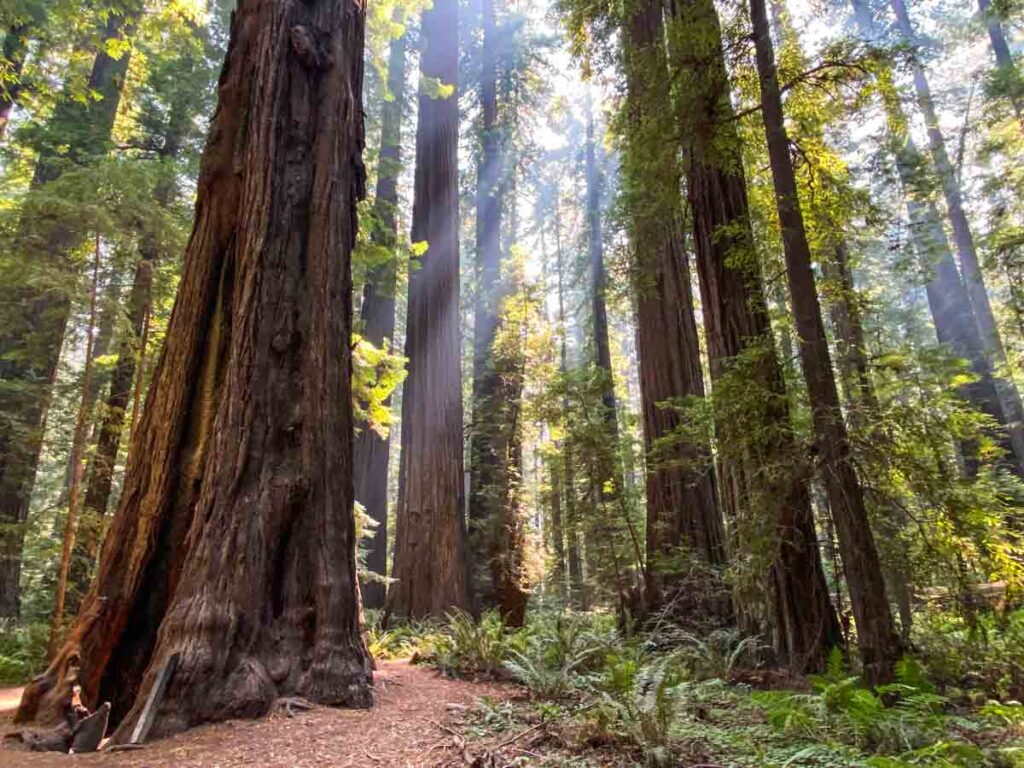 Day 2: Mendocino to Trinidad
Routing: Highway 1 northeast to Leggett > Highway 101 to Trinidad
Distance & Drive Time: 166 miles, 3.5 hours
Key Redwood Stops
Russian Gulch State Park: This park offers a dramatic mix of rocky, windswept coastline and leafy canyon. The canyon goes inland for three miles and has ferns, redwoods and a dramatic 36 foot waterfall. There is a 6 mile loop trail covering all of that, or you can do some shorter out-and-back trails. The terrain is similar to Van Damme, so if you are pressed for time, simply pick one or the other.
Jug Handle State Park: The main event at the park is a 5 mile round trip hike on the Ecological Staircase Trail. This trail features some truly unique terraced coastal and woodland geology. In addition to a grove of coast redwoods, you'll also be seeing pygmy cypress, rhododendron, and various pine species. This would make a good stop in the late spring when the rhododendron are blooming.
Humboldt Redwoods State Park: The park's main feature is The Avenue of the Giants drive and you should plan to spend the bulk of your day doing it. The groves are all strung along the scenic 32 mile scenic byway. Be sure to stop at the Visitor Center, Eel River overlook, the Founder's Grove, and the Women's grove (which features a cool fireplace designed by famous architect Julia Morgan). There are also additional groves called (not surprisingly) the Tall Tree and the Big Tree. They are located on the Mattole Road west of Highway 101.
Grizzley Creek Redwood State Park: Do you remember that scooter chase scene from Return of the Jedi? Yep, they filmed that in Grizzly Creek. In addition to The Force and a band of plucky Ewoks, the park also features 4.5 miles of hiking, a campground and the impressive Cheatham Memorial Grove. This park is a bit off the beaten path, so you may only want to visit if you have a spare half day….or if you are a total Star Wars nerd. Then visit the forest, you must.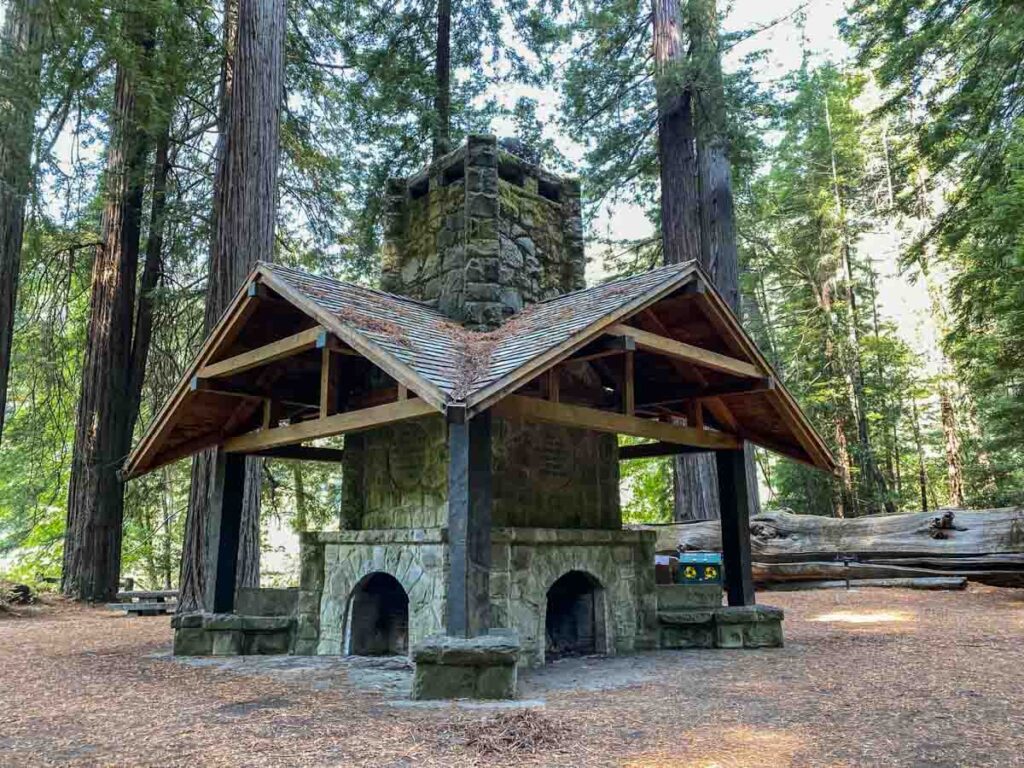 For lo in the forest comes contentment
peace and the sweet companionship
of nature."

Inscribed on the Julia Morgan fireplace.
Other Things to Do
Check out the Trinidad Memorial Park and Lighthouse.
Stroll Trinidad State Beach or Luffenholz State Beach (both are dog friendly).
Have the famous mashed potato cone at the Lighthouse Grill.
Where to Stay in Trinidad
Trinidad is a pretty reasonably priced destination. This oceanfront cliff house is only $168/night! Or check out the well-rated View Crest Lodge, which is near Sue-Meg (Patrick Point) State Park. Or you can glamp in the woods at the Emerald Forest cabins.
You can find campgrounds at Sue-Meg (Patrick Point) State Park, Big Lagoon campgrounds, or at the Arcata KOA. Emerald Forest RV and Cabin campground also has tent sites.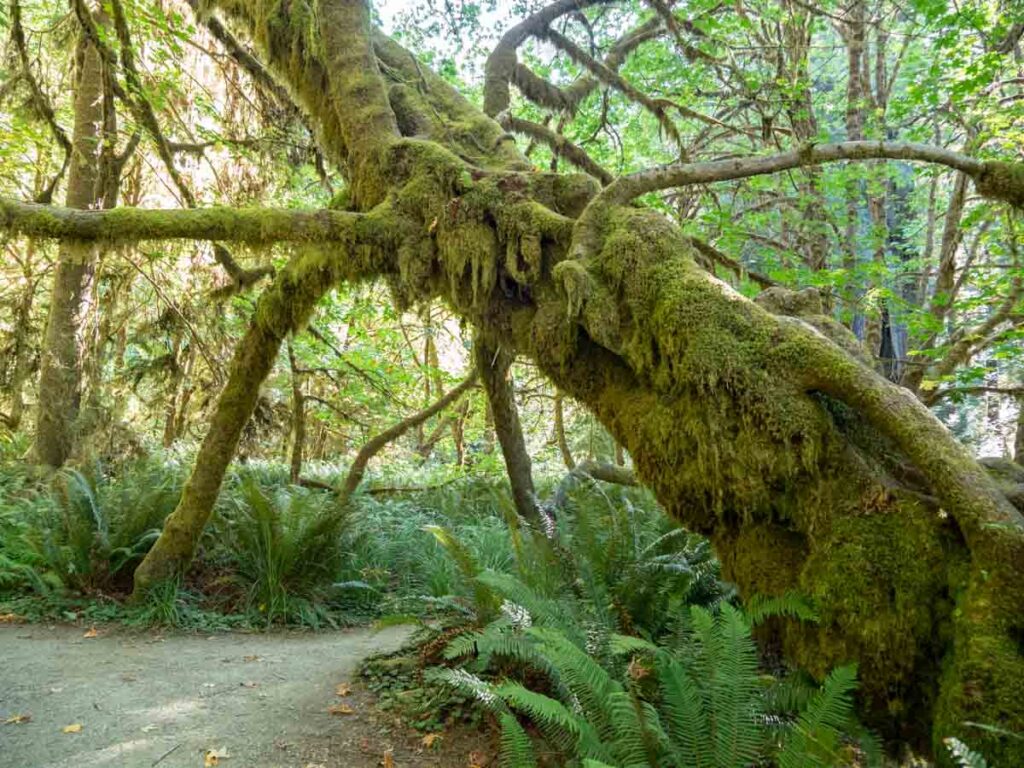 Day 3 & 4: Trinidad to Eureka
Routing: Highway 101 north to Crescent City
Distance & Drive Time: 62 miles, 1.5 hours
We recommend that you spend one day taking the slow road up the coast to Crescent City. And then at least another whole day exploring Jedediah Smith State Park. If you don't want to spend both nights in Crescent City, consider stopping near Prairie Redwoods State Park or Klamath. They are doing a forever road repair south of Crescent City, so expect one-way traffic controls.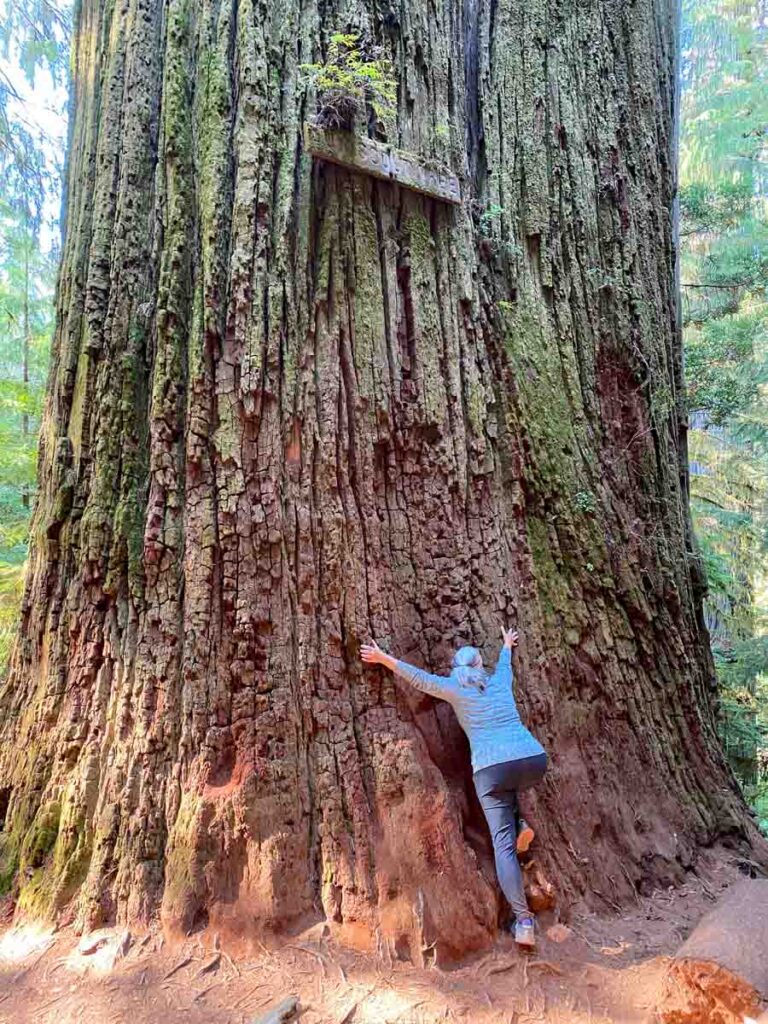 Key Redwood Stops
Redwood National and State Parks: This park is an unusual multi-jurisdictional reserve that is co-managed by the National Park Service and California State Parks. Beyond what the state parks offer, the "national" part also has some remote backcountry drives and hikes. You can also visit the more accessible Lady Bird Johnson grove. You can drive near to the grove and do the 1.3 mile loop trail. Or park at Berry Glen and do a longer 6 mile trail.
Prairie Redwoods State Park: This park is one of the jewels of California's Redwood Park network. Absolutely do not skip the 10-mile scenic Drury parkway as there a many pull-outs and grove trails that are easily accessible along the drive. The park also has large herds of enormous Roosevelt elk. The park boasts 75 miles of hiking trails. Take the 3 mile Cathedral Tree trail loop or the easy .3 Big Tree loop. If you have extra time, you can go coast-side for the Fern Canyon trail. It's a lovely canyon with walls and walls of ferns. The trail is only 1.3 miles, but it can take several hours to do it, because you have to transit some dirt road to get there. If it's busy or very rainy, you'll be turned away.
Del Norte Coast Redwoods State Park: Del Norte has 8 miles of wild California Coastline with inland groves. You can do a looong hike along the coastal trail with mixed growth forest and spectacular ocean views. For easier access from Highway 101, hike the 3 mile Hobbs Wall Trail for old growth and spring wildflowers.
Jedediah Smith Redwoods State Park: Jedediah Smith is another stunning must-do park. It's fantastic! The park has quite a few easily accessible groves, right off of the Highway 199 corridor. These include the Peterson, Templeman and Stout Memorial Groves. Take time to walk up Walker Road for some out of the way groves. And don't miss the scenic Howland Hill drive and the 6 mile Boy Scout hike. It leads to one of the largest Coast Redwood trees in California, which I'm hugging in the pic above.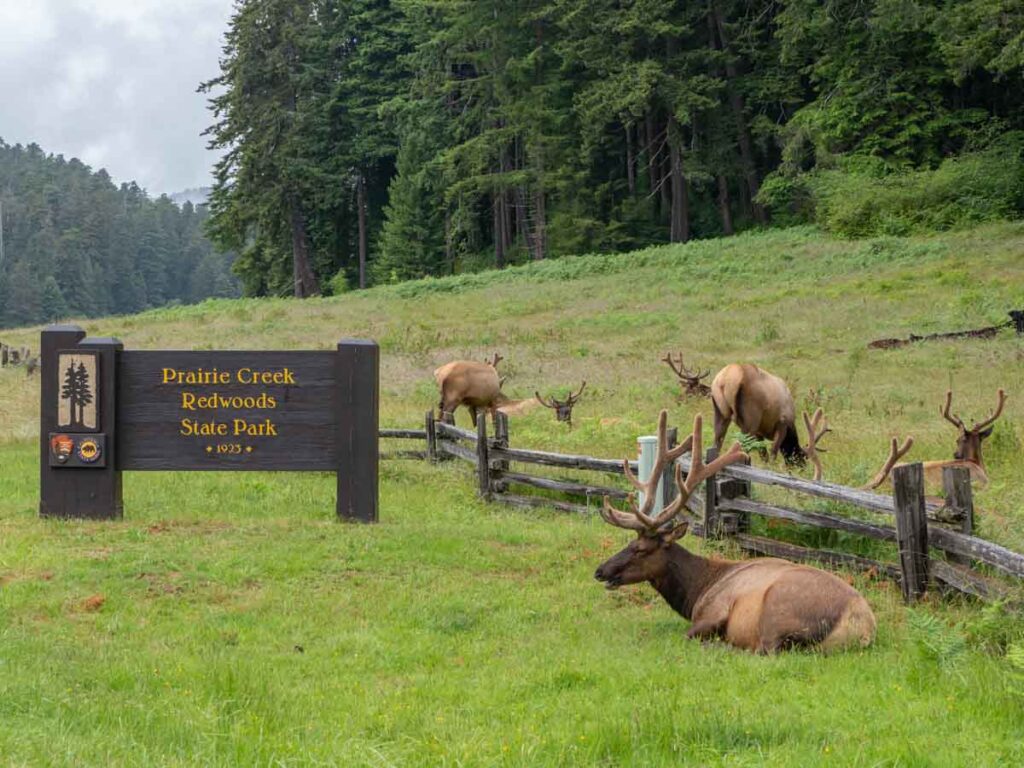 Other Things to Do
Take a detour in Klamath for the scenic loop around the headland. It starts past the Klamath River RV park and loops on Coastal drive past an old radar station to Klamath Beach. It's a great spot for a picnic spot overlooking the ocean. Parts of the road are dirt and not suitable for trailers and RVs.
Alternatively, have a beach stroll or picnic at DeMartin beach just north of Klamath.
Grab a burger and a brew at the Seaquake Brewery in Crescent City.
Where to Stay in Crescent City
The Lighthouse Inn is a full-service hotel with ocean views. It's walkable to downtown Crescent City and the actual lighthouse. The Westward Inn is a well-rated, conveniently located budget option.
The Redwood Meadows RV park is right near all of the top spots in the park. In addition to RV sites, they have a glamping tent and a yurt. They also offer regular tent spots if the nearby Jedediah State park campground is full. The same outfit runs the Crescent City KOA, which is a little further away. The KOA has RV and tent slots as well as cabins.
Other camping options include the Jedediah Smith Redwoods State Park campground, Ramblin' Redwoods campground, Ruby van Deventer County Park campground, Florence Keller County Park campground and disbursed camping along the Smith River national recreation area.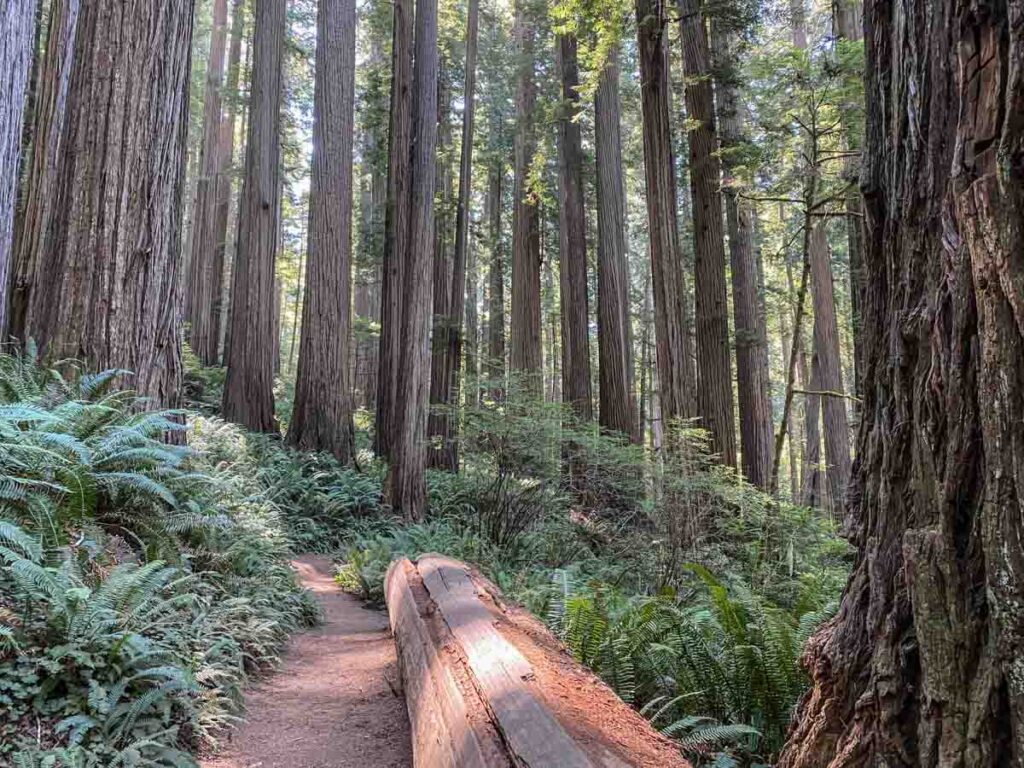 Day 5: Crescent City to San Francisco
Routing: Highway 101 south to San Francisco
Distance & Drive Time: 356 miles, 6.5 hours
If you have time on the way back, you can break up the drive by spending some time at the spots that you short-changed on the way up. Or you can stop on the way back for one last redwood woods walk at one of the Sonoma or Marin County parks. These include: Roy's Redwoods Preserve, Indian Tree Open Space Reserve, Mount Tamalpais State Park or Muir Woods National Monument.
Oldest of living things what wisdom
forests teach stirring men's heart to
thought deeper than speech."

Inscribed on the Julia Morgan fireplace.
Renting a Car for Your Redwoods Road Trip
If you are flying into SFO, there is a large rental car center, which you can easily get to via the Air Train. Find your best pricing by comparing all of the different rental car providers on Rentalcars.com.
If you are going into the city before starting the road trip, be aware that downtown parking can be quite expensive. You can always go from SFO to SF using public transportation or taxi/Uber and then rent a car downtown.
Upon your return to SF, you'll need to pay a $9.05 bridge toll for the Golden Gate Bridge. Ask your rental car carrier about the best way to handle paying for that fee. But don't let them talk you into an expensive toll device, because you'll only need to use it once.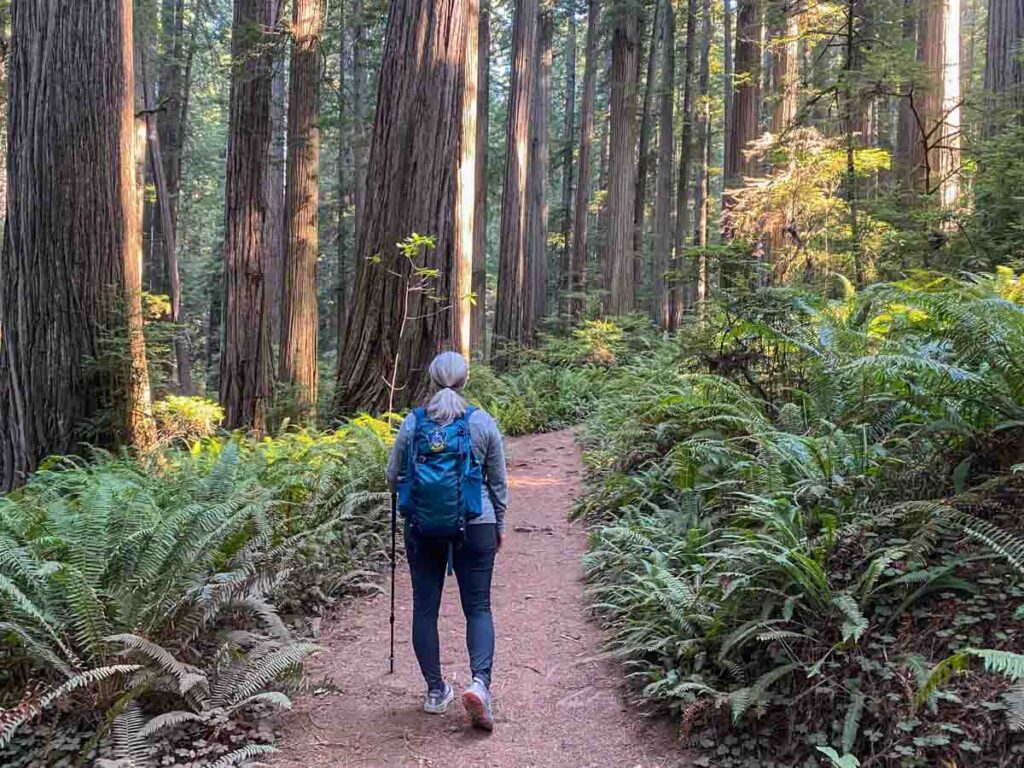 Things to Pack for the Trip
As we mentioned above, these parks have rotten cell reception. This is one of those times when an old school map will serve you well. We love the Benchmark California Road Atlas. It has a lot of detail, showing state parks and campsites as well as both paved and dirt roads.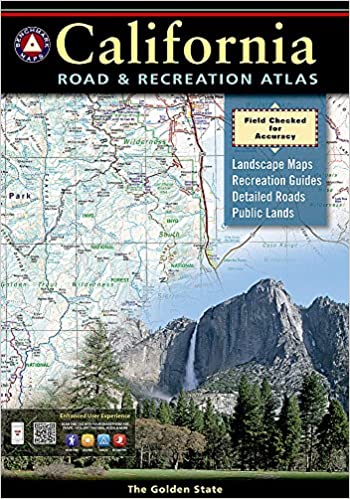 In addition to topping up your fluids and checking your tires, you may also want to bring a roadside safety kit which includes things like a warning triangle, jumper cables and the like. These kits also make a thoughtful, if tragically practical, Christmas or birthday gift. You could also pack a plug-in cooler, which uses your car's 12 volt plug to keep lunch items and drinks cold.
And finally, pack clothing layers. These redwoods thrive in cool climates and you'll want to give yourself options for your hikes. It's also wise to pack a weather proof windbreaker. I'm a big fan of the REI Gore-tex jacket. It's very well made and much cheaper than the premium brands. I also love the Kuhl weekender pant (pictured above). They make them for men and women. The pants have zippered pockets and are made of some genius material that breathes but maintains a perfect body temperature.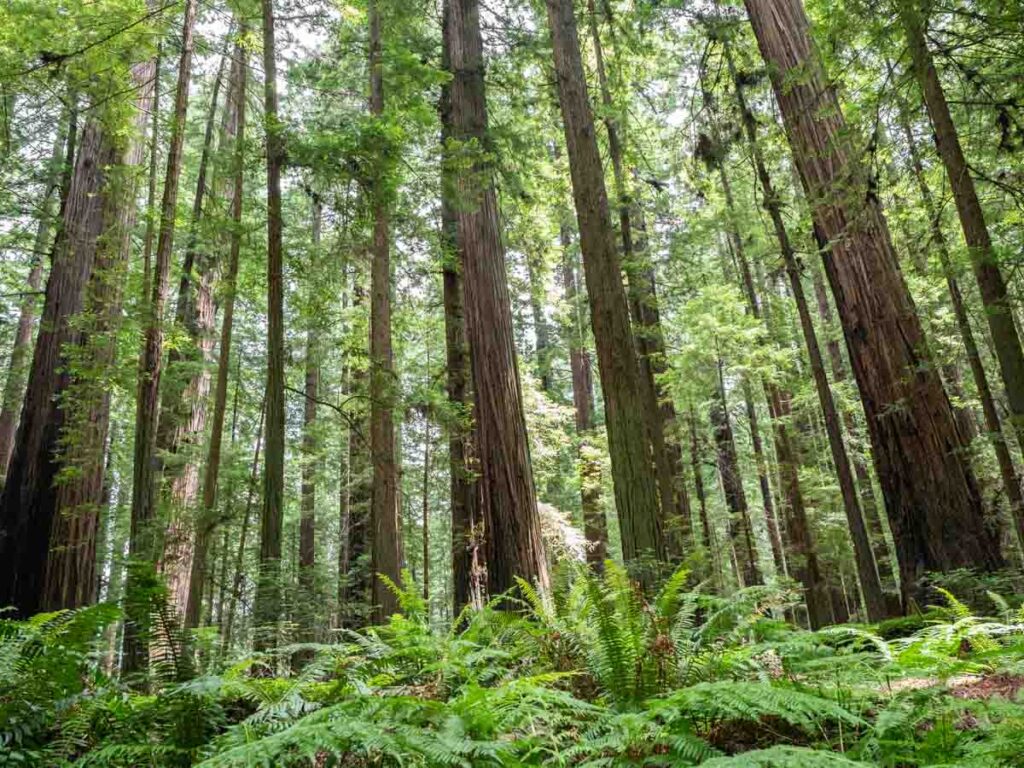 Things to Do in San Francisco
If you are spending time in SF before or after the trip, here are some of our tips for having a great stay.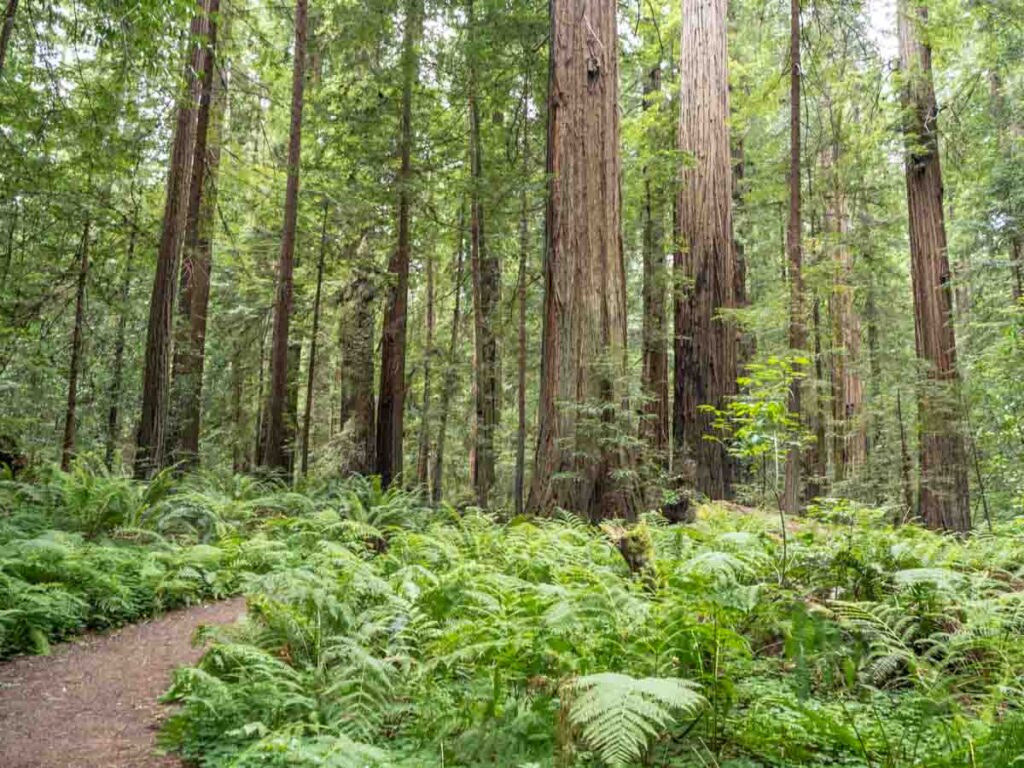 More Amazeballs Road Trips in California
Share this San Francisco to the Redwoods itinerary on Pinterest: