There's so much to see in San Francisco. Even if you get your travel inspiration and tips from websites like California Crossings, it's also helpful to have a San Francisco guidebook, but you need the right guidebook.
This curated list ranges from general San Francisco guidebooks, to pretty neighborhood guides, inspiration for historical walking tours, a surprising atlas and insights into the quirky corners of the city.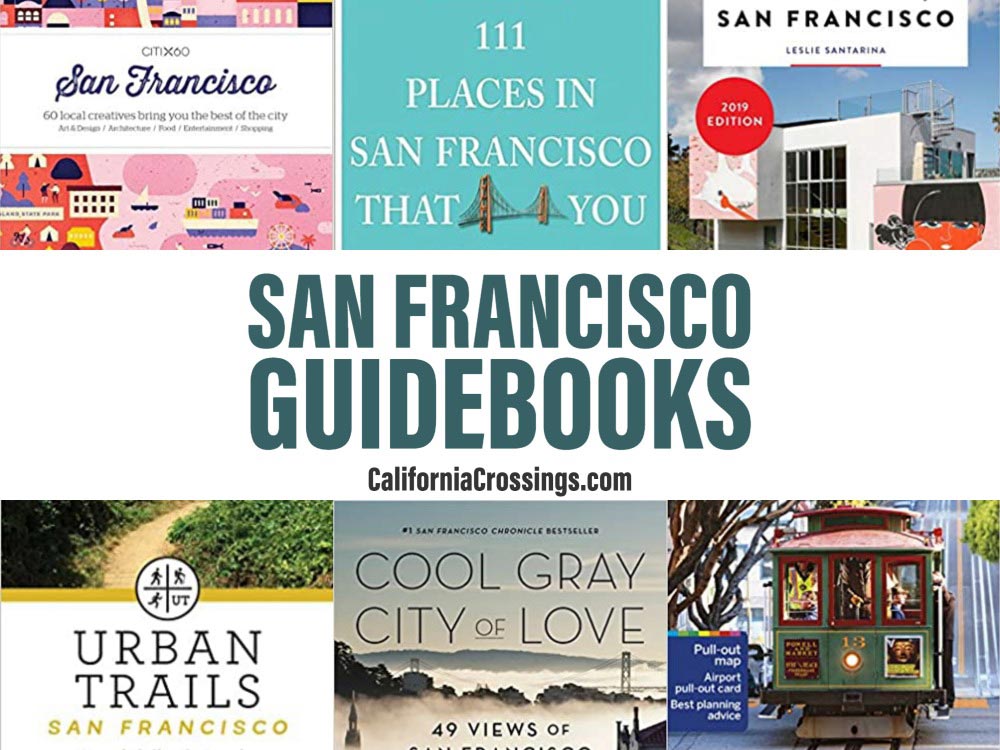 I'm a recovering bookseller and an unrepentant book nerd, so you can trust me to give you solid recommendations on the best guidebooks for San Francisco. Even though we write our own guides here at California Crossings, I still sometimes use physical guidebooks myself for helping me figure out logistics and find cool things to do.
(This article contains affiliate links. This means that if you choose to purchase, I'll make a small commission.)
Your Top 10 San Francisco Guidebooks
1. Lonely Planet San Francisco
Lonely Planet guides began by targeting the budget traveler and they have remained pretty true to their original mission. SF is an expensive city, so I appreciate Lonely Planet's tips for saving money, suggestions for varied itineraries and their willingness to recommend offbeat attractions (like the Mission Murals, which celebrate the Mission's multi-cultural history).
WHATTA DEAL: The Lonely Planet guide and some of these other guidebooks for San Francisco are available free free on Kindle Unlimited. Check it out because the first month is free.
---
101 Places in San Francisco that You Must Not Miss
by Floriana Petersen
This book thankfully ignores overhyped places like Pier 39 in favor of what they call the "B-side story of the city once romantically known as the Paris of the West". Get full color pictures and the backstory on cool places like the Lefty O'Doul Bridge, the Leroy King Carousel, the Tenderloin National Forest and the oft overlooked, but awesome Pier 24 Photography Gallery.
This book is perfect for people who want to get way off the beaten path.
---
The 500 Hidden Secrets of San Francisco
by Leslie Santarina
Author Leslie Santarina is a freelance photographer and her work has taken her all over the city. Her food-centric San Francisco travel guide is informed by her daily discoveries and a local's eye for the delicious. She calls out Tartine's Bakery's morning buns (which I eat nearly every time I visit the Mission, whether or not it's morning), the best Mission burritos and why it's worth visiting the Ferry Building.
This book is great for foodies and people who are hangry.
---
Citix60 San Francisco
Sixty designers, architects, chefs artists and other creatives show you their side of San Francisco. The guide includes a well-curated selection of museums, notable architecture and sculpture, cultural icons, museums and shops with beautiful photography.
This book is great for people who are into design and urban art.
---
Michelin Guide to San Francisco
Michelin guides have been around since 1900 and they are far more professional and reliable than Yelp and Google ratings. The San Francisco guide reviews and rates over 280 restaurants in the city, the wider bay area, and even wine country. The restaurants that they cover span a wide range of budgets, cuisines and culinary experiences.
This guide is great for people who are into elevated food experiences.
---
And if you like cooking food as much as eating out, check out our guide for these tasty California Cookbooks.
Walking San Francisco on the Barbary Coast
by Daniel Bacon
This fun little San Francisco travel guide is perfect for history buffs. It offers a detailed self-guided walking tour of the Barbary Coast, which connects twenty of SF's most important historic sites. You can learn about San Francisco's gold rush history, the great fire of 1906, the literary culture of North Beach, the first Asian temple in North America and much more about SF's unique place in American history.
This book is great for people who want to explore San Francisco's downtown core.
---
Infinite City
by Rebecca Solnit
Solnit is better known for her books Men Explain Things to Me and A Field Guide to Getting Lost, but this reinvention of the traditional atlas is a revelation. She visually maps the city using a series of themes such as "shipyards and sounds" or "monarchs and queens" to tie together butterfly habitats, queer sites, WWII shipyards and The Tower of Power (which bytheway played my husband's school prom). Solnit pierces the heart of San Francisco with maps and well written text that will inspire you to think about San Francisco's cultural make up in a fresh and foggy light.
This book is great for map nerds and people who like a sideways take on culture.
---
Cool Gray City of Love: 49 Views of San Francisco
by Gary Kamiya
Kamiya's love letter to San Francisco takes him to interesting and unexplored corners of the city. He combines in-depth reporting, city history and his own personal observations into a rambling walking tour. The book is useful as a guide to the culture and history of San Francisco, and it will also encourage you to explore more deeply into the neighborhoods that make SF so interesting.
This book is perfect for flaneurs (ie: urban strollers).
---
Urban Trails: San Francisco
by Alexandra Kenin
Kenin was an urbanite from New York who, upon moving to San Francisco, was shocked and delighted by the diversity of urban hiking opportunities. She now runs a hiking tour service, and this book covers her 50 favorite hikes in and around the city. I'm partial to the Land's End hike, which has epic coastal views and a lot of San Francisco history. But this book also covers some off the radar spots like the Visitacion Valley greenway, secret stairways and Angel Island.
This book is great for people who'd rather being outside than in.
---
Kid's Travel Guide: San Francisco
by Kelsey Fox and Shiela H. Leon
This San Francisco guidebook is specifically designed for kids. Parents love it as a fun way to introduce school aged kids to San Francisco. Keep the kids busy in the car or on the plane to San Francisco with trivia, quizzes, coloring pages and challenging tasks.
Perfect for harried parents.
---
More San Francisco Travel Guide Resources
Hey, we've got some pretty useful information about San Francisco as well. So, in addition to grabbing a couple of the San Francisco guidebooks listed above, be sure to check out our articles.
Share these San Francisco guidebook ideas with your friends on Pinterest: