The Mission District murals offer a visual history lesson on the immigrant experience, gentrification and modern politics. While there is street art all over San Francisco, the Mission has a highly concentrated brew of images and messages that are very particular to the neighborhood.
This San Francisco mission murals guide will give you background on the urban art movement in the neighborhood, tell you where to find the murals (including a map) and suggests some guided tours. Oh yea, it also includes eye candy…lots and lots of eye candy.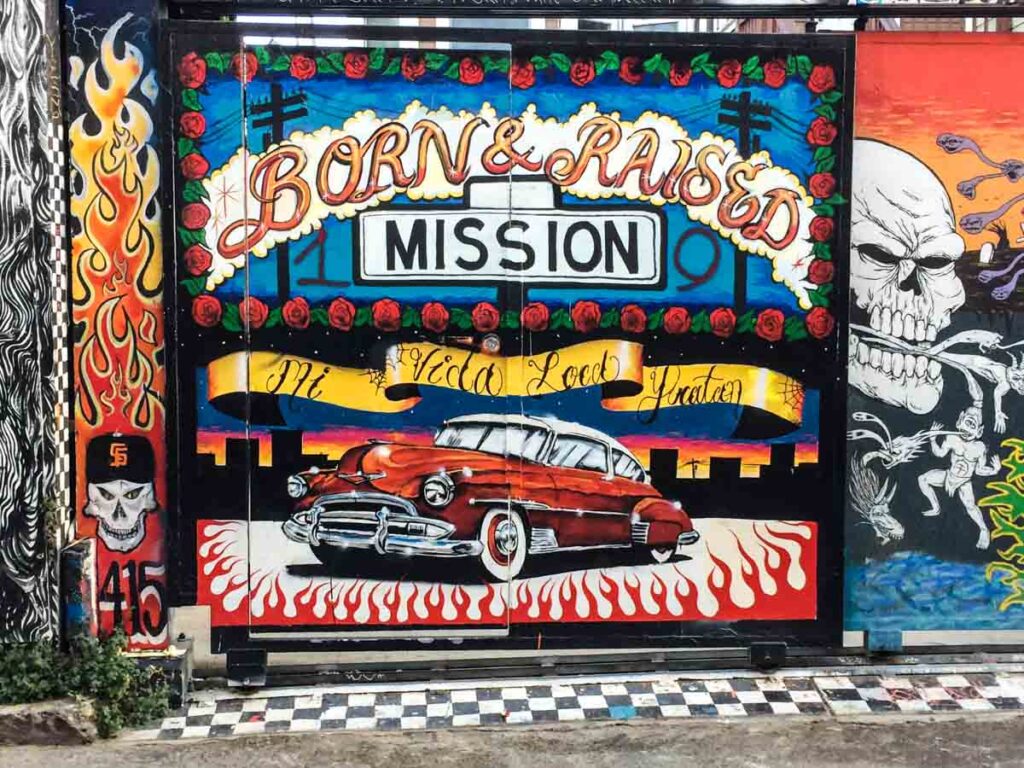 History of the Mission
The origins of the Mission are older than San Francisco itself and its history is a revolving door of settlers and immigrants.
The Mission's original residents were the Yelamu people who settled what is now San Francisco 4500 years ago. The neighborhood is called "The Mission" because of the establishment of Mission Dolores by Francisco Palou in 1776, settling the area with Spanish-Mexican families. During the Gold Rush the neighborhood became housing for working-class German, Irish and Italian immigrants. The population shifted yet again during the '40-'60s with the influx of Mexican and Central American Immigrants. The current wave of settlement includes dot-com workers and gentrification.
All of this history is relevant to the Mission District because so many of the murals illustrate SF's immigrant history and political landscape.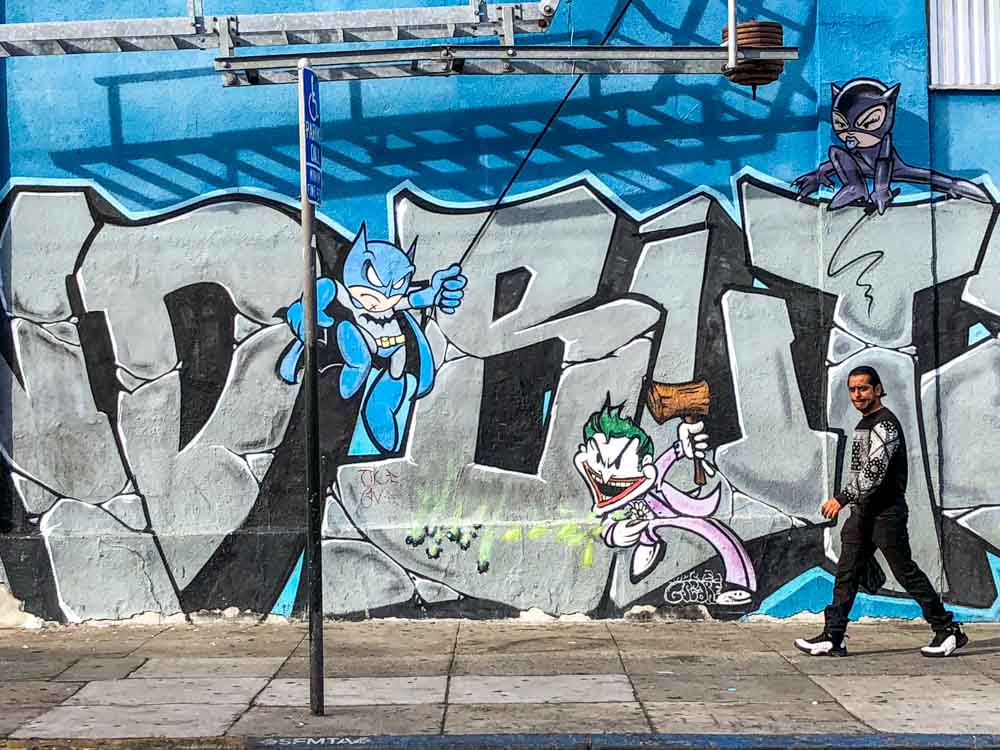 Development of the Mission District Murals
In the '70's an arts scene developed in the Mission and art spaces, galleries, film festivals and street performances came to life. This creative environment proved fertile ground for the street art movement and murals began springing up.
Precita Eyes, a nonprofit devoted to the development and restoration of community art, rode the wave of interest in street art. They have cataloged hundreds of street art pieces, credited to specific artists, scattered throughout the 143 square blocks of the mission. Other cities have also seen this sort of community driven murals. For instance, San Diego's Chicano park murals were developed as part of a Chicano protest movement and Chicago's Pilsen neighborhood also has Latino themed street art. But the Mission District murals are a mindfully curated movement that is very specific to San Francisco.
Read More: If you are mad for murals, check out this guide for the best places to find street art in California.
Where to Find the San Francisco Mission Murals
There is street art all over the Mission but three primary locations are absolutely thick with it. The greatest profusion of murals and graffiti are located along the 24th street corridor between Mission and York streets. This area includes side streets like Lilac Street Alley, Cypress Street Alley, Lucky Street and Balmy Alley.
Clarion Alley is also a hot location for street art and it's also worth checking out the nearby Women's Building. These streets and some other specific mural locations are noted on the Mission mural map below.
Use this map to find all of the Mission mural locations:
Read More: Go beyond San Francisco and find more great street art cities around the globe.
Murals Along the 24th Street Corridor
If you get off the 24th Mission Bart station, simply head east.
Lilac & Cypress Street Mural Alleys
These two San Francisco mural alleys are notable for their edgier work. There is a lot of tagging, stylized graffiti in the alleyways. There is a lot of turnover on these two streets and the works don't stay up forever.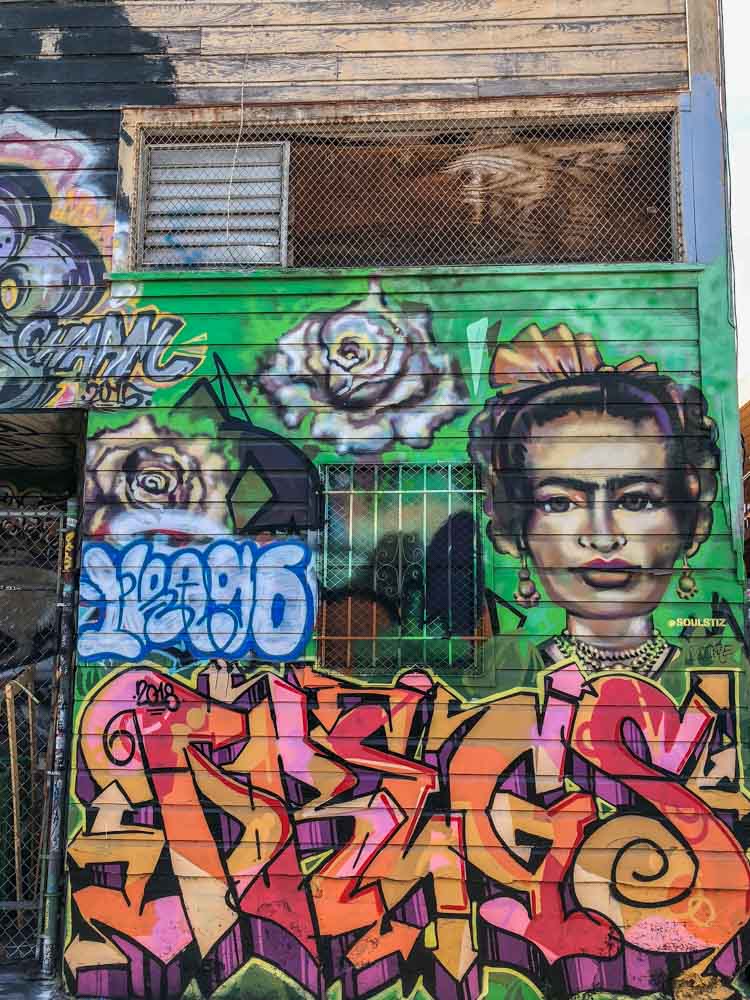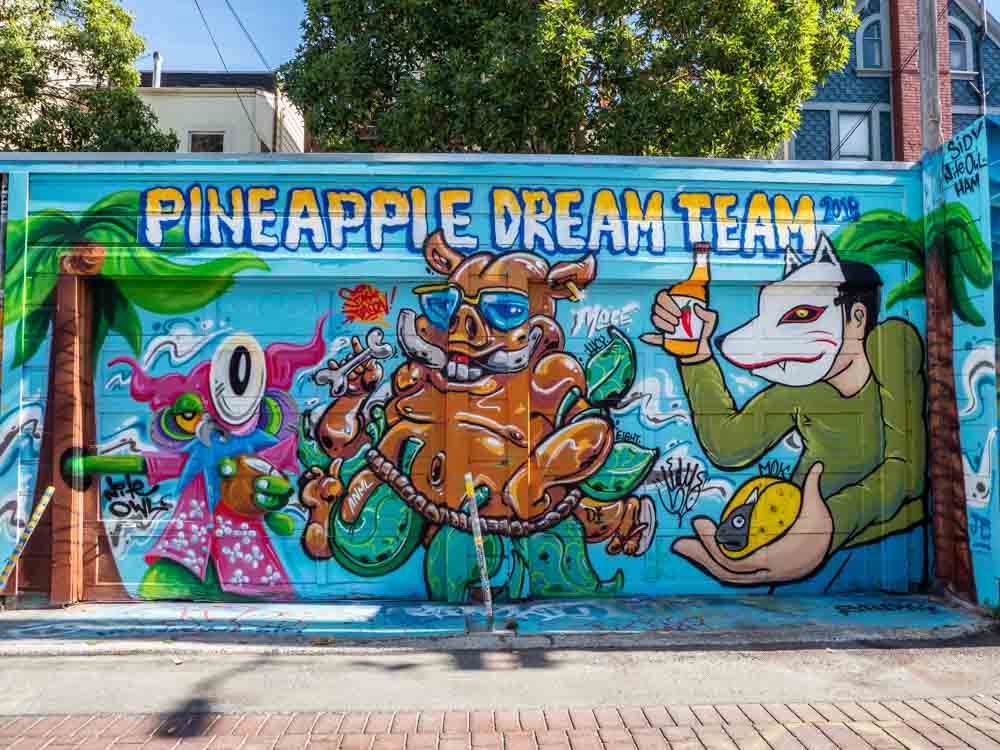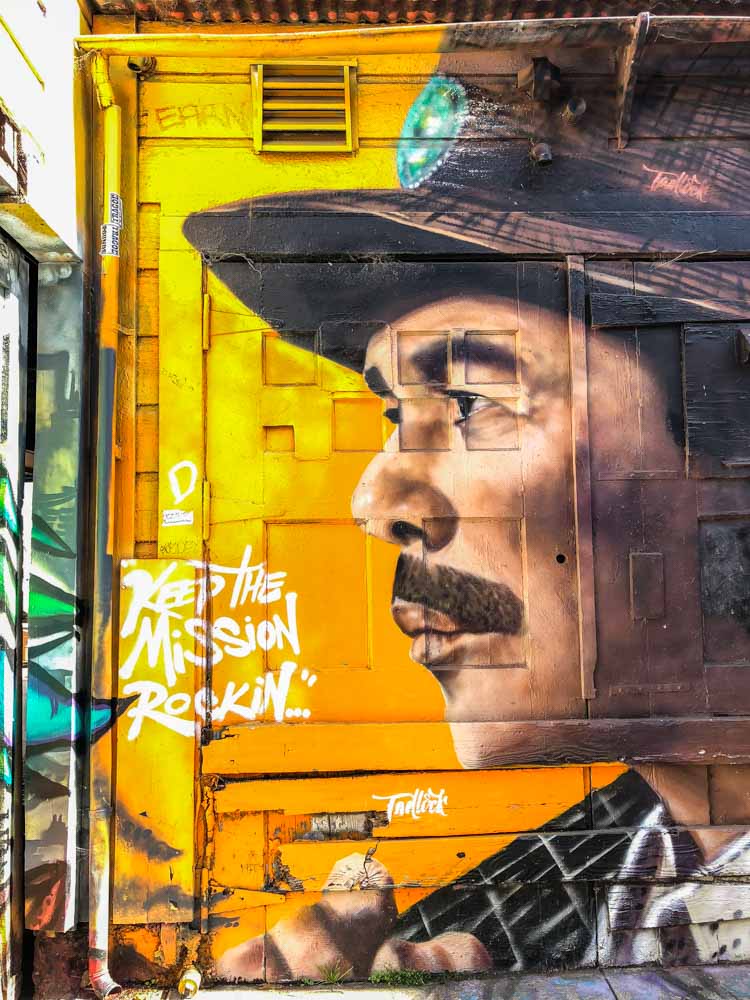 Balmy and Lucky Street Mural Alleys
On Balmy and Lucky streets, you begin to see some of the commissioned works that were coordinated by Precita Eyes. They pride themselves on engaging the community in the mural design and execution. You'll find a mix of professional artists and regular community members collaborating on the works.
This sort of inclusive ethic is very unusual for street art cities. For instance, Honolulu's POW!WOW! street art festival does provide some smaller spaces for local artists to participate, but the large art pieces tend to be from world class global artists. In the Mission, Precita Eyes is very intentional about sourcing local residents, which I believe contributes to the long lasting nature of so many of the murals along the 24th street corridor.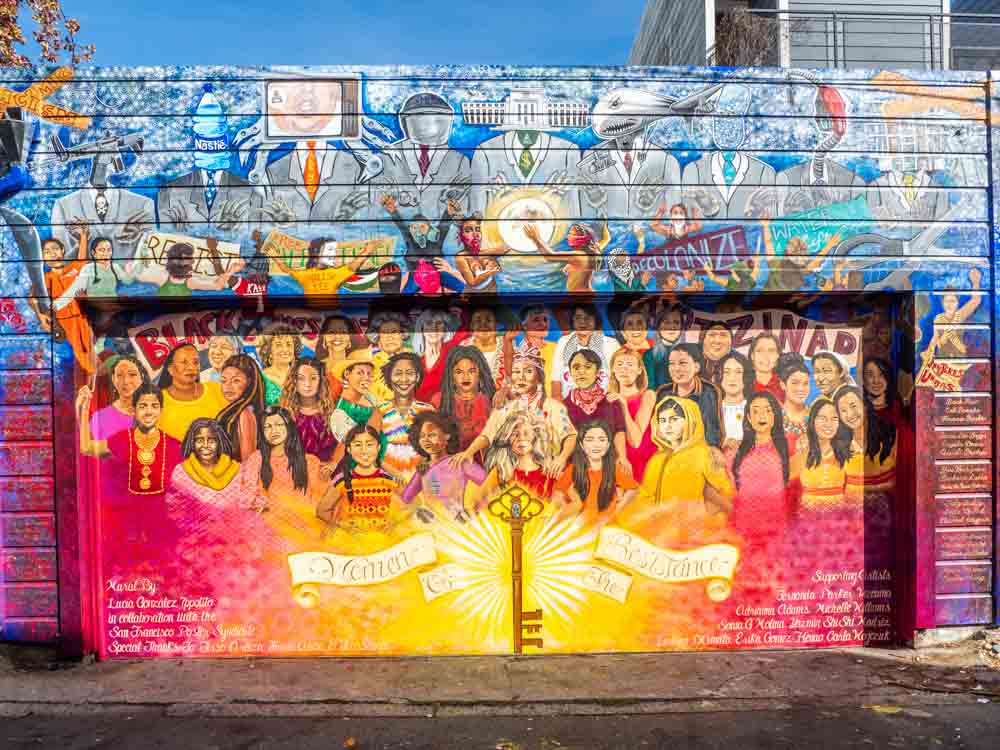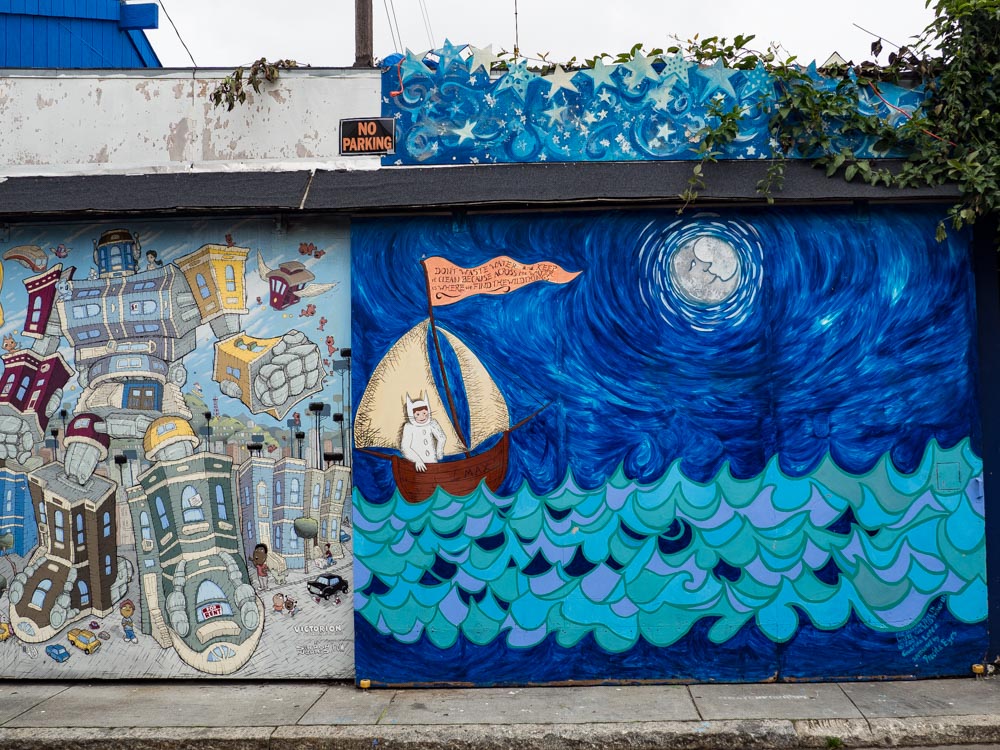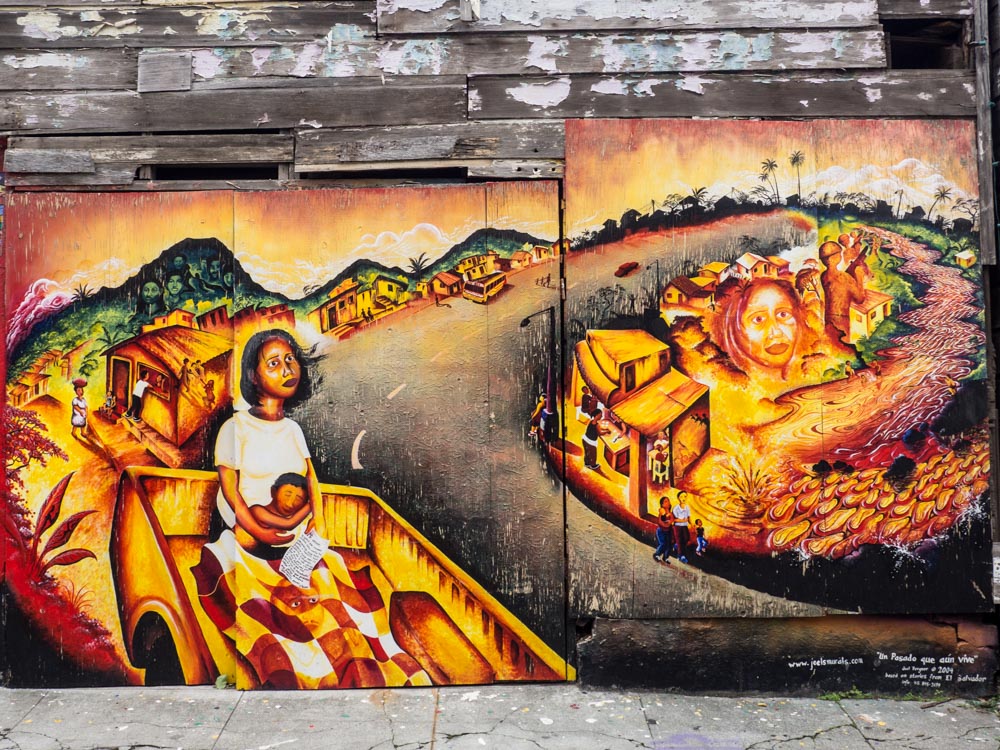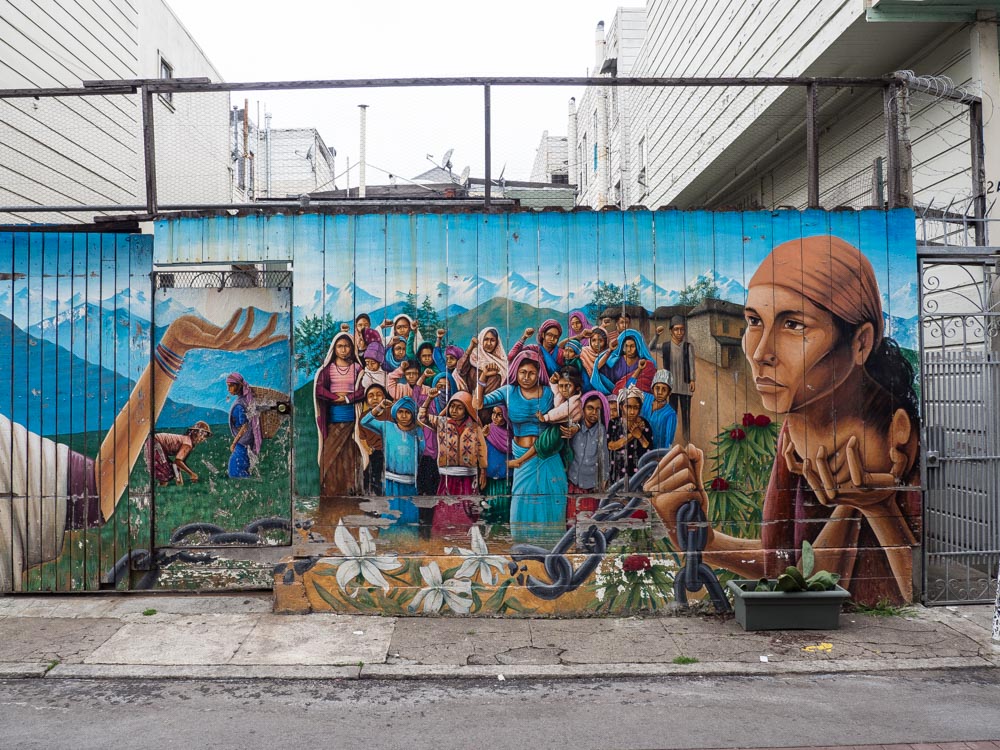 Other Murals in the 24th Street Corridor
While you're wandering around the Mission, don't forget to keep an eye out for some of San Francisco's best independent bookshops. FIX. Alley Cat books is located right on the 24th street mural corridor and Dog Eared Books and Borderlands aren't far from Clarion Alley.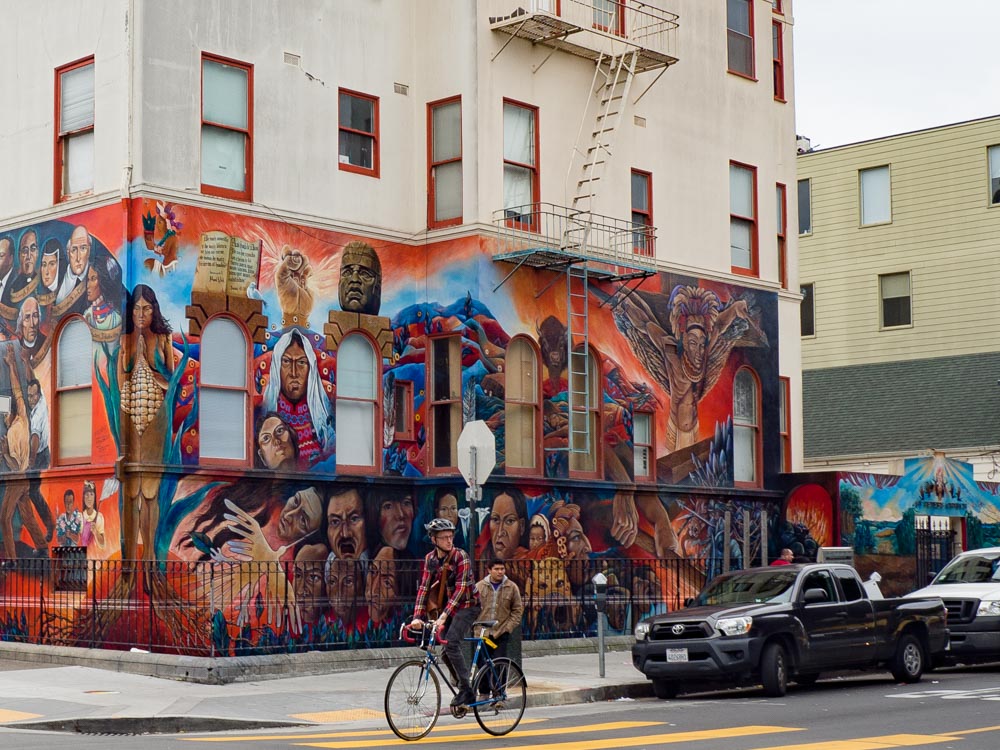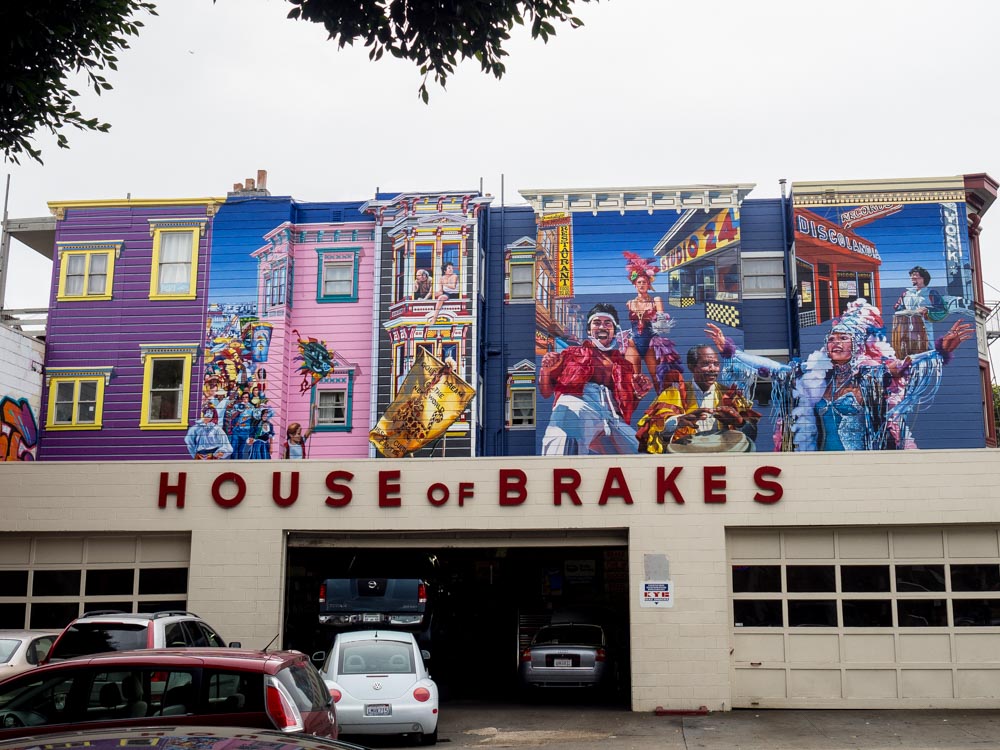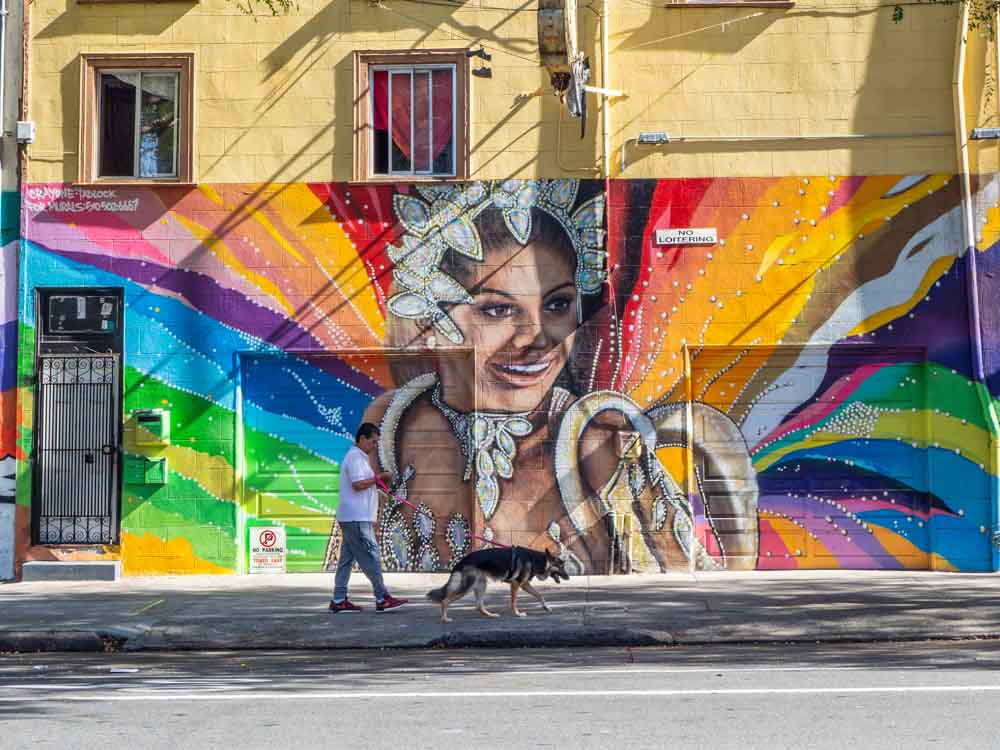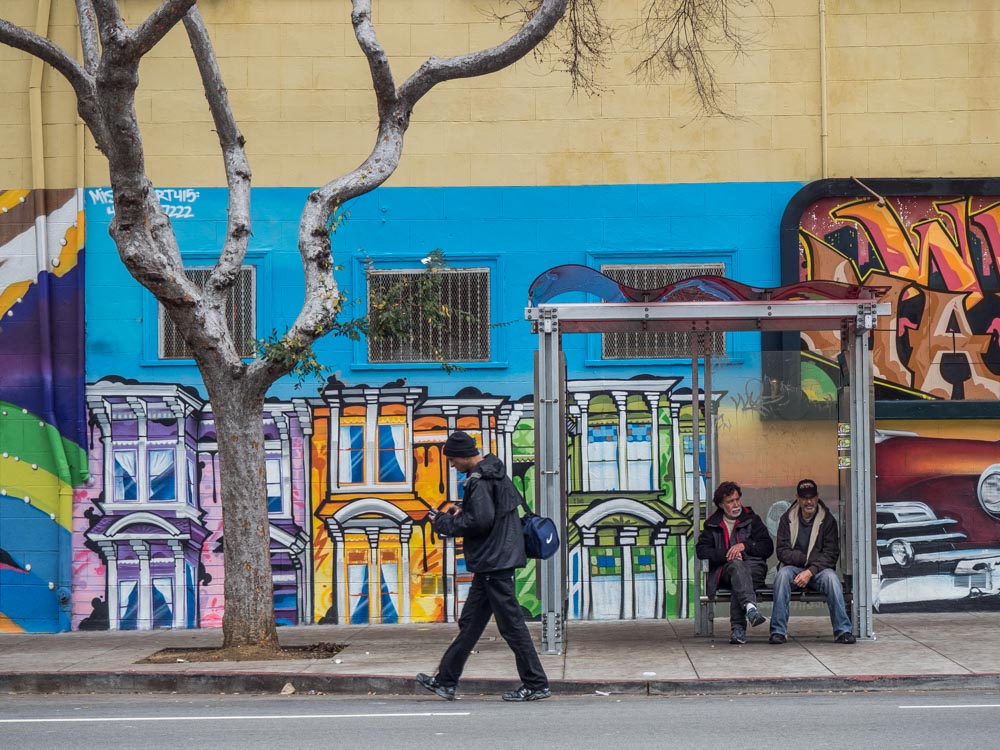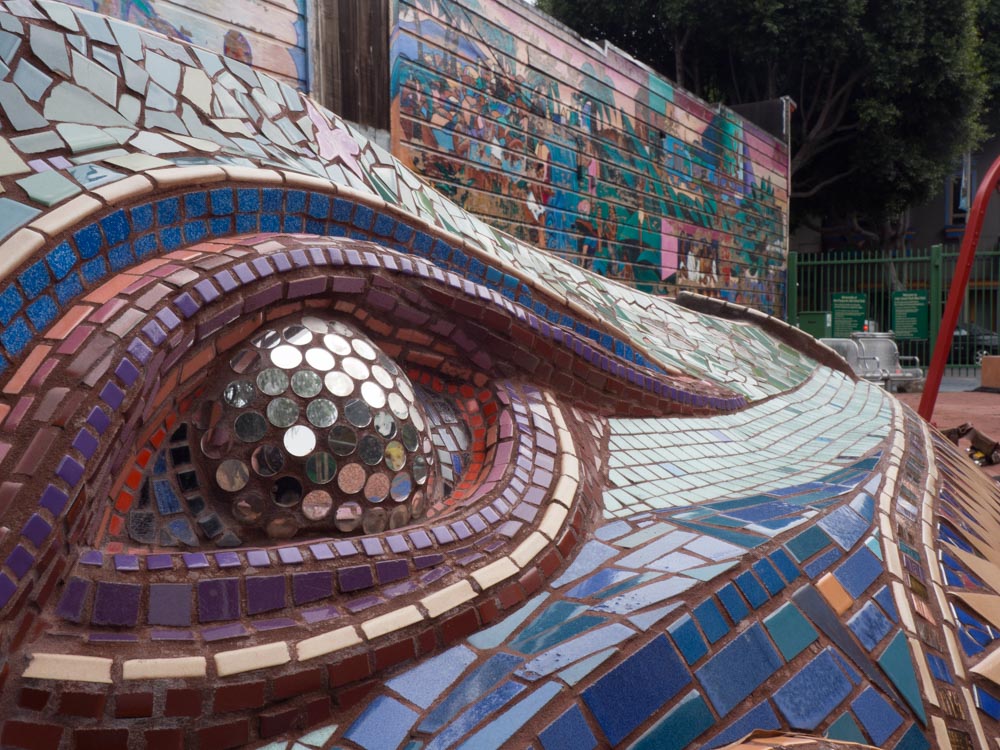 FYI- if you are into mosaics, then be sure to check out our guide to 4 lovely mosaic staircases in the city.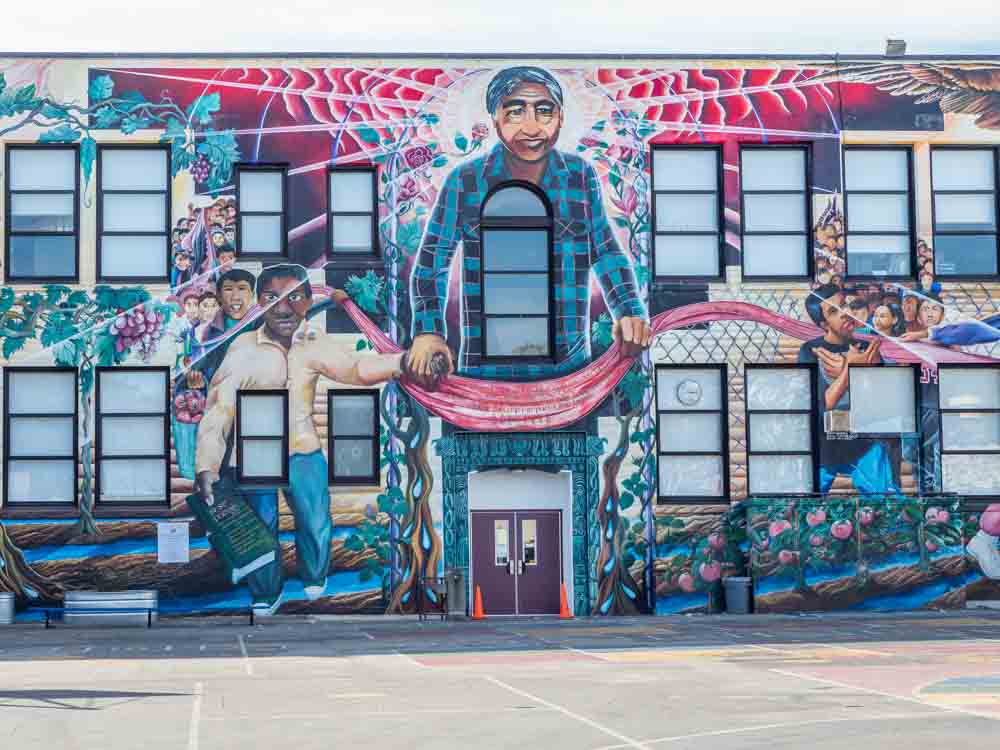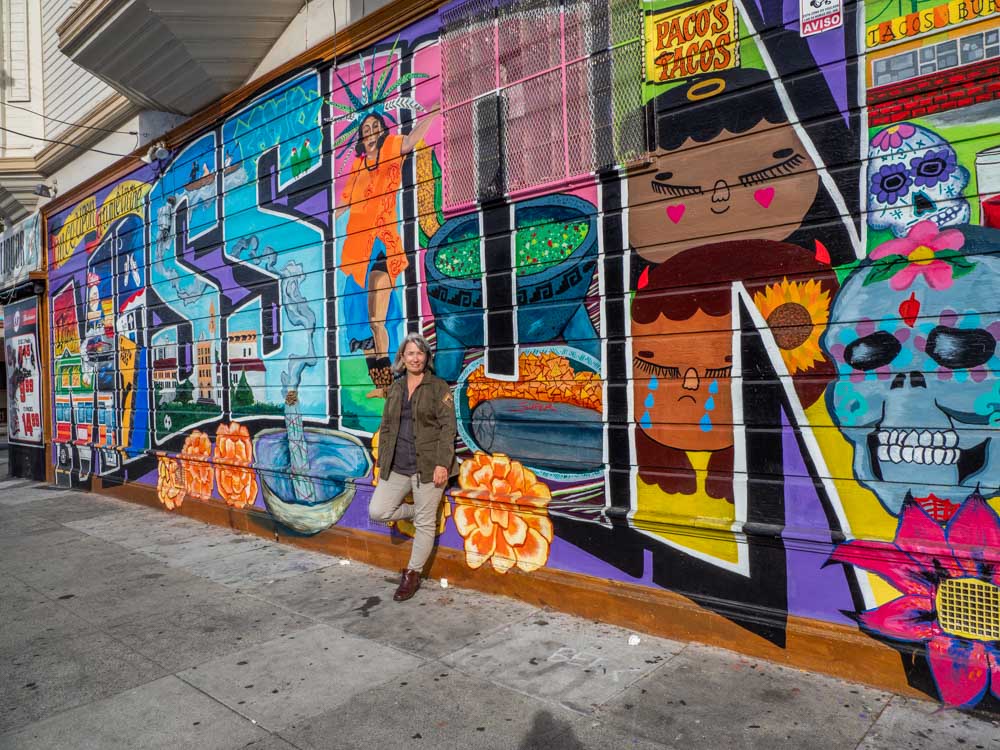 Street Art in Clarion Alley
The murals in Clarion Alley veer away from Latino history and mythology and careen into overtly political territory. There is a fair amount of turnover in the alley. An artist will "own their patch" and when they no longer wish to update it, they will cede it to a new artist. The Clarion Alley murals are some of the best Instagrammable spots in San Francisco. FIX.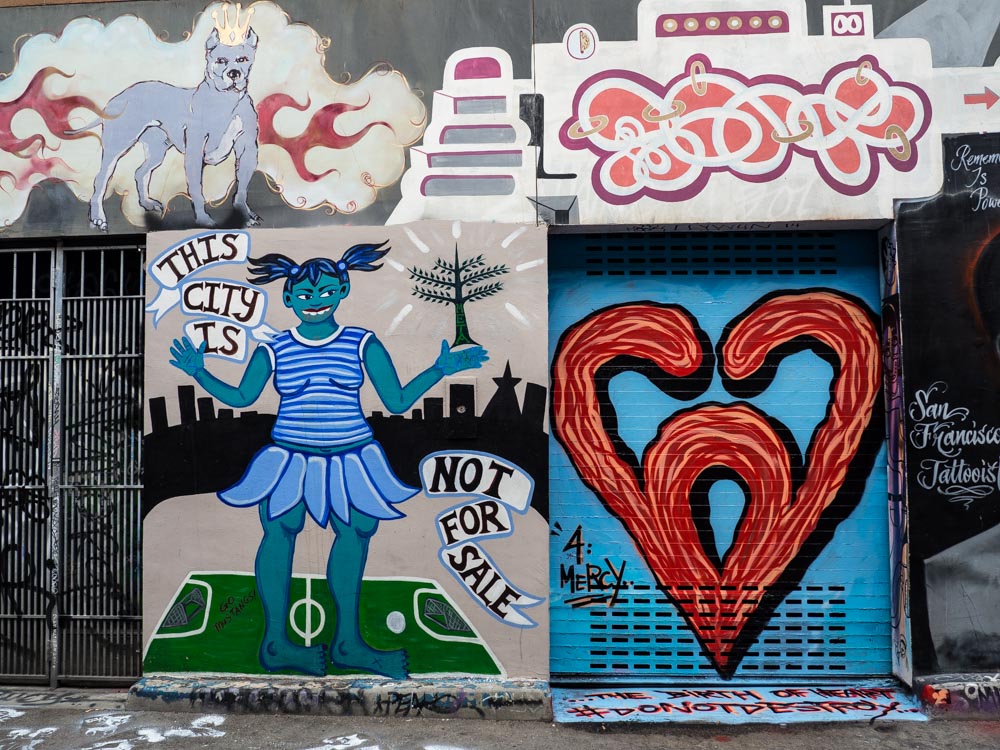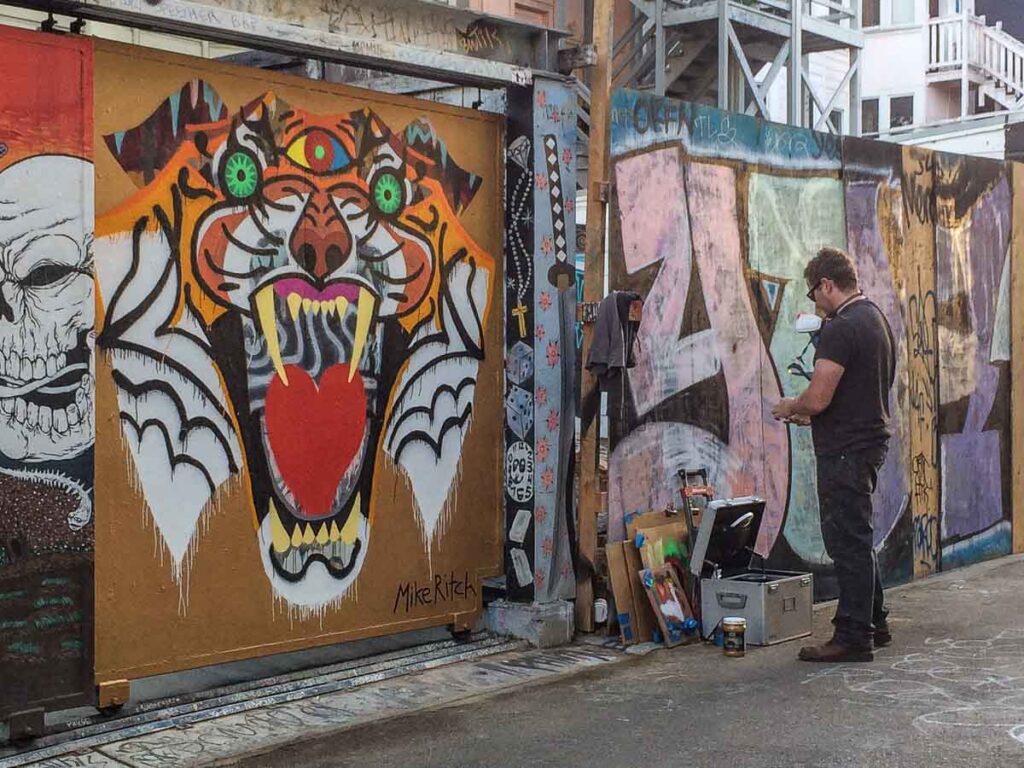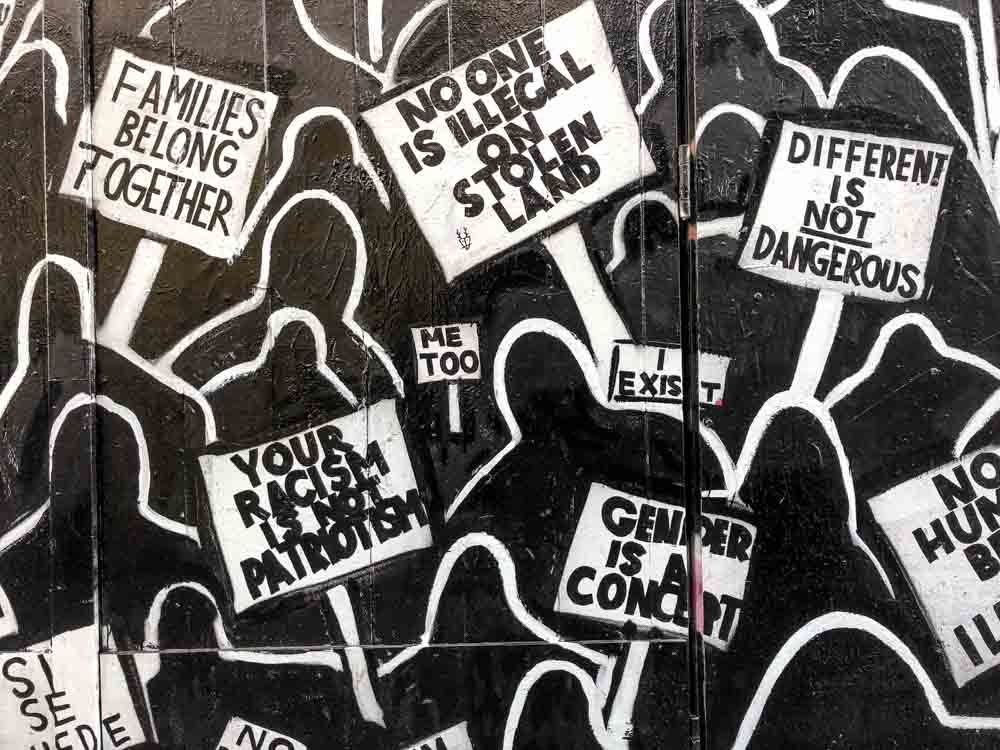 But Wait, There are Still More Murals
There are plenty more murals dotted around the area south of Clarion Alley. Check out the Women's Building and stroll Mission and Valencia streets.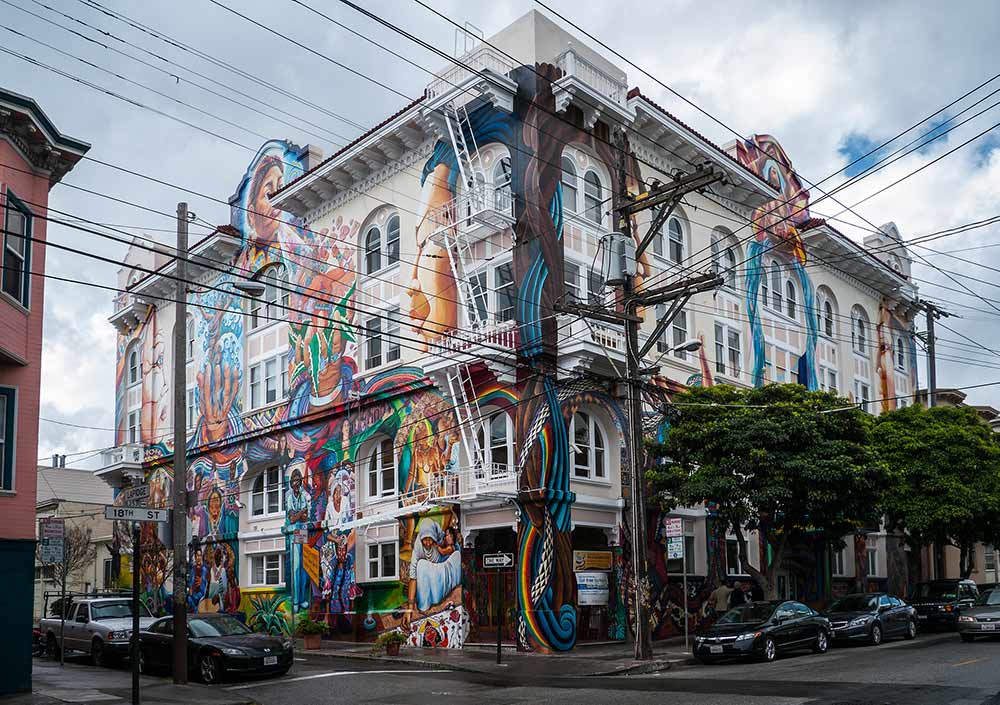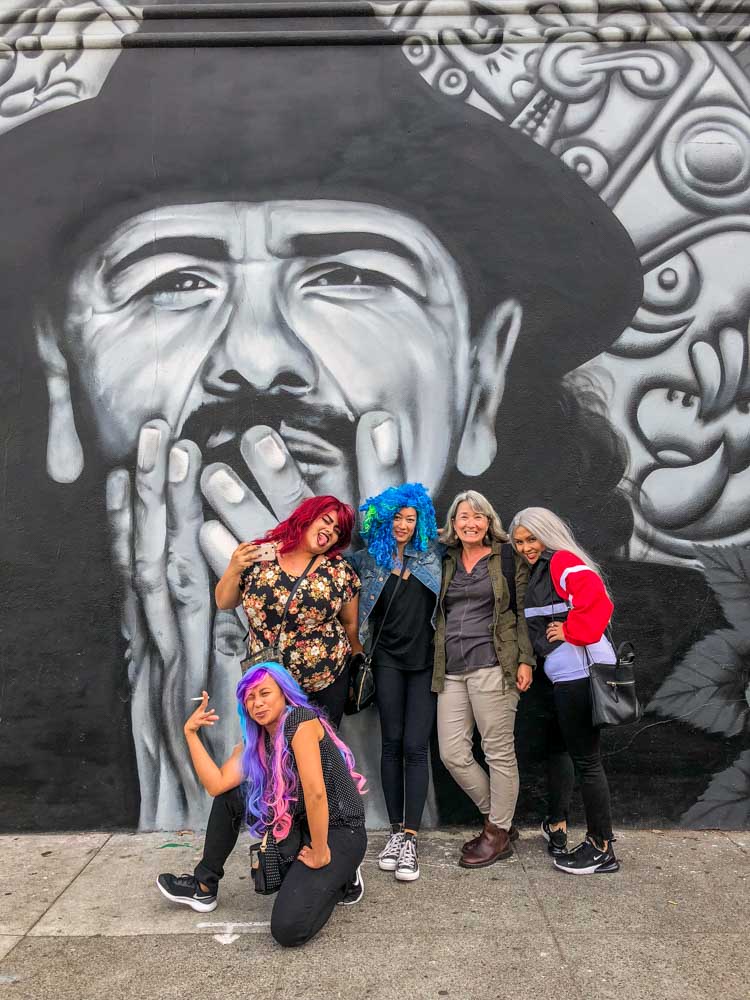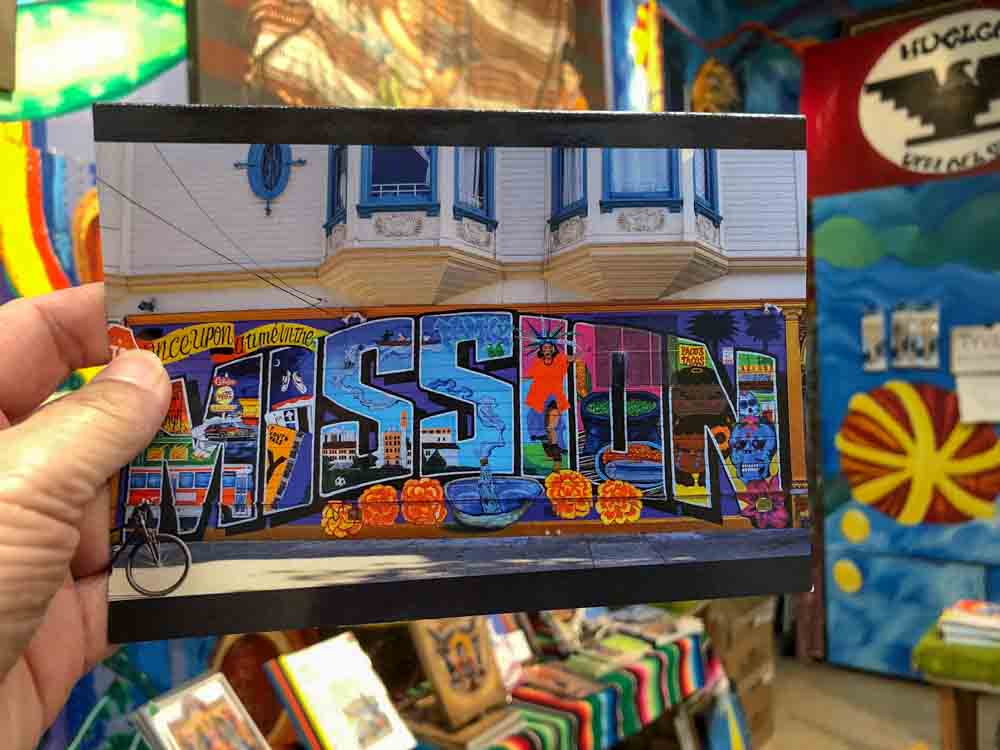 Guided Mission Mural Tours
Using the map above, you can easily do this as a self-guided mural tour. Wear comfortable shoes and come prepared to spend several hours wandering the neighborhood as there is a LOT to see. For the self-guided tour, start at the 24th street BART stop. Be sure to stop into Precita Eyes (24th & Harrison). They are very passionate about the Mission murals so plan to spend some time there having them regale you with stories regarding the more ambitious art pieces. While there, you can also pick up some street art swag.
Precita Eyes also hosts a very informative 2-hour tour on Saturdays and Sundays. It costs $20. They are extremely informed about the murals along the 24th street corridor, but they don't cover Clarion Alley. San Francisco City Guides also offers a free mural tour twice a month. You can find their schedule here. Wild SF Tours has just added a new (free) walking tour that covers Clarion Alley and thereabouts.
Take the murals home with you by purchasing their Mission Muralismo coffee table book.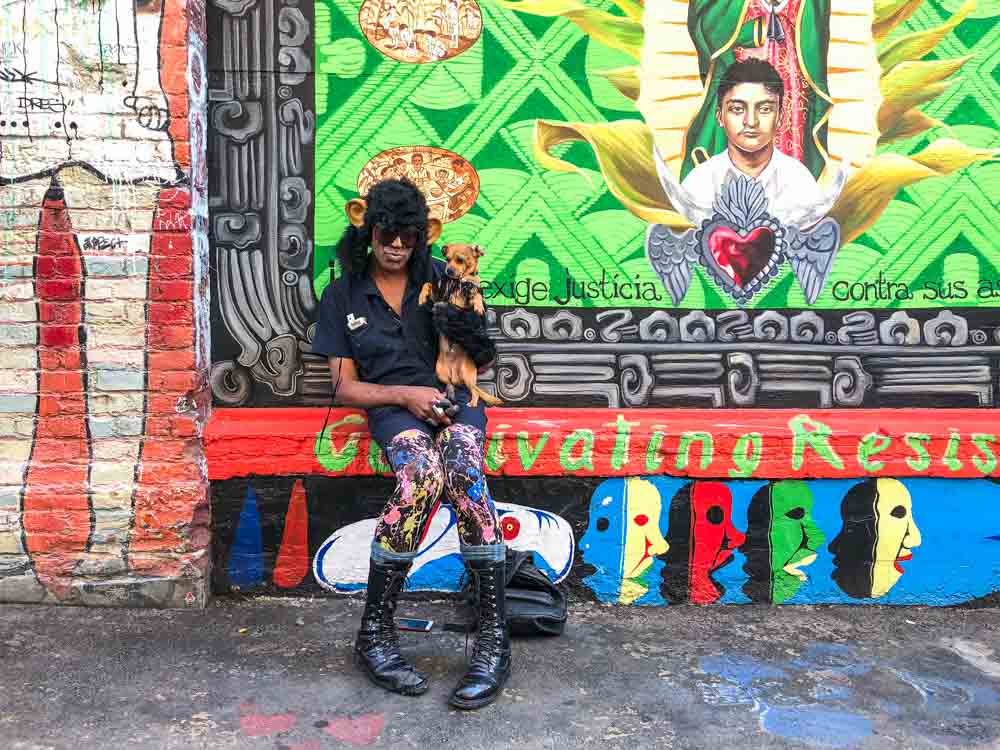 (This article contains affiliate links. This means that if you choose to purchase, I'll make a small commission.)
Explore more offbeat stuff in the Mission using this guide for unusual things to do in San Francisco. In addition to the street art, it includes creepy cemeteries, tiled staircases, museums for adults-only and local's only spots to hang out. And if it's your first time in town, be sure to check out our first timer's guide to SF.
Plan Your Trip to SF
Save time planning your trip to SF with these insanely useful links:
Check out our Mission District Murals web story.
Share the SF Mission Murals with your friends and pin this post: