Oakland (OAK) is one of three California airports serving the Bay Area and it's well situated for a trip to SF. You have several options for getting from the Oakland airport and San Francisco's downtown core. But trying to figure it out on the fly while disoriented from a long flight is a recipe for confusion. This guide will take you through the 4 different ways that you get from OAK to SF, including the fastest and the cheapest.
If you are interested in transferring to the SF airport, we have a different article with advice on how to get from OAK to SFO.
If you are unsure about whether to rely on publication transportation or a car in SF, here's our guidance on whether you should rent a car in SF.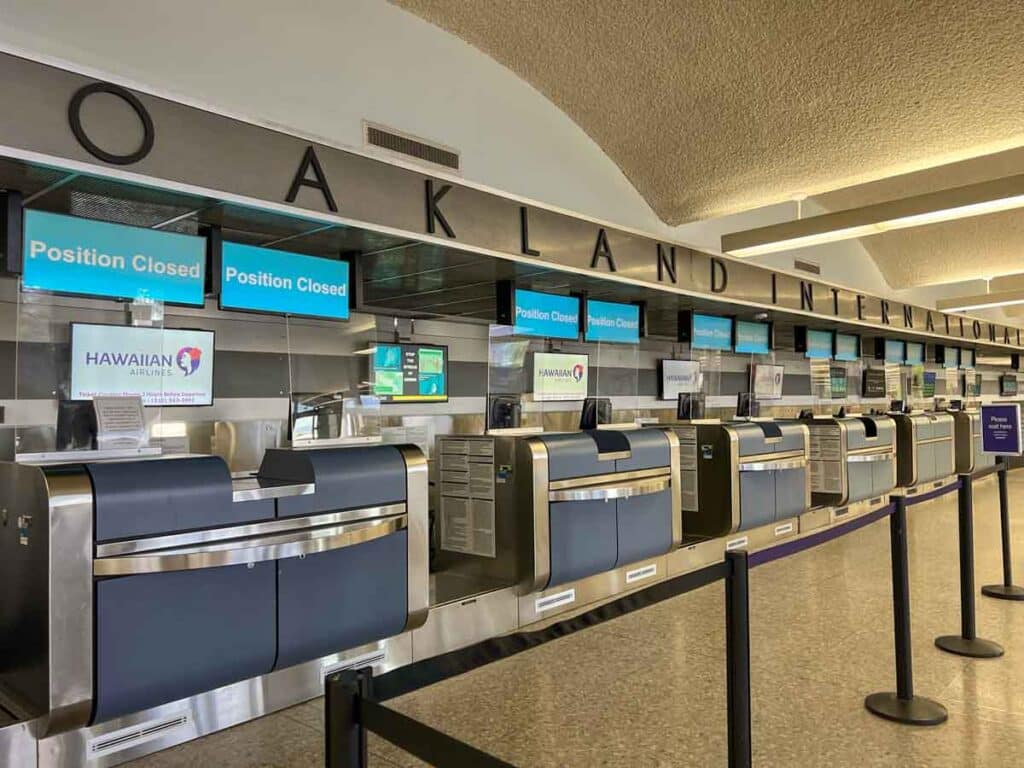 FAQ: Oakland Airport to San Francisco (Downtown)
Here are some answers to commonly asked questions about OAK airport transportation.
What follows are more detailed instructions, including the pros/cons of each transportation option, how much they cost and where to catch them. For simplicity, I've estimated transportation times and rates going from San Francisco Airport to Powell Street/Union Square as there are many hotels clustered there. If you aren't sure where to stay, get my local's advice for the best areas to stay in San Francisco.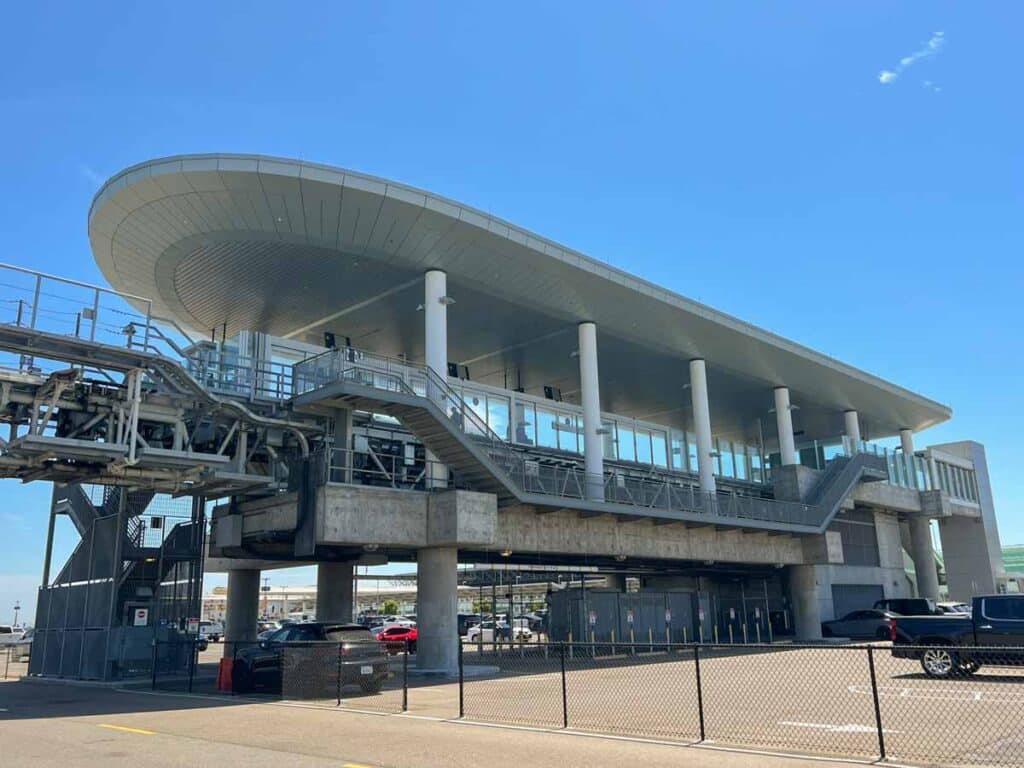 How to Take Bart from Oakland Airport to SF Downtown
Take Bart to downtown SF if you have more time than money. Bart is truly convenient, especially if you are light on luggage.
Where to catch Bart at SFO
The BART station is conveniently located in the hourly parking lot, right across from both terminals. It runs as a spur between the airport and Coliseum station. From there, you'll need to transfer to the Daly City (Blue or Green line).
How much time does BART take?
The trains run every ~10 minutes and takes 38 minutes to get downtown. It runs 6 stops between the airport and Powell street (which is the closest to Union Square). Trains are less frequent on weekends and after 9pm.
How much does BART cost?
The one-way fare is $11.40 using a reloadable Clipper Card. You'll need to purchase a Clipper Card for an additional $3, but you can use it on MUNI buses, trams and cable cars while in the city. Alternatively, you can save the $3 and load the Clipper card onto your Apple or Google pay accounts, using these instructions.
Pros & Cons to using BART at SFO
PROS: Because they make multiple stops through the city, you have a choice of where to get off, which works if you are staying in the Mission or the Civic Center area. Getting to the station is pretty easy from all of the terminals. It's much cheaper than a taxi/Uber/Lyft.
CONS: The trains sometimes run late. It's dirtier and noisier than the other options. And it's cumbersome if you have a lot of luggage.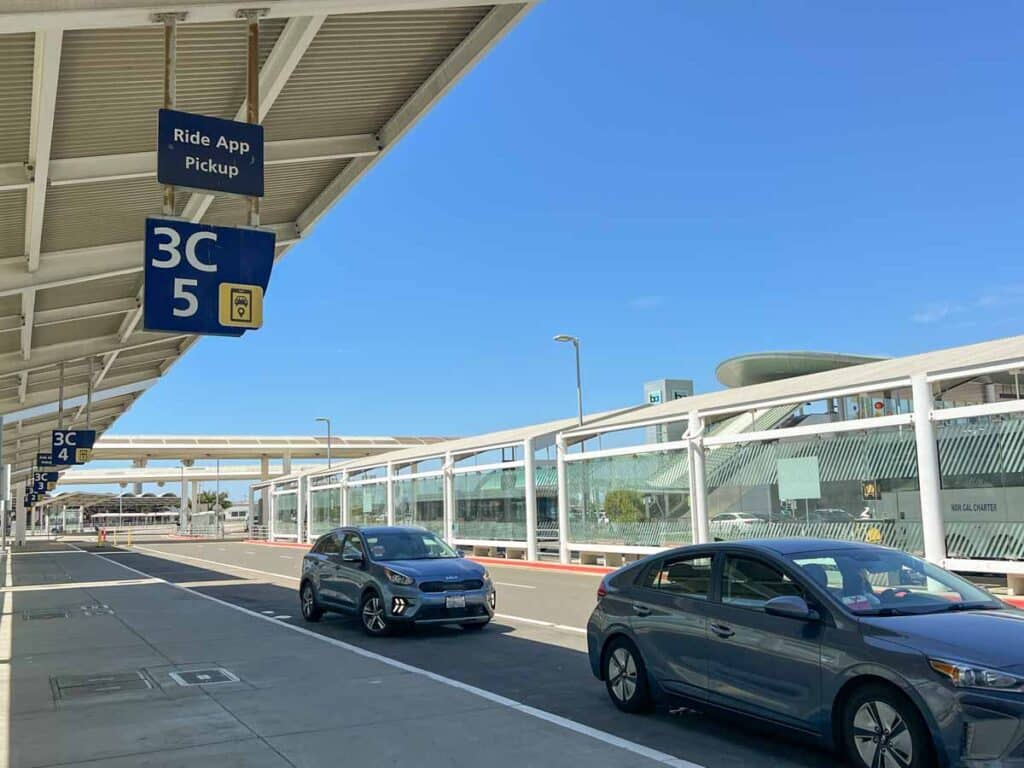 How to Catch an Uber or Lyft to Downtown SF
Take an Uber/Lyft if you are short on time or have a lot of luggage.
Where to Catch Uber or Lyft at OAK
The pick-up and drop off area is conveniently located in the yellow center island just outside of baggage. There are a series of numbered pick-up spots.
How much time does Uber take to get into SF?
In low traffic, it can take as little as 30 minutes or up to an hour during rush hour.
How much do Uber and Lyft cost at OAK?
Normal pricing is ~$36 for Uber and ~$42 for Lyft. All bets are off during surge pricing.
Pros/Cons to using Ride Share at OAK
PROS: Door to door service and it's cheaper than a cab. It's usually the fastest way to get to downtown San Francisco.
CONS: You do have to wait for your ride to arrive, usually 10-15 minutes.
How to Catch a Taxi to Downtown SF
Take a cab if you have a lot of luggage or don't like using ride share services
Where to catch a taxi at Oakland Airport
There is an easy to find cab stand just outside of baggage claim.
How much time does it get to get to SF in a cab?
In low traffic, it can take as little as 25 minutes or up to an hour during rush hour. There are usually cabs waiting to meet arriving flights.
How much does a cab from OAK to SF cost?
A cab to SF will cost ~$75 during normal traffic.
Pros/Cons to taking a taxi from OAK
PROS: Good if you don't like using the shared ride services. Super easy to find the pick-up area and you don't have to drag your luggage very far. Door to door service.
CONS: It's an expensive option.
How to Catch a Shared Van Shuttle
Use a door to door shuttle if you have a large group. Shuttle service such as United or ABC operate at the airport.
Where to catch a shuttle at SFO
They direct you to call them when you arrive and they'll tell you where to go, likely the outer edges of the yellow center island.
How much time does a shuttle take to get downtown?
You will need to wait for a van to arrive. Once on the way, it will take 30 minutes to an hour, depending upon traffic.
How much does an SFO shuttle cost?
$79 one way.
Pros/Cons to using an SFO shuttle
PROS: Good for a larger family group, if you want door to door service.
CONS: More waiting time. It's the most expensive option for individuals.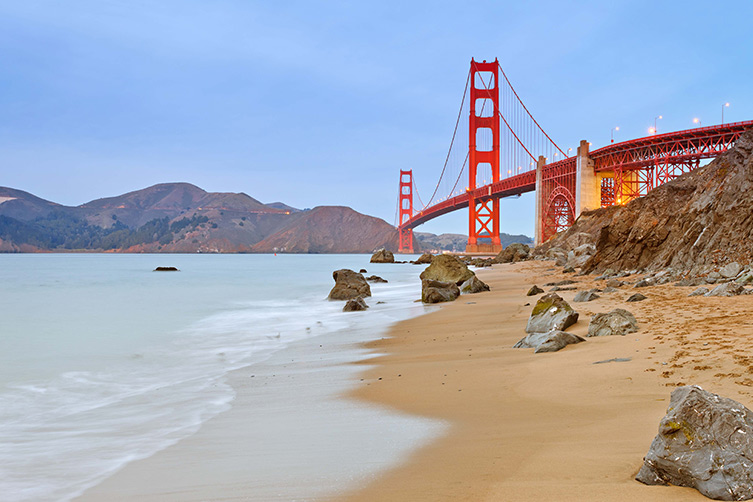 Plan Your Trip to SF