San Francisco is a great city for photography lovers. Of course, the iconic Golden Gate Bridge is a perennial favorite, but there are plenty of other great places to take pictures in SF. In addition, the city has museums and galleries dedicated to the art of photography. So pack up your camera and charge your batteries for this guide to the sixteen best San Francisco photography spots.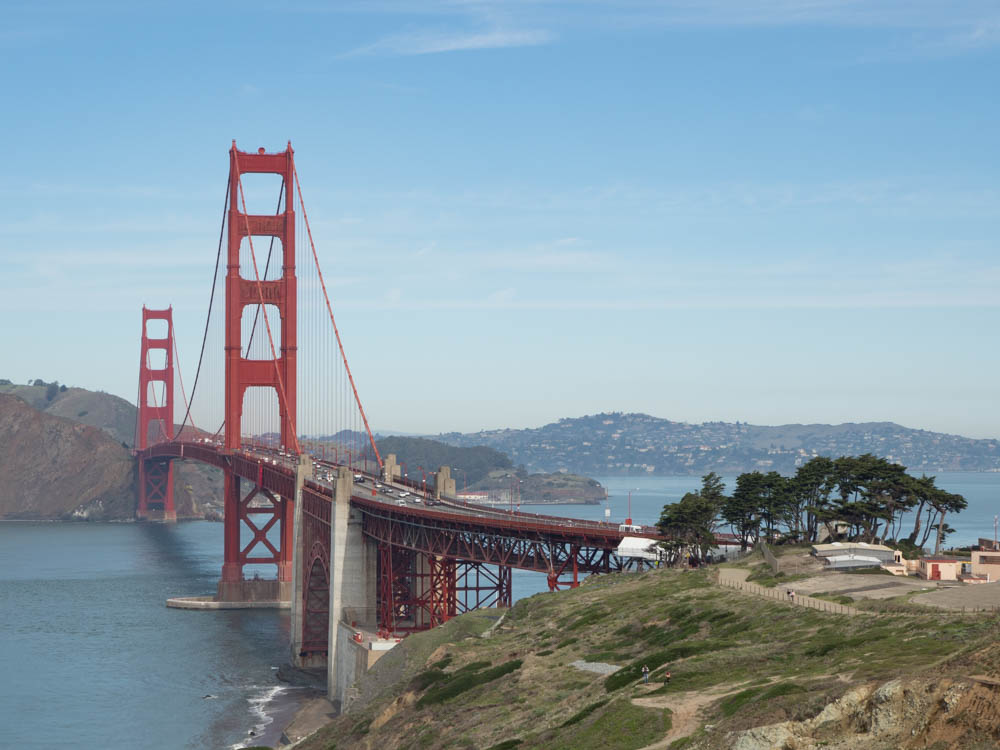 Finding Your Inspiration in San Francisco
San Francisco is a very photogenic city. Seeking out shots for a shoot is one of the coolest things to do in SF. So, think of what follows as your extended photography itinerary. This list includes eleven shooting locations with tips for how to get there, and the best time of day for getting prime shots. You can also get inspired to up your game by visiting some of San Francisco's best galleries and museums which are dedicated to photography.
If this is your first time in the city, be sure to check out our SF travel tips.
Let's go shoot!
(This article contains affiliate links. This means that if you choose to purchase, I'll make a small commission.)
12 Best San Francisco Photography Spots
What follows are some of the best photo spots in San Francisco. You can visit any of the following shooting locations on your own. Many are easily accessible on foot using public transportation, but some will require a car, which I will indicate below in the pro tips. If you want to rent a car in SF, use this link to get competitive pricing.
If you would prefer to go on a supported shoot, consider taking a private sunset photography tour with your own personal guide.
1. Golden Gate Bridge
The Golden Gate Bridge defines our city and it's every visitor's favorite place to take pictures in SF. You can shoot the bridge every which way, so if you are interested in making a project of it, I recommend that you check out my guide to shooting and viewing the Golden Gate Bridge. It offers fourteen unique viewpoints with tips on when to go and how to get there. You should also check out this guide for parking near the bridge or this full guide to visiting the bridge, which includes an extensive FAQ.
The shot below features the bridge view from above Chrissy field. It shows the north side of the bridge at the vista point with Fort Point below. This photography spot has not only great views of the bridge but also downtown San Francisco.
Pro Tips: Shoot the east side of the bridge at dawn and the west side of the bridge in the afternoon or evening.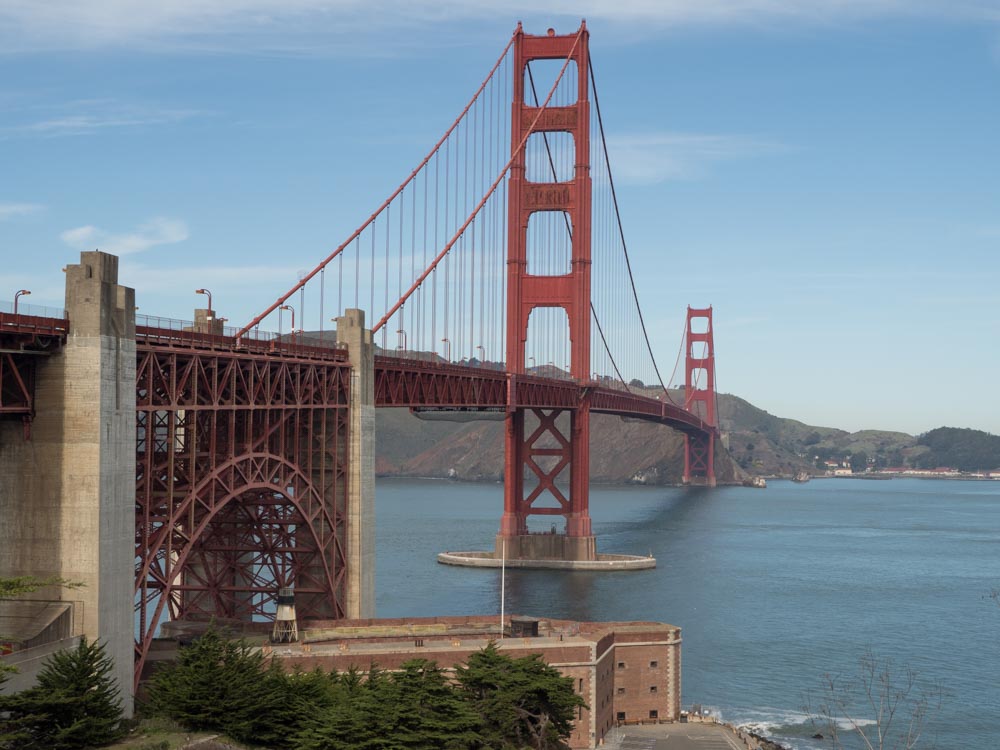 2. Sutro Baths
The Sutro Baths are what remains of a grand Victorian experiment to build expansive public baths for the masses. It's a great shooting location for people who like both urbex and great landscape views. You can hike along the bluff to find the landscape views and then scramble down to the ruins themselves for some close-ups.
Pro Tips: The Baths are located in the far western edge of SF. You can take the Geary bus or Uber out there. But going in a car will be much easier and you'll have the flexibility of exploring the surrounding area. Alternatively, you can make it a stop on the coastal trail and Lands End hiking loop.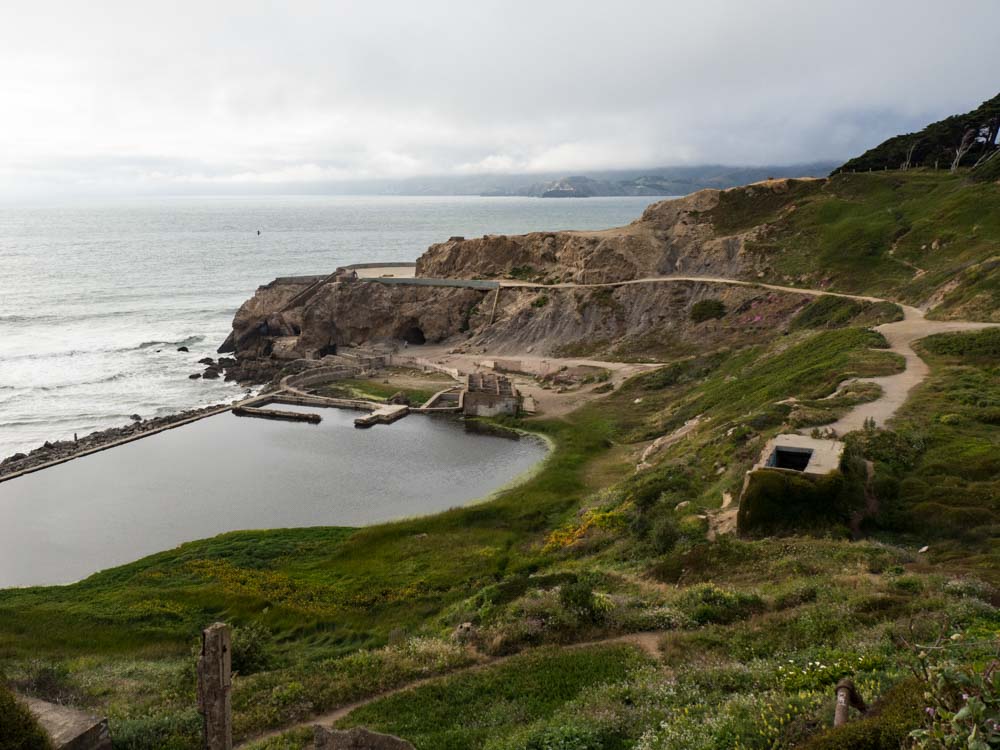 3. Lands End & The Labyrinth
Follow the Sutro Baths northeast around the outer edge of San Francisco until you come to the labyrinth. This cool little puzzle is not only a nod to San Francisco's counter culture, but the rock from which to shoot it also provides great photography views of the Golden Gate Bridge and Marin Headlands.
Pro Tips: You can hike between both photography spots on the Lands End trail or you can park at the Palace of the Legion of Honor and take a short hike down to the Labyrinth.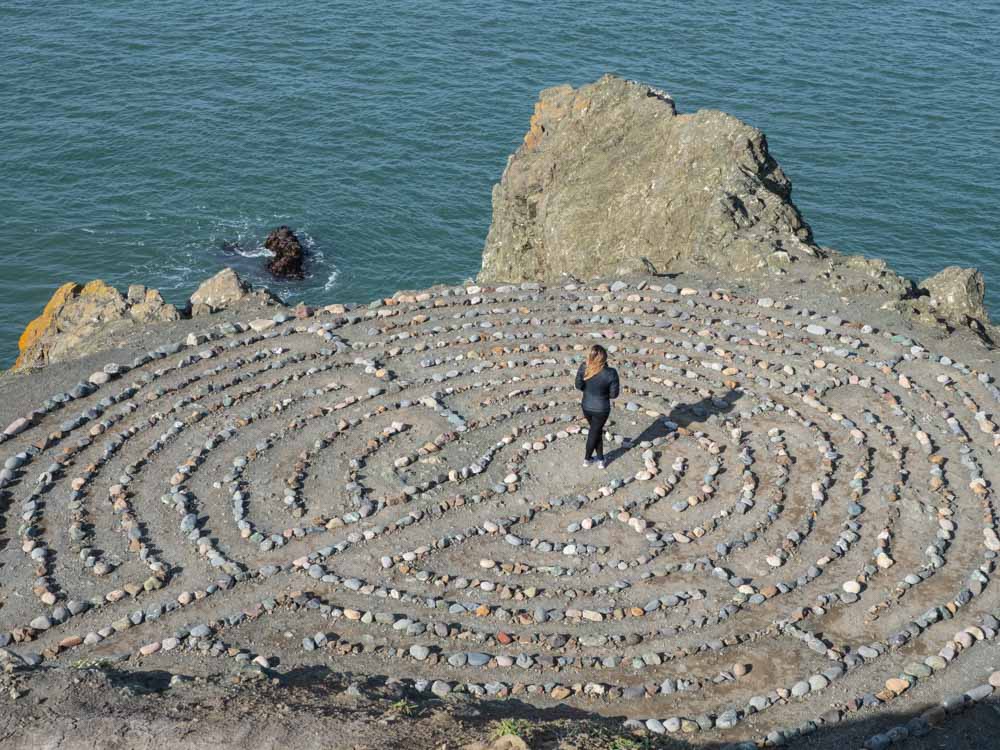 4. Torpedo Wharf at Dawn
Getting up at dawn is hard but seeing the sunrise over San Francisco is so worth it. Torpedo Wharf juts out into the bay from Chrissy Field. It's situated perfectly so that you can face east into the rising sun to catch the city skyline light up it rises over the TransAmerica tower. Then pivot 180′ and you'll catch the Golden Gate bridge light up with morning light.
Pro Tips: In the morning, there is plenty of free parking available around Crissy Field and Torpedo Wharf. If you just can't do dawn but you like night shoots, there are also several great spots in the Presidio for stargazing.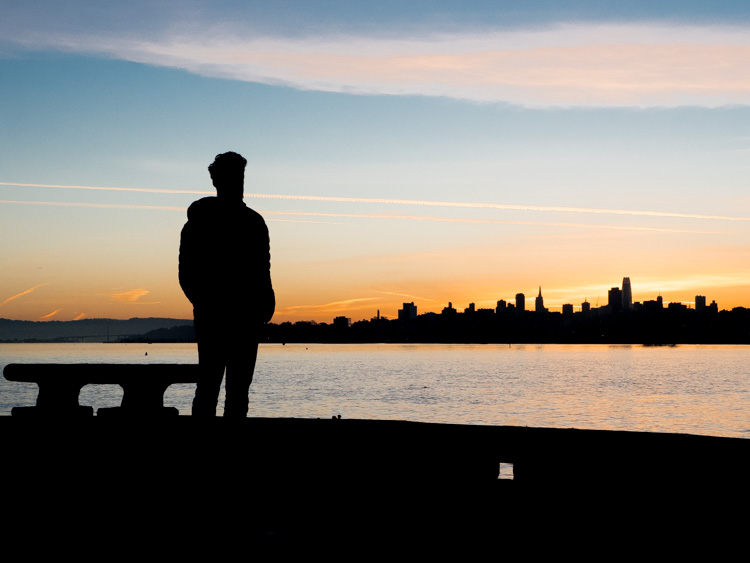 5. Goldsworthy Line / Lover's Lane
This peaceful little spot is located in the Presidio. The logs are part of an art installation by Andy Goldsworthy and they line a wavy path through the eucalyptus trees. The Presidio is part of the national park system and it's the largest urban national park in the US. They have twenty four miles of hiking trails, with plenty of cool spots for taking pictures.
Pro Tips: Google "Goldsworthy Line" to find the location and be aware that parking will be tricky on the weekend.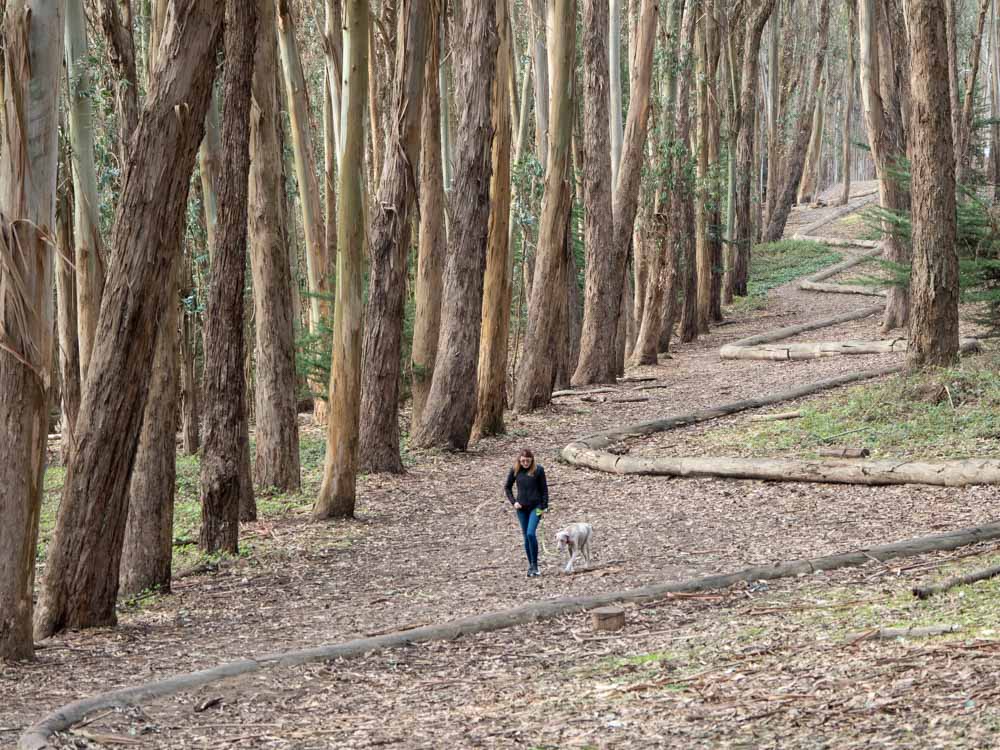 6. Marshall's Beach
The Golden Gate is iconic San Francisco and it's visible from so many places and there is no shortage of photographic opportunities. Marshall's Beach, is one of the most ideal spots for shooting both the bridge and the surf. The rocky shoreline provides the idyllic foreground to the Bridge with plenty of alluring wave action.
Pro Tips: Marshall's Beach is on the very western edge of the Presidio and requires a downhill hike. Park at the Godfrey Battery overlook lot and hike down from there. Be prepared to get wet.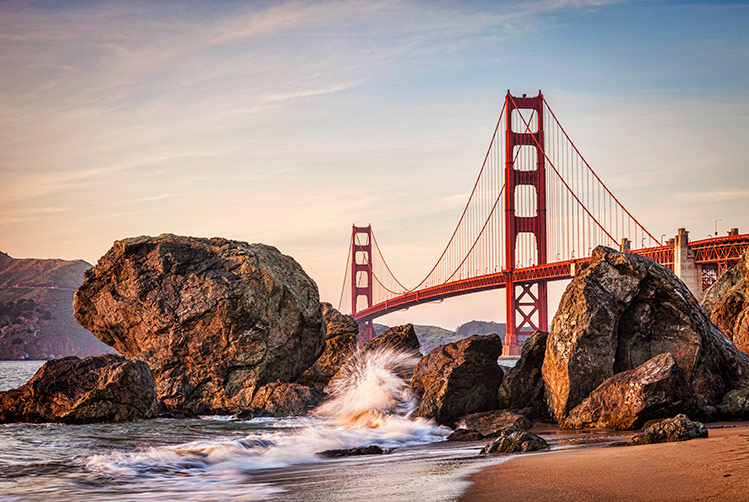 7. Baker Beach
This beautiful little beach is one of the most accessible in San Francisco. The beach has great, low angle views of the Golden Gate bridge. It's a popular beach for surfers, dog walkers and nudists. The east end of the beach is popular with clothing-optional middle-aged people. The nudity thing is a little hard to understand because it's dang chilly in SF, even in the summer, but that's just how we roll here.
Pro Tips: Go in the afternoon, or better yet sunset, for the best light.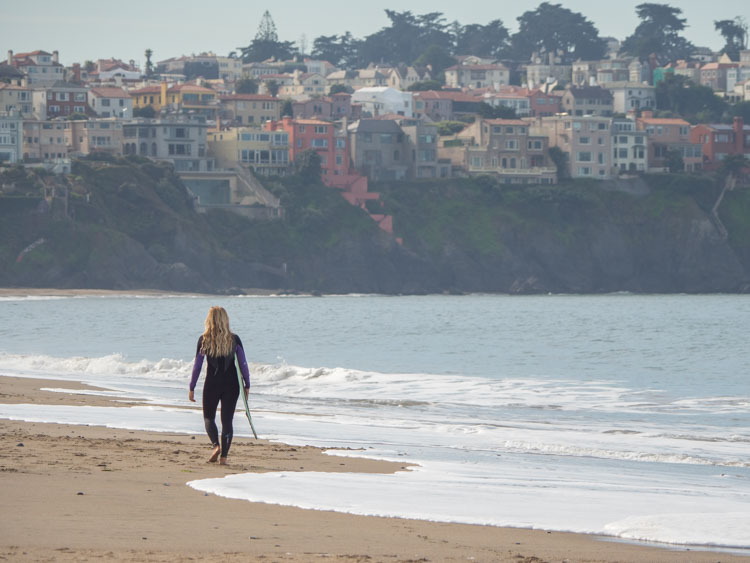 8. Hawk Hill, Marin
Some of the best views of San Francisco are actually outside of the the city. Head north across the Golden Gate Bridge to Hawk Hill. The park closes at sunset, so get there early to score an unbeatable long exposure of the Golden Gate. If you like these sorts of distanced views of the city, you should also consider visiting Angel Island State Park. From the top of the hill, you get great views of SF, Berkeley, Tiburon and the bridge.
Pro Tips: Drive over the Golden Gate Bridge, take the first exit and then circle left back under the highway onto Conzelman road. Driving along the road you will find many pull-outs with great shots of the bridge. The road ends at the Marin Headlands at the site of an old WWI bunker and battery. So, you can also get in some urbex shots of the abandoned facility.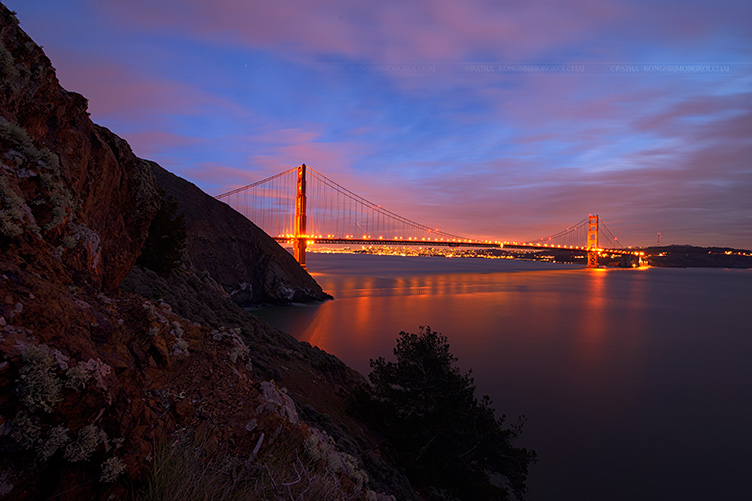 9. Twin Peaks
Pick a clear day and you'll get the full 360′ view of downtown SF at Twin Peaks. This a great photography spot for the epic wide angle view. If you climb the hill just behind the main vista point, you can also see western San Francisco and the ocean.
Pro Tips: There is bus service on the lower part of the hill but it's easiest to get there in a car or Uber.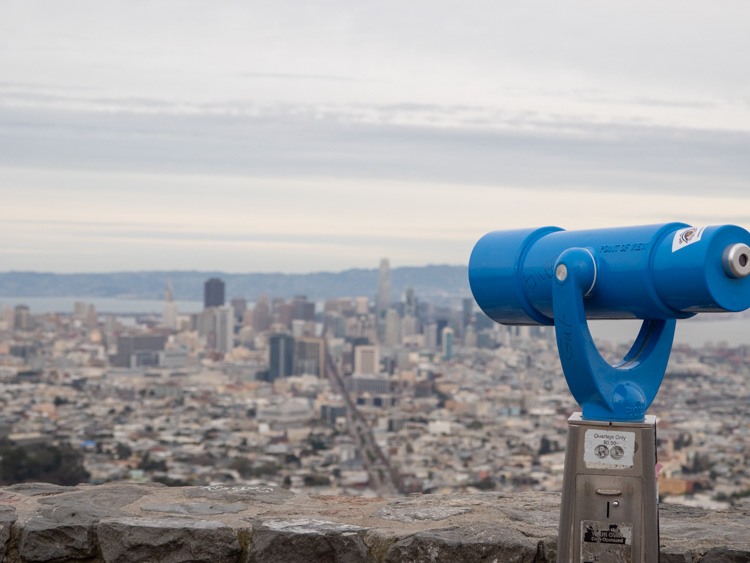 10. The Mission
If you like some grit and street art, you should definitely go to the Mission. It's the best photography spot in SF for street shooting. You can take my street art tour of the Mission or just wander the local coffee shops and bookstores in search of photographic inspiration.
Pro Tip: The Mission is well served by Bart and several bus lines. Daytime is best for seeing and shooting the street art. But it's a fun neighborhood at night with lots of bars and restaurants, particularly along Valencia.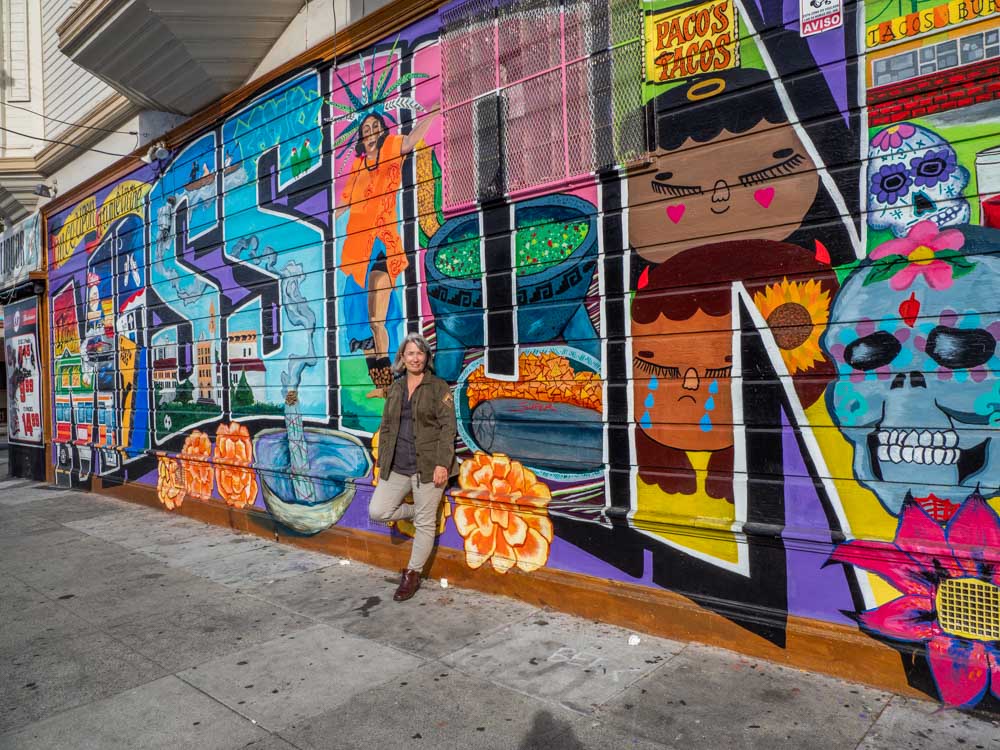 11. The Embarcadero
Another great spot for San Francisco street photography is the Embarcadero. It's one of our favorite SF walks and you could spend all day strolling along the Embarcadero from the Giants Stadium all the way over to the Golden Gate Bridge. It's a great place for street shots, architecture and people watching. This shot is in the Financial District and the sculpture is part of the Hearts in San Francisco sculpture series.
Pro Tip: The Embarcadero faces the east bay and the light is particularly luminous in the early morning. That said, the Bay Bridge puts on a sparkly light display at night that is also fun to shoot. So go twice.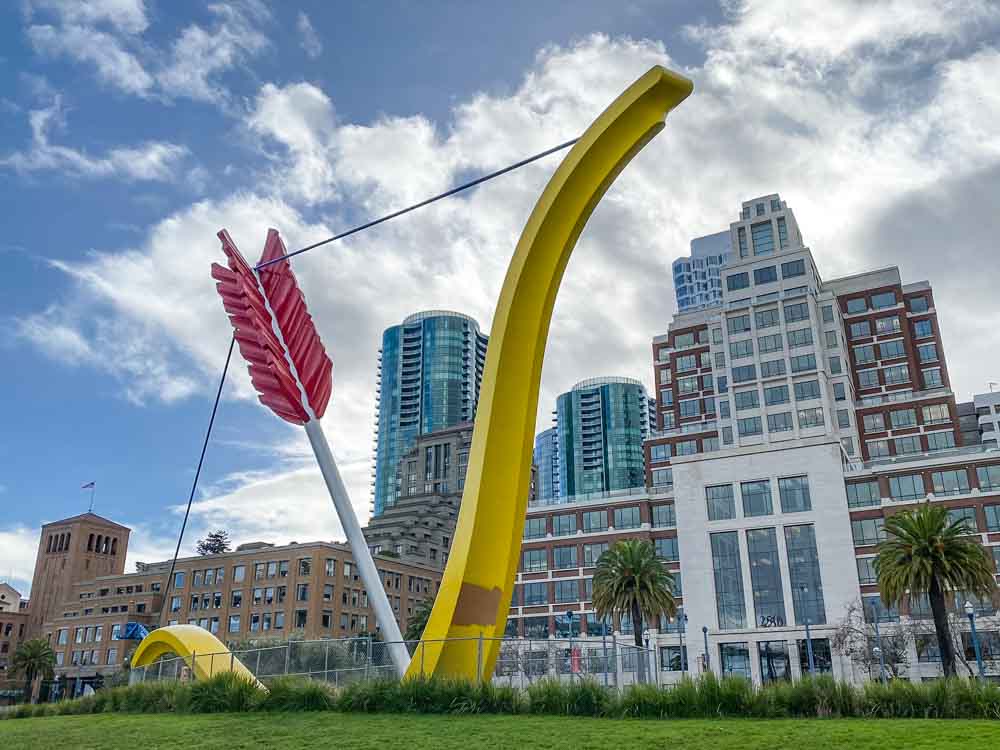 12. Lincoln Street Mosaic Steps
San Francisco has a series of lovely mosaic staircases and all of them are both lovely and very Instagrammable. The stairs at Lincoln street are particularly lovely and they offer not only cool shots of the stairs themselves, but the top also has great city views.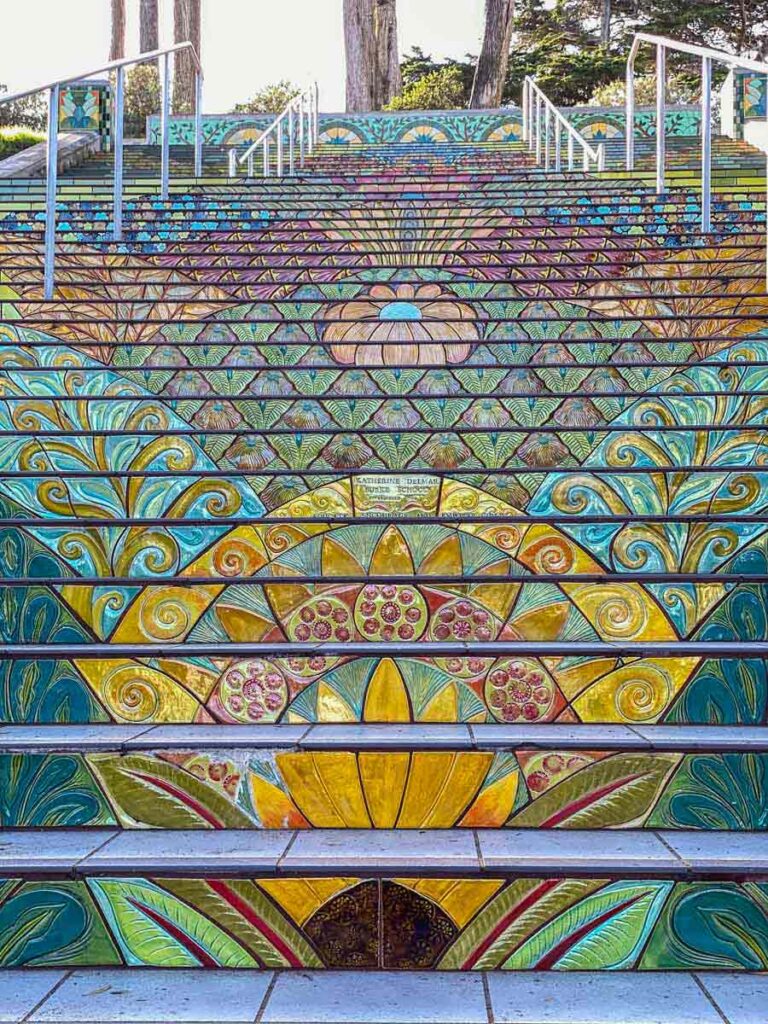 Five San Francisco Photography Galleries & Museums
Visit one, or all of these galleries and gather some great inspiration for your own shoot.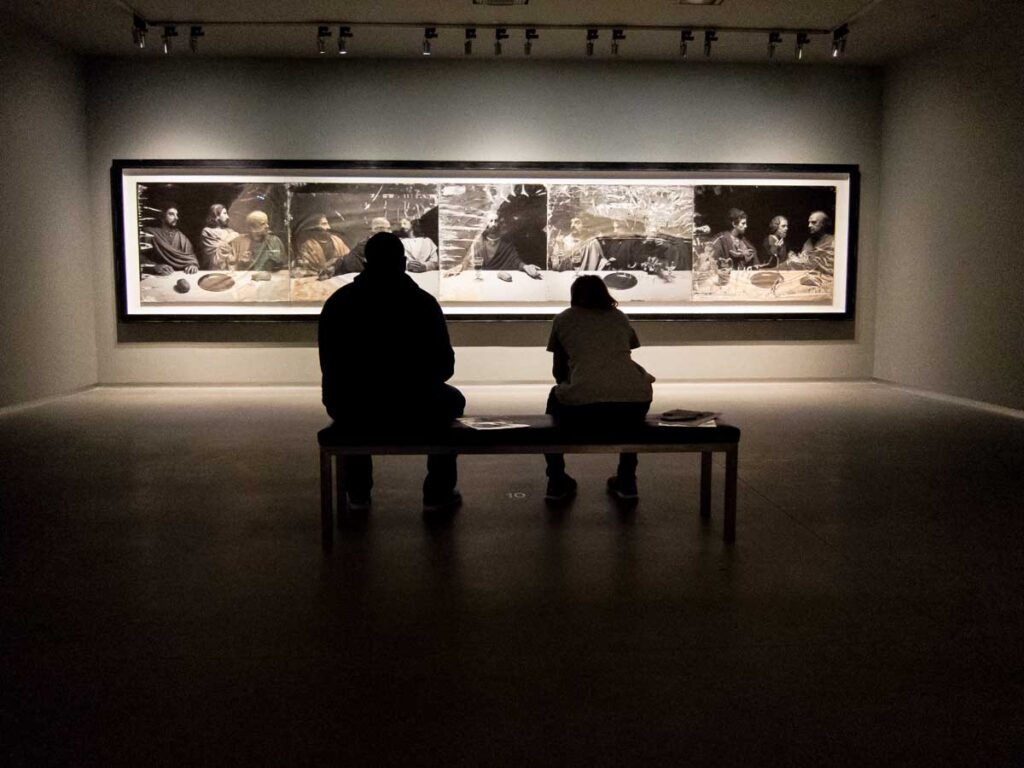 13. Pier 24 Photography
Pier 24 was founded with the intent to provide a contemplative environment for viewing photography. They offer several shows a year which range from the exhibition of a single artist to collected works around a particular theme.
I have visited the gallery several times and am always impressed by how thoughtfully they have designed their space. Their appointment-only reservation system is specifically designed to meter the number of people who are in the gallery at any given time. The gallery rooms are very spacious, giving a lot a room to stand back and observe those pieces that are better seen from a remove. Pier 24 rotate exhibits every four months or so.
Tips for Visiting:
Hours: Pier 24 photography is open Monday-Friday 9-5:15.
Location: Pier 24 is located on the Embarcadero at Harrison. There is good Muni access and it's a fairly easy walk from the Caltrain station and Union Square/downtown hotels.
Reservations: They require advance reservations. But if you have a flexible schedule, you can often get a same day ticket on weekdays.
14. Fraenkel Gallery
The Fraenkel offers monthly exhibitions showcasing a wide variety of photography styles. It's a small gallery of just three rooms. But the exhibits are so well curated that you can spend a lot of time there. There are also other art galleries featuring photography in the Fraenkal's building and elsewhere along Geary street. So feel free to create your own art walk.
Tips for Visiting:
Hours: The gallery is open Mon-Fri 10:30-5:30, Sat 11-5.
Cost: Free.
Location: The Fraenkel is located in the center of the Financial District on Geary between Kearny & Grant. It's an easy walk from downtown and Union square hotels and very close to both Bart and bus lines.
15. Leica Gallery
The Leica Gallery is a gallery space as well as a store selling beautifully crafted Leica cameras. They offer five exhibitions a year featuring the works of Leica photographers. The photographic art on display is always interesting and the beautifully crafted cameras on display are also works of art. The gallery also has a large library of photography books available for perusal.
Tips for Visiting:
Hours: Mon-Fri 10-6, Sat 10-4.
Cost: Free for the gallery, $5,200 for a Leica DSLR camera body.
Location: On Bush street between Grant & Kearny. It's just a few blocks uphill from Union Square and a few blocks downhill from Chinatown. It can be accessed by the Powell street cable car and multiple bus lines.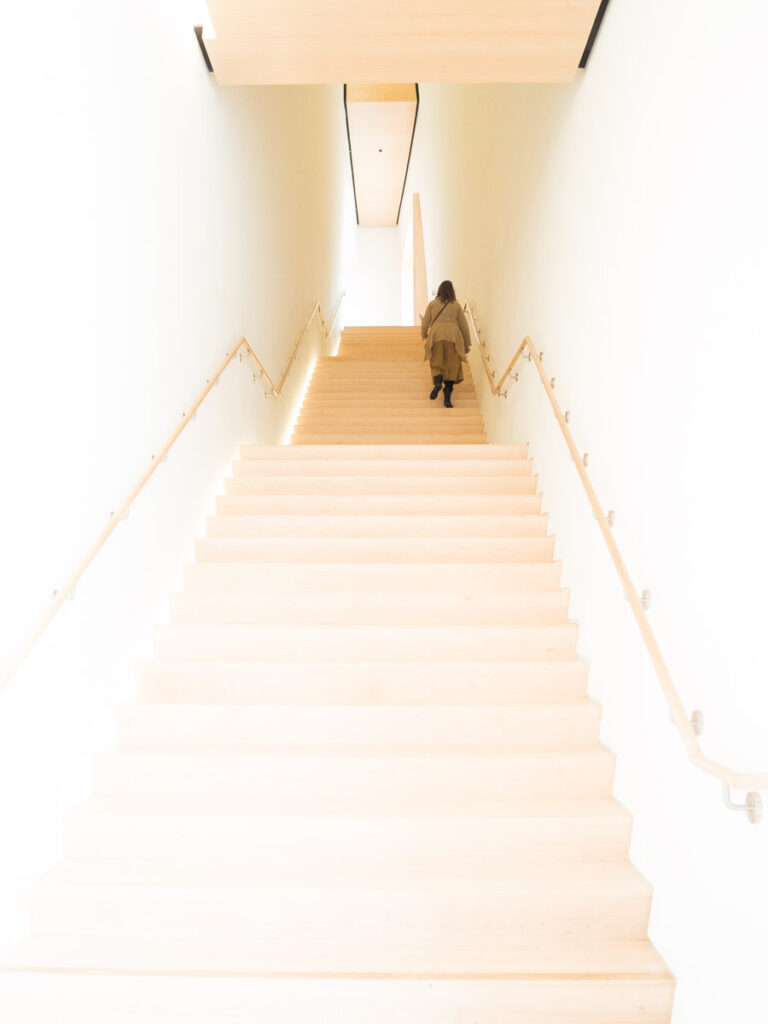 16. SFMOMA
SFMOMA's mission is to make the art of our time a meaningful part of public life. They were the first museum to recognize photography as an art form and they have collected over 17,000 works. With the new museum expansion, they have tripled their space for photography.
It's a busy museum and you won't get the intimate experience of Pier 24, but with their scale comes astonishing variety of works. In addition, the light filled architecture makes MOMA very photogenic.
Tips for Visiting:
Hours: SFMOMA is open Fri-Tues 10-5, Thurs 10-9. They are busiest on weekends and Thursday evening. They advise getting advance tickets from their website. But if you go on a quieter weekday, you can usually just walk in. Better yet, take their daily photography public tour, offered daily at 11:30 am. Their guides are very well-versed on the most current exhibits.
Cost: $25 for adults. But once in, the pubic tours are free.
Location: SFMOMA is located on third street at Mission in the SOMA Neighborhood.
"The art of seeing through creative looking"

-Diane Arbus
17. SF Camerawork
SF Camerawork's mission is to encourage and support emerging artists in the photography arts. They began as a cooperative venture among Bay Area artists and they encourage emerging artists and experimental and challenging new works. It's a small exhibit space and it won't take you long to visit, so do make make the time for it. Their exhibits are often very local and quite edgy. They rotate exhibits every other month and also host regular events.
Tips for Visiting:
Hours: Visit SF Camerawork from Tues-Fri 11a-5:30, Sat 12-5.
Cost: Free.
Location: Located mid-Market at 6th street. It's an easy walk from SFMOMA or the Union Square area.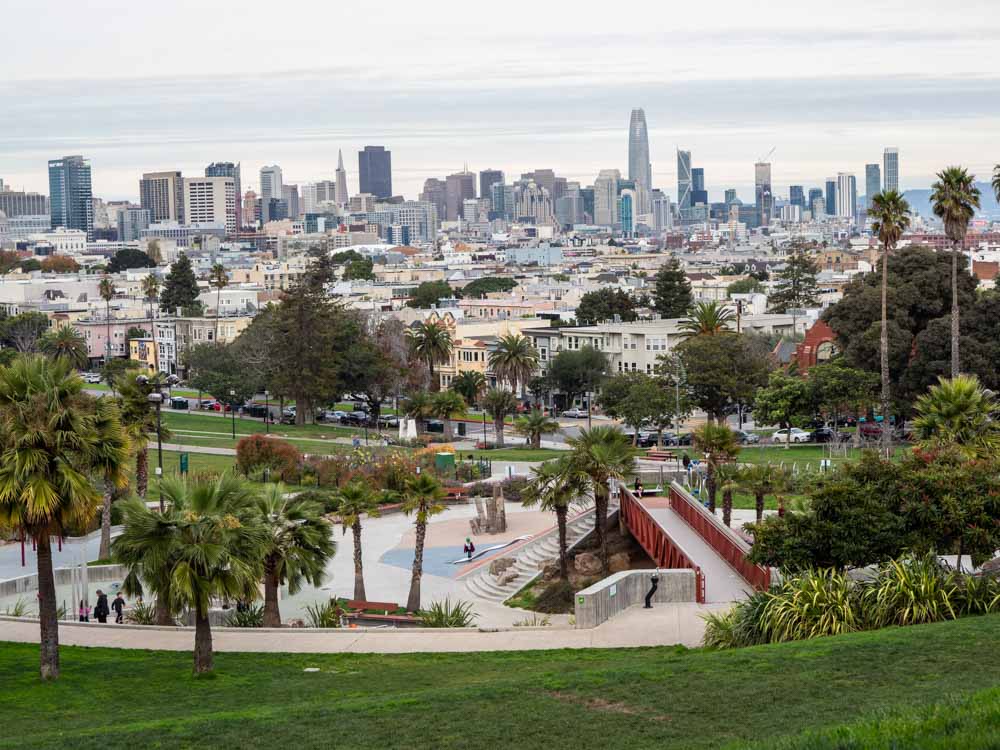 Gear Up for Your San Francisco Photo Shoot
When I shoot, I am all about going light. I considered selling my husband into slavery so that I could buy that Leica, but instead I got a mirrorless Olympus OM-D EM-1 Mark II. I love it. It's so light that the body and extra lenses fit neatly into my purse, making it easy to shoot on the fly.
I use a neoprene case that offers a bit of padding and protection from wet weather. I also use a handful of gadgets including a Nikon lens cleaning pen, a Joby Guerilla Pod portable tripod and extra memory.
San Francisco Instagram Accounts & Hashtags
Get your San Francisco Instagram shots seen by hashtagging them.
San Francisco: #streetsofsf #nowrongwaysf #unlimitedsanfrancisco #wildbayarea #mysanfrancisco #alwayssf #sanfrancitizens #citybythebay #onlyinsf #Bay_Shooters #sanfranciscoworld #sf_insta #thesanfrancisco
California: #california_igers #igerssf #westcoast_exposures #jj_westcoast #rawcalifornia #wildcalifornia #californiacaptures #visitcalifornia #westcoastbestcoast #caligrammers #calilove
Golden Gate Bridge: #goldengatebridge #goldengate #bridges_aroundtheworld #tv_bridges #bridges_of_our_world
Get inspiration by following these eleven San Francisco Instagram accounts:
Igerssf | Bay Shooters | San Francisco Toys | Unlimited San Francisco | SF Insta | Best of San Francisco | Only in SF | SanFrancisco.Gram | The San Francisco | NoWrongWaysSF | StreetsofSF
Hey, don't forget to follow me as well at: Instagram.com/Californiacrossings
"I don't press the shutter, the image does. And it's like being gently clobbered"

-Diane Arbus
San Francisco provides an inspiring backdrop for photography. Soak up the interesting, edgy or groundbreaking work of others or create your own master works. Either way, you can get a lot of inspiration from visiting these sixteen best photography spots in San Francisco. So go out shooting and get gently clobbered.
Plan Your Trip to SF
Save time planning your trip to SF with these insanely useful links:
Pin this post and get your friends to visit these best places to take pictures in San Francisco.