San Francisco is one of California's most popular tourist destinations. The city's wild west Gold Rush history, an open and accepting culture, world class museums, great food and epic views are just a few of SF's finest features. So, if you are a first time visitor, figuring out where to start can be daunting.
Never fear, we've got you covered. We've lived and worked in the Bay Area for 26 years and we know what's what. Our San Francisco travel tips will help you prepare for your trip, give you ideas for cool things to do and help you with on-the-ground logistics.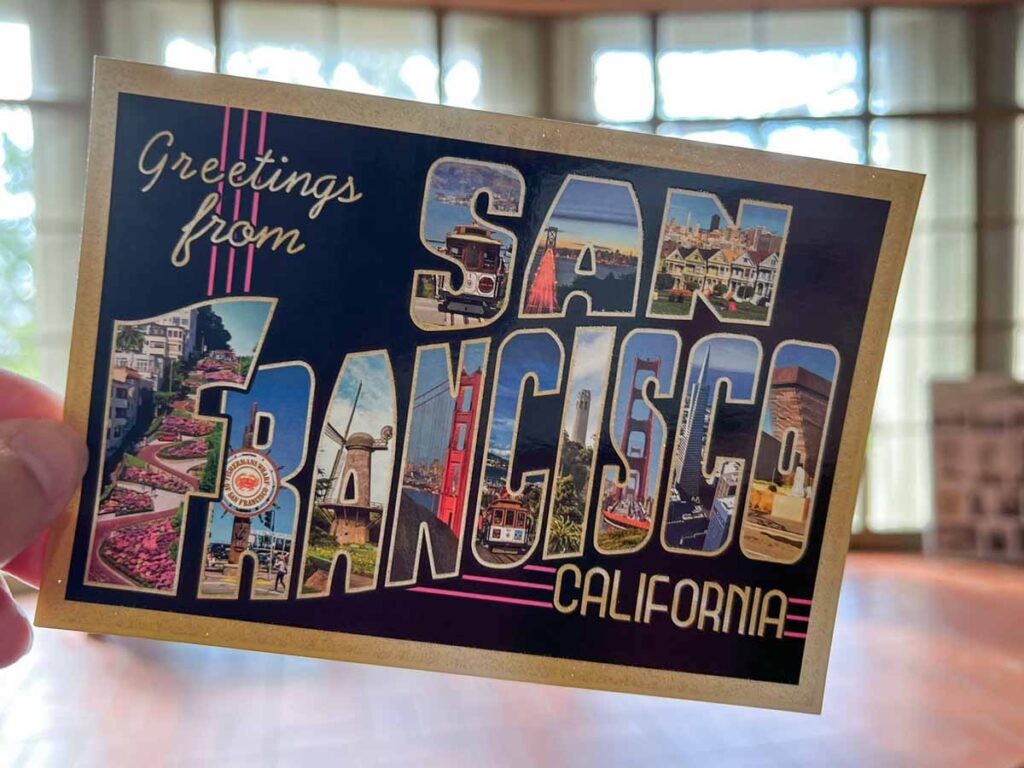 (This article contains affiliate links. This means that if you choose to purchase, I'll make a small commission.)
SF Travel Planning Tips
If it's your first time visit to SF you may be a bit unsure about how to pull together the logistics of the trip. The following SF tourism tips will help you get your ducks lined up for a great itinerary.
How Many Days in San Francisco is Enough?
Try to leave at least three days for a San Francisco trip. SF is pretty compact as large cities go, but there is a lot to do there. Three days will give you enough time to see not only the key (or most popular) sites, but it will also give you some slack time to explore neighborhoods and spend some time simply wandering around.
Where Should I Stay in San Francisco?
The long answer to this question can be found in our SF accommodation guide. It breaks down 5 key neighborhoods and gives specific suggestions on where to stay in each. But the short answer is that most people stay in the Union Square, Financial District or SOMA neighborhoods. They are centrally located and have good public transportation access.
Here are some cool hotel suggestions:
Historic Icon: The Palace Hotel. The Palace was built in 1875 as San Francisco's first premier luxury hotel. They have a stunning ballroom and lobby and they offer old-school services such as a signature tea and brunch. Check reviews and rates at Booking.com.
Rock and roll vibe: Zeppelin Hotel. The Zeppelin bills itself as an "urban avant garde nirvana", which you can enjoy while hanging out in their game room and sipping your complimentary welcome beverage. See reviews and rates at Booking.com.
Fabulous roof deck: Hotel Via. The Hotel Via is located in SOMA. It's perfectly situated for the ballpark and warehouse district. They have a rooftop deck with expansive views of the ballpark and the bay. Check reviews and rates at Booking.com.
What Should I Pre-Book for San Francisco?
You should definitely pre-book the Alcatraz tour. It's a very popular (and worth it) attraction and the boats have limited capacity. Pre-book the basic tour here.
If you want to do a day trip to Muir Woods, you'll need to plan ahead for that as well. The site has limited parking and you need to get an advance reservation for either a parking spot or to use the shuttle service. Get a reservation at GoMuirWoods.
If you want to do both Alcatraz and Muir Woods, you can also do a combo tour which includes entry and transportation to both. You can book that here.
SF is a foodie town, so if you want to eat at one of the more iconic and popular restaurants (like Tartine Manufactory, State Bird Provisions, Zuni, Nopa or Sotto Mare), then you'll want to get an advance reservation.
If you are keen to go wine tasting, you should pre-book that as well, especially if you want to do it on a weekend. Nearly all of the wineries now require reservations. If you want to DIY it, just book directly with specific wineries. Or you can let someone else drive and coordinate the resos by taking a day tour to Napa and Sonoma from SF, which you can book here.
When Should I Visit San Francisco?
For the best weather, you should visit San Francisco in April/May or September/October. The summer can be chilly and foggy and December-March is the rainy season. That said, this isn't Iceland. Even when it's foggy/rainy, SF's mild climate makes it an easy place to visit.
If SF is part of a larger trip, use our guide for when to visit CA to match your interests with the perfect season.
What Should I Wear in San Francisco?
(or…how not to look like a tourist in San Francisco)
We practically invented casual Friday in SF and our easygoing tech culture means that smart casual is the default dress code. So, wear what's comfortable and be sensible about your shoes because you'll be doing a lot of walking
Since the city is basically a peninsula with the Pacific Ocean on one side and a huge bay on the other, SF is a patchwork different microclimates. Walk a mile, or even stand still and wait 10 minutes, and the weather can change drastically. So always, always bring layers.
And don't assume that just because it's July, it will be warm enough for shorts. When Karl the fog rolls in, you don't want to be that tourist shivering in a t-shirt and shorts while all of the locals around you are comfortably dressed in jeans and a light jacket.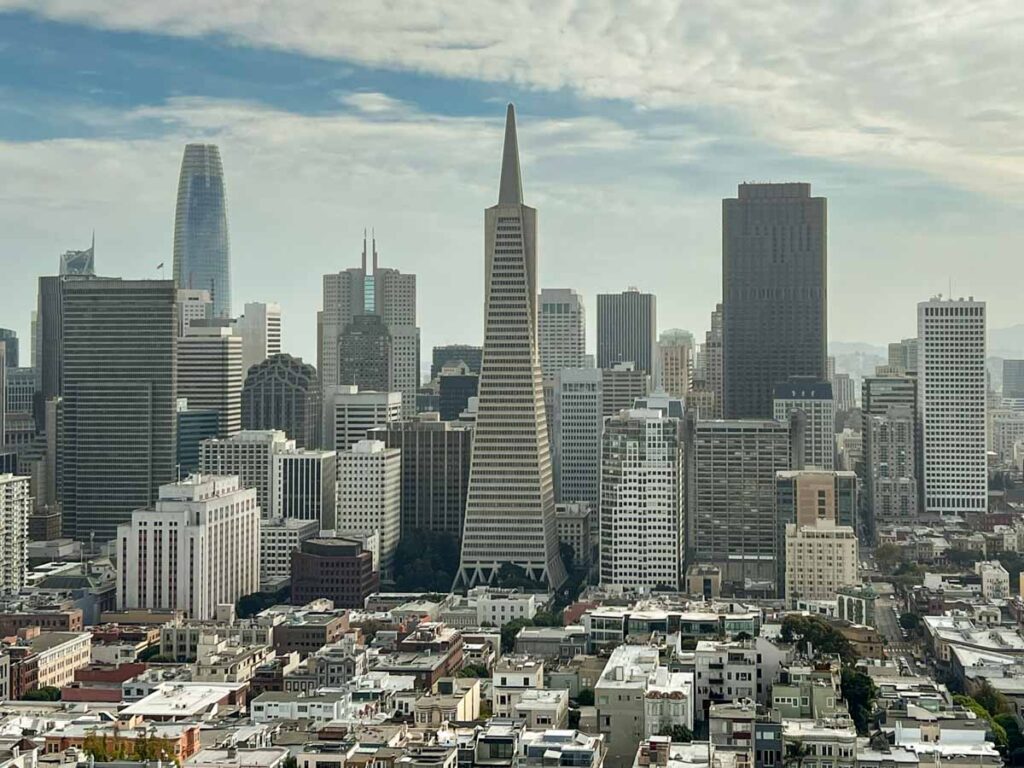 San Francisco Travel Tips for On-the-Ground Logistics
Once in SF, here are some suggestions for helping you get around safely and efficiently.
How do I get from SFO to Downtown San Francisco
Use our SFO to downtown guide (or Oakland airport to SF) for the full down-low. Both articles include pricing, logistics and rough travel time. But the short answer is that if you have more time than money, take the BART subway. If you have more money than time, take a cab (more expensive but no waiting) or Uber/Lyft (less expensive).
We've also got some advice for you on whether it's worth renting a car in SF.
Is San Francisco Safe?
In terms of violent crime, SF is about as safe as any other large US city. But there are a few safety considerations that are particular to SF.
SF has been experiencing an epidemic of petty car break-ins. DO NOT leave any valuables in your car.
SF also has a serious homelessness problem. So you'll find a lot of people panhandling, especially in the Union Square and Tenderloin area just west of Union Square. Donate to (or ignore) them according to your own personal ethic, but just be prepared for it to happen and pay attention to your surroundings.
Pickpockets always congregate in touristy areas and SF is no exception. So pay attention in places like the Powell Street cable car stop and Pier 39/Fisherman's Wharf.
How Do I Catch Public Transportation in San Francisco?
San Francisco is served by 4 different systems. You can pay for any of them by purchasing and pre-loading a Clipper Card. You can buy an e-version of the card and load it into your phone's wallet.
MUNI: This is the bus, light rail and cable car system that serves riders within the city. Paying with Clipper is best, but you can also use cash on the buses and cable cars. MUNI runs all over the city, but it's not always fast. Popular rides on MUNI include the cable cars and the historic buses that run along the Embarcadero to Pier 39. Here's out guide for how to ride the cable cars.

BART: This is the subway system. It serves SF from both the Oakland and SF airports and also has stops within the city in the Mission, Civic Center, Union Square and Financial district neighborhoods.

FERRY: There is regular ferry service between SF nearby cities. It's typically used for commuters, but you can have a fun DIY bay tour by taking the ferry over to Oakland's Jack London Square, a day trip to Angel Island State Park, or walking across the Golden Gate Bridge and taking the ferry back from Sausalito.

CALTRAIN: This is a suburban train service. You probably won't be using it unless you need to get to the San Jose airport or elsewhere down the peninsula.
Should I Do the Hop On Hop Off Bus?
We've traveled the world and have never been huge fans of the HoHo buses. Sure, they cover the whole city, but that's the problem. It's just too much to cover in one day. You'll never get sufficient time at any given stop to really explore it.
That said, the buses do give an overview of the city with some historical context. We think your money is better spent on Ubers that will whisk you to a smaller number of things that you really want to spend time doing. But if you want to check the bus pricing and scheduled stops, you can look into the HoHo buses here.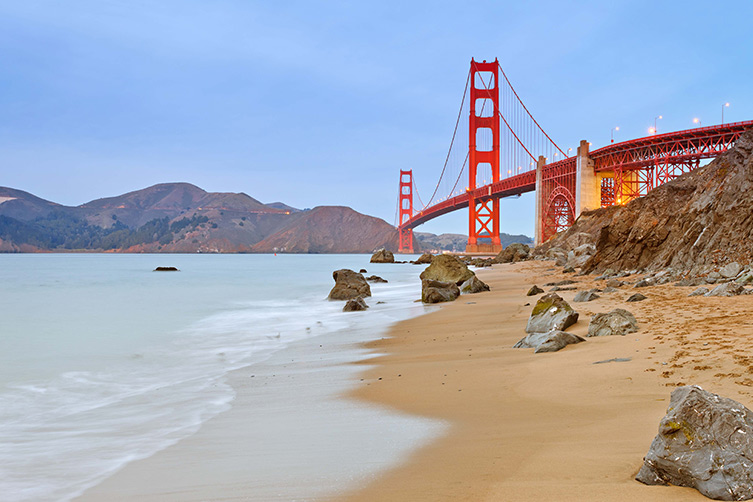 What Not to Miss in San Francisco
This is a tough question to answer as we firmly believe that nothing is "must see". What you "must see" in San Francisco is highly dependent upon your personal interests. And even if you're a first time visitor to SF and you aren't sure you'll ever come again, you don't want to waste your time pursuing someone else's idea of a great time.
So our best San Francisco travel tip for you is to be a discerning traveler and focus on what you want. To that end, we've broken down this to-do list into some different categories, and you can pick from those things that float your boat.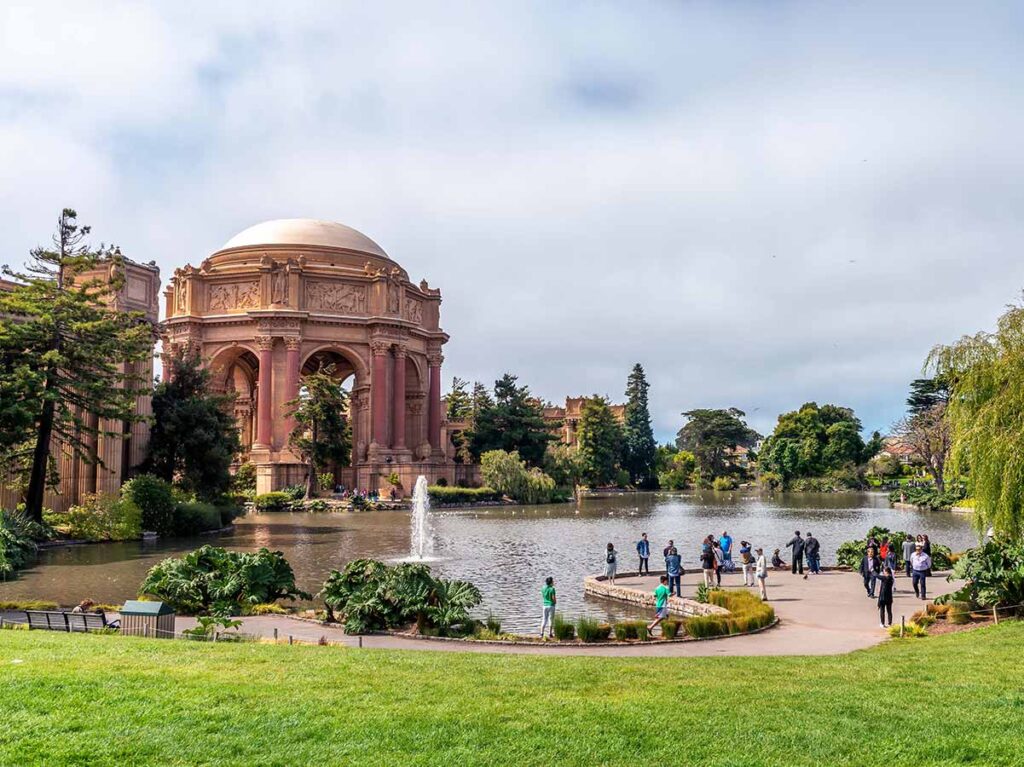 Cool SF Architecture
The Painted Ladies in Alamo Square. Take a selfie but be respectful because it's private property
Coit Tower. Art deco architecture, WPA murals and epic views.
The Palace of Fine Arts. Cool photo opp at night.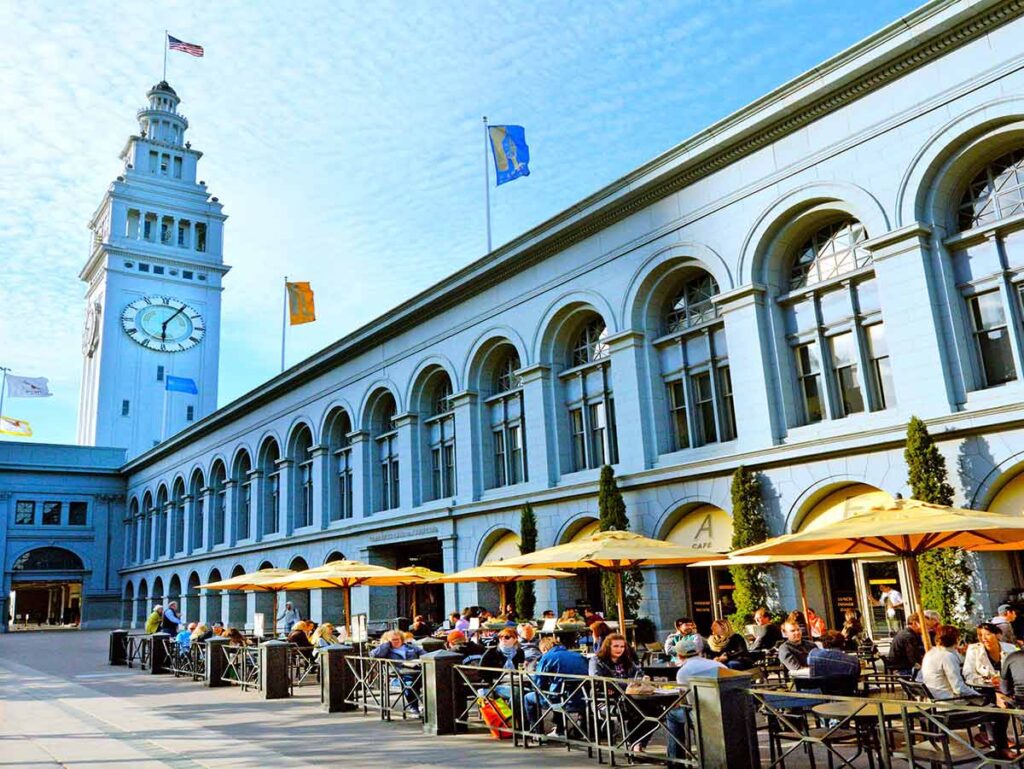 Foodie Heaven
The Ferry Building. Historic building with tons of food stalls and thrice weekly farmer's market.
The Mission Burrito. Eat a burrito as big as your head. La Taqueria is a popular fave.
Craft Beers in SOMA. Which you can explore on your own or take a tour.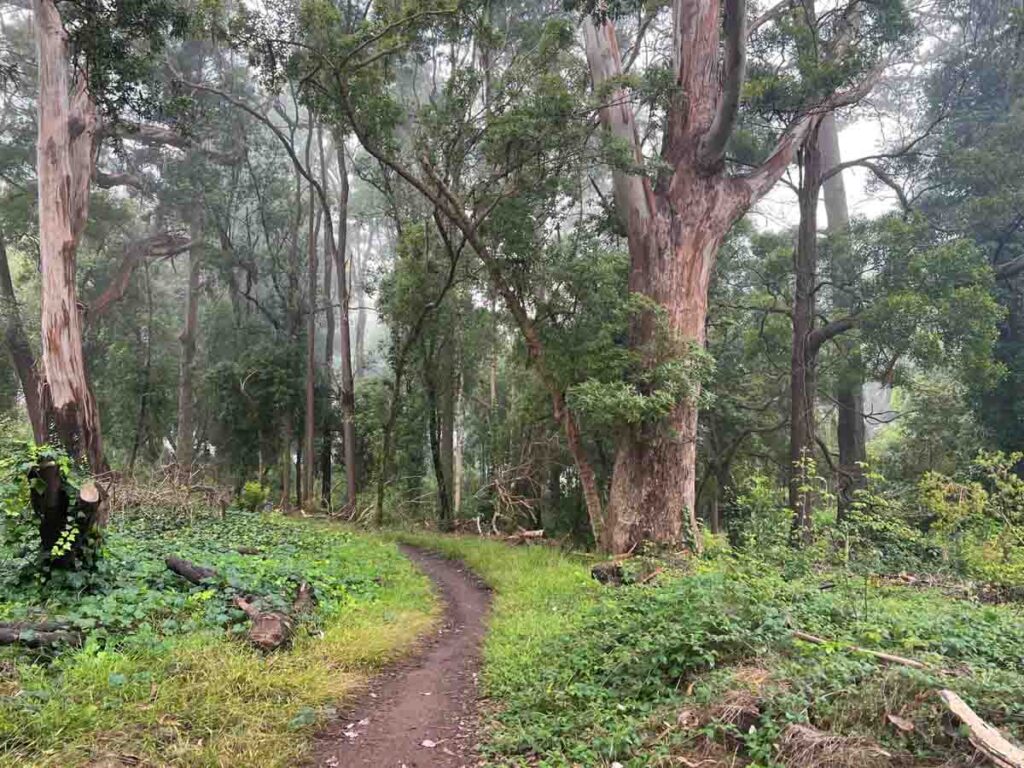 Great Walks
Crosstown Walk. Gets way off the tourist trail and transits from the SE to the NW corners of the city. Use our Crosstown walk guide for inspiration.
Barbary Coast trail. A self-guided tour of SF's most notorious Gold Rush neighborhood. Use our Barbary Coast guide to walk through historic Union Square, Chinatown, North Beach and The Wharf.
Land's End Trail. Get a mix of nice nature, SF history, URBEX and ocean views on the Lands End Trail.
If this is your jam, we have a whole list of our favorite walks in SF and also some cool hikes to take in the Presidio.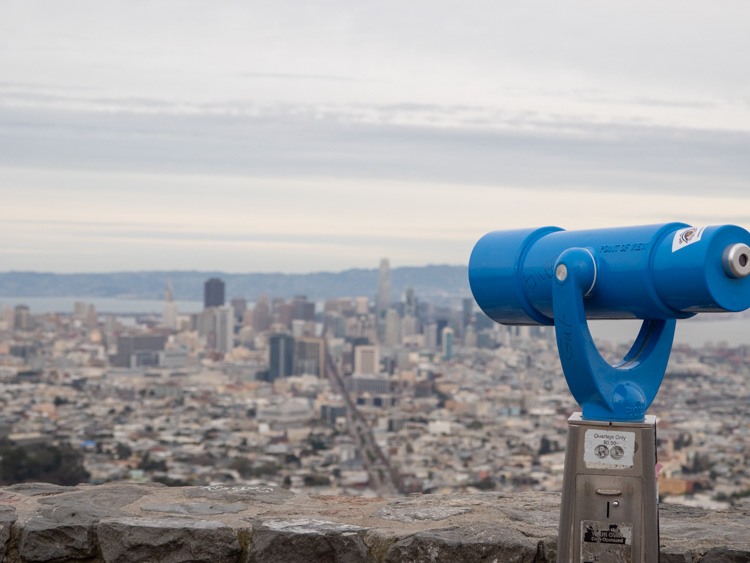 Epic Views
The Golden Gate Bridge. Use our bridge visitors guide to explore on and around the bridge.
The top of Twin Peaks. Nice long view of both downtown and Golden Gate Park.
Top of the Mark. Cocktails on the top floor of the Intercontinental hotel with lovely nighttime views of downtown.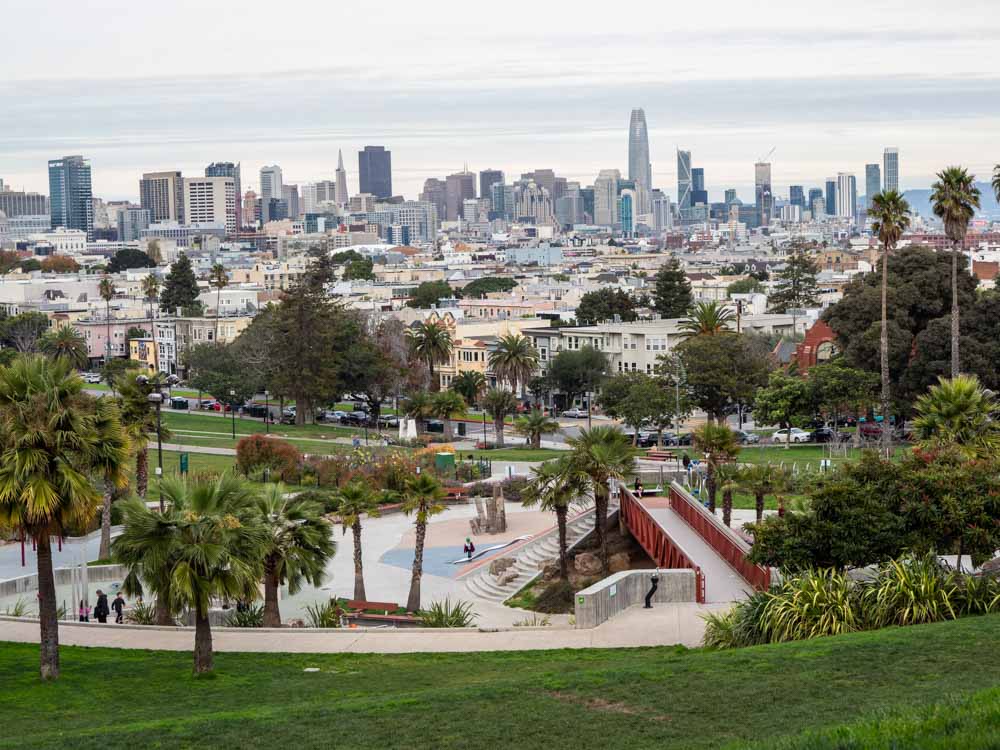 Cool Parks
The Presidio: This is the largest urban park in the national parks system. Use our Presidio guide to find cool hikes, historic sites and Yoda. And learn about the other 11 National Park sites near SF.
Golden Gate Park: Two cool museums, a flower conservatory, Japanese garden, arboretum, small lake, walking trails, windmills and even some bison!
Mission Dolores Park: If it's a nice day, pack a picnic and some bevvys, and spend a few hours hanging out.
Amazing Art
SF MOMA: The best modern art museum west of the Mississippi with an excellent photography collection.
De Young: A wide-ranging art collection and excellent special exhibitions.
Asian Art Museum: One of the most comprehensive art museums in the world, with collections from all around the continent.
Fun for Kids
Exploratorium: Hands on science museum that uses its location on the bay as a living exhibit.
Seward Street Slides: Fun concrete slides built into the hillside (bring you own cardboard).
San Francisco Maritime Museum: Another national park site with maritime exhibits and tours of historic boats.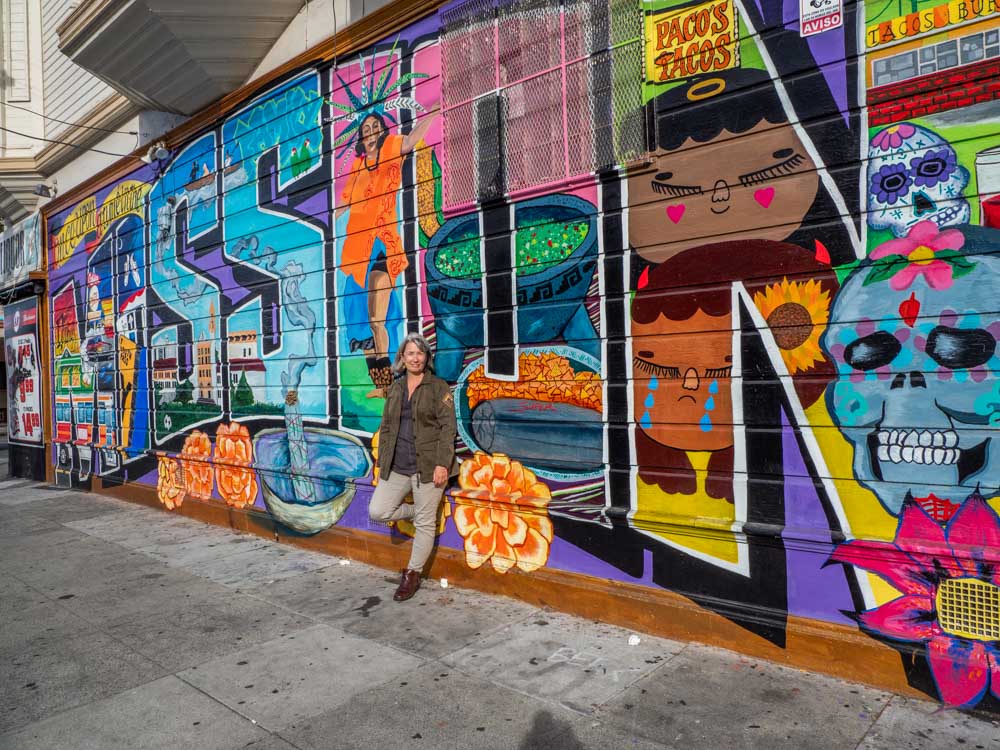 Offbeat and Edgy
Mission Street murals: Use our Mission mural guide for a DIY tour of graffiti and murals that celebrate SF's Latino and immigrant culture.
Sutro Baths: Visit the ruins of an old Victorian bathhouse on the western edge of the city. The views of the ocean are great there.
Mission Dolores Cemetery: Mission Dolores is the oldest intact building in SF and its cemetery is both creepy and historically informative.
Get off the tourist treadmill and check out our article featuring offbeat and unusual things to do in SF.
Should I Visit Pier 39?
Meh. Pier 39 and Fisherman's Wharf have a lot of negative tourist trappings. It's crowded, kinda dirty, with overpriced food, t-shirt shops and a wax museum. And we don't love any of that.
However, there are a few things worth doing, just don't spend all day there. The kids might like the Musee Mechanique, which features antique arcade games, or the aquarium of the Pacific. There is a resident population of sea lions that are worth a look. And you catch the Alcatraz ferries from there.
Should I Ride the Cable Car in SF?
Most definitely, it is indeed iconic. However, during peak times, the line at Powell street gets very long. You can avoid that by getting over to Ghirardelli Square by other means and then taking the cable car back from there. Or, you can go early or late in the day. Or you can take the California line, which starts at California street and goes to Van Ness.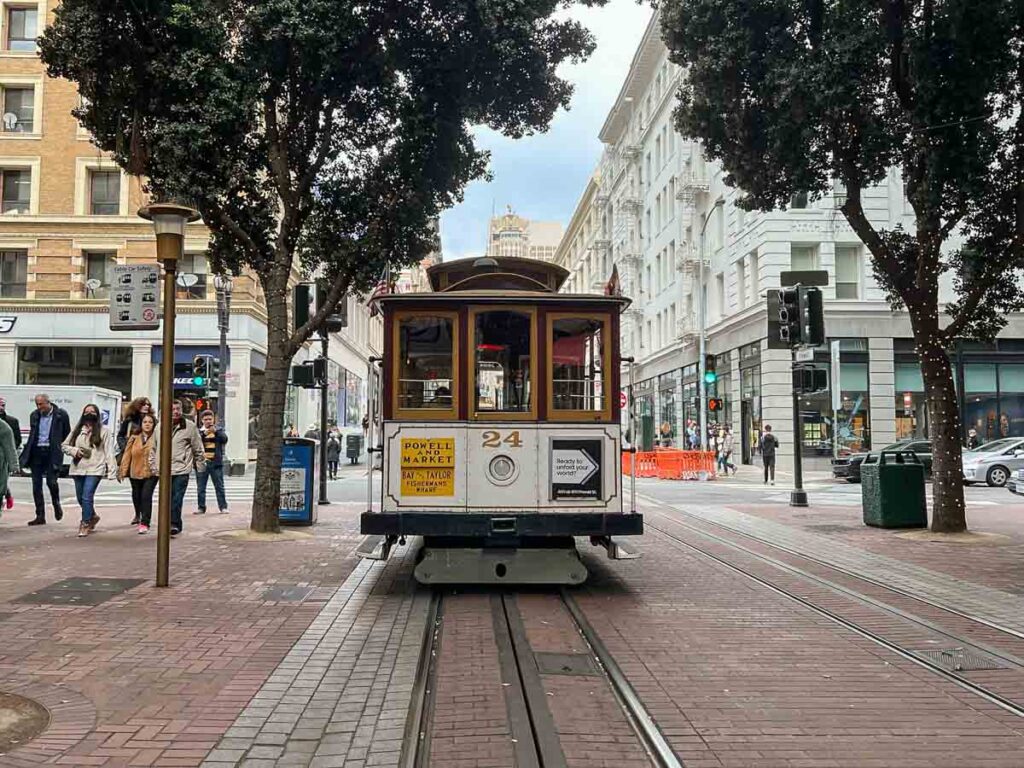 What are Some Cool SF Neighborhoods to Explore?
Our best pro SF tourism tip is to leave some of your time open and just wander around a few cool neighborhoods.
We are big fans of The Mission. For some good eats, fun stores and murals, stroll 24th Street between Potrero and Mission, Clarion Alley, and Valencia from 20th to 25th. We also like SOMA. You can wander the Embarcadero, go to a baseball game, visit one of the breweries or hang out at the South Park playground.
Hayes Valley has nice upscale boutiques and a ton of great restaurant options. As does Fillmore Street from Sutter to Jackson. Haight Ashbury is still (kinda) hanging onto it's hippie history and you can still shop for old school records at Amoeba Records. Nearby Booksmith is also a great SF indy bookstore.
3 Fun and Funky Tours to Take in SF
The San Francisco Love tour is kitchsy, but fun. It's a blast from an SF hippie past while driving around to some iconic spots in a psychedelic '70's Volkswagen minibus. Check the schedule and book it here.
SF City Guides offers free tours (for a tip) on some very niche topics such as Hitchcock's SF, "Bawdy and Naughty" Barbary Coast, Castro Pride, and North Beach by night. Check their schedule here.
Eat your way through Chinatown with this walking (and eating) tour.
But Wait, Here Are More SF Resources
And Plan a Larger California Vacation
Share these San Francisco travel tips with your friends: