Angel Island State Park offers a rich mix of wilderness and California history, just fifteen minutes from downtown San Francisco. This guide will tell you the top things to do on Angel Island, along with practical tips for how to get onto the island and how to get around once there.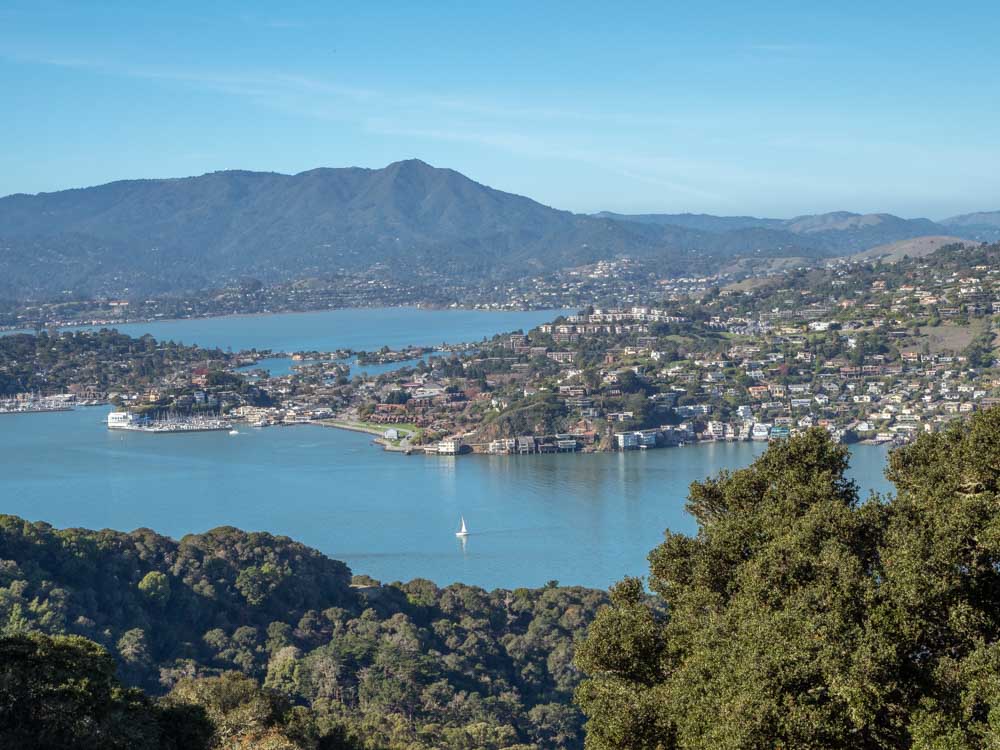 About Angel Island State Park
Angel Island sits on a strategic location near the mouth of the Golden Gate. It was once a hunting and fishing site for the Miwok Native Americans, who are believed to have used it for a summer camp. But it has also been at various times– a cattle ranch, an army post during the civil war, an immigration and quarantine station, a World War II POW camp and a cold war missile site. This long history means that the island has a treasure trove of historical sites to be explored.
The transition into a state park in the early 1960's, Angel Island preserved its cultural history, but it had the additional benefit preserving the island's beautiful natural resources. The island is a microcosm of California coastal biology with the typical grassy chaparral, coast live oak trees and native grasses. There are mule deer, raptors, sea birds, an endemic mole species and even one lonely coyote who live on the island. And, you'll find harbor seals, sea lions and dolphins swimming around it.
Read More: If you are into history, I also recommend that you plan a visit to the San Francisco's Presidio, Bodie ghost town state park in the Eastern Sierras or Malakoff Diggins State Park, both are part of California's gold rush origin story.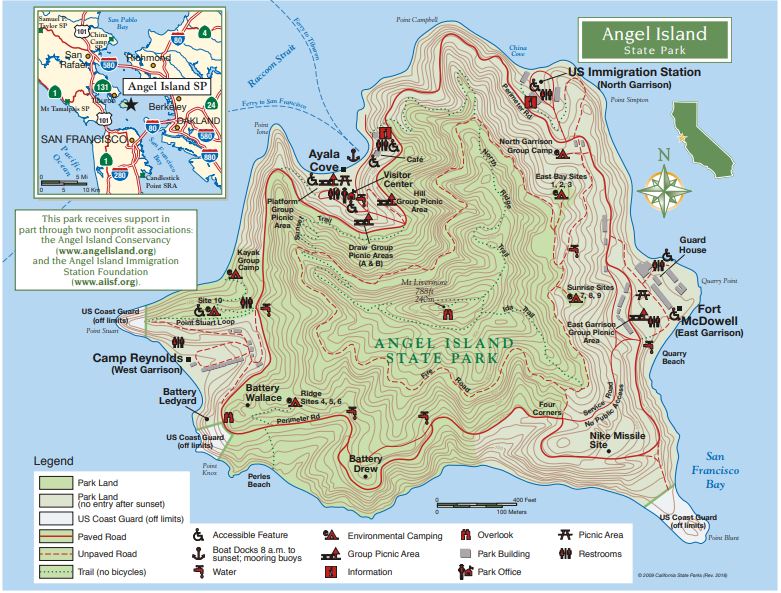 The 10 Best Things to Do on Angel Island
Visiting Angel Island is a perfect day trip from San Francisco and you should plan to spend the entire day. This 740 acres comes packed with hiking and historic activities that will more than fill your time. In fact, I've visited a number of times, including walking the ring road and visiting historic sites, biking the ring road and doing a photo shoot of the abandoned buildings and hiking the upper trails to Mt. Livermore.
When you visit, think about whether you are more interested in the history of the island, or exploring nature and awesome views and then optimize your visit for that, using the following Angel Island activities.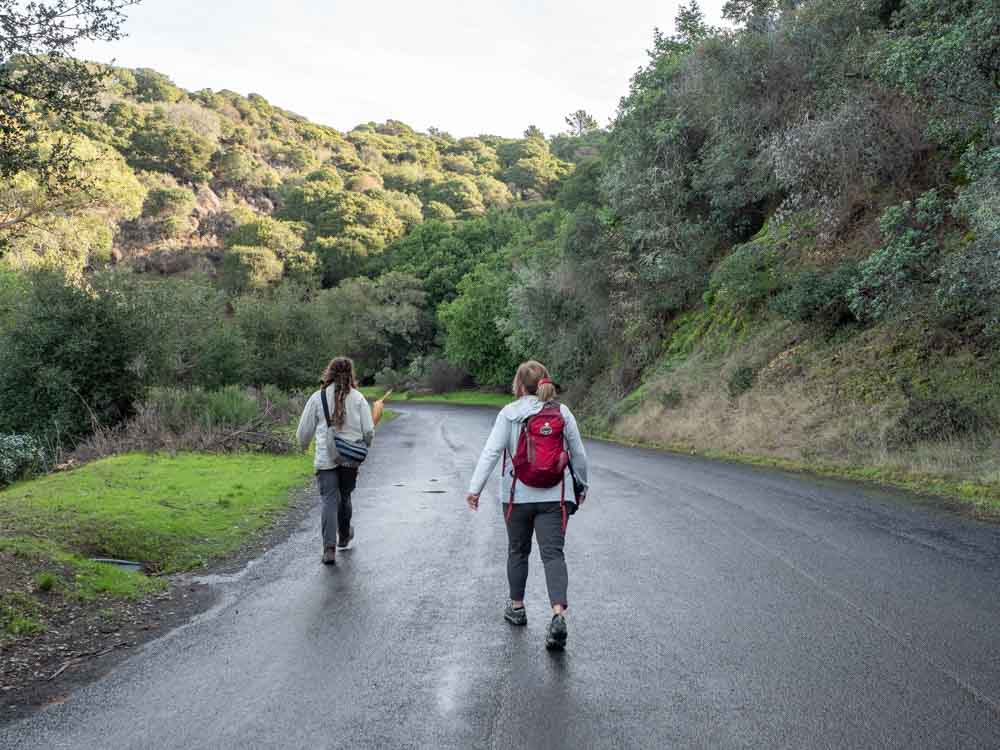 1. Walk or Bike the Paved Perimeter Road
Angel Island has a 5 mile paved road ringing the key historic sites. Walking the perimeter road will take about 2.5 hours and biking it will take about 45 minutes. But that's beside the point. If you chose the perimeter road, do it because you are interested in stopping at all of the historical sites along the way.
If you like this combination of hiking and history, you should also check out this guide for hiking Lands End. It has great coastal views and a lot of cool historic sites on the trail.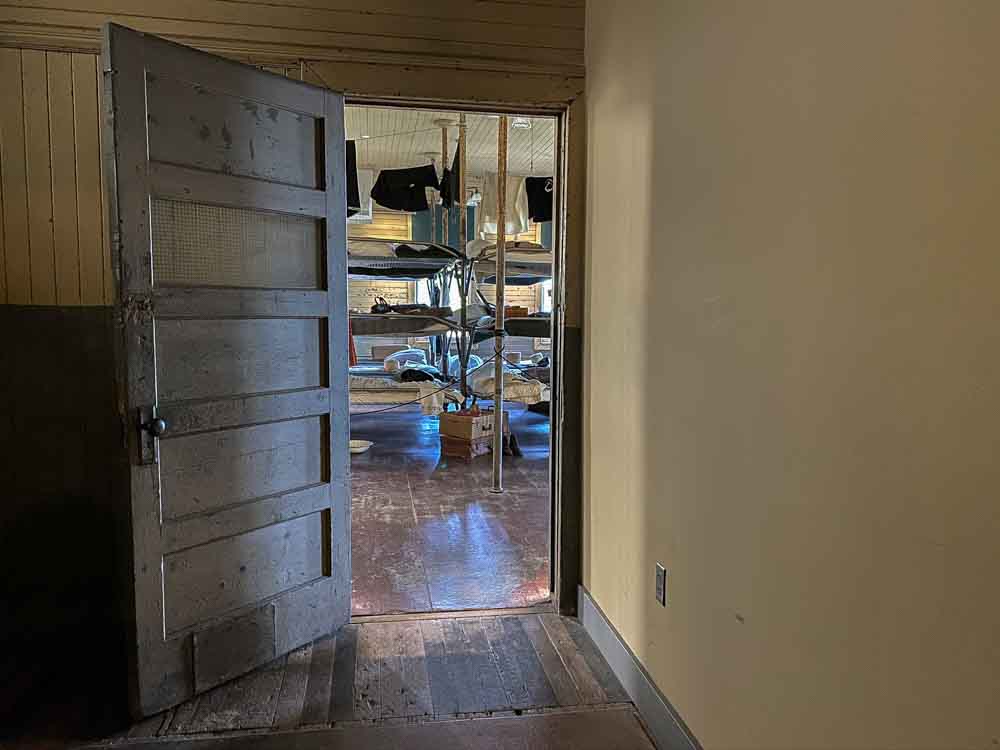 2. Tour the US Immigration Station
The Immigration Station operated from 1910-1940 and it functioned like the West Coast's version of Ellis Island. It was built to process thousands of immigrants from 80 countries…and indeed it did. But the immigration station was also tool for enforcing the discriminatory Chinese Exclusion Act of 1882.
The policy was designed to make it very difficult for Asians, particularly Chinese nationals, to immigrate to the US. It had the practical effect of making the immigration station a detention camp for Asians. There are disturbing echos of this policy currently resonating in US immigration policy, so visiting the station offers some very relevant perspective.
You can wander the station on your own, using the explanatory plaques. For $5, you can enter the main detention building and do a self-guided tour. This is well worth both the time and the small amount of money. You can also take a ranger-led guided tour. Bring cash.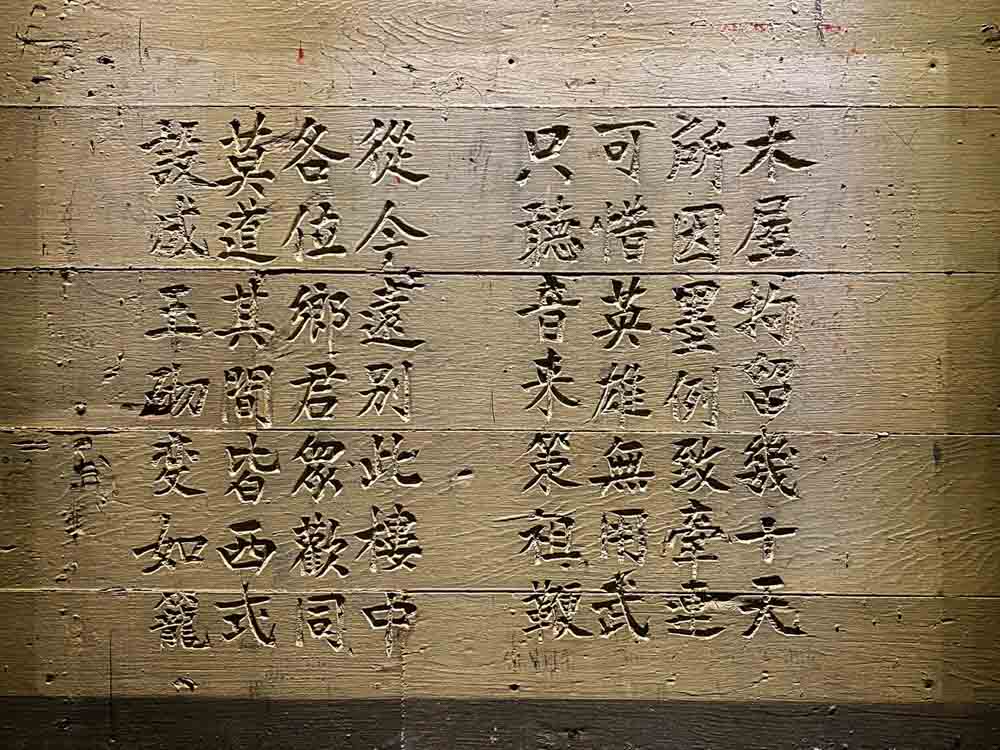 Many of the detainees carved thoughts and poems onto the walls as an expression of their distress.
"Detained in this wooden house for several tens of days,
It is all because of the Mexican exclusion law which implicates me.
It's a pity heroes have no way of exercising their prowess.

I can only await the word so that I can snap Zu's whip.
From now on, I am departing far from this building.
All of my fellow villagers are rejoicing with me.
Don't say that everything within is Western styled.
Even if it is built upon jade, it has turned into a cage."

— carved into the wall at the Immigration Station.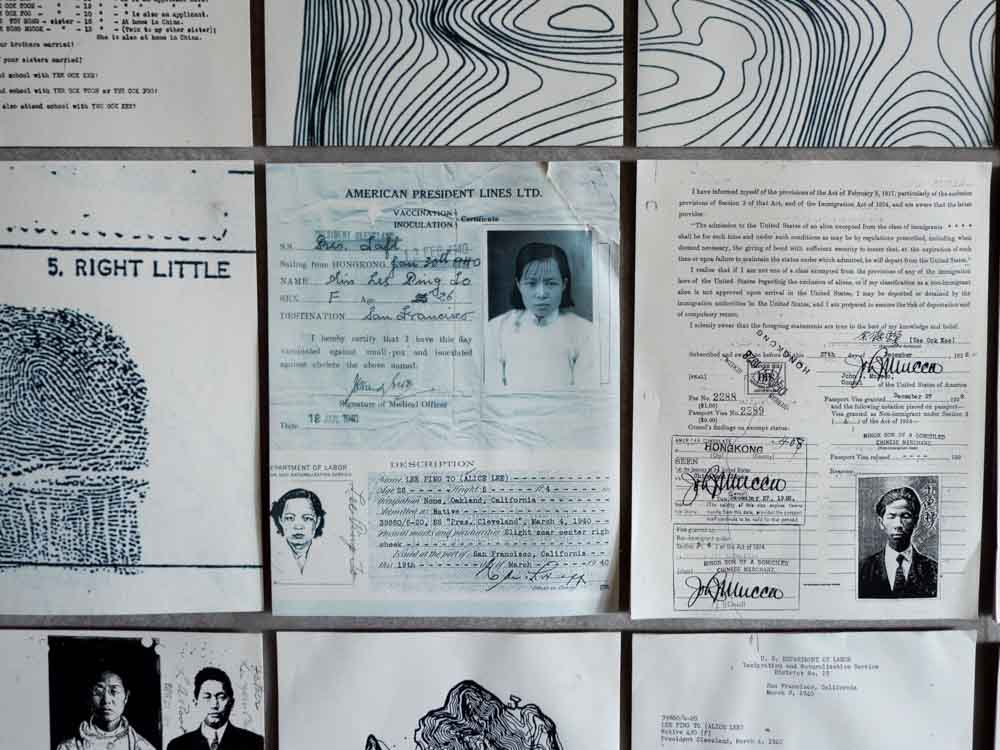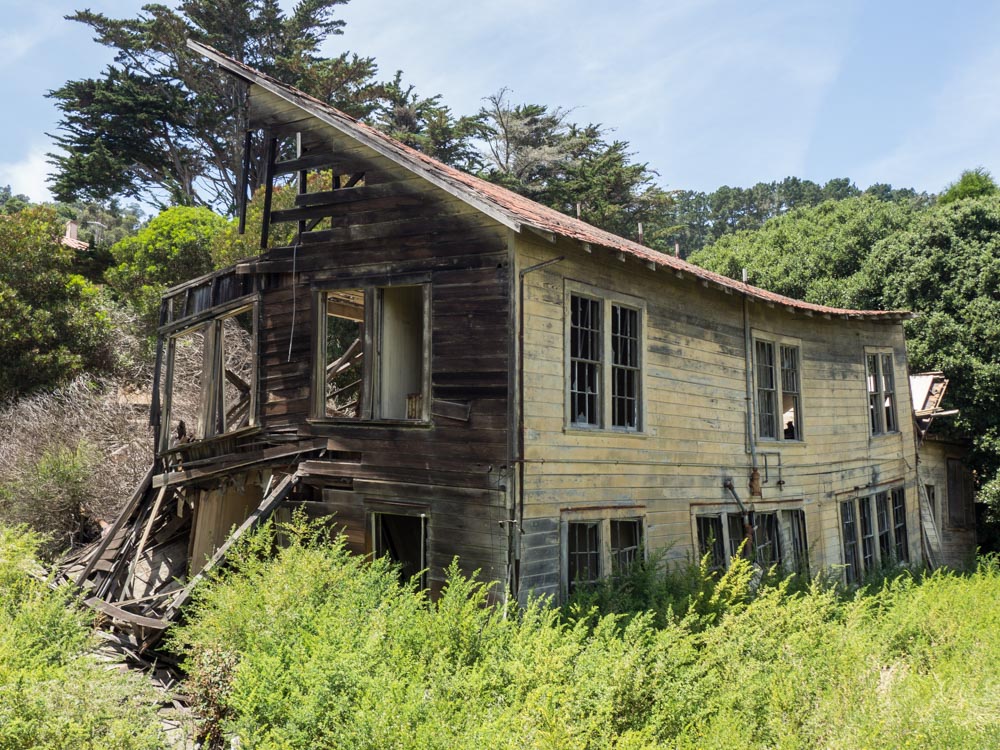 3. Visit Fort McDowell
The US military has has a presence on Angel island since 1863. In 1899, they built a quarantine station for sick troops at Fort McDowell (at the eastern garrison). Over time, the area transitioned into a discharge depot and it became a major facility for processing military personnel for overseas assignment.
You can still see the remains of the hospital, barracks, a mess hall and the jail.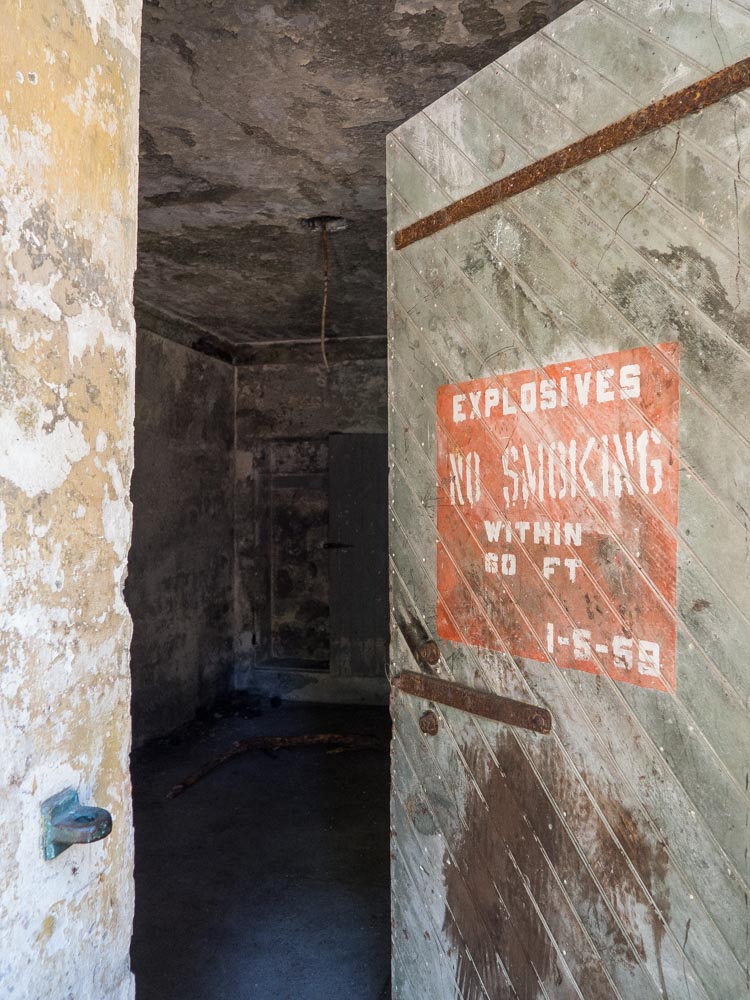 4. Crawl Around the Battery Drew, Battery Wallace and Battery Ledyard sites.
In 1898, this series of gun batteries were built on high points along what is now the perimeter road. You can still crawl around and look into the gun emplacements and weapons storage rooms. This is particularly fun if you are into URBEX.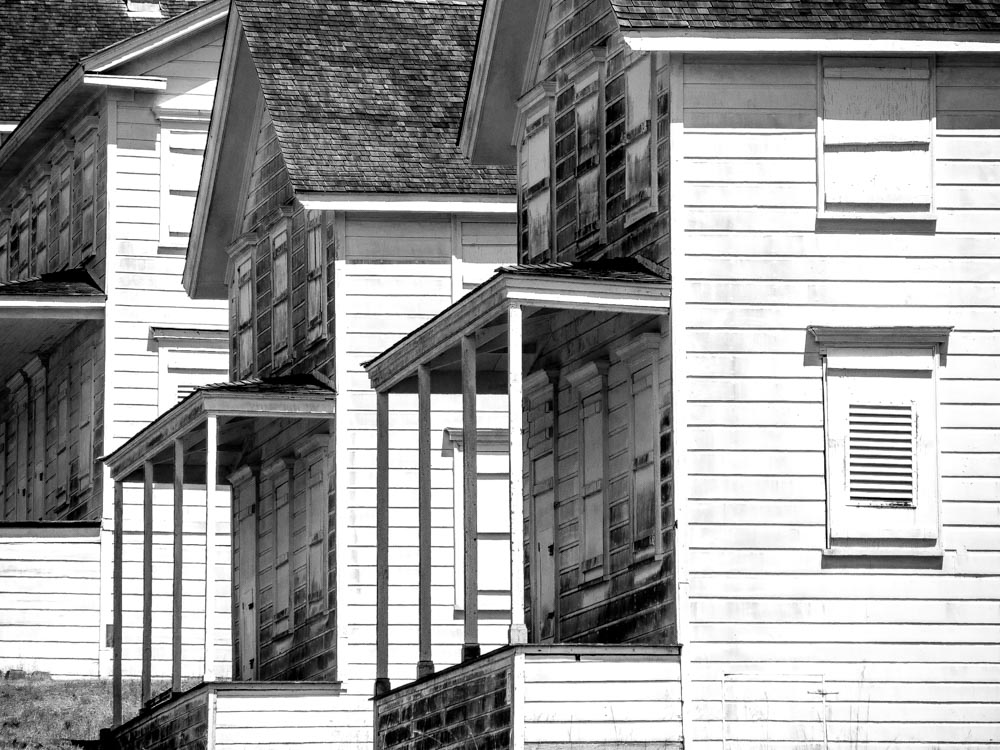 5. Visit Fort Reynolds
This beautiful row of historic buildings are found on the western edge of Angel Island. The base was built in 1863 in response to the the civil war and as a staging area for incursions against the Native populations. There is a nice little beach here with lovely views of both Tiburon and the Golden Gate Bridge.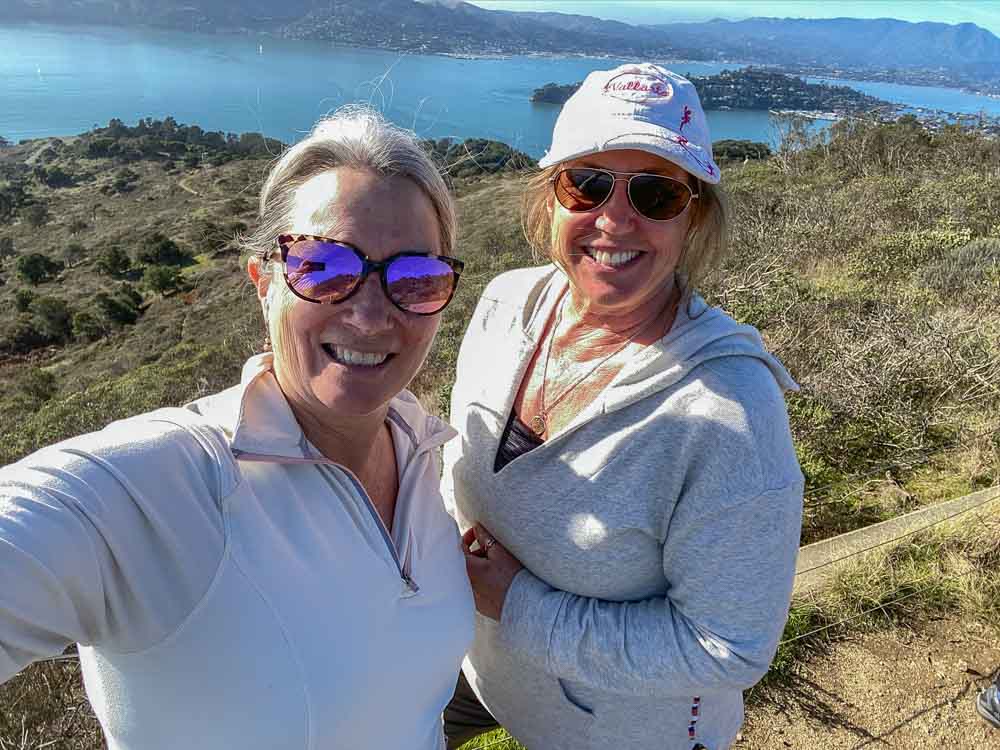 6. Take the Tram Tour
The Angel Island consessionaire runs a guided tram tour that takes the perimeter road around the island. The tour is about 1-1/2 hours and it includes an audio history of the island. The tour is great if you are short on time or have mobility issues. However, it's on a fixed schedule which doesn't give you much time for extended exploration.
The tour runs on the weekend in low season and everyday in high season. Tickets are $16.50 for adults and can be booked in advance here.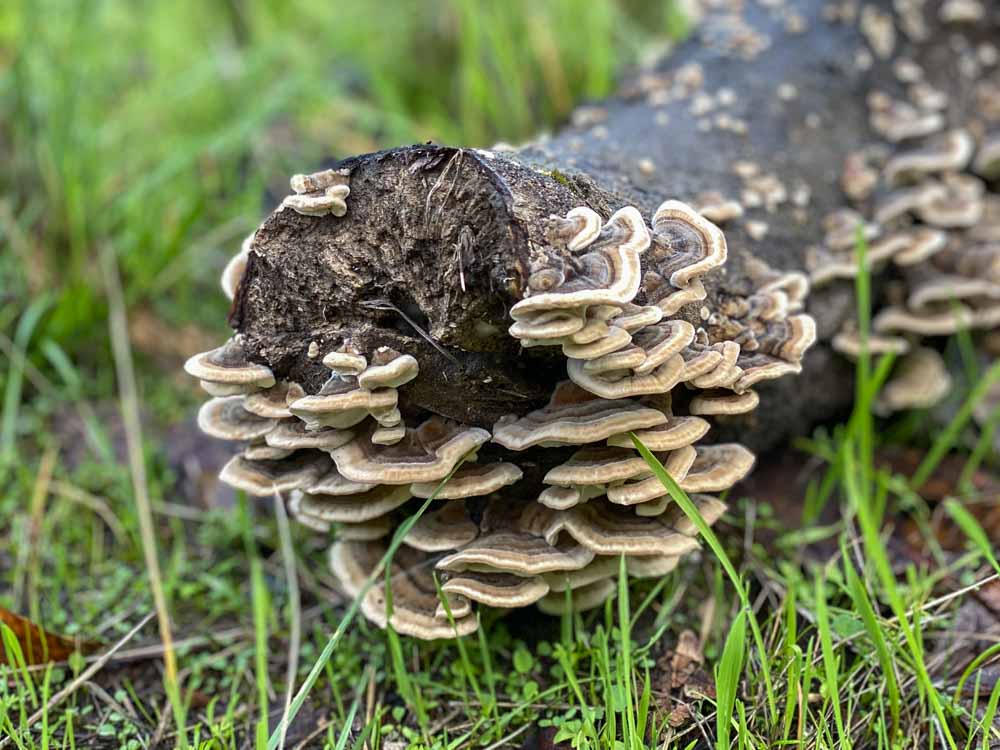 7. Hike the Historical Route or the Ridge Trail
There are twelve miles of hiking trails on Angel Island and all of them will give you a great mix of quiet forest and killer views. Both of the following suggestions top out at Mt. Livermore, where there are views for days and picnic tables. After your hike, you can chill out in Ayala cove while you wait for your return ferry.
For the hiking + history route, take the perimeter road to the Immigration Station and explore the area. After you get back on the perimeter road, turn right onto the fire road (the sign points toward the campsites), double back toward the north side of the island and connect with the North Ridge trail. Head up to Mt. Livermore, then take the Sunset trail down. Approximately 5.5 miles total.
If you are just keen to hike and aren't as interested in the historic sites, the ranger suggests going up using the North Ridge Trail and coming down using the Sunset trail. That way, you'll get some nice peaceful forest and deer on the way up and the return will be open chaparral with killer views of SF and Tiburon. Approximately 4.5 miles.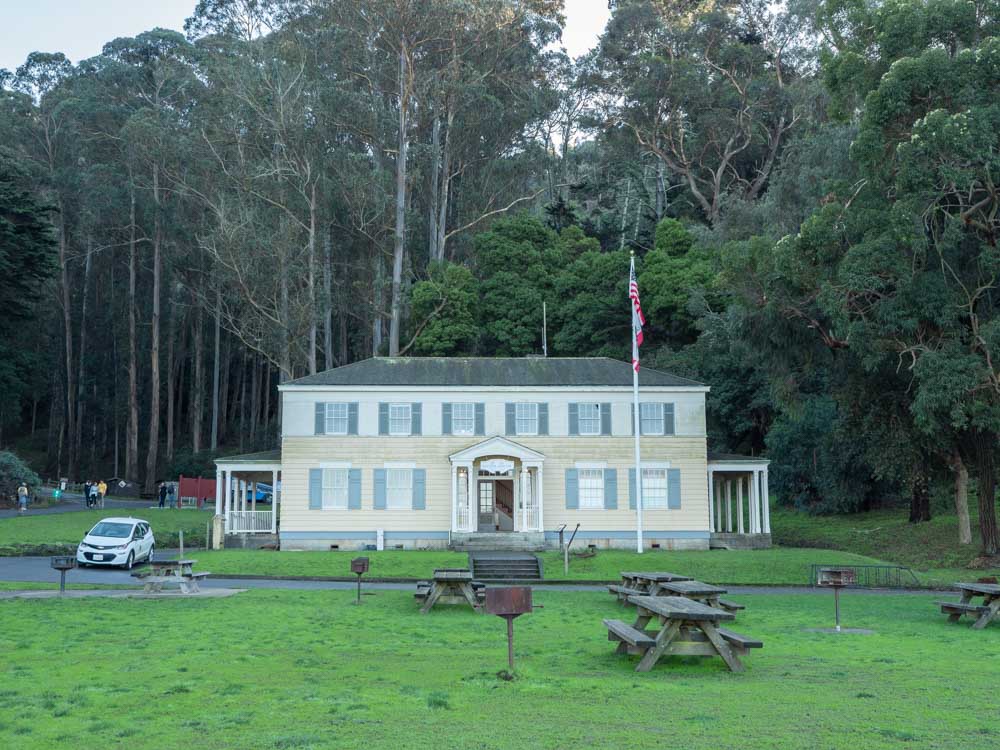 8. Explore the Angel Island Visitor's Center
The Visitor's Center is located near the ferry dock. It's has exhibits on the how the Miwok used the island for their summering grounds, the military history of the island and some natural history.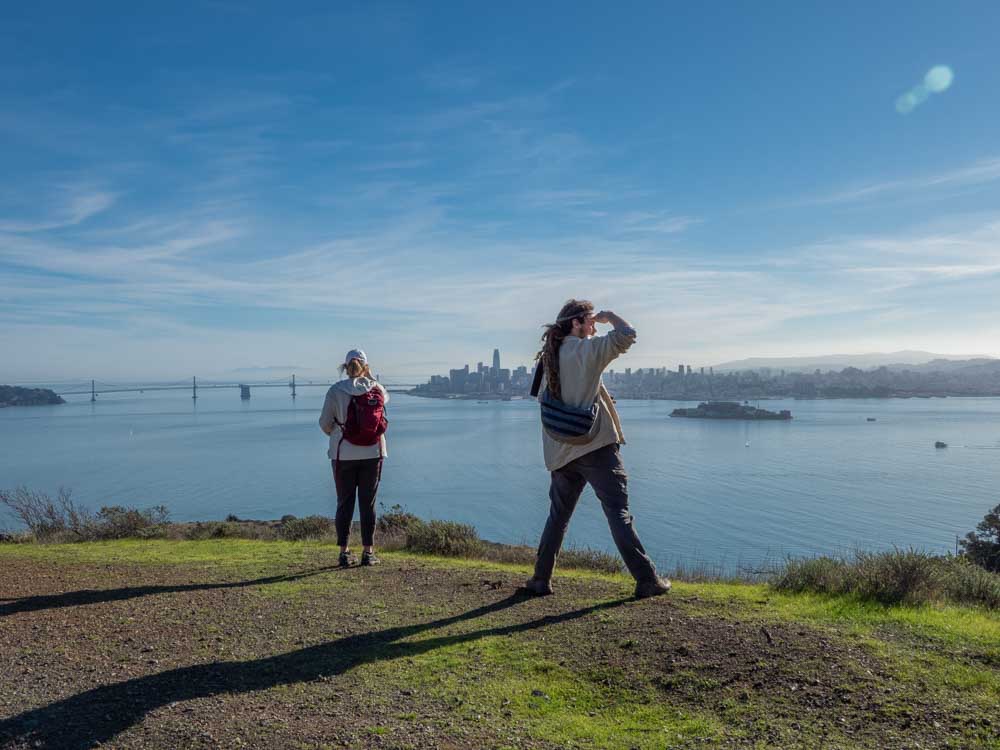 9. Brake for Views
One of the best Angel Island things to do is to simply stop for all of the jaw dropping 360′ views of the bay. There are many ways to find great views of the Golden Gate Bridge, but few of them give you such a wide angle of the gate.
As you walk along the Angel Island trails, you'll get peek-a-boo views at parts of the bay, then you'll come to an open lookout point and…BAM…the whole scene opens up.
From Ayala Cove: Views of Tiburon
From the Immigration Station: Views of Point Richmond.
From Fort McDowell: Views of the Bay Bridge and Treasure Island.
From Battery Drew: Views of the SF skyline.
From Camp Reynolds: Views of the Golden Gate Bridge and Sausilito.
From. Livermore: Views of absolutely everything.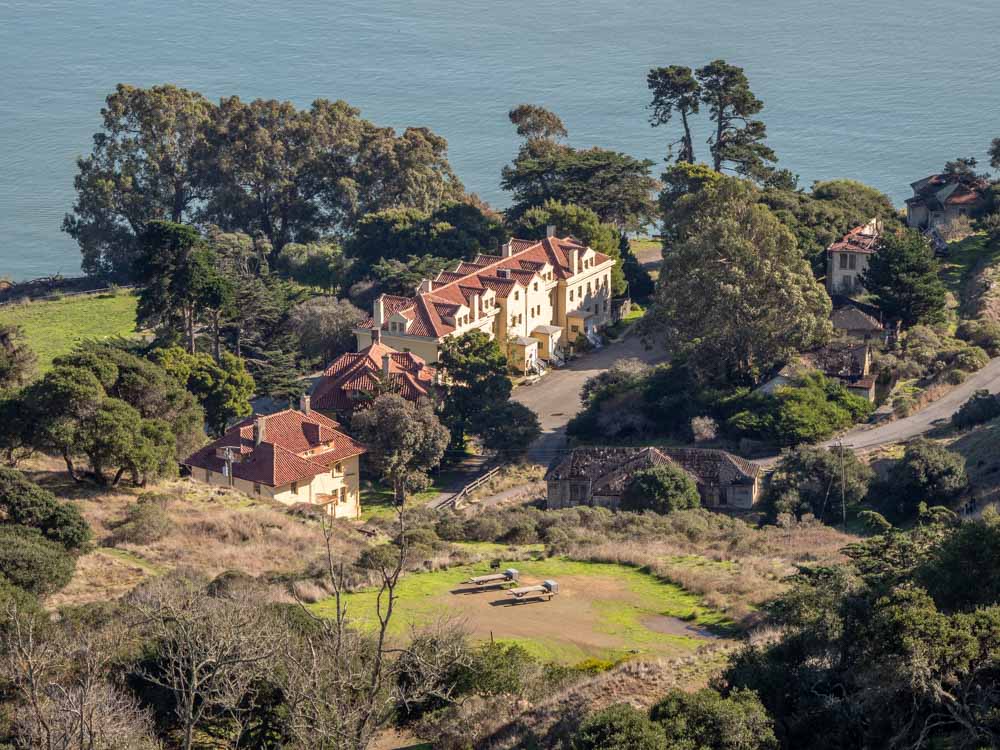 10. Have A Picnic
There are many great spots for a picnic on Angel Island. You can find a grassy area at both the immigration station and at Fort Reynolds. There's a set of picnic tables at the top of Mount Livermore. And there are benches and grassy areas near the visitor's center and ferry dock.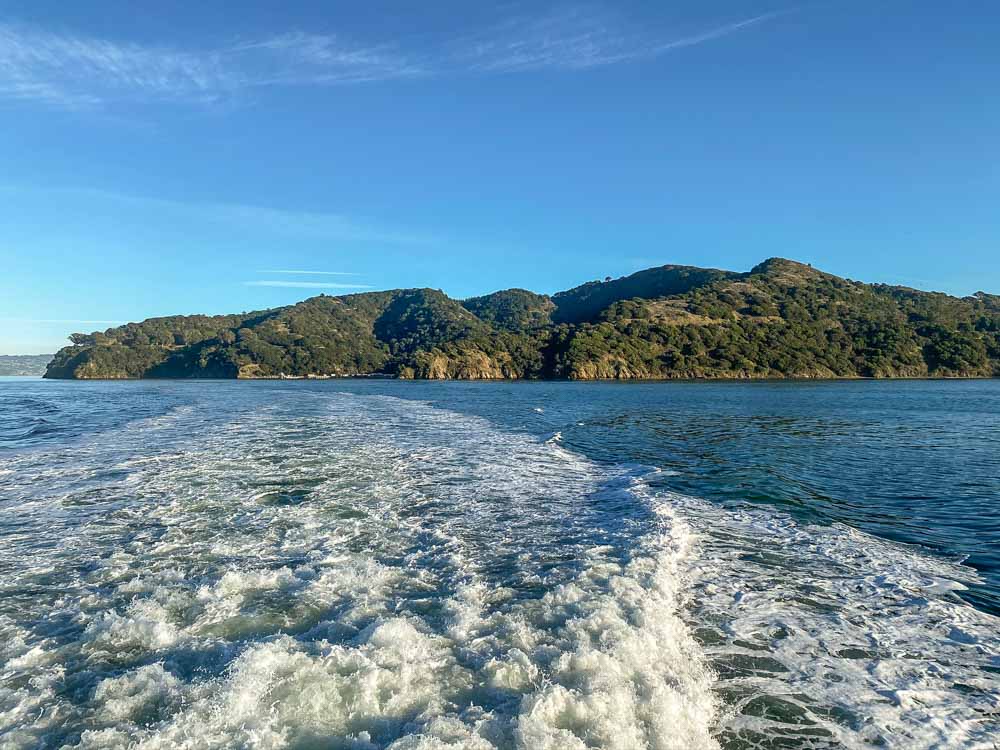 (This article contains affiliate links. This means that if you choose to purchase, I'll make a small commission.)
FAQs for Visiting Angel Island State Park
Here are all of the logistics that you'll need to be prepared for your day at Angel Island.
Which Ferry goes to Angel Island?
There are two ferry services to Angel Island, one from Tiburon and the other from Pier 41 in San Francisco.
The Angel Island Tiburon Ferry runs everyday during high season but between December and April, their weekday service is limited. It is the cheaper option if you have your own car, because their round trip ticket price is $4.50 less expensive than the SF ferry. All day parking in Tiburon can cost as low as $5, compared with $30-50 for the Pier 39 lots.
Tiburon ferry prices are $18.00 round trip (which includes the park ticket). Check the schedule and book here.
The Golden Gate Ferry Angel Island service runs out of the Ferry Building in SF. They run daily ferry service to Angel island, with higher frequency in the high season. They are the better option if you are already in SF and can take public transportation to the ferry dock.
Angel Island ferry prices are $14.00 round trip (which include the park ticket). You can even pay with a Clipper Card. Here's the schedule.
How Do You Go Biking on Angel Island?
If you have your own bike, or have already rented one in SF, you can bring the bikes onto either ferry. But space is somewhat limited, so get there early enough to queue up.
Regular and electric bikes are available to rent from the Angel Island Company concessionaire. The bikes can't be reserved in advance, so if you want one, take the first ferry of the day.
Prices: $16/hour or $64 full day for regular bikes and $25/hr or $99 full day for electric.
For comparison, in SF regular bike rentals are ~$36 and electric bike rentals are ~$65, so it might be worth it for you to rent in SF.
Is There Food on Angel Island?
The Angel Island Company does run a cafe and cantina. You can also pick up boxed lunches. The cafe and cantina are usually running but may not be in service during weekdays in December and January.
Whether you pick up a boxed lunch or bring your own, you should plan to eat out on the trail somewhere, rather than in the ferry cove. There are picnic tables and beaches with great views dotted all over the island.
What Should I Bring to Angel Island
In addition to lunch and snacks, there are a few other items that you'll want to bring:
-Carry a refillable bottle of water. There are a few drinking fountains but you'll want your own bottle, like this hydroflask from REI.
-Bring sturdy footwear, especially if you are going to be doing the trails.
-Bring a jacket. It's windy on the bay and the fog can creep in at any time.
-Bring a spare power bank. You'll want to take a lot of picture of those great views and you don't want to run out of juice. Try this one from Anker, it has 11,000 4+ star ratings on Amazon.
Read More: Get the full downlow on all CA parks with our complete California State Parks list (with map).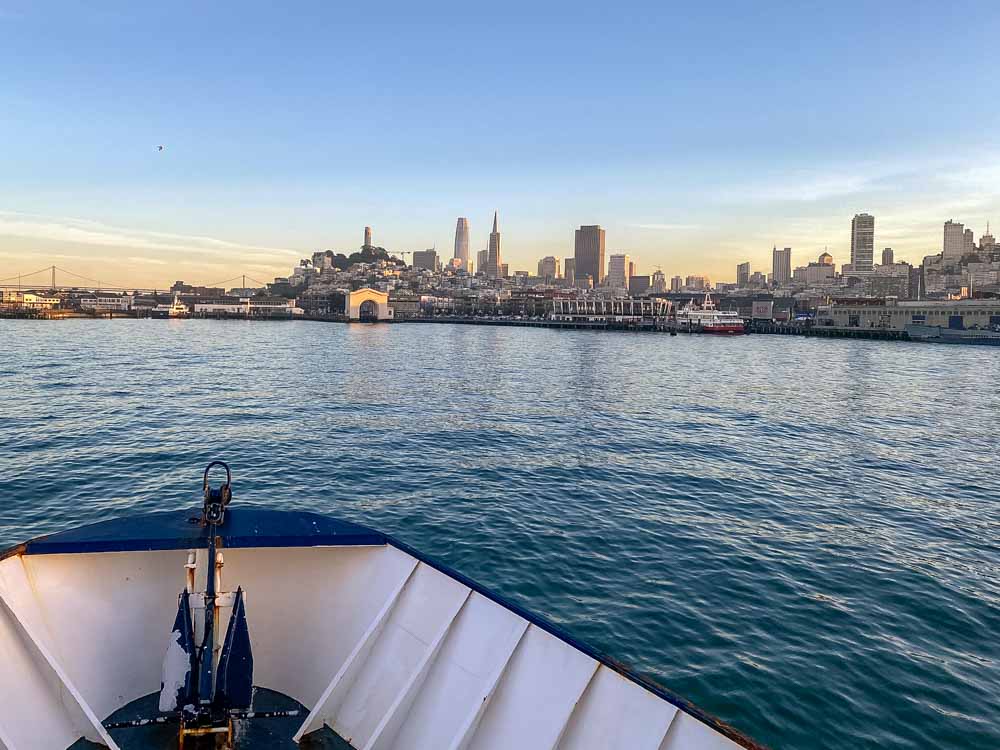 See More of San Francisco
Plan Your Trip to SF
Save time planning your trip to SF with these insanely useful links:
Share these things to do on Angel Island with your Pinterest friends: