The Bodie ghost town is a remarkable open air museum and a perfect representation of California's boom and bust gold rush. This guide to Bodie State Park will give you some history on the town (and its unsavory reputation), answer your questions about how to visit, and give you plenty of eye candy that will make you want to go now.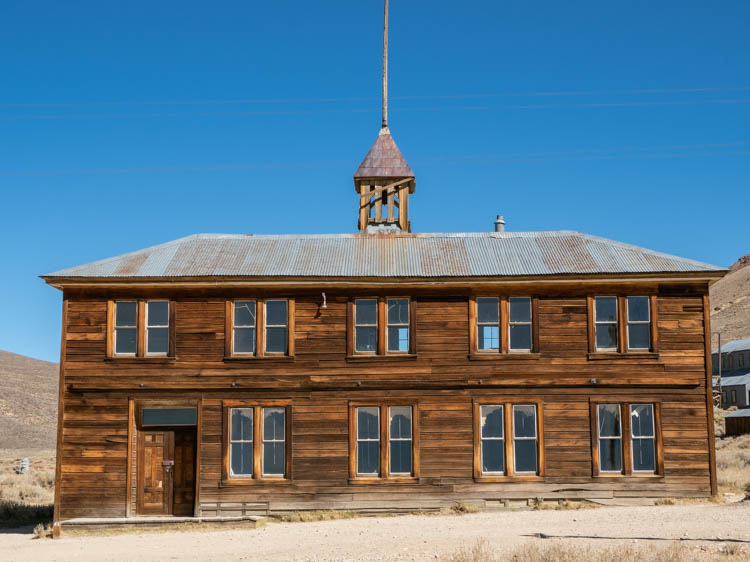 The History of Bodie Ghost Town
The town of Bodie was named after Waterman S. Body who in 1859, discovered small amounts of gold in the hills north of California's Mono Lake. Body himself perished when he attempted to return to the area. However, the gold was indeed there and in the 1870's, the Bunker Hill Mine hit a big strike of gold and silver ore. Over the next 25 years, nearly 10,000 pounds of ore were extracted from the area.
Hopeful folks flocked to Bodie and by 1879, the town's population had swelled to ~9,000 people. Along with the 30 gold mines dotted along the hillside were also businesses designed to help the gold miners part with their hard earned cash. 60 saloons, dance halls, gambling halls and opium dens along with three breweries opened to provide essential services for the miners.
Given that sort of business profile, it's no wonder that Bodie developed a reputation for lawlessness. The litany of Bodie's shenanigans reads like a screen play for a spaghetti western with the gunfights, stage coach hold-ups and street fights. That said, the town also had several churches, a school and a newspaper.
By 1882, the boom was flickering out and the town's population began to decline. By 1886 the town was down to 1,500 people. A disastrous fire in 1892 did some serious damage and another in 1932 put a stake in it.
By 1962, the ghost town of Bodie was designated both a State Historic Park and also a National Historic Landmark. The decision was made to "preserve" Bodie, but not to "restore" it. This means that the buildings and their contents have been left in situ, and nature is taking its course. And this is what makes the area so worth visiting. Bodie's ghost town isn't some sort of cute attraction where you can pretend that you are a gold miner. It's a dusty, decrepit look at the ghosts who still inhabit the town.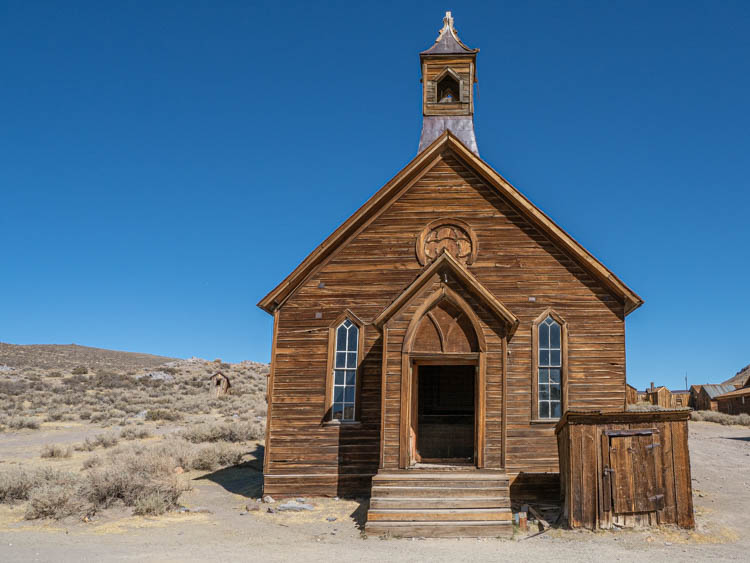 Bodie Ghost Town FAQ
Is Bodie Open to the Public?
Yes. Bodie ghost town part of the California State Parks system and is open to the public. The park is open most days. Winter hours are 9am-4pm and summer hours are 9am-6pm. During the winter, if the road into the park is snowy, the park (and the road) will be closed.
How Much Does it Cost to Visit Bodie State Park?
Bodie State Historic park charges by the person to visit. It costs $8 per adult and $5 per child. Children under 3 are free. This is one of the few state parks that doesn't accept the annual California Explorer hang tag pass, but it does take the Historian Pass. Use our guide to figure out which annual state park pass is right for you.
Is Bodie Worth Visiting?
Absolutely. Even though Bodie was abandoned, doesn't mean that it's not interesting. California's riches were built upon mining and the town was part of that boom. It's one the most well preserved ghost towns in California. Poking around the site is fun and peeking into the windows of the buildings will give you an evocative sense of what like was like during the gold rush.
Is the Road to Bodie Paved?
All but the last three miles is paved. The remaining dirt road is reasonably well-graded and even a low slung car or RV can do it, if taken slow.
How Do You Get to Bodie?
The main road into Bodie is located off of Highway 395 in the Eastern Sierras. The turn off is between Bridgeport and Lee Vining. The road into the park is 13 miles long and as mentioned above, the last 3 miles are on dirt road.
If you have a higher clearance vehicle and have some experience with off-roading, you can also take a slower dirt backroad into the park which cuts through the lovely desert landscape. From Lee Vining, you can take Highway 167 (Pole Line Road) to Goat Ranch Cutoff and then Cottonwood Canyon Road. From Bridgeport you take Aurora Canyon Road to Bodie Masonic Road. Be aware that the Masonic road is particularly temperamental after storms. Even the gentler Cottonwood Canyon road can sometimes be done in a normal car and other times requires higher clearance.
You should call ahead to the state park to ask about road conditions before setting out because weather can have a dramatic effect on the drivability of these roads. Their phone is (760) 616-5040. Exercise wise judgment and don't drive the backroads you aren't familiar with driving on rough roads. Bring a GPS app like Gaia.
How Far is Bodie from Mammoth Lakes, Bridgeport and Lee Vining?
– Mammoth Lakes is 68 miles and takes 1.5 hours.
– Bridgeport is 24 miles and takes 55 minutes.
– Lee Vining is 36 miles and takes 1 hr 5 minutes.
When is the Best Time to Visit Bodie?
The most temperate time to visit Bodie is April-October. Spring and fall temperature highs are usually 50-60′ and summer highs hit 77′. The park sits at 8.,379′, so it will always be much cooler than the valley floor of the 395 corridor. The park does get snow, making the road unpassable at times during the winter.
What Else is There to Do Near Bodie?
The entire Highway 395 corridor is chock a block with historic sites, lovely alpine lakes, hiking and funky geology. Plan your entire trip using our insanely thorough road trip itinerary for 395.You can also check out our guide for Convict Lake, which is located just south of June Lake. We also have a list of 16 cool things to do near Bishop, which includes some interesting cultural and historic sites (plus hikes!).
Read More: Get the full downlow on all CA parks with our complete California State Parks list (with map).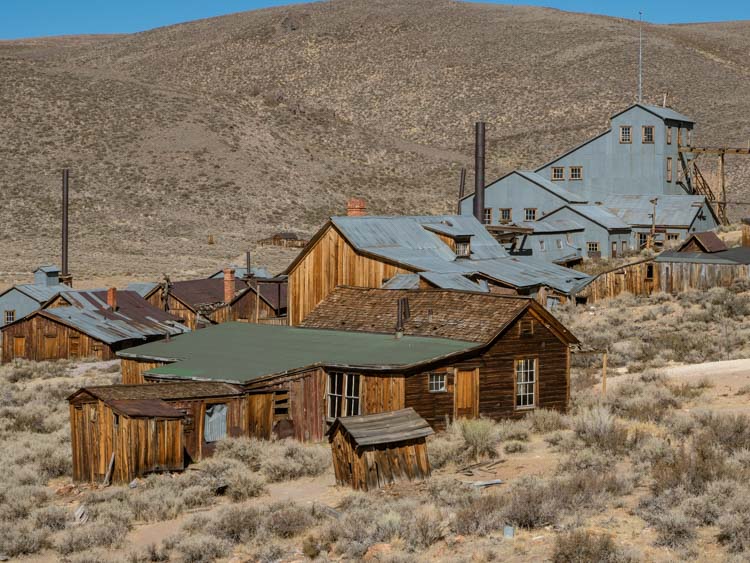 What to see in Bodie State Historic Park
Bodie ghost town is roughly twelve square blocks of buildings in various states of decay. The adjacent mining operation can be viewed from behind fencing, but it's not safe to walk around in that area. Be sure to also check out the cemetery, which is just southeast of the main site.
If you want a lot of specific detail about the buildings, buy the walking tour brochure from the state parks kiosk.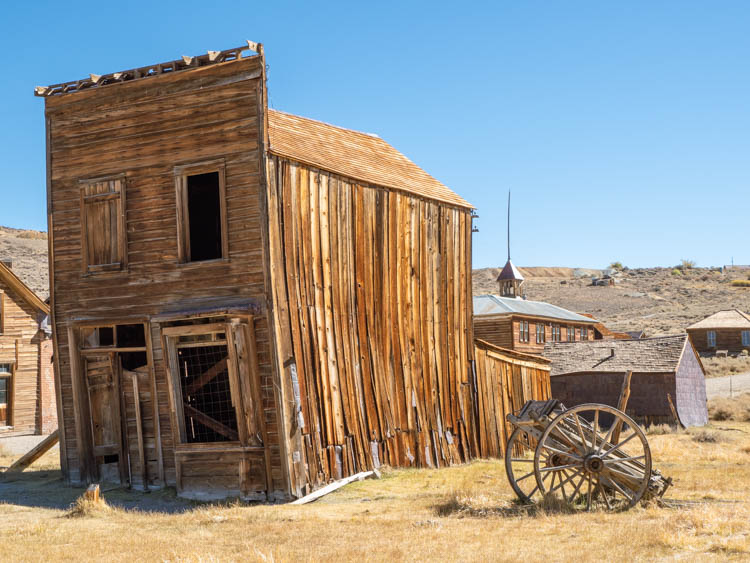 There are a series of structures in the main downtown drag. The image above is of the Swazey hotel (which probably doubled as a brothel).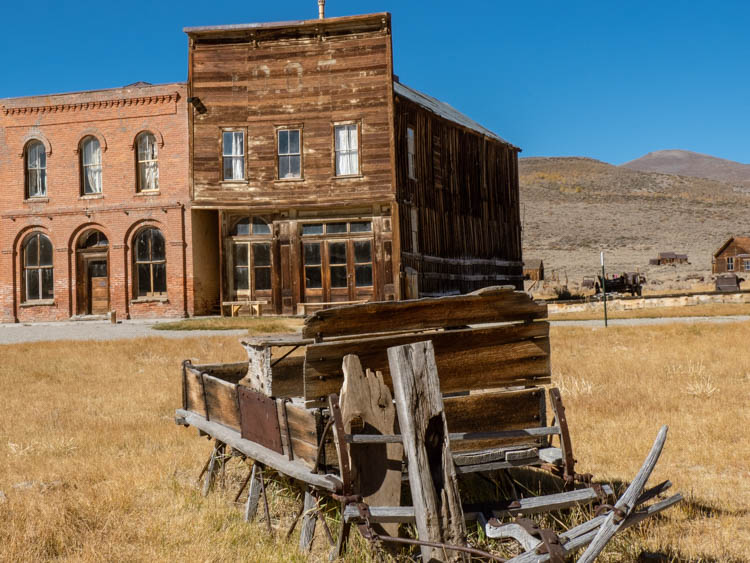 The pink brick building is the post office and the wooden structure beside it is the old Saloon.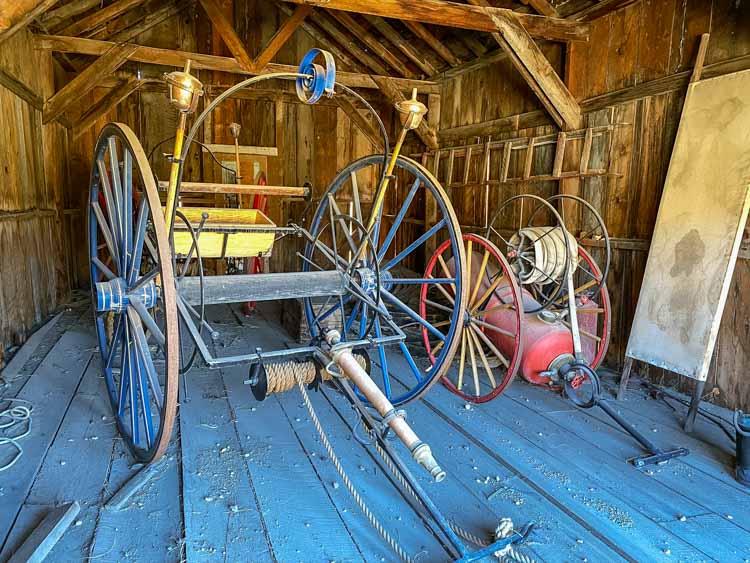 This is the interior of the old firehouse, which unfortunately didn't quite get the job done when fire came through in 1892.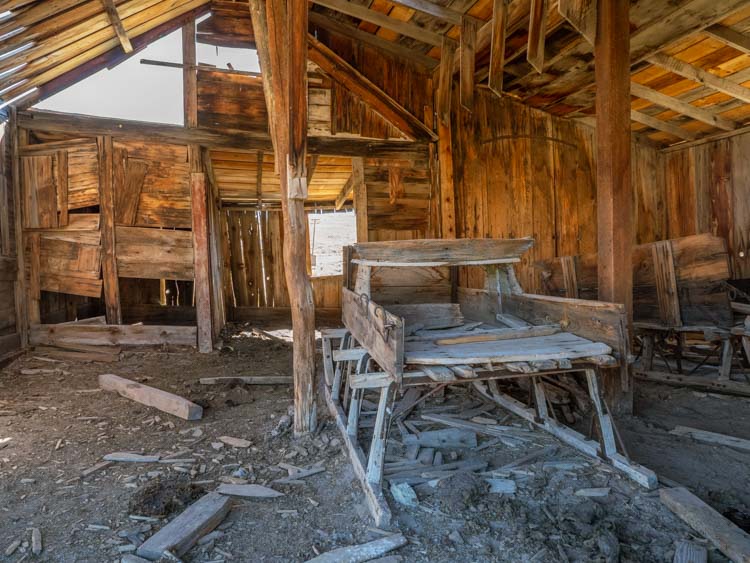 Here's the old carriage barn on the downtown drag.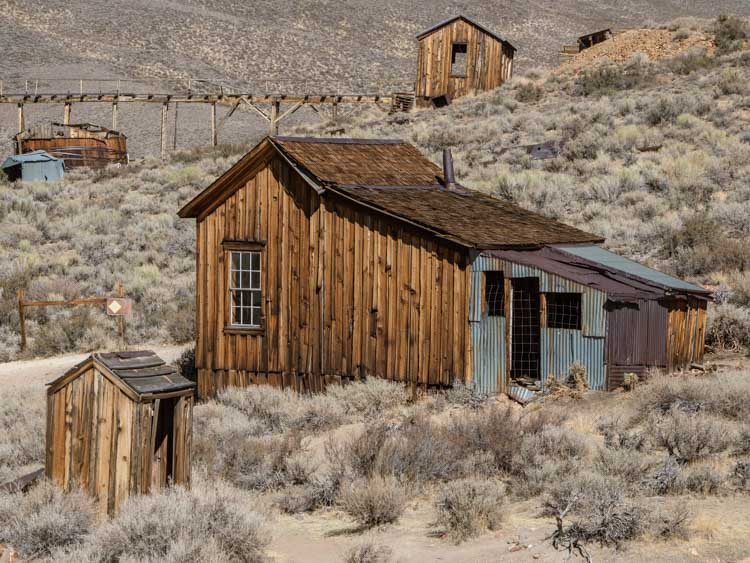 Wagon building and shed on the northern edge of town near the mine.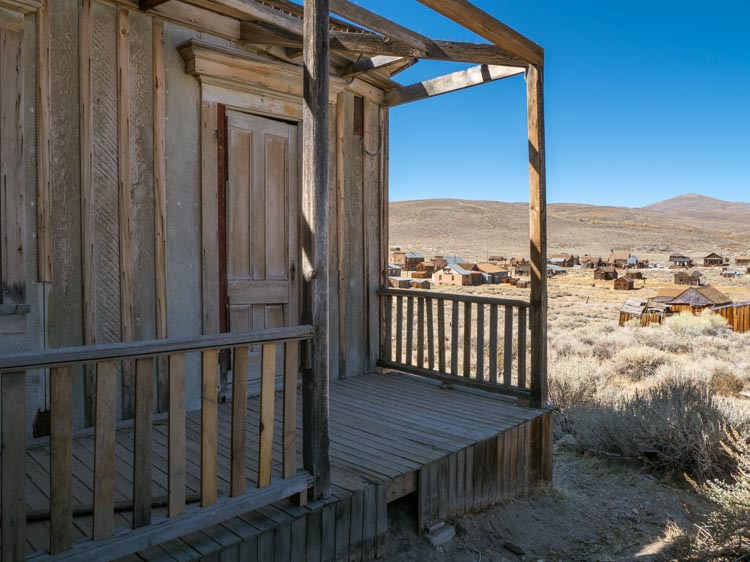 Be sure to get off the main drag and spend some time in the southern and eastern reaches of the park. For instance, the pic above is from the Dolan house. It sits on a bit of a rise, which will give you a wide-angle view of the whole town.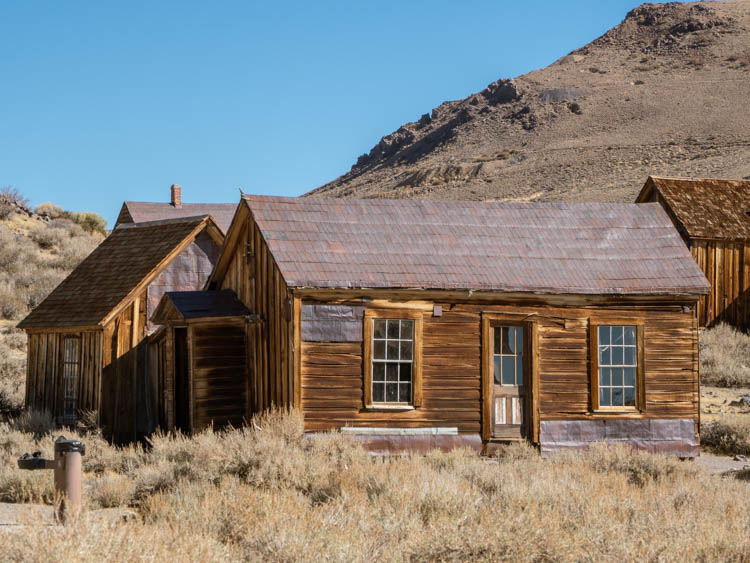 This is the Moyle house on the southern edge of town.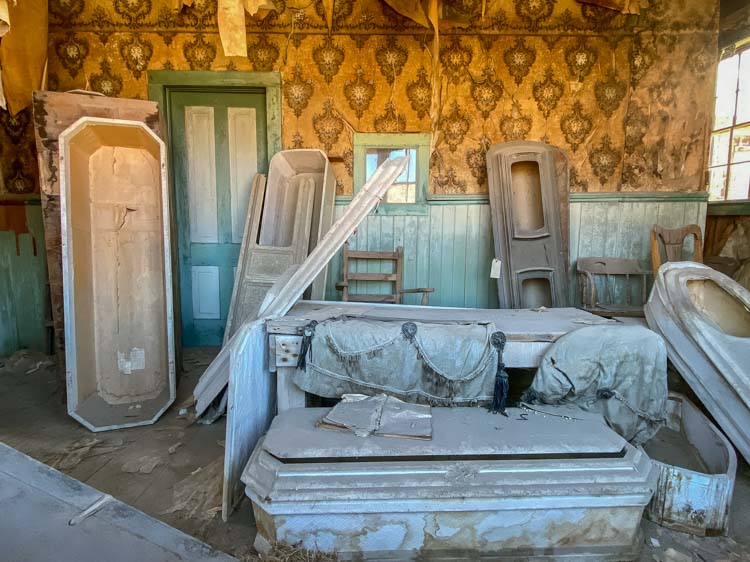 If you think the crooked, decrepit building exteriors are pretty ghostly, wait until you peek in the windows. Bodie was a pretty rough and ready town and the morgue (pictured above), was kept pretty busy.
Here's the rooming house. Not quite five star, but also not too different from a mouse-infested RV that I once Airbnbed in Slab City.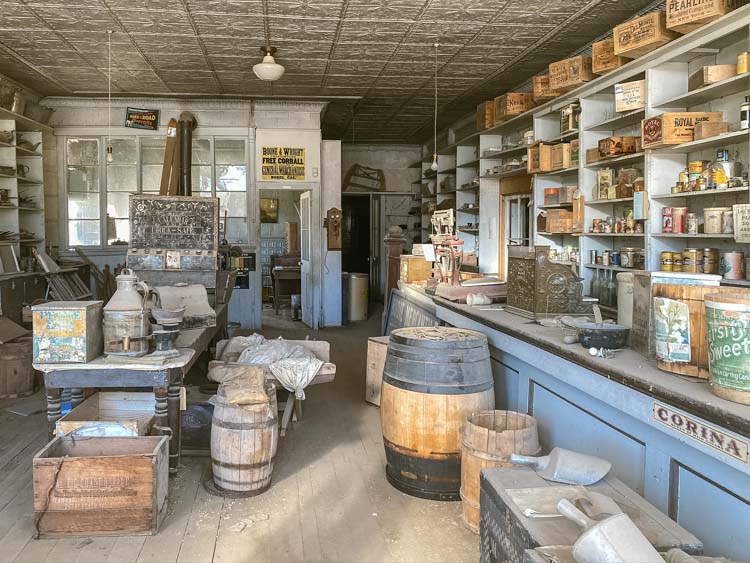 Here is the general store– it's in somewhat better condition than the morgue or the rooming house.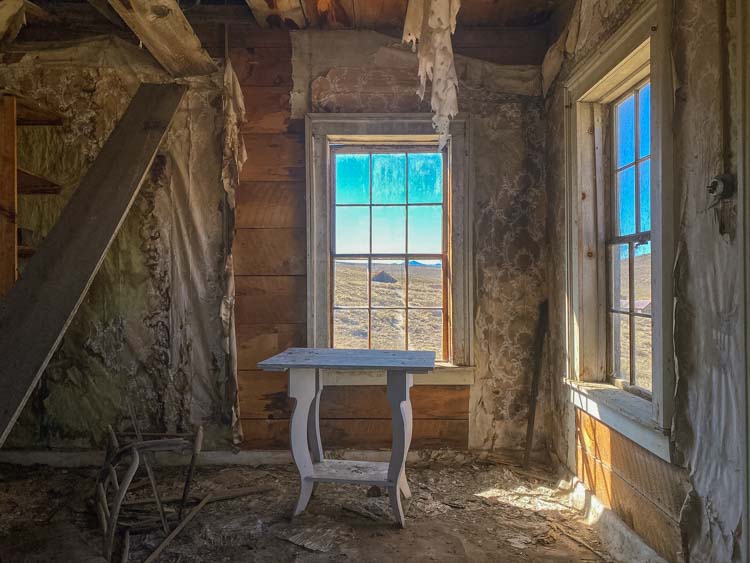 This shot epitomizes the loneliness of ghost towns, but also their endurance. This one remaining piece of intact furniture stands stalwart against the ravages of rot and rodents.
(This article contains affiliate links. This means that if you choose to purchase, I'll make a small commission.)
Where to Stay When Visiting Bodie
Camping Near Bodie
There is no camping on site at Bodie State Park. However, most the land surrounding Bodie ghost town is BLM land. You are allowed to do disbursed camping on BLM land as long as you are self sufficient and you are off the main road. There are several large pull-outs off the main road which would be suitable for RV boondocking. There are private RV campgrounds in and around both Lee Vining and Bridgeport. There are also many US Forest Campgrounds dotted along the western side of 395, such as Lundy Canyon, Virginia Creek and Lower Twin Lakes.
Hotels, Motels and AirBnbs Near Bodie
There is a small amount of Airbnb inventory in the area, but if you are just passing through, a hotel/motel would probably be easier and cheaper.
For hotels and motels, check this listing on Booking.com or look at reviews on Trip Advisor. If you want something a bit funky, you can rent a night in a covered wagon at the Virginia Creek Settlement motel.
Read More: Be sure to check out this guide for the ten best ghost towns in California. It includes some cool suggestions for Northern California, the 395 corridor, Barstow and Death Valley. You may also want to visit Malakoff Diggins State Historic park, which preserves gold rush history near Nevada City.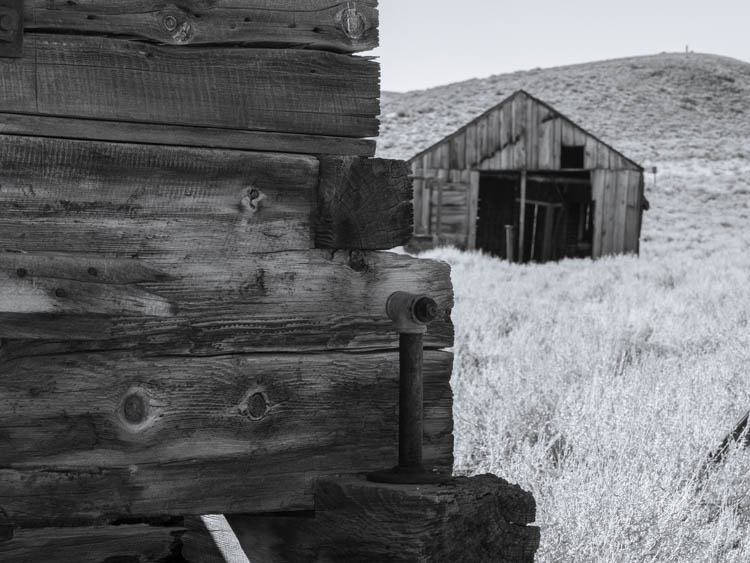 What to Bring on your Bodie State Park Visit
Bodie is a ghost town, which means that the only businesses in town are boarded up and full of dust. You'll need to bring everything that you'll need for the day. So, pack a lunch, some water and snacks. You should also make sure that you aren't low on gas. The mobile signals are also pretty sketchy out there, so you may want to cache any maps in advance.
Share the Bodie ghost town with you friends on Pinterest: