We want you to stay safe. These articles are designed to help you plan a trip when you are ready to travel. Be sure to check with businesses and attractions and make sure they are open before you visit.
California's ghost towns are a dusty history lesson on the boom and ultimate bust that defined our development as a state. When gold was discovered at Sutter's Mill in 1848, the subsequent enthusiasm opened a migratory floodgate that brought 300,000 people to California. Many were prospectors, but there were also enterprising business owners who were ready to provide housing, food and entertainment to the miners.
As a result, the inevitable towns sprouted up in key mining locations to support the miners and provide an economic supply chain that got the minerals to market. This guide will help you find ten of the most interesting ghost towns in California, with some backstory for each town and suggestions for things to do there.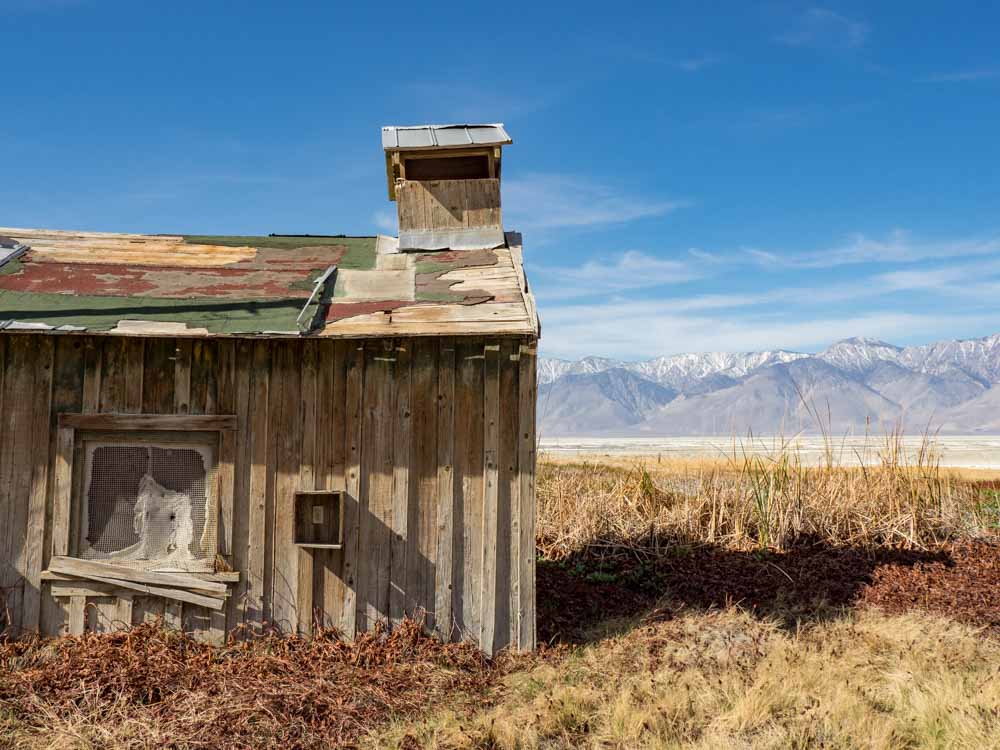 Why Visit These Ghost Towns in California?
Many of California's old mining towns are still in action today. Towns like Sonora, Placerville, Murphys, Nevada City and Angels Camp are small but thriving communities. But the California ghost towns noted below simply didn't make it. For them, the land became exhausted or the locations were too remote to support a permanent community.
All the more reason to visit them, though. They are dusty, abandoned and crumbling into the ground, but they are also historically fascinating, fun to creep around in and a photographer's dream. Four on the list are state parks with visitor's centers and explanatory exhibits which will teach you a lot about California's gold rush history. Even some of the ghost towns towns that aren't state parks, have explanatory signage or tours. Further, even the towns that have neither state park status nor helpful signage, are cool places to visit for simply soaking up their melancholy decline in a beautiful natural landscape.
In addition, these towns are located all throughout the state and you can easily add one or two to many different California road trip itineraries.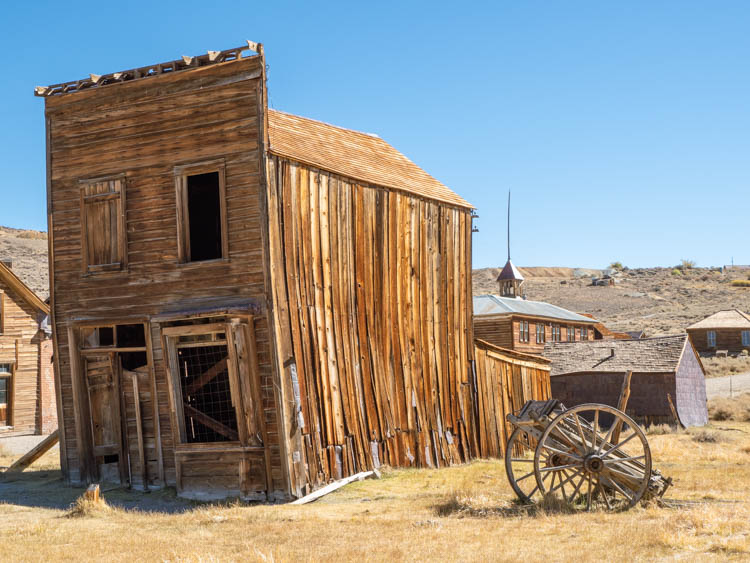 1. Bodie Ghost Town
Bodie is easily one of the best ghost towns in California. While it's not explicitly being restored, it's fairly well preserved and is protected as a state historic park. In 1859, Bodie was a small mining camp named after Waterman S Body, who was a local a miner. Two decades later, 9000 other hopefuls flocked into the area, unearthing over 10,000 pounds of precious metal ore from the hillside's 30 gold mines. By 1882, the town's boom was flickering out. And then the devastating fires of 1892, and 1932 finally did Bodie in.
Bodie's is famous for:
An authentic, decrepit, dusty, and deserted world feel.
110 silent houses in the town that you can visit on a self-guided walking tour.
OId gold mining equipment and interiors full of original items.
Getting to Bodie State Historic Park: 13 miles east of Highway 395, on the turn-off between Bridgeport and Lee Vining.
Learn more with this complete Bodie Ghost town guide and consider adding Bodie to a Highway 395 road trip.
Read More: Get the full downlow on all CA parks with this complete California State Parks list.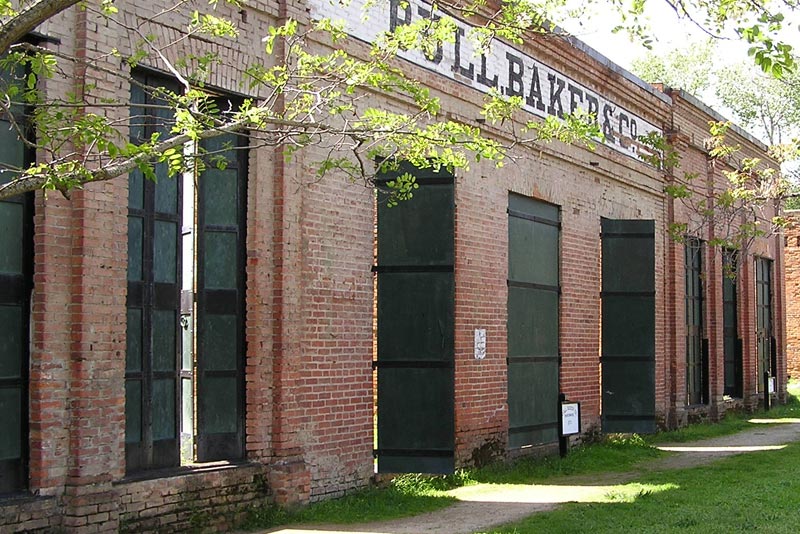 2. Shasta State Historic Park
Old Shasta, was the northern mines "Queen City". In her heyday, Shasta was a crucial stage coach and freight point, boasting brick hotels, storefronts and saloons. In 1848, miners discovered gold near Shasta, turning it into the epicenter of California's far north gold rush. The vibrant town's allure declined when the Central Pacific Railroad bypassed it in 1873. Shasta is now one of California's well preserved gold rush ghost towns and a state park.
Here are a few things to do while at Shasta State Historic Park:
Have a look at the beautifully restored Old Courthouse, which is a museum impressive art gallery.
Visits the jail, complete with replica gallows out back.
Drop-in at the Blumb Bakery for a view of 1870s baking techniques and styles.
Getting to Shasta State Historic Park: The park is located just six miles away from Redding.
3. Malakoff Diggins State Historic Park
Malakoff Diggins is one of California's most famous ghost towns, home to the state's largest hydraulic mine. It's a 3,000-acre park, housing the Diggins site and the town of North Bloomfield that sprung up with it. The area's mining activity led to America's first environmental lawsuit in 1884. The resulting legal finding made hydraulic mining illegal and Malakoff Diggin's mines shut down.
Here are a few things to do at Malakoff Diggins:
View the massive 600 foot cliffs on the hillside, which were sculptured by hydraulic water pumps.
Experience the life of the pioneers at the North Bloomfield park visitor center.
Go hiking, swimming, picnicking, camping, or fishing in the park.
Getting to Malakoff Diggins: The site is 26 south miles of Nevada City.
Learn more about the park and visit with this full guide for Malakoff Diggins.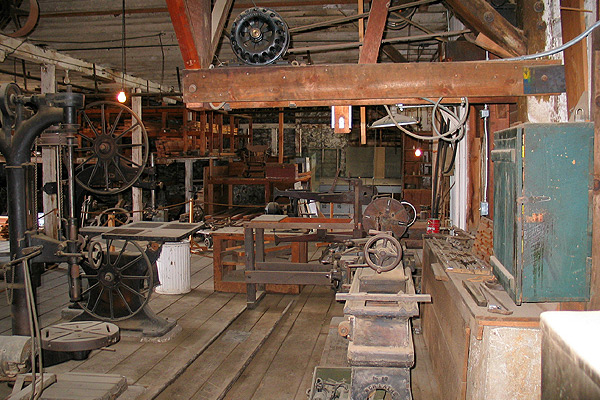 4. Empire Mine State Historic Park
The Empire mine is one of the deepest, oldest, largest, and richest of California's gold mines. This makes the State Historic Park a must-visit among all of California's famous ghost towns. During its century of operation, the Empire mine generated over 5.8 million ounces (that's 350,000 pounds!) of gold. The mine shut down in 1956 when it became unprofitable. The mine site is now part of a 853-acre park, with well preserved stone buildings, a visitor's center and trails that access the mine areas.
Some of the Empire Mine park's biggest attractions include:
Old mine buildings revived gardens and miles of deserted mine shafts.
The scale model of underground gold mining at the park's museum plus the Secret. Room, which is a scale model of the mine.
Easy hiking on 14 miles of forest trails.
Getting to Empire Mine State Historic Park: Located just 7 miles south of Nevada City.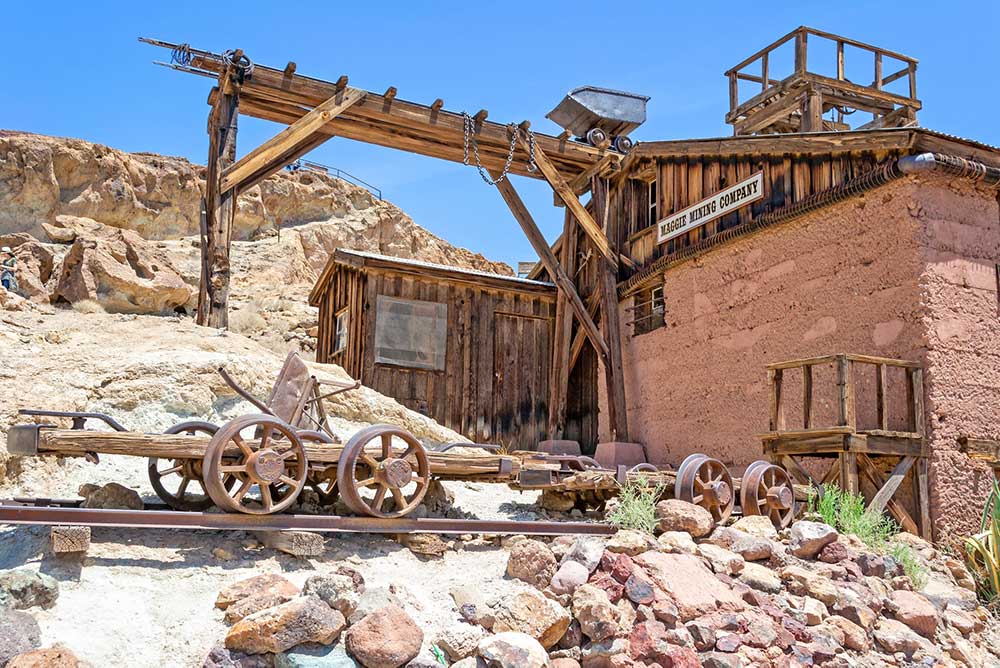 5. Calico
Calico's rise in 1881 was spurred not by the discovery of gold, but rather massive amounts of silver ore. At its peak, the town had a vibrant red-light district and 22 saloons. Mining declined when the price of silver fell, and the town was nearly desolate by 1929. In 1951, Walter Knott purchased Calico and he moved some of the buildings to Knotts Berry Farm. In 1966, he fully restored the remaining 5 buildings at the original site near Barstow. Knott's involvement explains why Calico is set up as more of an attraction than the kind of dusty, crumbling California ghost towns that typify the rest of this list.
Some of Calico's attractions include;
Ghost tours and the Lucy Lane museum.
The historical railroad tour, Mystery Shack, and gold panning experiences.
Nearby mountain bike trails, hiking, and camping and cabin rentals.
Getting to Calico: It's located in Barstow on I-15 and is equidistant between Las Vegas and LA.
If you like this kind of oldy-timey western town attraction, you may also want to visit Pioneertown near Joshua Tree. It's not a California ghost town, because no one ever actually lived there. Rather, it was a western movie set funded by Roy Roger's production company. Learn more in this article which includes Pioneertown and other cool things to do in Joshua Tree.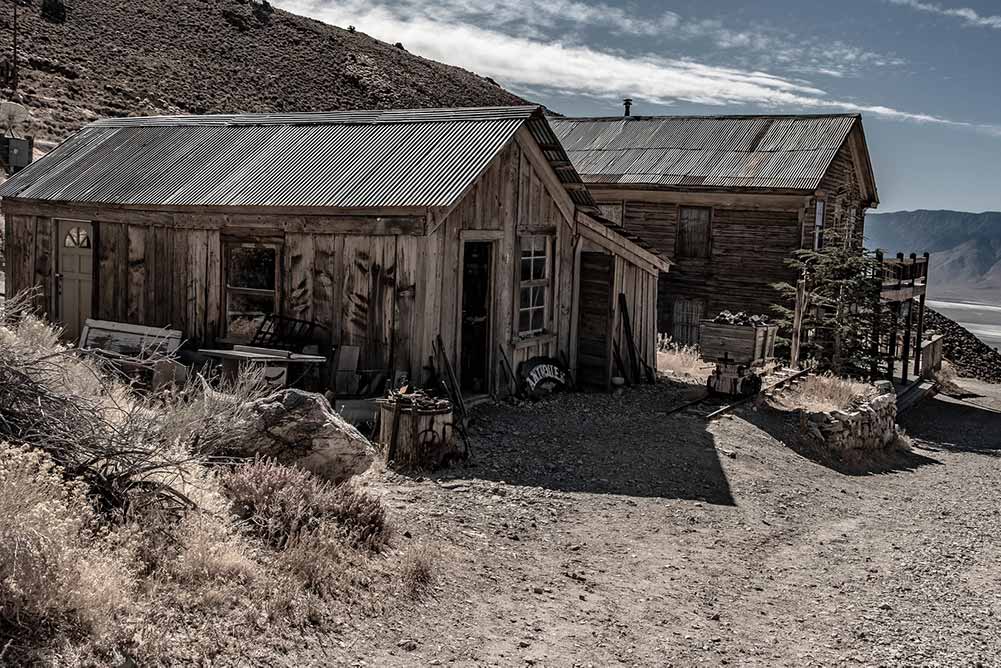 6. Cerro Gordo
Cerro Gordo, Spanish for 'fat hill' is one of the most authentic mining ghost towns in California. Its roots date back to 1865 when Pablo Flores set up a silver ore mining and smelting point at Buena Vista peak. By 1867, more miners began flocking to the area. Some businesses were established and in 1868, a proper road was built to the remote area. This enabled mule-team wagon trains to transport more of the ore to Los Angeles.
At its peak, 1,500 people filled the camp and it developed a reputation for lawlessness. However, like the other towns listed here, the mine's production and profitability ultimately fell, and by 1920, Cerro Gordo had only ten miners remaining. The site is now a privately owned 336 acre ghost town with you can visit with a reserved booking.
Things to see in Cerro Gordo include:
Authentic feel of a 19th-century mining town tour.
Hoist House and Assay Office experience.
The area's photographic scenery.
Getting to Cerro Gordo: Located 41 miles southeast of Lone Pine off of Highway 395.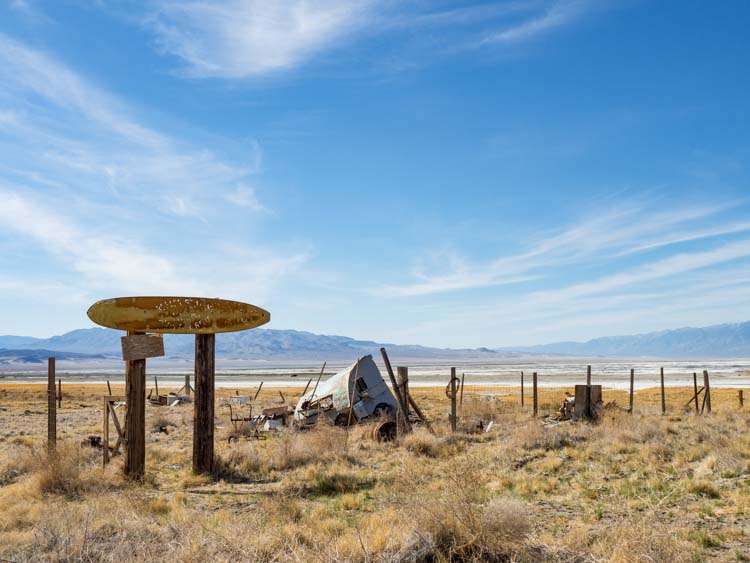 7. Keeler
If you get to Cerro Gordo from Lone Pine, you actually pass through Keeler on the way, and it's definitely worth a stop. The town is now a part of the 'almost' ghost towns in California, with a human population of 66 and a sad number of abandoned buildings. Keeler grew on the shores of Owens Lake in the 1870s as a freight terminal. By 1880, a mill was build to process ore from the Cerro Gordo mines and a rail spur was laid to help move the ore. Keeler went through several highs and lows because it was tied to Cerro Gordo's fortunes. Ultimately Cerro Gordo dried up and then the nearby lake, which killed the town and drove away most of the residents.
Things to see in Keeler include:
The old post office, operational since 1883.
The Owens Lake Silver Company furnace, a historical landmark.
Keeler cemetery, the old train depot and other mining buildings.
Getting to Keeler: It's located 15 miles south of Lone Pine, on the western road into Panamint Springs and Death Valley.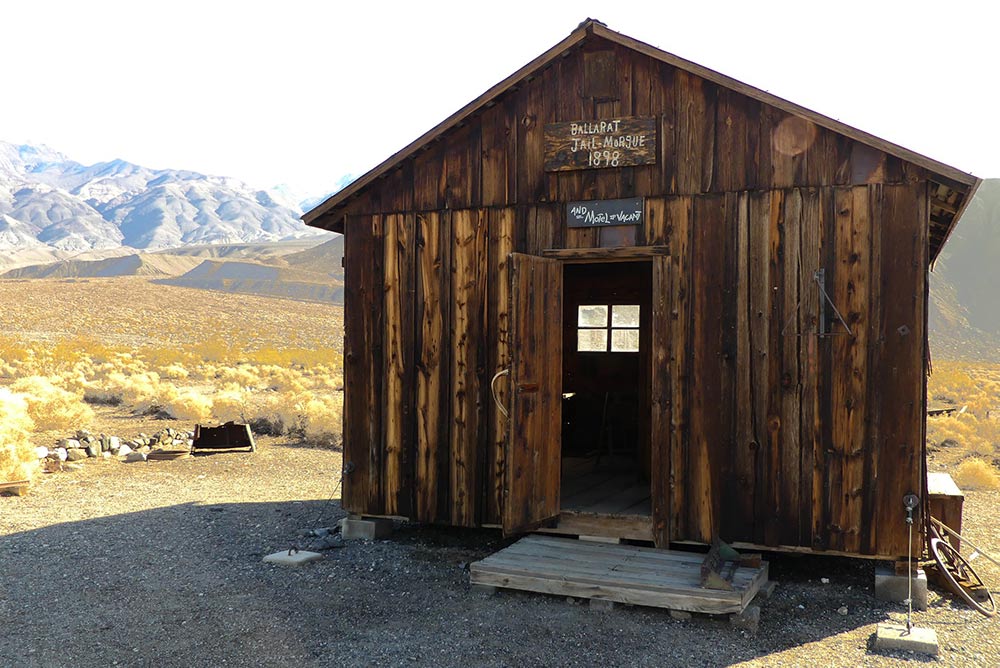 8. Ballarat
Ballarat is a little boomtown in the Mojave Desert's Panamint Valley. Ballarat rose at the tail end of the 19th-century mining rush of 1896. It was a mining supply station and a source for whisky and water, both being in scarce supply in this very dry desert. At its peak in 1897, the town was home to 500 people and had a post office, morgue, and a jail. As the lodes dried up, the post office shut down in 1917, ending the town's heyday. Most buildings at Ballarat are slowly melting to the ground, but some highlights include:
An old graveyard and the grave of one of the last of the Rainbow Seekers– Seldom Seen Slim.
The general store run by the ghost town's lone resident and dog.
Trailer park and campground.
Getting to Ballarat: It's located 40 minutes directly south of Panamint Springs and an hour west of Stovepipe Wells in Death Valley National Park.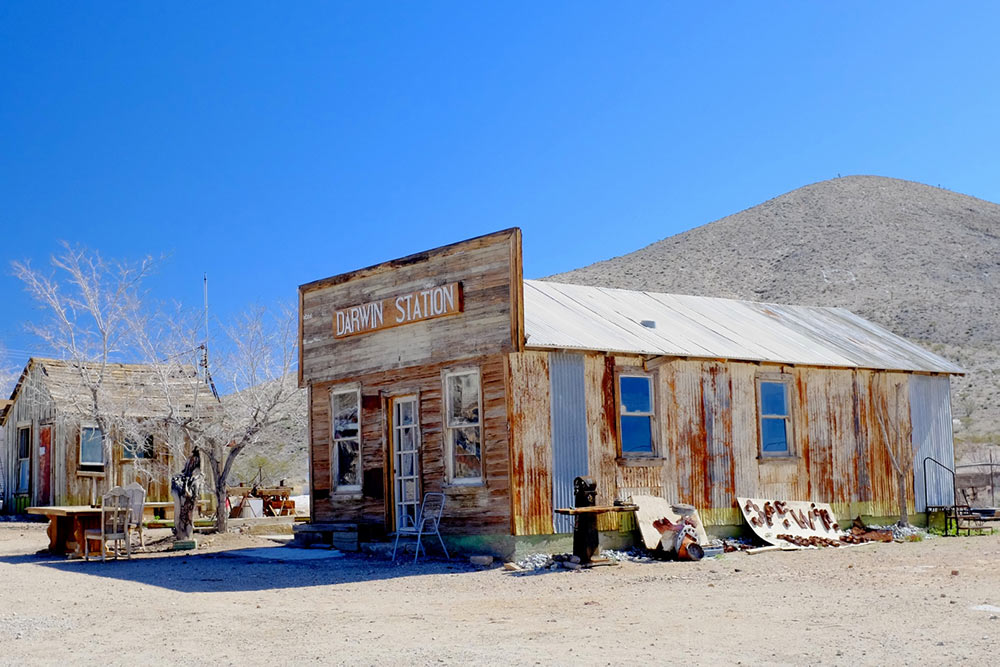 9. Darwin
Darwin is another of the 'almost' ghost towns in California. The town borrows its name from Darwin French, a prospector who visited the area in 1850. The adjacent canyon and falls are also named after him. The first settlement in Darwin came up in 1874, in the wake of lead and silver mining in the region. The town remained operational because of the Eichbaum Toll Road. But the town was isolated in 1933 when Death Valley became a national monument. When they created access into the park, the new road bypassed Darwin, ensuring its decline. Darwin still has about 40 residents.
Things to see include:
Old buildings from its mining heyday.
Folk art stores.
Authentic desert living.
Getting to Darwin: It's located 30 minutes west and south of Panamint Springs.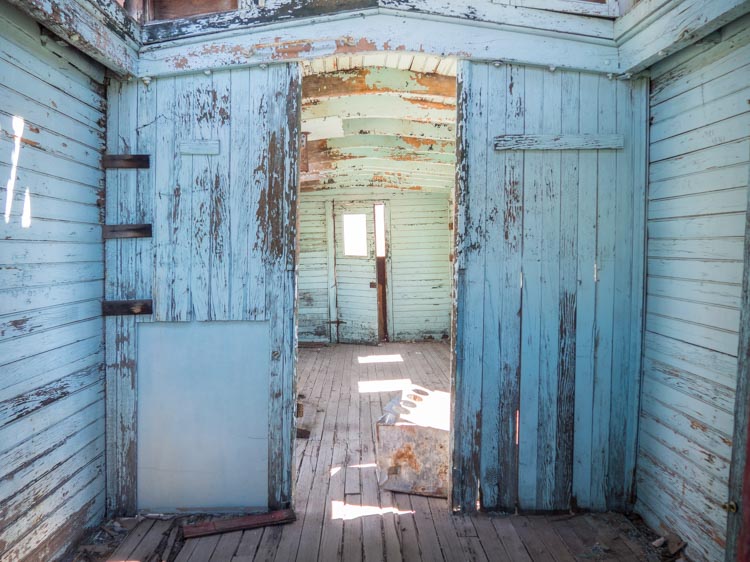 10. Rhyolite
Rhyolite was a grand boomtown. In its glory days, it had a public bathhouse, 50 saloons, and 19 lodging houses. Starting as a small mining camp in 1905, the town's population grew to 5000 miners in just a half a year. Charles M. Schwab's attention elevated the town, bringing in water mains, electricity, telegraph, and telephone lines. Unfortunately, the ore diminished, leading first to mine closures and then the closure of the town's related businesses. They cut power to the town in 1914, forcing most of its inhabitants out.
Some of Rhyolite's remaining attractions are:
The Tom Kelly bottle house, which is the largest and oldest bottle house in the US.
The Goldwell open-air museum.
Remains of the old bank, jail and train depot.
Getting to Rhyolite: Rhyolite is 4 miles west of Beatty and and 1.5 hours northeast of Death Valley's main activities.
Ballarat, Darwin and Rhyolite all make great stops on any Death Valley road trip. You can check out our 2-day Death Valley itinerary, or if you are in a hurry, you can do a truncated version in one day. The one day itinerary is actually designed for people coming from Las Vegas, but you can ignore the driving directions and just focus on the basic itinerary, which includes Rhyolite.
Enjoy your tour of California's ghost town, don't forget to bring your camera, a curious mind and a tin plate for panning for gold (just in case). Happy trails!
Share these California ghost towns with your friends on Pinterest: