Doing a day trip to Death Valley from Las Vegas is tricky, You start with the long drive from Vegas to Death Valley, and then there's vast geography of the park itself along with the long list of cool things to see and do there. Don't worry, we are nothing if not helpful here at California Crossings. This Vegas to Death Valley guide will help you make the most of your day with an efficient route to the top sights in the park.
This itinerary is also useful if you are driving from Las Vegas to San Francisco (or vice versa). You can spend some extra time in the park before carrying on to your final destination. Regardless of how you do it, get an early start, because there is a ton to do in Death Valley and you'll want to have as much time as possible for it.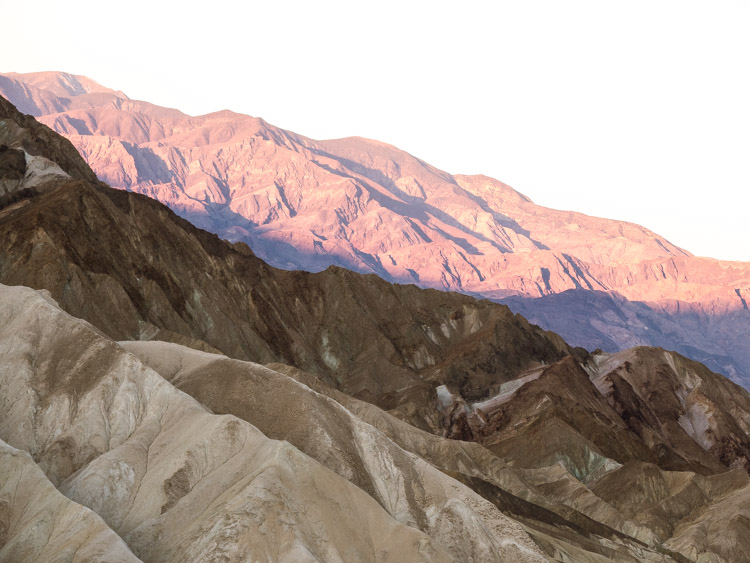 About Death Valley
Death Valley is named for the doomed efforts of pioneers who were desperately seeking passage through the southern Sierra Nevada mountains. This hot dry landscape is an unforgiving place for a lost wagon train. But the pioneers persevered and after the establishment of California, Death Valley became a borax mining boom-town in the 1880's. In the 1920's the Pacific Borax Company engaged in a generous act of corporate philanthropy when they lobbied to to turn their cash cow into a protected space. They succeeded and the area was designated a National Monument in 1933, and a National Park in 1994.
Death Valley is beautiful for its contrasting landscapes. Death Valley National Park has the lowest spot in United States, which is then dwarfed by the nearby 11,000 foot Telegraph Peak. There are eroding sandstone cliffs, canyons, volcanic craters, surprising springs and "painted" rocks.
It's no wonder that you want to visit Death Valley on your Las Vegas trip. Get the full guide for how to do that by reading the full article or or use this handy table of contents to find what you are looking for:
Death Valley day trip FAQ
9 top stops for your Death Valley day trip from Las Vegas
2 things to add if you have more time
2 things to skip in the interest of time
Death Valley from Las Vegas: route, itinerary map
4 guided tours from Las Vegas to Death Valley National Park
Other things to do in the region
Get the Death Valley Vacation Guide: It's got the full scoop for planning your Death Valley Trip.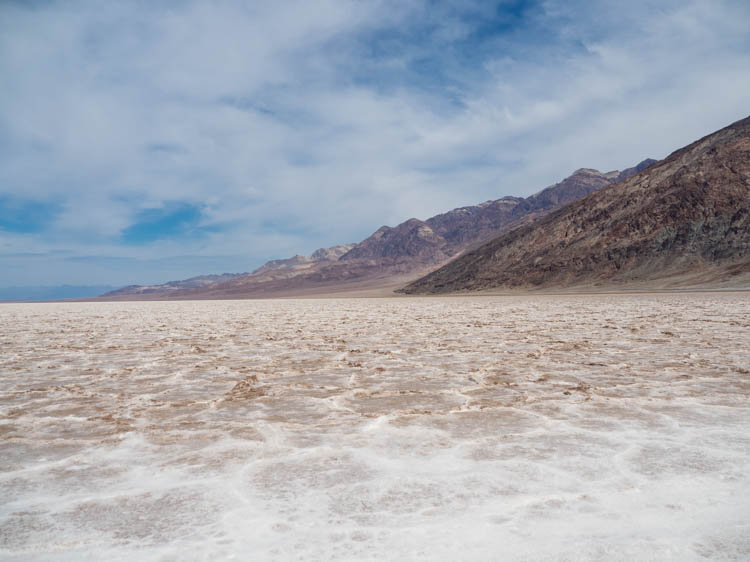 FAQ: Day Trip to Death Valley From Las Vegas
What is the Distance from Las Vegas to Death Valley?
The distance is 111-142 miles, depending upon which of three routes you use. Las Vegas is actually the nearest airport to Death Valley, so this is a smart pick.
1. Interstate 95 to Amargosa and then 373 to Death Valley Junction. This is the longest at 142 miles but works best if you prefer four lane freeway and will be prioritizing the popular mid-section of the park.
2. Highway 160 via Pahrump to Death Valley Junction. This is the shortest route at 111 miles.
3. Stay on Interstate 95 after Amargosa and go to Beatty, where you then take Highway 374 into the park. This is the routing I recommend below. It allows you to see the Rhyolite Ghost town and is an efficient way to get to the Mesquite Dunes.
How Long is the Drive?
It will take about 2 hours and 30 minutes, to get into Death Valley National park from Las Vegas.
Is One Day Enough for Death Valley?
Not really. It's the largest National Park in the continental US and there is a LOT to do and see. That said, some of the most popular sights are centrally situated. With the help of this guide, you can see them in one day with a pretty packed agenda.
You can also consider overnighting in the park, using this this 2-day Death Valley itinerary and our camping guide.
Is it Safe to Drive in Death Valley?
Yes. If you are worried about road conditions, all of the top sights listed here are accessible from paved roads. And while you should gas up before you go, there are fuel pumps in both Stovepipe Wells and Furnace Creek.
What is the Best Month to Visit Death Valley
April and October are my favorite times because the weather is very pleasant. Summer is the worst time to visit because the volcanic 115′ temperatures will prevent you from enjoying your time outside.
For wildflowers: The very best month to visit Death Valley is in April and if you're lucky, the wildflowers will be in bloom. You can keep an eye on the Park's website for a wildflower watch.
For warm days and cool nights: March-April and October-November have great weather for a Death Valley road trip. Average highs are are 80-90 and lows are 55-65.
For fewer crowds: January is the quietest month for visitation, with half of what April gets. The stretch between Thanksgiving and Christmas are also quiet times for both Death Valley and nearby(ish) Joshua Tree National Park.
These fun facts about Death Valley will help you learn things like whether the park is hotter than actual hell, who swindled who and where to find The Force.
Top Stops for Your Death Valley Day Trip
Since you only have one day to do Death Valley from Las Vegas, you've got no time to waste. We are recommending things to do that are among the most popular in the park. This guide also recommends a specific driving route so that you can be as efficient as possible with your time. Even so, this is an action-packed day, so get a good night sleep and set out early.
Total Itinerary: 356 miles | 12 hours of drive time and exploring the park.
Las Vegas to Beatty
117 miles | 1:45 drive time | :20 on site
Since you got up at o'dark thirty to start this adventure, you may want to take a pitstop in Beatty. The morning is a bit early to visit one of their (legal) brothels, but perhaps you could stop into Death Valley Coffee Time or Gema's Wagon Wheel for coffee and a bit of brekky.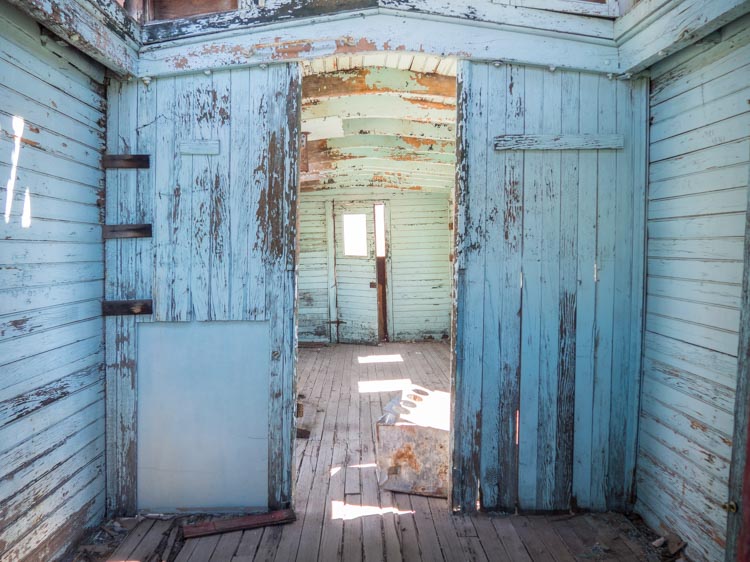 Rhyolite Ghost Town
6 miles | :10 drive time | 1:00 on site
Rhyolite is a bit out of the way, but worth it if you interested in learning about Death Valley's mining history, and also if you like funky art projects. Rhyolite boomed and busted in short order between 1907-1910 and you can creep around the site peeking into old miner huts, schoolhouse ruins and rail cars. Be sure to save time for the nearby Tom Kelley bottle house and the Goldwell Open Air museum and sculpture park. Here's our Rhyolite guide.
Mesquite Dunes
27 miles | :35 drive time | :45 on site
Death Valley National Park has several sets of sand dunes, but the Mesquite Dunes are the largest and most accessible. Simply park and then wander out into the dunes, exploring the short mesquite trees and the play of light and shadow. Also- this is the place where C3PO got so much sand into his joints at the beginning of the first Star Wars movie.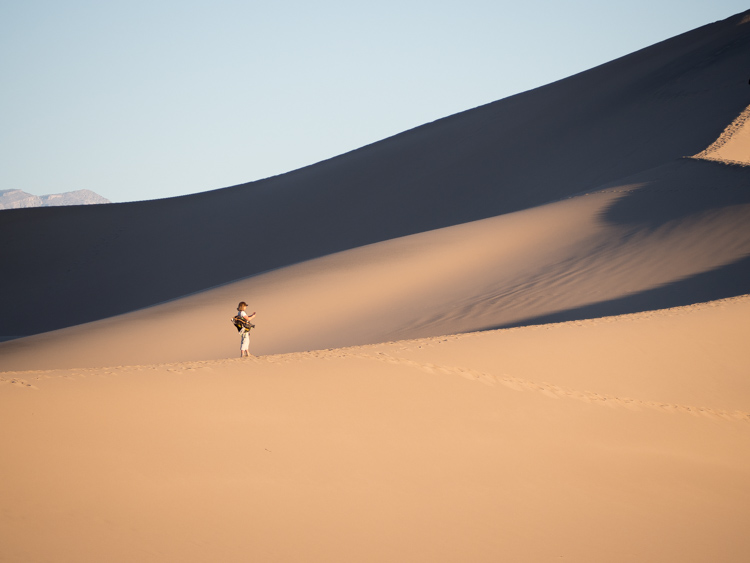 Furnace Creek Visitor's Center
23 miles | :25 drive time | :20 on site
Death Valley is not a gated National Park. They have an honor system for getting park passes, using self-serve kiosks. If you haven't already gotten a pass (which you can do in advance here), stop into the Furnace Creek to purchase one. You can then see the exhibits, get maps and take a break for lunch. There is also a gas station in Furnace creek in case you need to top up.
Badwater Basin
15 miles | :20 drive time | :30 on site
At -282 feet below sea level, the Badwater Basin is the lowest spot in the United States. It's a vast salty sea bed where you can spot cool crystalline geology and marvel at the mountains that loom over it.
Artist Palette Drive
13 miles | :25 drive time | :45 on site
This scenic drive accesses is a collection of colorful pink and green minerals which flow out of the otherwise beige landscape. You can simply do the 10 mile drive, or you can stop at some of the pull-outs and walk closer to the colored cliffs.
Zabriskie Point
10 miles | :15 drive time | :30 on site
Zabriskie Point is a cool spot for overlooking the Badwater Basin and the Panamint range beyond. The nearby canyon has folded crags that are quite lovely when the sunlight fires up the rocks. There is an overlook and if you have time, you can also hike down into the canyon below on the Badlands Loop.
Dante's View
20 miles | :30 drive time | :45 on site
Dante's View is a little out of the way but very worth it if you like spectacular views. From the top of the 5,500 foot viewpoint, you get a full 180′ view of Badwater Basin and the Panamint range beyond. I've very deliberately put Dante's view at the end of the itinerary hoping that you'll time it for sunset. Even better, stay after dark, because Death Valley is an international dark sky park and Dante's View is a great spot for stargazing.
If you don't make it to Dante's View, the Mesquite Dunes and Badwater Basin are also cool at sunset.
From Death Valley back to Las Vegas (via Pahrump)
125 miles | 2:30 drive time
If you are starving by now, you can stop in Pahrump for dinner– get Mexican at Johnny's or Italian at Carmelo's. If you don't get back too late, you could hit up downtown Las Vegas for some food and kitschy fun.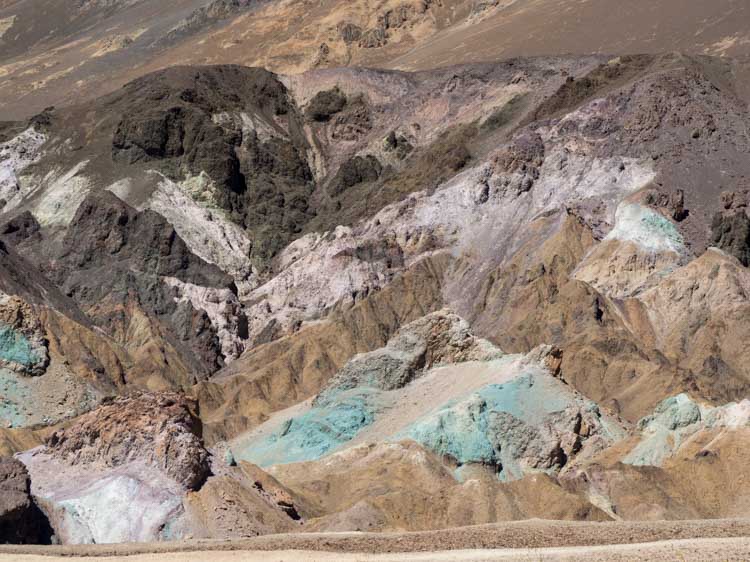 Two Additional Stops (If You Have More Time)
Golden Canyon or Sidewinder Canyon Hikes
No additional drive time | 2.5 hours on site
This narrow Golden Canyon trail is one of the most popular in the park. It's right off of the Badwater Basin road. The hike is a 3 mile out and back to the Red Cathedral overlook. But please be careful, because Jawas lurk in this canyon and you don't want to get zapped, like R2D2 did in that first Star Wars movie.
If you prefer slot canyons, then drive down Badwater road a bit further and take the Sidewinder Canyon hike. It has three amazing slot canyons.
Ubehebe Crater
Drive time 62 miles and 1:20 from Rhyolite and then 42 miles and 1:00 to Mesquite Dunes | 1:00 on site
This unique formation is a 600 foot deep inverted volcano. It was was formed when gases and magma built up and then exploded all over the surrounding desert floor. The resulting geology has created layers of colorful and textured rock deposits. While there, you can circumnavigate the 1.5 mile rim and/or walk down to the bottom of the crater.
Two Things to Skip (Because They Aren't Worth the Time)
The Devil's Golf Course
Don't bother with the Devil's Golf Course. Yes, it has interesting geology, but you see that everywhere in the park. This day trip has a tight schedule, spare yourself the time.
The Racetrack
You also don't have time for The Racetrack. Perhaps you've seen those cool images where it looks like large rocks are magically sliding around the desert basin? That's The Racetrack. It's cool, but it takes a whole day to do. Just getting there from Furnace creek takes 3 hours one way, an SUV or truck with clearance, and the intestinal fortitude to withstand 27 miles of washboard and sharp rocks.
Death Valley Itinerary Map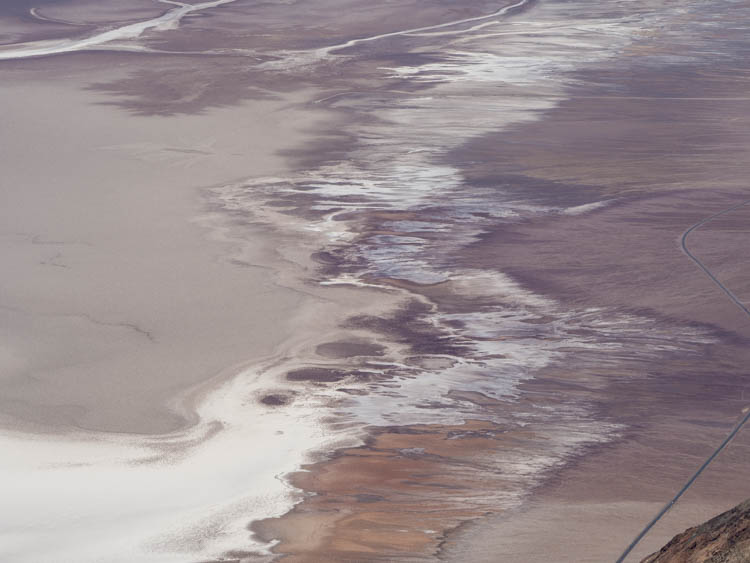 Guided Tours for the Day Trip from Las Vegas to Death Valley National Park
If you are staying in Las Vegas and don't want to rent a car, you can always take a guided tour from Vegas to Death Valley. All of them are approximately 10 hours and will pick-up from Las Vegas hotels and Airbnbs. They are all ~$250 per person for the full day, which includes a guide, national park fee, lunch, snacks and water.
The tours differ by which stops they make and whether or not you can customize your options. Check out these four choices and click on the link or the image below to get more info, read reviews and book.
Discover More in the Region
Help your friends figure out how to get from Las Vegas to Death Valley by sharing this on Pinterest: