Know before you go by checking out these 10 cool Death Valley National Park facts. Learn who actually built Scotty Castle (because it wasn't Scotty), which furry creatures live in the park, find out if Death Valley is actually hotter than hell and glean other interesting facts about Death Valley that you can use to amaze your friends at cocktail parties.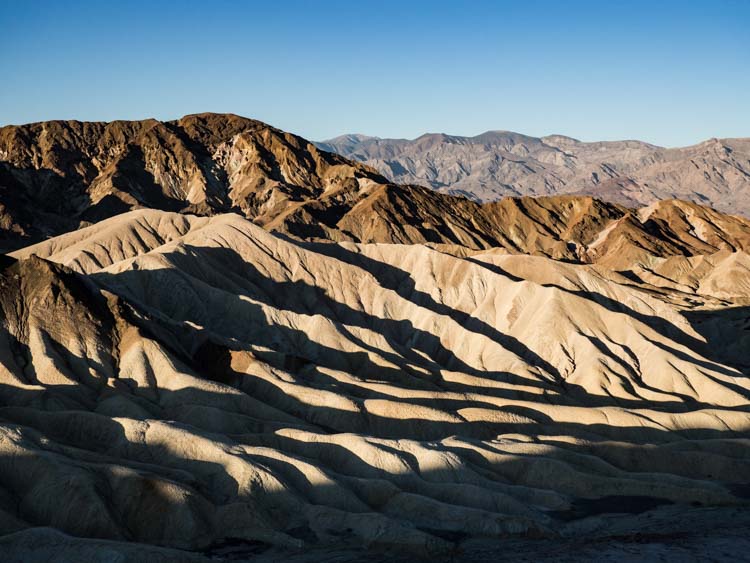 10 Quirky, Informative and Cool Death Valley Facts
There is something so beautiful about Death Valley's landscape. At first glance it's beige and bleak. But upon closer inspection, the beauty begins to reveal itself. In an expansive landscape like Death Valley, the charm is often in the contrasting details. It's a park worth visiting more than once and hopefully these rad facts about Death Valley will inspire you to plan a trip there.
Get the Death Valley Vacation Guide: It's got the full scoop for planning your Death Valley Trip.
The guide includes info for a two day Death Valley itinerary, a one day trip to Death Valley from Las Vegas as a day trip. If you like camping, then check out our insanely thorough guide for all of the Death Valley campgrounds and if you prefer a roof over your head, we also have a Death Valley accommodations guide. We've also got a guide for all the ghost towns in and near DV.
1. Death Valley is the Largest Park in the Contiguous US
Interesting Fact About Death Valley: It's 5,270 square miles of huge!
Death Valley is 3.4 million acres (or 5,270 square miles), making it the largest in the contiguous US. There are several National Parks in Alaska that are larger, including Denali, Wrangell-St. Elias and Gates of the Arctic. Death Valley's large area is part of the Mohave Desert and includes five sets of sand dunes, two mountain ranges, one XL volcano crater and one XXL salt basin.
2. Death Valley is Drier than the Sahara
Interesting Fact About Death Valley: The Sahara gets 1.5″ more annual rainfall than Death Valley does.
Death Valley receives just 1.5″ of average rainfall a year, compared to an average of 3.9″ for the Sahara. This occurs because the high Panamint and Sierra mountain ranges loom over a very low valley floor, creating a rain shadow. But just because Death Valley doesn't get a lot of rain, doesn't mean that its completely dry. It has over 600 springs and ponds, including Salt Creek (which houses some prehistoric pupfish) and Travertine Springs at what is now the Furnace Creek campground.
3. Death Valley is Hotter than Hell
Fun Fact: Death Valley had a record high of 130'F in April of 2020.
Actually, hell is said to be 444.6'F, which is the temperature at which brimstone changes from a liquid to a gas. But still, Death Valley is indeed hotter than anywhere else in the Americas and it rivals places like the Taklimakan Desert in Western China (122'F-154'F) and the Lut Desert in Iran (which once topped out at 158'F) . Average summer temperatures for Death Valley regularly hit 115'F.
Visiting in the summer is a terrible idea, go in October-April when the weather is more civil.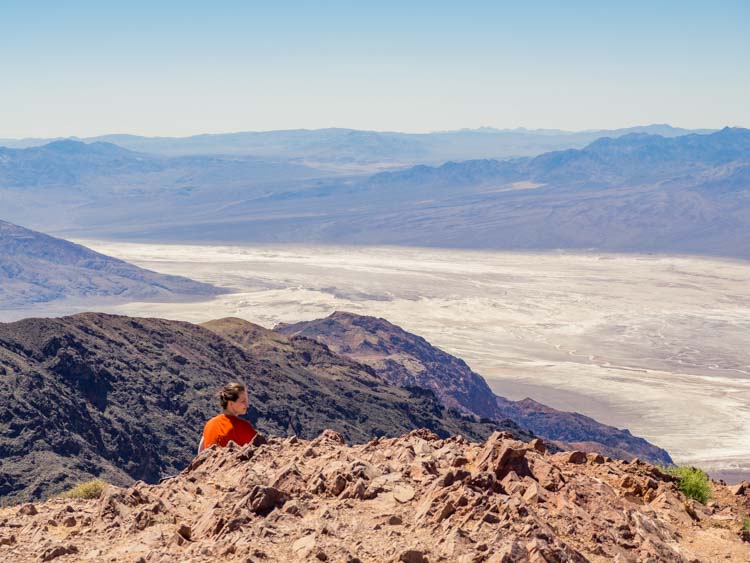 4. The Death Valley Area Has the Highest and Lowest Spots in the Lower 48
Interesting Death Valley Facts: There is a 14,787 feet of vertical elevation between the highest and lowest spots in the region.
Nearby Mount Whitney is just east of the park and it tops out at 14,505 feet elevation, making it the second highest spot in the US after Alaska's Denali (20,310). The Badwater Basin is the lowest point in all of the US, sitting at 282 feet below sea level. If you go to Dantes View, you can get a wide view of the Badwater Basin and also see the Sierra Nevadas in the distance, which underscores how close they really are (132 miles).
5. Death Valley is Truly Deadly
Interesting Fact about Death Valley: It was named by lost and exhausted pioneers in 1849.
After the Donner Party disaster in 1846, pioneers became reluctant to cross the Northern Sierras in the fall. So, in 1849, a party of gold-seekers looking for a better life, also went looking for a better route into California. They decided to forge that route by skirting around the southern edge of the Sierras.
A splinter group made the bad call to take a "short cut" through western Nevada and into the Panamint mountain range. Lost and starving, part of the group hunkered down at Travertine Springs while an intrepid advance team trudged 300 miles to the nearest Mission. A month later, they headed back with "reinforcements" consisting of three horses and a half-blind mule.
One of the horses died and two were abandoned, so it was up to the half blind mule to lead the remaining stragglers out of the area. As the bedraggled group finally made their way out of the valley, one of them is said to have proclaimed "Goodbye, Death Valley", and the name stuck.
You can see how easy it would have been for the pioneers to get lost by taking the Sidewinder Canyon hike. There are some cool slot canyons on of the trail.
6. There are 52 Types of Mammals in Death Valley
Cool Death Valley Fact: A wide range of both large and small mammals make their home in the park.
You could be forgiven for thinking that the dry climate, hot temperatures and deadly landscape would be inhospitable to mammals. But there are 52 types of mammals living in the park. This includes smaller species like squirrels, bats, chipmunks, mice, rats, gophers, rabbits and foxes. But there are even larger carnivores like the coyote, bobcat and mountain lion. There are also hoofed beasts like the burro, wild horses, mule deer and bighorn sheep.
7. Scotty Didn't Actually Build Scotty's Castle
Fun Death Valley Fact: But it was built on a swindle.
in the 1870s, Walter Scott was a rough rider on the Buffalo Bill Wild West Show. When the seasonal tour wrapped up for the year, Scotty would head to Death Valley to pick up odd jobs and work on prospecting his gold claims. He was a better con man than prospector however, because his mining claims never produced a lick of gold. But his ability to prospect rich investors was quite successful. Scotty used his investor's cash to live it up in the finest saloons and hotels in California.
One of his investors was Albery Mussey Johnson. Johnson was an insurance magnate who gave thousands of dollars to Scotty. Johnson's investigative visit to Death Valley didn't turn up any productive mines, but the dry weather did agree with him.
Despite the swindle, Johnson and Scotty became friends. Johnson bought a property in Grapevine Canyon and built what became known as Scotty's Castle. Scotty didn't own it, but Johnson kindly let him live there.
If you like the idea of rakish swindlers living in National Parks, check out these Joshua Tree National Park facts, because one of Scotty's fellow con men ended up there. And then there was that eccentric millionaire who kept a pet elephant, which you can learn about in Lake Tahoe.
8. Death Valley Became a Park Through Corporate Philanthropy
Cool Fact about Death Valley National Park: It was the Pacific Coast Borax Works who lobbied for protected status.
After those 49er pioneers and their one-eyed mule nearly died, Death Valley later became a borax mining boom-town in the 1880's. Then, in the 1920s the Pacific Coast Borax Company began lobbying the National Park Service and the general public about the need to preserve of the area's natural resources.
It was a rare and generous act of corporate philanthropy for Pacific Coast Borax to advocate turning their cash cow into a conservation area. Fortunately they succeeded and the area was designated a National Monument in 1933. Mining continued in the area until the region received official National Park designation in 1994.
9. You can Feel the Force in Death Valley
Fun Fact About Death Valley National Park: It's a stand-in for Tatooine in Star Wars.
If you've ever wanted to visit Tatooine (yes please!), then you simply need to note some of the Star Wars filming locations in Death Valley. Its desert landscape is a stand-in for Luke's hometown in Star Wars IV (A New Hope) and Star Wars VI (Return of the Jedi).
Key filming location spots include: Golden Canyon (which you can hike with our guide), Artist Palette Drive, Desolation Canyon, 20 Mule Team Canyon, Dante's View and the Mesquite Dunes.
If you like Hollywood trivia, check out these Golden Gate Bridge facts and learn how many times Tinseltown has destroyed the bridge.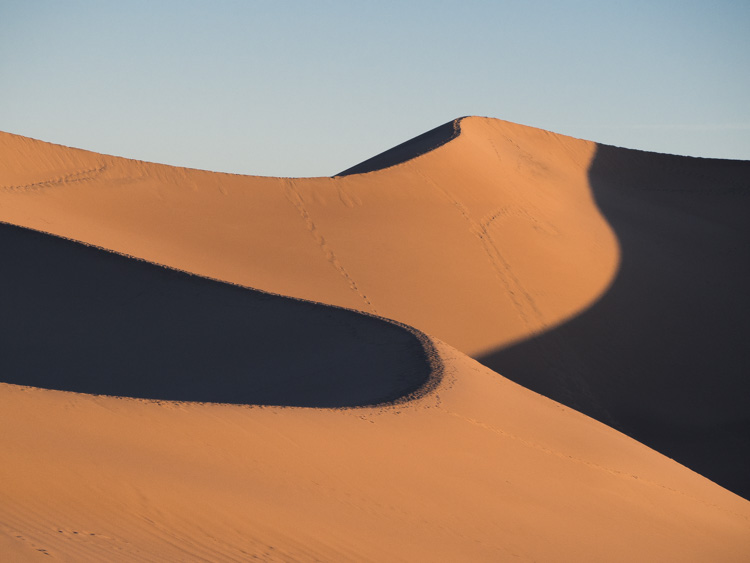 10. Death Valley has the Best Sunrises
Must Do Thing in Death Valley: Get up early for the sunrise!
I get it. Getting up before dawn is hard, especially with the bad motel room coffee that they serve at Stovepipe Wells. But do it, because it's worth it. The Mesquite Dunes and Zabriskie Point are both great at dawn. Get to Mesquite Dunes about 30 minutes before dawn so that you have time to walk out into the sand. Stay at Zabriskie Point for about 30 minutes after dawn, because the rising light creates cool shadows and shapes on the folded mountain terrain.
Read Up on Death Valley
Get more information about Death Valley with these books
The Explorers Guide to Death Valley by T. Scott Bryan and Betty Tucker-Bryan. It's a guidebook covering every inch of the park along with interesting information about Death Valley cultural history, botany and zoology, hiking and biking opportunities.
Death Valley in '49: An Autobiography of a Pioneer Who Survived the California Desert by William Lewis Manly. Manly was one of the survivors of the tragedy, and he lived to tell the tale forty-five years later in this gripping autobiography, first published in 1894.
Hiking Death Valley National Park: A Guide to the Park's Greatest Hiking Adventures byBill Cunningham and Polly Cunningham. Get detailed information about 57 of the best day hikes and extended backpacking trips.
More Fun Facts
If you are a trivia nerd, check out our other fun facts articles for Joshua Tree, Yosemite, Lake Tahoe, SF's cable cars and the Golden Gate Bridge.
Explore More of the Area
Share this Death Valley information with your friends on Pinterest: