Death Valley National Park has 5,200 square miles of epic landscape. The park is chockablock with sand dunes, slot canyons, colored rock formations, ghost towns and old mining lore. That's a lot of ground to cover on your trip, so you'll want to think carefully about where to stay in Death Valley.
Many (but not all) of the most popular sites in Death Valley are located near Furnace Creek, so we will definitely cover lodging in that area. But you also have several options for staying outside of the park, which may work better for your budget. So, we'll cover those as well.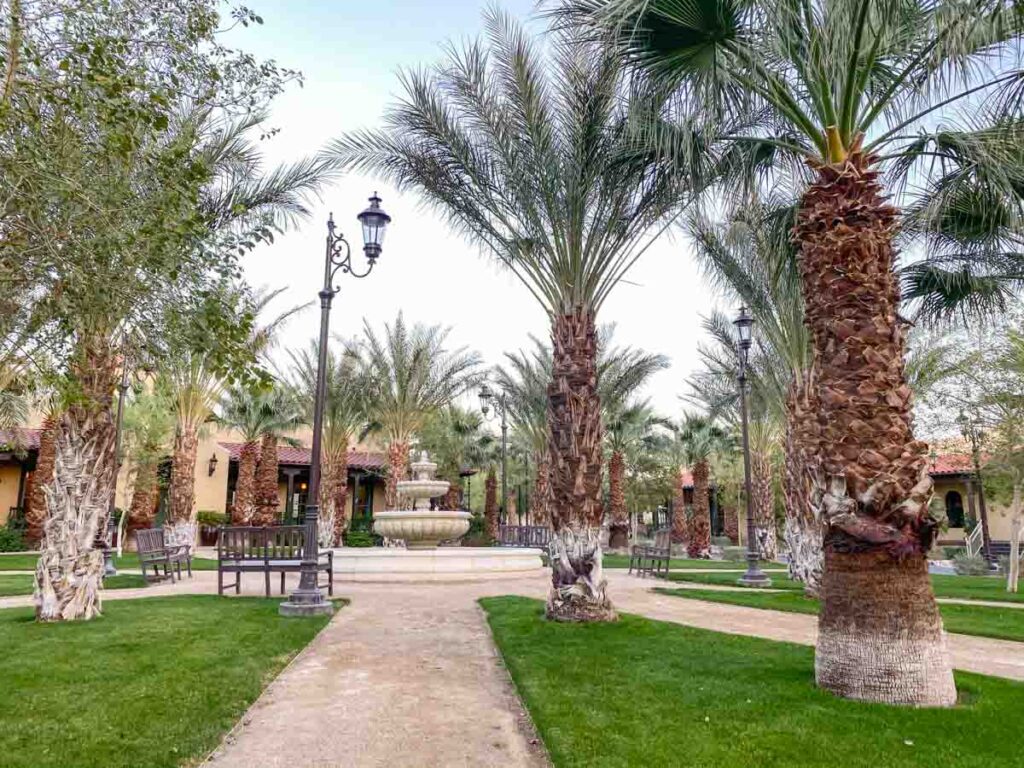 If you are thinking of camping in the park, check out our guide which covers all 12 Death Valley campgrounds. But what follows are accommodations in/near Death Valley that are full service, like lodges, cabins and motels.
(This article contains affiliate links. This means that if you choose to purchase, I'll make a small commission.)
Death Valley Trip Planning Resources
Start with our Death Valley visitor guide. It's has everything you need to know about trip planning logistics– like when to go, how to get there, park passes, where to get gas, top hikes, top things to do and where to eat.
If Death Valley is part of a larger road trip for you, then check out our guide for getting between Death Valley and San Francisco. It has two different scenic routes with key stops (both within and outside of Death Valley). If you are coming up from further south, then use our Joshua Tree to Death Valley road trip guide. It also has some cool scenic stops between the two parks that are worth seeing. And if you are coming from Las Vegas, we have a guide for that too.
If you are flying into California, there isn't an airport in Death Valley, but this resource will tell you which airports are the closest to the park.
We recommend spending at least two days in Death Valley. Three+ is even better, because it will give you time to do a few longer day hikes like the Golden Canyon/Gower Gulch loop or Sidewinder Canyon.
And finally, educate yourself before you go by checking out some fun facts about Death Valley. It covers how the park got its deadly name, how a one-eyed mule saved the day and whether Scotty's Castle actually belonged to Scotty.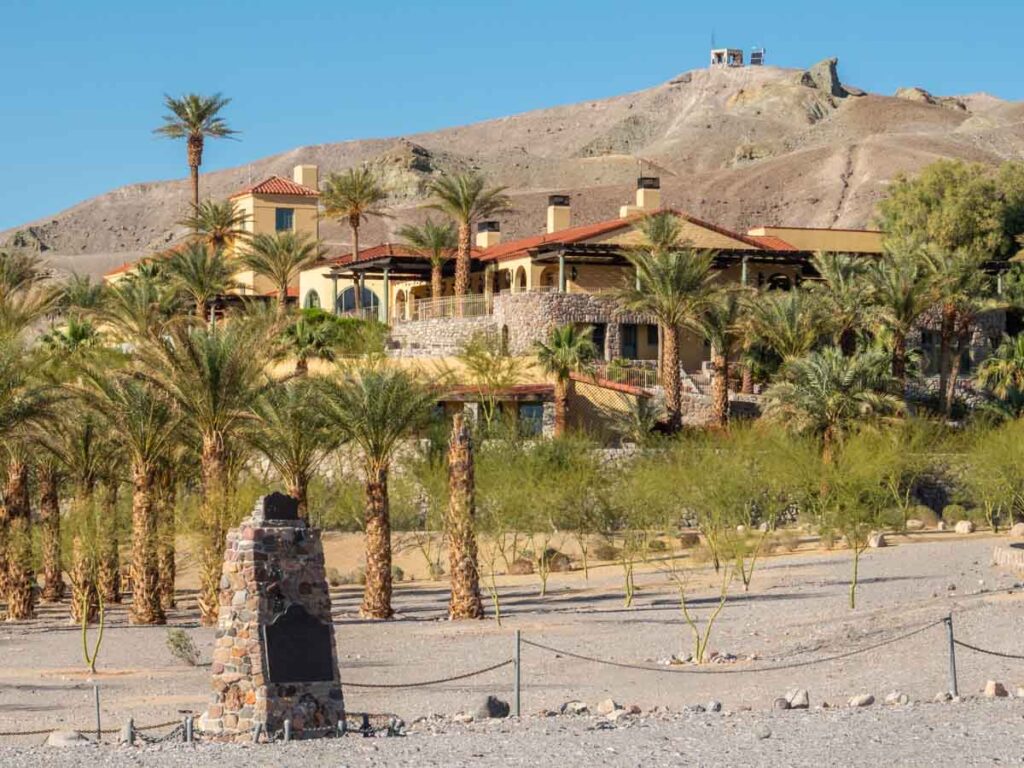 Where To Stay in Death Valley (For Killer Locations)
If you can plan ahead and can swing the room rates, the best place to stay in Death Valley in within the confines of the park. There are only three lodges in Death Valley. One is in Stovepipe Wells (which is near the lovely Mesquite Dunes) and the other two are in Furnace Creek (near the Visitor Center). All three book up during the busy season, so don't dither when it comes to making your reservations.
Frankly, none of these three Death Valley hotels are a screamin' deal. Staying in within the park will save you a lot of drive time, but you will definitely pay for the privilege. For convenience, I'm listing rough room rates here so that you can see how the hotels compare to one another. But, of course, room rates are highly variable.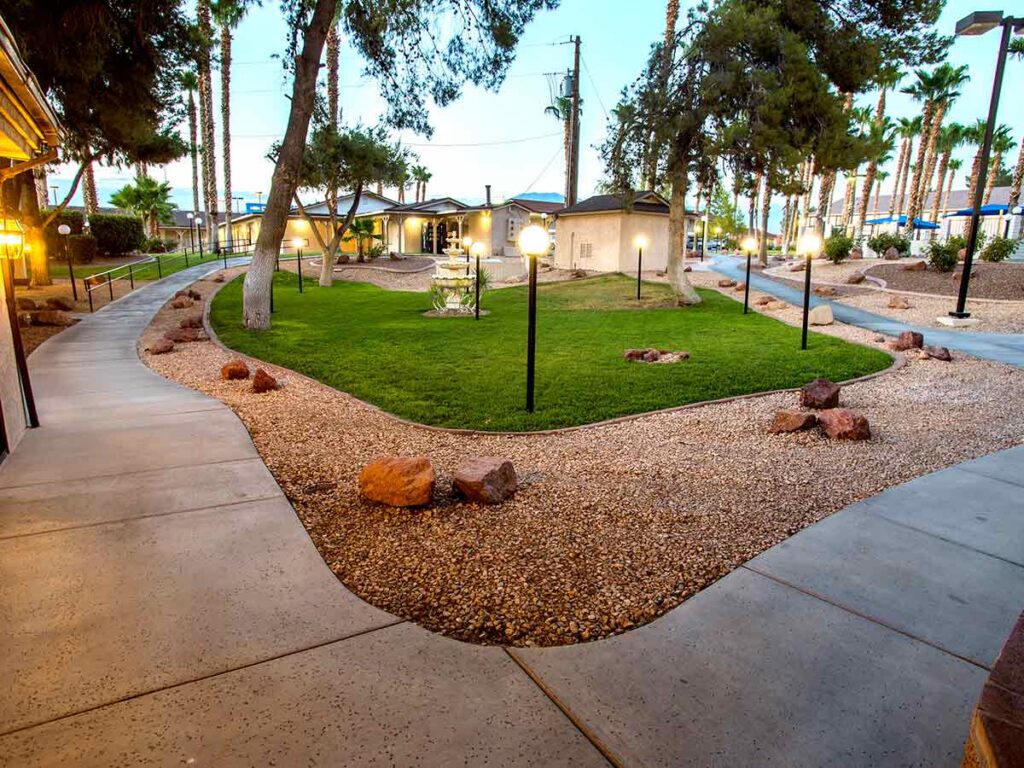 Where to Stay Near Death Valley (For Budget Options)
If the above Death Valley hotels are full…or you have a tight budget, then you'll need to stay outside of the park. The most convenient place to do that is in Pahrump. The following accommodations are near Death Valley and are just an hour and 15 minutes south and east of Furnace Creek.
The road to and from Pahrump also takes you right past Zabriskie Point and it's just a slight detour to visit Dante's Peak.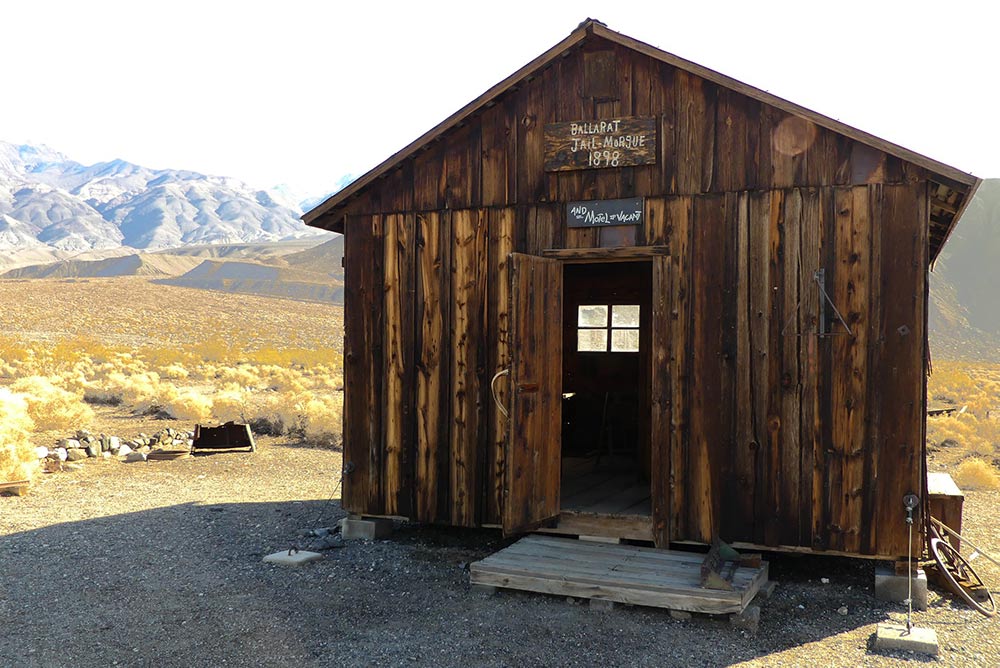 Other Options: Ridgecrest and Panamint Springs
If you are coming in from Joshua Tree or LA and just need a place to crash for the night, then you should look at Ridgecrest. It's not a good location as a base of operations, because it's 2 hours from Ridgecrest to Furnace Creek. But, you can do one night there and then stop at Ballarat ghost town and Mesquite Dunes on the way into the park proper.
Ridgecrest has the usual assortment of motels. The Quality Inn is the most well rated. It has a pool, good sized rooms and free breakfast.
Check reviews and book here.
Another option is an overnighter in Panamint Springs. There are limited options in Panamint Springs but it can be a good choice if you are coming down from Highway 395. It's an hour southeast of Lone Pine and another hour from Panamint Springs into Furnace Creek.
Panamint Springs is a small rustic resort with an RV park, cottages and tent cabins. They have a modest restaurant/bar, service station and a small grocery.
Book it here.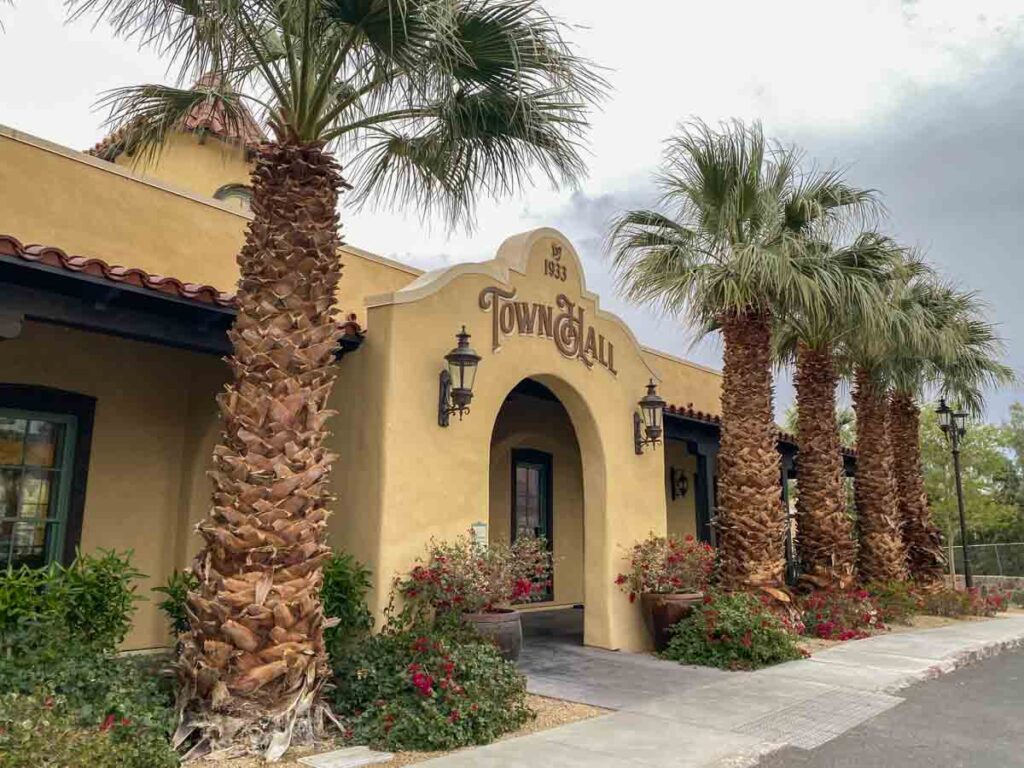 Preparing for Your Death Valley Road Trip
The popular sites in Death Valley are spread out all over creation. And while the hotels in Death Valley all have restaurants and small stores, it's not always convenient to head back to Furnace Creek or Stovepipe Wells just to grab lunch. In addition, there is not a larger grocery store within an hour+ of the park.
My friends make fun of me for always traveling with a small cooler and sandwich fixin's. But believe me, you'll want that in Death Valley. I recommend that you stock up on food and snacks at a grocery store before you enter the park.
Take a good sized cooler that will keep cold in the heat and will hold a decent amount of lunch and snack items. The Yeti coolers are expensive, but they keep food cold for far longer than cheaper coolers. Plus, they come in fun colors. Alternatively, you can get a plug-in cooler, which uses your car's 12 volt plug to keep things cold.
Remember, this is the Mohave Desert after all, and the trailheads and vista points don't have water. Bring a water bottle for on the go and stock the car with larger refillable bottles like this wide mouth gallon jug.
Mobile service is rotten throughout Death Valley, so don't count on your phone to do your mapping for you. This is one of those times when an old school map will serve you well. We love the Benchmark California Road Atlas. It has a lot of detail, showing state parks and campsites as well as both paved and dirt roads.
Explore More California National Parks
Share where to stay in Death Valley on Pinterest: