The Eastern Sierras house some of California's most interesting terrain. The dry side of the Sierra Nevada mountains aren't as showy as Yosemite or Lake Tahoe, but there is an astonishing amount of natural beauty and some surprising California history to be found along the Highway 395 corridor. The corridor is bookended by Bridgeport in the north and Lone Pine in the south.
This guide will help you find 10 of the very best things to do in Lone Pine, CA. You can tick off some of these activities as part of a larger Highway 395 road trip, or just hang out in the southern reaches and enjoy the desert landscape. We've actually done both of those things, because the more we go to the Eastern Sierras, the more we fall in love with the spare natural beauty there.
So, even if you are just driving through, be sure to make time for some of these things to do in Lone Pine and you won't regret it.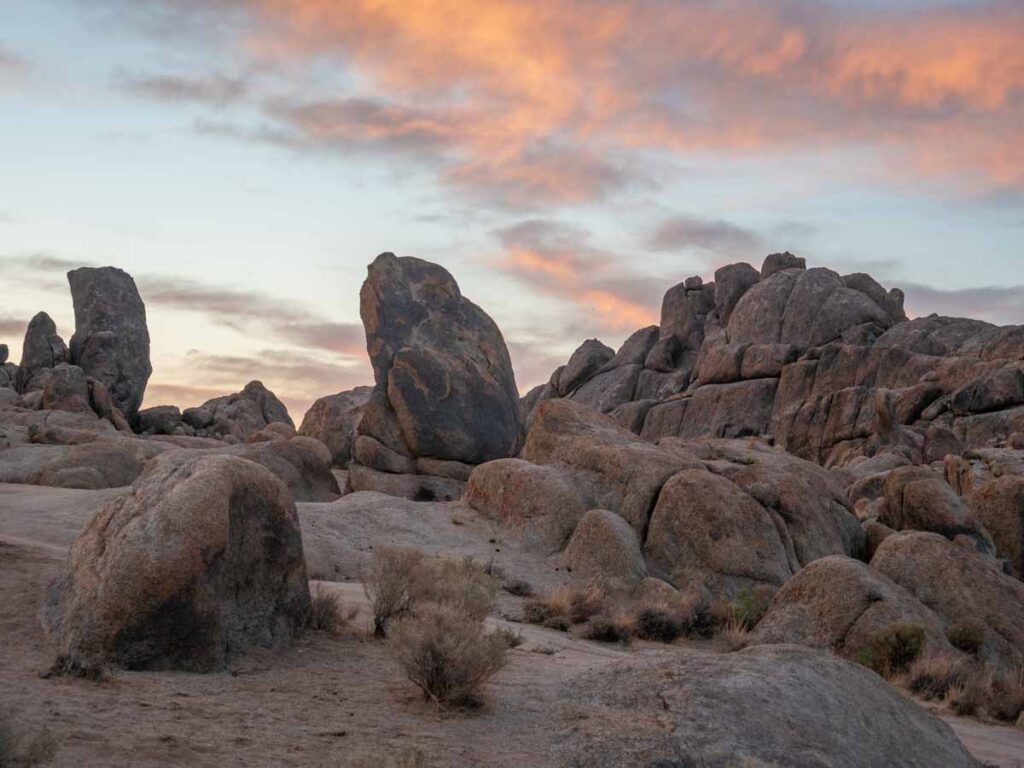 (This article contains affiliate links. This means that if you choose to purchase, I'll make a small commission.)
When to Go to Lone Pine
Lone Pine is in the northwestern reaches of the Mohave Desert. It sits at an elevation of 3,700 feet, which is lower than the northern portion of the 395 corridor. This means that they have cool winters that are fairly dry (although they do sometimes get snow). The town also has very pleasant spring and fall weather with highs in the '70's. And Lone Pine has dang hot summers, with temps in the '90's for June, July and August.
April/May and Sept/Oct are a sweet spot for the region, especially of you're doing Lone Pine as part of a larger road trip. You can still get decent weather and low snow in the northern part of 395 and then experience absolutely perfect temps in Lone Pine. If you just want to visit Lone Pine and lower Highway 395, then September to May is best.
This advice also works well if you are visiting Lone Pine as part of a larger Death Valley trip. You can get more advice on that using our mega guide for Death Valley.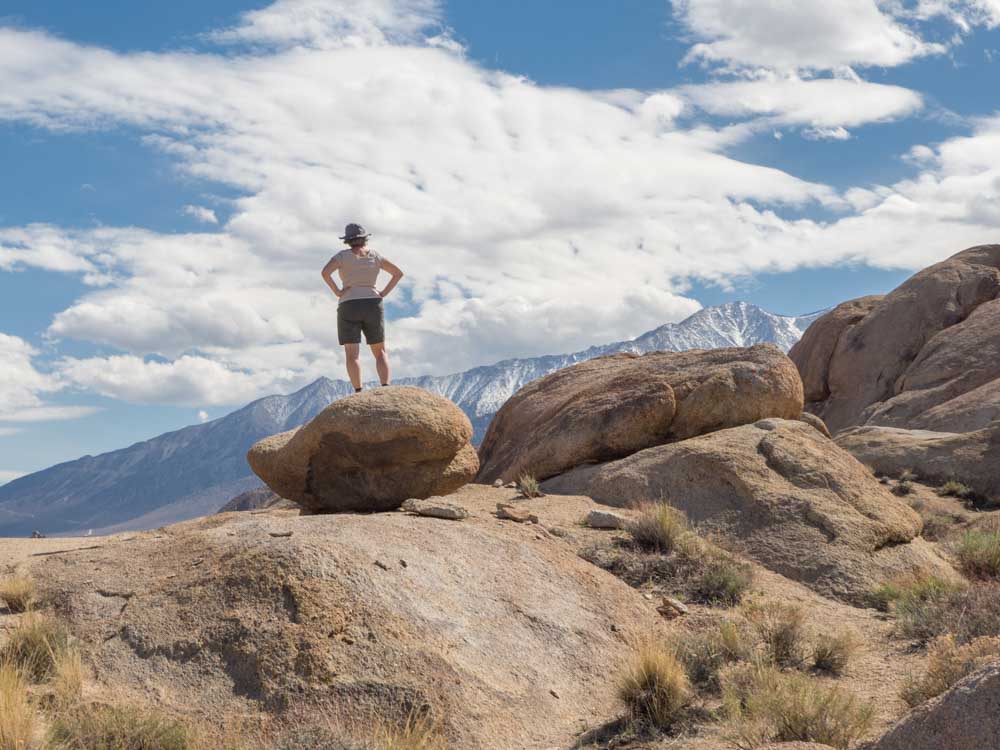 How to Get to Lone Pine
Getting from Los Angeles to Lone Pine
Lone Pine is 213 miles northeast from Los Angeles. You can get there in 3.5-4.5 hours by taking Highway 14 north, meeting up with Highway 395 at Ridgecrest. Or by taking the 605/210 out to San Bernardino and then Highway 395 north.
If you aren't in a hurry, you can take one of our suggested California scenic drives and detour through the Angeles Forest on Highway 39. If you want to fly, here's some info on the closest airport to Lone Pine and Bishop.
Getting from San Francisco to Lone Pine
Starting in San Francisco gives you a number of routing options. In fact, if you are adding Death Valley onto the trip, use our SF to Death Valley road trip guide. It offers three different routing options (which depend upon the season) and key stops (including Lone Pine) along the way.
In the summer and fall, the fastest routing goes from San Francisco through Yosemite over Highway 120 Tioga Pass and then south on Highway 395. This is 351 miles and will take 7.5 hours if you drive straight through—which you shouldn't because otherwise you'll miss some cool scenic pullouts and stops. Also–Tioga pass is closed in the winter.
In the winter, you can either take Highway 80/50 through Tahoe to Carson City and then south on 395 (444 miles, 8 hours), which is more scenic. Or go down Interstate 5/99 via Bakersfield and Tehachapi, then north on Highway 395 (452 miles 7.5 hours), which is faster and less prone to weather issues.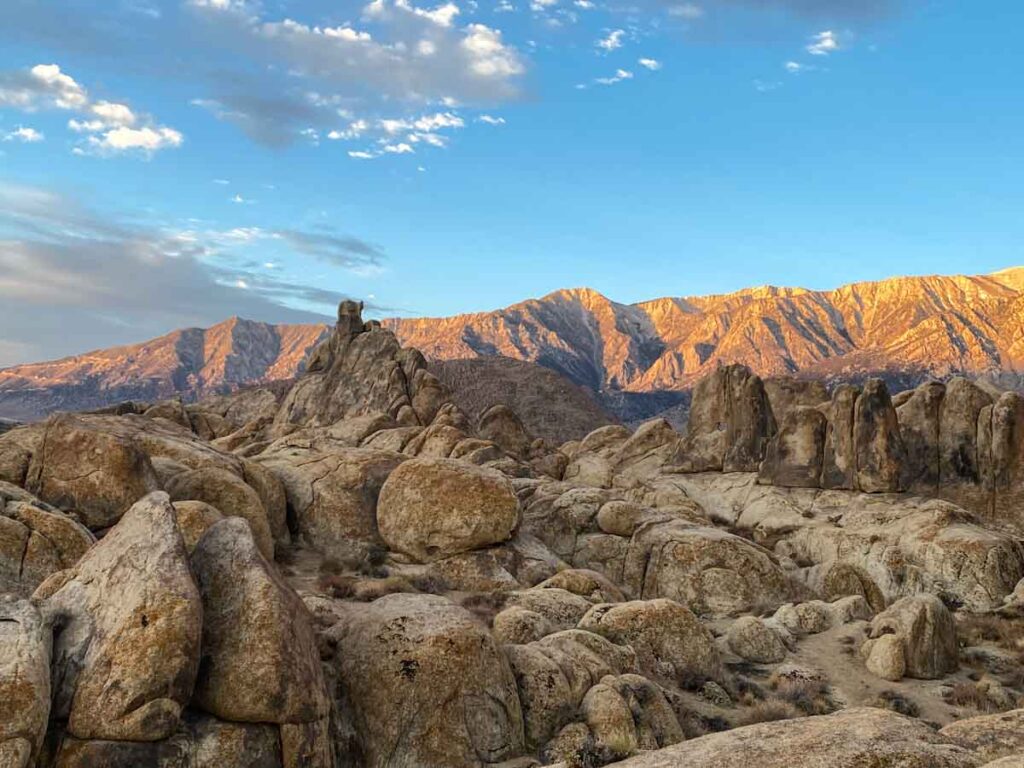 The Top 10 Things to Do in Lone Pine
Now that you've sorted out when to go and how to get there, it's time to figure out what to do in Lone Pine.
1. Alabama Hills
The Alabama Hills offer some of the coolest landscapes in California…and it isn't even a state or national park. It's absolutely one of my favorite things to do in Lone Pine. These hills sit on Bureau of Land Management (BLM) public lands. The landscape is notable for the huge, rounded eroded rocks, which were formed by ancient magma. The area has are reddish rocks and arches, which are very reminiscent of southern Utah.
The whole area is dotted with a series of dirt roads that you can explore on foot, by bike or in your car. The main Movie Road is easily navigable by a passenger car, as are are many of the side roads.
The best time of day in the Alabama Hills is at sunrise. Once the sun comes pops up over the eastern Inyo Mountains, it sparks up Mount Whitney and the Sierra Nevada range. Even if you are staying in town, it's worth getting up early for the light show.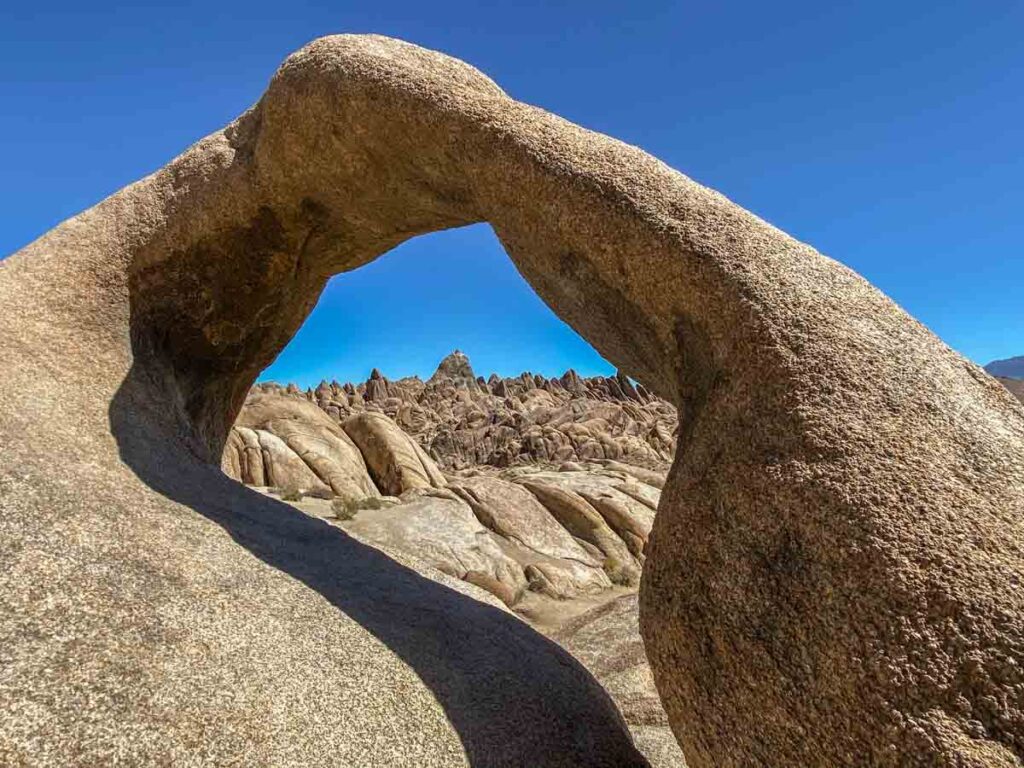 2. Mobius Arch Loop Trail
If you'd like more of the Utah-like landscapes, then be sure to take the Mobius Arch trail within the Alabama Hills. It's an easy to access .6 mile loop that makes a circuit around the Mobius Arch. And if you want to do more mileage, you can strike north for an out-and-back on the adjacent Alabama Hills trail.
3. Whitney Portal Road
Whitney Peak is the highest point in the Continental US. And even if you aren't up for climbing up to its 15,000 foot peak, you can certainly take the scenic drive to the base of the trail. This road starts right in Lone Pine and goes up 13 miles and 5,000 vertical feet up into the Sierras.
The road is narrow and winding, but there are pullouts where you can stop for pictures. You can stop for a bite at the Whitney Portal store and do some out and back hiking along the Mount Whitney trail.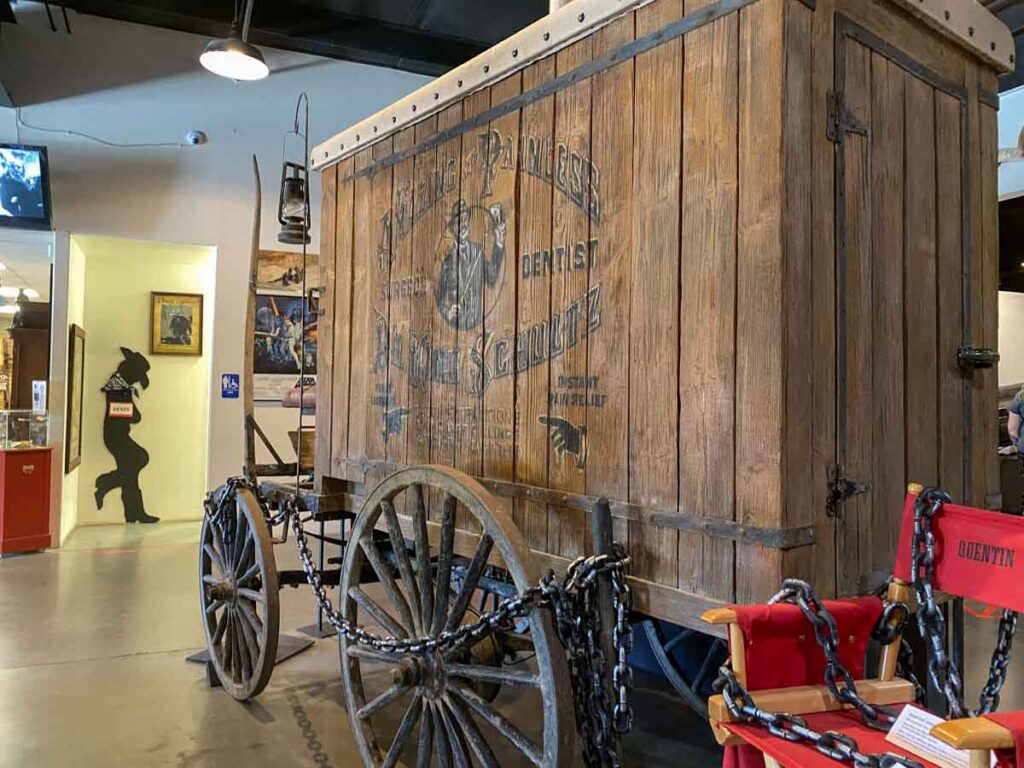 4. The Museum of Western Film History
Whoa there cowboy, did you know that over 300 movies and TV shows were filmed in the Alabama Hills? Starting in the 1920's, the area was used for filming westerns, horror movies and anything else needing a desert landscape. There were a ton of John Wayne and Errol Flynn movies filmed in Lone Pine back in the day. But more recent films like Django Unchained, Iron Man and Superman Man of Steel have also used the landscape.
The Museum of Western Film History celebrates all of that will geek-level trivia and memorabilia that celebrates the local movie culture.
The museum is open most days from 10a-4 (or 5) pm.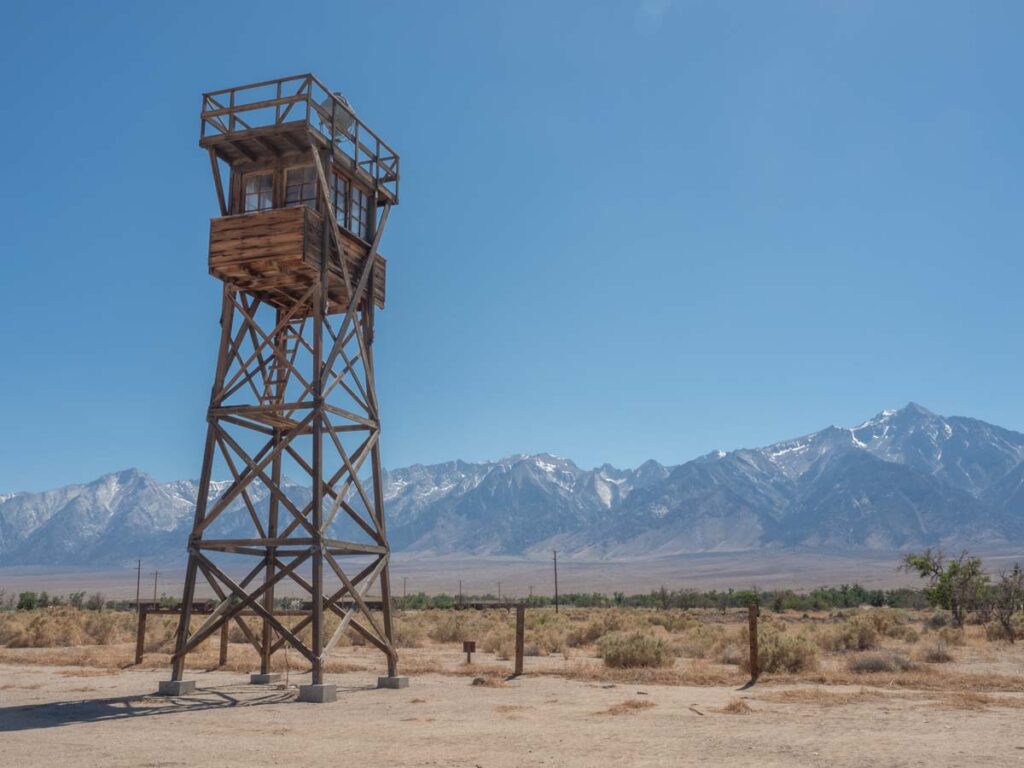 5. Manzanar National Historic Site
Winston Churchill said "Those that fail to learn from history are doomed to repeat it". And we can continue to learn from history only if we continue to seek out the lessons from it. Manzanar National Historic Site does an excellent job of teaching us about a grave mistake that we made during WWII and its absolutely the most informative and sobering thing to do in Lone Pine.
The attack on Pearl Harbor not only definitively drew us into WWII, but it gravely wounded the American psyche and triggered a lot of fear. One of our national responses to that fear included rounding up 110,000 non-American Japanese citizens and also Japanese-Americans citizens, and intering them in military-style prisoner camps. Manazanar was one such camp, housing 10,000 people during the war.
The historic site has a series of reconstructed buildings that show housing conditions, the school room and the mess hall. There is also a touching cemetery and memorial. The excellent displays offer information about the logistics of camp life and the ongoing discrimination faced by the interred people.
If you are interested in this sort of California history, then definitively check out Angel Island State Park in SF. It has cool hikes and it covers military history and America's west coast immigration station.
6. Detour Drive from Moffat Ranch to Movie Road
One of the cool things about the 395 corridor is all of the side roads and detours that you can take. One such option is available just south of the Manzanar Historic Site and it goes into the Alabama Hills. This five mile detour leaves 395 behind and takes a washboard journey deep into the Alabama Hills.
The road is bumpy, but you can do it in a normal passenger car, provided that you have some clearance and a lot of patience.
If you like side trips and detours, then check out our article on Bodie State park, because it includes several alternative ways to get into the park.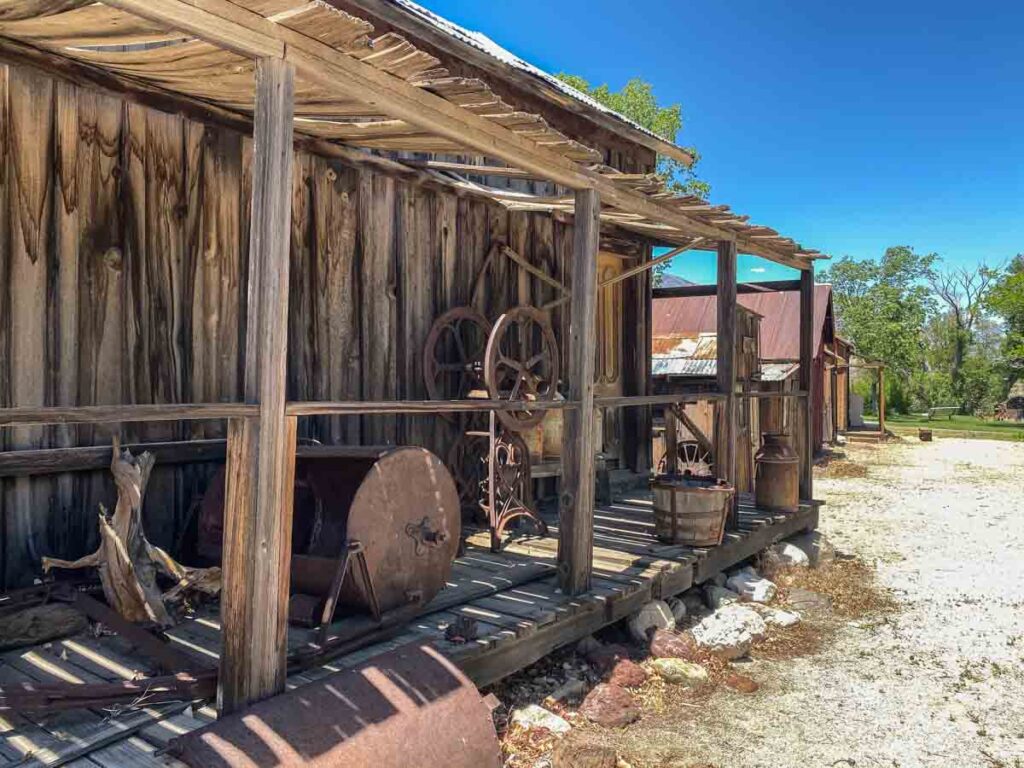 7. Eastern California Museum
Sometimes you just have to hit the brakes for a quirky local museum and the Eastern California Museum fits that bill perfectly. The museum provides a surprisingly robust accounting of the settlement of the Eastern Sierras, mountain men of the region, the California water wars and native Shoshone and Paiute culture.
Parts of the museum do feel a bit cluttered–kinda like Grandma's dusty attic. But their Native American basket collection is stunning. And their displays on how Los Angeles came to buy up the Owens Valley in order to lock up water rights is fascinating. They also have a cool garden with endemic plants and some oldy timey railroad displays.
The museum is open 10-5 every day.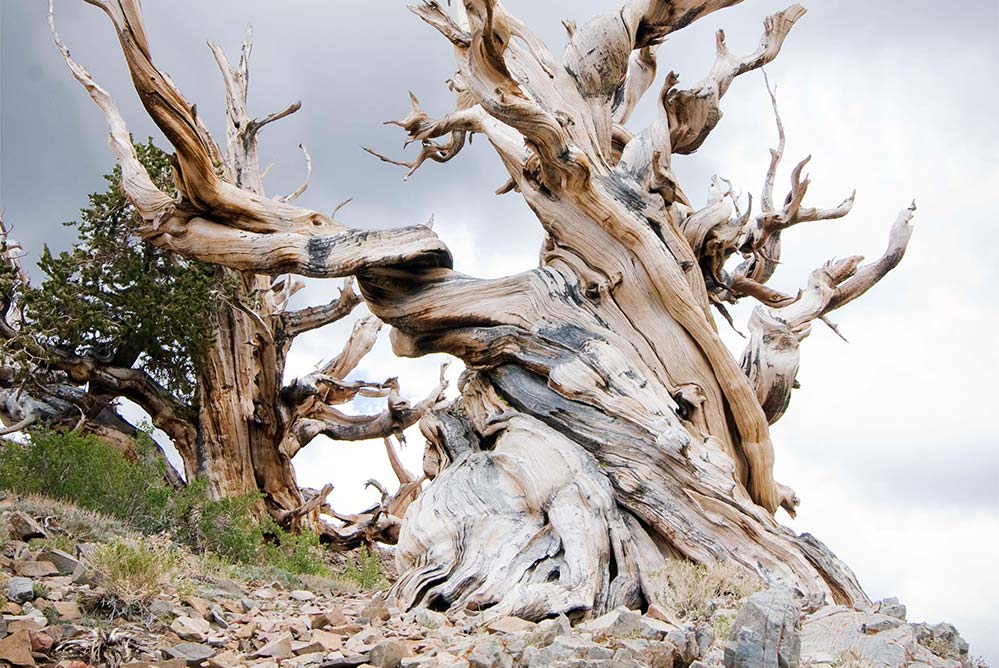 8. Bristle Cone Pine National Forest
The Ancient Bristle Cone Pine National Forest is two kinds of gnarley. This forest houses some of the oldest trees in the world, topping out a 4,000 years old. The dry climate and high elevation mean that these ancient trees are very gnarled and twisty. The forest is located at 9,800 feet, which is well above the normal tree line, making this a most unusual forest.
The road getting to Bristle Cone Pine Forest is also a bit gnarley. It's located just 23 miles east of Big Pine. But much of the way is a narrow, steep Forest Service road. Any car can do the drive and we did it in our Sprinter Van. But you'll want to give yourself plenty of time for the drive and stopping at the scenic overlook.
The Visitor's Center is only open seasonally and the road is not recommended on days with inclement weather.
Bristle Cone is at the northern edge of what I would consider to be Lone Pine territory. If you are headed further north, be sure to check out our things to do in Bishop. That article will help you explore hiking, hot springs and more quirky museums of the mid-395 region.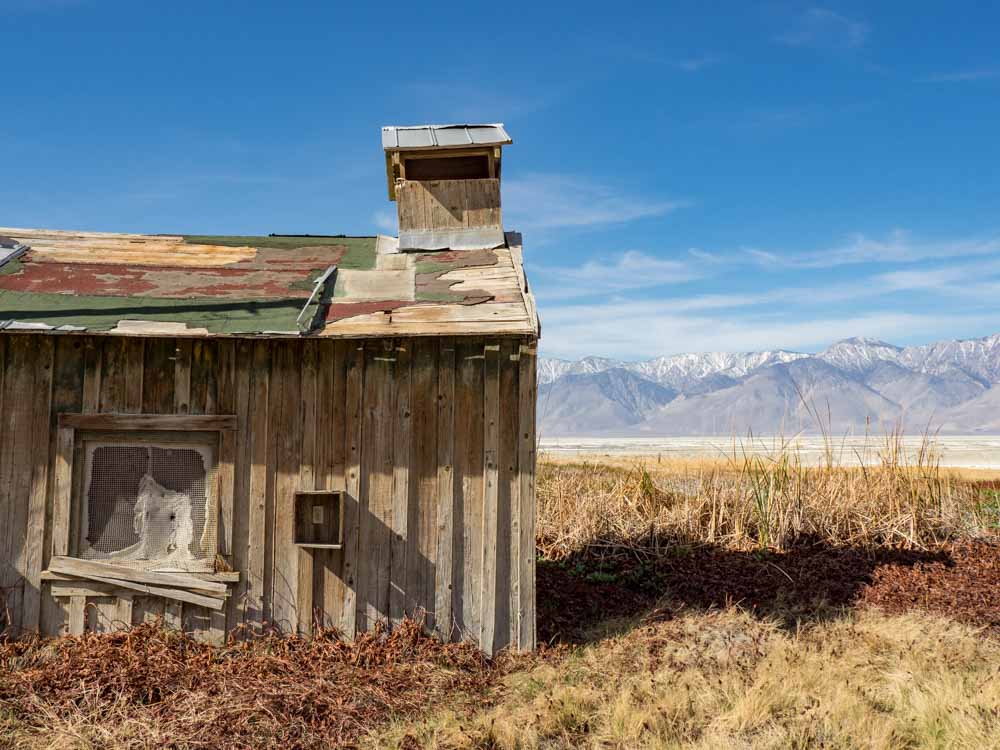 9. Keeler, California
What follows are two Lone Pine activies….that really aren't in Lone Pine. But we are including them because they are an easy add-on, especially if you are coming in from the south.
Keeler, California is on the road southeast from Lone Pine as you go into Death Valley. And while <technically> people live there, it's quite a California ghost town. It has a population of 66 and a sad number of abandoned buildings….perfect if you like a bit of California mining history or URBEX exploring.
Keeler grew on the shores of Owens Lake in the 1870s as a freight terminal. By 1880, a mill was build to process ore from the Cerro Gordo mines and a rail spur was laid to help move the ore. Keeler went through several highs and lows because it was tied to Cerro Gordo's fortunes. Ultimately Cerro Gordo dried up and then the nearby lake (per the LA water wars). This killed the town and drove away most of the residents.
On site you can find the old post office, the train station and the Keeler cemetery.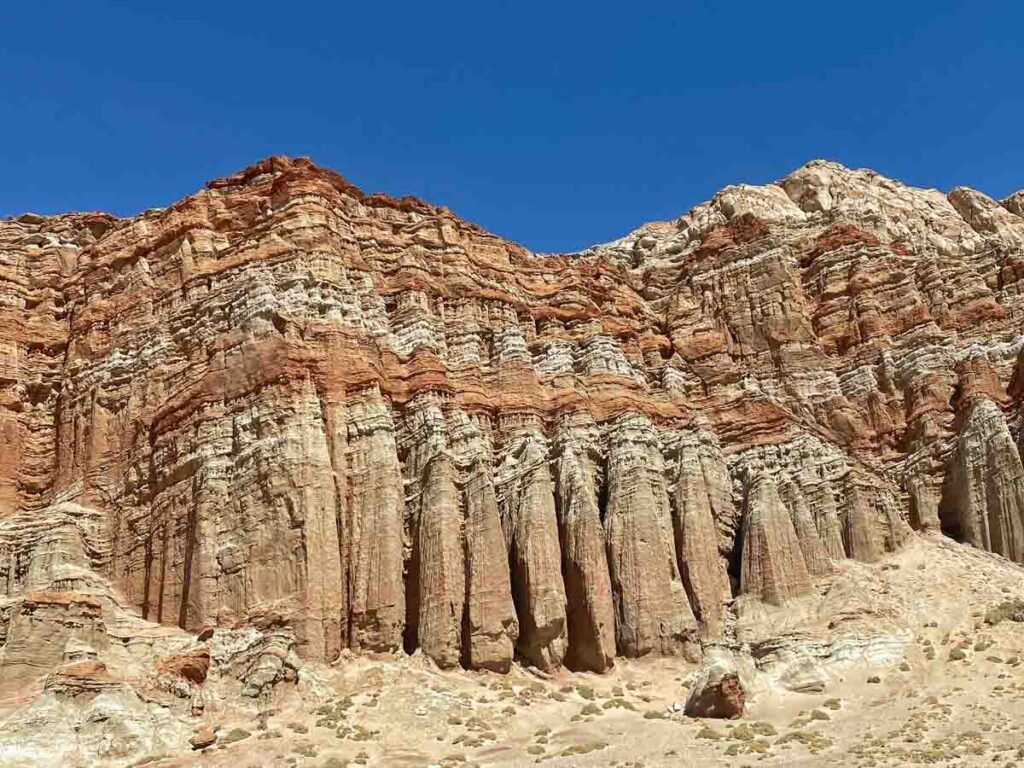 10. Red Rock Canyon State Park
If you take the southern route to Lone Pine, you'll drive right past Red Rock Canyon State Park. This is another one of those feels-like-Utah landscapes with spires of eroding red sandstone. If you are camping, it's a nice off-the-radar spot to spend the night. And even if you are driving through, you can stretch your legs by taking the easy Hagen Canyon Nature trail or the nearby Red Cliffs trail.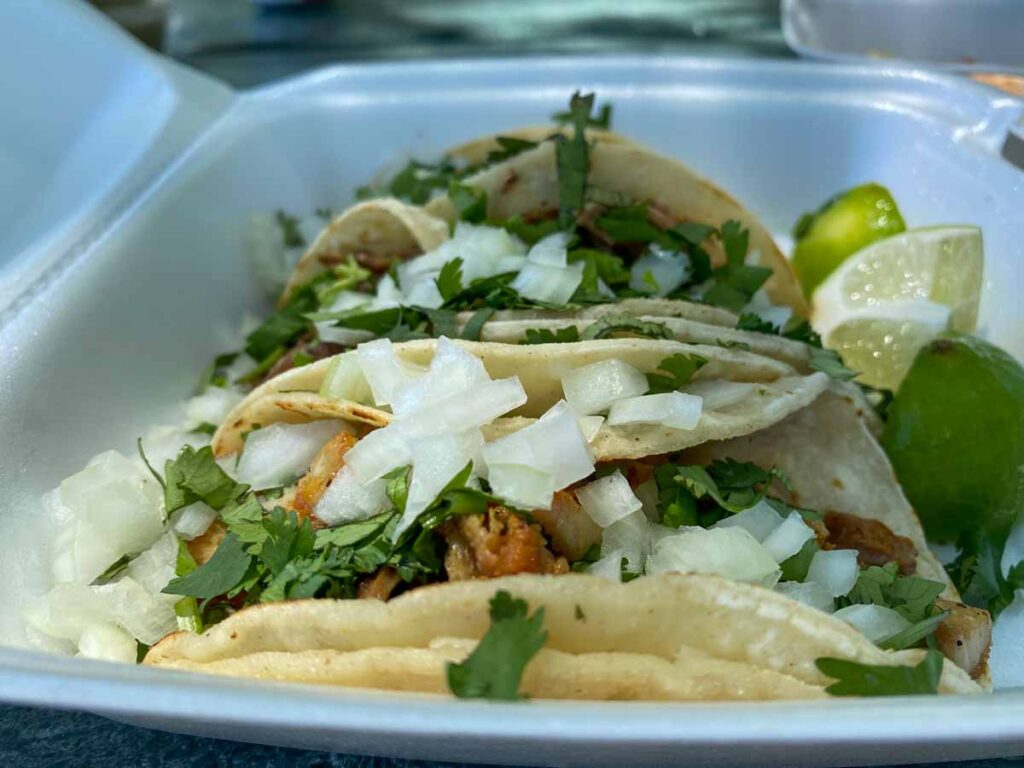 Where to Eat in Lone Pine
If you want something quick and delicious, we recommend the Tacos Los Hermanos food truck. They have great tacos and generously sized quesadillas. They have a few tables on site but you should just get takeaway and go eat over at the lovely Spainhower park.
The Alabama Hills Bakery and Cafe is a popular stop for breakfast and hot sandwiches. You can also DIY your own breakfast and lunches by loading up at the Loan Pine Grocery.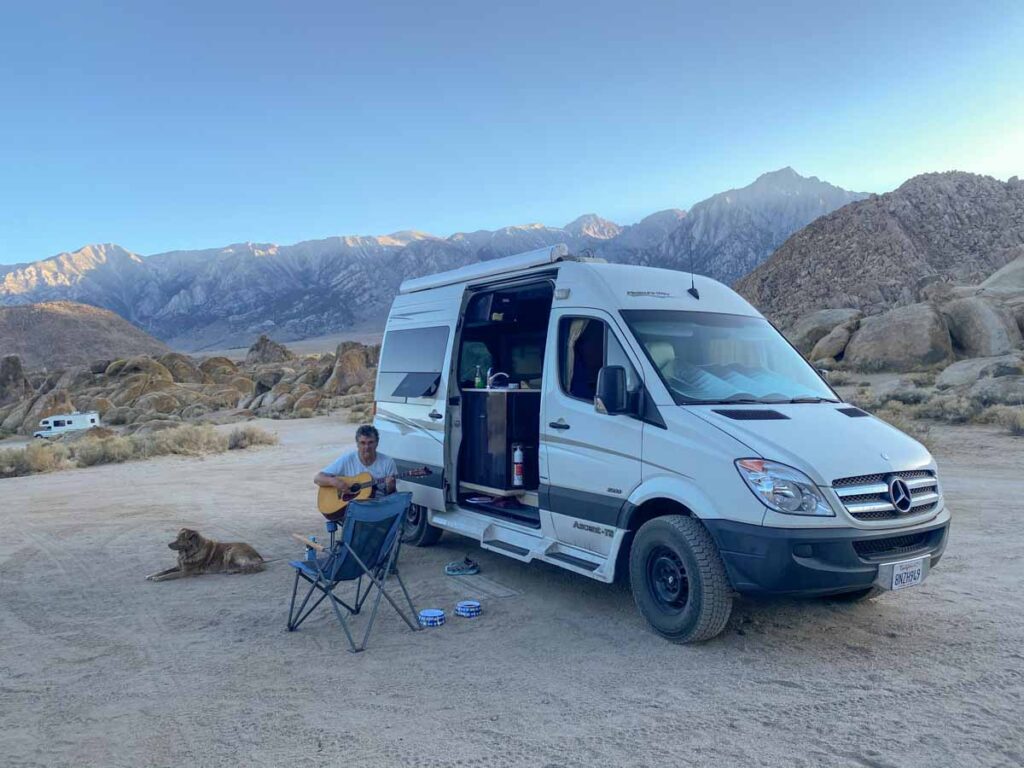 Where to Stay in Lone Pine
Look, the lodging ain't fancy in Lone Pine. They are served by a handful of basic motels. You can check reviews and book them here. If you are interested in having a kitchen at your disposal, try the Muir Cottage, which is right downtown. Just up the road in Independence, you can stay at the well-rated Mt. Williamson Motel & Basecamp.
If you are tent camping, check out the Tuttle Creek Campground. It's a rustic BLM campground in the southern Alabama Hills. You can also try Diaz Lake or the Portuguese Joe campgrounds, both are more developed. Tent camping in the core of the Alabama Hills is tricky because the only porta-potties are at the Mobius Loop trailhead.
If you are #vanlifing or RVing, then definitely stay in the Alabama Hills. You can boondock anywhere in the Hills, just wander around and find a spot. It will be super busy on the weekends, so get there early (or mid-week). Be aware that this stretch of 395 is very scant with dump sites and there isn't one in Lone Pine. You'll need to either dump south in Olancha or north at the Browns Town campground in Bishop.
Preparing Your Car For the Trip
Start with an old school map. Mobile signals are very spotty on 395 and Google Maps won't always work there. We love the Benchmark California Road Atlas. It's very detailed and shows both paved and dirt roads as well as state parks and some campsites.
If you need to rent a car, get your best rental car deal by comparing prices with Rentalcars.com.
If you are driving your own car, don't forget to check your oil and tire pressure before you leave and you should also invest in roadside assistance. You should also purchase a roadside safely kit which includes things like a warning triangle, jumper cables, glass breaker, multi tool, cable ties and small first aid kit. These kits also make a thoughtful, if tragically practical Christmas or birthday gift.
Be sure to stock your car with a drinks, snacks and lunch supplies. Consider getting an electric car cooler, which is great for keeping lunch stuff cold without becoming soggy from melted ice. The Eastern Sierras are always dry and quite hot in the summer, so pack plenty of water.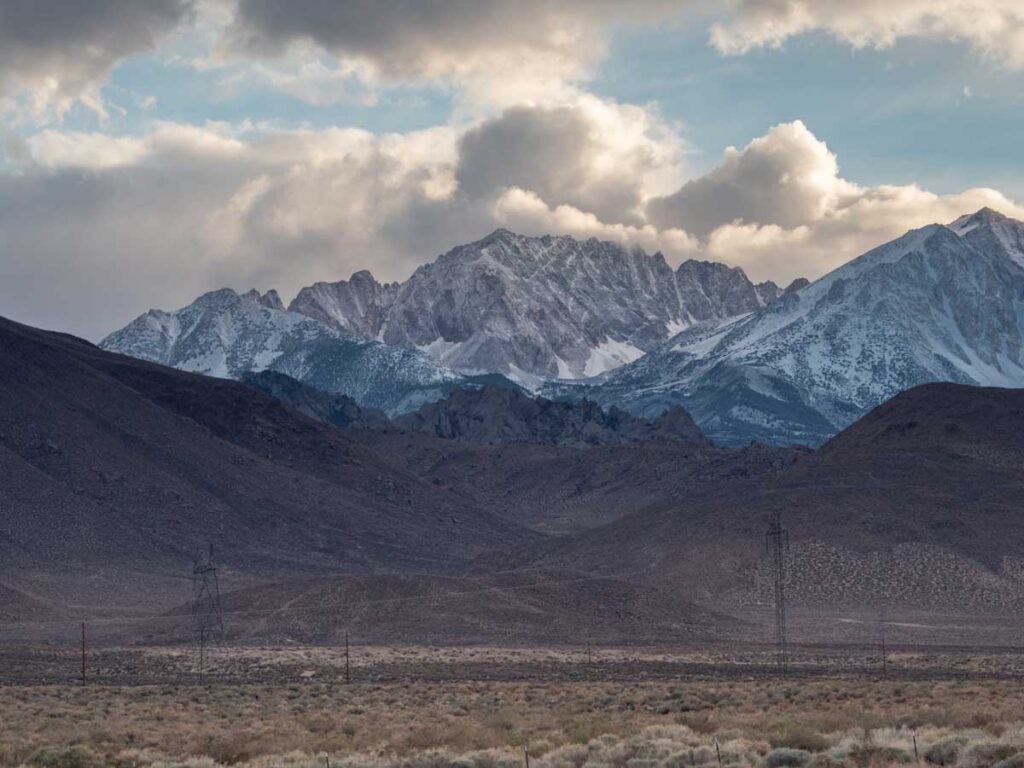 Other Cool Things to do in Eastern Sierras
Circle back to our Highway 395 itinerary. It will give you a full list of things to do all along the Eastern Sierras.
Make time for some of these fun things to do in Bishop.
Visit Convict Lake– it has a lovely trail around the lake and you can rent kayaks and other watercraft.
Our Eastern Sierras fall color guide tells you when to go and offers 22 leafy locations.
Make time for Bodie Ghost town, which is near Lee Vining. Our Bodie guide tells you why it's a cool historic spot and it has practical advice on visiting.
If your trip includes Death Valley, be sure to check out our full guide for the National Park. It has planning tips and links to hikes, campgrounds info and several different itineraries.
Share these things to do in Lone Pine with your friends on Pinterest: