The Eastern Sierras are quite a revelation. The flatlands seem so dry, but look more closely and you'll see lovely rivers and hot springs all down the valley. Head up into the many steep canyons and you'll find lovely alpine lakes, peaceful hikes and craggy granite. And while you can visit anytime, fall color in the Eastern Sierras really brings the landscape to life.
This region hosts some of the best fall foliage in the Western US. And while the Sierra Nevadas are known for their vast pine forests, those lovely lakes and steep canyons also house a lot of aspen, willow and cottonwoods.
The varied terrain and wide rangeing elevation means that you'll find a long season for fall color in the Eastern Sierras. So, keep reading because our guide will tell you both where and when to go for leaf peeping along the Highway 395 corridor.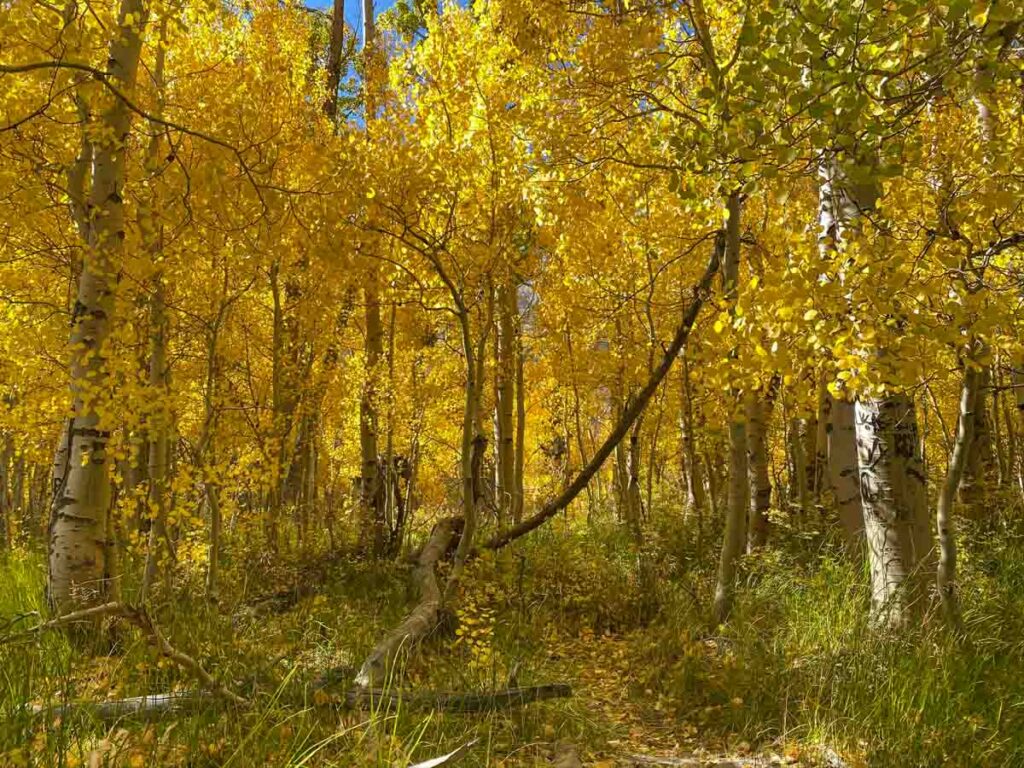 Planning Your Trip to the Eastern Sierras
If you are willing to get up early and stay on the go, you can easily cover a LOT of fall color in a long weekend.
You'll find the highest concentration of turning leaves in the Mono County fall color corridor, which runs between Bridgeport and Bishop. The distance between the two towns is 105 miles. So, you can easily base yourself in the middle and jet out for day trips north and south.
We recommend basing yourself in or around Mammoth Lakes. Mammoth has a wide range of accommodation options, lots of restaurants and cool things to do within town. You'll find accomodation recommendations, including camping suggestions further down this article.
How to Get to the Eastern Sierras
From Los Angeles to Bishop, is 266 miles and ~4.5 hours. If you don't mind taking the slow road, check out our article on visiting the Lone Pine area. It includes cool stops for Red Rock Canyon State Park, the Alabama Hills and some historic museums that you can visit before getting to Biship. Lone Pine isn't a hot spot for fall color, but the southern 395 corridor has some really cool geology.
From San Francisco to June Lake is 246 miles and ~5 hours. The fastest and most scenic way is via Yosemite over Tioga Pass. If you don't want to pay the national park fee, then take Highway 108 over Sonora Pass.
If you want to fly, use our guide for the best Eastern Sierra airports.
When to Find Fall Color in the Eastern Sierras
The leaves turn when the weather turns. So when the hot summer blast starts turning into crisp fall air, it's time to head up to the Eastern Sierras for the fall color. This usually starts happening in mid-September and can go as late as the end of October. If you can play it by ear, then keep an eye on the Mono County fall color watch and go when their barometer says "go now".
But if your boss frowns upon an abrupt disappearance from work, perhaps you'll need to plan ahead. The first week of October is a good bet.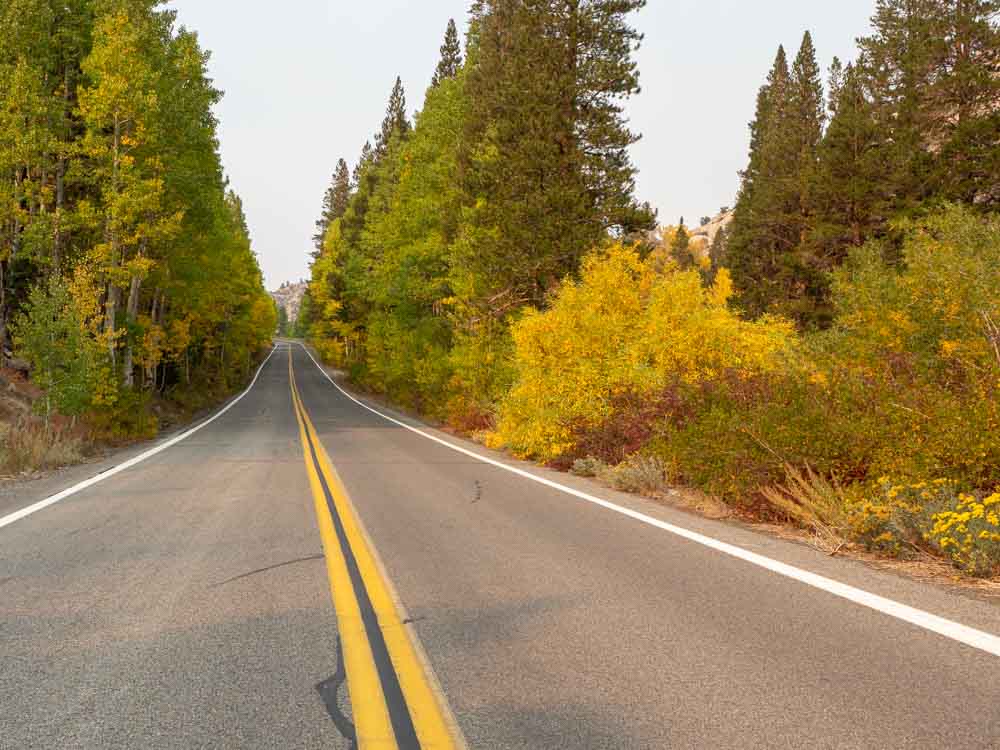 Where to Find Eastern Sierras Fall Colors (Ranked by Elevation)
The higher the elevation, the cooler the weather. The cooler the weather, the earlier the fall color.
The range of elevation for fall color in the Eastern Sierras goes from 9,800′ at Virginia Lakes down to 4,100 in downtown BIshop. This wide range is the reason why the region has such a long leaf peeping season. But it also means that you'll want to pay attention to elevation when you go looking for the leaves.
For that reason, we've arranged this list of fall color sites according to elevation, rather than north/south location. If you go early in the fall color season, go to the higher elevations. If you go later, hit up the lower elevations.
Each location will list the canyon/lake, the elevation and the distance to the nearest major town.
Virginia Lakes
Elevation: 9,819
Where: 19 miles southwest of Bridgeport, 18 miles northwest of Lee Vining
There are indeed lakes (plural) in this area, so give yourself some time. Consider taking the moderate 3 mile Virginia Lake to Frog Lake hike.
Sonora Pass
Elevation: 9,623
Where: Leavitt Meadow and Sardine Meadow
Pull off at Sardine Meadow (in the west) or the Leavitt Falls pullout (in the east). This road is not good for large Class A RVs or long trailers because the east end is extremely curvy.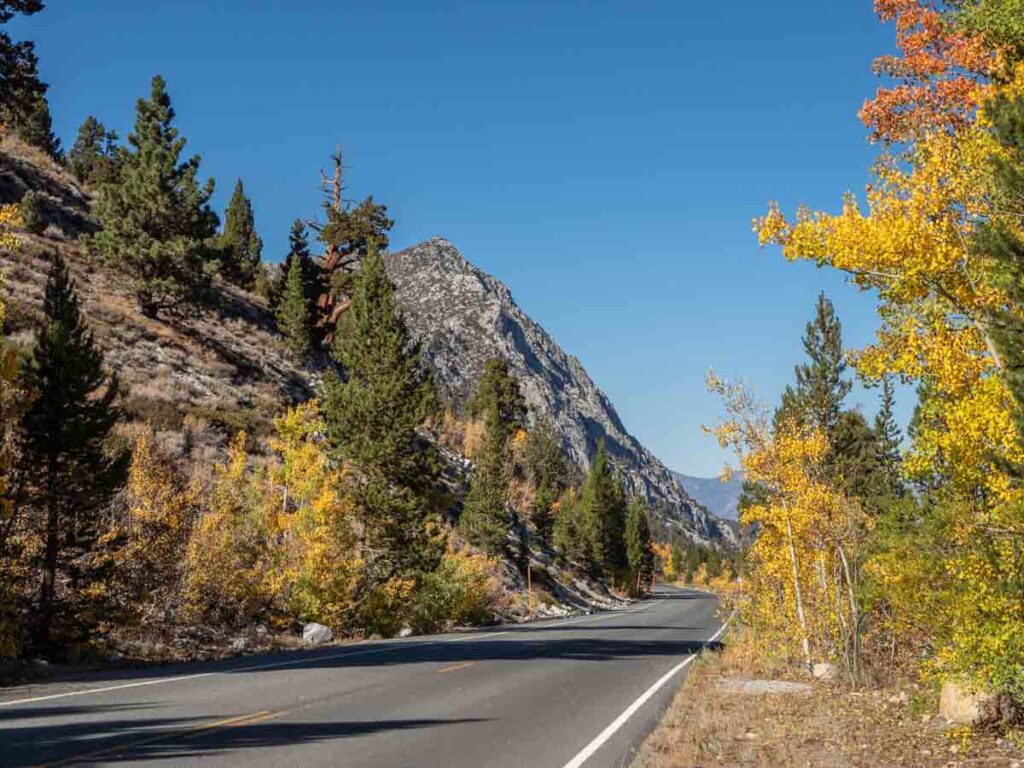 Rock Creek Canyon
Elevation: 9,600
Where: 27 miles southwest of Mammoth, 33 miles northwest of Bishop
This canyon is a lovely long, slow drive and you'll find color all along the road. Rock Creek Lake at the top makes for a nice, quiet picnic lunch stop.
Lobdell Lake
Elevation: 9,274
Where: 19 miles southeast of Walker
This is a dirt road best done in a 4×4 or a car with clearance. Although passenger cars have been known to do it, pay attention to road conditions.
Bishop Canyon/Lake Sabrina
Elevation: 9,128
Where: 18 miles west of Bishop
For higher elevation fall color in Bishop, head up Bishop Creek Canyon. You'll find color at Lake Sabrina and also at Mist Falls, which is south of the Four Jeffrey Campground.
Mammoth Lakes Basin
Elevation: 8,967
Where: 6 miles south of Mammoth town
You can find color around the streams that feed Lake Mary, Lake Horshoe and Lake George. There is also the 2.4 miles Heart Lake trail, which is near the Coldwater Creek campground.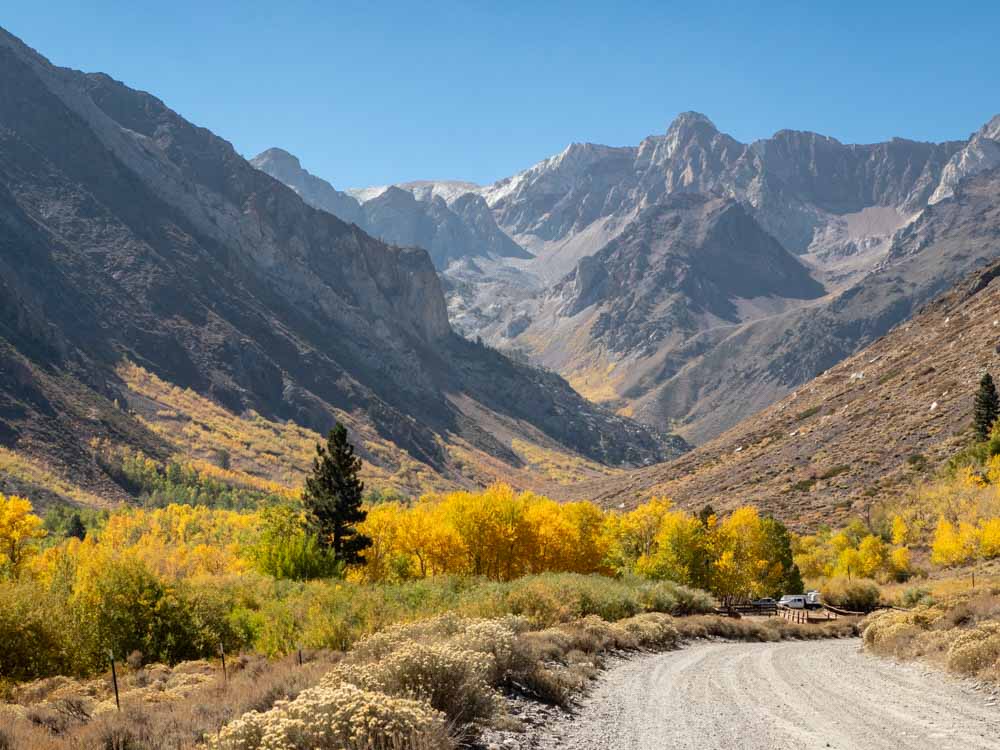 McGee Creek Canyon
Elevation: 8,600
Where: 9 miles south of Mammoth Airport, 32 miles north of Bishop
The drive all of the way up this short canyon is quite lovely. Park at the end of the road and take a stroll up the McGee Creek trail.
Sagehen Summit
Elevation: 8,130
Where: 23 miles southeast of Lee Vining
This is located off of eastern Highway 120. The last two miles are on a reasonably well graded dirt road.
Monitor Pass
Elevation: 8,314
Where: Highway 88 south of Markleeville
Highway 88 through Kirkwood is also a very scenic drive. I'm listing Monitor Pass because it is traditionally a spot for fall color, however the huge 2021 fire caused major damage in the area, and the trees will need time to recover.
Conwy Summit
Elevation: 8,143
Where: On Highway 395 between Bridgeport and Lone Pine
You can pull over for a vista view, or go west on Virginia Lakes road.
Lundy Lake & Canyon
Elevation: 7,858
Where: 11 miles northwest of Lee Vining
Carry on just past Lundy Lake and spend some time wandering up the Lundy Lake trailhead.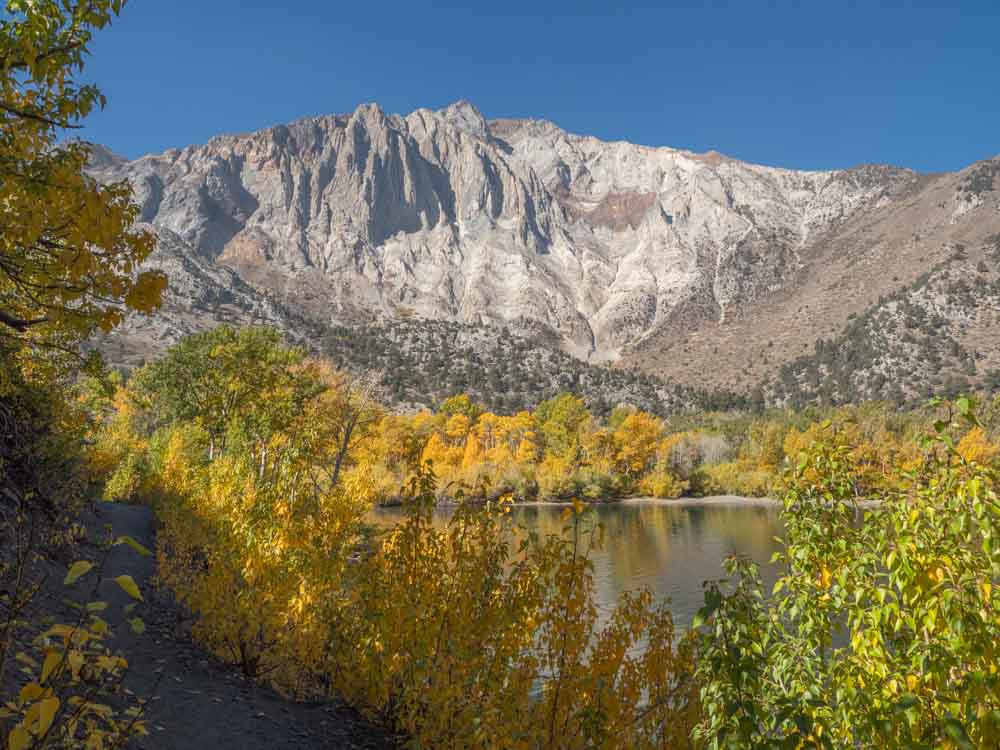 Mammoth Lakes Town
Elevation: 7,881
Where: In and around the town of Mammoth
The Mammoth Lakes fall color can be found all over town and in the nearby lake basin. Drive or walk the Mammoth Creek road. Drive the Sherwin Creek road or take the trails near the Sherwin Creek campground.
Convict Lake
Elevation: 7,850
Where: 10 miles south of Mammoth Lakes
We like this little lake so much, we've written a whole Convict Lake guide, which explains what to do there and how the lake got it's crazy name. To see the best color, take the loop trail to the west end of the lake. It's very Instagrammable.
Big Pine Creek
Elevation: 7,700
Where: 26 miles southwest of Big Pine
The Big Pine campground sits right on the creek and you can park and take a stroll.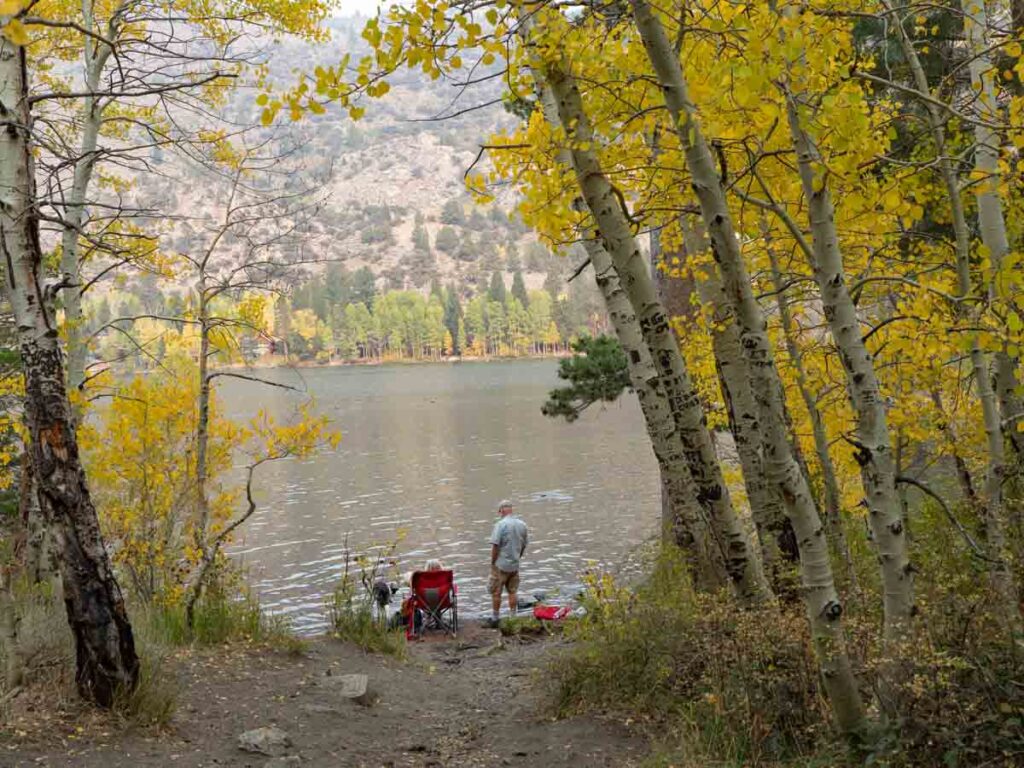 June Lake Loop
Elevation: 7,654
Where: The northern entrance to the loop is 5 miles south of Lee Vining
The whole loop drive is lovely, but be sure to pay attention to Grant and Silver lakes.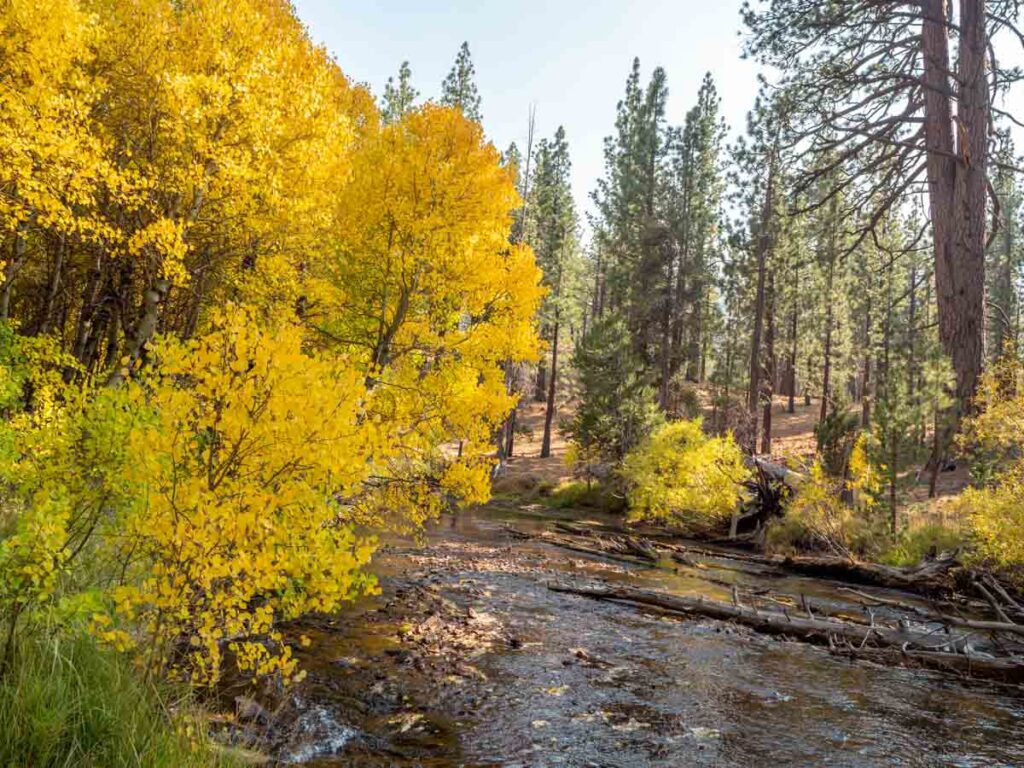 Lee Vining Creek
Elevation: 7,490
Where: Highway 120, 6 miles west of Lee Vining
This area is the far eastern edge of the Highway 120 Tioga Pass road. But it's outside of the Yosemite National Park boundry. Take the Poole Power Plant road to access the creek.
Round Valley/Pine Creek Roads
Elevation: 7,400
Where: 20 miles northwest of Bishop
There are several spots to stop for leaf peeping as you make your way up to the Pine Creek Pack station.
Summers Meadow
Elevation: 7,200
Where: Green Creek road starts 6 miles south of Bridgeport
Take Green Creek road west to Summers Meadow road. This is a well-traveled dirt road.
Twin Lakes (Bridgeport)
Elevation: 7,000
Where: 13 miles southwest of Bridgeport
Don't confuse this location with the Twin Lakes near Mammoth. There are roads/paths that go around both lakes.
Lower Rock Creek Trail
Elevation: 7,000
Where: Upper trailhead 1 miles south of Tom's Place. Lower trailhead 19 miles north of Bishop
This is an 8.8 mile out and back trail that follows the lower Rock Creek. You can access it from either end and do as much or as little as you wish.
Crawley Lake Town
Elevation: 6,781
Where: Right on Highway 395. 14 miles south of Mammoth, 28 miles north of Bishop
As Hilton Creek flows east, it splinters into a bunch of smaller creeks which feed the trees in the town center at Crawley.
West Walker River
Elevation: 5,200
Where: Outflow of Lake Topaz through Coleville to south of Walker
There aren't formal trails along the river, but there are a lot of dirt roads that access the outflow creek.
Downtown Bishop
Elevation: 4,150
Where: Downtown
For lower elevation fall color in Bishop, just hang out downtown. They have a lovely downtown park and check out the Buckley Ponds southeast of town. We have a whole guide for things to do around Bishop that includes hikes, hot springs, craft beer and amazing baked goods.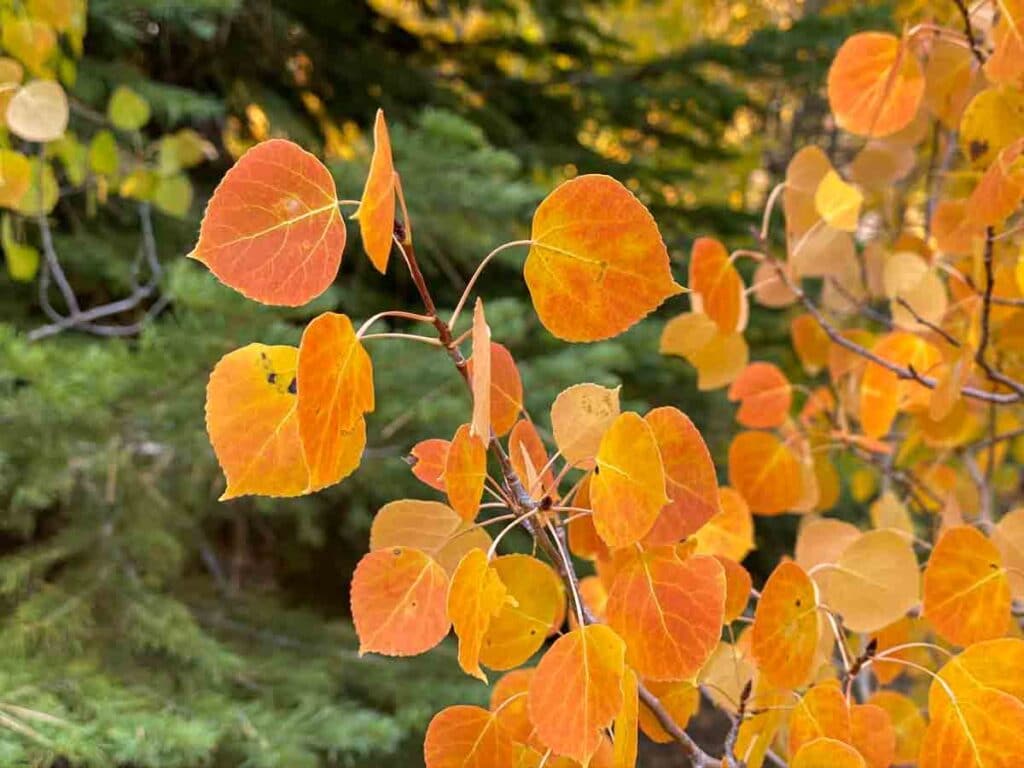 Fall Color Map
Bookmark this page and then refer back to it when you are on the road. Because the following Eastern Sierras fall color map covers all of the leafy locations listed here.
(This article contains affiliate links. This means that if you choose to purchase, I'll make a small commission.)
Where to Stay
If You Want a Hotel/Motel
You can find lodging all along the Highway 395 corridor. We recommended Mammoth Lakes above because they are centrally located and have a range of lodging and restaurant options. That said, there is also lodging in Lee Vining and Bishop, with a few options in Crawley and June Lake.
The fall is a quieter time of year, but the weekends can still get busy, so you may want to book ahead if you are picky about where you sleep.
Mammoth Creek Inn: This is well-rated, a full service hotel offering a hot tub and a billiard room. Check reviews and book here.
The Village Lodge: This condo resort has an excellent location right in town. They have condos of various sizes, full kitchens, an outdoor pool, 5 hot tubs and three gyms. Check reviews and book here.
Cozy Mammoth Condo: This condo is right near the the town loop trail, which features fall color. It has a deck, BBQ and full kitchen. Check reviews and book here.
For Bishop: Check rates and book here.
For Lee Vining: Check rates and book here.
If You're Tent Camping
There are a jillion forest service campgrounds in the Eastern Sierras, but your options in the fall are not unlimited. The Forest Service closes the higher elevation campgrounds (like Rock Creek) in late September. The lower elevation campgrounds (like Convict Lake) close at the end of October. The campgrounds go off reservations in mid-October.
You can find campgrounds on the Inyo Forest Service website and book reservations at Recreation.gov.
There are also rustic BLM campsites dotting the 395 corridor. Look into Pleasant Valley reservoir, Crawley Lake BLM campground, Wet Willy's and Horton Creek. The BLM campgrounds are always very rustic, usually with pit toilets and they don't take reservations.
If You're RVing
Some of the RV parks in the area are seasonal. But there are enough options that you shouldn't have too much trouble finding a spot. You can certainly camp at any of the above Forest Service campgrounds or boondock on the BLM land. But if you want electricity, try the following:
Mono Vista RV park in Lee Vining: friendly staff and spacious spots.
Crawley Lake Marina RV: lovely views of the lake.
June Lake RV Park: the spots are tight, but it's well located on the June Lake Loop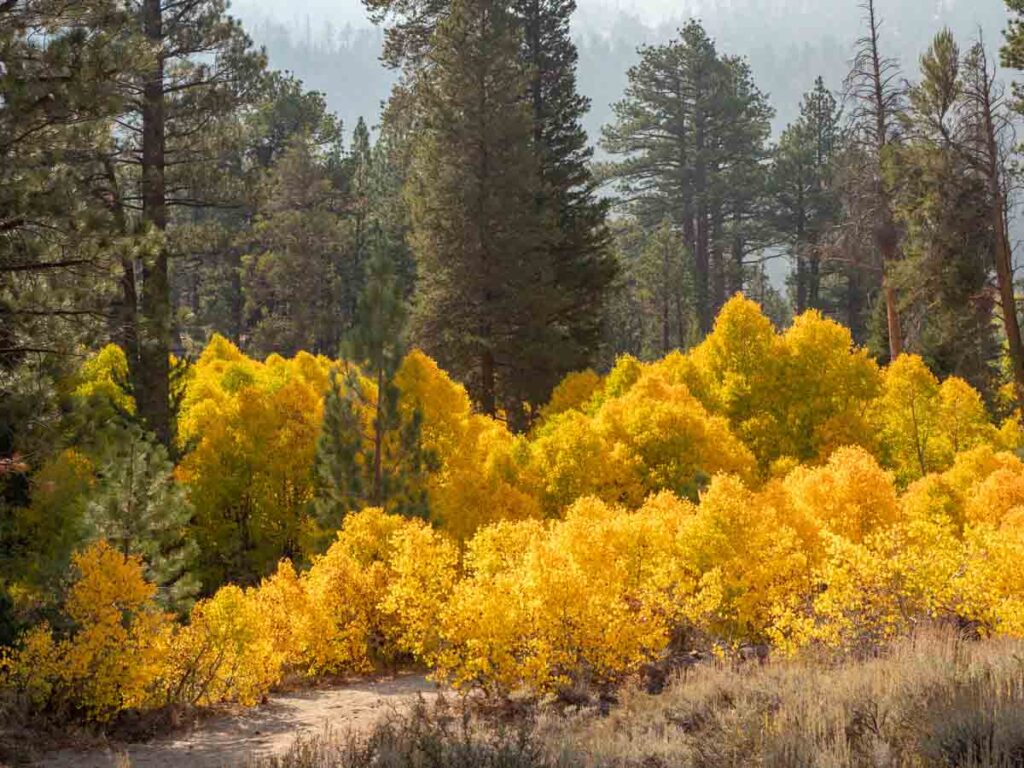 Highway 395 Road Trip Essentials
Start with an old school map. Mobile signals are very spotty on 395 and Google Maps won't always work there. We love the Benchmark California Road Atlas. It's very detailed and shows both paved and dirt roads as well as state parks and some campsites.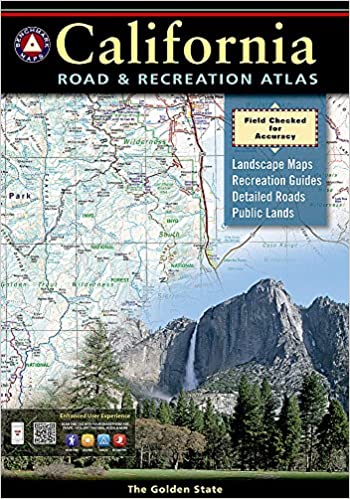 If you need to rent a car, get your best rental car deal by comparing prices with Rentalcars.com.
If you are driving your own car, don't forget to check your oil and tire pressure before you leave and you should also invest in roadside assistance. You should also purchase a roadside safely kit which includes things like a warning triangle, jumper cables, glass breaker, multi tool, cable ties and small first aid kit. These kits also make a thoughtful, if tragically practical Christmas or birthday gift.
Be sure to stock your car with a drinks, snacks and lunch supplies. Consider getting an electric car cooler, which is great for keeping lunch stuff cold without becoming soggy from melted ice. The Eastern Sierras are always dry, so pack plenty of water.
Other California Road Trip Ideas
Share the Eastern Sierras fall color on Pinterest: