Joshua Tree National park has a lot going for it. It's not as showy as Yosemite, but there's a lot to respect about an ecosystem that can house so much hidden wildlife and plant diversity on so little water. Joshua Tree also played a part in California's mining boom, which helped to put the state on the map. So, it's no wonder that you are interested in visiting Joshua Tree. We like visiting it too!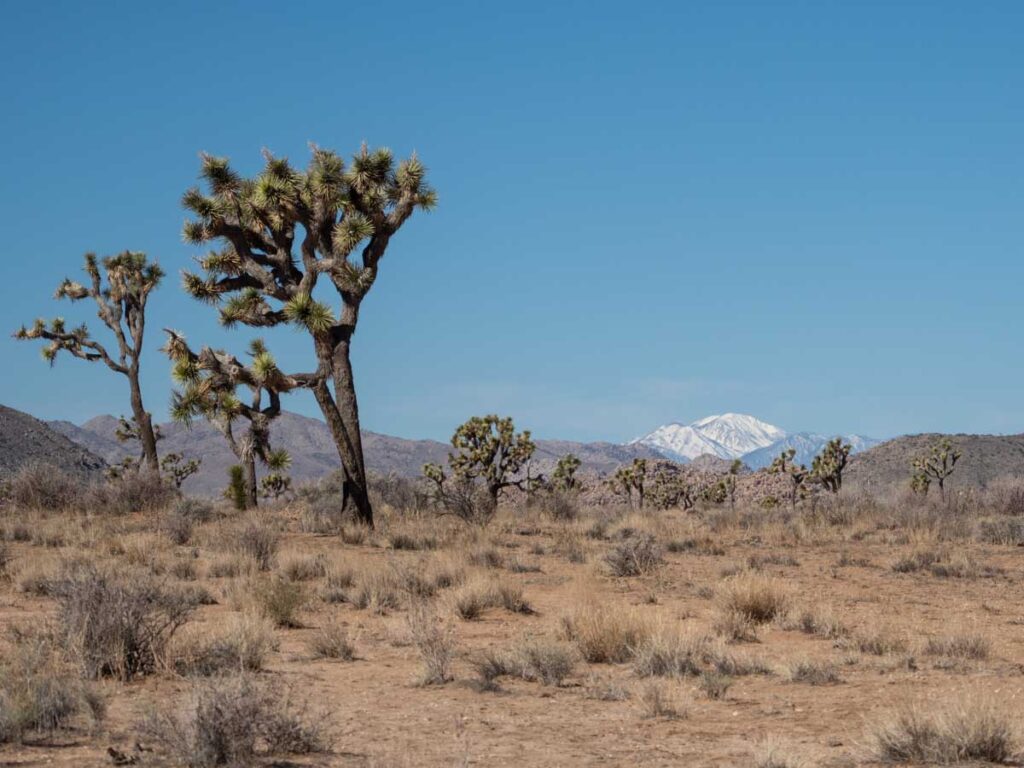 But if you've never been, or haven't really scratched the surface, there's a lot you'll want to know before visiting Joshua Tree. Don't worry, we've got you covered. This insanely thorough Joshua Tree travel guide has an extensive FAQ with trip planning tips and suggestions for things to do in the park.
This guide is very thorough and we encourage you to scroll the whole thing, cause you'll pick up some very useful Joshua Tree travel planning tips. But if you have particular questions, use this handy table of contents to skip around.
Why Visit Joshua Tree
Tips for Visiting Joshua Tree (Hours, pass, visitor centers, insider tips)
How to Get to Joshua Tree
Park Services (gas, food, grocery)
When to Visit Joshua Tree
Things to do in Joshua Tree
Guided Tours
Where to Stay
What to Pack
Why Visit Joshua Tree
Joshua Tree is 1,235 square miles of desert landscape and it's the second largest National Park in California. It's sandwiched between the Colorado and Mohave deserts, and the San Bernardino mountain range, which gives the park three distinct ecosystems.
For a landscape that looks kinda empty, there's a lot going on. In addition to the namesake Joshua Tree (which is actually a type of yucca and not really a tree at all), there are pinyon pine trees, a variety of cacti species, the unique Ocotillo (which looks like a cactus but isn't) and 57 mammal species.
We've more fun facts like that in another article, but the point is that the park has a lot to offer, if you are willing to go looking for it. So, take to the desert with eyes wide open and the park will reward you with craggy landscapes, crazy plants, wide-open skies and unbelievable sunsets.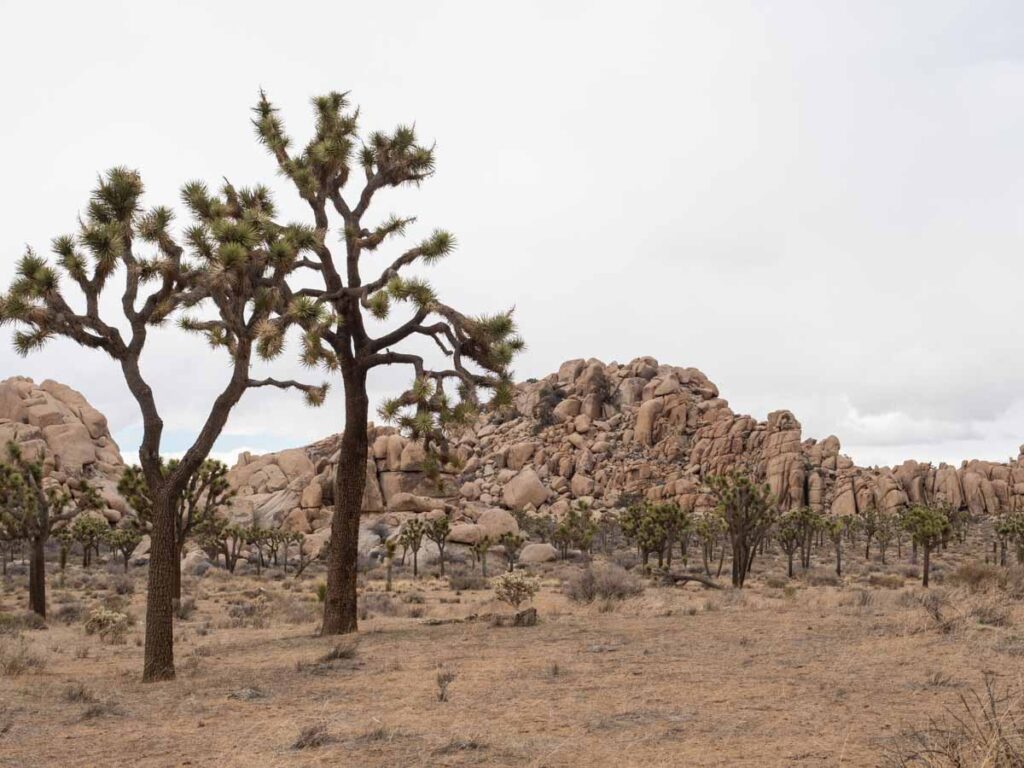 Tips for Visiting Joshua Tree National Park
Where Are the Visitor Centers?
There are four Visitor Centers for Joshua Tree National Park. These include the Nature Center (in the Black Rock Campground), the Joshua Tree Visitor Center (in the town of Joshua Tree), the Oasis Visitor Center (in Twentynine Palms) and the Cottonwood Visitor Center (near the south entrance).
Each has staff and volunteers on hand to give you hiking and sightseeing suggestions. They all have the park brochures to hand out and large signage with information on hiking trails. They also each offer a mix of information on the local flora, fauna and geography. You can purchase your pass in the Visitor Center (which will save you time at the gate) and you can also get your national parks passport stamped and pick up Junior Ranger program info.
How Much Are Joshua Tree Passes?
A seven day vehicle permit is $30. For $80, you can get an annual national park pass, which is worth it if you are also planning to visit Death Valley, Yosemite or other national parks in California.
What Are the Joshua Tree Park Hours?
Joshua Tree park gates are always open but the visitor centers and manned booths are open from 8am-5pm. This means that you can go in and out at any time.
How Do I Beat the Crowds at Joshua Tree?
There are two ways to do this: go early and stay late OR visit during off days.
Because the park is always open, drive in very early in the morning. If you haven't yet purchased your pass, don't worry about it. They'll charge you when you leave.
If you can't go in until 9am-ish, then avoid the West Entrance station (near Joshua Tree town). That one gets really backed up with people coming in from the town of Joshua Tree and nearby Palm Springs. It may be easier to go in through the North Entrance from Twentynine Palms.
When you go in, do the Barker Dam trail and Hidden Valley loops first, as they are the most popular. And things really die down later in the afternoon, so if you have enough daylight, stay as late as possible.
Joshua Tree is a very popular park, so if you can swing it, try going in the middle of the week. Also, there are some shoulder seasons when the park is less busy. Going right after a holiday (such as between Thanksgiving and Christmas) and early January might net you some breathing room.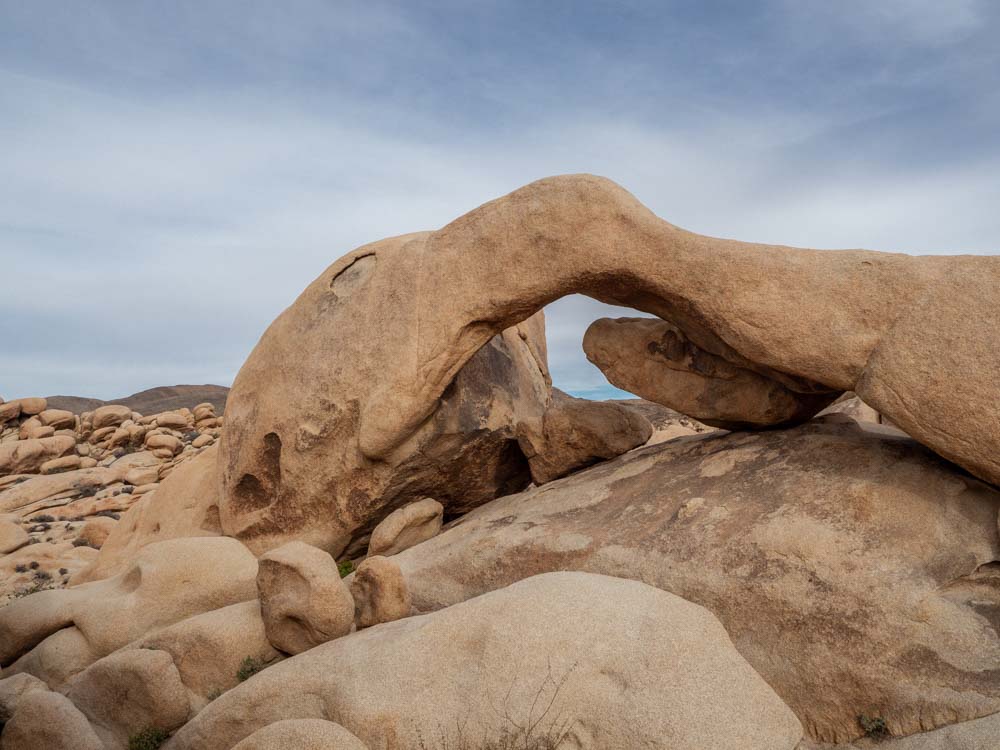 How do I Get to Joshua Tree?
How to Get to Joshua Tree from Los Angeles
From LA to Joshua Tree is 146 miles and 2.5-3.5 hours depending upon traffic. Google maps will route you to northern Oasis entrance as the quickest way. However, you could easily go through Palm Springs and use the southern Cottonwood Spring entrance, doing a south-to-north route through the park.
How to Get to Joshua Tree from Palm Springs
Palm Springs is the closest major city to Joshua Tree. It's about an hour to either the Oasis or Cottonwood Spring entrance. If you only have one day to spend in JT, I would recommend going into one entrance and out the other. If you are flying in for the trip Palm Springs also has the closest airport to Joshua Tree, although pricing and timing for LAX may actually work better for you.
How to Get to Joshua Tree from Las Vegas
It's 187 miles and 3 hours from Las Vegas to the Oasis entrance. This would be rough as a day trip but fine if you are doing a multi-day trip or a longer road trip. Along the way, try to leave a little time to see the sand dunes in Mohave National Reserve, which you'll drive through on the way. You can also do a loop that starts in Las Vegas and road trips both Joshua Tree and Death Valley.
How to Get to Joshua Tree from San Francisco
From SFO to Joshua Tree Death Valley is 496 miles and will take 8-9 hours. The most reliable way is down I5 or Hwy 99 down to Tehachapi, to Barstow and then south.
Where is the Joshua Tree Entrance?
There are three primary entrances into the heart of the park. The Cottonwood Entrance comes in from the south on Cottonwood Springs road. The North Entrance station is near Twentynine Palms on the Park Boulevard road. The West Entrance comes in from Joshua Tree town on the other end of the Park Boulevard Road.
The West Entrance is the most popular, the North Entrance has less of a clog during "rush hour", the Cottonwood Entrance is pretty quiet.
What are the Road Conditions in Joshua Tree.
You do definitely need a car in Joshua Tree as there are no shuttles. Most of the roads in the park are paved and have one lane in each direction. They are safe, and there are frequent pull-outs, but there can be limited shoulder space.
There are also a series of dirt roads that are worth exploring. The park map does an excellent job of indicating which ones are 4×4 only. The rest are do-able in a normal passenger car.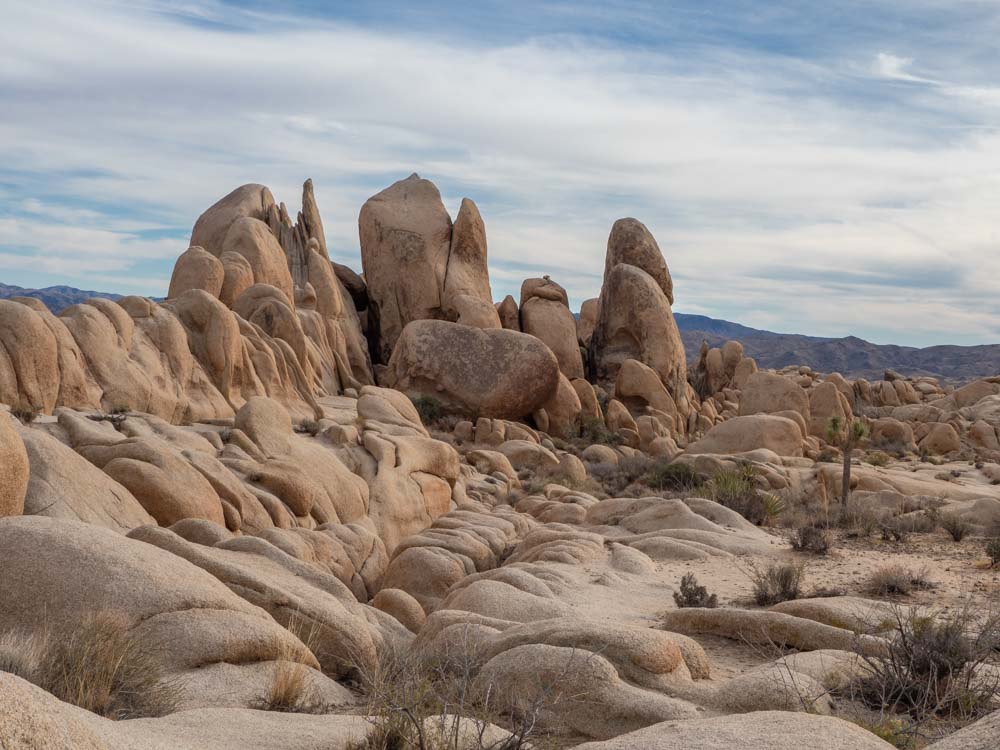 Food, Gas & Cell Service in Joshua Tree
Beyond the visitor centers at the outer edges of the park boundary, there are no services inside the park. There are picnic tables and bathrooms. Some of the campgrounds have water, but not all of them. There are no food concessions, no gift shops, no gas stations.
Your mantra needs to be: plan ahead and pack it in.
Is There Mobile Service in Joshua Tree?
Not a jot. It's a refreshing opportunity to simply commune with nature. But if you are in a group with multiple cars, or have people strung out along a hiking trail, you can't count on texting to communicate with the group. You'll just have to do things the old fashioned way by making a plan and sticking to it, getting paper maps from the visitor center and using an app like All Trails to cache trail guidance.
Where are the Closest Gas Stations to Joshua Tree?
There are several gas stations each in Joshua Tree town, Yucca Valley and Twentynine Palms.
Where are the Nearest Grocery Stores to Joshua Tree?
Joshua Tree town has some small stores, but not a major grocery store. But there is a Vons in Yucca Valley and a Stater Brothers in Twentynine Palms.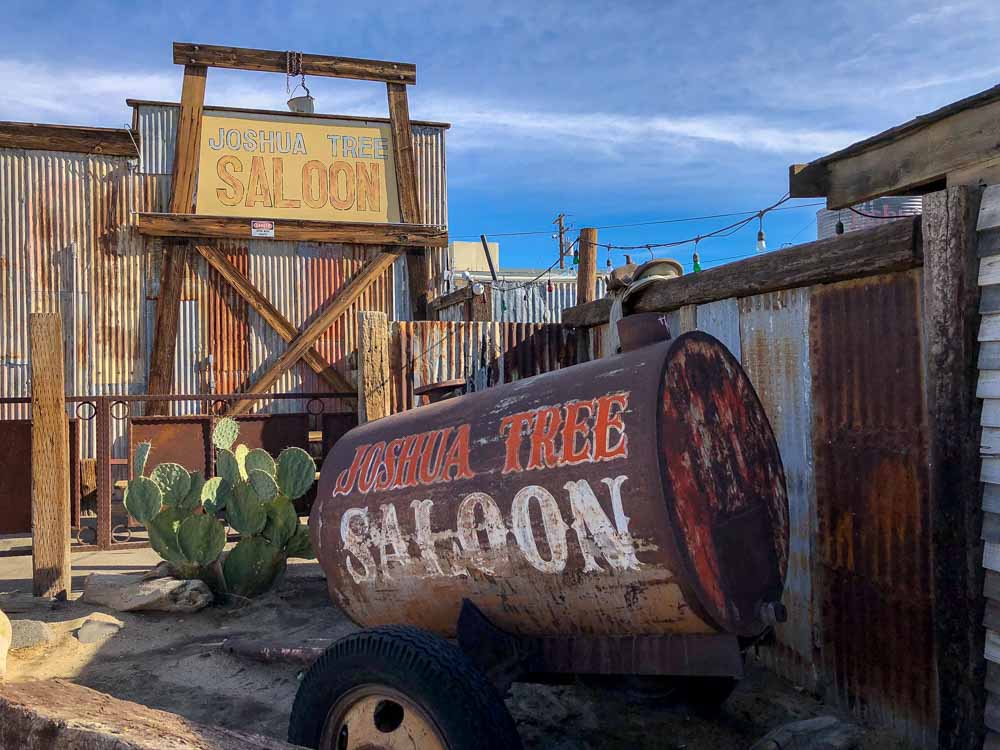 Where to Eat in Joshua Tree
Pappy & Harriets: This institution sits on the site of the original cantina for Pioneertown. It was rebuilt in 1982 by the namesake Pappy and Harriet, and has since become an institution. They serve basic American fare in no big hurry. They have music every night. But they aren't open on Tuesday and Wednesday.
Joshua Tree Saloon: This barbecue joint in downtown Joshua Tree feeds both locals and visitors. They have a respectable beer selection and every manner of smoked meat. They frequently have music and they also have a large outdoor patio. Go early because it gets very busy.
Kitchen in the Desert: This unique dining experience serves delicious, fresh food in a lovely patio setting. They have an interesting cocktail selection and their food packs a lot of flavor. It's a nice "date night" kind of spot, so make reservations in advance.
Food for Thought Cafe: You can catch a vegetarian breakfast or lunch at the the Food For Thought Cafe, which is located at the Joshua Tree Retreat Center. It's located closer to Yucca Valley.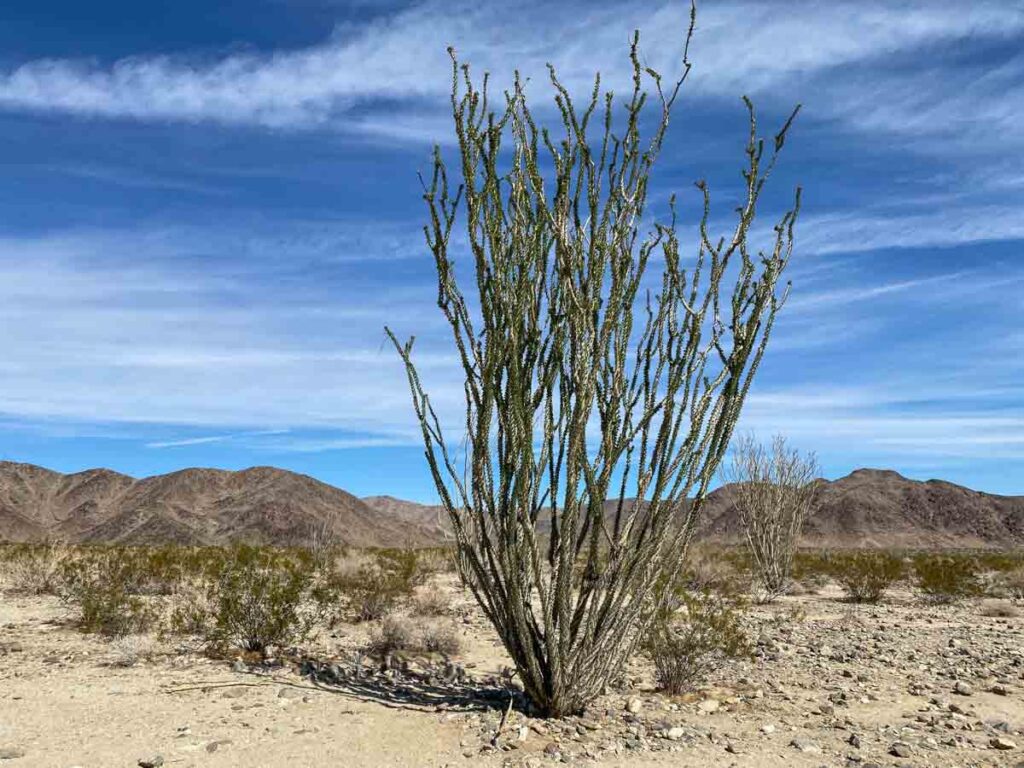 The Best Time to Visit Joshua Tree National Park
DO NOT GO in the summer, it's just too blazing hot. Between June and September, the average high temperature runs between 91-99′ F (33-37′ C) Even the park rangers are hunkered down, they don't offer tours and several of the campgrounds close.
My most recent trip was during February where we experienced blooming Joshua Trees, Ocotillo and Cholla Cactus…and it even snowed!
Quiet Time: Between Thanksgiving and Christmas.
Chance of Spring Blooms: Late February- early April.
Warm (but not boiling) weather: Oct/Nov and mid March-mid April
How Much Time Do You Need for Joshua Tree?
Many people spend just a day in Joshua Tree. And if that's all the time that you have, we have an itinerary for how to spend a day there. If you do that, you'll just have time for the highlights and perhaps 1-2 of the shorter hikes. If you can spend two days, then you can treat yourself to two of the longer hikes and take in a sunset. If you can add an additional 1/2 day, that will give you time to explore some of the artsy, quirky stuff to do in Joshua Tree town.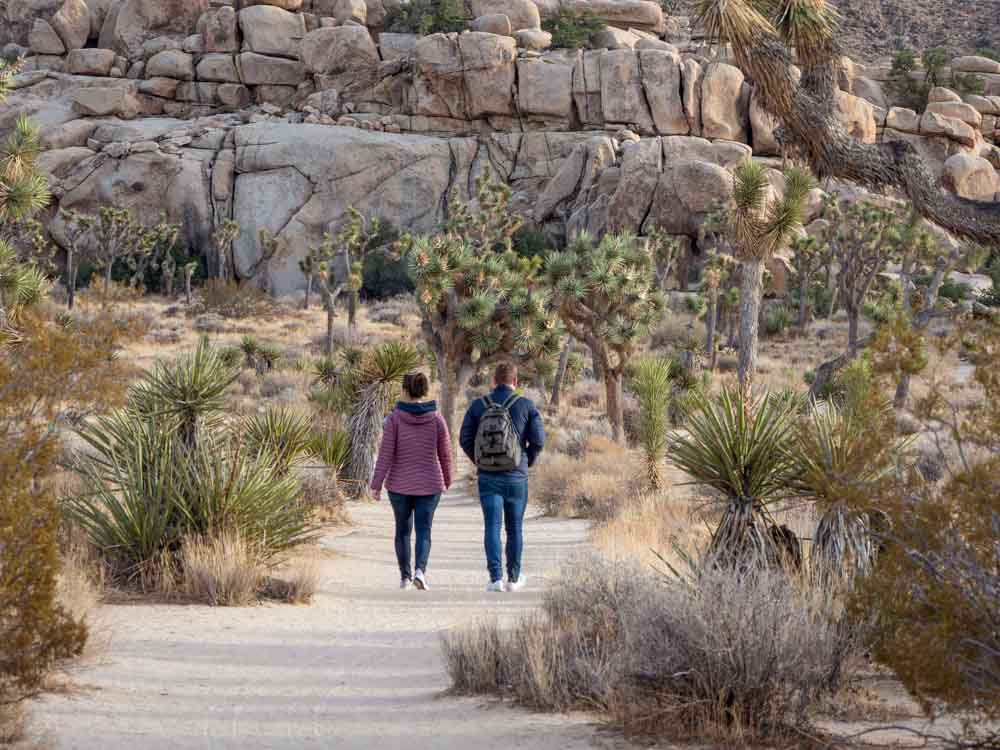 Top Things to Do In Joshua Tree, NP
Most Popular/Must See Sights in Joshua Tree
The Barker Dam
During the late 1800's and early 1900's, cattle ranching was an important part of the region's economic activity. The dam was built to provide year-round water for the cattle. Today, you may or may not see water behind the dam, but when it's there, it attracts the local wildlife.
There is a 1.3 mile interpretive loop that has nature markers and a small spur leading to Native American cave paintings.
Creep Out at Skull Rock
Do you remember Skeletor from the Masters of the Universe cartoon? Well, he's now made his home in Joshua Tree. This creepy bit of geology is the result of relentless drips of rain, carving your next Halloween mask into the granite. In addition to scaring your children, there's also a 1.4 mile nature trail.
Visit the Cholla Cactus Garden
This garden has thousands and thousands of Cholla Cactus and they're particularly pretty when viewed i low, slanted light. Their sharp spines lay in wait and are known to "jump" onto unsuspecting passersby. So, mind that you stay on the path.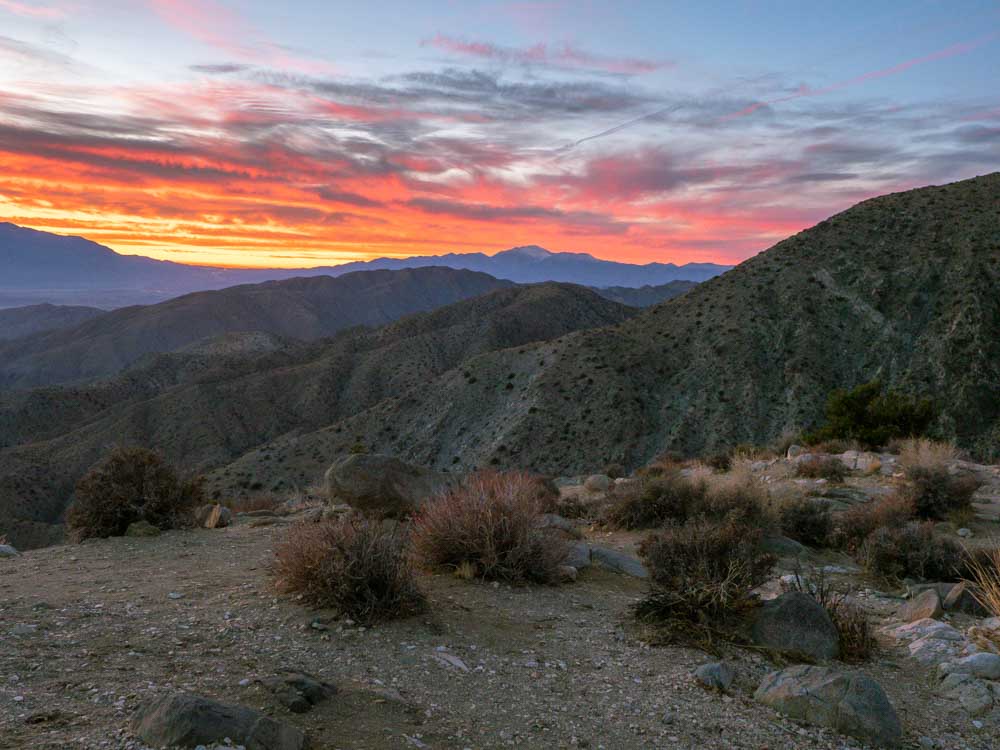 Take in Sunset at Keys View
Actually, this is one of the most popular things to do in Joshua Tree and the views are great all day. The overlook offers a wide-angle view of the Coachella Valley and on a clear day, it feels like you could reach out and touch LA.
But, trust me, you'll want clouds instead. At sunset, the setting sun sparks up the clouds in a flaming light show. To see the best of it, get there about 20 minutes before sunset and stay about 30 minutes after the sun has gone down behind the mountains.
It can get crowded, so if you want to avoid that, the boulders along the road near Skull Rock can also be a nice sunset spot.
Most Popular Hikes in Joshua Tree
We have a whole article that outlines 10 great hikes in Joshua Tree which includes easy interpretive trails to harder trails that really get you out into the landscape. Do check it out, especially if you are looking for something that will get you away from the crowds.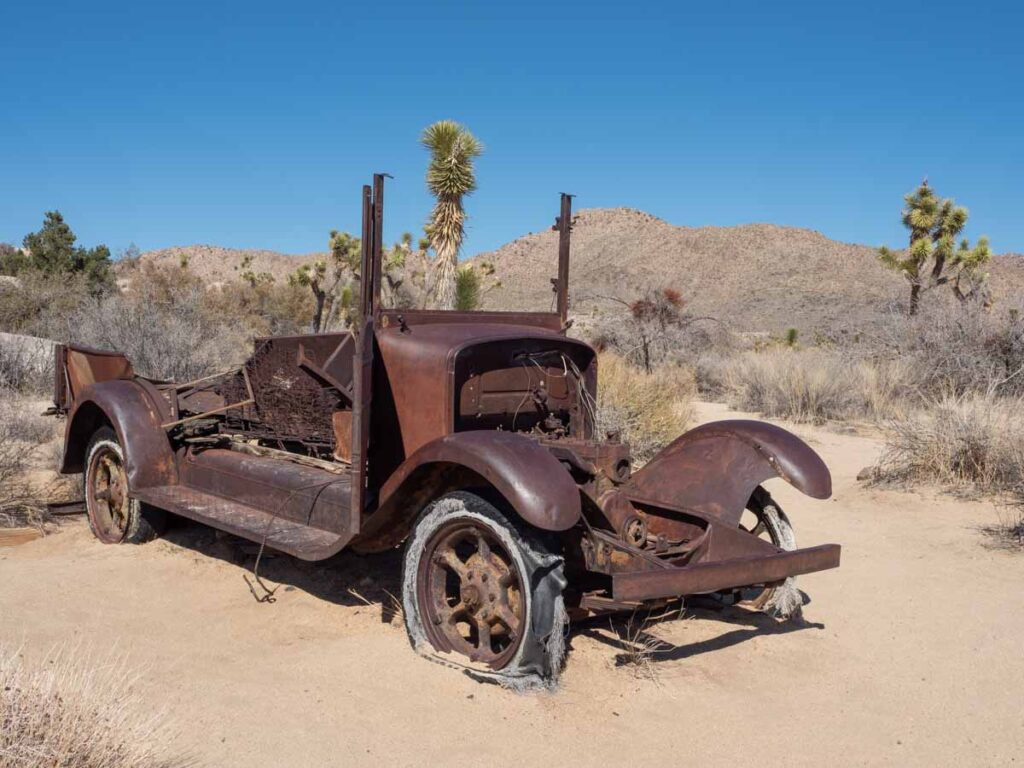 Easy: The Wall Street Mill
This flat 2.5 mile hike takes you through a boulder strewn landscape populated with the namesake trees and is a great opportunity to see them up close. The trail also includes a collection of rusting equipment such as old cars, mining gear and an ore crusher. The mill was owned by Bill Keys (more on him below) and and he used the area to crush the ore that was being extracted from the area's mines.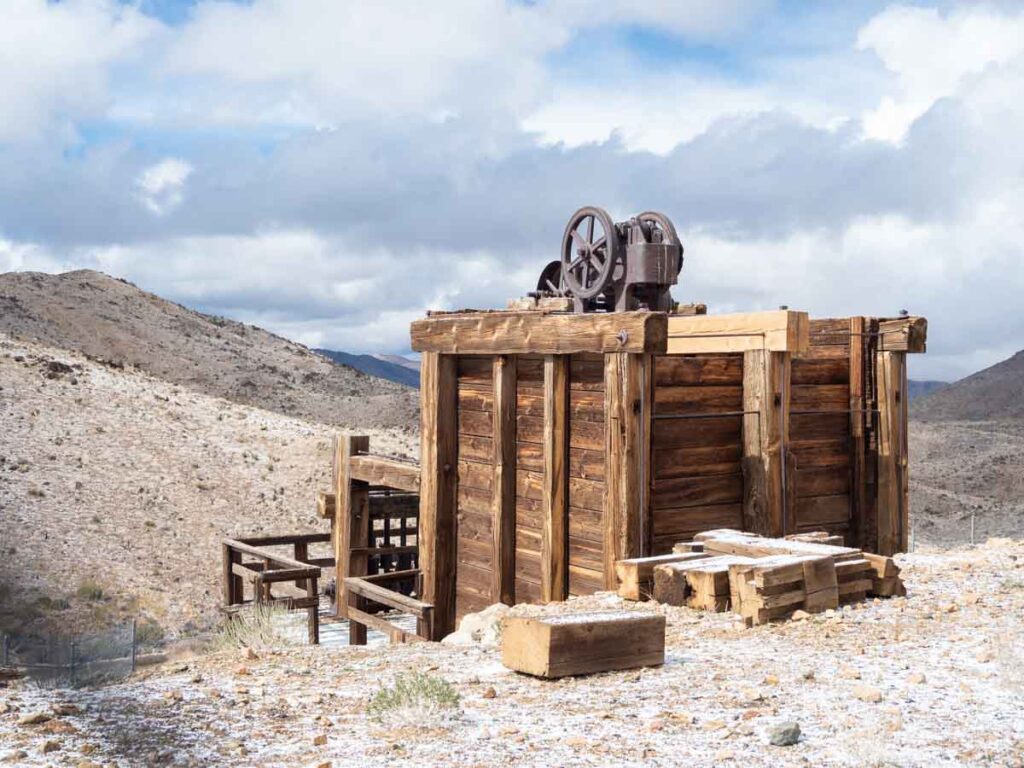 Medium: The Lost Horse Mine
During its heyday from 1895-1905, this mine produced an astonishing amount of precious metal, netting 10,000 ounces of gold and 16,000 ounces of silver. So, doing this hike will give you a big dose of Joshua Tree's mining history in addition to the lovely natural landscape views. You can do this trail as a 4 mile out and back, or take the longer 6.8 mile loop trail.
Harder: Ryan Mountain
This trail goes to one of the highest points in the heart of the park. It's a 3 mile out and back with over 1,000 feet of elevation gain. The summit offers 360′ views of cool boulder formation, the valley floor and the San Jacinto and San Gorgonio mountains in the distance.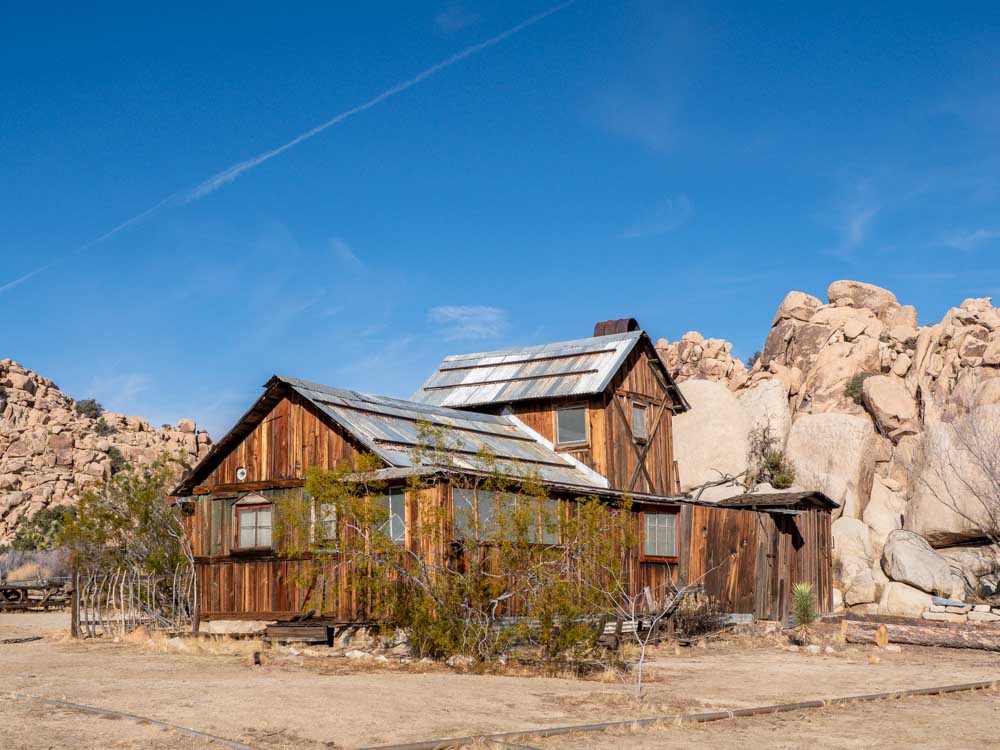 Less Popular But Cool Things to Do
Take the Key's Ranch Tour
The Keys Ranch tour is the best kept secret in the park. The Keys family were the only ones to make a sustainable living in this unforgiving landscape. William Keys started out running scams at Scotty's Castle, in Death Valley. After doing some time for that, he began working a mining operation in Joshua Tree. When the mine owner went bankrupt, Keys took the equipment as back pay and created his own homestead.
The Keys family was remarkably resourceful, running cattle, designing their own dam and growing crops. They ran their own mine for years and later earned income separating ore for others using a machine of Keys own making. There were also some shenanigans and a feud which resulted in Keys shooting another miner.
You can get the full scoop by taking a 1.5 hour guided tour. You can only get onto the ranch on a ranger-led tour and they only offer 25 tickets per day. So buy the tickets well in advance.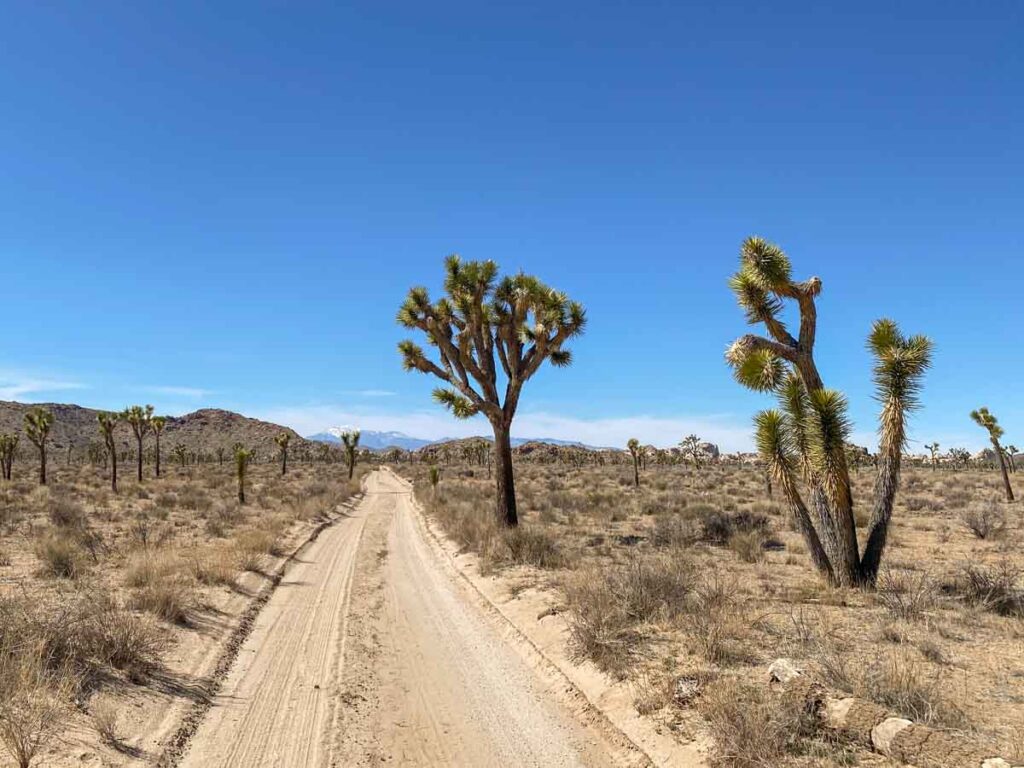 Drive the Queen Valley Road & Desert Queen Mine Road
These dirt roads help you avoid the busy section of paved road between Barker Dam and Skull Rock. They're well graded and is fine for a passenger car, although I wouldn't do it if the park has been experiencing one of its infrequent rains.
There are a number of well marked trails and dirt road spurs that lead off the road, so it's a nice spot to get out and stretch your legs without having to fight for space with the other cars. Keep an eye out for the signage for the Desert Queen Mine overlook, which is a short .2 mile trail. Or you can do the longer 4 mile pines trail (which include some rare strands of pine trees).
Go Star Gazing
Joshua Tree is an official Dark Sky Park. Because of the lack of lodging and other services within the park, there is no light pollution and the whole park is basically one big star gazing opportunity. Just avoid the campgrounds as you'll get light from the campers and RVs. That said, the arch rock near White Tank campground is a popular night photography subject.
You can also simply head out in your car and use any of the many roadside pullouts in the park. The road south from the White Tank campground down to the Ocotillo patch is a good spot. As are the rock across the street from Skull Rock.
Joshua Tree Guided Tours
In addition to the aforementioned Key's Ranch tour, the Park Service regularly runs ranger talks on various topics like flora and geology. Check the Ranger Program page or ask at the visitor center when you arrive.
You can learn more about what there is to see in the park with a 1/2 day guided hike tour. Or get off-road with a 4×4 Jeep tour. Or learn how to go rock climbing with a guided climb.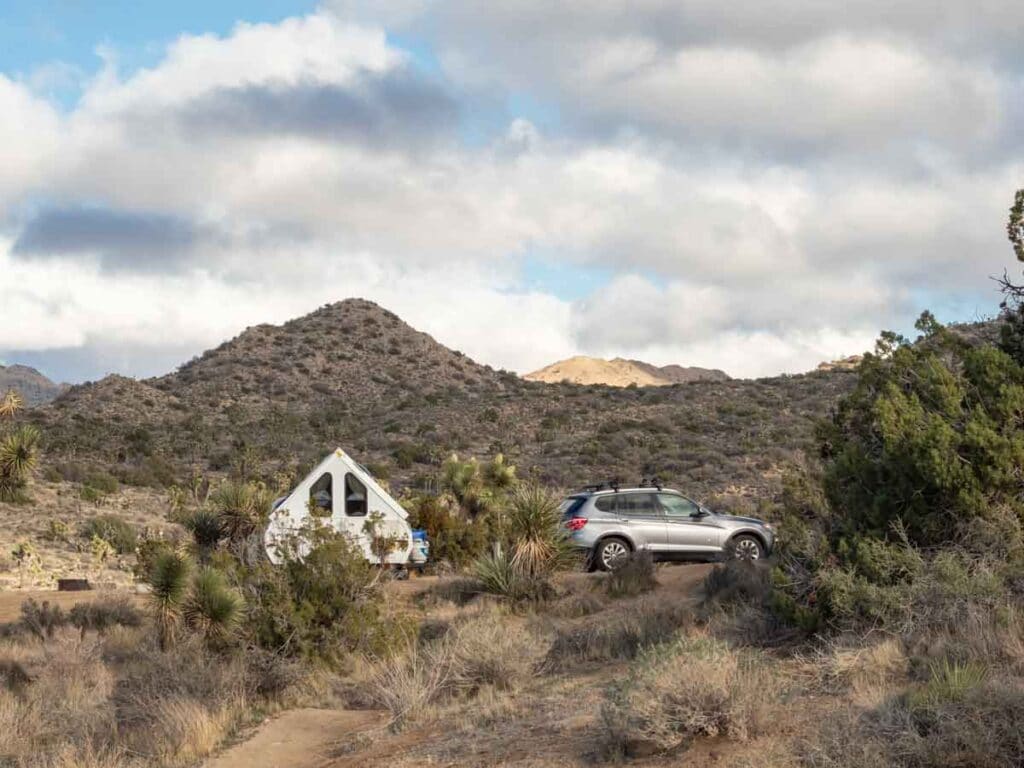 Where To Stay on Your Joshua Tree Trip
The only lodging inside the park is at one of the 8 campgrounds, which accommodate both tent campers and RVs. Otherwise, you'll need to get a hotel, motel or vacation rental outside of the park. The towns of Joshua Tree, Yucca and Twentynine Palms all offer options at a range of pricing.
The park itself has 494 camp spots. Check out our Joshua Tree campground guide to find out which ones are the best and which require advance reservations. The guide also mentions several RV parks.
Nearby Twentynine Palms and Joshua Tree have a range of accommodation from inexpensive motels to nice lodges. If you like kitsch, you can score a cool hotel like the western-themed Joshua Tree Ranch House, Sunnyvale Garden or Pioneertown Motel. The Fairfield Inn in Twentynine Palms is also a good option for a mid-range place. Their rooms are quite spacious and they have a generous, free breakfast.
Can you rent a cabin or Airbnb in Death Valley?
You can't rent cabins in the park proper. But there are a lot of Airbnbs for rent around Joshua Tree and Yucca Valley. Check out this list of cute and quirky Joshua Tree cabin rentals or this additional list of Joshua Tree glamping trailers, RVs and tents.
Be aware that the vacation rentals have been taking a toll on the local housing inventory and the region may begin experiencing a crackdown on the profusion of rentals. So be flexible and plan to book any of your stays well in advance.
What to Pack for Joshua Tree National Park
We always recommend road tripping with the California Road & Recreation Atlas. There are places in and around JT that won't have mobile coverage. And this map is super detailed, showing not only roads, but hikes, lakes and campgrounds.
Bring a ton of water. This is the desert after all and, other than at the visitor centers, the park doesn't have water. Bring a water bottle for on the go and stock the car with larger refillable bottles like this wide mouth gallon jug.
Bring a cooler full of food. Take a good sized cooler that will keep cold in the heat and will hold a decent amount of lunch and snack items. The Yeti coolers are expensive, but they keep food cold for far longer than cheaper coolers. Plus they come in fun colors. Alternatively, you can get a plug-in cooler, which uses your car's 12 volt plug to keep things cold.
Pack layers. Just because it doesn't rain (much) in Joshua Tree, doesn't mean that there isn't weather. On my most recent trip, it actually snowed on me and I had to wear everything.
Proper hiking pants. Yoga pants and gym shorts don't cut it when you are hiking because you don't want to be dropping your phone and keys all over the landscape. Proper hiking pants or shorts with zippered pockets are a must. I love the hiking pants from Kuhl. They are breathable, stretchy and have zippered pockets. I'm also a big fan of Columbia hiking clothing. They manage to strike the right balance between price and quality and their clothes have a more generous cut.
Proper hiking shoes. You don't necessarily need heavy hiking boots for your Joshua Tree trip, but you should at least invest in some trail runners or light hikers. Flexible sole gym shoes aren't good for gripping the rocky, gravely soil of Joshua Tree. We've put well over 1,000 miles on the Hoka Speedgoat trail runners. They have strong foot cushioning and decent grip.
A fully charged camera or phone. Joshua Tree is pretty. You'll want to have a full charge so that you can take as many pics as you want, carrying a small battery bank can be a life saver for your phone.
Do you really love national parks? Then you should definitely check out the Sub-Par Parks project by Amber Share. She's leveraged her strong sense of humor and excellent graphic design skills to pair negative national park reviews with beautiful illustrations of said parks. For instance, the negative review for JT is "just walking around in the desert." And on my own Facebook page, I got a comment of "boring" for a picture of the trees. Really?
If you love nature and poking fun at people who don't, then check out Share's Instagram feed or buy the book for yourself and everyone else you know who likes to wander around boring nature.
There's your Joshua Tree travel guide. We're it's given you all of the practical information that you need for your trip. If you have any questions, be sure to find us on Facebook. Have fun and happy trails!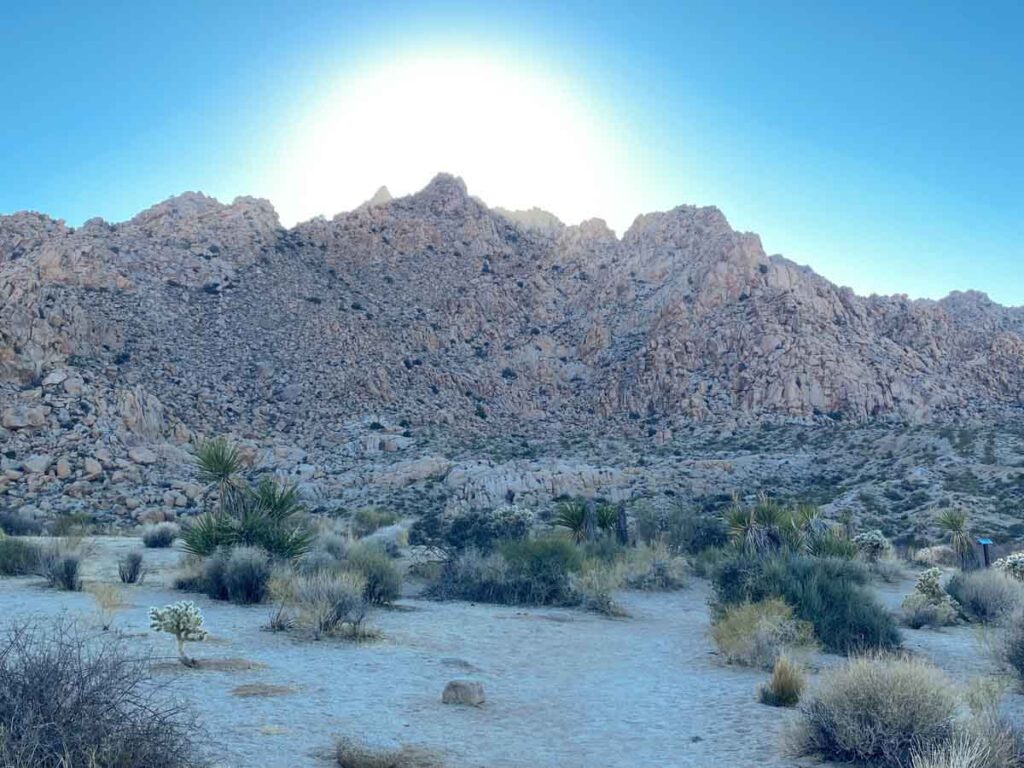 Explore More California National Parks
Share these Joshua Tree tips with your friends: