Joshua Tree town (and the National Park) are not served by a major California airport. However, you have several options for finding airports near Joshua Tree. This guide will help you figure out which airport is best for your Joshua Tree trip. We also offer advice for how long it will take to get from the airports to Joshua Tree with details about car rentals and trip planning tips.
Planning Your Trip to Joshua Tree
We have a pile of resources to help you plan your trip to Joshua Tree. Start with our guide for Joshua Tree town, which has quirky museums and art installations along with suggested places to eat. We have a full Joshua Tree planning guide and also a 1-day guide for folks in a hurry. Then back-fill with some of these cool Joshua Tree hikes. If you are also planning to visit Death Valley, use our Joshua Tree to Death Valley road trip guide.
Figure out where to stay with our guides for glamping and cabin rentals, or score a cool hotel like the western-themed Joshua Tree Ranch House or Pioneertown Motel. If you are bringing camping gear, use our camping guide to find a nice spot. You can also learn more about Joshua Tree with interesting factoids about the park's history and ecology.
We also have a resource for doing the scenic Palms to Pines drive.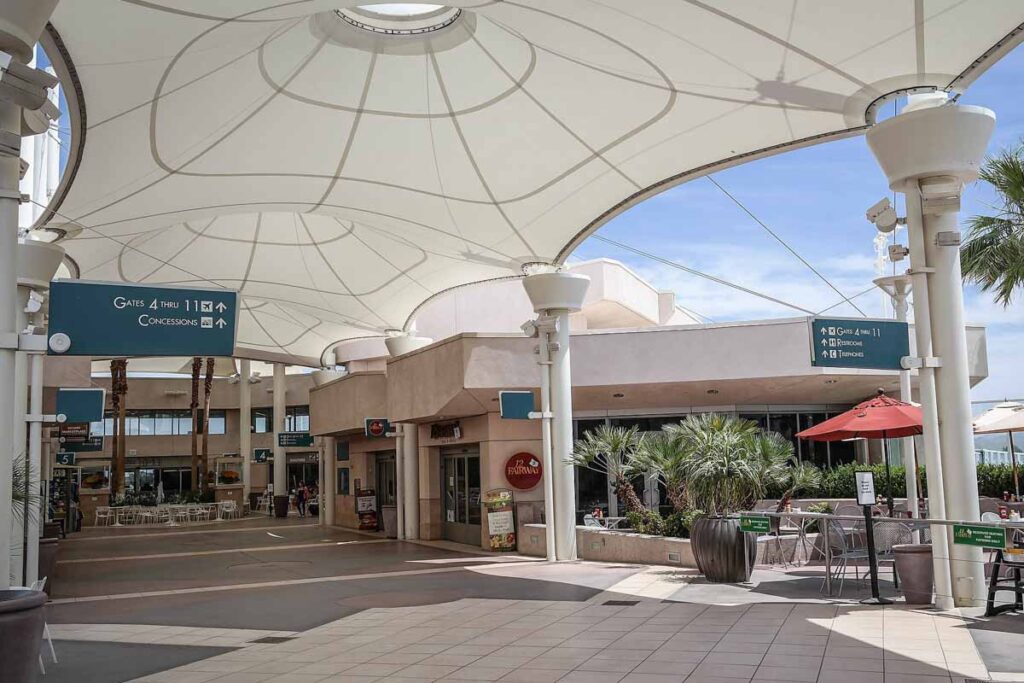 The 6 Closest Airports to Joshua Tree + Which to Pick
Palm Springs Airport (PSP)
Distance to Joshua Tree: 39 miles
Drive time: 50 minutes
Palm Springs is the very closest airport to Joshua Tree town, and is located just 39 miles away. PSP has nonstop flights from ~31 destinations. Palm Springs Airport is a good choice if you are short on time, can get a direct flight or a connecting flight with a short layover. It's also worth using the Palm Springs airport if you are traveling from the Bay Area as Oakland, San Jose and San Francisco Airports all offer nonstop flights.
Los Angeles International Airport (LAX)
Distance to Joshua Tree: 143 miles
Drive Time: 2.5-3 hours
It may seem counterintuitive to chose an airport that isn't particularly close to Joshua Tree, however there are a few circumstances where it makes more sense than using the Palm Springs Airport.
If you can only get to PSP on a connecting flight with a long layover (3+ hours), you may actually save time by flying into LAX and driving to Joshua Tree.
Also, it is usually cheaper to fly into LAX than any of the other airports listed here. So if you have more time than money, LAX is the way to go.
Las Vegas McCarran Airport (LAS)
Distance to Joshua Tree: 193 miles
Drive Time: 3-3.5 hours
Las Vegas is certainly not the closest airport to Joshua Tree. But it can be worth flying into LAS for a few particular circumstances.
The air carriers offer frequent fare deals into Las Vegas, especially on weekdays. So if you have a flexible travel schedule and more time than money, LAS can be a good choice.
Also, if you are doing Joshua Tree as part of a larger national parks road trip, Las Vegas is actually the closest airport to Death Valley, You'll have less overall drive time flying into Las Vegas than Los Angeles. Here's our mega guide for Death Valley, to help you plan that trip.
What About Burbank, Santa Ana or Ontario Airports?
Using Burbank Bob Hope (BUR), Santa Ana John Wayne (SNA) or Ontario (ONT) airports can can be a good choice IF you can get an inexpensive, direct flight. That's a big if, though. These airports are smaller than LAX, with fewer flights and typically higher fares. Check rates for Ontario first, since it's the next closest airport to Joshua Tree after Palm Springs. But, again, if you have to get there via a long layover, it may not be worth it.
Ontario Airport (ONT)
Distance to Joshua Tree: 88 miles
Drive Time: 1.5-2 hours
Santa Ana John Wayne Airport (SNA)
Distance to Joshua Tree: 118 miles
Drive Time: 2-2.5 hours
Burbank Bob Hope Airport (BUR)
Distance to Joshua Tree: 142 miles
Drive Time: 2.5-3 hours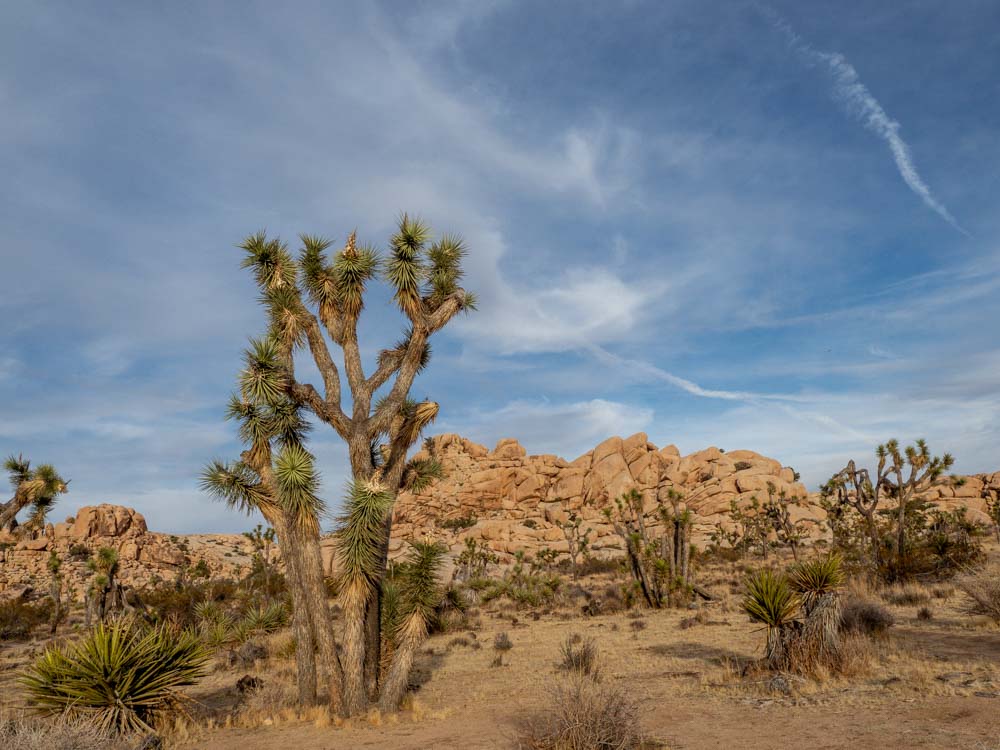 Palm Springs Airport Logistics
Since your most likely option is indeed the Palm Springs airport, here is some additional information to help you plan your trip to the area. Here are the nonstop destinations serving Palm Springs:
Flights Within California
San Francisco (SFO) | San Jose (SJC) | Oakland (OAK) | Los Angeles (LAX)
Flights Elsewhere in the US
Boise (BOI) | Everett (PAE) | Portland (PDX) | Eugene (EUG) | Reno (RNO) | Seattle (SEA) | Phoenix (PHX) Salt Lake City (SLC) Denver (DEN) Las Vegas (LAS)
Chicago (ORD) | Dallas (DFW) | Atlanta (ATL) | Minneapolis (MSP) | Houston (IAH)
Philadelphia (PHL) | Fort Lauderdale (FLL) | New York (JFK) | Boston (BOS)
International Flights
Calgary (YYC) | Edmonton (YEG) | Vancouver (YVR) | Winnipeg (YWG) | Toronto (YYZ)
Carriers Serving Palm Springs
The following airlines serve the Palm Springs airport.
Air Canada | Alaska | Allegiant | American | Delta | Frontier| Jet Blue | Southwest | Sun Country | United | West Jet
(This article contains affiliate links. This means that if you choose to purchase, I'll make a small commission.)
Car Rentals in Palm Springs
You'll want to rent a car because Joshua Tree isn't well-served by public transportation and Joshua Tree National Park doesn't have shuttles.
Palm Springs is served by the following rental car companies: Alamo, Avis, Dollar, Enterprise, Hertz, National, Thrifty and Ace.
Our normal hack for getting a good deal on a car rental is to rent the smallest car available (which are often in short supply) and then hope for a free upgrade. This usually works. But if you are bringing a lot of luggage or camping gear, you may want to make sure that you simply rent the car you need.
Be aware that there are quite a few dirt roads around Joshua Tree, but any normal passenger car can handle them, as long as there hasn't been a recent rain.
More Airport Resources for California Vacationers
Share on Pinterest: