If you are visiting Palm Springs, or even dashing through it on a Southern California road trip, you should definitely make time for the Pines to Palms scenic byway. It's one of the top day trips on our list of epic scenic drives in California and it's totally worth spending the 1/2 day to do it. If you aren't sure you want to do it, keep reading because we'll give you 5 compelling reasons to tackle the Pines to Palms highway. And we'll also load you up with some practical tips and key stops for the scenic drive.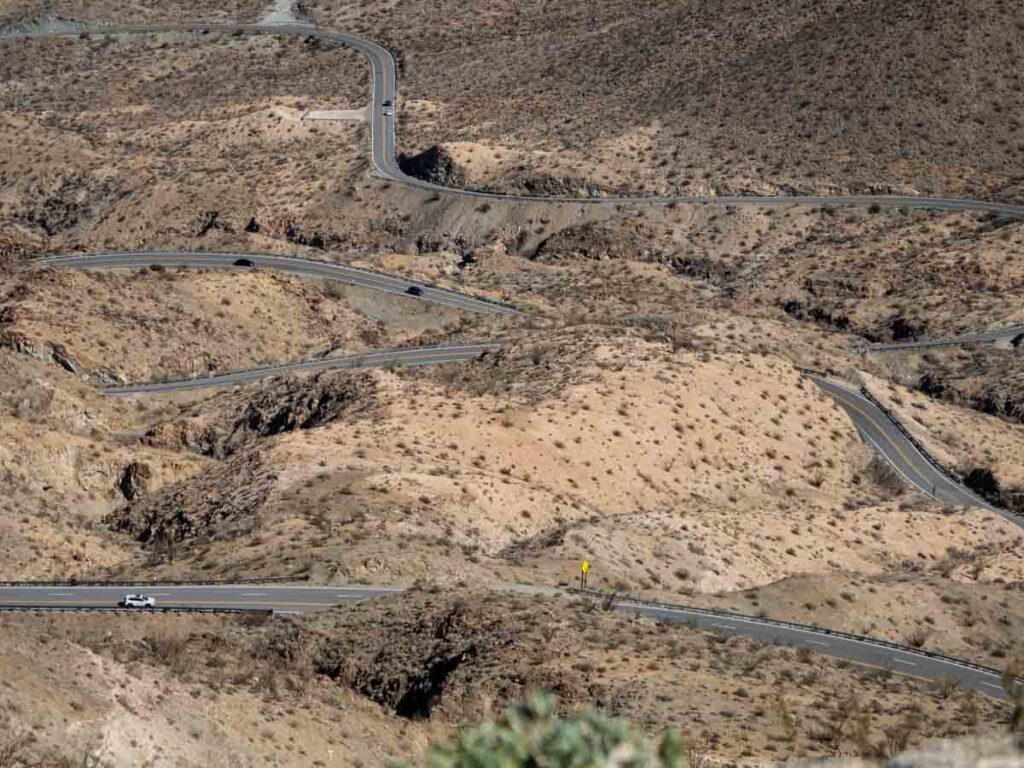 (This article contains affiliate links. This means that if you choose to purchase, I'll make a small commission.)
5 Reasons to Do the Palm to Pines Scenic Drive
1. Get Views for Days
The Pines to Palms scenic byway chock full of pullouts with overlooks for the Coachella Valley, the Santa Rosa and San Jacinto national monument, the Hidden Palms ecological reserve, Paradise Valley and sections of the San Bernardino National Forest.
2. Explore Two Distinct Ecosystems
You begin the drive in Palm Desert which is smack dab in the dry Mohave desert ecosystem. This system is dotted with date and fan palm trees, agave, yucca, ocotillo and cholla cactus. But the further up, you enter high alpine forest with lots of pinyon and ponderosa pine trees, aspens and mountain meadows.
3. Get Relief from Palm Springs Heat
It you are visiting in the hot summer months, the Pine to Palms highway can be a great relief from the heat of Coachella Valley. This is specially true for the highest sections, which top out at 5,000 feet and are on Highway 74 (north of Highway 371) and Highway 243 (into Idyllwild).
4. Have a Completely Unscheduled Day
Palm Springs is fun. But so much about visiting there requires scheduling and advance planning. You need tee times, reservations for popular restaurants, and pre-planning for the Ariel Tramway. But the Pine to Palms scenic drive is totally chill and you can do it at your own pace.
5. Get a Whiff of Fresh Pine Scent
Does anything smell better than fresh pine trees? Well, maybe coffee, popcorn and lemons, but pine trees are right up there. This drive, especially the western section of it transits a fragrant pine forest fragrant that you will definitely want to get out of the car for.
Practical Tips for Doing the Pines to Palms Scenic Drive
What is the Route for Pines to Palms?
The circular route goes as follows:
Take Highway 111 south through Palm Spring and Palm Desert. Head south/southwest on Highway 74, then stay on Highway 74 north at the Highway 371 junction. Go north on Highway 243 (toward Idyllwild). Connect with I10 at Banning and return to Palm Springs on Highway 111.
The official portion of the Pines to Palms scenic byway is 62 miles. But if you do a full loop that starts and ends in Palm Springs, it will be 102 miles.
How Long Does it Take to Drive?
If you never get out of the car, it will take approximately 2.5 hours to drive palms to pines. But that defeats the purpose. Give yourself at least six hours to do the drive, the scenic pullouts and lunch. Add more if you want to do a hike.
Are There Gas Stations on the Drive?
The Highway 74 section between Palm Desert and Paradise is part of the national monument and there aren't any services. But there are restaurants and gas stations in Paradise, Lake Hemet and Idyllwild.
Is the Palm to Pines Highway Dangerous?
Most of the drive only has one lane in each direction. There are sections of road, particularly at the beginning and end, which are curvy and steep. That said, there are a lot of guard rails and frequent pullouts. I suffer from some driving anxiety and I managed not to freak out on the drive. But do pay attention to your environment, other cars, the weather and speed limits.
What Should I Take With?
Pack layers! This drive covers a 5,000 foot elevation gain and the weather will change along with that.
We always recommend road tripping with the California Road & Recreation Atlas. There are places along this drive that won't have mobile coverage. And this map is super detailed, showing not only roads, but hikes, lakes and campgrounds.
Bring snacks or a picnic lunch. If you don't want to eat out in Idyllwild, then be sure to bring a picnic lunch. There are plenty of nice spots to settle in for lunch, particularly around Lake Hemet, Stone Creek and Lake Fulmor.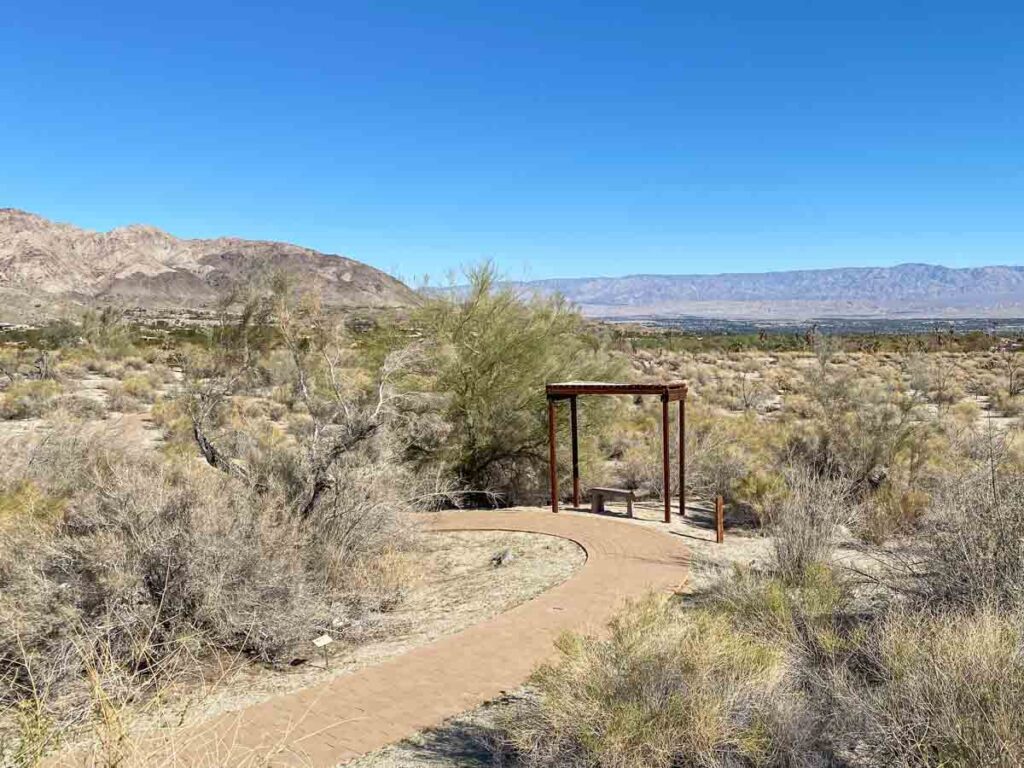 Key Stops on the Pines to Palms Scenic Byway
The key stops listed below aren't meant to be too prescriptive. The drive is very pretty, and you should pullout whenever something strikes your fancy (as long as it's safe to do to). But these key stops will indeed ad some value to your visit, so we recommend that you do at least some of them.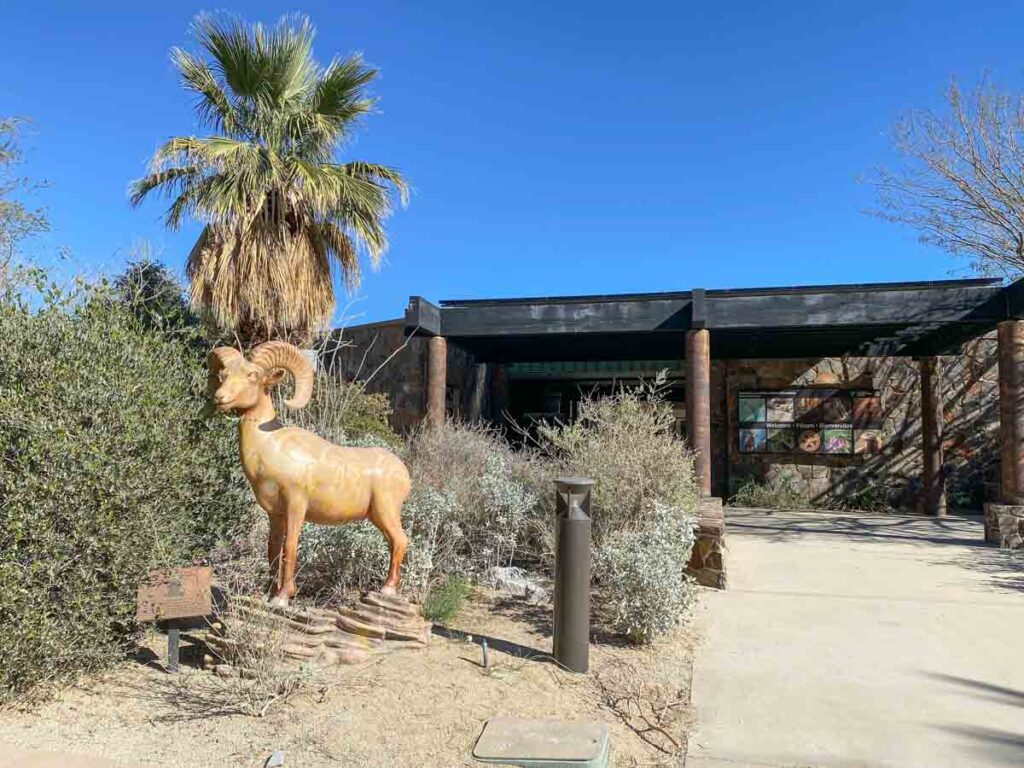 San Jacinto & Santa Rosa National Monument Visitor Center
This Bureau of Land Management visitor center marks the official start of the scenic Highway 74 byway. It offers information on the San Jacinto and Santa Rosa national monument, which includes preserved lands and wilderness that surrounds the first part of the drive. Be sure to stop and say hi to the resident tortoise and check out the visitor center displays. They are only open Friday-Sunday. But they have some displays on the exterior of the building for weekday visitors.
While there, you can also take the short garden trail to see native plants. There is also the 2.5 mile Henderson trail nearby.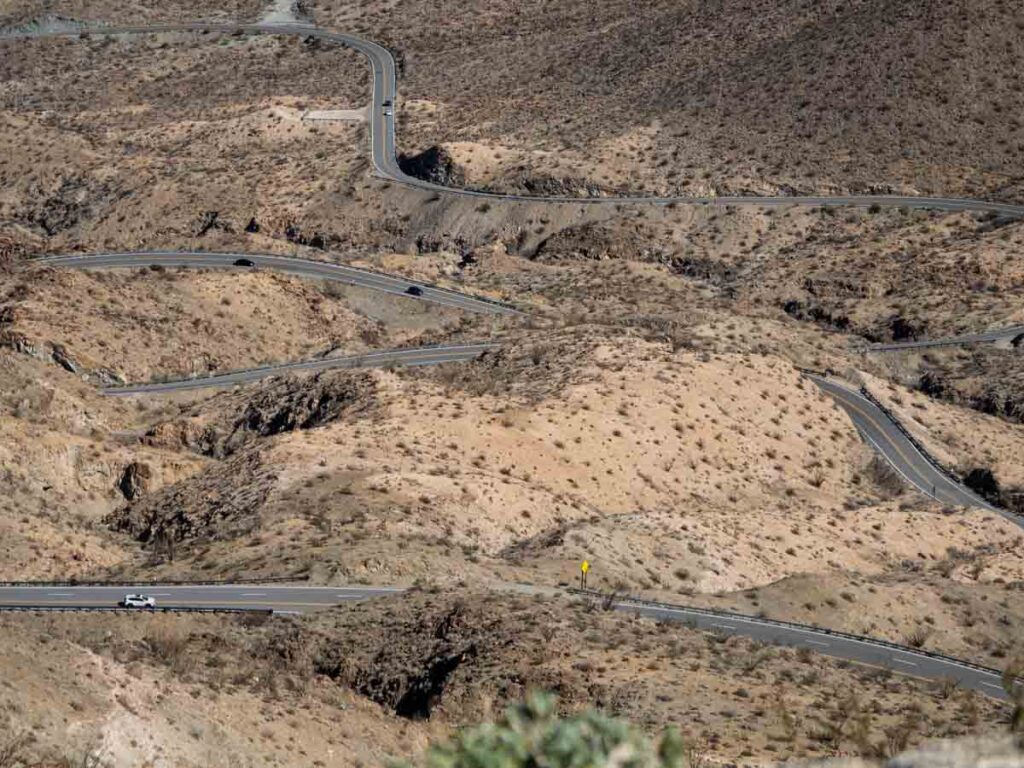 Coachella Valley Vista Point
You definitely need to stop at the Coachella Valley vista point. It's only 5 miles past the visitor center but you are already up in the clouds. In addition to the "holy smokes, did I just drive that" view of the serpentine road, you'll also get north-facing views of the Coachella Valley and Palm Desert.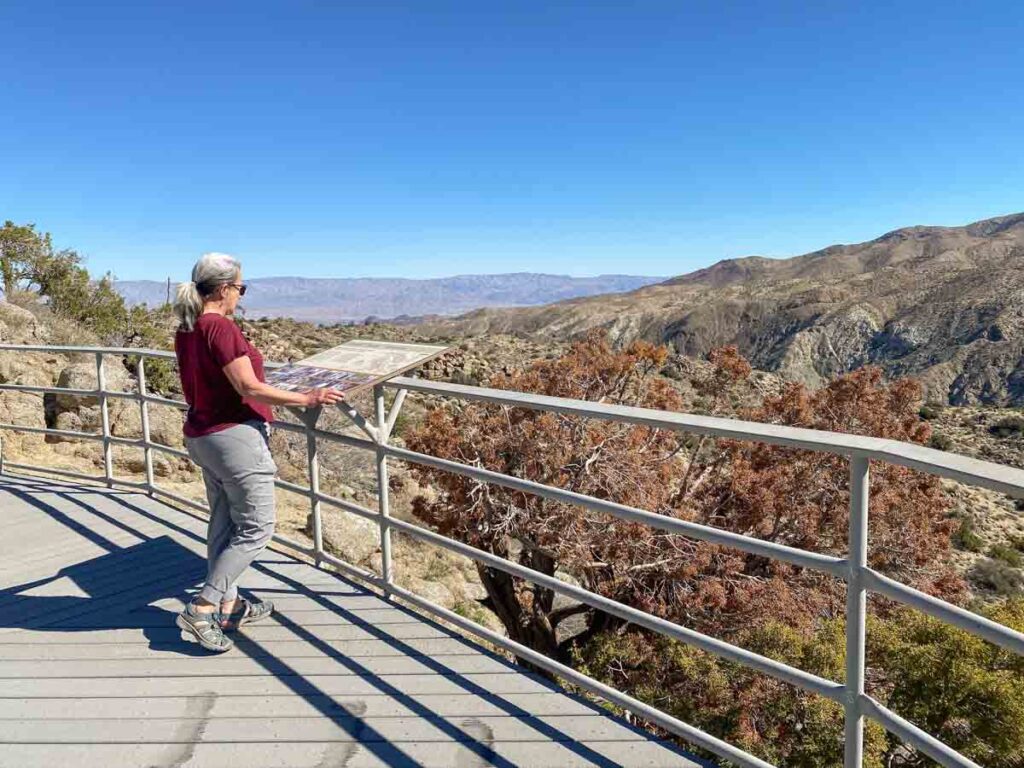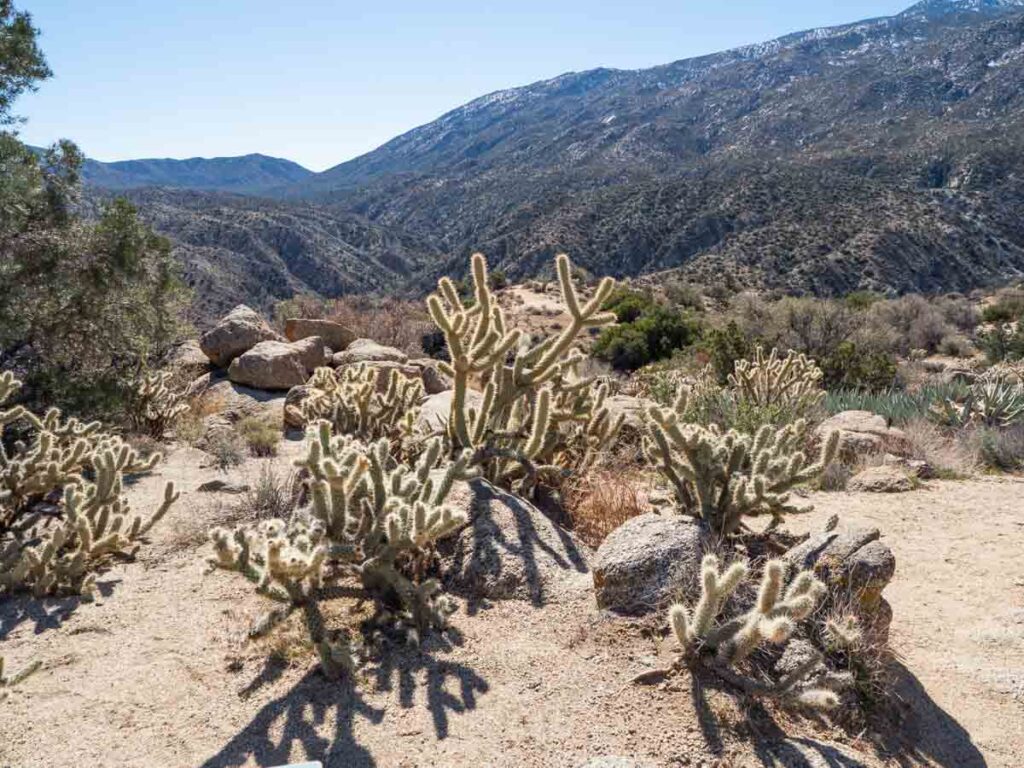 Cahuilla Tewanet Vista Point
This vista point is a great spot if you'd like to learn more about the native flora and fauna, along with the Cahuilla Native American bands who call this area their traditional home. There is a short nature trail and a number of explanatory signs. The lookout also has an expansive south facing view of the Santa Rosas.
Between the vista point and Paradise Valley, there are a number of trails that start at or cross the scenic drive.
Horsethief Creek (5.1 miles)
Palm Canyon (17 miles, but you can do less as an out and back)
Pacific Crest Trail to Lookout Mountain (5.4 miles)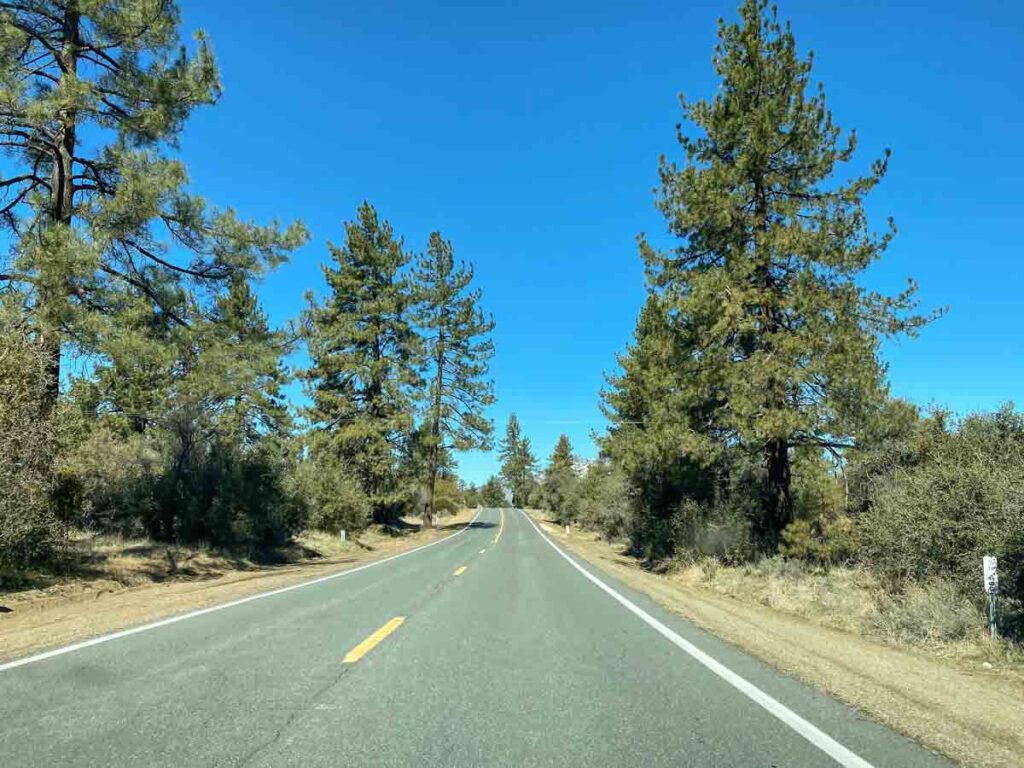 Paradise Valley
Once you hit Paradise Valley, you hit a nice stretch of mixed forest, meadow and ranch lands. The land starts getting greener and it's definitely a "stick your head out the window" section of the drive.
If you're hungry, stop in at the Paradise Cafe for breakfast or burgers.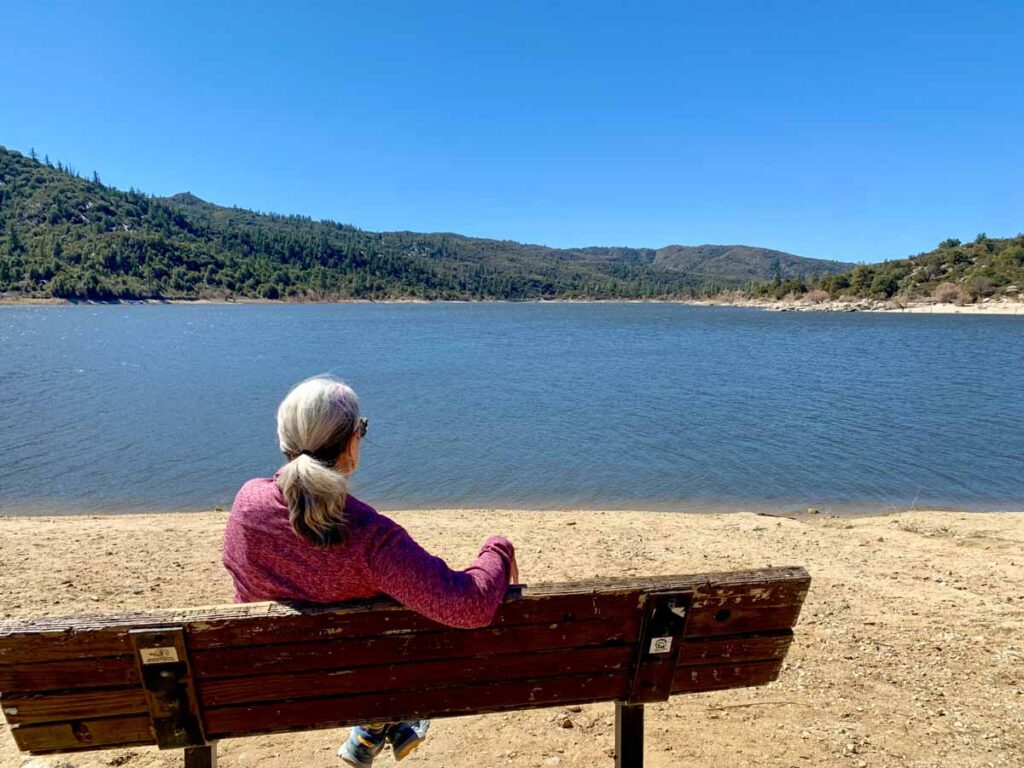 Lake Hemet
Lake Hemet is a small Forest Service reservoir that's popular with campers and fishers. But they also have a generous day use area as well. There is a concessionaire on site that rents pontoon boats and kayaks. While most Forest Service sites are free for day use, this is the rare site that charges. There is a $5 day use fee.
BUT…you can use your annual National Park passes including the Southern California Adventure Pass, the American the Beautiful Pass and interagency passes for seniors, military, 4th graders and folks with accessibility needs. You can get an America the Beautiful pass here.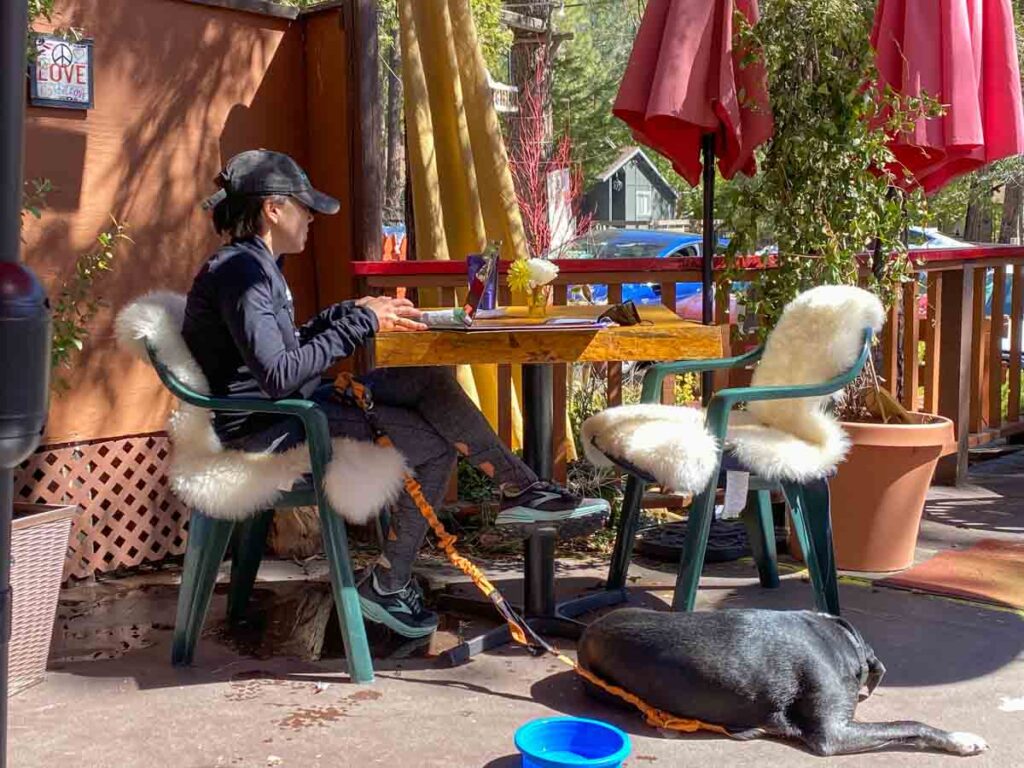 Idyllwild
Idyllwild is a cute little mountain situated in the pine forest along Highway 243. Lots of folks have vacation homes there and its worth a weekend getaway. But even if you are just passing through, you should stop in to have a nosh and visit some of the cute shops and galleries.
For food, they've got local, sustainable food and all day breakfast at Tommy's Kitchen and the Idyllwild Brew Pub is a good spot for brews and burgers. There is a cluster of shops right on Circle Drive as you enter town.
There are a number of trails just north of Idyllwild that are accessible from Highway 243.
Idyllwild South Loop (2.3 miles)
Idyllwild Park Trail (2.5 miles)
Idyllwild Perimeter Trail (4.2 miles)
Indian Vista Scenic Overlook
Here's another must-do scenic stop. This vista point west through the forest. There is a short walk to the overlook, but if you want to stretch your legs, you can do some or all of the 5.8 mile Indian Mountain trail. Just up the road on the right is Lake Fulmor, which has a day use area and a .5 trail that goes around the lake.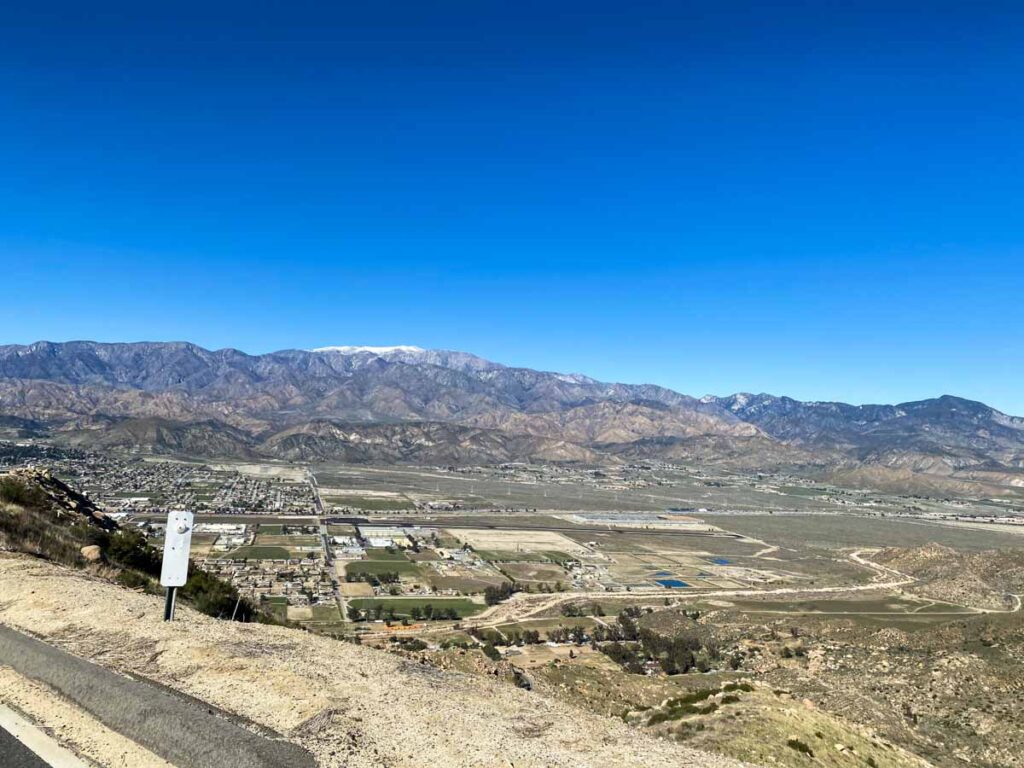 Banner Overlook
Before descending Highway 243 to I-10, there's one more pull-out with vast views. You'll reach it as you descent out of the forest and back into the desert. The pull-out overlooks the town of Banner with views of the San Bernardino mountains in the distance.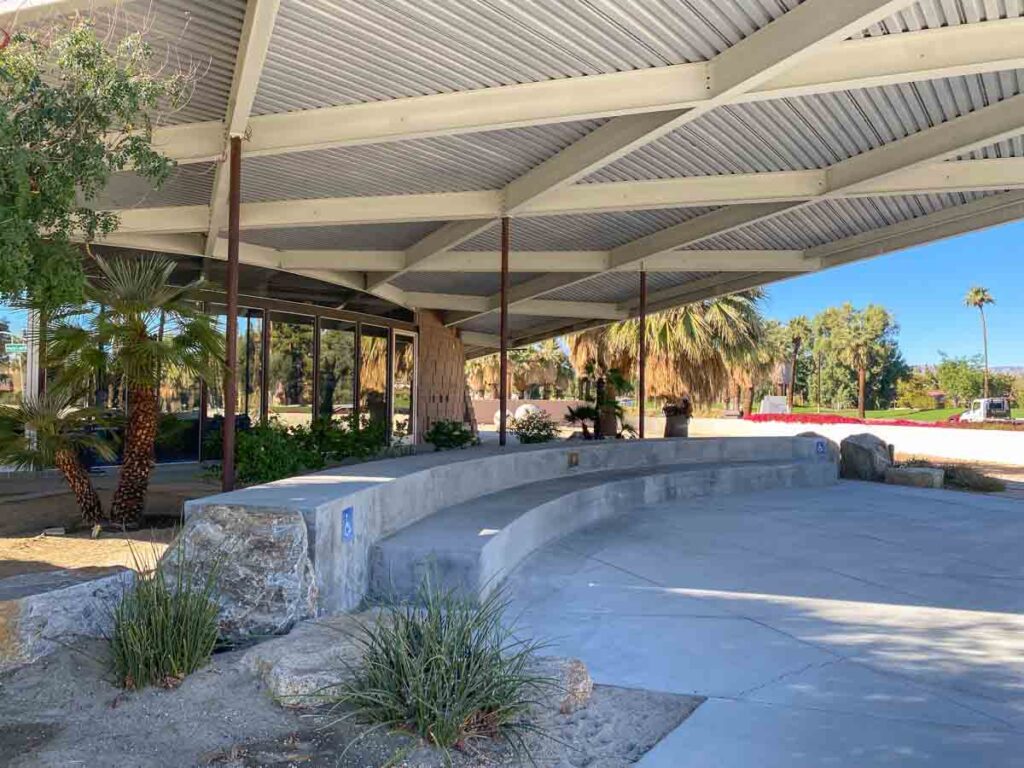 Palm Springs Visitor Center
This visitor center is a great representation of Palm Spring's iconic mid-century architecture. It used to be a gas station and it has that very 1960's space age shape to it. You can stop in and get suggestions for where to find other iconic Palm Springs architecture and get advice on more things to do in town.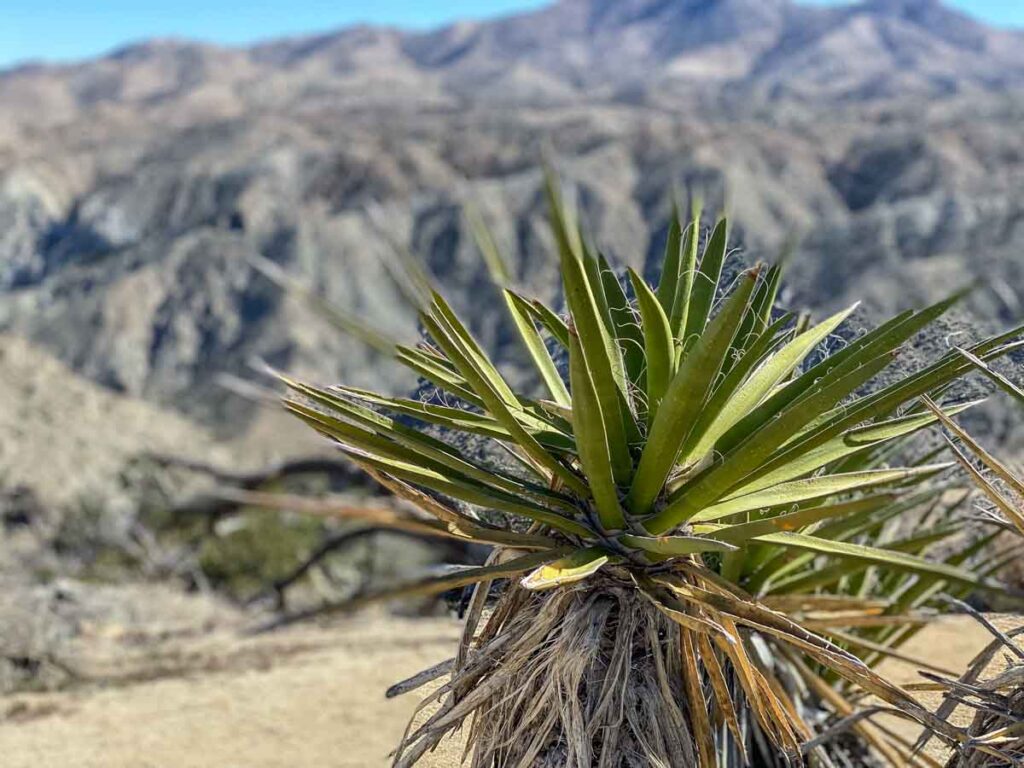 More Things to Do Around Palm Springs
More Epic Scenic Drives in CA
Share the Palm to Pines with your friends: