There are 8 public and many private campgrounds in and around Joshua Tree National Park. Some are in the heart of the park's most popular area. But others are tucked away into some quiet corners of this lovely desert landscape. So, whether you want to be in the thick of it…or out in the hinterlands, there is a Joshua Tree campground for you.
This guide covers all 8 public Joshua Tree campgrounds (in the park) along with suggestions for some BLM and private campgrounds (just outside of the park). We've also got some tips for how to plan your itinerary, the best time to go camping in Joshua Tree, tips for snagging a reservation and a full FAQ.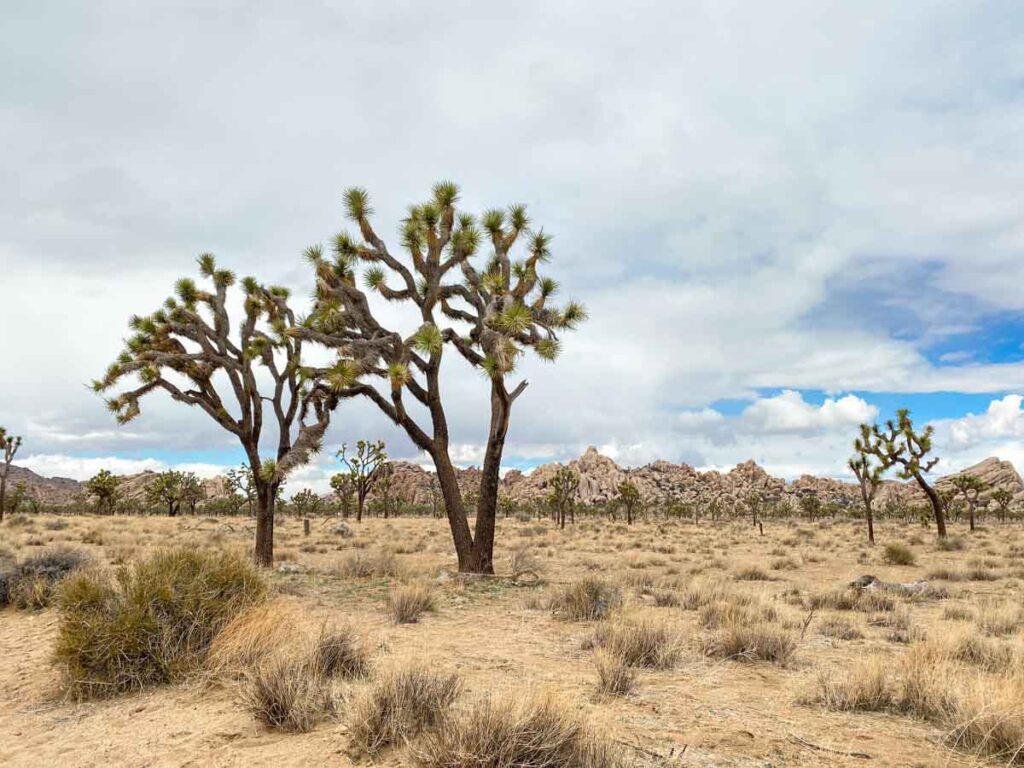 (This article contains affiliate links. This means that if you choose to purchase, I'll make a small commission.)
Planning Your Joshua Tree Trip
There is a LOT to do in Joshua Tree. You can hike the landscape, explore JT's mining history and even score a spot for an epic sunset view. You'll want to consider how many days to alot to the the park, what time of year to go and what sorts of activities you want to engage in while there. Here are our suggestions for how to put together an epic Joshua Tree camping trip.
We've provided some suggestions below, but you should also check out our complete Joshua Tree travel guide for more info.
Joshua Tree Itinerary Suggestions
You can do most of the highlights of the park in one long day, or a day and a half at a stretch. But camping in the park gives you the opportunity to take your time and do a more leisurely visit.
We've got a guide for how to spend one quick day in Joshua Tree, which you can adapt for your camping timeframe. We've also got a guide for the top hikes in Joshua Tree, some of which may be available right from your camp spot. Be sure to leave some time for hanging out in Joshua Tree town. Our list of things to do there features some cool art installations and oldy timey western kitsch.
If this trip also includes a visit to Death Valley, we even have an itinerary for Joshua Tree to Death Valley, with some cool stops in between.
Top Cultural/Historical Sights in Joshua Tree
Key's Ranch (book ahead for the tour)
Wall Street mine hike
Barker Dam hike
3 Cool Hikes in Joshua Tree
Lost Mine trail
Ryan Mountain
Minerva Hoyt trail
2 Spots for Sunset
(honestly, if there are clouds, almost anywhere in Joshua Tree promises a lovely sunset and clear skies for stargazing.)
Key's View (which overlooks Coachella Valley)
Along the road near Split Rock.
Best Time of Year for Camping in Joshua Tree
Summer is the least favorable time to visit the park. Between June and September, the average high temperature runs between 91-99′ F (33-37′ C). Some of the park trails and campgrounds aren't even open in the summer.
Any other time of year is better, and March/April and October/November are delightful. You are most likely to see the Joshua Tree and Cholla cactus blooming in February/March. The wildflowers can <sometimes> happen in March/April.
If you can swing it, the period between Thanksgiving and Christmas is a pretty quiet time for the park and you may have good luck getting campground reservations then.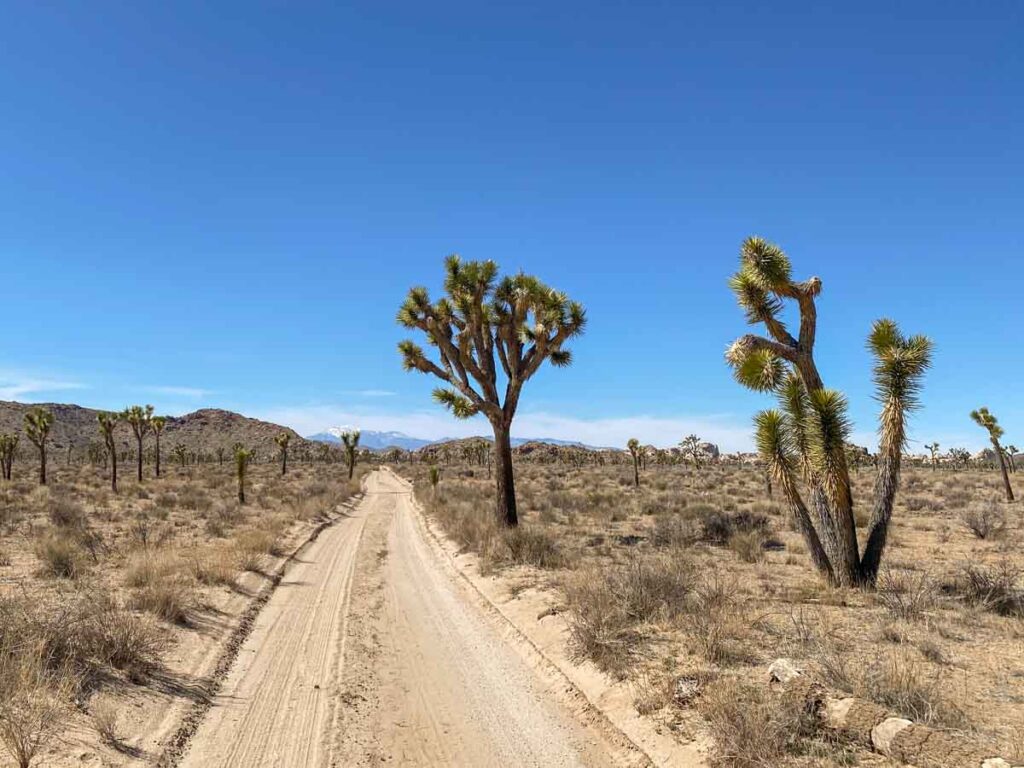 Joshua Tree National Park Camping FAQ
---
Can you camp anywhere in Joshua Tree?
No. You must camp in the designated campgrounds. You can also do backcountry camping with, specific rules and a permit. There is some dispersed BLM camping available outside of the park, which is noted below.
How much does it cost to camp in Joshua Tree?
The campsites range from $15-25.
Can you camp in Joshua Tree without a reservation?
Six of the eight campgrounds require advance reservations. It's possible to snag a last-minute spot during shoulder season in the mid-week. But it's best to book in advance. There are two campgrounds which are first come/first served (F/F), but they fill up very fast on the weekends.
Can you have a campfire in Joshua Tree?
Yes. All of the campsites have fire pits. But there is no wood sold inside the park, so bring your own.
Are dogs allowed in Joshua Tree?
Yes. Dogs are allowed in the campgrounds, and on paved and dirt roads. Dogs are not allowed on any trails in the park.
Are there showers at Joshua Tree campgrounds?
None of the campgrounds inside the park have showers. In fact, some of the campgrounds don't even have drinking water, so plan to bring your own.
Which campgrounds are open in the summer?
Belle and White Tank usually close in the summer. Summer campers can reserve a campsite at Black Rock, Ryan, Jumbo Rocks, Indian Cove, and Cottonwood Campgrounds, or try the F/F site at Hidden Valley. That said, even those campgrounds don't usually run at full capacity in the summer.
Camping in Joshua Tree during the summer will be very hot. Bring lots of water and your own shade.
How do I reserve a Joshua Tree campground?
You can reserve a camp spot at Recreation.gov. Spots come open on a 6-month rolling availability. They fill up very fast, but you can sometimes snag some mid-week spots on shorter notice. If you have questions, you can always call the JT field office at (760)-367-5500.
What are Joshua Tree National Park Prices?
Is there Backcountry Camping?
Yes. You can do backcountry camping as long as it isn't within 1 mile of a road, or in an area that's designated for day-use only. You will need to carry ALL of your own food and water. You'll need to register with the park. More information on the Joshua Tree wilderness backpacking page.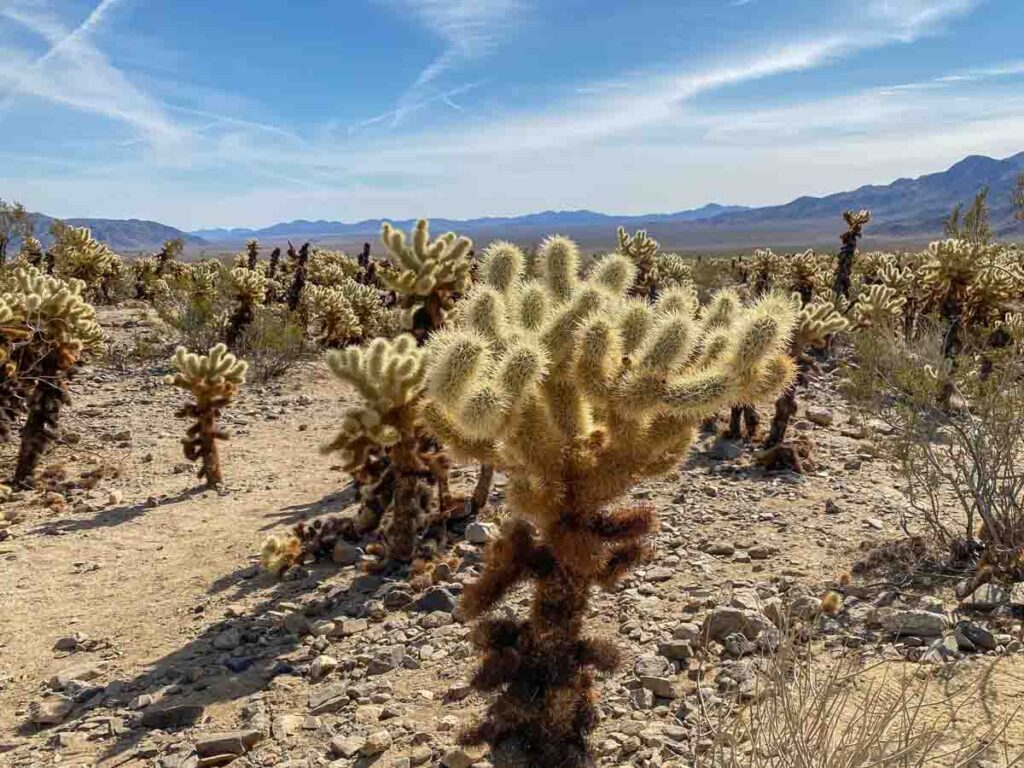 Find the Best Joshua Tree Campground for You
Joshua Tree has nearly 400 campsites inside the park, and a handful of options conveniently located just outside of the park. None of the sites are cookie cutter and each offers is own variation on amenities and nearby hikes. Some are better for RVs and others are more suitable for tent and van camping. So think carefully about how you camp and how close you want to be to park sights and hikes when you book your camp spot.
Joshua Tree Campgrounds Inside the Park
The eight campgrounds inside Joshua Tree National Park vary quite a bit in terrain, amenities and nearby things to do. However, there are some features common to all of the campsites. They all offer offer 1/2 off the campsite fee with an Interagency Senior or Access pass. They don't take checks or cash on site, so you'll need to pay on the website or at an entrance station using a credit card.
All sites have a maximum occupancy of 2 vehicles (a trailer is a vehicle), 3 tents and 6 people. That said, many sites will be too small or very tight for two vehicles. In addition, while RVs and trailers up to 35 feet are allowed throughout the park, many sites aren't suitable for long rigs. Also, some spots are flush with the loop road that goes around the campground, making them unsuitable for slide-outs.
All of the campsites have picnic tables, fire grates and either flush or vault toilets.
The listings below indicate information like how many sites are available, fees, water, toilets, dump sites and whether the campground takes reservations or is first come/first served (F/F). To help you decide whether an any individual campground is right for you, we are also providing a bit about how the campground is situated and a few hikes and sights that you can do nearby.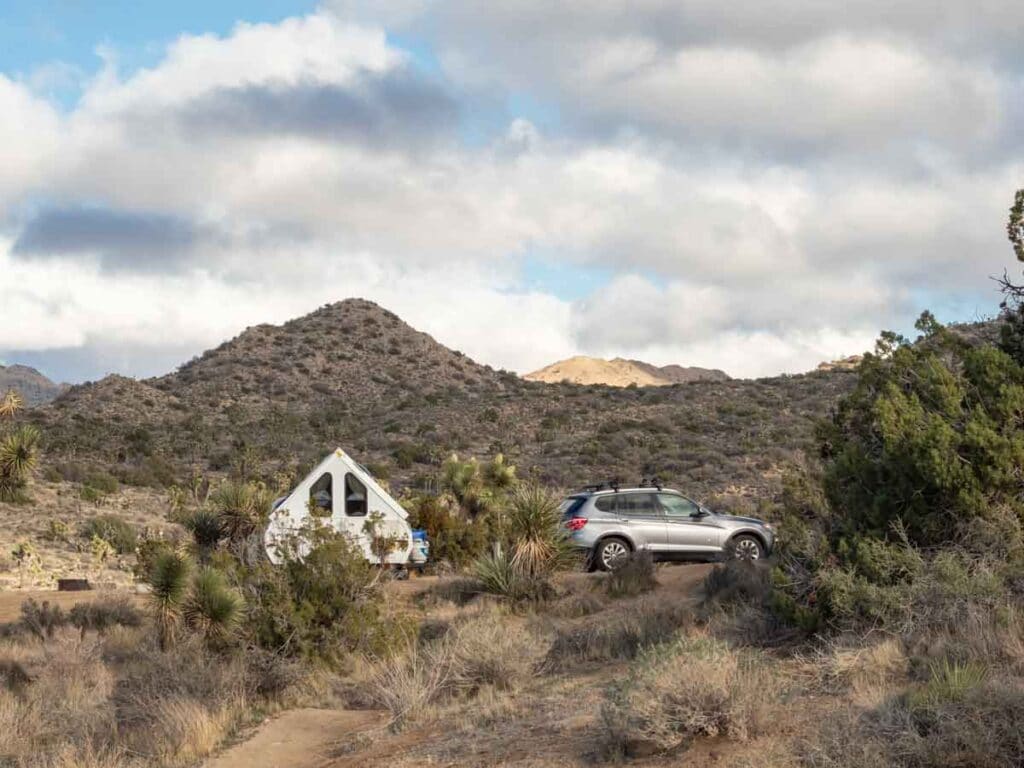 Black Rock Campground
# of sites: 99 sites (+20 equestrian)
Reservation or F/F: Reservations
Fees: $25
Water: Yes
Toilets: Flush
Dump site: Yes
Black Rock is a nice, spacious campground located at the northwest entrance to the park. It offers larger sites with better options for RVs and trailers. It's sent amongst the Joshua Trees but there isn't a lot of wind cover or shade.
Nearby hikes & sights: Covington Crest Trail (3.2 miles 125 foot gain), Westside Loop (4.7 miles, 785 foot gain), Warren Peak (6.3 miles, 1,110 foot gain), Panorama Loop (6.6 miles 1,100 foot gain)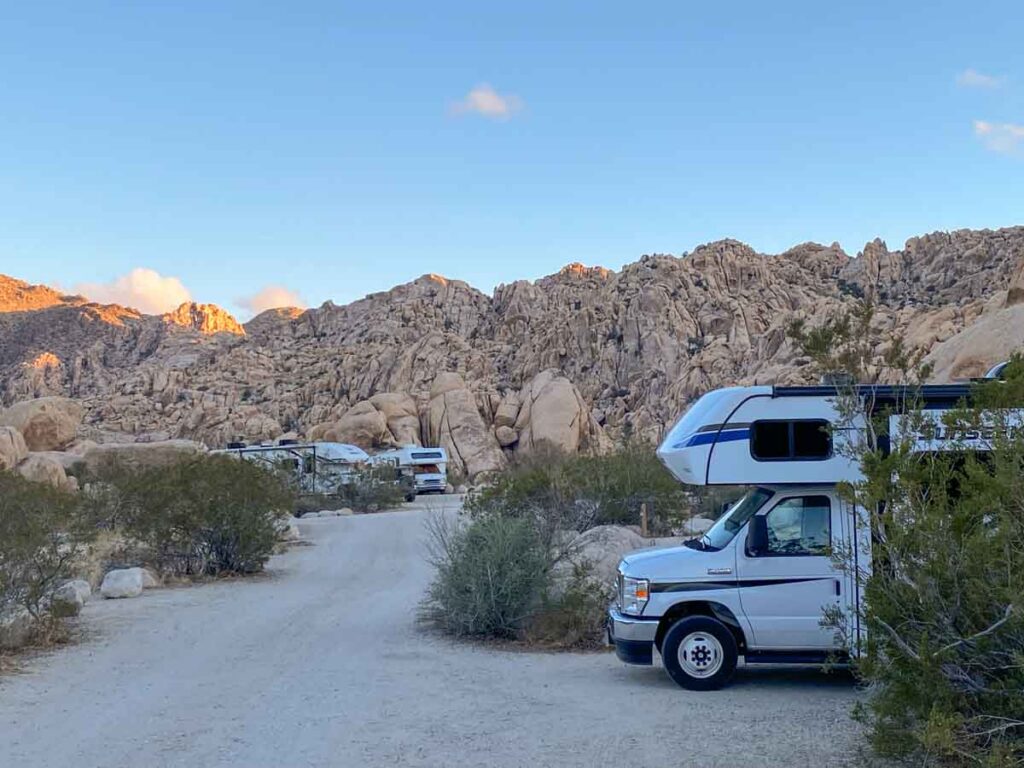 Indian Cove Campground
# of sites: 101 sites
Reservation or F/F: Reservations
Fees: $25-50
Water: Yes
Toilets: Vault
Dump site: Yes
Indian Cove campground is one of the prettiest in the park and is a favorite with both park rangers and rock climbers. It's located outside of the 29 Palms northeast gate. It doesn't get much day tripper traffic so the campground is pretty quiet.
Nearby hikes & sights: Indian Cove nature trail (.6 miles 50 foot gain), nearby Boy Scout trail (8 miles one-way 1,190 feet gain, can be done as a shorter out and back).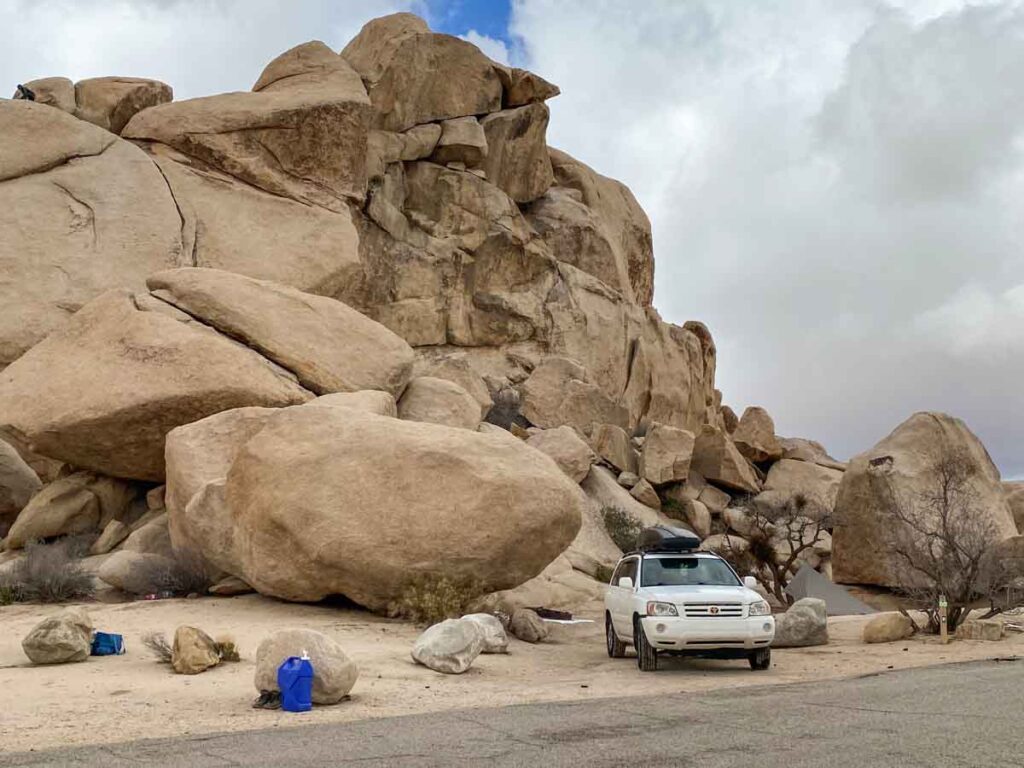 Hidden Valley Campground
# of sites: 44 sites
Reservation or F/F: F/F
Fees: $15
Water: No
Toilets: Vault
Dump site: No
This campground is located in the heart of the park. It's very popular with rock climbers. The large rock formations provide shade and a wind break. The parking is quite tight in some camp spots. The area can get busy with people watching the rock climbers and driving through to the Barker Dam area.
Nearby hikes & sights: Hidden Valley trail (1 miles, 100 feet), Minerva Hoyt trail (from the picnic area, 3 miles, 100 feet), watch the rock climbers, short drive to the Barker Dam and Wall Street Mill hikes.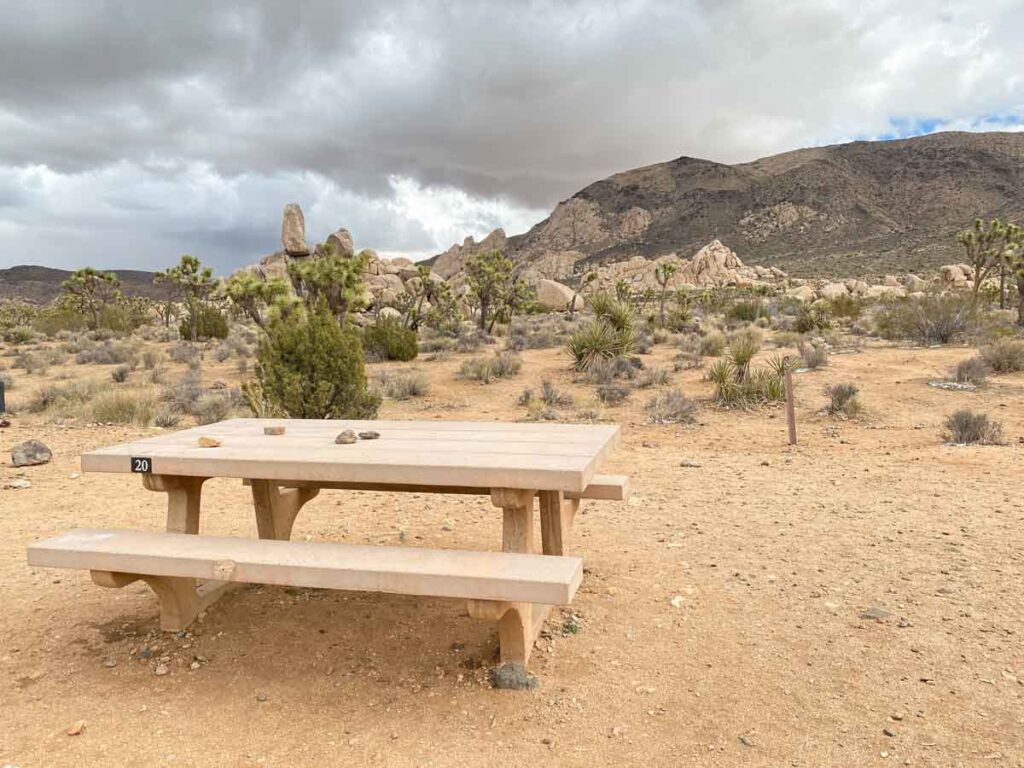 Ryan Ranch Campground
# of sites: 31 sites (w/ 3 equestrian and 3 bicycle sites)
Reservations or F/F: Reservations
Fees: $20
Water: No
Toilets: Vault
Dump site: No
Ryan Ranch is a nice, quiet, centrally located campground that doesn't share space with any major trails. Some of the camp sites are nestled against a large rock formation and others are more in the open. And they all offer lovely views of Ryan Mountain and west-facing sunset views.
Nearby hikes & sights: Ryan Ranch (1 mile, 135 foot gain), Ryan Mountain trail (3 miles 1,050 foot gain), a segment of the 35 mile California riding and hiking trail. It's an easy drive to either Barton Dam or Skull Rock.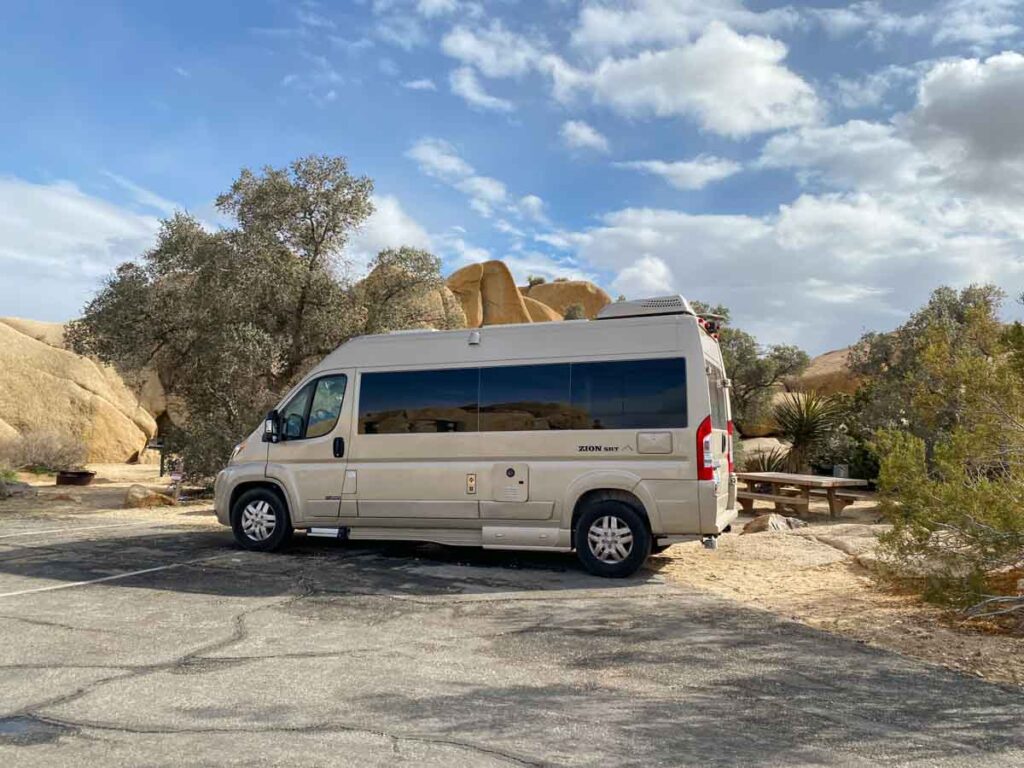 Jumbo Rocks Campground
# of sites: 124
Reservations or F/F: Reservations
Fees: $20
Water: No
Toilets: Vault
Dump site: No
Jumbo Rocks is in the dead center of the park and conveniently located to most of the popular things to do in Joshua Tree. That said, it's also located right next to the Instagrammable Skull rock and the popular Discovery trail, so there is a lot of daytime foot traffic through the area. Some of the parking spots for the sites are awkwardly located right on the campground loop road. So, try to find a spot on one of the branching sites off the main road. The rock formations across the main road are a nice spot to perch for sunset.
Nearby hikes & sights: Discovery trail (.7 miles, 70 foot gain), Split Rock loop (2.5 miles 150 foot gain), Skull Rock and the Skull Rock trail (1.7 miles, 750 foot gain).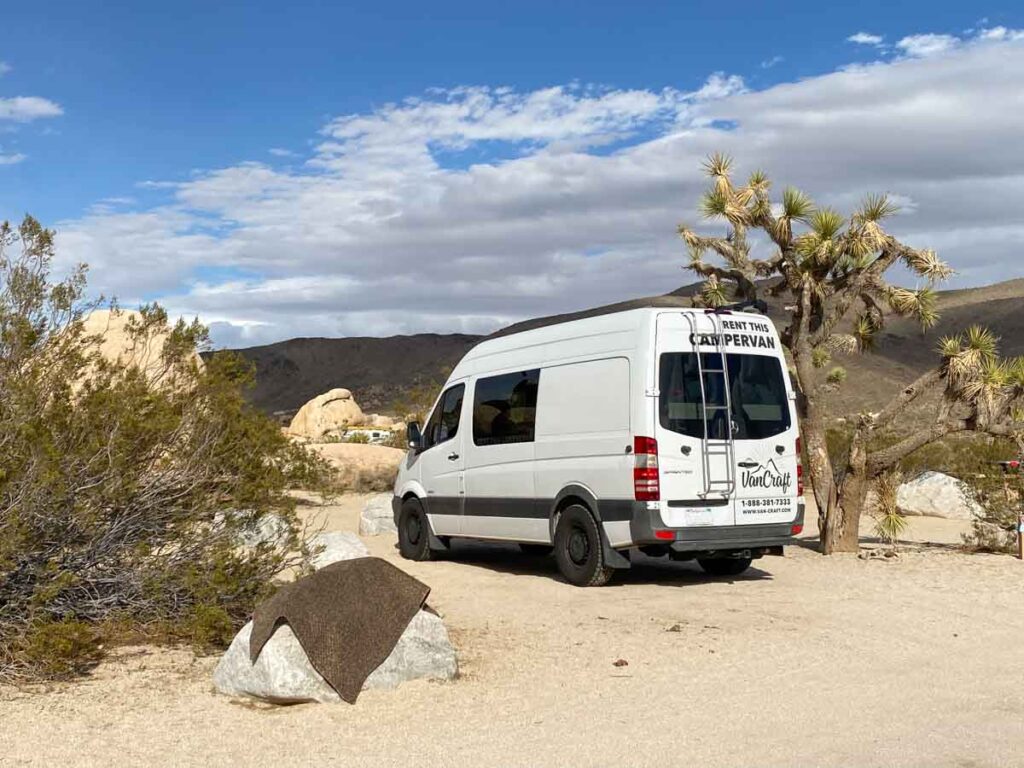 Belle Campground
# of sites: 18
Reservations or F/F: F/F
Fees: $15
Water: No
Toilets: Vault
Dump site: No
Belle is located on Pinto Basin road just south of the Park Boulevard intersection. This means that it's in a quiet spot, away from the hustle and bustle…but not too far away from it. No major trailheads originate here. So there are just some nice huge rocks and a quiet spot to contemplate nature.
Nearby hikes & sites: A portion of the 35 mile California riding and hiking trail, which you can extend to the Arch Trail after the Twin Tanks parking lot.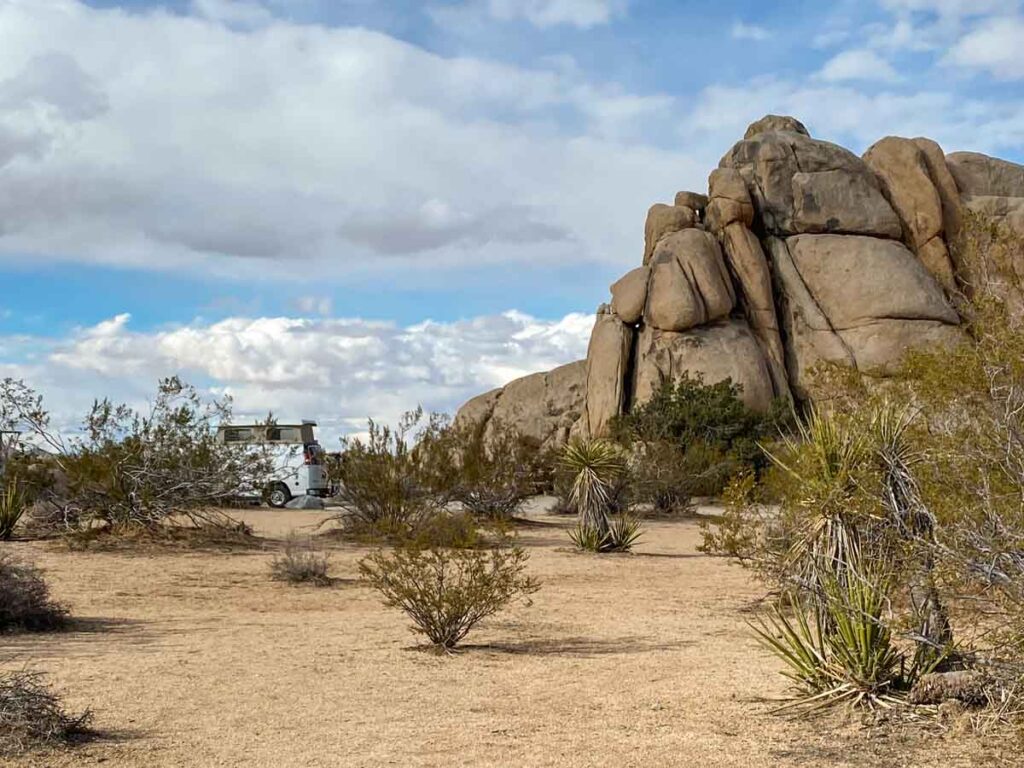 White Tank Campground
# of sites: 15
Reservations or F/F: F/F
Fees: $15
Water: No
Toilets: Vault
Dump Site: No
White Tank is located off of the Pinto Basin Road. It's not super close to some of the most popular park sights. However it does sit right on the trail for the Arch Rock hike. Parking signage for Arch Rock isn't as clear as it could be, so this campground does get people driving through trying to figure out how to park.
Like Jumbo Rocks, some of the sites sit on the loop road, so try to get a spot that branches off. Most of the campsites are nestled up against the rocks.
Nearby hikes & sights: The Arch rock and a section of the 35 mile California riding and hiking trail. There is also the nearby Stirrup Tank dirt road (which is suitable for 2WD).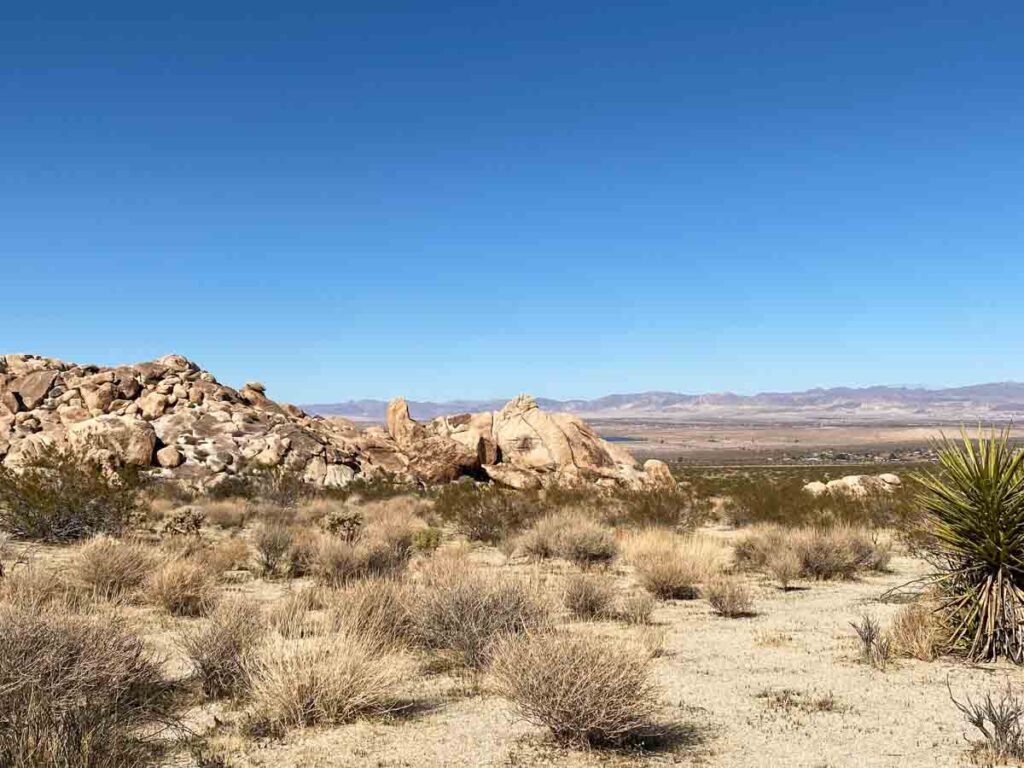 Cottonwood Campground
# of sites: 62
Reservations or F/F: Reservations
Fees: $25
Water: Yes
Toilets: Flush
Dump Site: Yes
Cottonwood is located just behind the Cottonwood visitor center and southern entrance to the park. It's not in the heart of the park, which is a ~40 minute drive north.
This part of the park is transitional to the Sonora desert. The land is more scrubby and has fewer rocks and trees to shelter campers. This campground takes any kind of camper, but it may be more comfortable for RVers and Vanlifers than tent campers.
Nearby hikes & sights: Cottonwood spring (.1 mile, 25 foot gain), Lost Palms Oasis (7.5 miles, 500 foot gain), Mastodon Peak (3 miles, 375 foot gain)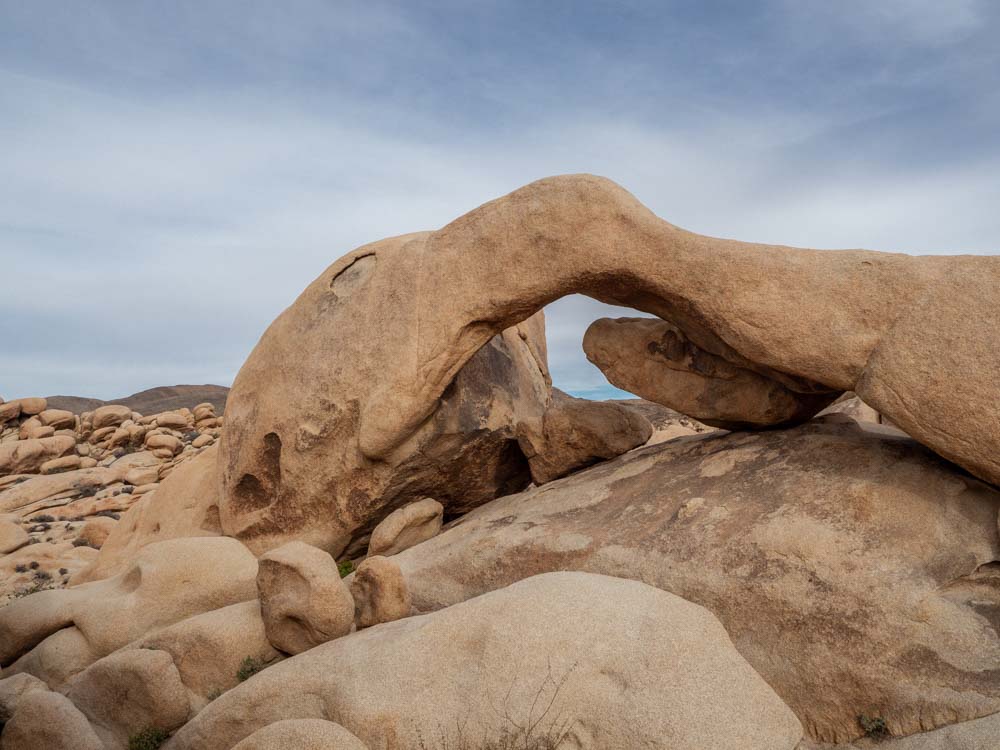 Camping outside of the National Park
You also have some options for camping near Joshua Tree- but outside of the park boundaries. There are RV parks, open BLM land and off the grid spots located around the area. And if you don't own an RV, but want to try one, use this CA RV rental guide.
If you don't have an RV or Van, check out our list of glamping options in Joshua Tree. There is also a KOA in Palm Springs which has tent sites, glamping tents and a cabin to rent.
BLM Land
Dispersed camping is allowed on all BLM land. The rules require that you pack-it-in/out and you can't park within 300 feet of a roadway. No fires are allowed on BLM land without a permit. Don't expect any water, toilets, shade or other services.
The first spot is a large open patch just outside of the southrn Cottonwood entrance. It's located between the park exit and I-10. It's just a large, undeveloped dirt lot with no trees or wind-breaks. It isn't lovely, but it will do for a night if you need a place to rest.
There is another spot just northeast of Joshua Tree town. Google "BLM Dispersed Camping Area for JNP" or "Sunfair Lake" and it will map you to a patch of BLM land. It's a pretty spare landscape with no services, but it's very close to town and the northern entrances to the park.
Off-Grid Camp Spots
There are a number of enterprising folks who offer modest camping services on their private land. Most have at least porta-potty toilets. Some also offer a mix of potable water, outdoor showers, "cowboy pools" (which are galvanized tubs), firepits and/or chairs. Some allow RV's and others don't. Most are available for $35-50 a night.
The best way to find these spots is to run an Airbnb search for "Joshua Tree" and then filter for "unique stays" and "campsites". You can also check out Jack Rabbit Ranch, Mesquite Moon, Simply Camping and Cielito Hideaway on Hipcamp.
RV Parks
If you have a super huge rig…or you really want hook-ups, then your only option will be an RV park in the Joshua Tree, Yucca Valley or 29 Palms area. Most are ~$55/ni for full hook-ups and they offer showers, laundry and other amenities.
If you love national parks as much as we do, you MUST check out Sub Park Parks, by Park Ranger Amber Share. It features all of our best national parks paired with cool illustrations and some hilariously bad reviews from misguided visitors.
The bad review for Joshua Tree called it "…just a walk in the desert." As if that isn't the whole point! This book is a great read, and a great gift. Buy it now (or at least check it out of the library).
Explore More National Parks in CA
More CA Campground Guides
Share these Joshua Tree campgrounds with your friends: