Visiting Yosemite in winter is a very special experience. Not only is it far less crowded than the summer, but the low winter sun casts the whole landscape in a completely different light.
So bundle up and keep reading because we've got ideas for 25 frosty things to do in Yosemite in winter– along with practical tips on where to stay and eat, what to bring and how to plan your logistics.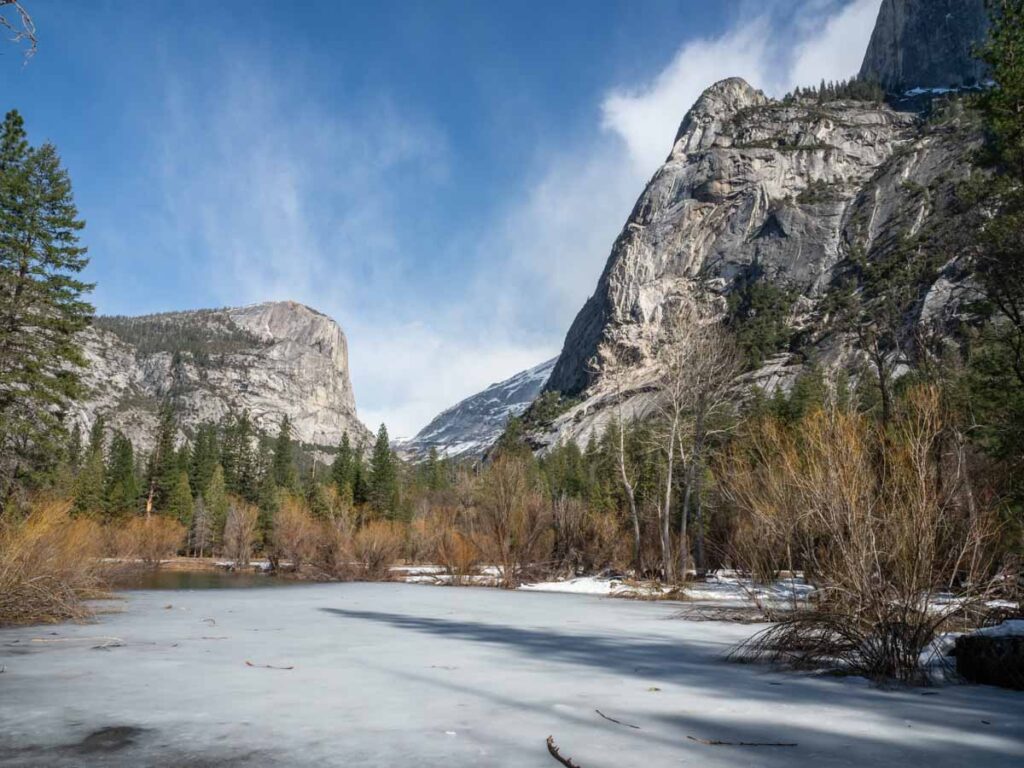 (This article contains affiliate links. This means that if you choose to purchase, I'll make a small commission.)
Before getting started, we want to give a word of thanks to John Muir.
When Muir landed in San Francisco, he was overwhelmed by the city and asked a local to suggest a "wild place". They point east toward Yosemite and Muir set out walking. In 1869 he landed work as a ranch hand in Yosemite Valley. He didn't much care for the stink of the pig farm and thought that Yosemite's beauty had a higher purpose. By 1903, some parts of Yosemite were already protected when President Teddy Roosevelt came for a visit. He and Muir went on a three night camping sleepover that included Yosemite Valley, Glacier Point and the Mariposa Grove.
During the visit, Muir was able to convince Roosevelt to further extend the protections to include Yosemite Valley and the Mariposa Grove, effectively establishing the National Park that you will see on your winter trip.
"Yosemite is a place of rest…None can escape its charms. Its natural beauty cleans and warms like a fire, and you will be willing to stay forever in one place like a tree."

– John Muir (more Muir quotes here)
True that John.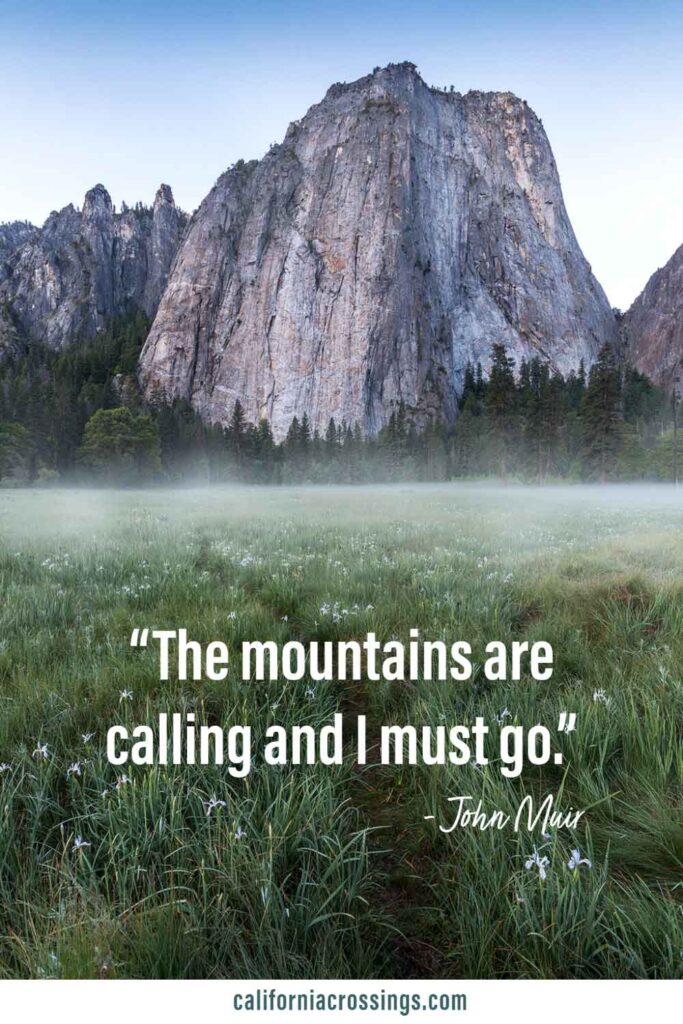 Discover More of John Muir in California
You can explore Muir's legacy with our guide to ALL National Parks in CA. The list has obvious parks, like Yosemite, but it also includes some cool finds regarding our funky volcanic geology, our own version of the Galapagos, and interesting historic figures.
If you live in or are visiting the Bay Area, stop into the John Muir National Historic site to learn more about his legacy, his family and his orchard. Muir Woods national monument has a lovely and very accessible grove of Coast Redwoods. It's features on our list of all of the Redwood parks in California and makes a great day trip from San Francisco.
We also have an itinerary that goes from San Francisco to Yosemite, which also includes some cool stops in Gold Country.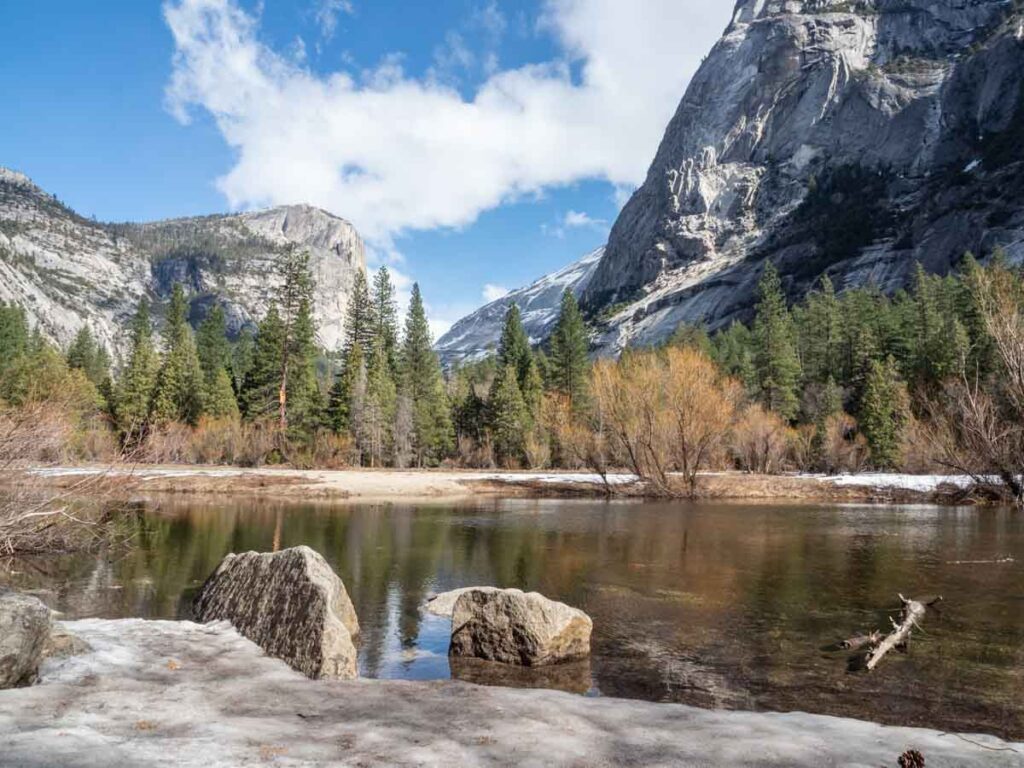 Top 25 Things to Do in Yosemite in Winter
10 Yosemite Winter Hikes
Because Yosemite winter weather can be so variable, there's no guarantee that any of the following hikes will be navigable in the winter. But it's a good bet that the first four (through Wawona Meadow Loop) can be done on most days, without specialized equipment. The six hikes that follow, may be do-able with regular winter hiking books…or you may need hiking spikes…or you may need snowshoes. We strongly recommend checking in with park personnel and inquiring about trail conditions before heading out.
Lower Yosemite Falls
This short walk gets you up close to the lower Yosemite Falls. If it's thundering, which it can certainly do if melting off a recent storm, the effect is quite mesmerizing.
Distance: 1 mile
Elevation Gain: negligible
Difficulty: easy
Mirror Lake Loop
This is a lovely, easy hike that offers up fantastic views of Half Dome and the lake. There are quite a few connecting trails leading to Mirror Lake. You can take the dirt trail that starts behind the Ahwahnee (which is quieter), or do the out and back from near the Upper Pines campground. You can also add on an additional 2 miles by going further up the Tanaya Creek. Crossing back on the south side of the creek/lake can be tricky because that side gets less sunlight and can be more icy.
Distance: 2.3 miles (from Upper Pines campground), ~3.5 (from the Ahwahnee)
Elevation Gain: 150 feet.
Difficulty: easy
Vernal Fall Footbridge via Mist Trail
This trail isn't long, but the elevation gain can be tricky because this part of the park doesn't get a ton of sun.
Distance: 1.7 miles
Elevation Gain: 472 feet
Difficulty: moderate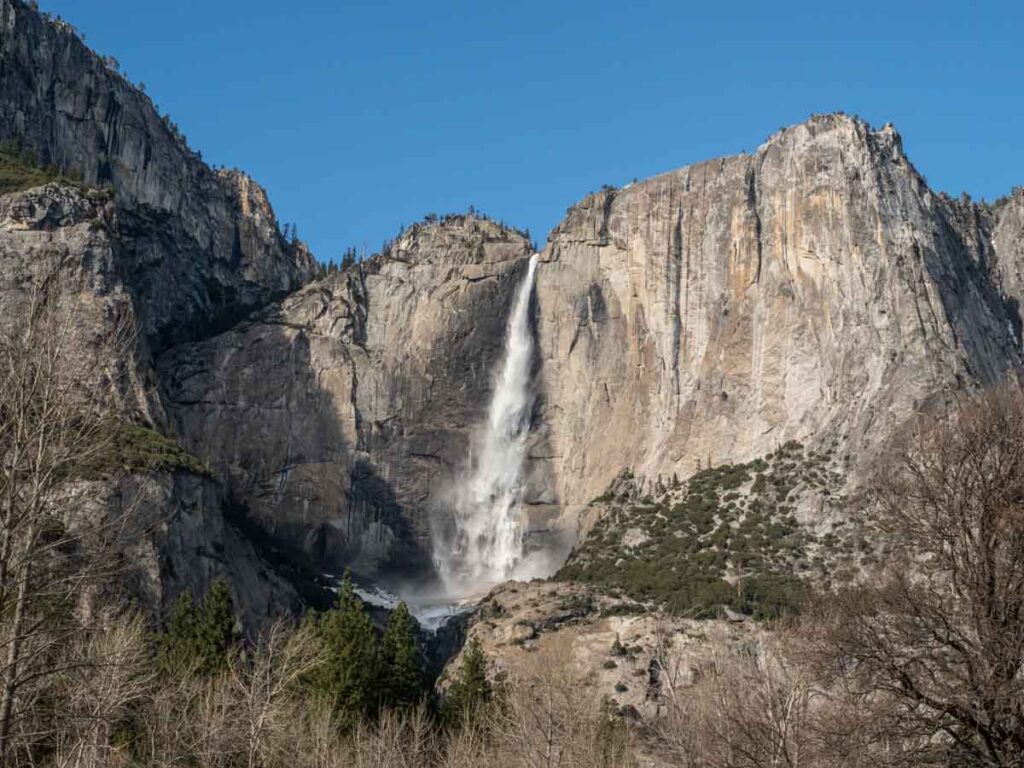 Yosemite Valley Floor Loop
This loop covers the whole valley floor. It starts west of the El Capitan pull-out and continues up the floor, looping Yosemite Valley village, Mirror Lake and Curry Village. There is nothing that requires you to do the whole thing. But it is worth doing at least some sections of it for lovely views of El Capitan, Bridal Veil Falls, Yosemite Falls and Mirror Lake.
In the summer, you can do it as a 1-way 11 mile hike, using the purple shuttle to get to the west end. But that shuttle doesn't run in the winter. So you'll need to catch a ride for the 1-way.
Or do a shorter loop that starts/ends at the Yosemite Valley Lodge day parking. It laps down to the El Capitan Bridge, looping back up to Yosemite Village. That version is ~5.8 miles and 209 feet of vertical gain.
But here's the info for the whole enchilada:
Distance: 20.3 miles
Elevation Gain: 1,240 feet
Difficulty: strenuous (because of the distance)
Wawona Meadow Loop
This kid and dog-friendly trail runs a meadow loop right outside of Wawona.
Distance: 3.6 miles
Elevation Gain: 346 feet
Difficulty: easy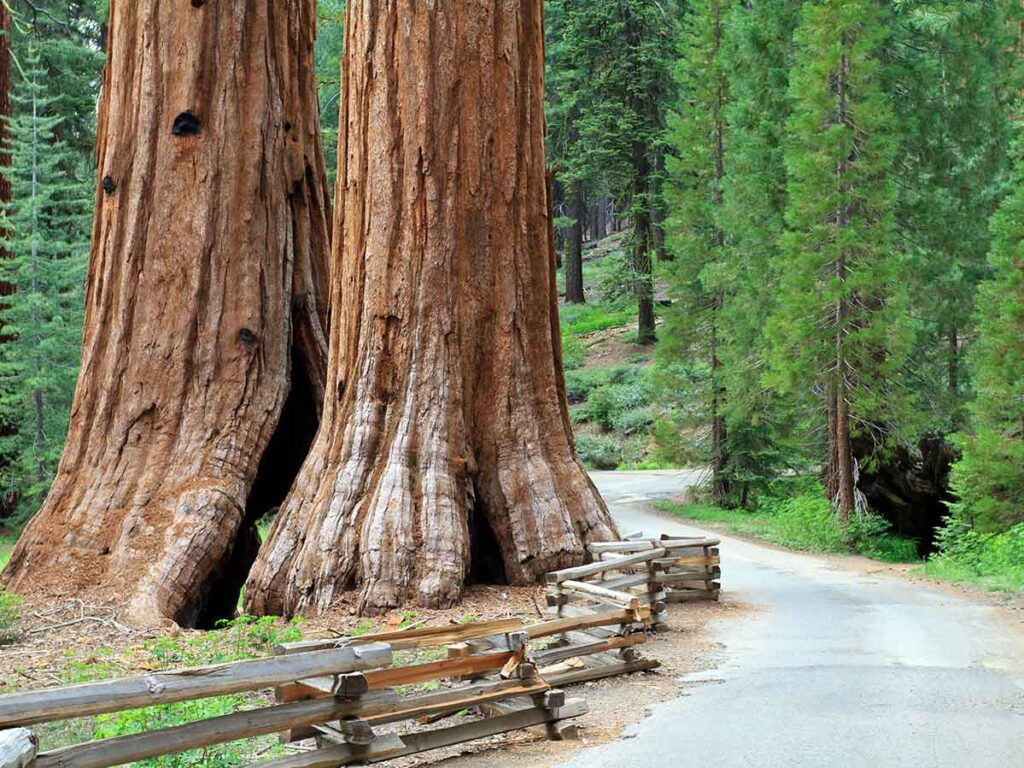 Mariposa Grove Trail
The Mariposa Grove features on our list of must-see redwood groves in California. But getting to it in the winter requires a bit of planning. During the winter months, the Mariposa Grove road is closed. So, you'll have to park at the road entrance and walk in to get to the grove trails. So, you have to walk in 2 miles to then take the 2 mile Grizzly Giant Loop and then walk back out.
Distance: 6 miles
Elevation Gain: 900 feet
Difficulty: moderate
Tuolomne Grove Trail
This another one of Yosemite's Giant Sequoia groves. And even though it's not a long hike, it can be tricky on the return because of the steep, and possibly icy terrain. The trailhead is after Crane Flat, just before the winter closure for Tioga Pass.
Distance: 2.8 miles
Elevation Gain: 656 feet
Difficulty: moderate
Merced Grove Trail
The Merced Grove is the third cluster of Giant Sequoia in the park. The trailhead is at Big Oak Flat Road. If there's a lot of snow on the ground, snowshoes may be best for this one.
Distance: 4.2 miles
Elevation Gain: 731 feet
Difficulty: moderate
Top of Vernal Falls
This hike continues from the footbridge to the top on Vernal Falls on the Mist trail. It is sometimes closed in the winter due to ice. And even if open, spikes would be a good idea.
Distance: 3.1 miles
Elevation Gain: 1,100 feet
Difficulty: strenuous
Upper Yosemite Falls
This hike is challenging but will reward you with views. However, it's very steep and can be quite full of ice and snow in the winter. Coming down is especially tricky.
Distance: 7.6 miles
Elevation Gain: 3,218!!
Difficulty: very strenuous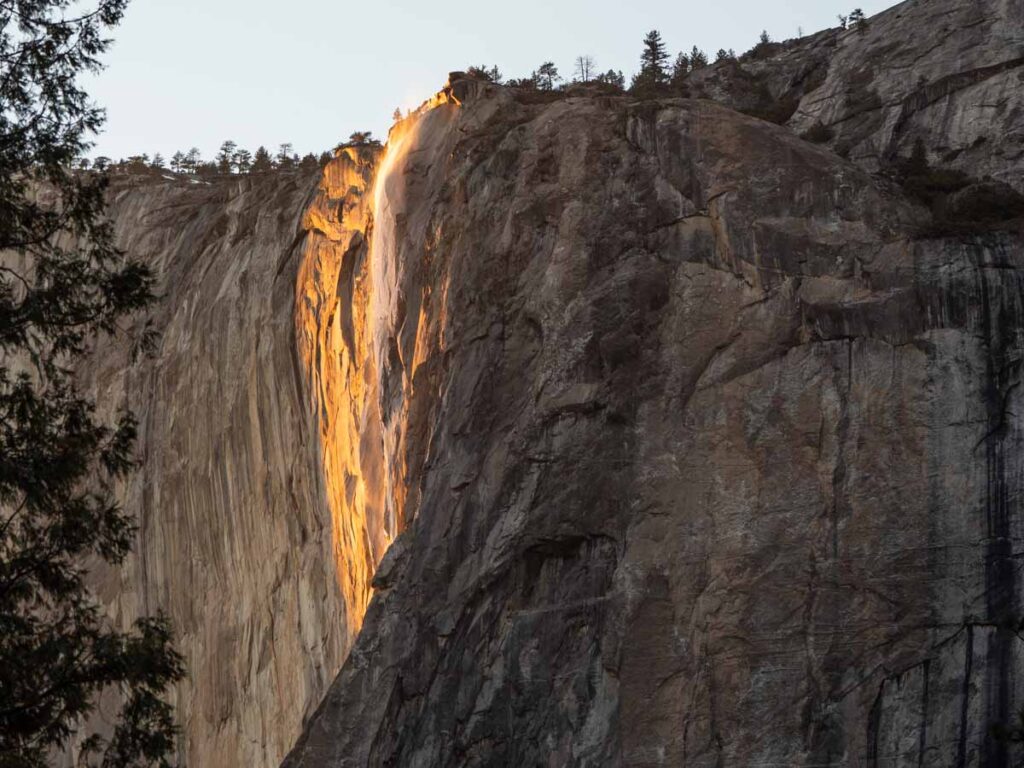 Experience the February Firefall at Horsetail Falls
In the middle of February, the setting sun puts on a performance at Horsetail Falls. A sliver of light sparks up the falls like hellfire. It's definitely worth seeing if you are vising Yosemite during the winter.
Because of its growing popularity, the Parks Service has instituted some crowd controls. You'll need to park at the Yosemite Lodge day use parking area and then do a 1.5 mile walk down to the Horsetail Falls viewing area. If you want to take pics with a tripod, give yourself time to snag a good spot for setting up your gear.
Ice Skating in Curry Village
The Curry Village ice rink has been in Yosemite for almost as long as the Ahwahnee Lodge. Conditions permitting, it's usually open from mid December to late February. They offer several sessions a day on a first come, first served basis.
Visit the Ansel Adams Gallery
Muir and Roosevelt may have brought Yosemite to life as a national park, but it was Adams' stunning photography that popularized the park and made Half Dome its geological mascot. His stark B&W photography has inspired 100 years of nature photographers. So, it's worth visiting the Ansel Adams gallery to see that full range of work. The gallery features some of Adams work, but also more contemporary nature photographers through some fixed displays and rotating exhibits.
Wander Around the Ahwahnee Lodge
**Note that for winter 2023/4, there will be maintenance which includes: a closure of the main dining room, a closed pool and scaffolding which affect some room views.**
The Ahwahnee Hotel opened in 1927, at a time when interest in exploring natural landscapes was really peaking in California. Vacation playgrounds like the Vikingsholm Castle in Lake Tahoe were also built in this period. The hotel is named for the Ahwaneechee people, who were the original inhabitants of the valley.
The hotel is quite a site and it's definitely worth wandering around…even if (unlike Queen Elizabeth II, John F. Kennedy, Lucille Ball, Walt Disney and Barack Obama), you can't afford to stay there. The lobby rooms have huge vaulted ceilings, with double sided fire places and lots of cozy nooks for tucking into a book.
Ski & Snow Programs at Badger Pass
Badger Pass ski area is small 5-lift ski area located on the Glacier Point Road. They offer 10 ski and snowboard trails on 80 acres of terrain. They also have 25 miles of groomed cross-country track and a tubing hill. Badger Pass also offers snowshoe rentals with guided hikes, which you can pre-book here.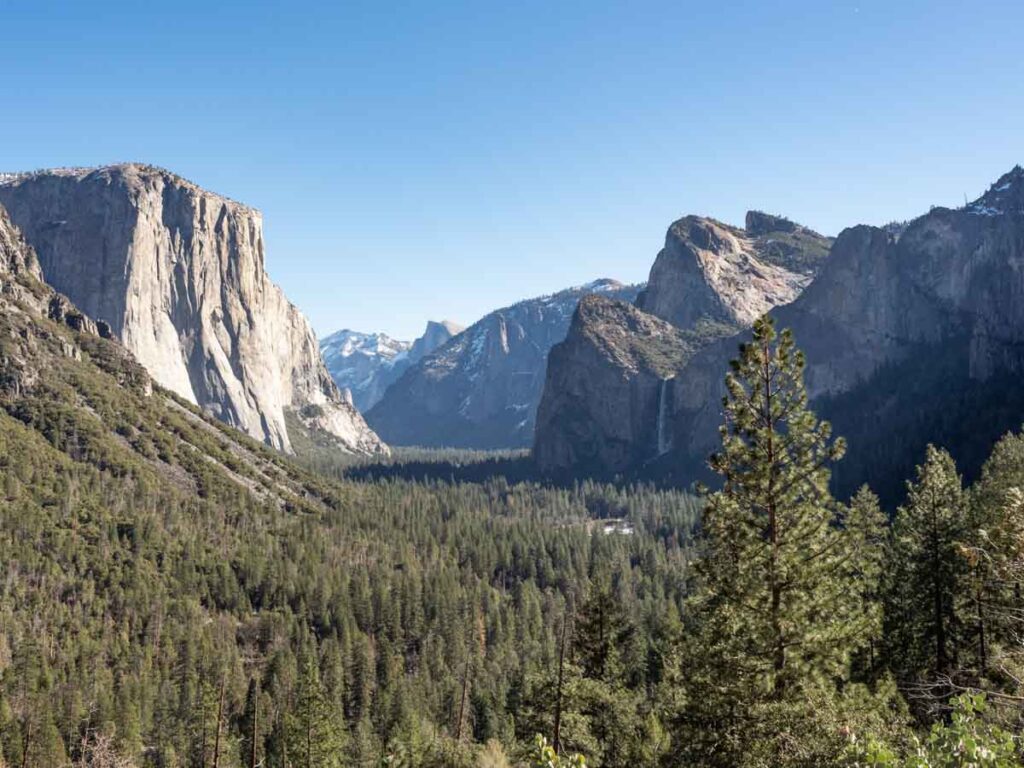 5 Key Scenic Drive Vista Points
Even if you aren't an avid hiker, there is still plenty to see in Yosemite at its many viewpoints. One of the best is the Tunnel View, which is just past the tunnel on the Wawona road. Even if you come into the valley from another road, it's worth driving out to the Tunnel View for a full, wide-angle look at the valley.
Further into the park, there is a nice pullout and view of Bridalveil Falls. Further on, be sure to stop at the Swinging Bridge picnic area. From the bridge, you'll get great views of Yosemite Falls. On the other side of the valley, stop at the Horsetail Falls pull out.
And then make time for the El Capitan pull-out, which is after the El Capitan bridge. El Capitan is world's tallest monolith. and from the pullout, you can spot rock climbers bivouacked up on the sheer 3,000 foot cliff. And then you can shake your head and wonder where they get the intestinal fortitude. Visit our article on Yosemite's fun facts to learn more trivia about El Capitan and Yosemite's other natural wonders and history.
If you drive in/out along Highway 140, there are also some lovely pullouts along the Merced river east of Mariposa.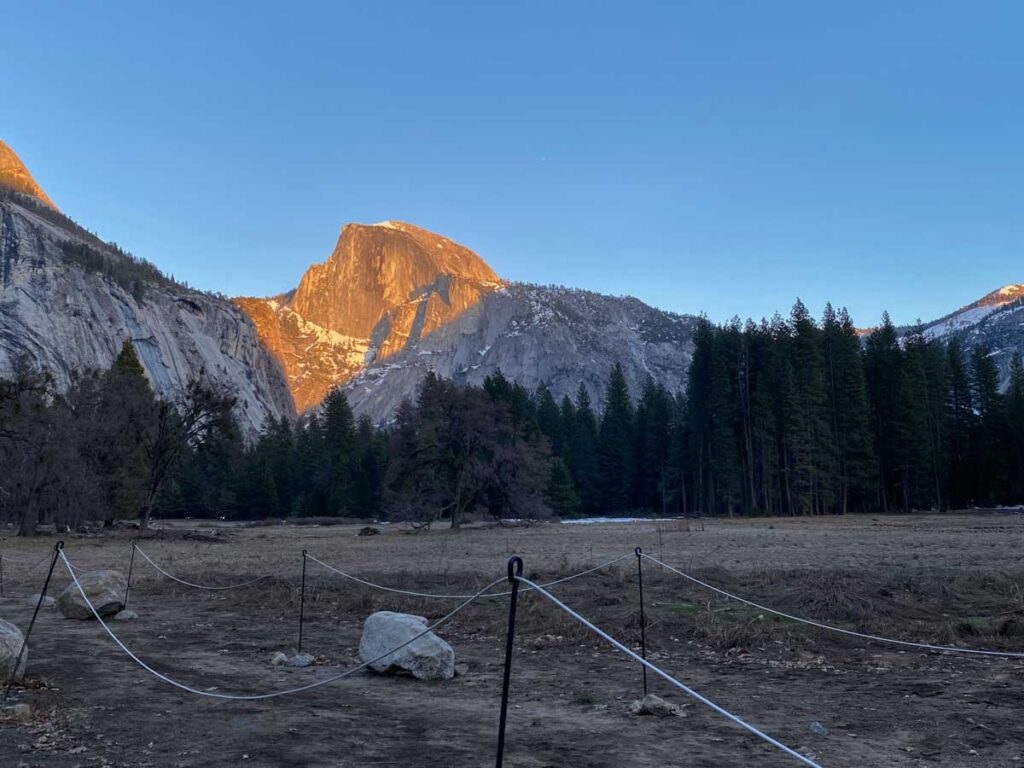 5 Ideas for Winter Guided Tours & Talks
Are you the kind of person who values the knowledge of a local? Or maybe you just aren't much of a planner. Either way, you can leverage a guided tour to help you get more from your experience. Here are 5 ideas to help you get more out of your Yosemite winter trip.
Small Group Day Tour from SF: This is a full (long) day tour that includes hotel pick-up/drop-off, transportation to Yosemite, a guide and 3 hours of free time to wander around the valley. Get info and book it here.
Private Guided Snowshoe Hike: This 4-6 hour adventure gives you the choice of two different options, depending upon your skill level. And if there isn't any snow, they'll convert the experience into a guided hike. This is great for a larger friend or family group because the tour can accommodate up to 9 people. Get info and book it here.
Private Winter Hiking Tour: This tour is also a 4-6 hour adventure and is fully customizable for your skill, needs and interests. Get info and book it here.
Yosemite Conservancy Hikes and Walks: The National Park offers a series of free and paid experiences through the Yosemite Conservancy. They include things like a winter hike in Mariposa grove, Ansel Adams photo tours and naturalist walks in the valley. Check the schedule and book here.
Ranger-led talks: The on-site rangers occasionally run programs such as a tour of the historic Ahwahnee, 60 minute "walk & talks" on topics like Native American culture or geology and night sky talks. They seem to have an irregular schedule. You'll find more info in the "Yosemite Guide", which is the newspaper-style guide that you get when you enter the park.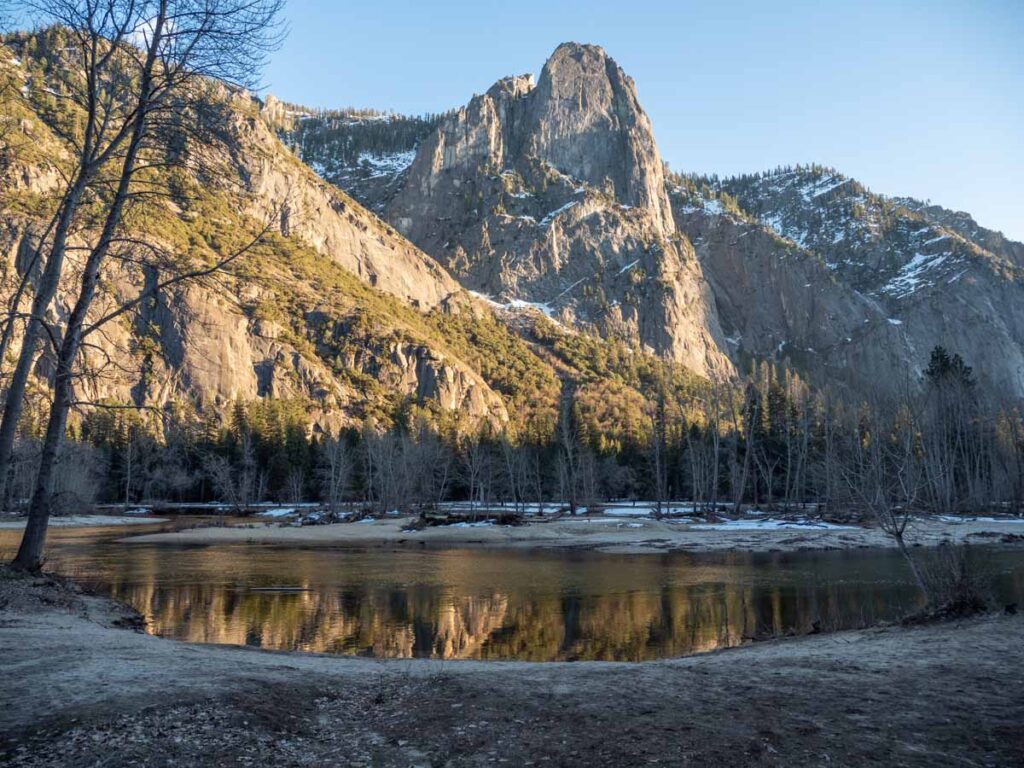 FAQ for Visiting Yosemite National Park in Winter
How Do I Get Around the Valley Floor?
The Parks Services does run a shuttle service in Yosemite in the winter. However, it's a more limited schedule than in the summer. You can use the day use lots at Yosemite Village, Yosemite Lodge or Curry Village and the shuttles will run between the three. But it won't take you down valley.
Other than during the firefall evenings, you should have no problem simply driving your car and parking.
Can I Get to Yosemite Valley Without a Car?
Yes. You can either take a tour from San Francisco (noted above). Or you can stay in Fish Camp or Mariposa and use the YARTS bus to get into the valley. From there, you can use the shuttle service, noted above. YARTS also runs from the Fresno Airport.
Which is the Closest Airport to Yosemite?
The closest airport to Yosemite is the Fresno International Airport (FAT). But FAT may not be the most convenient airport for you. Use our Yosemite airport guide to figure out your best options.
What's the Winter Weather in Yosemite?
The temperature ranges from a high of 35-50′ to a low of 18-30′. The big variable is snow, which can have a major impact of how you get into Yosemite and the activities you can do once there. So pay attention to the weather forecast. If you want to get a sense for how much snow is on the ground before you go, check out the web cam for Half Dome– it overlooks Mirror Lake.
Do I Need Car Chains for Yosemite in the Winter?
The Parks Service recommends bringing them and so do we. The Parks Service does a great job of clearing the roads, but weather can sneak up on you and you would be wise to be prepared for it. You can get them at any auto supply store.
Which Roads are Closed in the Winter?
Highway 120 over Tioga Pass is always closed in the winter. Expect the closure to start sometime in November. Its spring opening is highly variable on snow depth. It could be as soon as early June or as late as July 4th.
In addition, the Mariposa Grove road closes in the winter, as does the Glacier Point road past Badger Pass.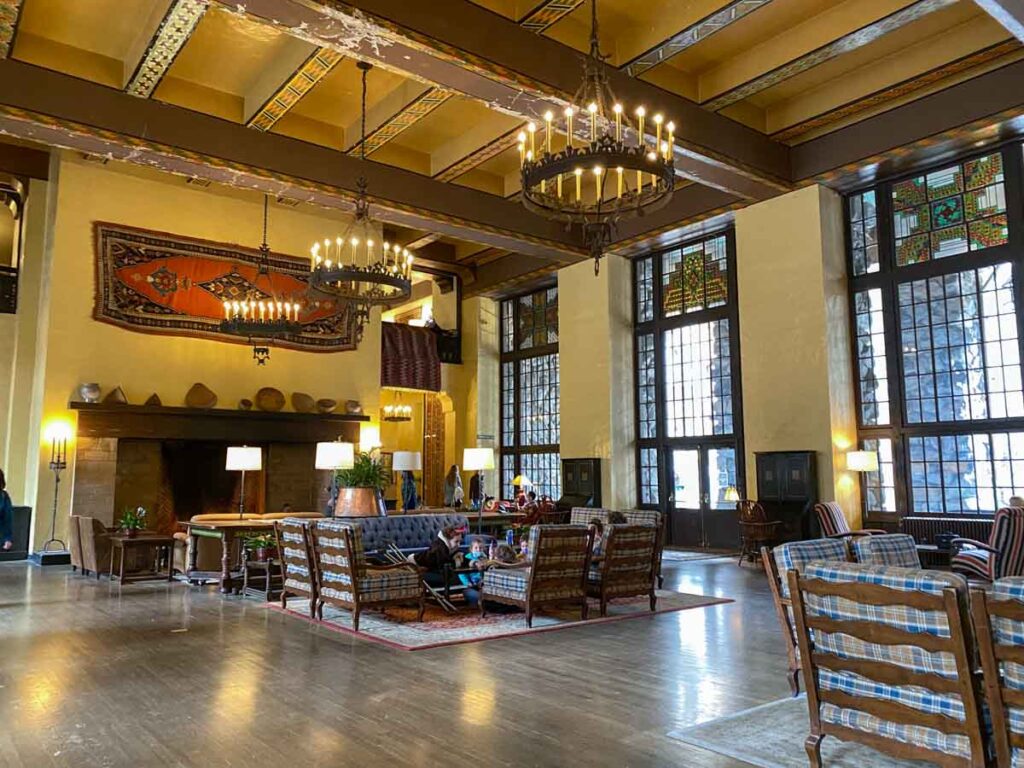 Where to Stay in Yosemite
Fancy: The Ahwahnee is Yosemite's most historic hotel with wood and stone accents and soaring ceilings. It's located right on the valley floor. Check reviews and book it here.
Super Convenient: The Yosemite Valley Lodge is a modern, family friendly hotel located in Yosemite Valley right on the Merced river. Check reviews and book it here.
You can usually find more choice and less expensive room inventory just outside of the valley. Consider staying in either Fish Camp (which is near the Mariposa Giant Sequoia grove) or around Midpine and Mariposa (which is a lovely drive into the valley along the Merced river).
Fish Camp Full Service: The Tenaya Lodge is a full service resort with a great pool and spa. Check reviews and book it here
Midpines Glamping: The Autocamp in Midpines takes glamping to a whole new level. They have adorbs airstream trailers and also BBQ facilities, a terrace, pool and concierge service. Check reviews and book it here.
Budget basic: The Miners Inn in Mariposa ain't fancy, but it gets the job done for people who want to spend more time outside than in. Check reviews and book it here.
Yosemite winter camping is a little trickier. Inside the park, Camp 4 (across from Yosemite Lodge) is open to tent campers on a first come/first served basis. The Upper Pine campground in Curry Village is open for tent and RV camping on a reservation basis. There is also a winter campground at Hodgdon Meadow, which is off of Highway 120 near Crane Flat.
Make National Park campground reservations here.
Where to Eat in Yosemite
The Ahwahnee has a fancy dining room which serves a buffet-style meals for breakfast, lunch and dinner. You aren't likely to get a table for dinner unless you are staying at the hotel. However, they also have a lobby bar with a small but delicious food menu.
The Yosemite Valley Lodge has their Basecamp Eatery, which serves all three meals, cafeteria style along with a Starbucks bar. They also have the Mountain Room Lounge, with is a bar with a limited pizza and salad menu. Their fireplace is nice on a cold night.
Curry Village has several options. There's the Coffee Corner, which his open just in the AM. And also the Seven Tents Pavilion, which is open Friday dinner through Sunday breakfast. They serve breakfast, hearty mains and pizza. The Bar 1899 is open on the weekends, serving drinks and snacks.
Yosemite Village offers the Degnan's Kitchen deli with soups, salads, sandwiches and a breakfast selection. But they aren't open for dinner.
Or you can do it DIY. We strongly suggest that you bring a cooler and do your lunch on the fly. There are many nice picnic areas and pullouts all along the valley. It's worth bringing your own supplies…if only for the fantastic views.
We just upgraded our car cooler to the new Stanley double insulated cooler. It's a 12-packer with super dense insulation that will keep things cold for several days. Also, we believe that hotel/motel coffee is a travesty, so we bring our own coffee filter (this collapsible one doesn't take up much space) and use the hot water function on the motel coffee machine to brew up a superior cup.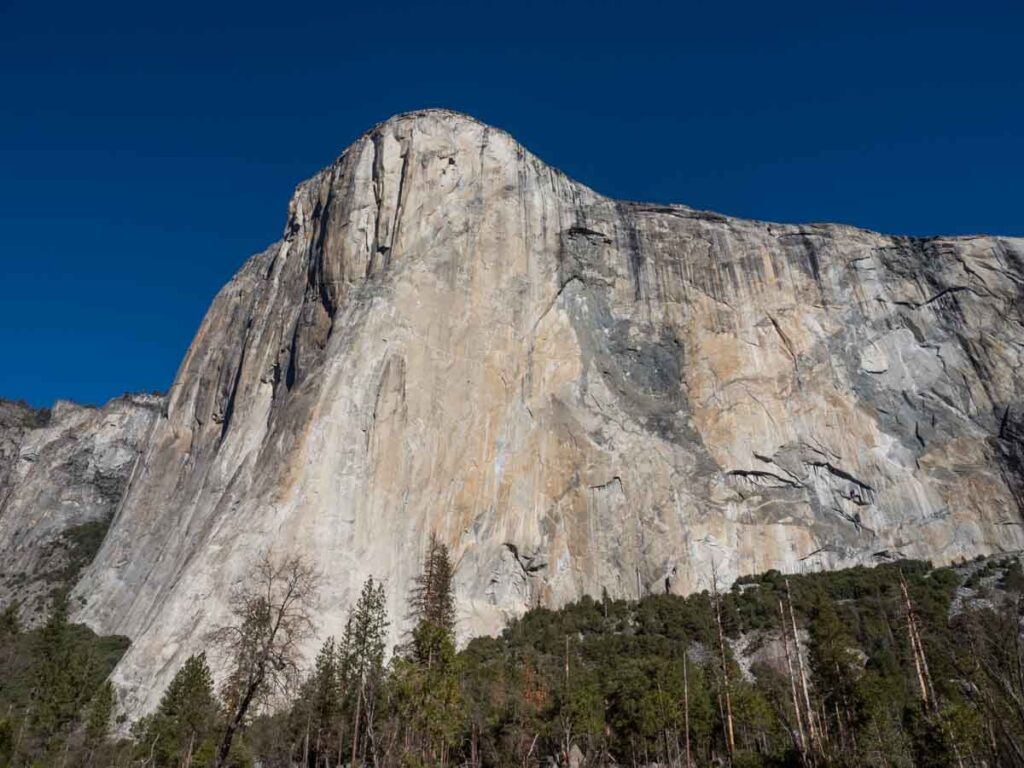 What to Pack for a Winter Yosemite Trip
We have a whole article on what to pack for Yosemite. But obviously, visiting Yosemite in the winter will require some specialized gear. So, you should also check out our article on what to take for a ski trip in Tahoe. Because, other than the ski pants and ski gear, what you'll need is essentially the same.
Here are a few indispensable items that you should definitely take.
Proper hiking books, preferably insulated winter hiking boots. Tennis shoes and even trail runners aren't going to cut it if the ground is cold and icy.
An insulating pant layer. This could be fleece hiking pants or Gore-Tex wind pants over thinner hiking tights.
Layers Layers Layers. On our most recent Yosemite winter trip, I used a combination of a poly prop hiking shirt, puffy vest, fleece pullover and puffy coat and just put things on and took them off as the temperature changed over the course of the day.
If you are planning multiple visits to California's more popular national parks, then you may want to consider getting an annual park pass. You will usually save money by your third visit. You can buy the pass at the gate or purchase in advance here.
We are also big fans of the The Benchmark California Road Atlas. I mention this atlas on all of my road trip guides, and people buy it because cool places like Yosemite have terrible mobile reception. And this atlas has a lot of detail.
Explore More of California's National Parks
See more of California's epic landscapes with these suggested itineraries.
Share these fun things to do in Yosemite in winter with your friends: