There is no single individual who did more to spark our vast national park system than John Muir. He was a leader in conservation, a wilderness enthusiast and a very influential writer and lobbyist. And when he wasn't tromping around in the Sierra Nevada mountains, he was at home in Martinez, California raising both a family and a large acreage of fruit trees.
And you can learn about all of that by visiting the John Muir National Historic Site in Martinez. This guide will give you some background on Muir. We hope to inspire you to visit his historic site and we'll also give you some practical information on how to visit.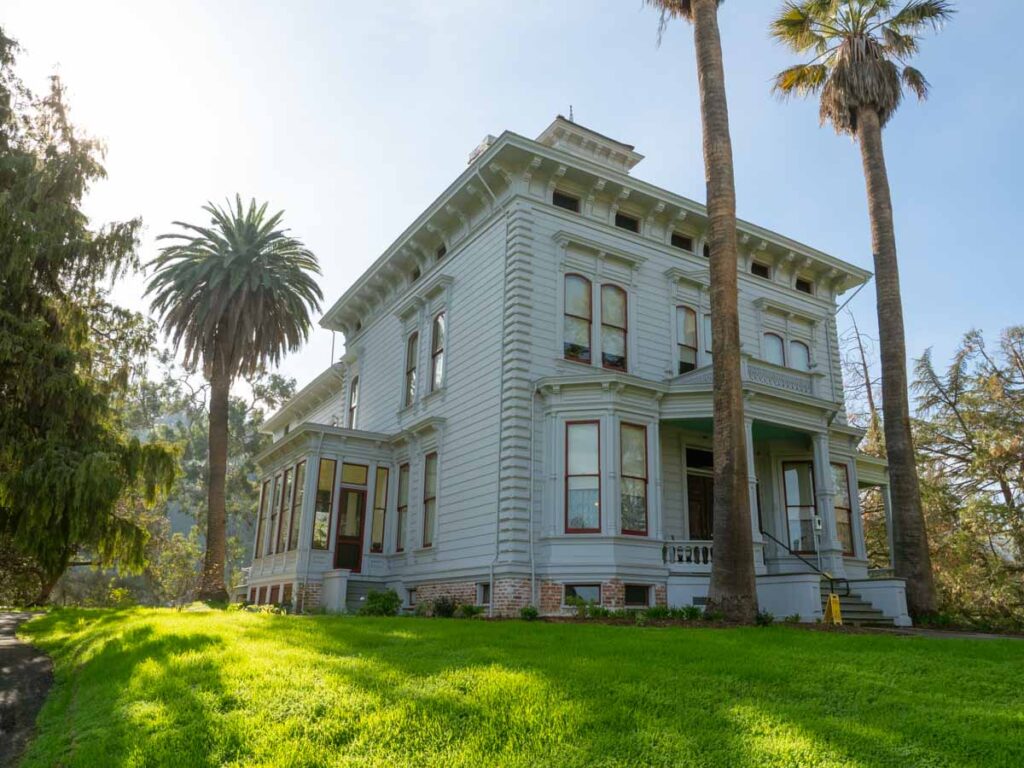 About John Muir
In 1849, John Muir's Scottish family emigrated to Wisconsin and started up a farm. Muir grew up there, learning the business of farming and expressing his creativity by making ingenious inventions. He also developed a strong love of nature and was heavily influenced by the writings of Henry David Thoreau.
Muir was at university when the Civil War broke out. Rather than get drafted, he sat out the war by exploring Canada's natural landscapes. He washed up in California in 1868. When he asked a local how to get out of town and see "any place that is wild", he was directed head east for Yosemite Valley.
So he walked there. All the way to Yosemite. From San Francisco.
This fortitude is what allowed him to survive his many forays into the wilderness of the Sierra Nevada mountains. He fell in love with Yosemite and he took whatever random jobs he could find in order to stay there. During this time, he also began to develop his chops as a writer.
You can read up on Muir and his inspired writing with our round-up of the best John Muir quotes.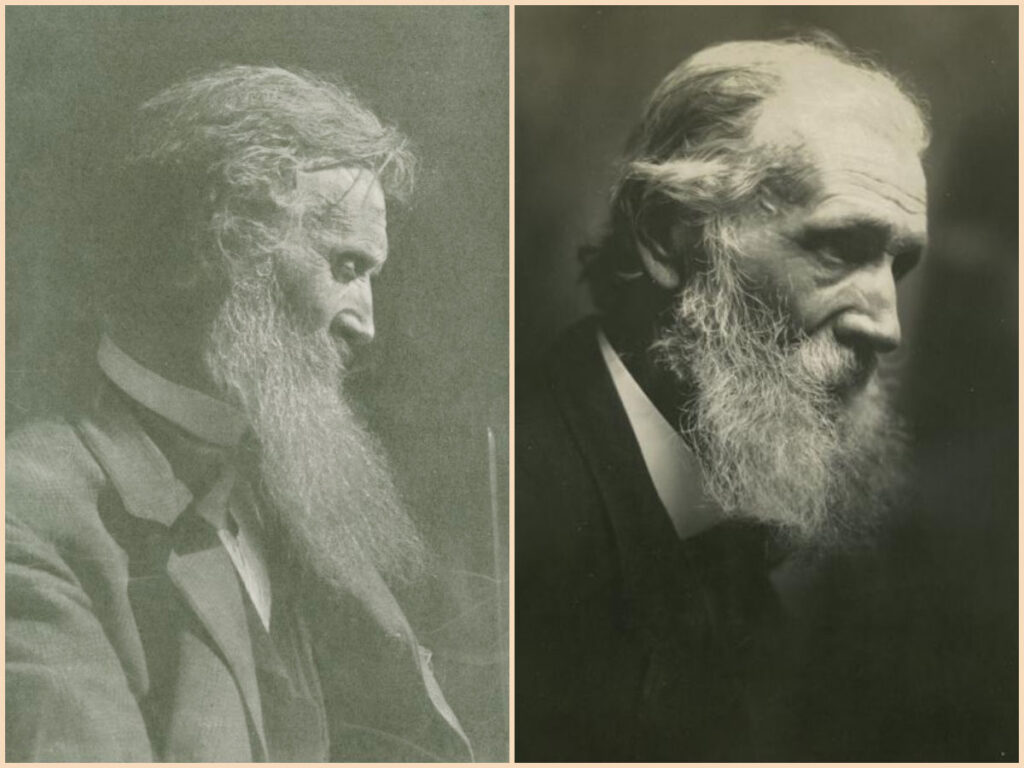 In 1880, Muir married Louie Strentzel and settled in at the family orchard. He was very successful as a farmer, but he missed the wilderness and his wife encouraged him to start writing again. By this point, Yosemite has been designated as a protected area, but the conservation really wasn't being enforced. Unless you consider a gigantic hog pen in Yosemite Valley as "conservation". During this period, Muir started the Sierra Club. He also began a serious campaign to get Yosemite designated as a national Park.
The magic happened in 1903, when Muir invited Teddy Roosevelt to visit Yosemite. Muir and Roosevelt ditched the security detail and went camping alone in the woods. And that sealed the deal. Roosevelt was so impressed by Yosemite, that he was inspired to to grant a whole bunch of new national parks, including Yosemite. During his presidency, Roosevelt designated 5 national parks, 18 national monuments, 55 bird sanctuaries and wildlife refuges, and 150 national forests.
Thanks Teddy!
But thanks also to John Muir, who the national park service considers the father of our national parks (and who I consider to be the patron saint of National Parks in California). Bytheway, you can explore Muir's legacy of parks by checking out our guide to ALL California national park sites and also the 12 Bay Area National Park sites. It includes the obvious sites like Yosemite, but there are a few surprising finds on the list that you should check out.
Muir died in 1914 and the family sold the land shortly thereafter. When Martinez began to develop in the 1960's, some concerned citizens raised an alarm and rallied to protect the site. It became a national park site in 1964.
Between every two pine trees is a doorway leading to a new way of life"

-John Muir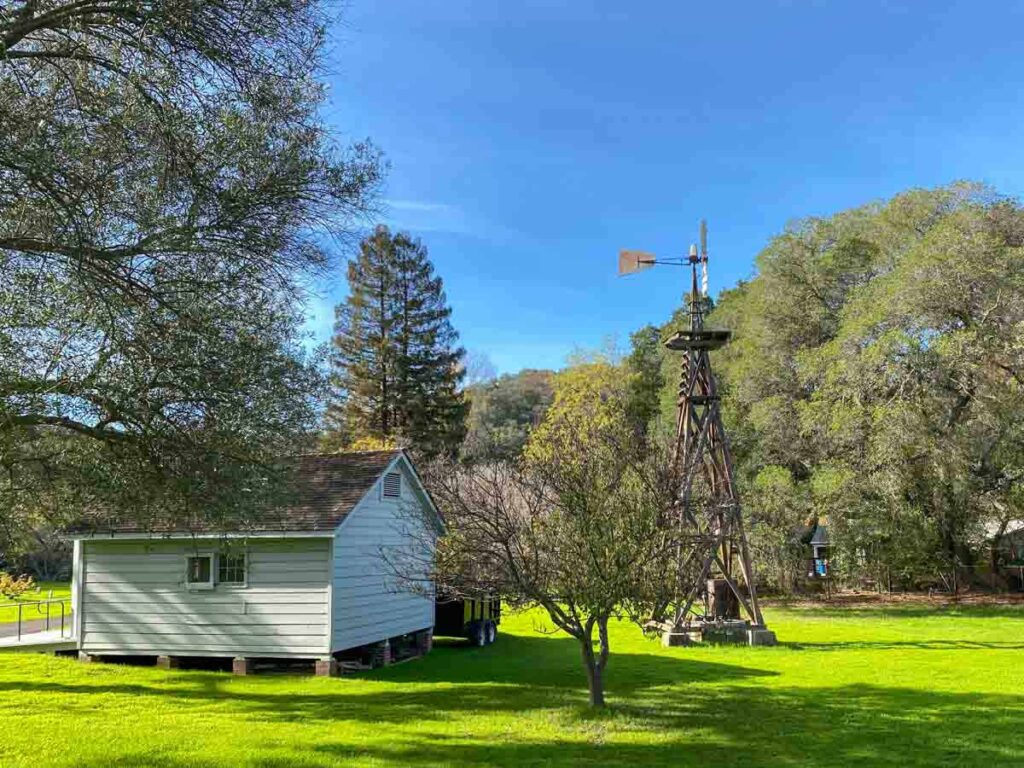 How to Visit the John Muir National Historic Site
Here's some practical information on visiting the John Muir National Historic site and a list of cool things to do while there.
Where is the John Muir National Historic Site?
The park site is located in Martinez, California. It's located just off of Highway 4 at the Alhambra exit. It's 30 miles and 40 minutes northeast of San Francisco.
What are the Visiting Hours?
The main grounds are open daily 10am-5pm and entrance is free. You can climb Mount Wanda or visit the gravesite anytime.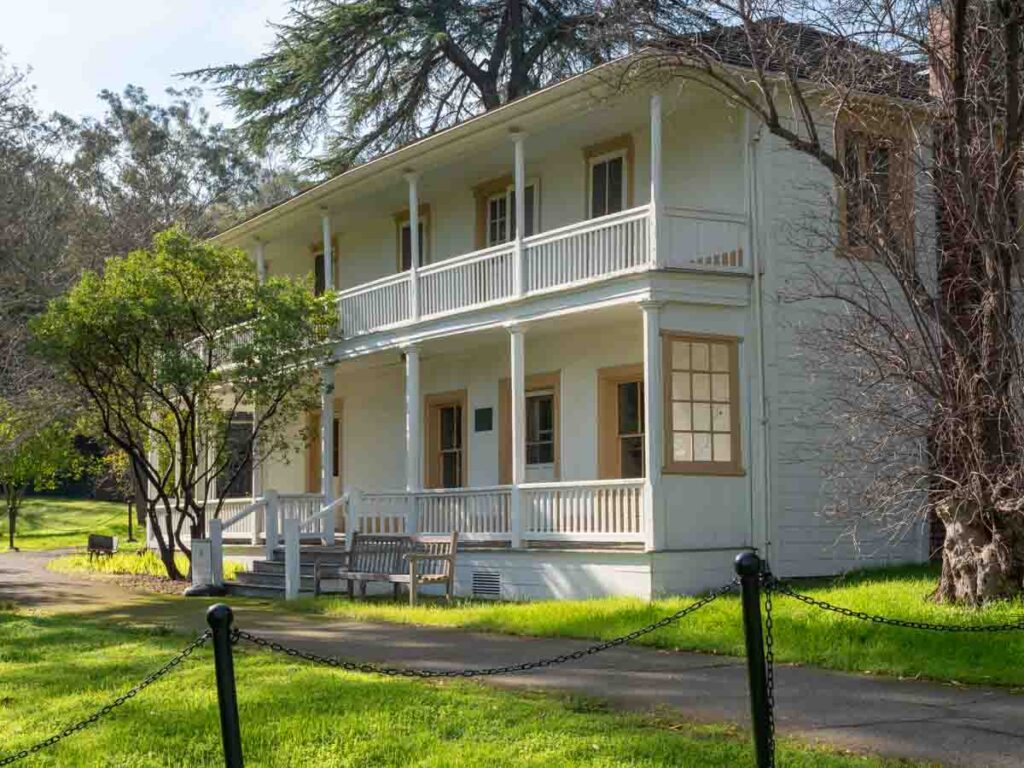 Self-Guided Cell Phone Tour of the Grounds
At one time, the Strentzel fruit ranch was 2,600 acres! Over time, a lot of the land got sold off, but there is still a substantial property at the national historic site. The park service offers a convenient cell phone tour of the grounds. It covers information on the types of trees that were grown in the orchard (including some of Muir's own hybrids), info about the special sequoia tree, historic outbuildings and a look at the historic Martinez Adobe house. The latter is an historic adobe dating back to 1853.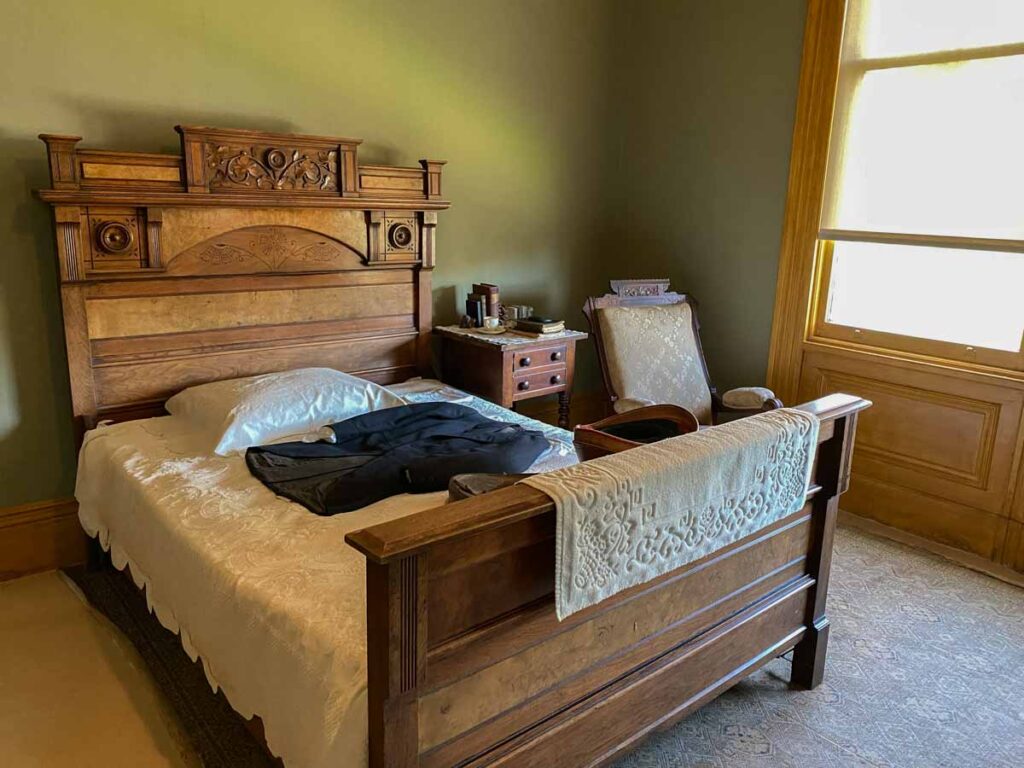 Tour Through John Muir's House
This stately manse was built in 1882 by John Strentzel, Muir's father-in-law. When Strentzel died in 1890, Muir and his family moved into the main house. It's a lovely 17 room Italianate style Victorian with 10,000 square feet of space and 12 foot ceilings on three floors. The park service has decorated the house with period furniture and there are explanatory displays throughout.
There is a great exhibit on the Muir/Strentzel women, which is worth your time. Also, be sure to climb through the attic up to the bell tower and ring the bell.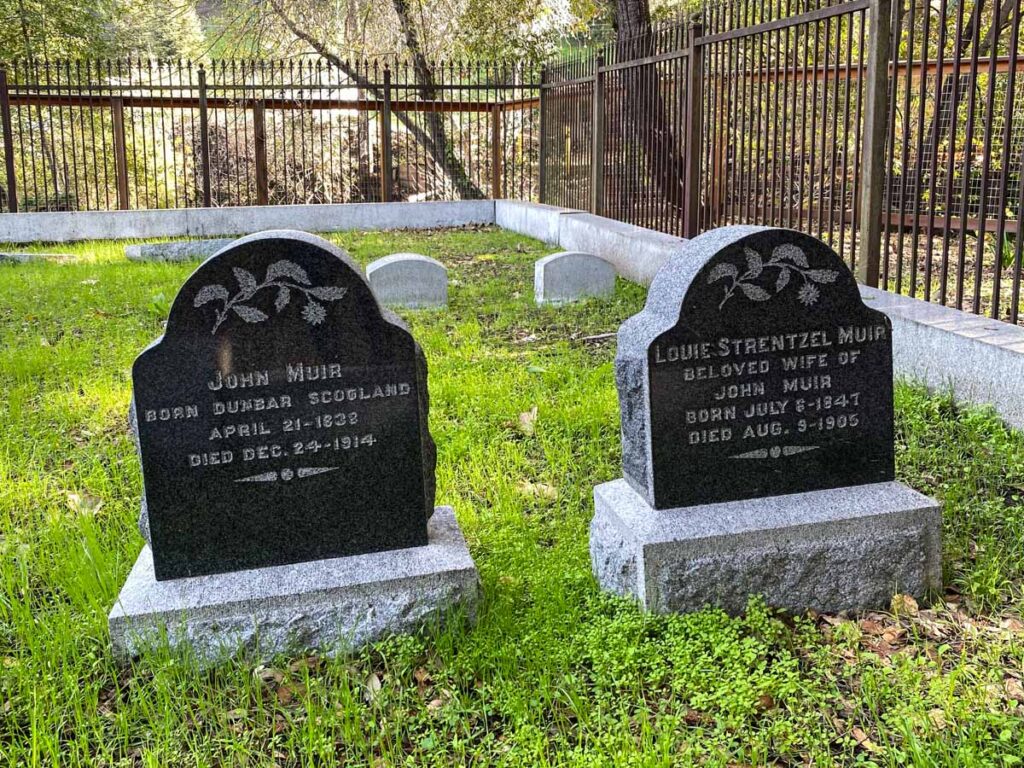 Visit Muir's Grave
Muir's grave is not at the main site. Rather, it's 5 minutes south in what is now a neighborhood of private residences. Map your phone to 170 Strenzel Lane. There isn't much street parking. Walk down what looks like a private gravel drive to get the the family gravesite.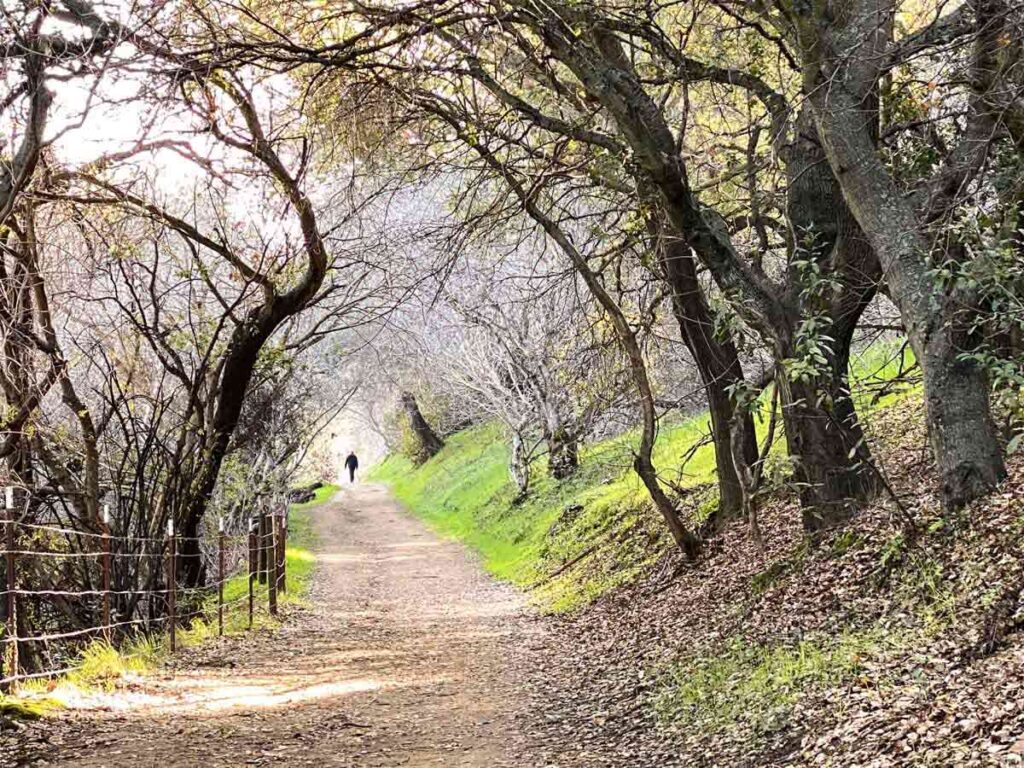 Hike Mount Wanda
Muir encouraged his kids to wander and his daughter Wanda enjoyed walking up the nearby hillside. There is a 3 mile round trip, dog friendly loop at Mount Wanda which goes up 600 vertical feet to the top of the hill. It's has lovely views of the surrounding area (including the bay). The trailhead is not connected to the main park site. You'll need to drive south about .25 mile to get to the parking lot.
Other Sites in California that Celebrate John Muir
The lovely Muir Woods national monument in nearby(ish) Marin county has a lovely and very accessible grove of coast redwoods. It's features on our list of all of the Redwood parks in California and makes a great day trip from San Francisco.
Yosemite National Park wouldn't exist without Muir's passionate work. You can visit using this guide from SF to Yosemite. We also have a guide for visiting in the winter along with a packing list for Yosemite if you are planning a trip soon. And if you are thinking of flying, use our Yosemite airport guide.
Even if you aren't a backpacker, you can also do some day hikes on the John Muir trail. Try the Vernal Falls hike out of Yosemite valley or the Lyell Canyon hike out of Tuolumne Meadows.
Share John Muir on Pinterest: