California has 9 official national parks, but a total of 33 national park sites, including national monuments, recreation areas, and historic sites and byways. And over 1/3 of them are in the Bay Area! So, if you're willing to do a few day trips, you can explore all 12 national parks near San Francisco.
San Francisco's national parks, recreation areas and historic sites celebrate our epic coastal landscapes, our position as a strategic military site, the maritime gateway to Asia and our leadership in conservation.
This list includes all national park sites in/near San Francisco…or within a three hour drive. If you want to explore beyond that, be sure to read down to the bottom of the article where we have some road trip itineraries and visitor guides for CA national parks which are outside of that 3-hour zone.
If you want to get a handle on all of our amazing parks, be sure to check out our complete guide to ALL CA national parks (with a map) and all of our nearly 300 CA state parks (also with a map).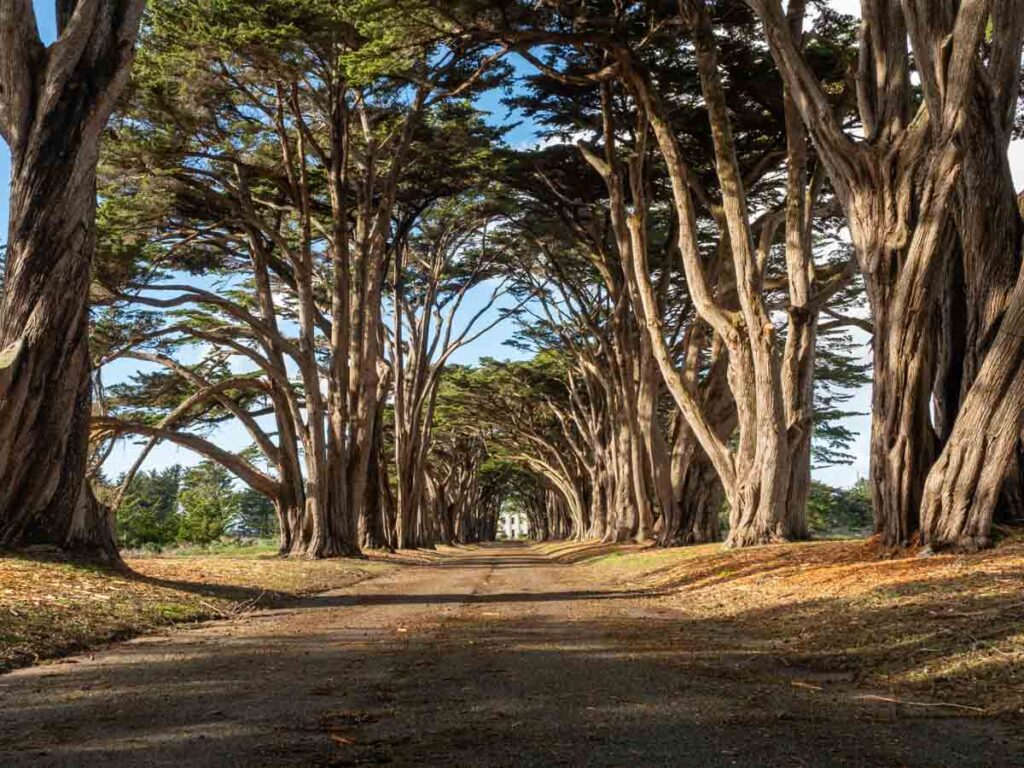 All 12 National Parks Near San Francisco
The following Bay Area national park sites are ordered in their proximity to downtown San Francisco. You can zoom in on the national parks map to see their exact locations.
Map of CA National Park Sites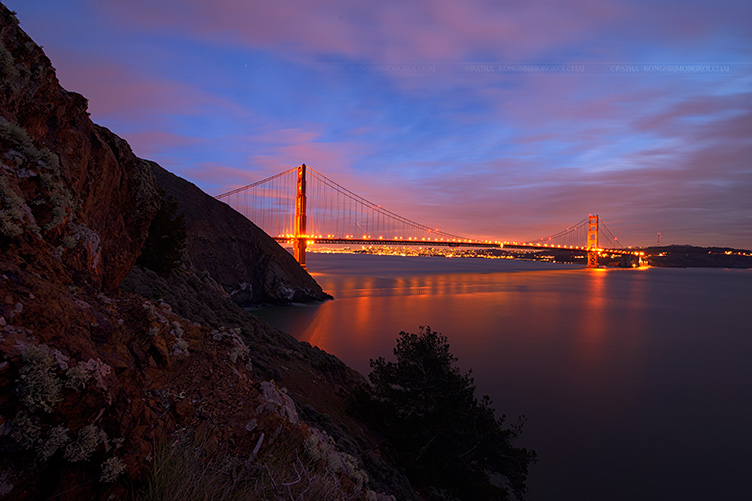 Where to Stay in San Francisco
You can base yourself in San Francisco and easily visit all of these parks. Most inside of SF can be done using public transportation and the ones that are further flung will require a car.
We have a whole guide on where to stay in San Francisco, which will help you decide which neighborhood and hotels to use. But here's some quick advice:
If you have a rental (or personal) car and don't want to get eaten alive with parking fee, consider staying in the Marina. The Marina motel is basic but offers a free breakfast. The Sol Hotel has a retro vibe and inexpensive parking.
If you aren't going to use a car and just want a good base of operations using publication transportation and day tours, the Union Square/Financial District area are very central. The Zeppelin Hotel near Union Square has a cool rock and roll boutique vibe. The Palace Hotel has old world charm and the Hotel Via in SOMA has a great rooftop deck.
Golden Gate National Recreation Area
The Golden Gate National Recreation Area (GGNRA) isn't an official national park, and yet, it's the nation's third most most visited "park" in the US, receiving 14 million visits in 2021.
The GGNRA manages a huge recreation area. They're the overarching agency which manages 5 official National Park sites in or near San Francisco, including: the Presidio, Maritime Museum, Fort Point, Muir Woods and Alcatraz (all noted below).
But the GGNRA also manages natural and historic sites stretching 40 miles north into Marin County and 20 south into San Mateo County. Other than visiting the San Francisco national park sites noted below, there are tons of other cool things that you can do in the GGNRA. Take a drive across the bay to the Marin Headlands, stopping at the Battery Rathbone gun battery and the Point Bonita lighthouse. Hike up Hawk Hill at sunset for killer views of San Francisco. Take the popular 3.5 mile Tennessee Valley hike. Or do the Lands End hike in SF.
And presiding over the center of the action is the Golden Gate Bridge, which is one of the most popular tourist spots in San Francisco. We have a whole guide for visiting the Golden Gate bridge which offers practical advice on where to park, how to walk it and some fun facts.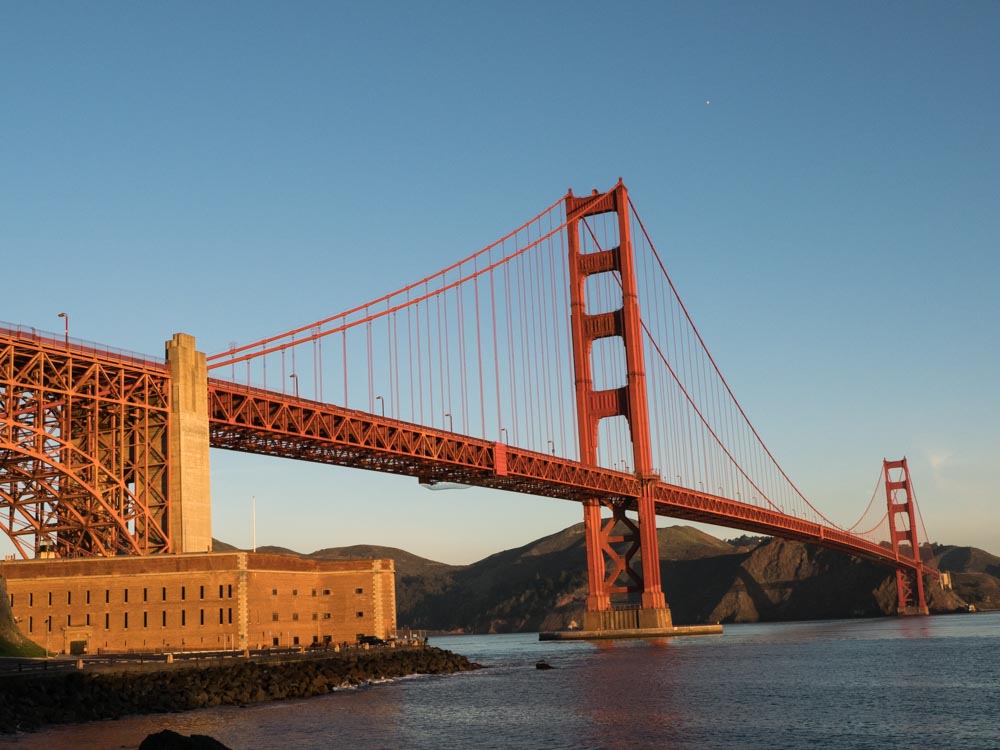 Fort Point National Historic Site
Fort Point has been guarding the entrance to the Golden Gate since the Gold Rush. The building is functional, but also quite lovely with its arched casements and red brick. The fort was built for the civil war and was used throughout the 20th century as an active defense site and barracks.
The fort offers one of our favorite and unique views of the Golden Gate Bridge. You can visit the fort as a self-guided tour and then use the nearby stairs to walk up to and over the Golden Gate Bridge.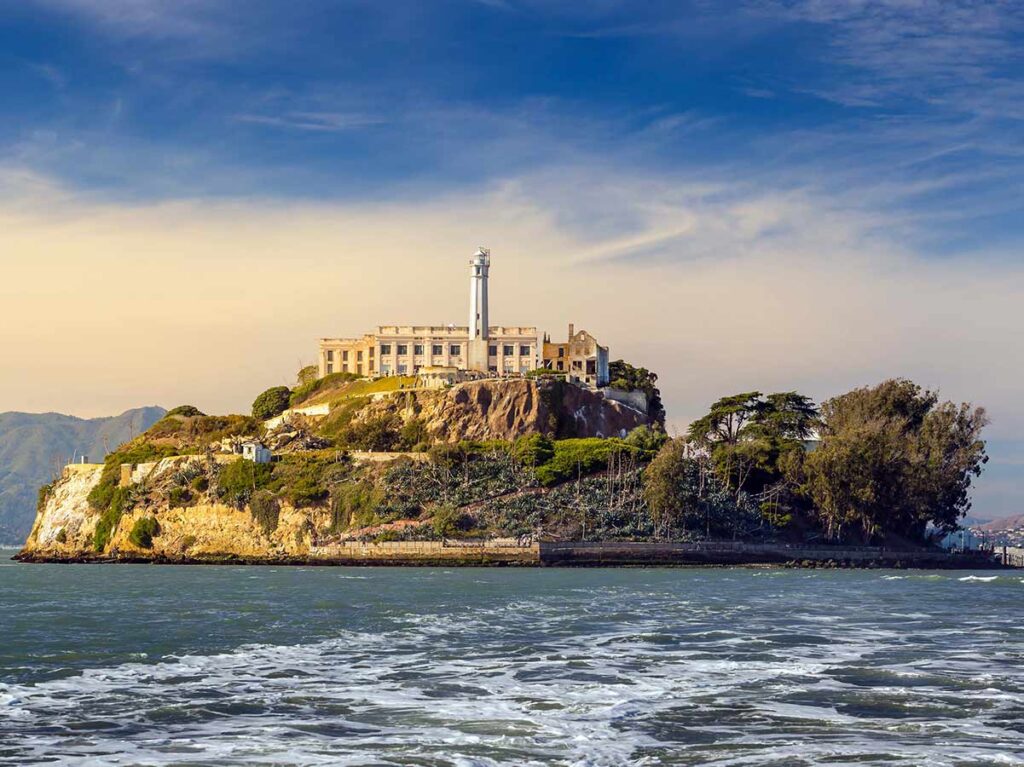 Alcatraz Island Historic Site
Alcatraz Island has been a fort, military prison and a maximum security federal prison. In 1969, it was also occupied for 19 months by Native American groups who were staging a civil rights protest. Touring the island provides a fascinating look into the history of incarceration in the United States.
In addition, the island occupies a lovely patch of the San Francisco bay and the ferry ride to and from the island always provide great views of San Francisco and the Golden Gate Bridge.
There are daily tours to the island. It's very popular, so be sure to book ahead. If you want to double-dip and also go to Muir Woods, then you can book a tour that covers both.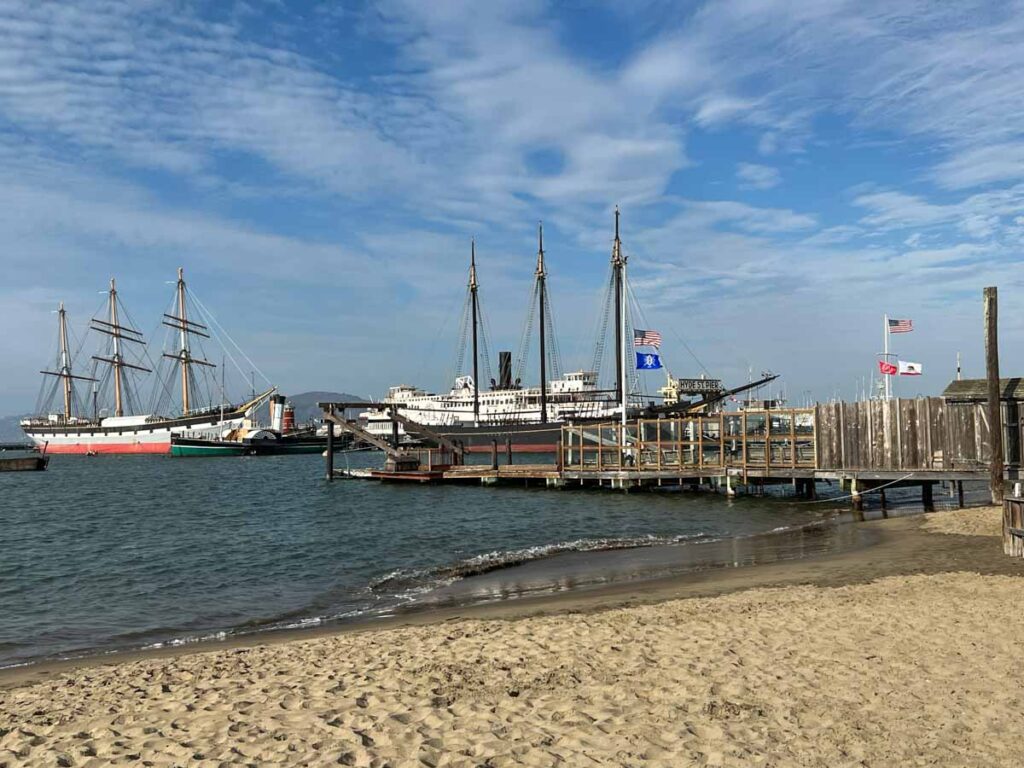 San Francisco Maritime National Historic Park
This historic park is perfect for anyone who's nuts for ships. The Maritime park is located near San Francisco's Fisherman's Wharf. It offers visitors a hand's on experience of the Pacific Coast's maritime history. The Park includes a magnificent fleet of historic ships from a 1895 schooner to a 1914 paddlewheel tug.
You can walk on the decks of the ships, take a cell phone tour and also visit the Art Deco Maritime museum. The museum has exhibits on ship-building, SF maritime history and they have some lovely WPA-era murals inside the art-deco building.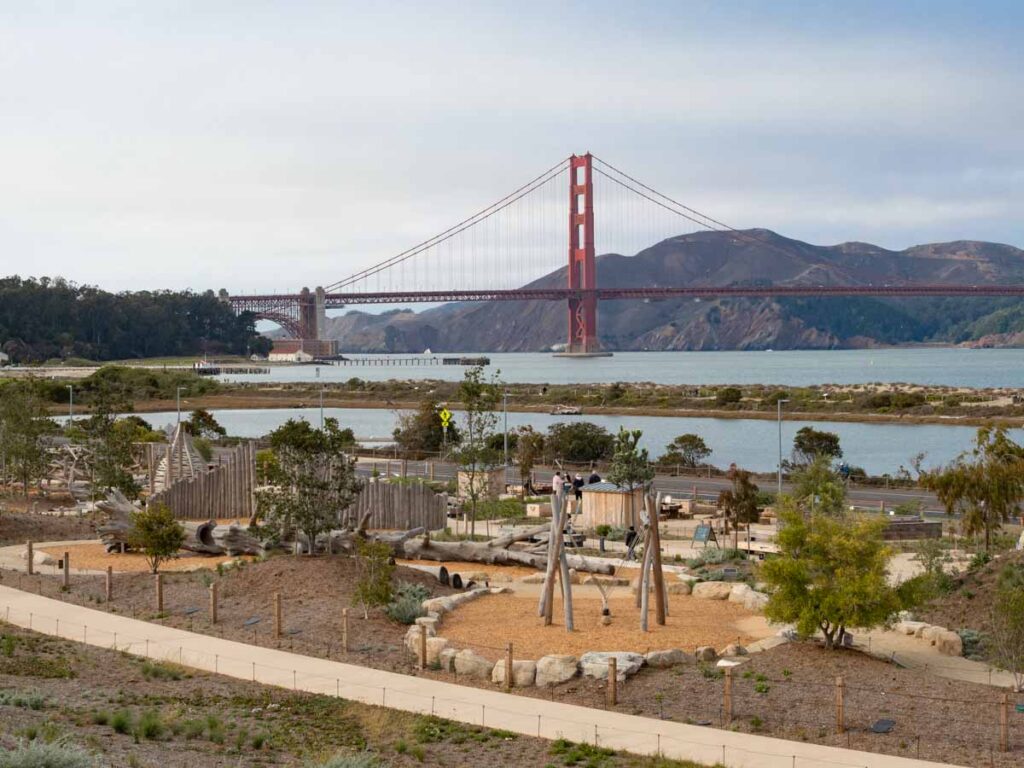 Presidio of San Francisco Historic Site
When the Spanish colonized California, they set up a defense outpost at the entrance to the San Francisco Bay. Over time, the Presidio was expanded by the Mexicans and then the Americans. The military outpost served through the Spanish American War, the Civil War, the Philippine War, both World Wars and the Cold War. In 1989, the federal government decided to de-commission the base and it was transferred to the Parks Service.
It's now the largest urban park in the Parks Service.
And the Presidio is not your typical parks site. Yes, you can find old military batteries and historic buildings. But you'll also get 25 miles of Presidio hiking trails, including on the prime Crissy Field waterfront. In addition, there is also a mix of private businesses and housing within the presidio. You can find the Disney Family Museum, the Tunnel Tops park, art installations, and even Lucas Studios (including a really cool statue of Yoda, which is part of our offbeat San Francisco guide).
Use our article on things to do in the Presidio to maximize your time there.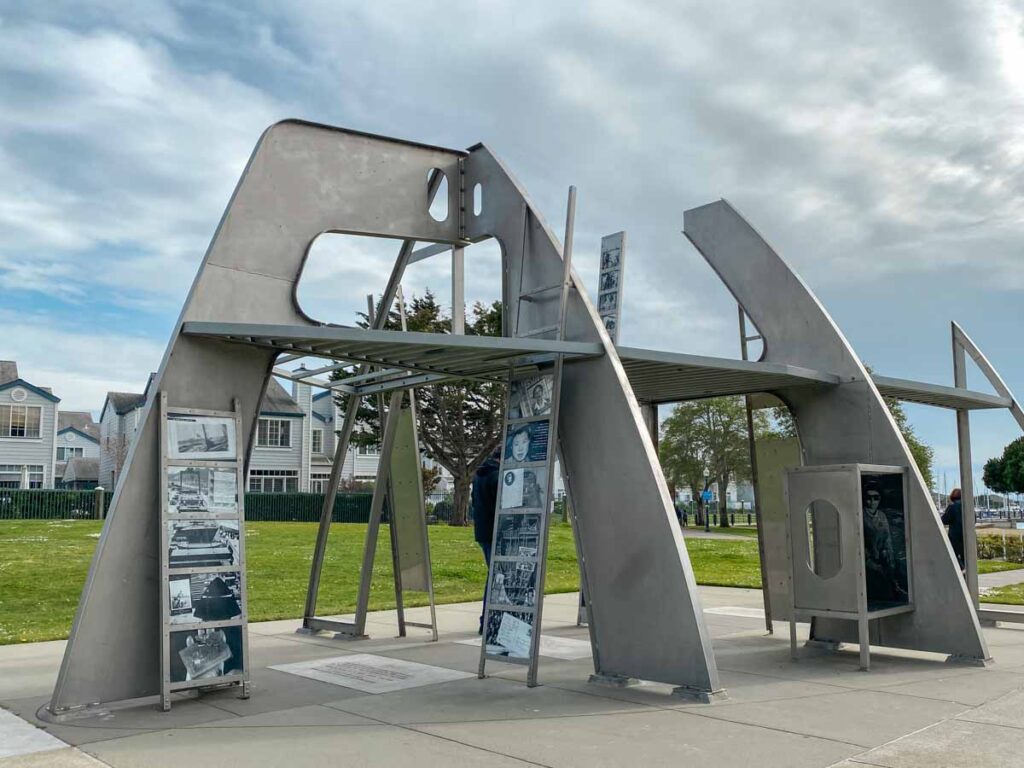 Rosie the Riveter WWII Home Front National Historic Park
The Bay Area's manufacturing capacity really booted up during WWII. Women were given job opportunities that had previously been out of reach. This small monument honors the efforts of the many women who stepped up and helped the US deliver on the war effort. The park includes a welcome center with exhibits and a series of sculpture installations with pictures and storytelling.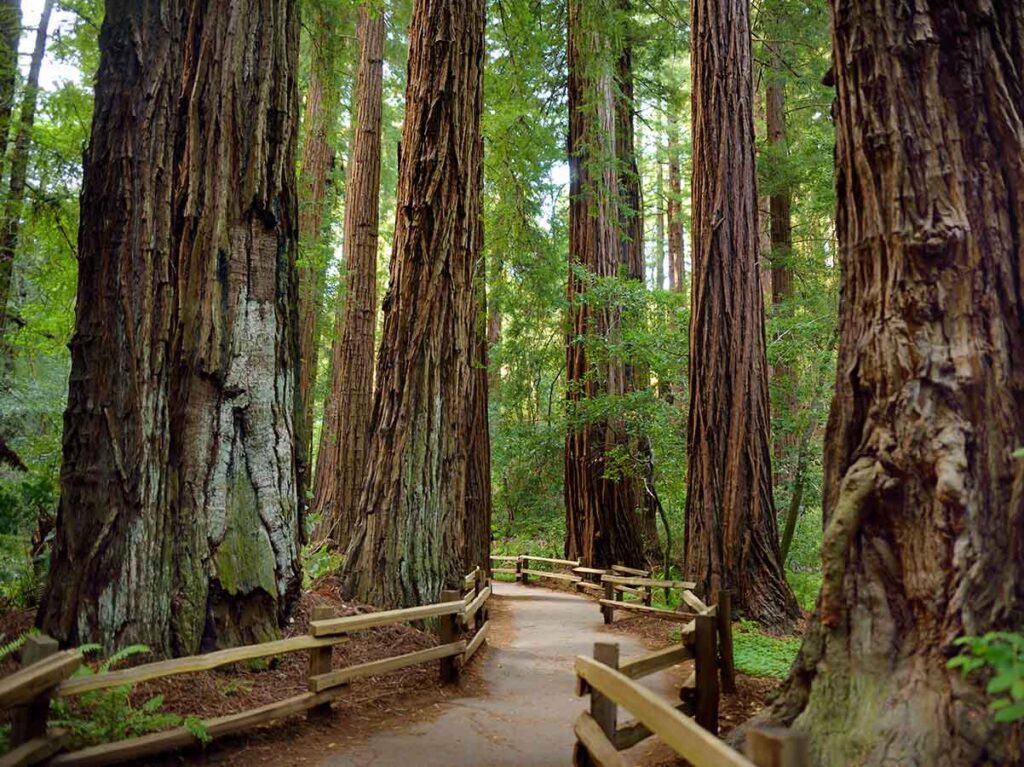 Muir Woods National Monument
John Muir was a passionate conservationist and California's patron saint of national parks. After he invited Teddy Roosevelt to go camping in what is now Yosemite, the President was inspired to set aside 230 million acres of public land, codifying our national parks system.
Muir loved a walk in the woods and the coast redwoods in Muir woods are a lovely place to do it. The monument offers a great entry-level way to experience California's north coast redwoods. The park has 6 miles of trails that go from a 1/2 hour accessible loop to a 1.5 hour longer loop. The trails also extend into nearby Mount Tam State Park.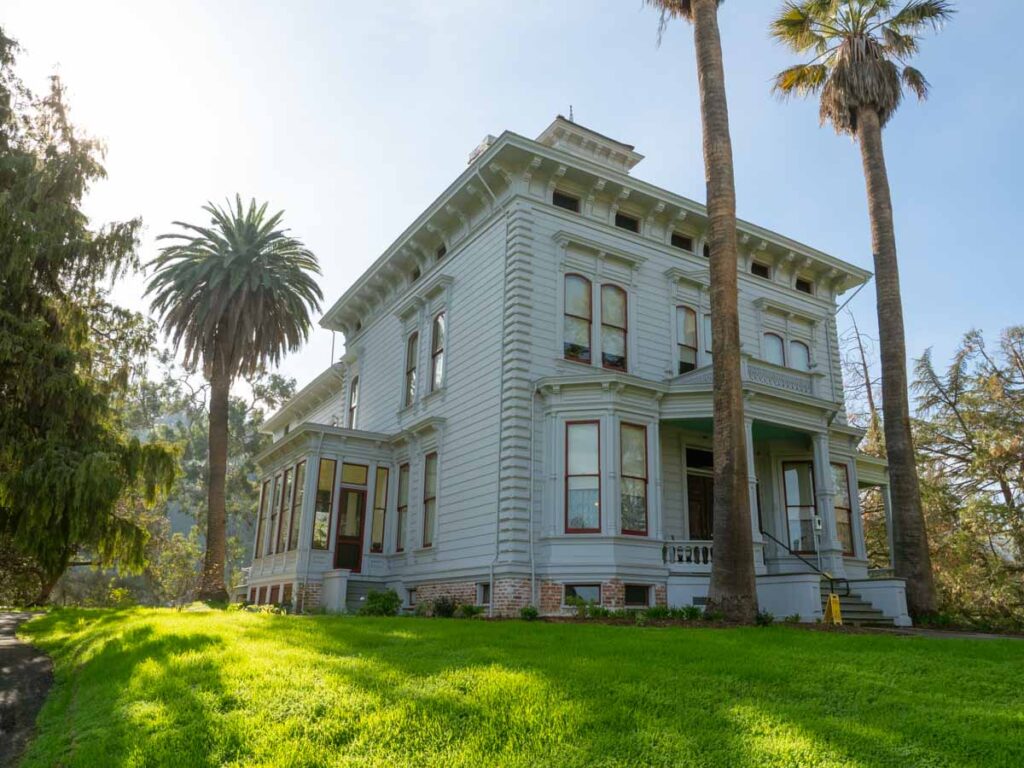 Beyond this point, you'll need a car. If you are from out of the area, here's our advice on whether you need a rental car for SF (and advice on how to get one).
John Muir National Historic Site
John Muir loved nothing more than to put a few sandwiches into his pocket and take off into the wilderness. But when he wasn't doing that, he was writing and raising his family in Martinez, California.
Muir and his wife Louisa Strentzel lived on her family's 2,600 acre fruit ranch. The historic site includes the ranch grounds, a 10,000 square foot home, Muir's gravesite and a historic adobe building. Self-guided cell phone tours are available.
Eugene O'Neill National Historic Site
Eugene O'Neill is America's only Nobel Prize winning playwright. He chose to live in Northern California at the height of his writing career. And it was here that he wrote his most memorable plays like: The Iceman Cometh, Long Day's Journey Into Night, and A Moon for the Misbegotten.
The Tao home is on a 128 acre ranch near Danville, in San Francisco's East Bay. O'Neill and his wife were fans of Oriental art (hence the house's name), but they married that ethic with a traditional Spanish-style architecture.
You can visit the home on a self-guided tour on Saturdays, or you can arrange a reserved tour on weekdays. Either way, you access the property via an NPS shuttle.
Port Chicago National Memorial
We experienced our worst WWII home-front disaster at Port Chicago. At Port Chicago Naval Magazine, 320 men were instantly killed when two ships being loaded with ammunition for the Pacific theater troops blew up. The waterfront site acknowledges and memorialized the disaster.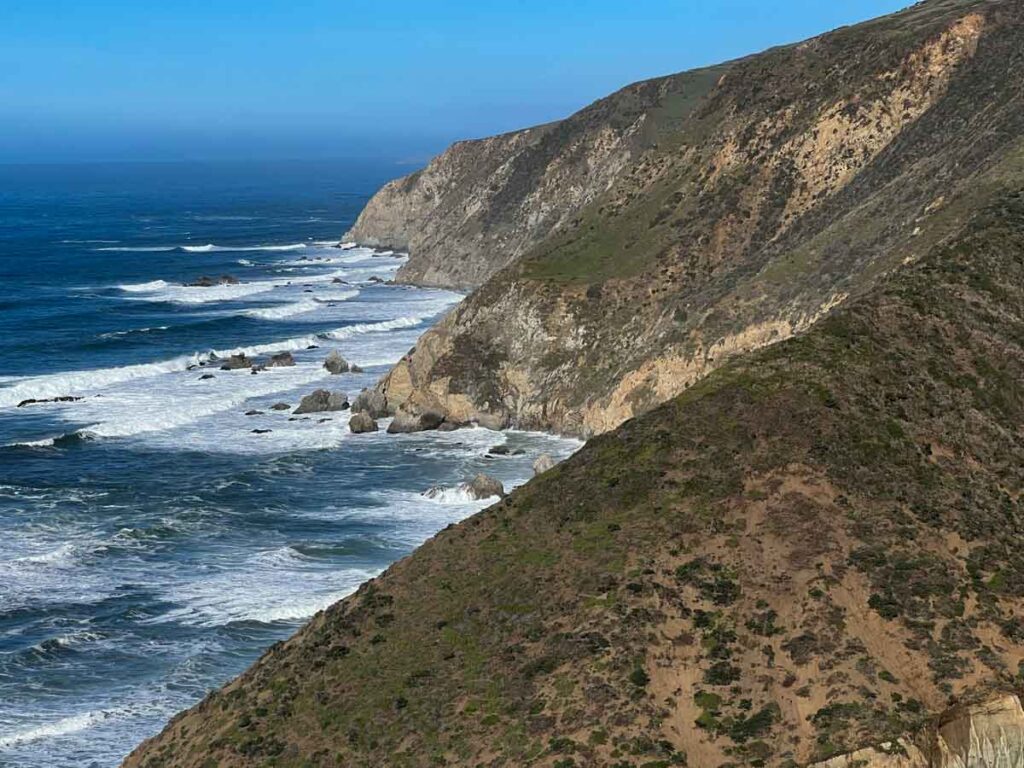 Point Reyes National Seashore
Point Reyes National seashore has some pretty epic coastal scenery, just a little over an hour from San Francisco. Find rocky headlands, lighthouses, cypress trees and wildlife like elephant seals, coyotes and the rare Tule Elk
A few of the top things to do in the park include: the Tule Elk preserve at Tomales Point, (although you can also find plenty of elk on the road to Drake Bay), elephant seals on the beaches at Chimney Rock (and sometimes Drake Bay), and also migratory gray whales from December to May.
For hiking, you have your choice of 150 miles of trails, including the popular Bear Valley trail (10 miles), Muddy Hollow/Coast trail (12 miles) and the Mount Whittenberg trail (4 miles).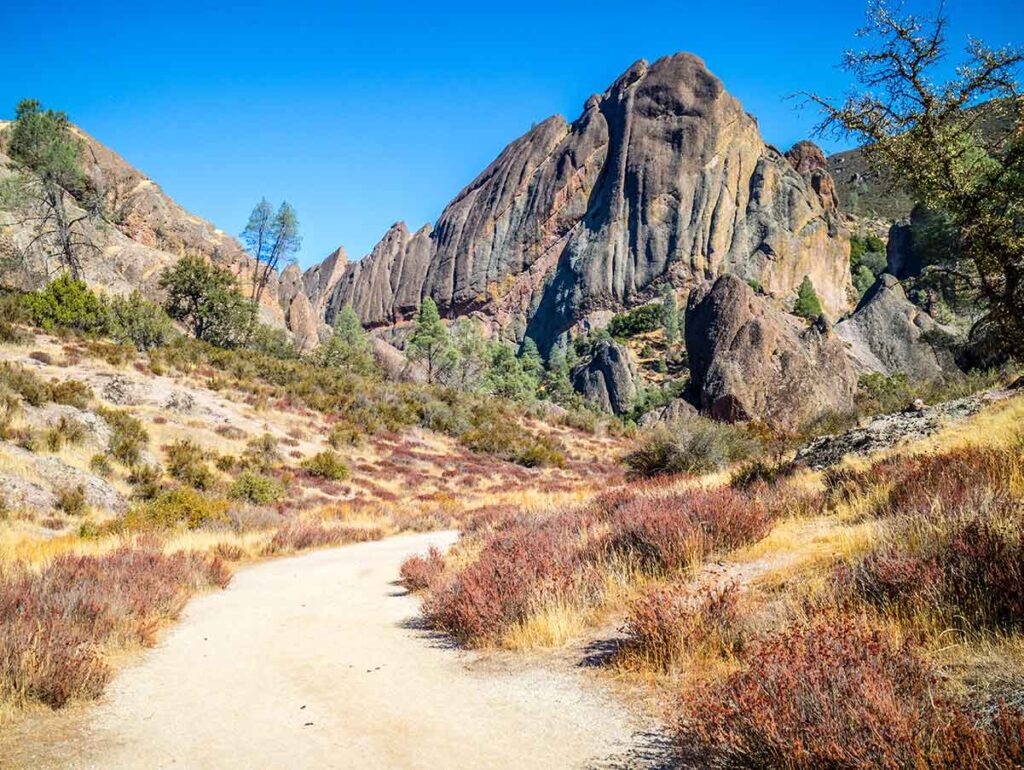 Pinnacles National Park
Pinnacles was formed by some serious volcanic action and the magma fields and subsequent erosion have created a landscape with towering rock spires and caves. The park is home to nesting California condors, peregrine falcons, golden eagles and 13 species of bats.
Pinnacles is the least visited of California's national parks, with only 177,000 visitor per year. More elbow room for you then!
There are 30 miles of hiking trails in the park. Most notable are the 5.3 mile Old Pinnacles to Balcony Cave trail or the more strenuous 6+ mile High Peaks loop trail. Please note that there isn't a road that goes through the park. So you either park at the west entrance for limited day hikes. Or use the east entrance for camping and access to more trails.
San Francisco National Park Road Trip Ideas
There are a lot of very cool national park sites outside of our arbitrary 3-hour range. Here are a few road trips that will help you explore further afield.
This 5-7 day SF to the redwoods road trip has 19 stops for wandering amongst CA's iconic north coast redwoods.
We've also got an itinerary from San Francisco to Yosemite, which features Yosemite Valley and some nearby Gold Rush history. And you can even visit Yosemite Valley in the winter.
Go even further afield on an SF to Death Valley road trip. On the way down you can stop at Colonel Allensworth State Park and Red Rocks State Park. On the way back, you can go up Highway 395 for the Alabama Hills, Manzanar national historic site, the Devil's Postpile, Bodie state park and then over Yosemite's Tioga Pass or through Lake Tahoe. Here's our full visitor guide to Death Valley.
And we've also got a ton of resources for planning a Joshua Tree National Park trip.
Explore More of San Francisco
We've got a ton of resources to help you explore SF.
Share these national parks near San Francisco with your friends: