Do you need to rent a car in San Francisco? The answer to that question depends upon what you will be doing while in San Francisco and whether your trip is part of a larger itinerary. So, we've got three scenarios for you which will help you do the math and figure out what you need.
Simply choose the scenario that best fits your Bay Area itinerary and follow our advice on whether (or not) to rent a car.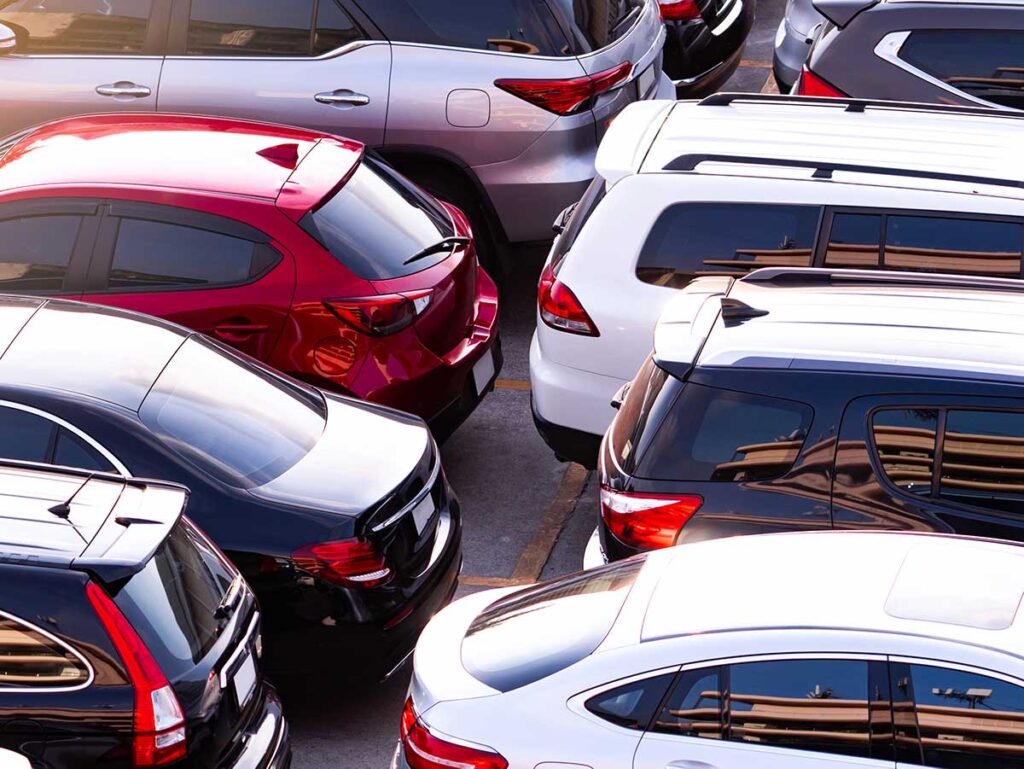 (This article contains affiliate links. This means that if you choose to purchase, I'll make a small commission.)
Do You Need to Rent a Car in San Francisco? 3 Scenarios
Trying to figure out whether to rent a car in San Francisco or just use public transportation is tricky because it depends a lot on what you intend to do once in town. You'll need to do the math to figure out whether it's better to just use public transportation, get a car for the whole trip or just rent a car for part of the trip.
How Expensive is it to Park a Rental Car in SF?
Very. Parking prices for a typical downtown hotel cost $35-85 per day, with most of the centrally located hotels on the higher end of that range.
Overnight parking in a public lot is cheaper, but not by much, and the lot may not be near your hotel. Using a public lot also increases your risk of a car break-in, which is an unfortunate problem in SF. Some of the hotels in the Marina district offer free or cheaper parking, but they are further away from some of the key tourist activities.
So read the following scenarios carefully in order to decide whether it's really worth it for you to get a rental car in SF.
1. Just Visiting San Francisco
Can you get around San Francisco without a car? Yes! And if you are going to be spending all of your time within SF's borders, you really don't need a car.
San Francisco has a good public transportation system and ample capacity from taxis, Uber and Lyft. In fact, Uber and Lyft were founded in SF and they both have a strong presence there.
Use our guide for how to get from San Francisco airport to downtown (or our similar guide from the Oakland Airport) to figure out the fastest and/or cheapest way to get out of the airport.
Once in the city, you can use a mix of transport options to get around. San Francisco is served by 4 different systems. You can pay for any of them by purchasing and pre-loading a Clipper Card. You can buy an e-version of the card and load it into your phone's wallet.
MUNI: This is the bus, light rail and cable car system that serves riders within the city. Paying with Clipper is best, but you can also use cash on the buses and cable cars. MUNI runs all over the city, but it's not always fast. Popular rides on MUNI include the cable cars and the historic buses that run along the Embarcadero to Pier 39.
BART: This is the subway system. It serves SF from both the Oakland and SF airports and also has stops within the city in the Mission, Civic Center, Union Square and Financial district neighborhoods.
FERRY: There is regular ferry service between SF nearby cities. It's typically used for commuters, but you can have a fun DIY bay tour by taking the ferry over to Oakland's Jack London Square, a day trip to Angel Island State Park, or walking across the Golden Gate Bridge and taking the ferry back from Sausalito.
CALTRAIN: This is a suburban train service. You probably won't be using it unless you need to get to the San Jose airport or elsewhere down the peninsula.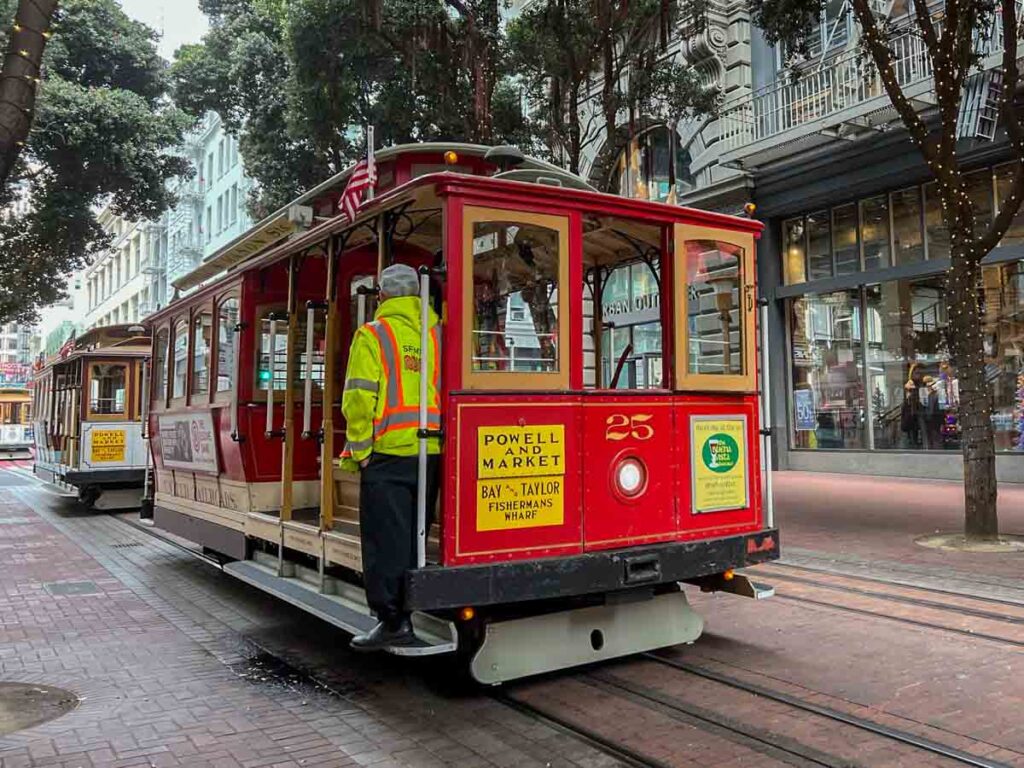 2. Mostly Visiting SF But You Want to do a Few Day Trips
Visiting Muir Woods and going wine tasting to Napa/Sonoma are probably the two most popular day trips that visitors take from San Francisco. If you just want to do one or both of those, you don't need a rental car. You can simply book onto a day tour.
For Muir Woods, here's one that goes to just to Muir Woods, here's one that combines Muir Woods with Alcatraz (so worth doing!)
There's a group tour that combines Muir Woods, a winery lunch and wine tasting in Sonoma. For Napa and Sonoma wine tasting, here's a full-day group tour which has 3-4 winery stops and time in downtown Sonoma. Or you can do a completely custom private tour as well.
If you want to go further afield, such as to Point Reyes National Seashore, cute Half Moon Bay or some of our other nearby redwood groves, then you'll need a rental car. And if you want to DIY a visit to Napa or Sonoma county, you'll need a car for that as well because getting there on public transportation will burn too much time.
If you just need a car for one day, we would recommend renting one at one of the downtown rental car offices, rather than going back out to the airport. You can rent downtown cars from Hertz, Budget, Thrifty or Enterprise..
3. Visiting SF as Part of a Longer California Itinerary
If San Francisco is just one stop on a larger itinerary, then you will definitely need a rental car. But you won't really need it while in SF, just for the road tripping before or after.
So, should you pick up the car at the airport and then just park it at your hotel? Or should you catch an Uber or cab into the city for the SF portion and then go back to the airport rental car center for other portion of your trip?
If you are staying in SF for 3+ nights, and you're money conscious, then get the rental car later. You'll save quite a bit of dough on the hotel parking.
If you are staying in SF for just 1-2 nights, get the rental car when you land. The cost of Ubering to/from the airport vs just paying the hotel parking fee is similar. And you'll save time not having to get back out to the airport to pick up a rental.
We've got a whole bunch of road trip itineraries that start (or end) in San Francisco. You can take 5 days to go from SF to the north Coast Redwoods, 5 days from SF to LA on the Pacific Coast Highway, a slow roll from SF to Lake Tahoe, or do the national parks to Yosemite or Death Valley from SF.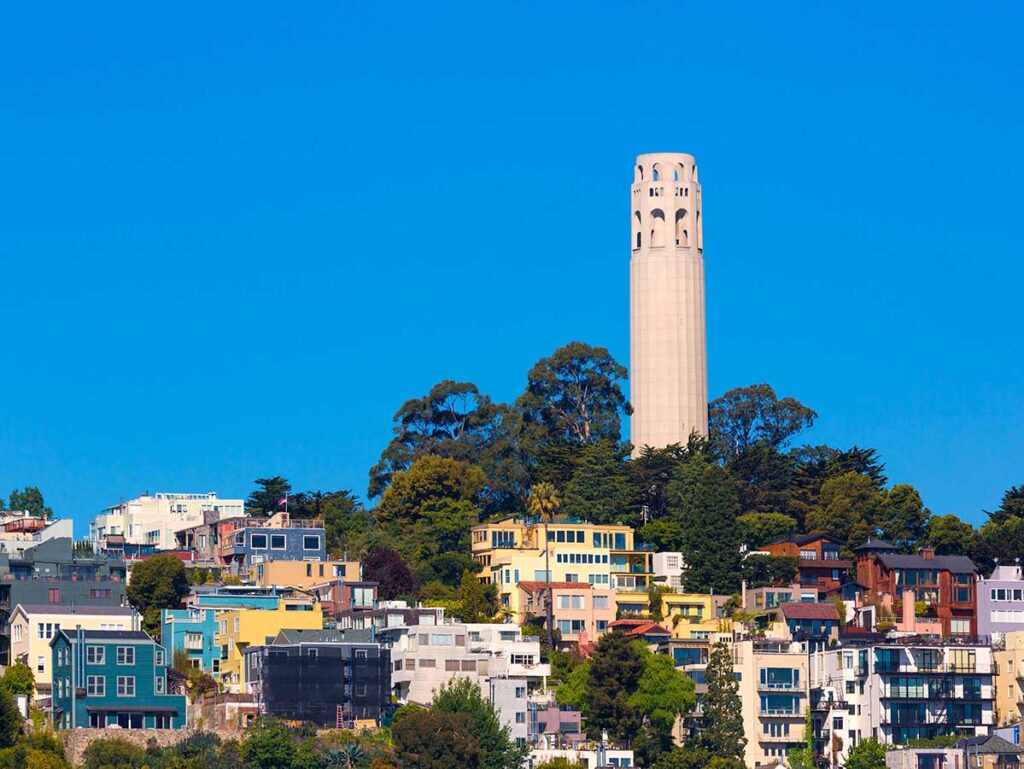 Plan Your Trip to San Francisco
Now that you have the SF car rental thing sorted, here are some resources to help you plan your San Francisco itinerary.
Start with our first timer's guide to SF. It will give you tips on what to do (and not do), how to avoid looking like a tourist nube, and safety and transportation tips. Figure out your lodging and get hotel suggestions using our SF accommodation guide.
Then start plumping up your itinerary. Start with our list of offbeat things to do in SF. It will get you off the tourist trail to find cool parks, quiet trails, hidden art and even Yoda. We've got niche guides for how to find street art in the Mission, the best walks in SF, visiting Angel Island state park, awesome Insta photography spots, and great indy bookstores.
You can also explore some national parks near San Francisco. This includes the largest urban national park in the country– The Presidio. We've got a Presidio activity guide and a Presidio hiking guide.
And don't forget to visit the Golden Gate Bridge. If you do get that rental car, we have a GG Bridge parking guide and also advice on different ways that you can walk the bridge.
Enjoy your trip to San Francisco!