San Francisco's cable car system was the first, and is now the last of its kind in any urban setting. So, it's no wonder that riding the cable cars in San Francisco is such a unique tourist attraction. What you may not know is that there are actually three cable car lines in SF, each with a different end point. And riding the lines can get quite busy.
No sweat though, because this FAQ for how to ride the trolley cars will answer all of your pressing questions.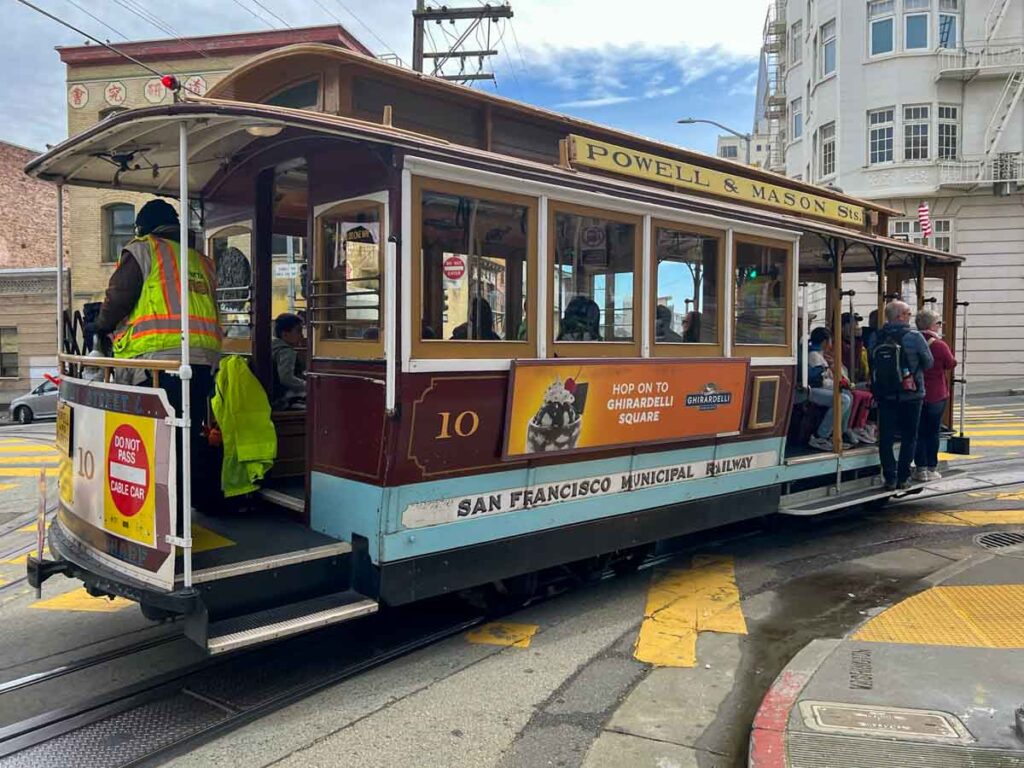 (This article contains affiliate links. This means that if you choose to purchase, I'll make a small commission.)
If this is your first visit to San Francisco, be sure to check out our SF first timer's guide. It has tips on transportation logistics (other than the cable cars), fun things to do, and how not to look like a tourist nube.
We've also got planning advice for whether you need a rental car and where to stay in SF.
History of San Francisco's Cable Car System
San Francisco is so very hilly, and during its Gold Rush heyday, it was also quite muddy. So, using horse drawn conveyances for public transportation caused a lot of horse poop, and some pretty pooped-out horses.
Inventor Andrew Smith Hallidie was looking for a better way. He had developed skills making metal ropes for the mining industry and he applied that know-how to designing a system of cables, pulleys and trolleys which could move folks around without need of horses.
These cable cars were the first of their kind anywhere in the world and they revolutionized the urbanization of San Francisco. Soon, there were seven competing cable car lines crisscrossing the city.
When SF's great earthquake happened in 1906, the resulting fires devastated whole city blocks and a good chunk of the cable car infrastructure. The remaining lines were rebuilt and still in service until the 1940's. A modernist moment threatened to close down the cable cars in favor of automobile traffic. But some civic activists put up a fight and three lines were preserved as symbols of SF's history.
You can learn more about cable car history and how the cars work at the Cable Car Museum. In addition to the public education center, they actually run all of the cables through the building and park the trolleys on-site at night. All three of the cable car lines pass the building and you can get off there to check out the museum.
It's free and open Tues-Sun 10-4 (and until 5 on Friday and Saturday).
We've also got a whole list of fun cable car facts to help you expand your knowledge.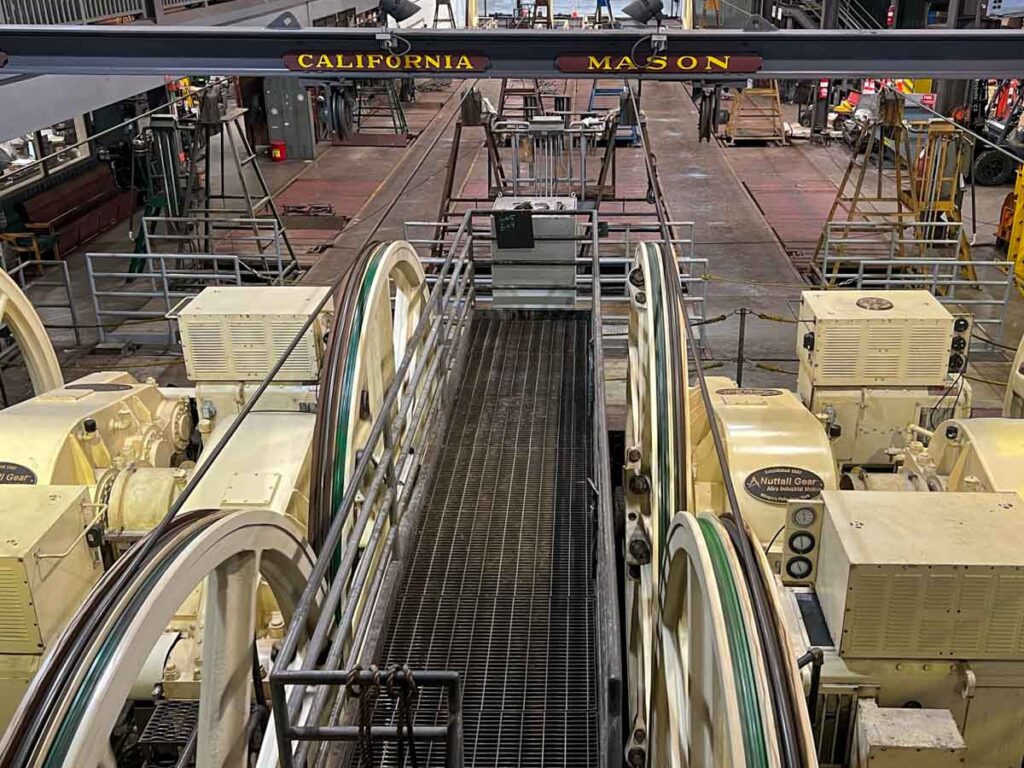 4 Tips for Riding the Cable Cars in San Francisco
1. Which Cable Car Route is Best?
There are three different SF cable car routes and each has its advantages and disadvantages. Each cable car line is between 1.6 and 2 miles and takes about 25 minutes, not counting wait time.
Powell/Mason Line
South Terminus: At the Powell street turnaround at Market Street.
North Terminus: At Taylor and Bay a few blocks south of Pier 39.
Pros: If you start at the Taylor end, the lines to ride are faster than the Hyde line. It's near Pier 39.
Cons: It's less scenic than the Hyde line and the lines on the Powell end can be slow.
Take the Mason line from the south end if you want to visit Fisherman's Wharf and Pier 39, or from the north end if your time is tight and you want a shorter wait time.
Powell/Hyde Line
South Terminus: At the Powell street turnaround at Market Street.
North Terminus: At Beach and Hyde near Ghirardelli Square.
Pros: The most scenic of the three routes. The northbound routing has glimpses of the Golden Gate Bridge, Lombard street, the bay and Alcatraz.
Cons: As the most popular route, the lines can be long and slow.
Take the Hyde line if you want to go to Lombard street, for the best views, if you want to visit Ghirardelli Square or the San Francisco Maritime National Park (which is just one of many national parks within or close to SF.)
California Line
East Terminus: California and Drumm near the Ferry Building.
West Terminus: California and Van Ness near Lafayette Park.
Pros: It's an off-the-radar route with low ridership.
Cons: Runs somewhat less frequently and is less scenic.
This is the cable car line to ride if you want a chill time with more opportunity for hanging off the side of the cable car.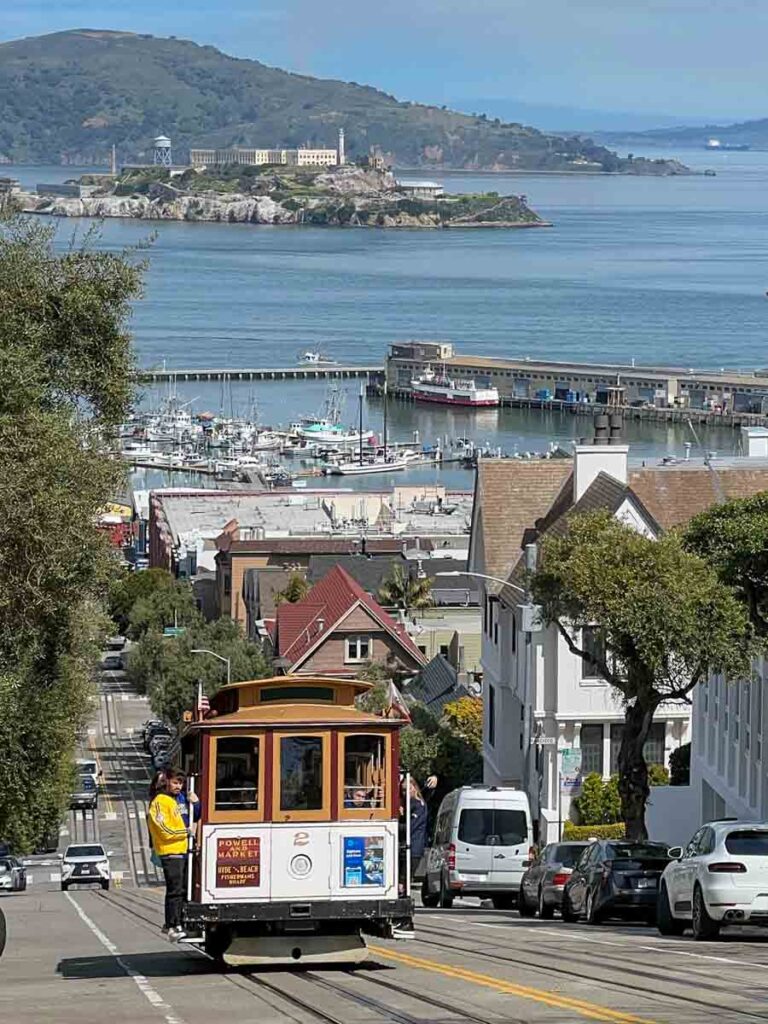 2. How Much Do the Cable Cars Cost (and How Do You Pay)?
Riding the cable car in San Francisco costs $8, for a one-way ride, without transfers. There are no discounts for children or seniors.
However, there are some tourist passes available which are work looking at. A 1-day Visitor Pass on the Muni Mobile app is only $13. So, you can take the cable car and two other muni bus/tram rides and you're ahead. They also have discounted fares for 3 and 7 days.
You can pay for your cable car ride several different ways. If you've downloaded and funded the Muni Mobile app, just have the conductor scan your app. If you've purchased a Clipper Card (which also works on the BART subway and Caltrains rail systems), you can use that as well. You can purchase a plastic Clipper card from kiosk machines or download the app and put the card into your phone's wallet.
If that all sounds too complicated, you can simply purchase a paper ticket at the kiosk at either end of both the Powell/Hyde and Powell/Mason lines. On the California line, you can pay the conductor in cash, but don't bring large bills.
3. What Hours do the Cable Cars Run in SF?
All of the lines start at 7am. The Powell street lines go until 11pm and the California line goes until 9pm.
4. What to Do if You're a Total Trolley Nerd
Are you the type of person who love trolleys, trains and historic conveyances. Yes, we see you, you are seen. And for you, we recommend carving out a good chunk of day to ride all three cable car lines and see the Cable Car Museum.
But don't stop there. You should also check out the "Market Street Railway" Muni line. The entire line is run on refurbished trolly cars from all over the world. You can ride cars from Philly, Dallas, Illinois, St. Louis, and even from as far away as Mexico City, Porto, Moscow, Milan and Kobe. The trolley cars are really beautiful and they make for a fun ride.
The line charges normal Muni fees and it runs from 17th/Castro, way out in the Castro neighborhood, all along Market Street, turning north onto the Embarcadero, and terminating at Pier 39.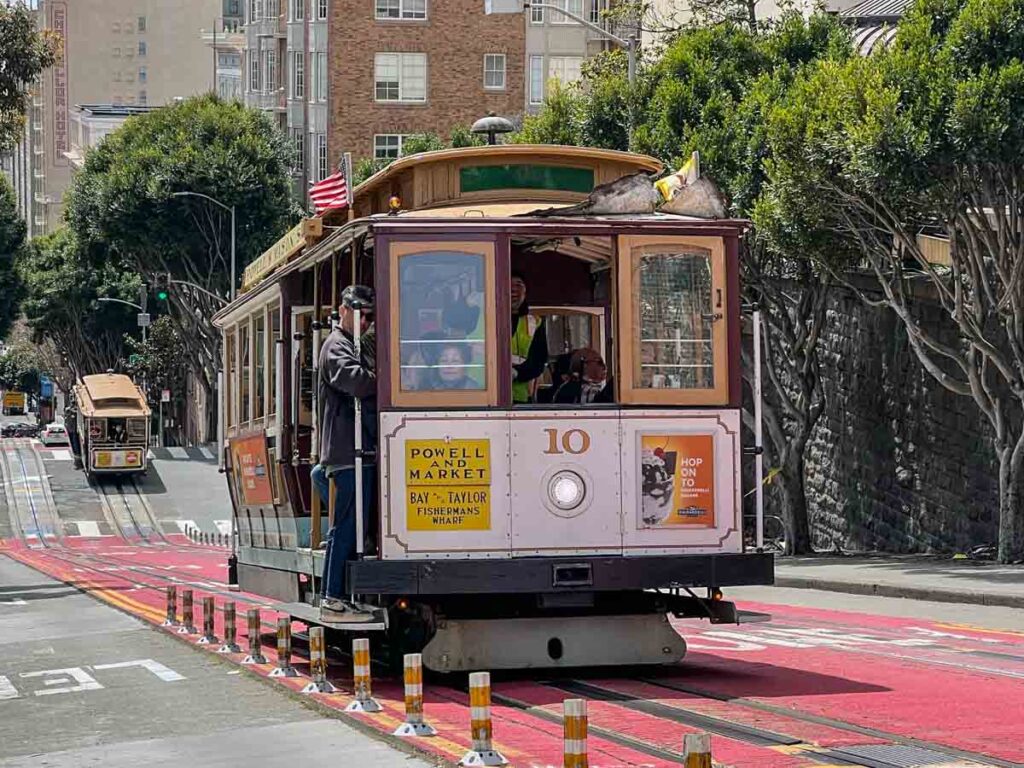 More Fun in San Francisco
Here are some more ideas for fun things to do in San Francisco. Of course, you'll want to visit the Golden Gate Bridge– we have a comprehensive guide for the GG bridge, ways to find the best bridge views and some suggested walks on and near the bridge, parking and fun facts.
If you like hiking and nature, then check out our list of the best walks in SF, hiking the Presidio, the Crosstown walk, and doing the Lands End hike. For some history, we've got suggested things to do in the historic Presidio and also a hiking/history tour of Angel Island state park.
Get off the tourist treadmill with these offbeat things to so in SF, a self-guided tour of the Mission Murals, the city's best indy bookstores, Instagrammable SF, and the hidden mosaic staircases.
4 Fun Tours in SF
Take a foodie tour of the famous Ferry Building and farmer's market. It's a two hour tour with a culinary expert. Check times and book here.
You can experience some of SF' Summer of Love, with a psychedelic mini-bus tour. The two hour tour takes you to a few of the top tourist sites and is delivered with a side dish of cultural factoids and groovy 60's music. Check times and reviews and book it here.
If you're keen to do Alcatraz, you will need to pre-book. It's a very popular (and worth it) attraction and the boats have limited capacity. Pre-book the basic tour here.
Eat your way through Chinatown with this walking (and eating) tour.
Have fun and happy trails!