Independent bookstores are alive and doing well in San Francisco. Find your own new favorite San Francisco bookstore with this guide from a local book nerd and former bookseller.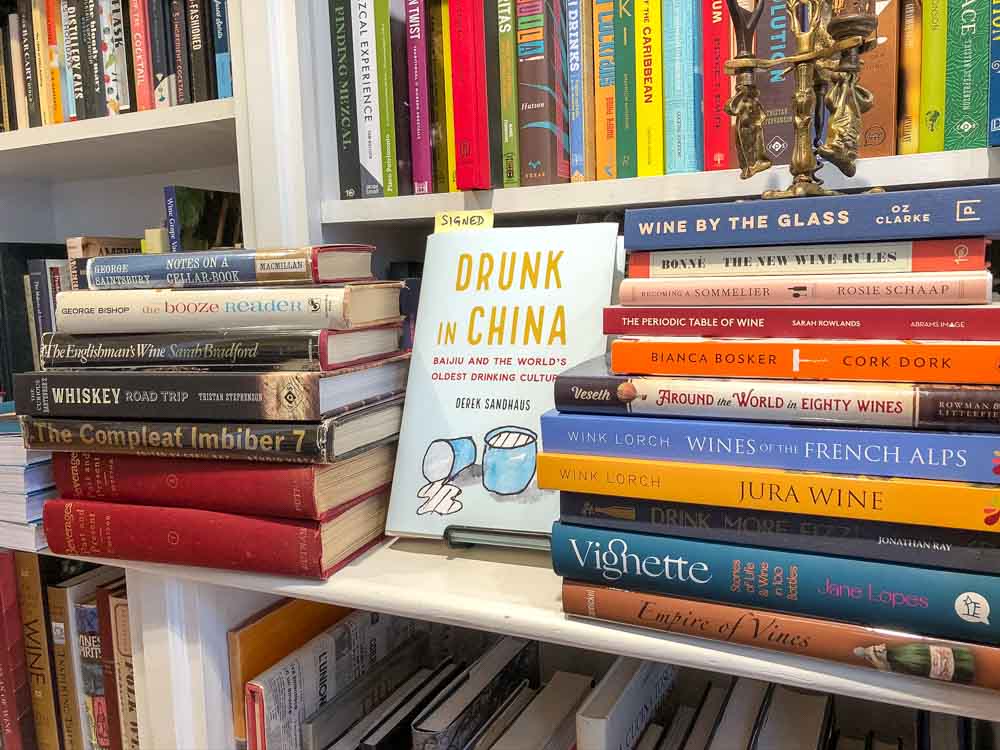 Your Guide to the Best Bookstores in San Francisco
Rumors of the death of the indy bookstores are greatly exaggerated and Amazon doesn't certainly have the last word on what you should read, especially in San Francisco.
Mark Twain honed his writing chops here, as did Ginsberg, Kerouac, Dashiell Hammett and Hunter S. Thompson. There is also no shortage of modern Bay Area authors producing innovative and diverse work, such as Michael Chabon, Dave Eggers, Isabelle Allende and Daniel Handler.
SF overflows with creative literary juice and there are a lot of bookstores here ready to serve it up with expertise.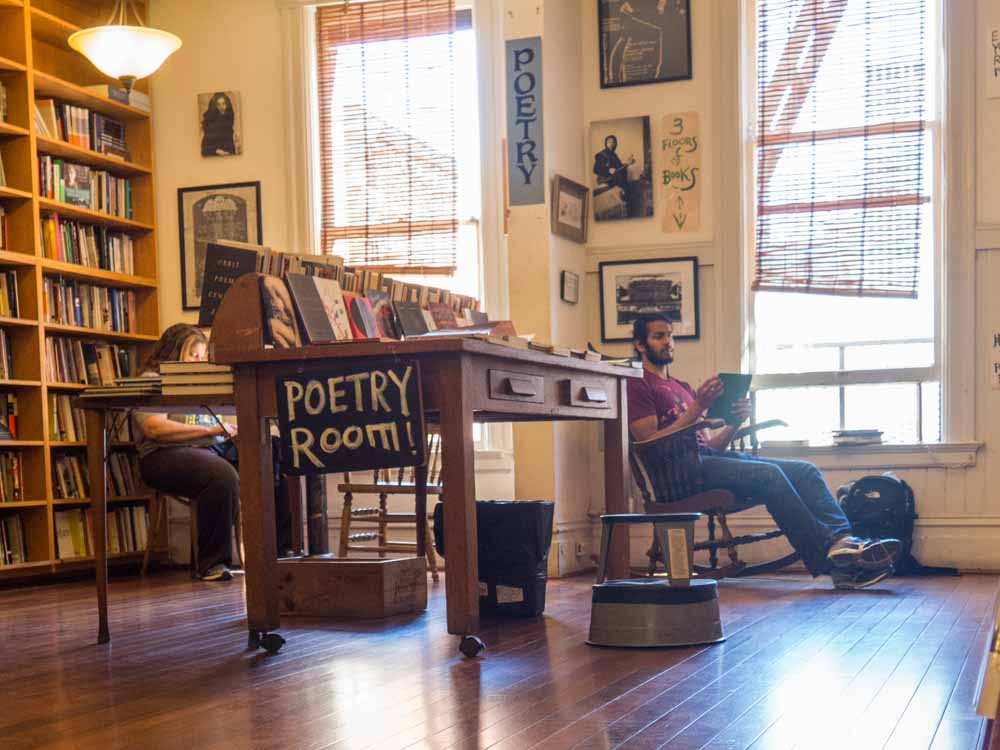 City Lights Bookstore
261 Columbus Ave | North Beach
City Lights is unarguably the most famous bookstore in San Francisco. It was founded in 1953 as a store and performance venue. They gave voice to the Beat Poet movement and it's a touchstone for San Francisco's ongoing counter culture. The store still gives space to ideas that are outside of the mainstream with a poetry room and an eclectic (and sometimes anarchist) collection of staff pics. Wander around, buy a book and then go upstairs to the light filled poetry room and settle into a cushy chair for a good read.
Alternatively, you can take it next door to the Vesuvio bar, which was the chief watering hole for Neal Cassady, Dean Moriarty, Kerouac and other beats. Check out this article that includes other hippie towns in California.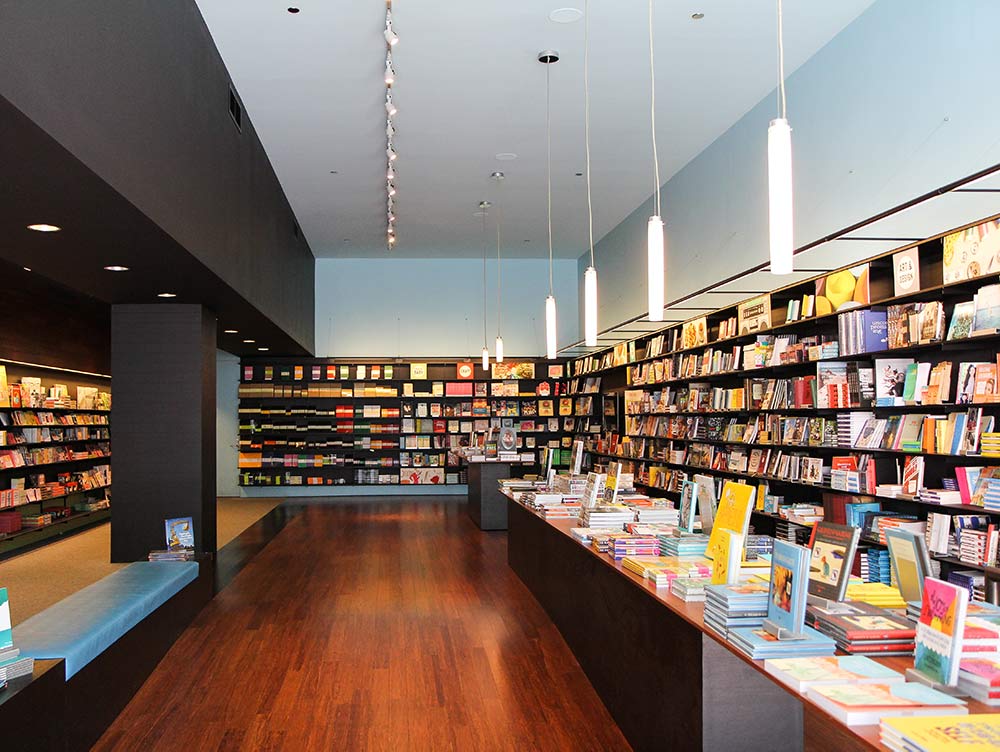 Chronicle Books
680 2nd St. OR 165 4th St | SOMA
Chronicle books is primarily a niche publisher of beautifully designed cookbooks, picture books, book-ish gifts and arcane but surprisingly interesting coffee table books. They aren't afraid to make fun of resident evil; be that the President, Darth Vader or domestic cats.
You can find their books in every other SF bookstore, but they also have a retail presence of their own. The clean, modern stores carry just Chronicle Books. Everything is faced out (or face up on a table), so the store welcomes a casual browsing experience.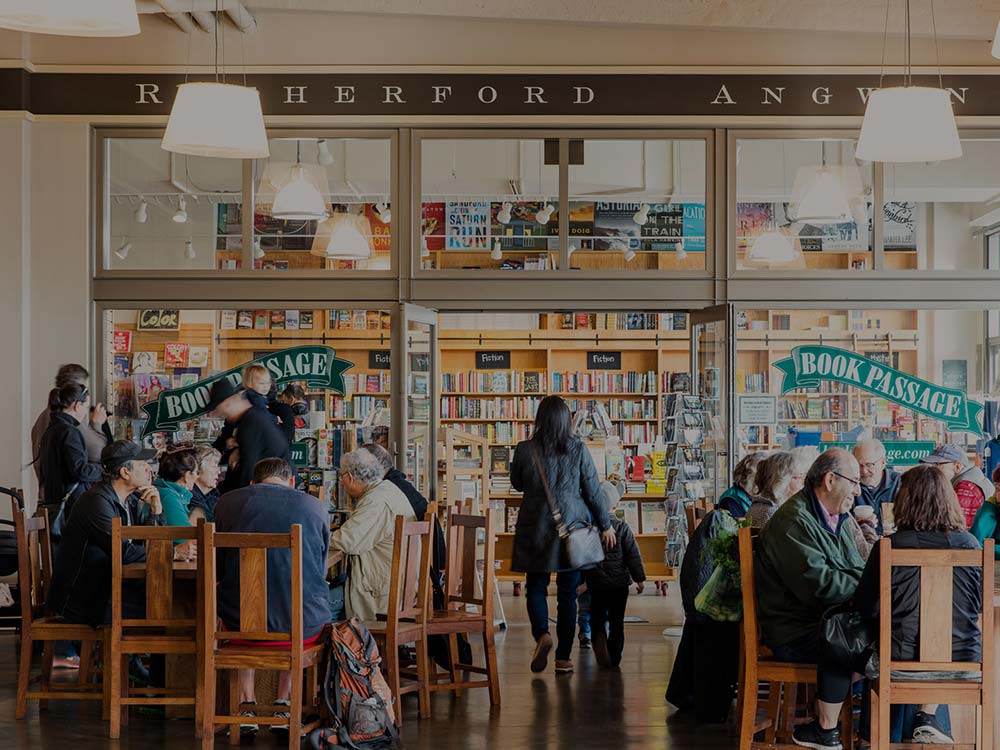 Book Passage
Ferry Building | Downtown
The Book Passage in Corte Madera has been keeping literary love alive for over 40 years. If you are in the North Bay, you should stop in. But they also have a small outpost in the Ferry Building. It's like a smaller version of your favorite neighborhood store. They stocked it with a large table which includes cool new releases but also a well-curated selection of older books that are still worth considering.
They aren't afraid of the political at Book Passage and the store recommends a lot of books that represent current affairs and the progressive sensibility that so defines SF.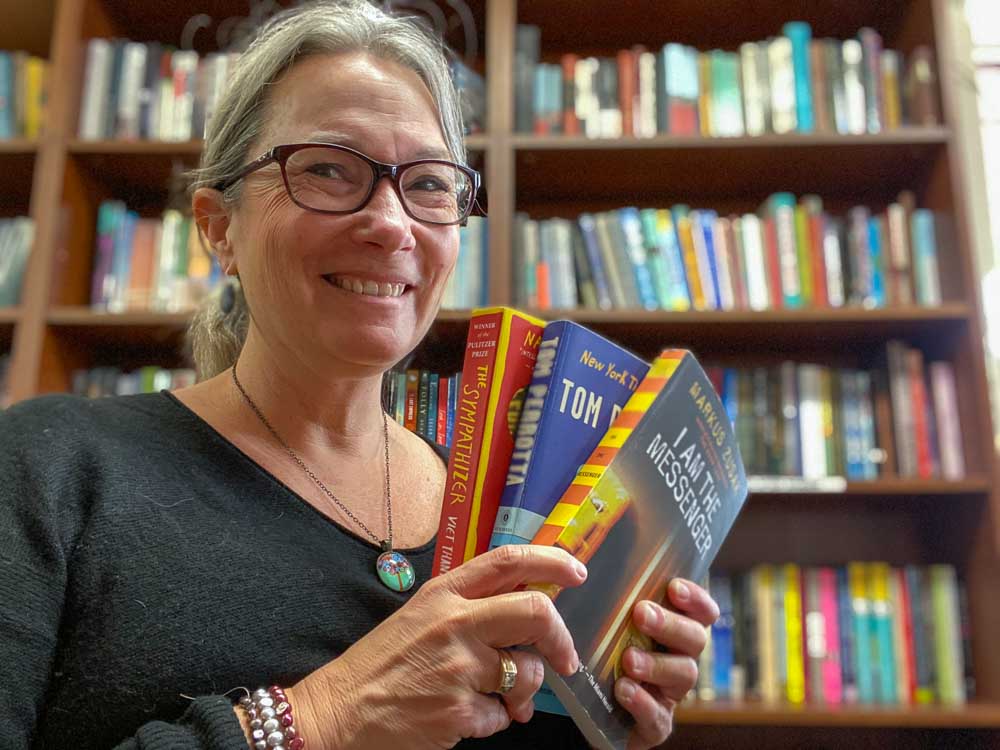 Friends of the San Francisco Public Library Bookstore
Fort Mason | The Marina
Library bookstores are too often a messy pile of weird offerings that no one wants. No so at the Fort Mason branch of the San Francisco Public Library store — it's the best library store I've ever been in and arguably the best used bookstore in San Franciscco.
Sure, they do have some arcane books there, but they also have an excellent fiction and YA section stocked with current and popular titles. They also have an attached cafe with coffee, sweets and panini with a side of free wifi.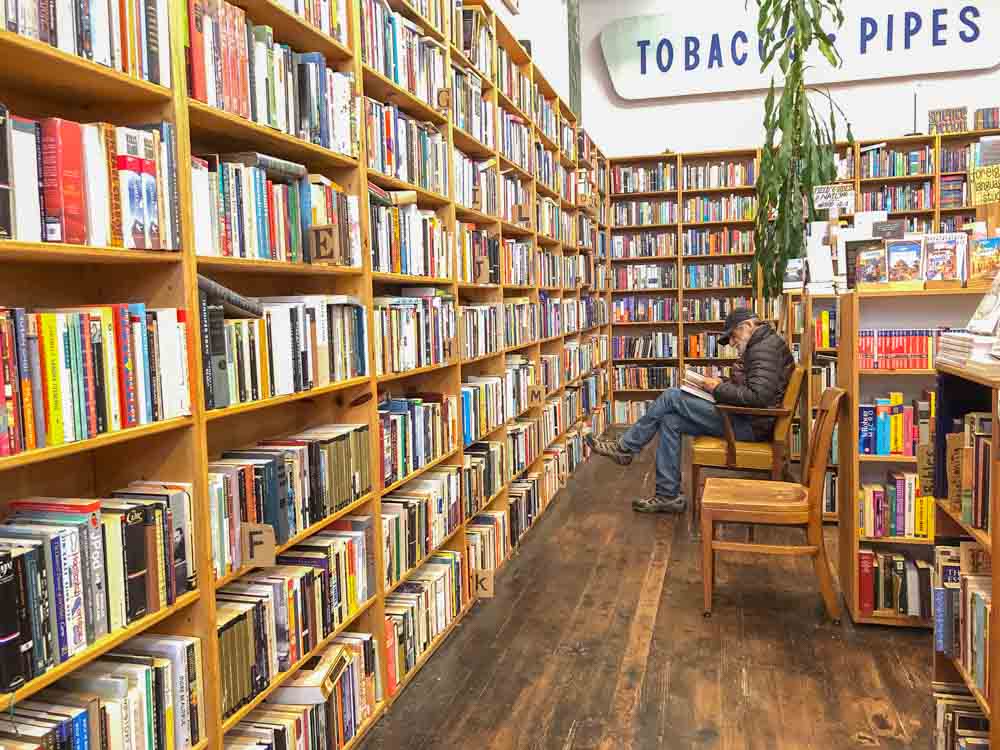 Dog Eared Books
900 Valencia St. | Mission District
Dog Eared Books is a Mission District institution. They are a somewhat smaller store carrying mostly new books but also some used. They don't have piles of inventory, but they do have a well-curated staff-pics table. They are always willing to call out esoteric pics and they feature local authors like those mentioned above. Get your nearby caffeine fix at Blue Fig coffee on 21st.
Borderlands
1740 Haight St. | The Haight
The best San Francisco bookstores also try hard to give you a dose of the otherworldly. Borderlands specializes in sci-fi, fantasy, mystery and horror. It's a nerd's delight with such a large number of specialized titles. You don't even have to leave the premises to get your coffee as they have a cafe attached to the store. They encourage browsing and lounging, which makes it a very comfortable and welcoming place to hang out.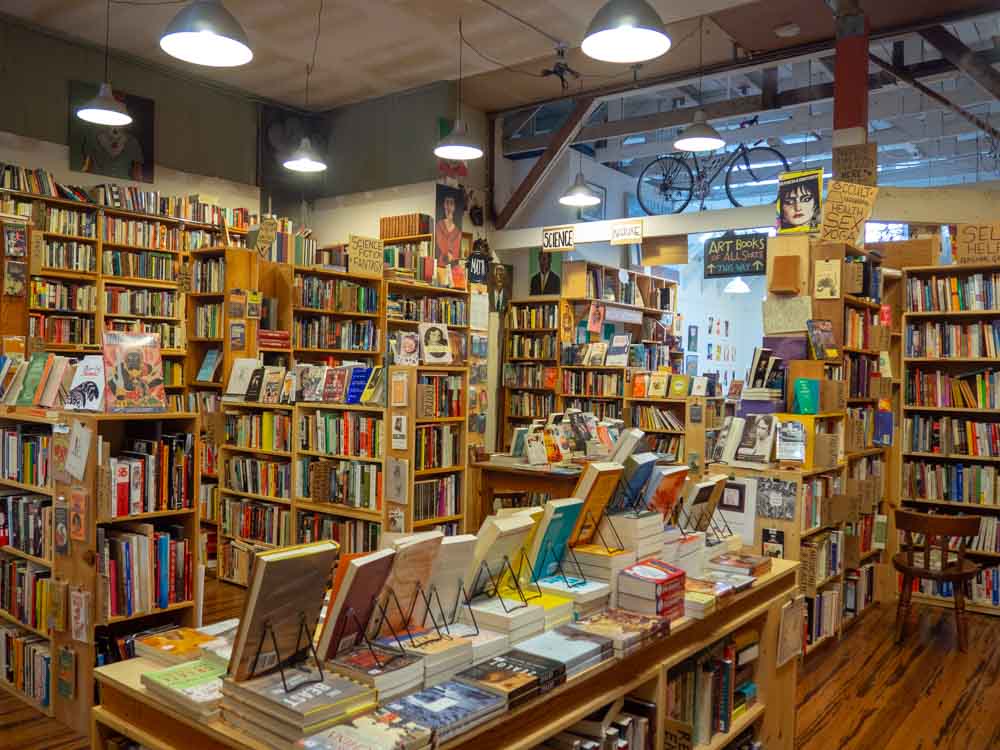 Alley Cat Books
3036 24th St. | The Mission
Alley Cat books will be be easy to visit if you are also taking my street art tour of the Mission as it's located on 24th street right in the heart of the neighborhood. The Alley Cat is a general purpose store and carries a mix of new, used and remaindered books. They also have a cool art gallery in the back. If you are like me, you'll buy a stack of books and want to start reading right away. So head on over to the Philz coffee across the street where you can get a strong cup of individually brewed coffee from one of the 20 interesting choices.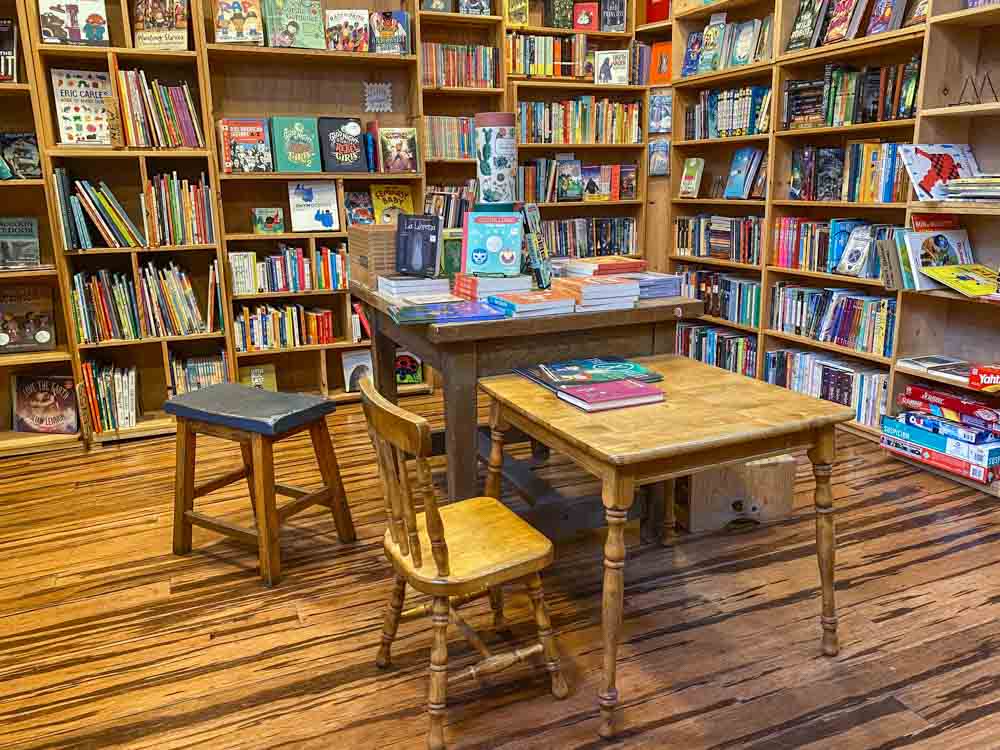 Adobe Books
3130 24th St | The Mission
Adobe is right down the street from Alley Cat, so you can hit up both at once. The store was was founded in 1989 and they threw open their doors to authors, artists, musicians and anyone else looking for a comfy couch and good books. They have an unusual business structure and they run on volunteer power as a Co-op. Adobe is a down home store with a wide selection of quirky used books and a cute children's section. In 2001, they devoted their backroom to art space and they host a series of rotating exhibits from local artists.
Booksmith
1644 Haight St. | Haight Ashbury
Booksmith has been holding down the fort in the Haight for thirteen years. They're a great neighborhood store with excellent staff pics tables. They have a strong local ethic and carry a lot of titles from local authors. The store oozes creativity with staff who moonlight as authors, poets, journalists, illustrators and podcasters,
Booksmith isn't just a bookstore, it's a lifestyle. In addition to recommending your next great read, they also host a series of events at The Bindry, which is down the street from the store. They also have a deal going with nearby Alembic bar and they run Kepler's Bookstore in Menlo Park (which is my favorite Peninsula bookstore).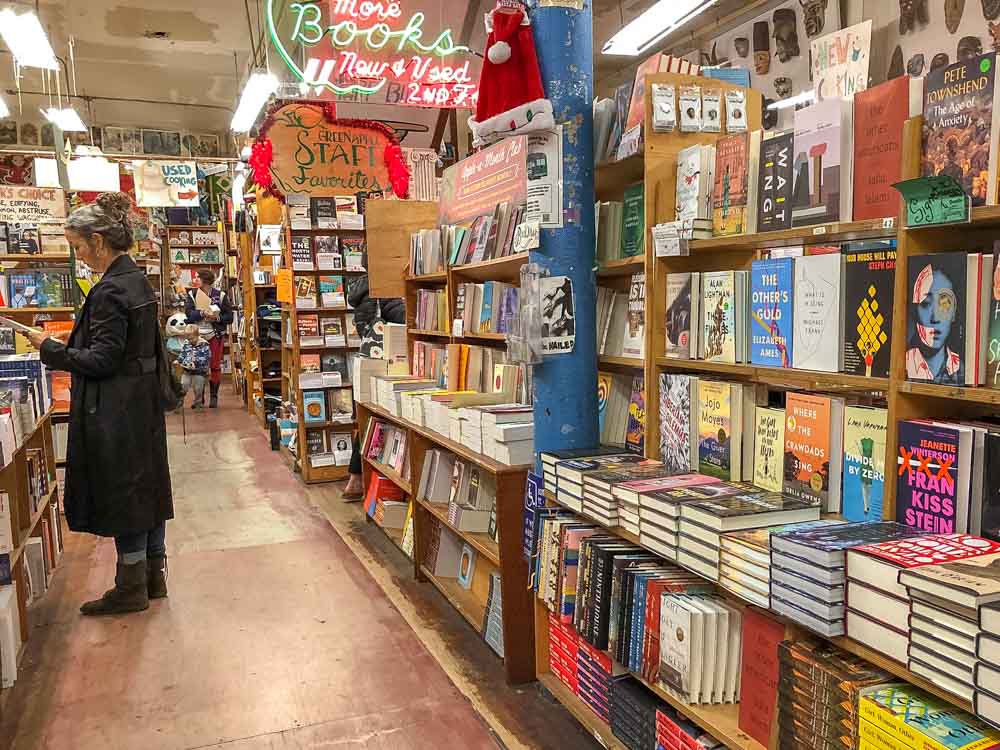 Green Apple Books
506 Clement St. | Richmond District
Ask any of the other booksellers on this list about their favorite SF bookstore and most will mention Green Apple. The store was founded in 1967 and has managed to hang on through all of the ups and downs of the independent book business.
They are the undisputed largest bookstore in San Francisco with 8,000 square feet of space in their flagship location. The store overflows the full depth of the main building, fulling multi-story nooks and crannies before busting out into the street and sliding two doors down, filling yet another building.
They have a healthy mix of new and used books in all subject matters. If they don't have it, do you really need it?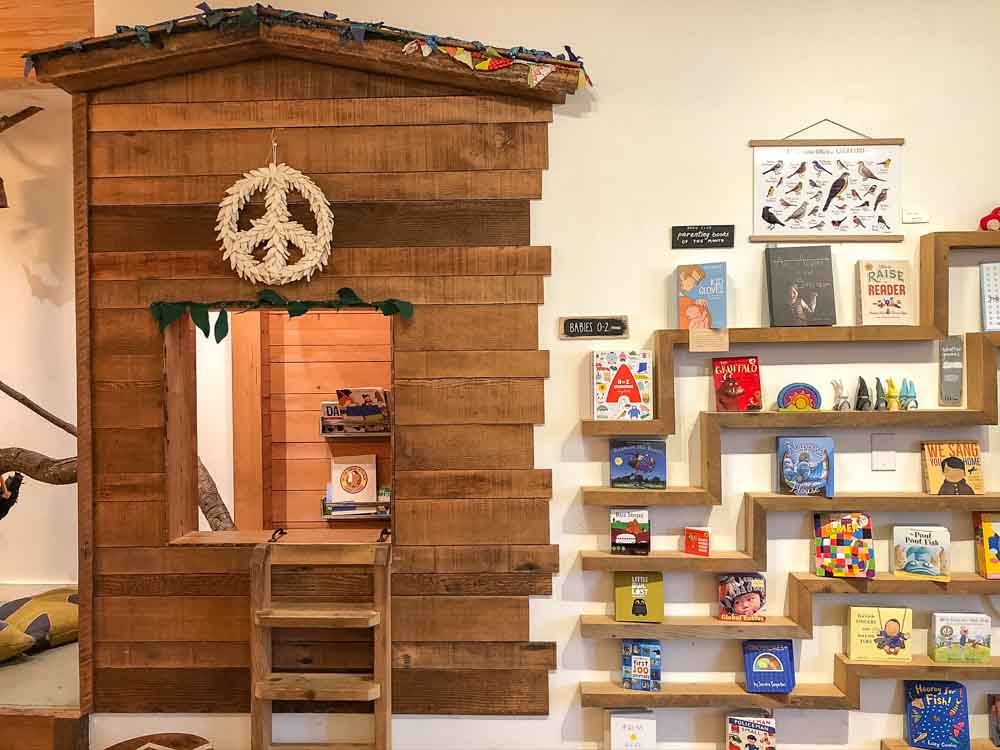 Blackbird Bookstore
4541 Irving St. | Outer Sunset
Blackbird provides quality reads in the deep western edge of SF. It has the friendly feel of a neighborhood store, but they aren't trying to do everything.
They offer a very carefully curated selection of fiction and non-fiction for adults and children. All of the books are faced-out, making for a comfortable browsing experience. Their selections are the kind of thoughtful books that your office water cooler buds or book club will want to talk about.
Omnivore Books on Food
3885 Cesar Chavez | Noe Valley
Pack a snack when you visit Omnivore because this store is all about the cookbooks and it will surely make you hungry. Omnivore does all the things required of a great indy bookstore: author events, staff pics, signed editions and a book-of-the-month club. And, they are successful at it, so don't let anyone tell you that niche indy bookstores are dead. Omnivore is passionate about food and it shows. They easily handled my gift requests for a Jacques Pepin fanboy and a busy working woman who is nervous about cooking.
The owner and I bonded over the fact that whenever we visit a bookstore or library, we can control ourselves and always make up our own displays. I call it "literary misdemeanors" and have performed them in Salt Lake City, Chicago, London and Dublin bookstores.
If you are nuts for cookbooks, then you should also check out our guide for 13 tasty California cookbooks.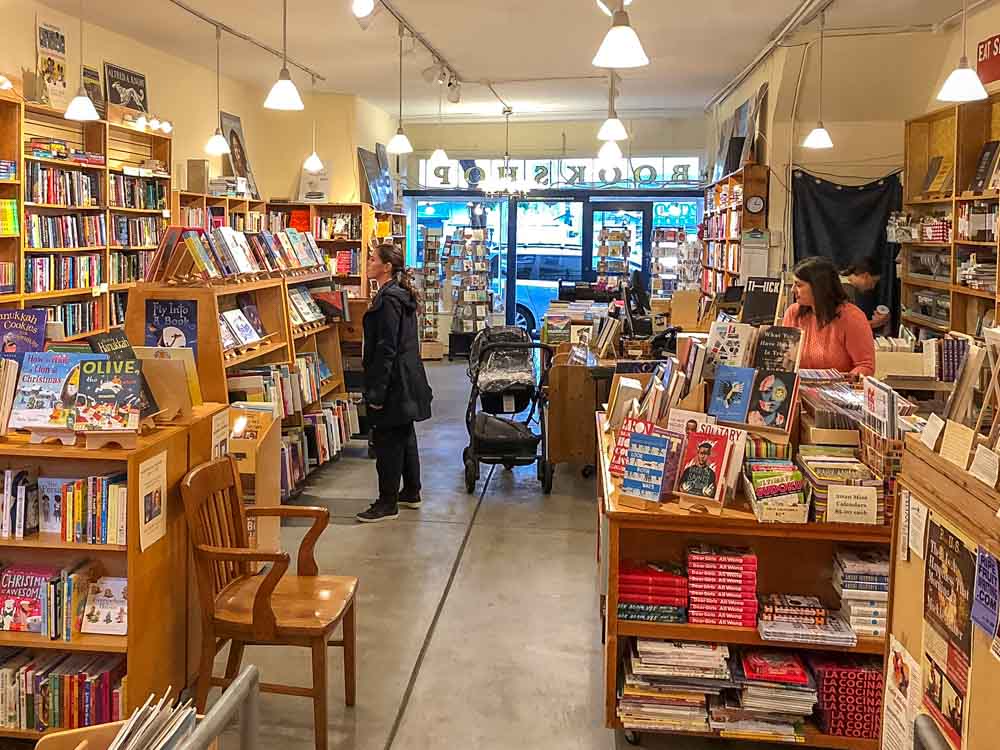 Folio Books
3957 24th St. | Noe Valley
If you need something more adult, head into Folio Books. They are just up the street from Charlie's. They've been in Noe Valley for four years and are a great all-around neighborhood bookstore.
They have an interesting event roster with author signings, in-progress book readings and a book club.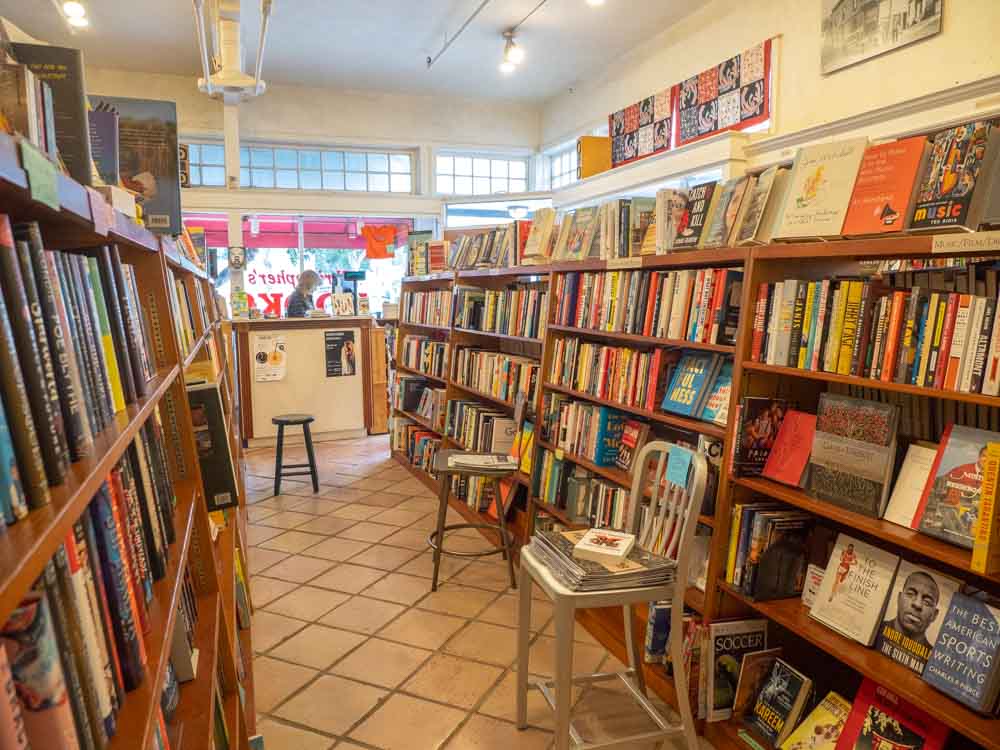 Christopher's Books
1400 18th St. | Potrero Hill
Christopher's is another dedicated neighborhood bookstore. They've been around for 28 years and have managed to keep it going with a loyal Potrero Hill clientele and a generous landlord.
They have wide range of titles and a lot of what's hot. Their staff is knowledgeable and opinionated. They'll tell you if a book is worth buying or just "meh", and they are thoughtful about their recommendations.
Once you load up on books, head across the street to Foley's coffee and dig into your stash.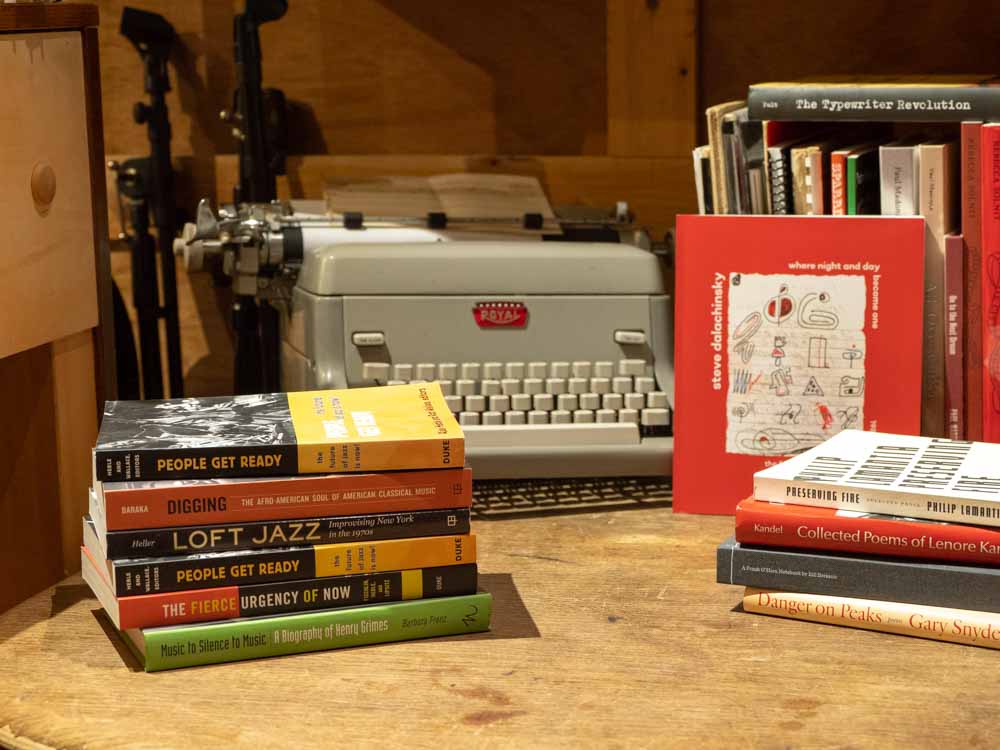 Bird & Beckett Books & Records
653 Chenery St. | Glen Park
At first glance, Bird & Beckett looks like a cozy local bookshop, but it's really much more than that. They carry a dizzying collection of new and used books with a heavy emphasis on non-fiction and poetry. It's the sort of store where you have to stroll the stacks slowly and wait for something to fall into your hands.
The store also marries books and music with local jazz nights. Every Friday and Saturday, they feature local jazz musicians. Well known traveling acts book in on weekdays. And, they also host poetry readings twice a month. Check out their event calendar to see the full list.
Browser Books
2195 Fillmore St. | Pacific Heights
Browser books is currently experiencing a transition, and hopefully a renaissance. They were a tight little, overstuffed store on Fillmore. However, a recent purchase by Green Apple is bringing about changes and the staff and local neighbors are hopeful that the store will surge back.
They have a good mix of fiction and non-fiction with some fun staff pics at the check-out desk. They will be devoting more shelf space to face-outs, which is a trend in the indy bookstore world. Good cover art sells books, making the browsing experience less an archaeology dig and more like a treasure hunt. Stop in and give them a boost.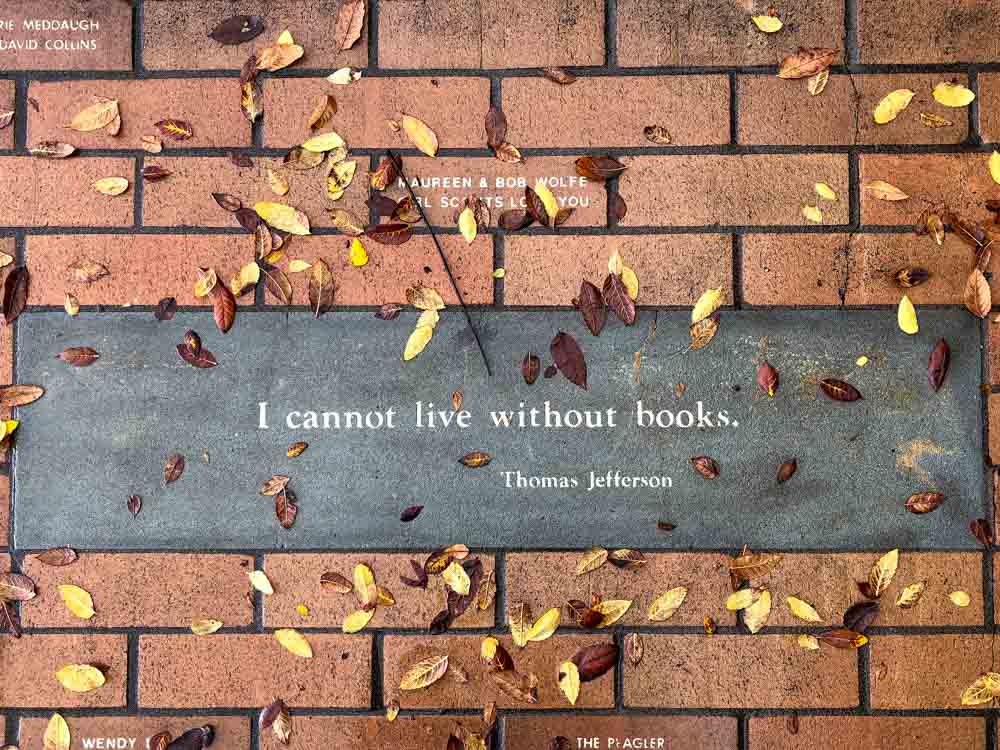 San Francisco Bookstore Map
Find your new favorite SF bookstore using this handy map:
READ MORE BOOKS: Get inspired by San Francisco with this curated list of novels set there. And then plan visit with these offbeat San Francisco guidebooks.
Other Literary Delights in SF
These SF bookstores are great, to be sure, but you should also check out some of these other literary delights.
The San Francisco Center for the Book offers inspiration in the book arts world featuring the art & craft of letterpress printing, bookbinding, and artists bookmaking.
The Mechanics Institute is one of the oldest libraries in SF. They have a library collection and a beautiful curved staircase (which you can see on tour).
The San Francisco Library Main Branch (at Civic Center) has regular exhibitions and literary events.
The Bookbinders Museum celebrates the history, tools and process of bookbinding with tours Tuesday-Saturday.
Visit the Beat Museum in North Beach.
You can chase down Jack London's old haunts in SF and Oakland.
If you are in the city in October, attend some of the Litquake events.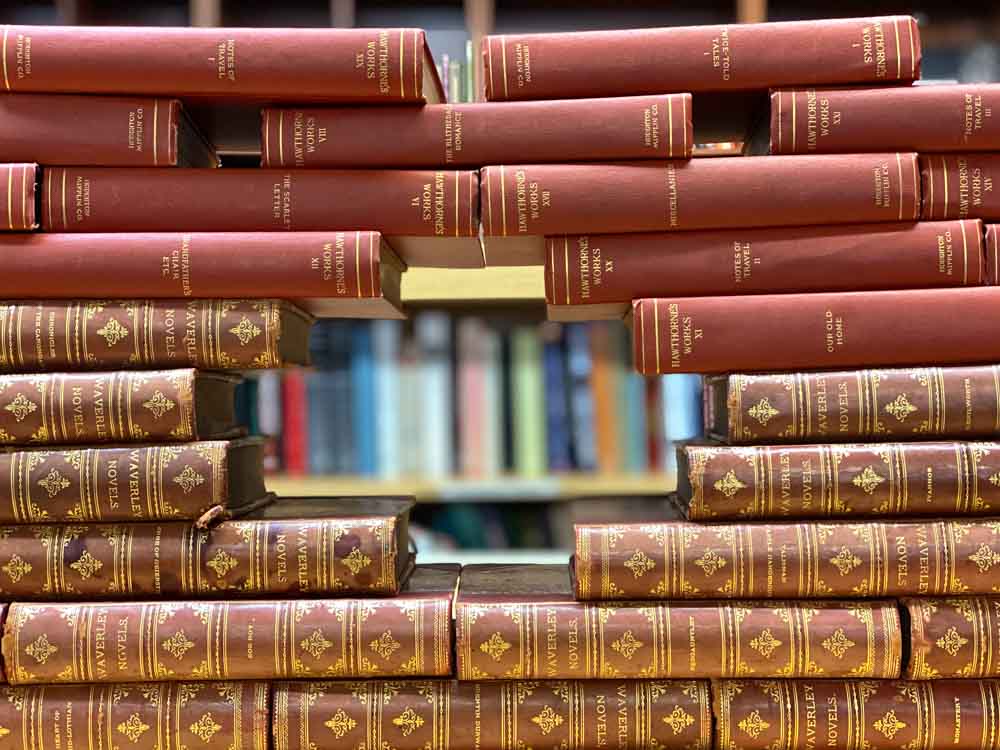 Explore More of San Francisco
Plan Your Trip to SF
Save time planning your trip to SF with these insanely useful links:
Share your fave bookstores in San Francisco with your Pinterest friends: