Find the best places to stay in San Francisco to fit your budget and your vibe with this very thorough neighborhood guide to hotels and accommodation.
I live in the San Francisco Bay Area and know the neighborhoods. So, you can trust me to help you figure out where to stay in San Francisco. SF may be just 45 square miles but it has a lot of great neighborhoods and accommodations and picking a spot can be tricky. This thorough guide will help you figure out your own best location to stay in San Francisco based upon your personal needs, interests and budget.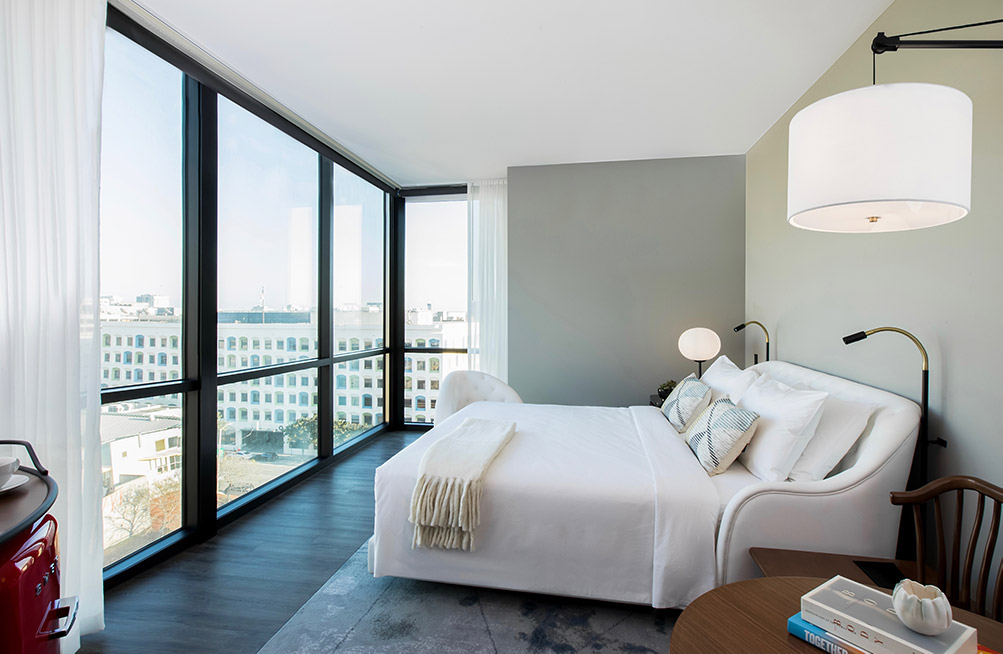 Do you need a family sized room? Are you on a budget? Do you want something stylish? Do you crave great food? Don't worry, you can find what you need. Each section of this guide has a neighborhood overview, three hotel suggestions and three ideas for fun things to do while there.
Find your own best area to stay in San Francisco by scrolling through the list of neighborhoods.
Overview of the Best Areas to Stay in San Francisco
The Best SF Hotel Neighborhoods
The Best SF AirBnB Neighborhoods
Map of Where to Stay in San Francisco
This map is outlines great neighborhoods in SF along with locations for some specific hotels.
The Very Best Neighborhoods to Stay in San Francisco
The Financial District, Union Square and SOMA neighborhoods carry the highest density of hotels in San Francisco. These three neighborhoods are where you should stay in San Francisco if you are prioritizing choice and convenience and we recommend them in our first timer's guide to SF.
All three are close to many popular sites and are easily accessed by the BART subway or MUNI bus system. We have some guidance on whether or not you should rent a car in SF. And if you aren't renting a car, here's a helpful article on how to get from SFO airport to downtown San Francisco, from Oakland airport to SF, and how to get from San Jose to SFO.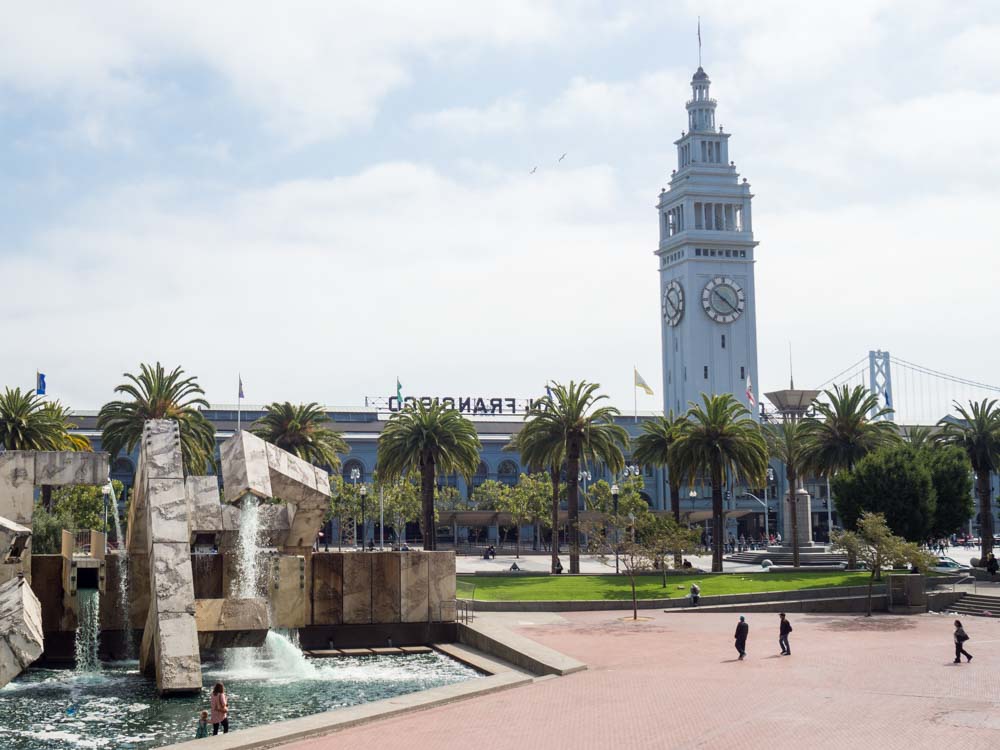 (This article contains affiliate links. This means that if you choose to purchase, I'll make a small commission.)
The Best Places to Stay in SF's Financial District
The Financial District has a cluster of four-star chain hotels catering to the business traveler, but the location is also good for the leisure traveler because of its central location. There are some great bars and restaurants in the neighborhood, especially at the Ferry Building, and it's easy to access public transportation to anywhere in the city.
Pros: Central location and access to public transportation.
Cons: The hotels are typically pricier and many don't offer much flair. Quieter at night.
3 Fun Things to do in the Financial District
Get your hands all over science at the Exploratorium.
Eat dinner at the amazing Kokkari Greek restaurant and then work off dinner with a stroll along the Embarcadero.
Historic Icon: The Palace Hotel
"You will get a taste of what royalty must feel like"
The Palace was built in 1875 as San Francisco's first premier luxury hotel. They have a stunning ballroom and lobby and they offer old-school services such as a signature tea and brunch.
Check reviews and rates at Booking.com.
4 Star chain hotel: Hyatt Regency Embarcadero
"Great lobby, great room, spectacular interior design"
The Hyatt is notable for its huge vaulted lobby and comfortable bar space. The hotel is attached to the Embarcadero shopping mall and there are quite a few good restaurants within a few blocks.
Check reviews and rates at Booking.com.
Good Value: Club Quarters Hotel
"Friendly and welcoming"
The Club quarters hotels offer similar services to the larger chain hotels but often at a better value. This one has a variety of room types, some with a kitchenette which could work for a family or an extended stay.
Check reviews and rates on Booking.com.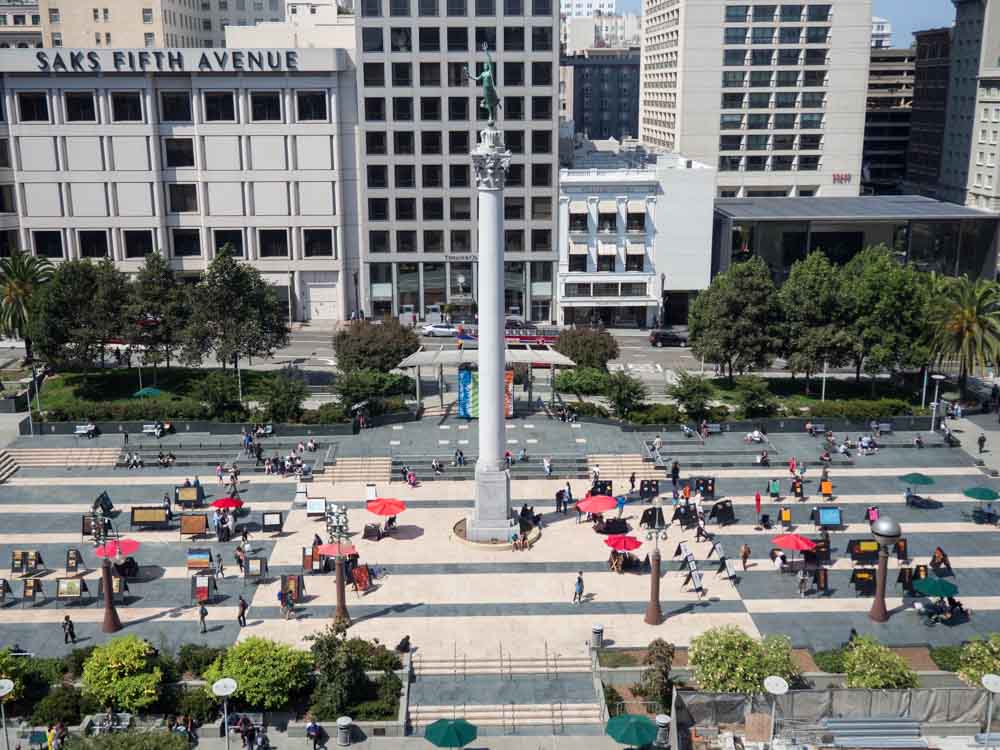 Where to Stay in SF's Union Square
For sheer hotel options, Union Square is one of the best places to stay in San Francisco. Before moving the to Bay Area, I used to travel here frequently and always stayed in Union Square. It has are over fifty hotels offering a wide range of style and budget. Union Square is well located for public transportation and is at the center of some of SF's most popular sites.
Pros: Centrally located with fun shopping, good restaurant choices and walkable to many museums.
Cons: There are a LOT of people panhandling in Union Square and the further west of Taylor street you go, the worse it gets. The neighborhood is very busy and the area around the Powell street cable car turnaround gets very clogged.
3 Fun Things to Do around Union Square
Spend your paycheck by going shopping at Nordstrom, Neiman Marcus, Macys or the flagship Apple store.
Revisit prohibition and have a drink at the Bourbon & Branch speakeasy.
On a nice day, hang out on the square and eat lunch outside.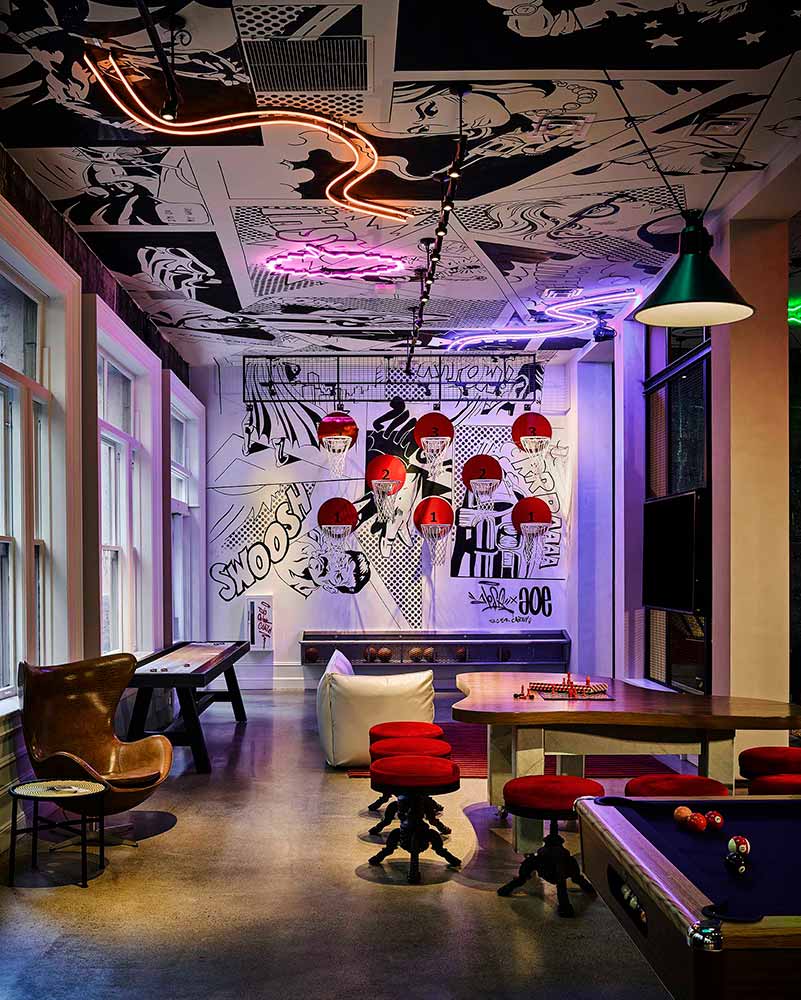 Luxury Boutique: Warwick San Francisco
"Nice little boutique hotel"
74 classic rooms done up in a clean, modern style with an on-site tapas bar and nearby theaters. Check their site for offers like a complimentary drink or free breakfast.
Check reviews and rates at Booking.com.
Rock and roll vibe: Zeppelin Hotel
"Coolest hotel in the city"
The Zeppelin bills itself as an "urban avant garde nirvana", which you can enjoy while hanging out in their game room and sipping your complimentary welcome beverage.
Check the site for special offers. See reviews and rates at Booking.com.
Modern Budget: Herbert Hotel
"The room was sparse but clean and comfortable"
The Herbert is in a central location on Powell street with clean modern rooms. What more could you ask for $89/night?
Check reviews and rates at Booking.com.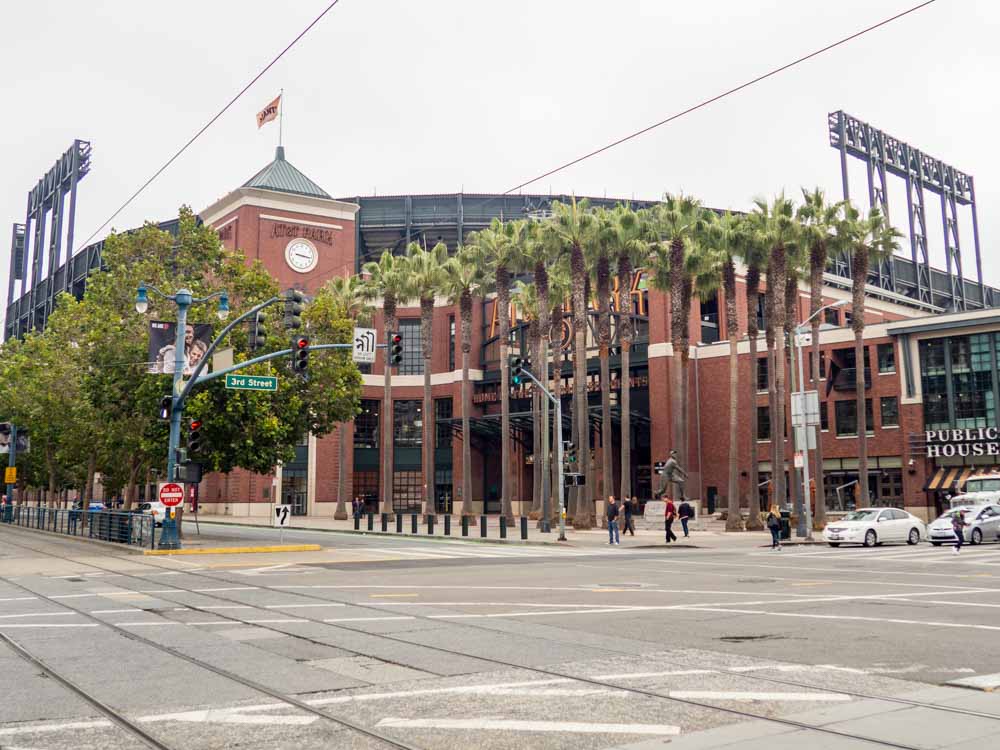 Where to Stay in San Francisco's SOMA Neighborhood
SOMA used to be a gritty warehouse district but it has been transformed by the dotcom boom and the development of the Giant's stadium. It's now a hipster heaven with museums, brew pubs, retro bowling, pocket parks and coffee shops.
Pros: Close to public transportation, particularly the Caltrain station. Great walking along the Embarcadero. Lots of restaurant choices.
Cons: Most of the hotels are clustered along Market street. Parking is tricky, especially during baseball season.
3 Fun Things to do in SOMA
Get photography inspiration at both SFMOMA and Pier 24.
Go to a San Francisco Giant's Game.
Go retro with a round of bowling at Lucky Strike.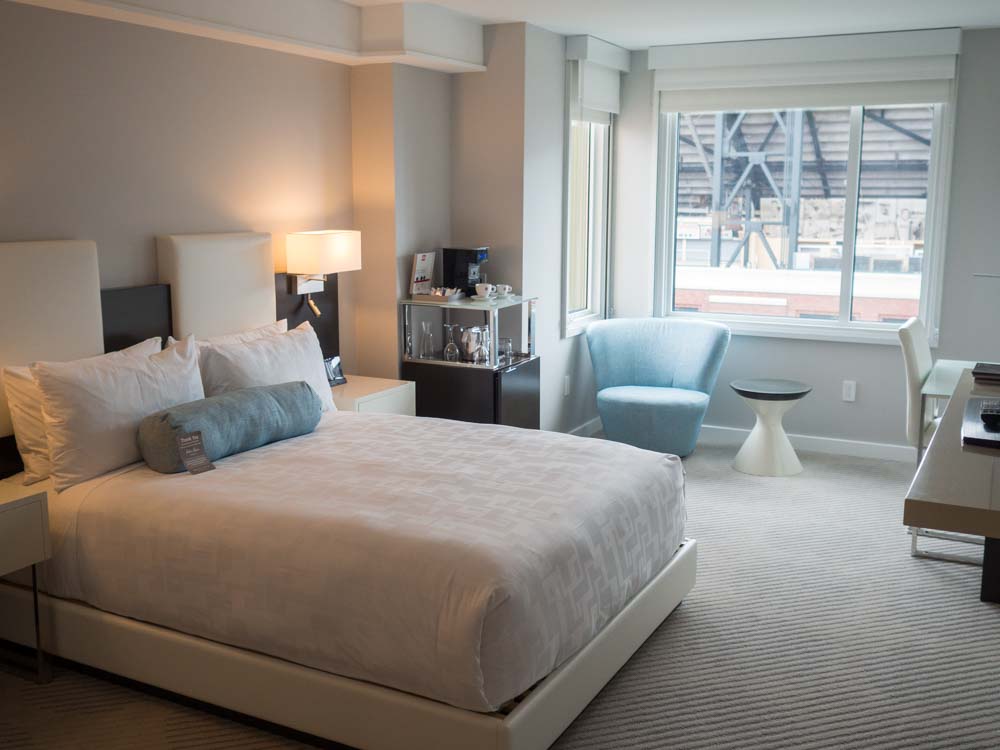 Fabulous roof deck: Hotel Via
"Right across from the ballpark!"
The Hotel Via is the only hotel in the southern part of SOMA. It's perfectly situated for the ballpark and warehouse district. They have a rooftop deck with expansive views of the ballpark and the bay.
Check reviews and rates at Booking.com.
Great location and a rooftop deck: Virgin Hotels
"…magnificent environment"
Virgin's new property in SF is conveniently located near the Moscone convention center and lots of public transportation. The rooftop bar has killer views of SOMA and the Bay.
Check reviews and rates at Booking.com.
Small Inn: Hotel Griffin
"Cozy and convenient"
The Griffin is a boutique hotel with a European flair. Some of the rooms have a scenic bay view and they do not charge stupid resort fees.
Check reviews at Trip Advisor..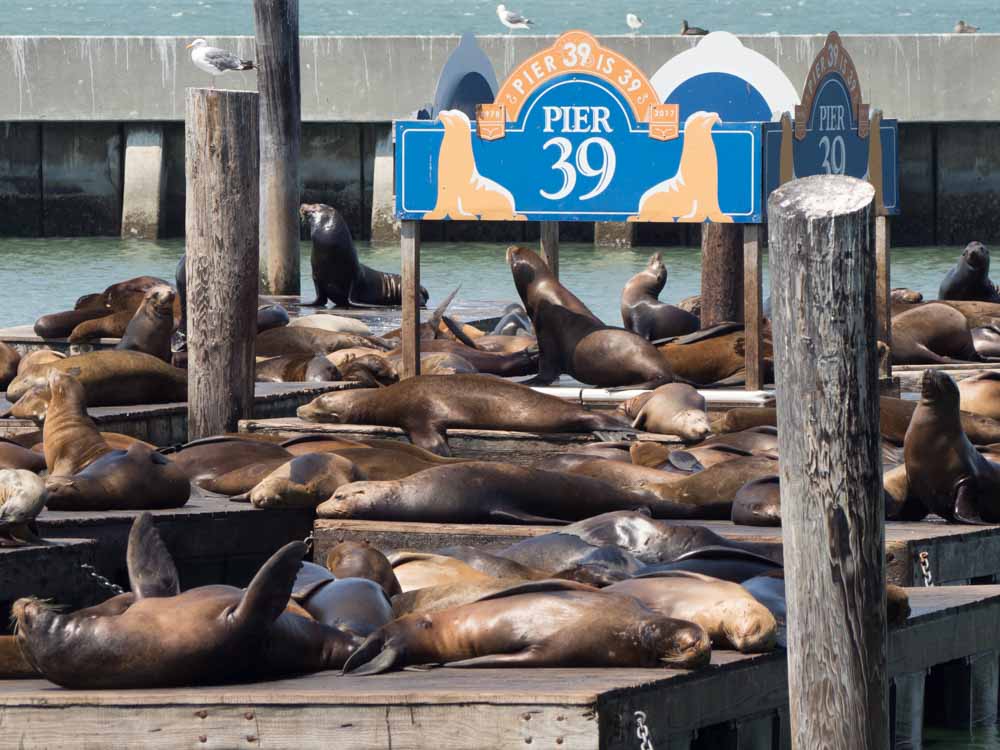 Where to Stay in Fisherman's Wharf
Not gonna lie, Pier 39 is not my favorite area in San Francisco. It's clogged with tourists, pickpockets and bad food. But it's one of the most popular tourist sites in San Francisco, particularly with families. Pier 39 doesn't have a ton of hotels, but staying in this area of SF will serve a range of budgets, including some family friendly options.
Pros: Lots of fun stuff for kids to do. From the wharf, it's easy to get to other parts of the city using the cable car or street trolleys.
Cons: Very crowded with tourists. The restaurants in this neighborhood aren't worth it, go up to North Beach to eat.
3 Fun things to do in the Fisherman's Wharf
Take the ferry over to Angel Island State Park. Hiking around the island will give you 360′ views of the bay and you can explore historical sites from San Francisco's history.
Visit Alcatraz island. Alcatraz was not only a prison, but it was also the site of a major Native American civil rights protest. The tours are excellent and the views of the bay go for miles. But it's very popular, so book ahead.
Visit the resident population of sea lions who live at the end of the pier.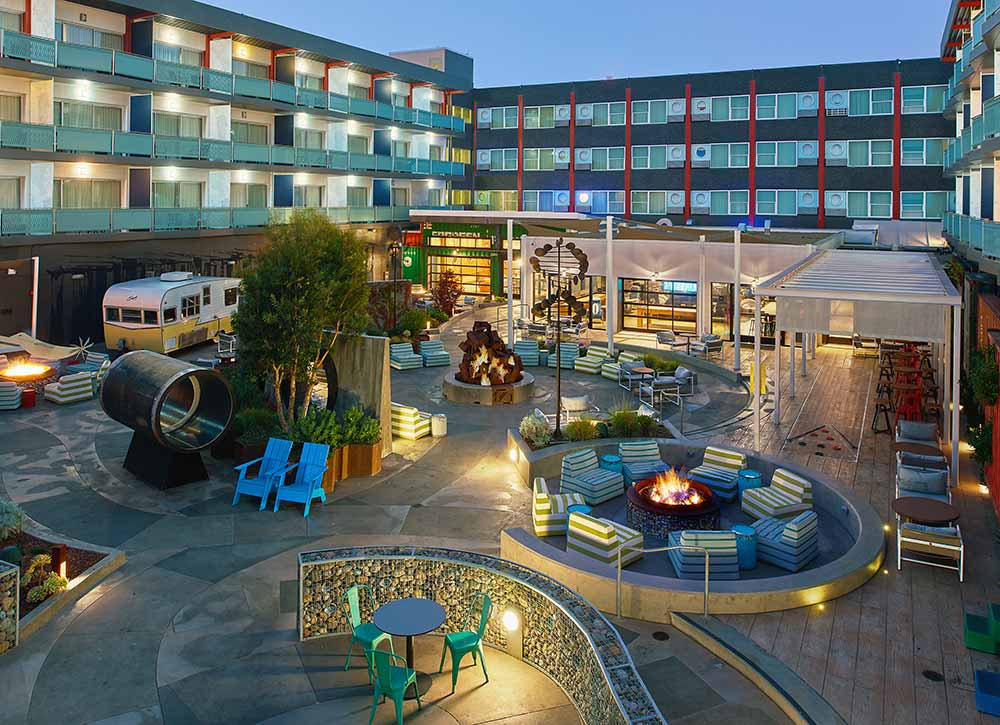 Luxury: The Fairmont Heritage Place, Ghirardelli Square
"Perfect location, amenities and staff"
The Fairmont is set right on the wharf with great views overlooking the bay. They offer 24 hour butler service, an outdoor terrace and some residential-style rooms with full kitchens.
Check reviews and rates at Booking.com.
Family Friendly: Holiday Inn Express Fisherman's Wharf
"I definitely recommend this hotel for families…"
The Holiday Inn/Express offers families a free hot breakfast, family-sized suites and access to the pool at their sister hotel.
Check reviews and rates at Booking.com.
Hip & Funky: Hotel Zephyr
"..several fire pits, cool sculpture and a food truck…amazing!"
This hotel won a Conde Naste Traveler reader's choice award in 2016. They have a playful decor, goofy outdoor deck and they are pet-friendly.
Check reviews and rates on Booking.com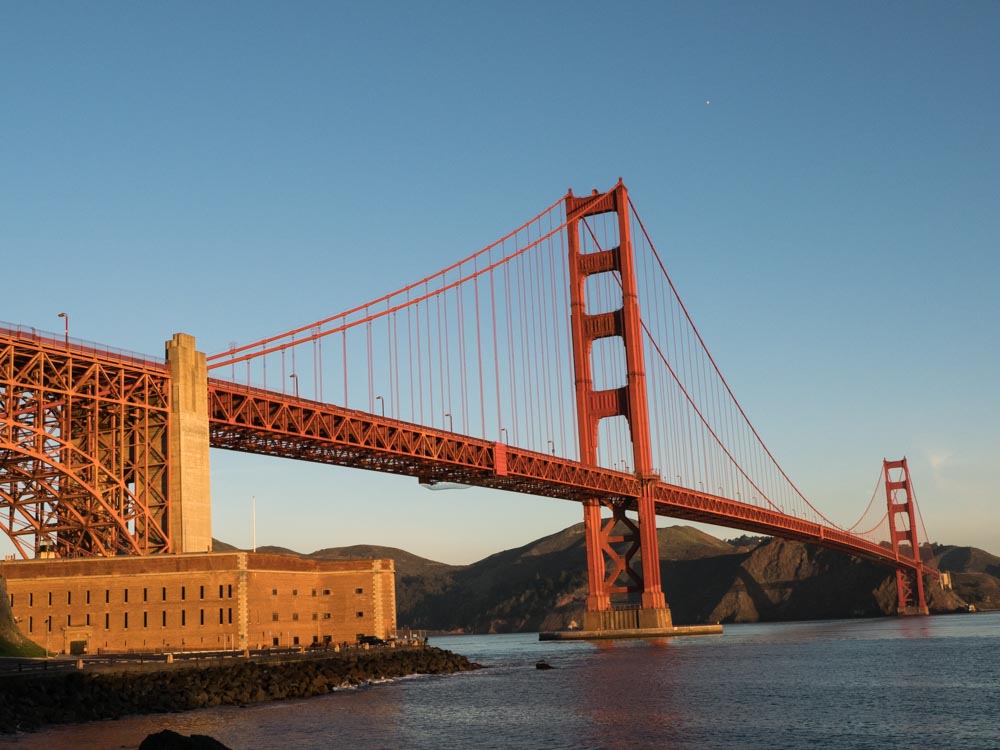 Where to Stay in SF's Marina Neighborhood
The Marina is a residential neighborhood right on the bay. It doesn't have fancy hotels but it's well stocked with modestly priced motels, many with parking.
Pros: Less expensive than other parts of the city, available parking, fun restaurants and boutique shopping scene.
Cons: Getting to many popular sites without a car will require using the bus, often with a transfer.
3 Fun Things to Do in the Marina
Eat, drink and shop on Chestnut street. Walk just one block north of the gauntlet of motels on Lombard and you can kill an evening strolling bookstores, boutiques, bars and bakeries.
The Off the Grid food truck scene is one of the coolest things to so in San Francisco. On Fridays in the summer, over 30 foot trucks set up in Fort Mason.
Stroll Crissy Field along the bay. You can learn about the aquatic ecosystem at the Pacific Coast Federation and pop into the Warming Hut Cafe. If you want to do some mileage, keep going up onto take a walk over the Golden Gate bridge (1.3 miles one way). For more bridge info, check out this full guide for how to visit the Golden Gate Bridge, which includes a ton of logistical info like when and how to visit, where to park, and nearby cool things to do.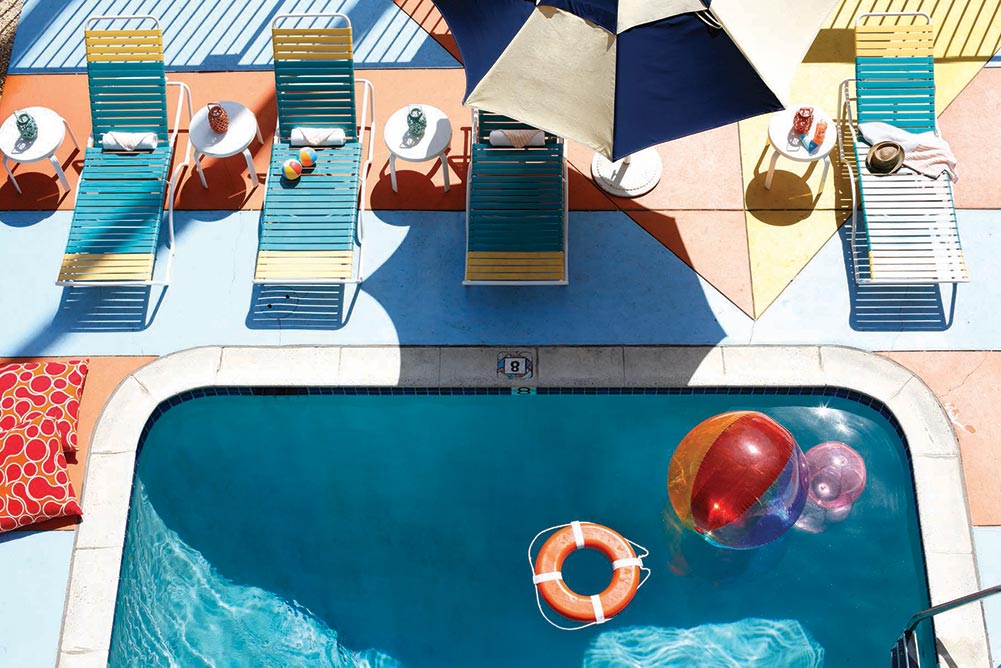 Retro Boutique: Hotel Del Sol
"…a super cool place to stay"
The Hotel del Sol is a souped up former motor lodge with a pool, free breakfast, inexpensive parking and a colorful beachy vibe.
Check reviews and rates on Booking.com.
Charming: Marina Motel
"…not your run of the mill white plastic and pale wood motel"
The Marina motel is a cozy little spot built in the '30's. They have a flowery courtyard and family-sized rooms. Check reviews and rates on Booking.com.
Basic & Budget: Travelodge
"Affordable, pet-friendly spot…"
The Travelodge is….a Travelodge. It offers basic accommodation, free breakfast and an inexpensive base for exploring San Francisco.
Check reviews and rates on Booking.com.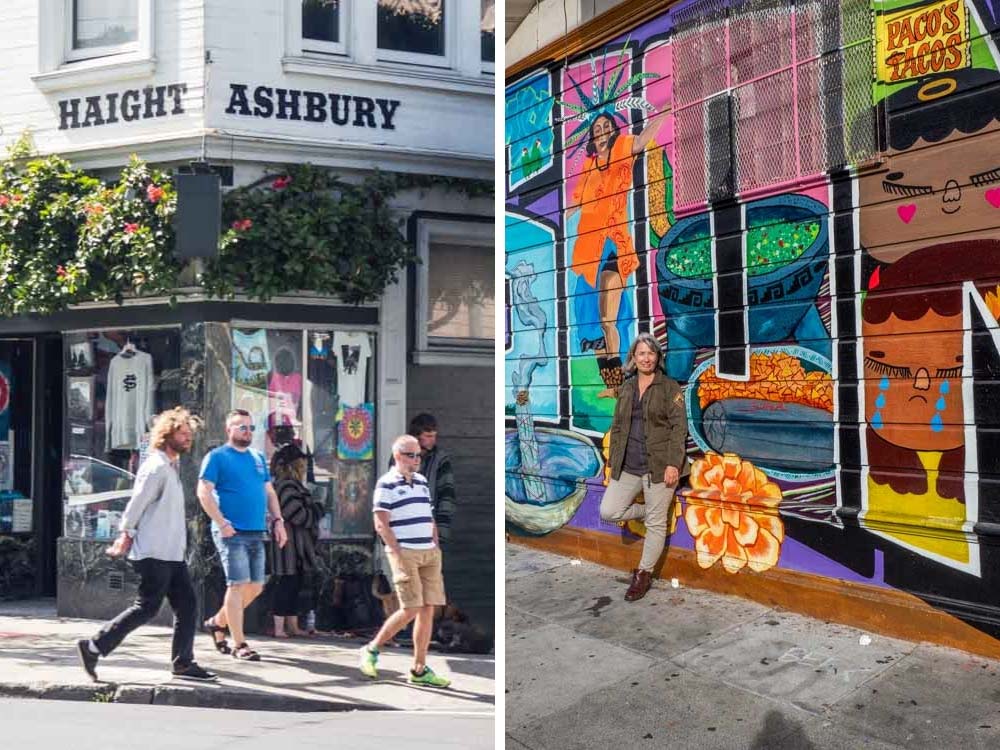 Best Neighborhoods to Stay in San Francisco for AirBnB
San Francisco isn't defined by its downtown core, even though that's where most of the hotels have camped out. AirBnB was founded in SF and its listings nearly double the available lodging options, with whole homes and rooms to rent all over the city. Most of the following neighborhoods may have the odd B&B or sketchy hotel, but trust me, they are much better served using AirBnB.
Pros: "Live like a local" by getting advice from your local host. Save money on eating out and laundry. Good for families and larger groups.
Cons: Most neighborhoods (except for the Mission) are further out in the city and getting downtown will require slower buses. For the couple who wants the privacy of a whole home, it can sometimes be cheaper to snag a great hotel deal rather than do AirBnB.
In addition to the normal rooms and apartments, there are some really amazing AirBnBs in San Francisco that provide truly unique experiences. Like this artist loft in the mission which promises an immersive experience. The host is an artist himself and he offers the space as a place for creative exploration.
Great AirBnB Neighborhoods in SF
The Mission: By far, one of the best areas to stay in San Francisco. The Mission's vibrant streets are like a cross between of your Latino uncle and Sergy Brin. You can find illuminating street art, dinosaur-sized burritos and it's home to two of the best bookstores in SF.
Potrero Hill: A quiet residential neighborhood hipped up with artsy warehouses. Take a tour of the Anchor brewing distillery and then eat local at one of the restaurants on 18th street.
Castro Valley: Ground zero for being out and proud. You can catch films, fests and drag queens at the Castro theater and explore SF queer history at the GLBT History Museum.
Noe Valley: Strollers, yoga and coffee fill the 24th street corridor in Noe. The strip has something for everyone including cute book stores, a craft brewery, a dive bar, some cute clothing shops and designer togs for the discerning toddler.
The Haight/Cole Valley: It's been fifty years since the Summer of Love but the hippie vibe lives on in the Haight. They still sell vinyl at Amoeba records and you can purchase Grateful Dead gear, tie-dyed socks and, err, other paraphernalia.
Choosing the best area to stay in San Francisco is a very personal choice. Pick your budget, consider what sort of vibe you want and then use this guide to chose your neighborhood. Enjoy your stay and have fun!
Plan Your Trip to SF
Save time planning your trip to SF with these insanely useful links:
Help other figure out where to stay in San Francisco and pin this post.