NorCal has hundreds of miles of gob smacking, jaw dropping coastline with beaches, craggy cliffs, river estuaries and redwood forests. Bounded by the coastal mountains and buffeted by the Pacific, are some bonny and charming Northern California coastal towns. These towns offer perfect weekend getaways if you are seeking coastal cool and beachy vibes.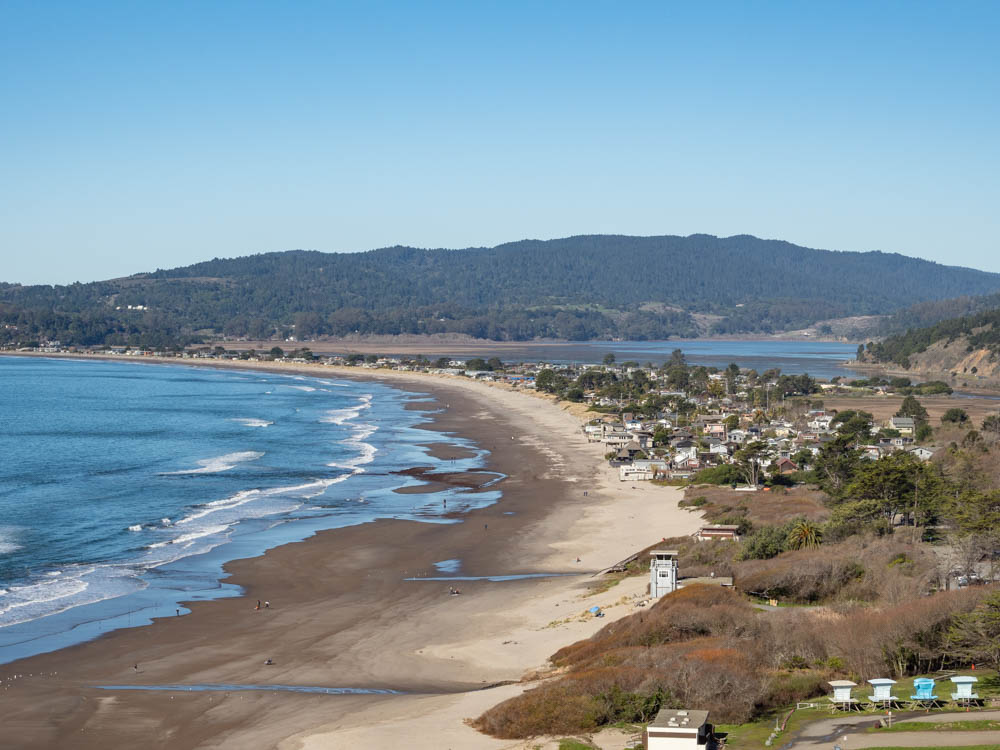 How did these Northern California Coastal Towns Make the Cut?
We are recommending these 12 Northern California beach towns because they represent a diversity of the region's geographic terrain and natural beauty. Some of these coastal cities are easy to get to, which pays of the "quick" part of a quick weekend getaway. But others are more remote, which offers a payoff for those of you who really want to get a way from it all. We are also throwing in a few not-so-obvious choices, just to keep you guessing. All told, we've curated a cool dozen Northern California coastal cities and beach towns that you should put on your bucket list.
There is no hard line separating Northern and Southern California, but for the purposes of this list, the border sits south of Big Sur. These towns are listed roughly north to south.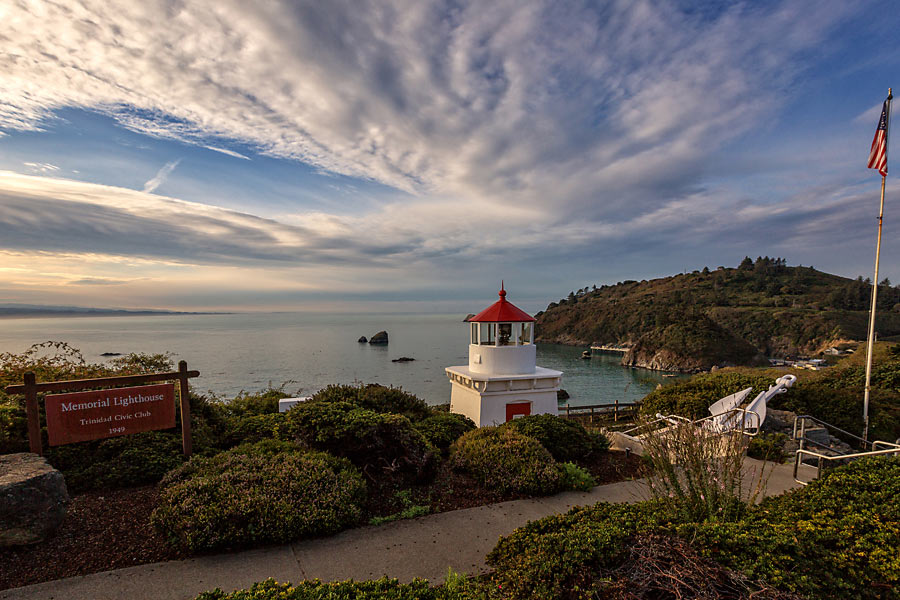 Map of Northern California Coastal Towns
Here's a handy map to that you can see where the towns are and how to navigate to them.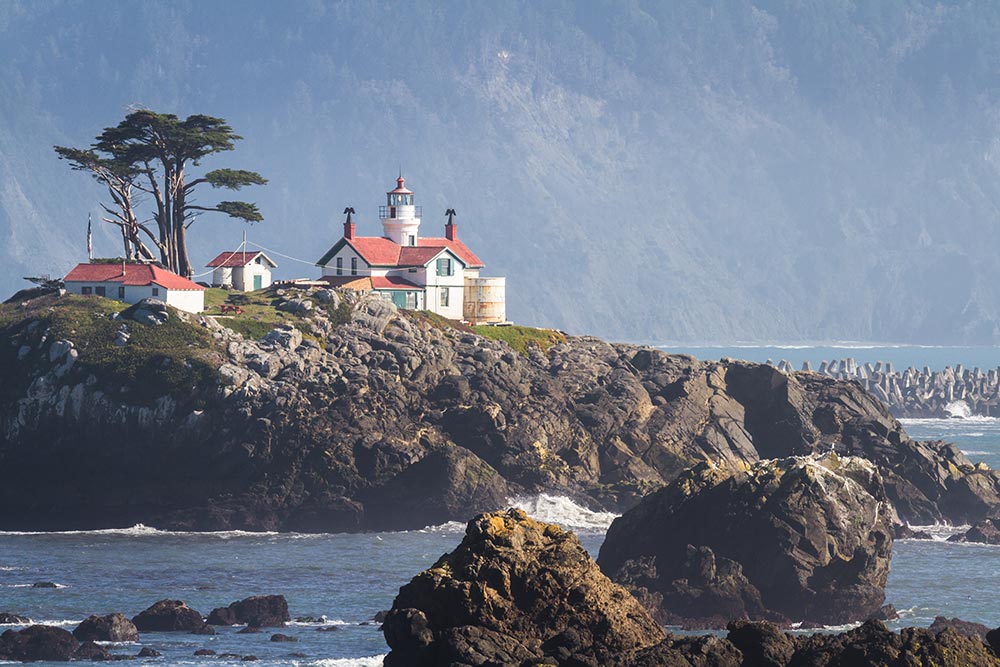 (This article contains affiliate links. This means that if you choose to purchase, I'll make a small commission.)
1. Crescent City
Crescent City was founded as a shipping city– or rather, as a shipwreck city, because the rugged coastline did in quite a number of ships between 1865 and the 1940's. Crescent City is now better known as a gateway to one of the best redwood parks in California. You should definitely visit this coastal city for the Jedediah Smith State and National Park. But leave time for some of Crescent City's other charms as well, which include sand dunes, lighthouses and fishing.
If you don't want to camp or RV, you can actually rent a rustic cabin right in Jedediah Smith park. Reserve it on the California Parks website. If you like glamping and want some amenities, check out these cabins and glamping tents that are near the park.
3 Fun Things to do in Crescent City
Visit Jedediah State & National Park. You can keep it simple with the Templeman Grove scenic loop trail or go all with on the 6 mile Boy Scout Trail.
Go fishing for salmon, cutthroat or rainbow trout on the Smith River.
Visit the Battery Point Lighthouse.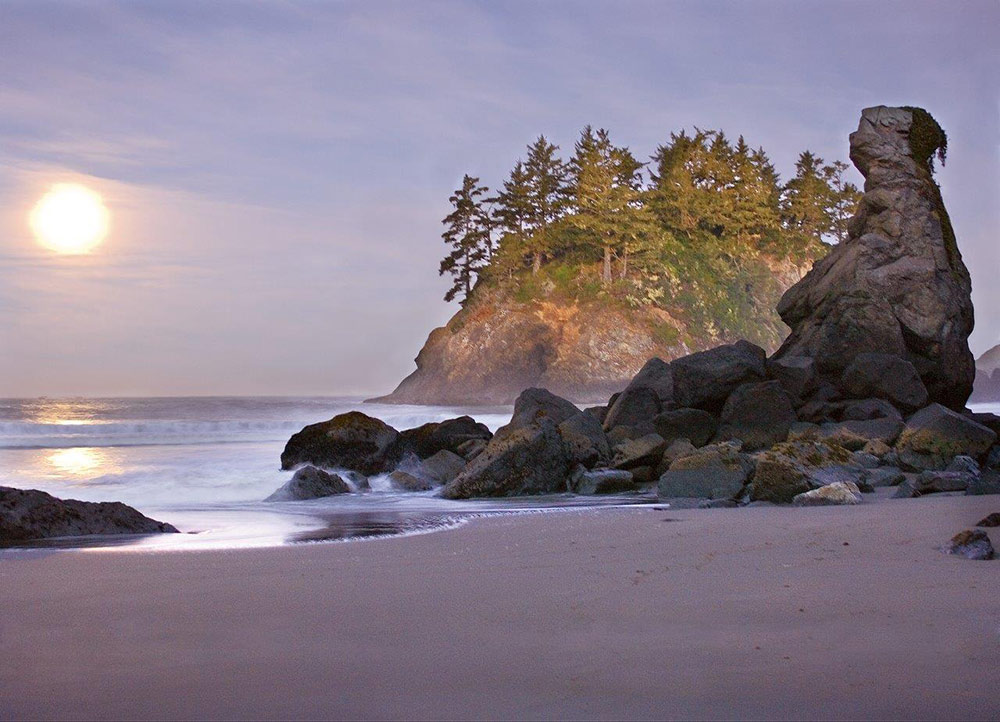 2. Trinidad
Trinidad is an official gateway to the California Coastal National Monument. The Gateways include other towns on this list like: Fort Bragg, the Monterey Peninsula/ Pacific Grove, the Lost Coast/Shelter Cove and Pidgeon Point near Half Moon Bay. All of the Gateways are towns committed to following the principles of geotourism, sustainability, providing visitor information and services while also caring for the well-being of the local residents.
The town of Trinidad is tiny, so if you want shops, restaurants and spas, look elsewhere on this list of Northern California coastal towns. This town is a quiet, uncrowded getaway for people who are all about the ocean. Its main attraction is the rugged coastline and the nearby Trinidad Rocks have one of the most diverse sea bird colonies in California.
Because Trinidad is not as popular as Mendocino or Pacific Grove (both noted below), it's also more of a value destination, evidenced by this reasonably priced oceanfront cliff house.
3 Fun Things to do in Trinidad
Hike the Trinidad Headland Trail.
Visit Trinidad State Beach, although best done at low tide.
Learn more about the area's history at the Trinidad Museum.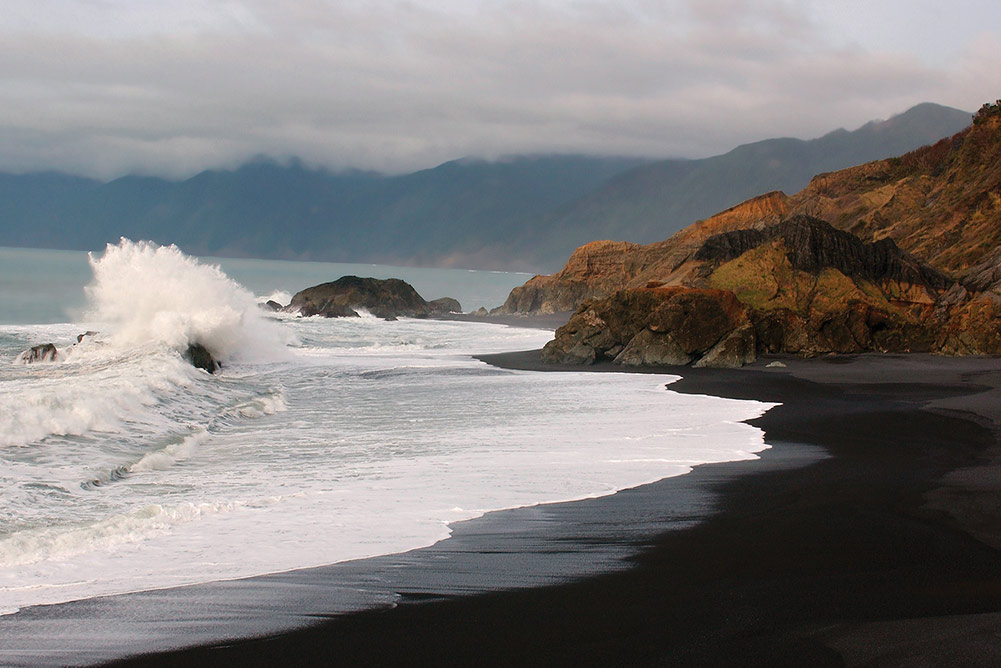 3. Shelter Cove
Shelter Cove is by far, the most out of the way coastal town in Northern California. You can't drive directly north from Fort Bragg, nor can you drive directly south from Crescent City. To get there, you have to backtrack from Highway 101, then go along a winding 25 mile road.
But don't let that dissuade you, because there's a lot of eye candy in Shelter Cove. It's the gateway to the Lost Coast with relaxing tide pools, peaceful bike trails, and a surreal black sand beach. Even if you aren't hiking the rugged 4-day 25 miles Lost Coast trail, you can still use Shelter Cove as a base of operations for coastal exploration.
Start by booking into the Castle Inn, which is perched right on the cliffside overlooking the ocean.
3 Fun Things to do in Shelter Cove
On the way up to Shelter Cove, make a stop at the Richardson Grove State Park for their short scenic loop trail featuring old growth redwoods.
Strike out onto the Lost Coast Trail, starting at Black Sand Beach. Which can be done as an out-and-back day trip.
Do some star gazing. The town is quiet and there are no street lights. So strike out a little outside of town and gaze at the heavens.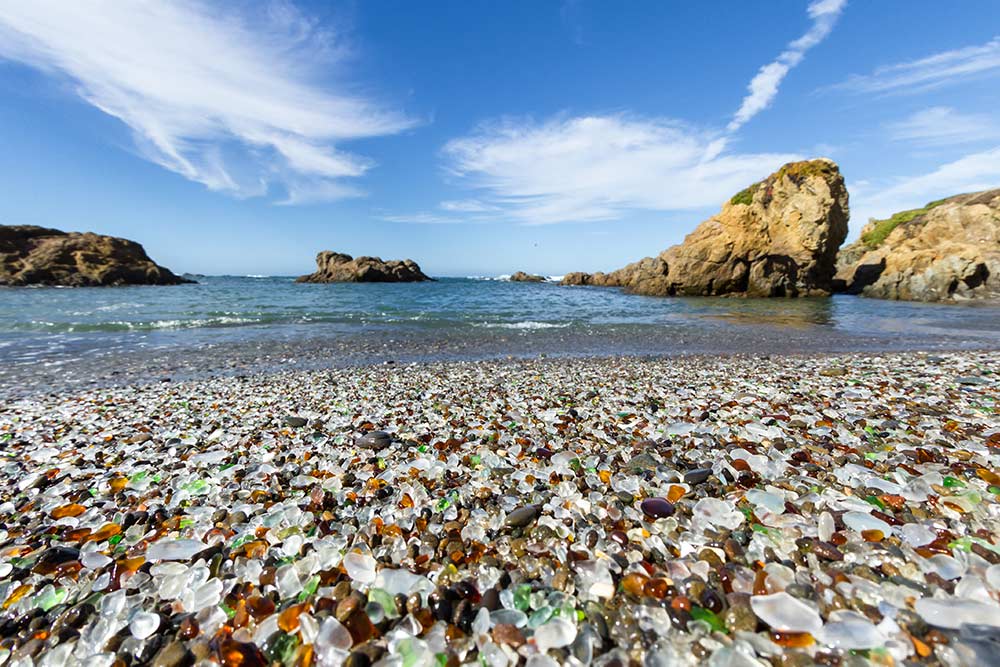 4. Fort Bragg
Fort Bragg was founded in 1857 as a military garrison. It was named after army officer Braxton Bragg, who at the time had served the U.S. in the Mexican–American War. Ten years later, the garrison was abandoned and the town began to transition to a timber economy. Fort Bragg is known for its nice mild climate. It's also more developed than places like Gualala or Shelter Cove. So this is a good coastal getaway if you like more restaurant and lodging choices.
If you want some romance, the North Cliff hotel has ocean view bathtubs with a fireplace!
3 Fun Things to do in Fort Bragg
Visit the 47 acre Mendocino botanical garden. It's part of the regional parks system and is known for their rhododendrons, heathers and camillias. It's also a good spot for bird watching.
Take Skunk Train into the redwoods. This scenic 7 mile journey goes up Pudding Creek. You can also do their seasonal electric powered "rail bike" experience.
Grab a local brew at North Coast Brewing Company.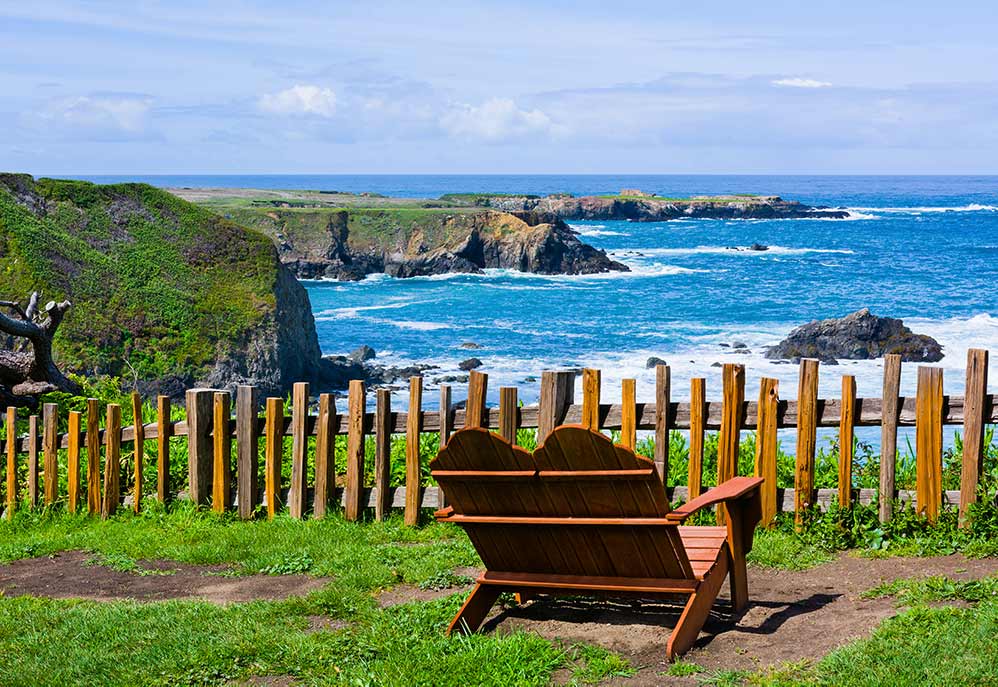 5. Mendocino
Mendocino is the only town on the California Coast that is designated as a historical landmark. It was established in the 1850's and has a similar vibe to Victorian Maine. Mendocino has a lovely mix of redwood forest and killer ocean views and it's perfect for a romantic coastal getaway. The town is close to the Anderson Valley wine region, which boasts of 30+ wineries. Mendocino offers a lux experience with 7 day spas and many independent massage therapists.
There are also some pretty romantic stays in Mendocino, like the Sweetwater Inn which has rooftop views and a day spa. Or your could go for some cozy romance with this wooded cabin with modern architectural touches.
3 Fun Things to do in Mendocino
On your way there, stop off at Navarro Vineyards, Pennyroyal Farm, Philo Ridge Vineyard or one of the many other great Anderson Valley vineyards.
Visit the nearby Point Cabrillo Light Station Historic Park, which has a headlands trail in addition to the lighthouse.
Visit the fern forest in Van Damme State Park.
Read More: Get the full downlow on all CA parks with our complete California State Parks list (with map).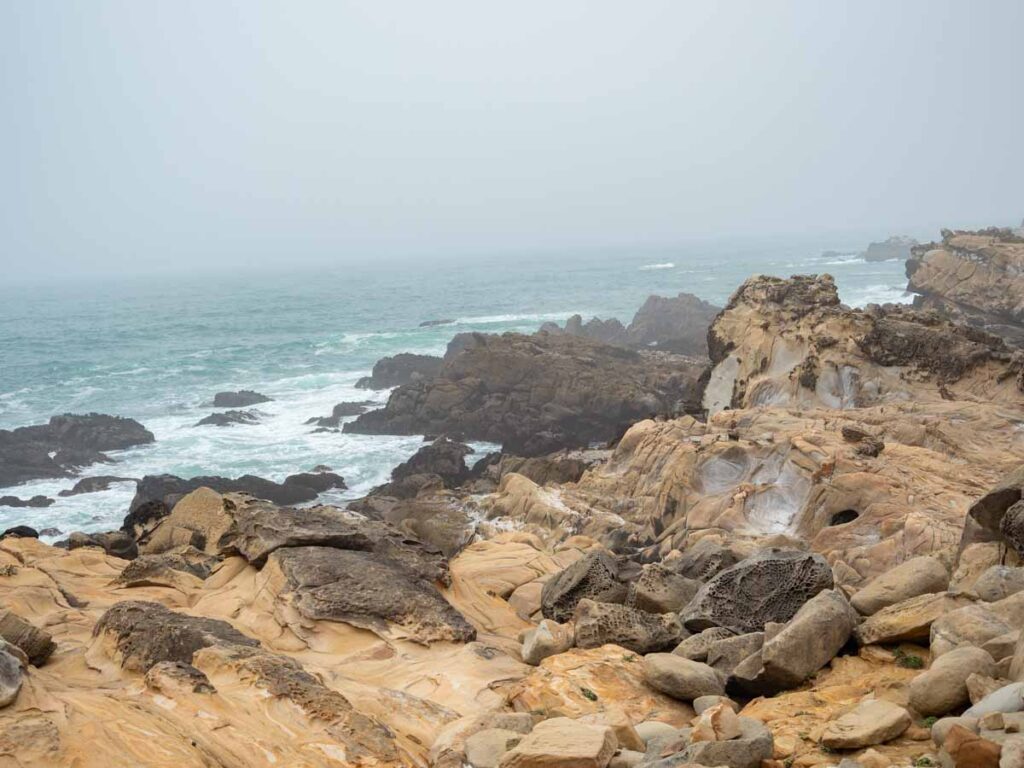 6. Gualala
This quiet Northern California coastal town is named for the river that flows through town and into the Pacific. The native Pomos used to call the area "q-ahwala-li", which roughly translates to "coming down water place", which the river does indeed do at Robinson's Gulch right in town. Gualala is a good location for exploring the coastline of Northern Sonoma County and Southern Mendocino County.
The town itself is pretty tiny and it has an artsy vibe with a few galleries and art centers. But the star of the show is really the beautiful coastline. Make Gualala your base of operations and then do short day trips up and down the coast to explore. You can snag a cool stay like this ocean view home (with hot tub!)
3 Fun Things to do in Gualala
On the way up there, stop at Salt Point State Park (using our state park guide) where you have your choice of hiking the bluffs, a pygmie forest or in the rhododendrons. Or do all three!
Head north to Point Arenas lighthouse and do the 5.7 mile Point Arenas trail along the bluff.
Go kayaking up the Gualala river (best done in the summer).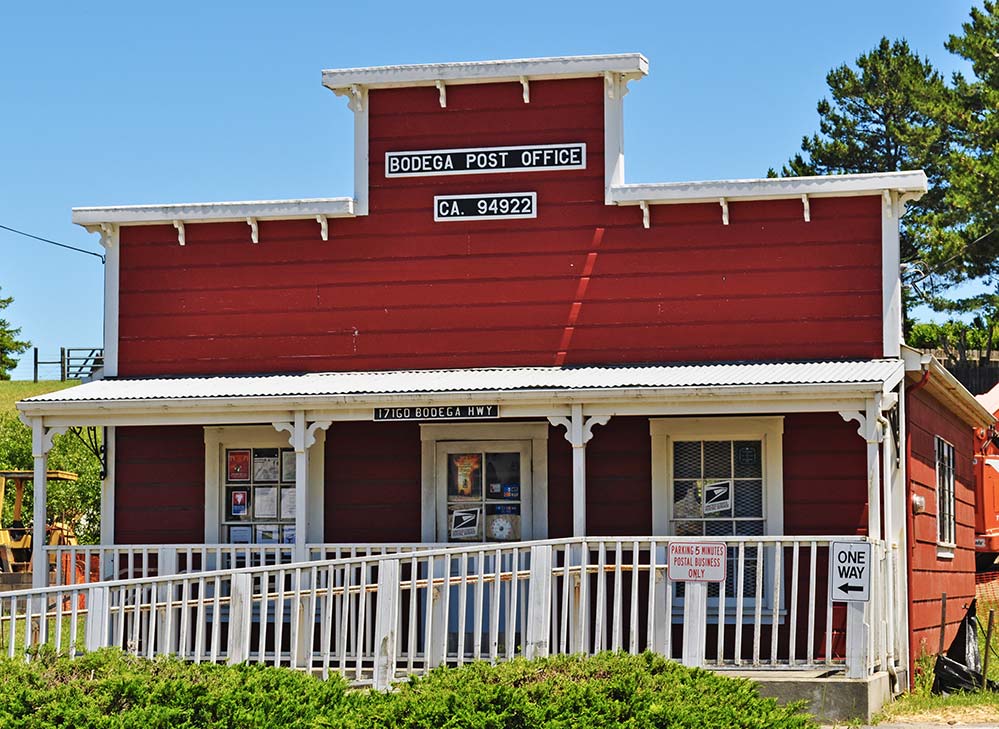 7. Bodega Bay
For thousands of years the Miwok and Pomo Indians lived and harvested from the sea in what is now Bodega Bay. But the white settlement really ramped up in the early 1800's when Russian fur traders came looking for otter and sea lion pelts, and lumber barrons looking for hardwoods. Bogeda Bay has now settled down to a sleepy fishing village of ~100 full time residents.
The town offers a nice wine weekend getaway with plenty to do for nature lovers. The quiet anchorage of the bay makes it a good spot for surfing and body boarding. The high cliffs along the Sonoma Coastline are perfect for whale watching and there is plenty of wine tasting in the region. For lodging, Check out the Seamist house with a hot tub that overlooks the ocean views or this lux house that's right on the harbor with tons of windows.
3 Fun Things to do in Bodega Bay
Take the slow road into town along the Bogeda Highway and hit up the vineyards near Occidental.
Take an even slower road up Highway 1 toward Jenner, stopping to stroll Shell Beach or Wright Beach.
Go tide pooling at Schoolhouse Beach.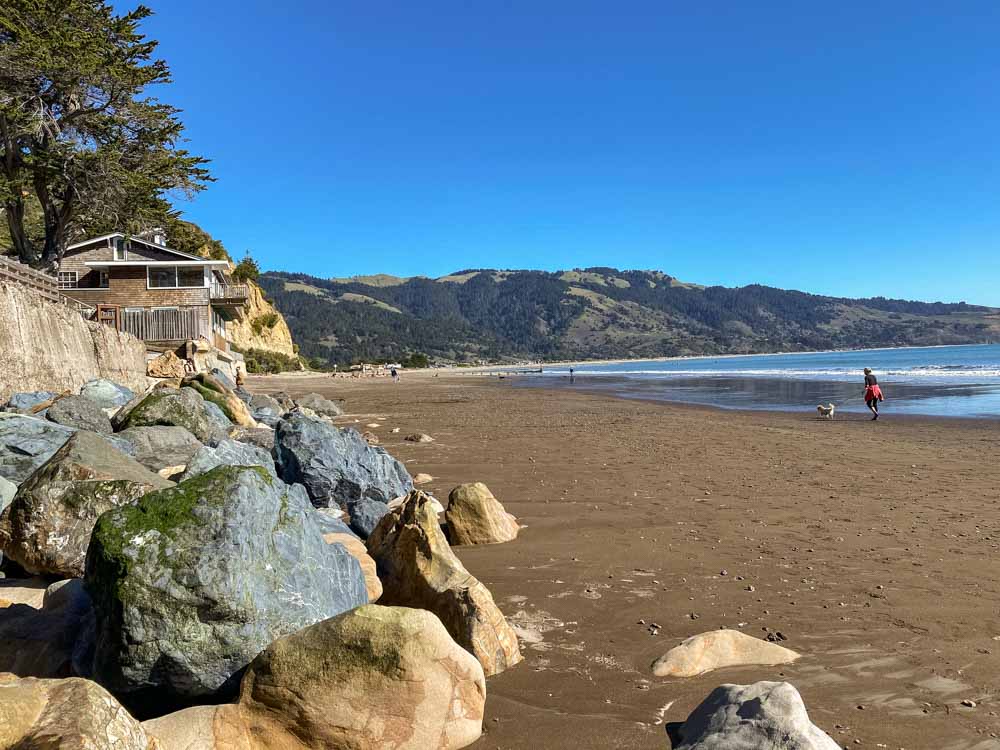 8. Bolinas
Bolinas also makes our list of hippie towns in California for its lefty leaning liberal culture topped off with with a layer of chill surfer vibe. The people living in Bolinas like it quiet thankyouverymuch. As proof of that, they have removed the road signs telling you how to get there. Public service announcement: the mobile coverage in Bolinas is also iffy, so cache your map before you go, of you'll never find it.
Bolinas has a nice, quiet beach and a tiny but cute little downtown. It's just a 20 minute drive north of Stinson beach, so you can easily stay in one town and explore the other in the same weekend. If you are staying the night, check out this super cute wood cabin for rent in Bolinas.
3 Fun Things to do in Bolinas
Go surfing at Bolinas Beach.
Take a chair and a chill pill on Bolinas Beach.
Take a day hike on the nearby Polamarin trail, which is the very southern end of Point Reyes National Seashore.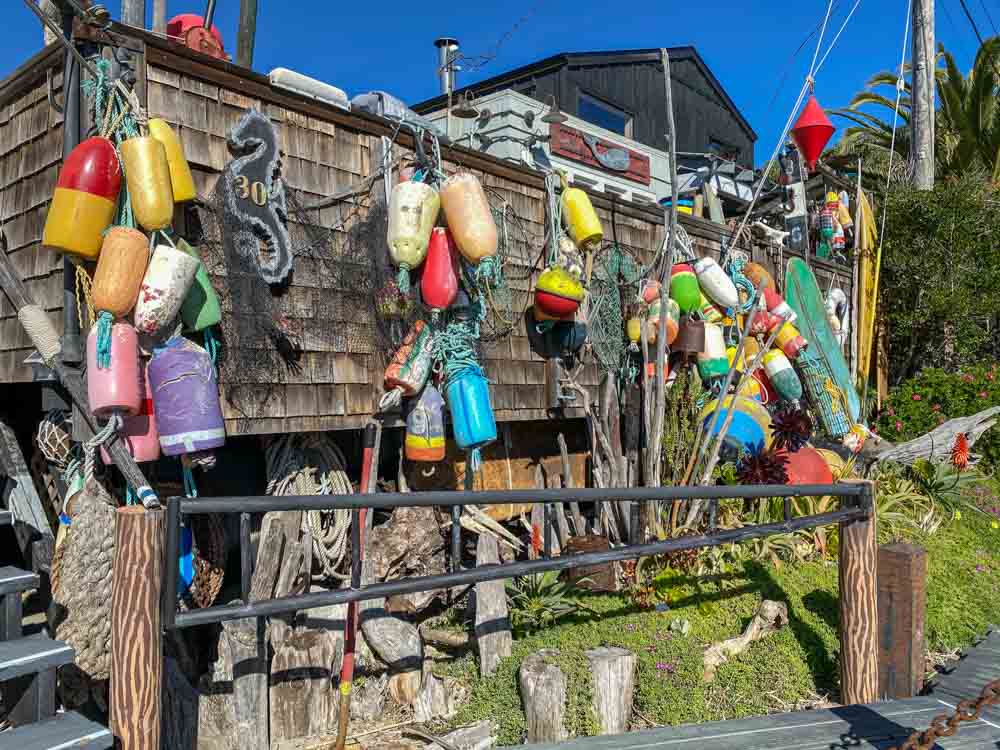 9. Stinson Beach
Stinson Beach is a thriving metropolis of 630-something full time residents. It sits perched at the western edge of Marin County and is accessible by the jaw dropping Highway one drive. All of the Marin Headlands, including Stinson Beach are part of the Golden Gate National Recreation Area and Stinson is the GGNRA's only swimming beach. The beach is wide, flat and 3.5 miles long, so it's perfect for a good long walk. The northern end of the beach is dog-friendly.
If you are visiting Stinson beach as a day trip from San Francisco, get there early as parking is limited. Or better yet, spend the night at this amazing oceanside cottage with private parking and killer views.
3 Fun Things to do in Stinson Beach
Stroll Stinson Beach.
Take the short .6 mile trail down to Micky's Beach.
Go bird watching on the Bolinas Lagoon.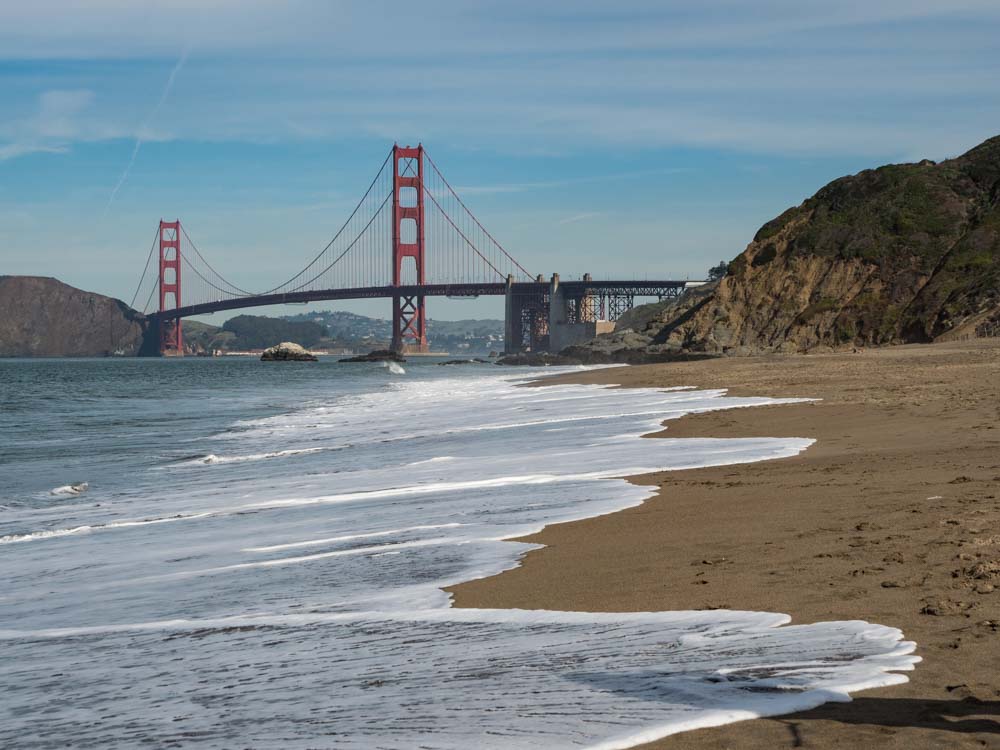 10. San Francisco
Surprise! In addition to being California's second largest city, San Francisco is also its largest Northern California beach town. People actually google "does San Francisco have beaches", which clearly indicates that SF's coastline is off the radar. SF is at the tip of a peninsula and is surrounded on three sides by water and there are quite a few lovely beaches worth exploring. Even if you live in SF, you can make a fun staycation out of visiting the local beaches.
If you are traveling to SF from elsewhere, check out all of our other articles on the city, which include suggestions for where to stay, fun things to do and cool bookstores.
3 Beaches Worth Visiting in SF
Baker Beach: It's a nice, flat sand beach with fantastic views of the Golden Gate Bridge. You can simply chill on the beach, you can use the clothing optional north end of the beach or you can hike the Batteries to Bluffs trail above the beach.
Fort Funston: This is one of the bay area's few dog-friendly beaches. There are some nice walks on the bluff above the beach and the water level itself is also nice. Time your visit for low tide, though.
Ocean Beach: This 3.5 mile stretch of SF's western border is perfect for strolling during clear weather.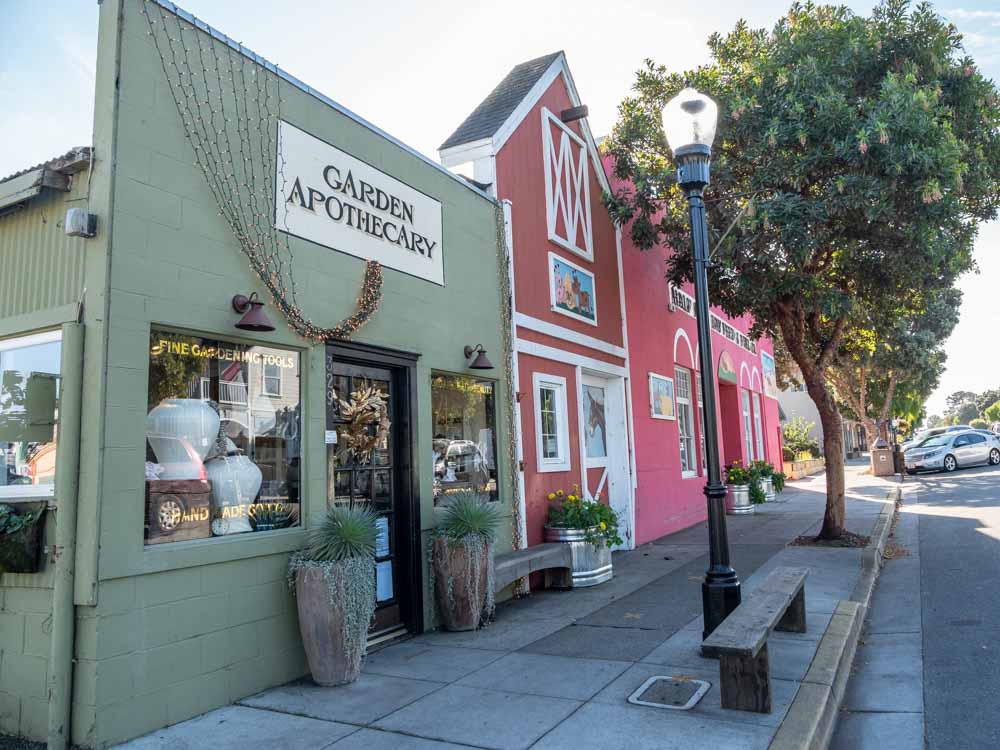 11. Half Moon Bay
Just a short hop south of San Francisco is Half Moon Bay. The location makes it a perfect day trip or weekend getaway from San Francisco. This area is a nature-lover's dream. There are nine state parks located in coastal San Mateo County and you can take your pick, based upon your preference for hiking, surfing, beachcombing or wildlife viewing. Half Moon Bay's downtown offers up lots of dining options and cute shops.
And there are some really cool Half Moon Bay Airbnbs that you can rent, like an Airstream trailer, penthouse with sunset views and a funky artsy beach house.
3 Fun Things to do in Half Moon Bay
Get our full mega guide for planning a Half Moon Bay weekend getaway.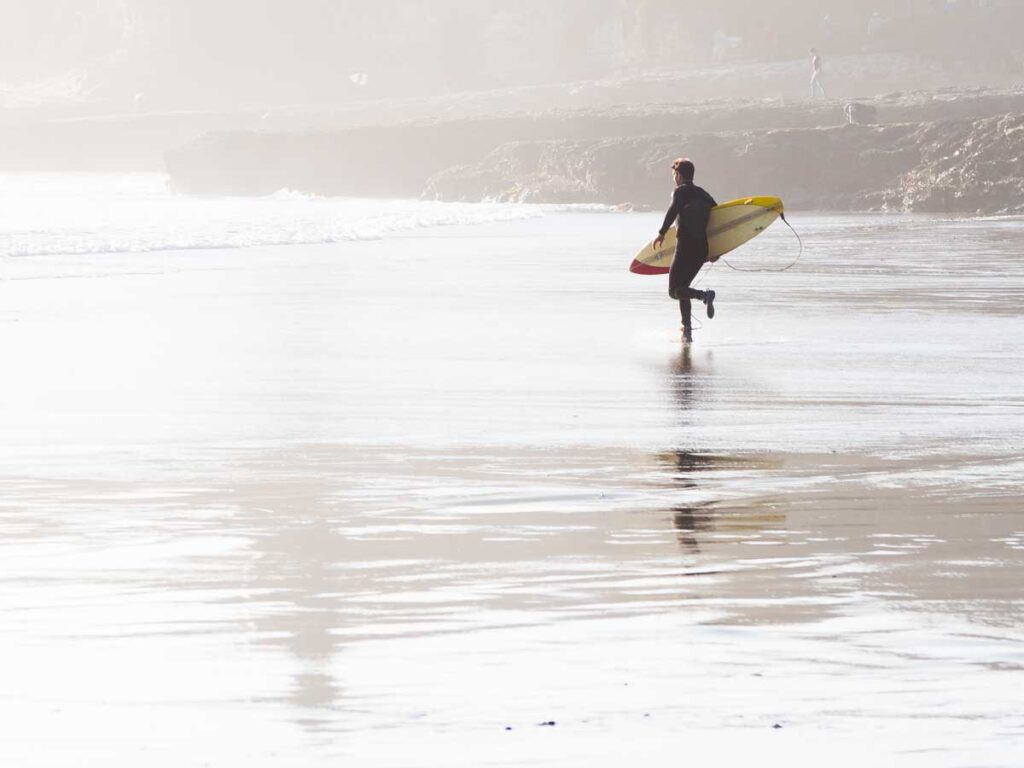 12. Santa Cruz
Santa Cruz is the classic Northern California coastal town. In some respects, it has an old-school beach town vibe, with the Santa Cruz Beach Boardwalk and historic Mission. And in other respects, it's very contemporary with a thriving brewery scene and youthful energy driven by the local University crowd. There is also a strong ecological ethic in Santa Cruz and the people living and visiting there truly appreciate the natural beauty of the area.
If you are going for an overnighter, gather ideas from this weekend getaway guide and also take a peek at some of the amazing tree houses for rent in Santa Cruz.
3 Fun Things to do in Santa Cruz
Ride the Big Dipper Roller Coaster on the Boardwalk.
Watch sunset at Natural Bridges State Park.
Take a hike in the redwoods at Nisene Marks State Park.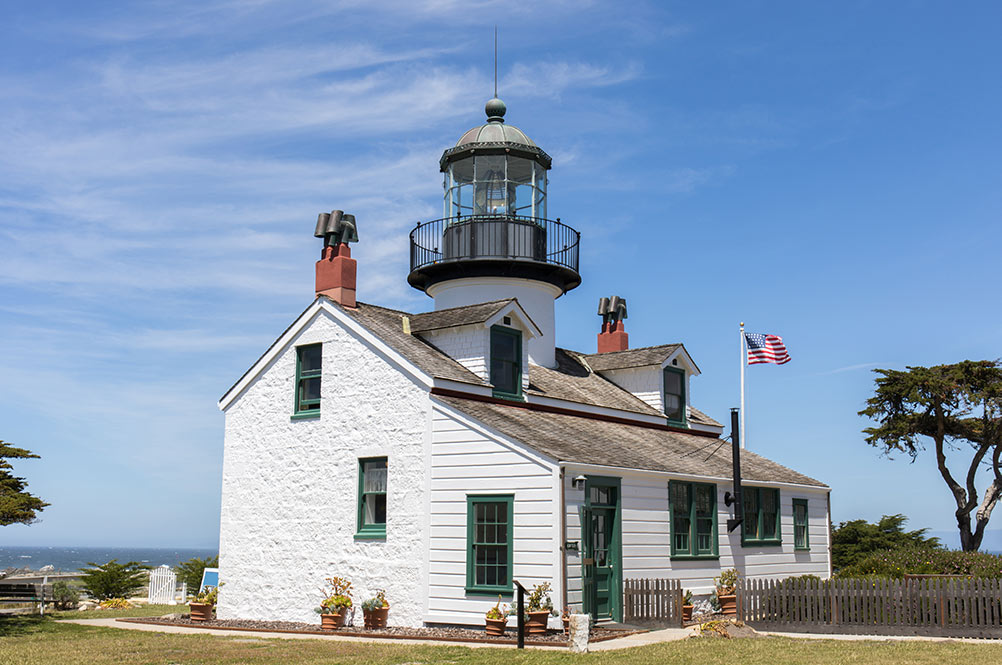 12. Pacific Grove
Monterey, Pacific Grove and Carmel are strung along the southern end of California's northern coastline. The region is a bit more upscale than other towns mentioned here. We are recommending Pacific Grove over Monterey and Carmel because it has a much quieter vibe. Both Monterey and Carmel have lots of fun things to do, but they are busy towns. So if you want a quieter pace and a bit of romance, base yourself out of Pacific Grove.
The town has a quaint Victorian downtown with shopping and restaurants. Golfing, whale watching tours and the Monterey Bay Aquarium are all nearby. If you are looking for a romantic getaway, consider staying at the Centrella B&B, which is a Victorian confection only blocks from the beach and Lover's Point Park.
3 Fun Things to do in Pacific Grove
Take the 4 mile Monterey Peninsula Recreational Trail for views of the pounding coastline (and maybe even some whales!)
Go wine tasting up the Carmel Valley.
Watch the sun set at Asilomar State Beach.
These coastal towns in Northern California offer something for everyone. From the upscale experience in Pacific Grove, to the quiet contemplation in Shelter Cove or Trinidad, these towns deliver the perfect weekend getaway if you need some peace, quiet, redwood forests and a whole lotta ocean. Enjoy!
Share these Northern California beach towns with your friends on Pinterest: