Northern California is blessed with a ton of acreage in open space, forest and parks. So, you can find great hikes all over the place. But hiking in Half Moon Bay is special because it offers up particularly superlative views. Any of these hikes are an easy day trip, whether you are based in the Bay Area or road tripping the Pacific Coast Highway.
I used to live in Half Moon Bay and still live in nearby. So I've hiked the area extensively and have curated a list of Half Moon Bay hiking trails that serve a wide range of distance and hiking ability. But I promise you that each hike has its own special offering, be that epic coastal views or quiet forest moments.
So, strap on your trail runners and get ready to go walking on the Coastside.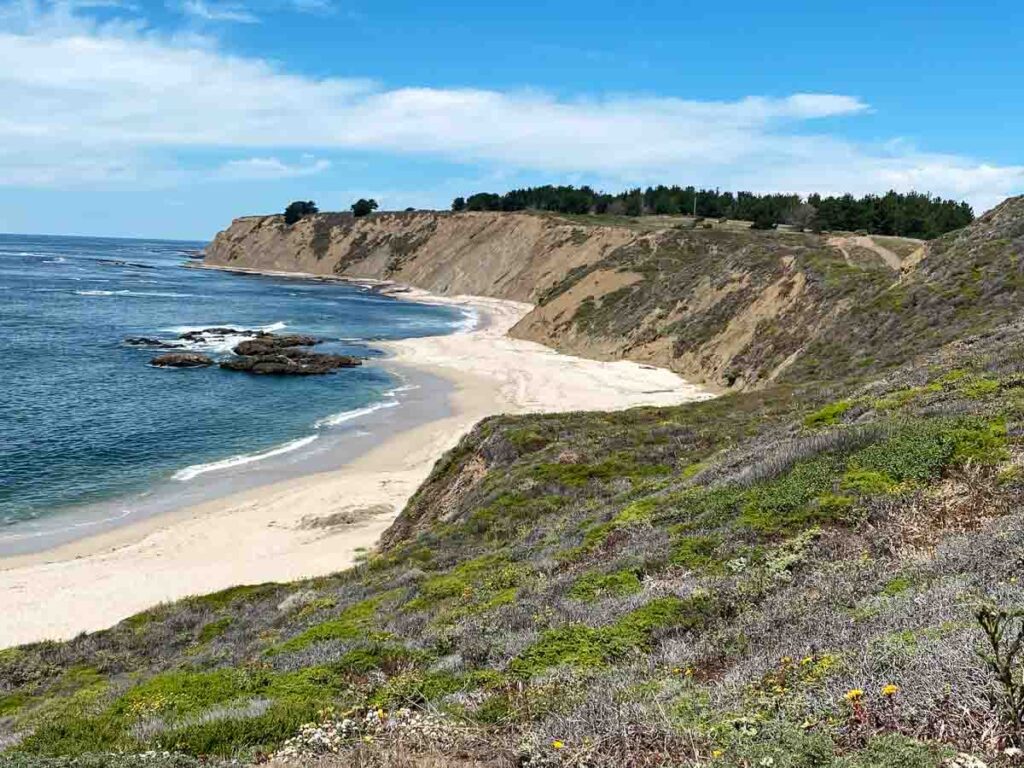 (This article contains affiliate links. This means that if you choose to purchase, I'll make a small commission.)
What To Bring for Hiking in Half Moon Bay
My husband and I joke that Half Moon Bay is a consistent 64′, year round. The truth is that it does vary…but not in a normal seasonal way. For instance, you can go from warm short-sleeve weather to chilly, foggy fleece-coat weather in a matter of 10 minutes. Sure, check the weather before you head out, but come prepared, regardless of the forecast.
Here's what to bring on your Half Moon Bay hike:
Bring water: Very few of HMB's trails have drinking fountains so you'll want to bring your own liquids. I usually plan for one bottle per 3 miles of hiking.
Pack layers: I never go hiking in Half Moon Bay without taking at least three layers. I wear a short sleeve, then a mid-weight layer like this half zip shirt from REI. I'm also fond of the Kuhl Konstance shirt. It's got a generous fit and looks normal enough (ie: not super sporty), to wear into a restaurant. Then on top, I'll do a windbreaker. REI's basic Gore-Tex wind breaker is very high quality and it's a lot cheaper than other outdoor brands.
Use zippered hiking pants: Yoga pants don't cut it for hiking. The pockets barely hold a phone and they aren't zippered. If you don't want to spill your phone and keys all over the trail, invest in some zippered hiking pants. Both Colombia and Kuhl produce well-made, stretchy hiking pants with generous, zippered pockets.
Bring appropriate footwear: Some of the easier Half Moon Bay walking trails are fine for tennis shoes or sport sandals. But the tails with elevation require more grip and I would recommend trail runners or hiking shoes. We are noting the elevation below, so that you can figure out what to wear before setting out.
Explore California State Parks
7 of these 11 HMB hiking trails are squarely in, or transit through California State Park lands. If you are keen to explore more of CA's 281(!) amazing state parks, we have some resources for you.
Start with our full list of all California State Parks. It's organized by region and county and you may discover some unexpected finds on the list. You may also want to consider getting an annual California Parks Pass. Our guide will help you figure out if it's worth getting and it has info on various discounted passes.
We've also got a guide to all of California's parks that feature redwoods and also a complete listing of all CA national park sites.
Lastly, but not leastly, be sure to check out our list of the best beaches in Half Moon Bay and our epic list of things to do in Half Moon Bay, which features, breweries, baby goats, breakfast spots (and 27 other cool activities.)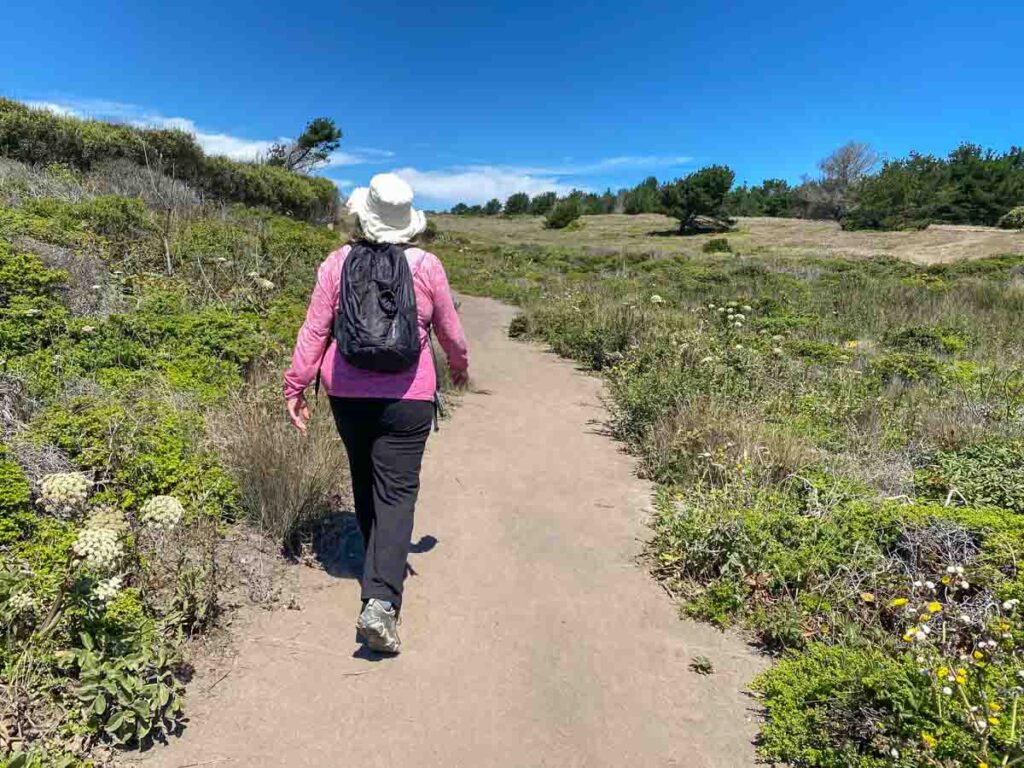 The 11 Best Half Moon Bay Hiking Trails
This list of Half Moon Bay trails is listed roughly north to south. Each listing will indicate distance, elevation gain, where to park and a bit of info on what makes the trail special.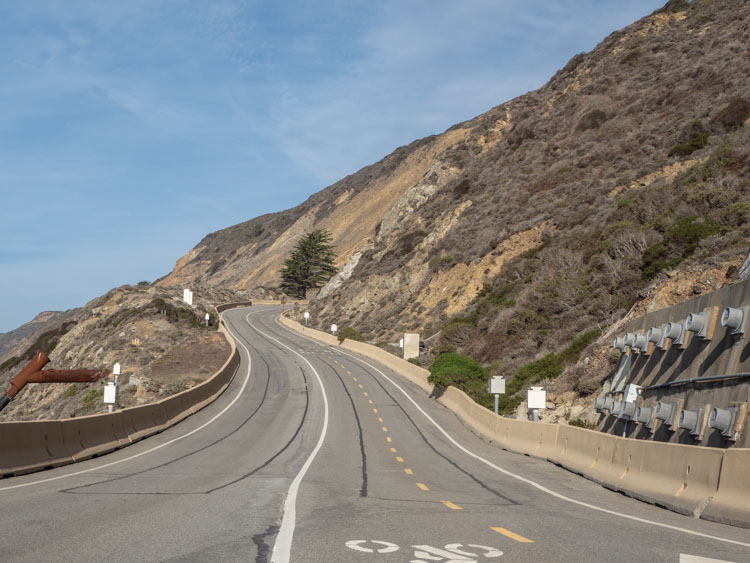 The Devil's Slide Trail
Distance: 3.1 miles
Elevation: 436 feet
Parking: There is parking at both the north and south ends of the trail.
Dog-Friendly?: Yes
This paved trail used to be the primary access to the Coastside from San Francisco and Pacifica. As the name implies, many landslides bedeviled the area. After (finally!) building a tunnel, the road was converted into a hike and bike trail.
This is a very kid, stroller and dog-friendly trail. It's worth doing because those ocean views are pretty killer, especially looking north from the south parking lot. And because the Devil's Slide is located more on a headland than in a bay, you may even see migratory whales.
Check out our whole guide for hiking the Devil's Slide.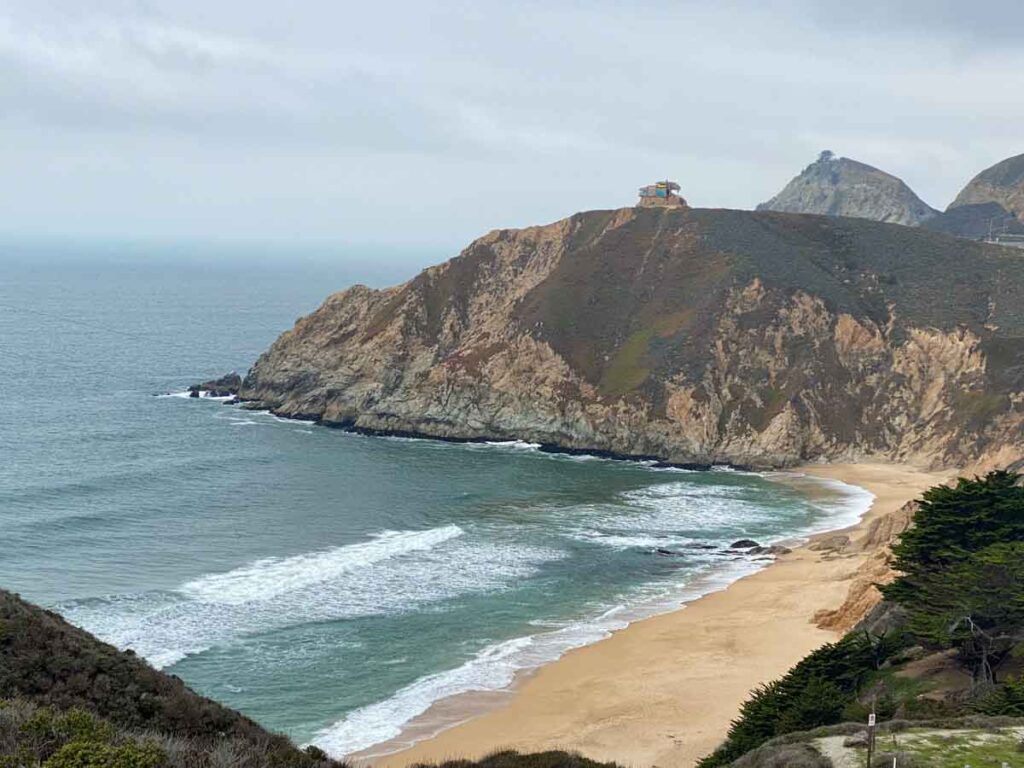 The Gray Whale Cove Trail
Distance: 2.2 miles
Elevation: 269 feet
Parking: There is generous parking for the trail and beach.
Dog-Friendly?: Yes
This short 2 mile out and back is a nice little leg-stretcher. It starts at the parking lot for Gray Whale Cove and runs parallel to Highway 1, going south towards Montara Beach. For very little effort, you get some pretty awesome views overlooking both Gray Whale Cove and Montara. You can also easily combine this hike with the McNee Ranch hike noted below.
Check out our guide for visiting Gray Whale Cove. It's a lovely, quiet spot with a cool swing overlooking the bluff.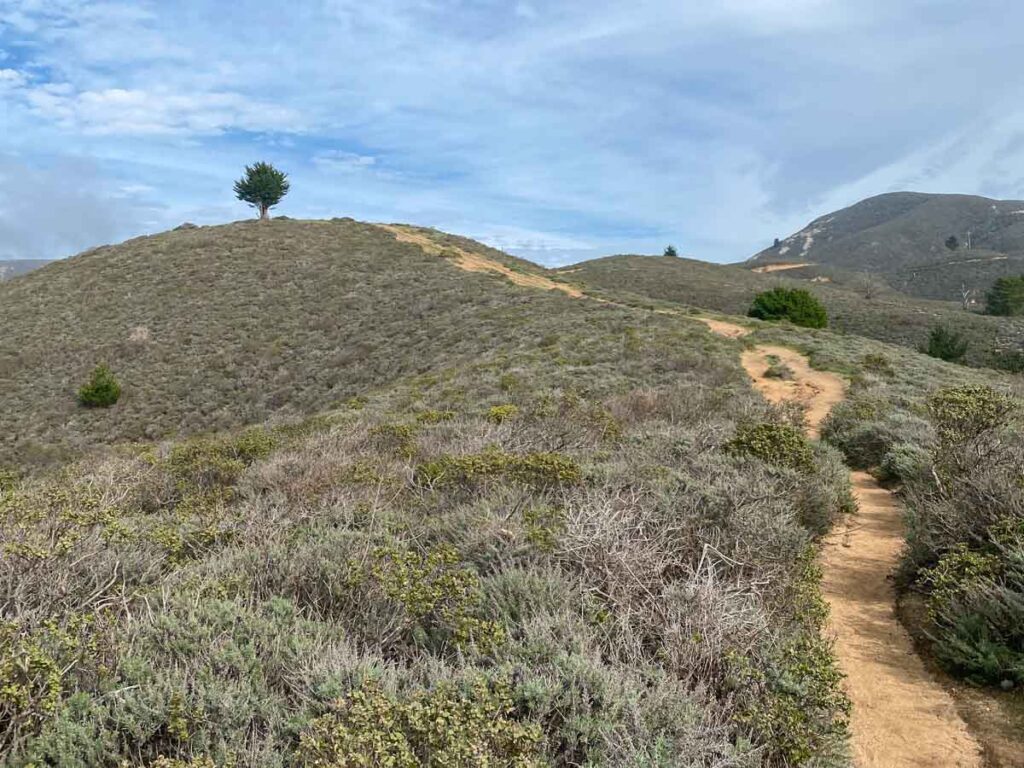 The McNee Ranch Trail/Montara Mountain Loop
Distance: 3.3 miles
Elevation: 734 feet
Parking: There is a very small lot at the trailhead with more parking at Montara beach or the Gray Whale Cove lots.
Dog-Friendly?: Yes
The McNee Ranch property is part of the Montara State Beach Park. What makes this hike special is that for a bit more effort, you can climb high and get super wide-angle views of the coastline. It's guaranteed to give you one of those "because this is why I love California" moments. The trail surface is dirt and much of it traverses open scrub, but there is a section that goes through trees.
The northern section of the trail is very steep, I found it easier to tackle that section first in the counter-clockwise direction, rather than risk sliding down it. But if you walk clockwise, you'll get more views. Either way, proper footwear is a must and hiking poles would be nice.
The trail system in this area is extensive and you can certainly go further than the 3.3 mile Montara Mountain Loop. There's the 4.8 mile (1,200 foot) McNee Ranch to the Planet of the Apes overlook, or the harder 5.8 mile (1,800 foot) Alta Vista Montara Mountain Loop.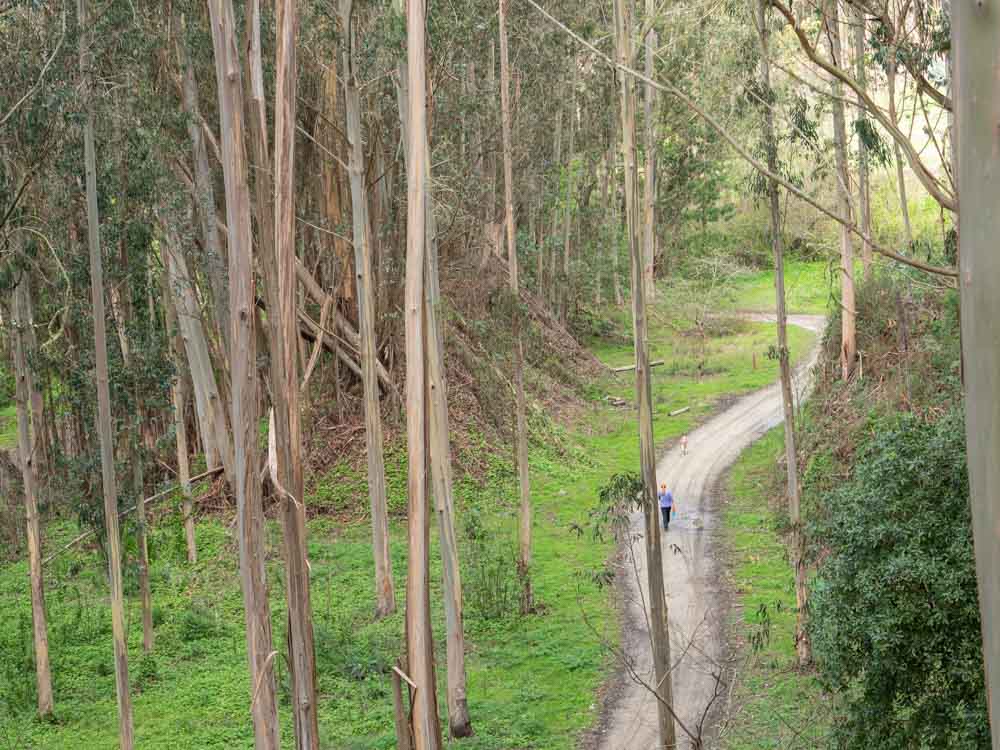 Quarry Park Loop Trail
Distance: 4 miles
Elevation: 1,100 feet
Parking: There is a good sized parking lot at the trailhead.
Dog-Friendly?: Yes
Quarry Park on the Half Moon Bay Coastside is a lovely 517 acre park managed by San Mateo County. It has a series of multi-use trails that are friendly for kids, dogs, bikes and hikers. Visiting the shady Quarry Park is perfect for a warm day or if you are looking for some peace and quiet among the eucalyptus trees. The park is located in the hills above El Granada. It's part of a series of connected trails on the Coastside, which includes the California Coastal Trail.
There are loops of various distances available in the park. You can use our Quarry Park guide to do the full four mile loop. It has a map indicating waypoints.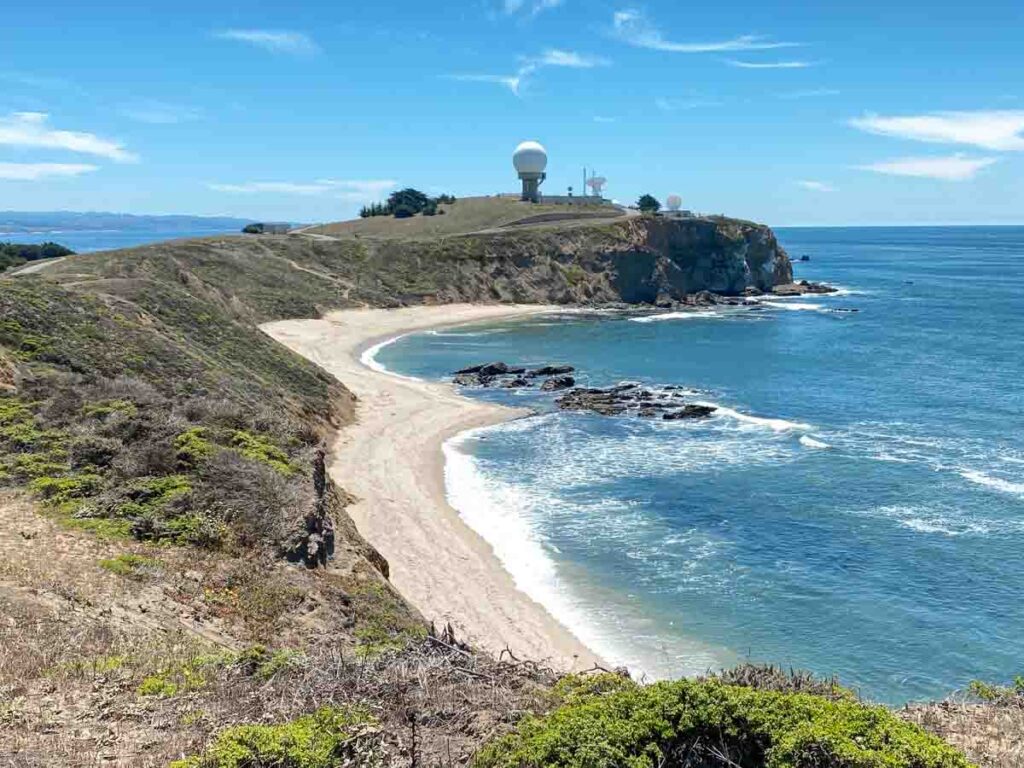 Pillar Point & Mavericks Trails
Distance: 3.7 miles
Elevation: 259 feet
Parking: There is parking lot at Mavericks beach (which fills up) and another on the west side of the airport.
Dog-Friendly?: Yes
Mavericks is probably best known for it's huge winter waves and the big wave competition that was held there for many years. But it's also a very popular dog-friendly and kid-friendly beach.
The Pillar Point trail itself is a nice, easy hike with a good mid-distance and killer ocean views. The hike offers lovely views of Ross Cove beach and the Pillar Point harbor.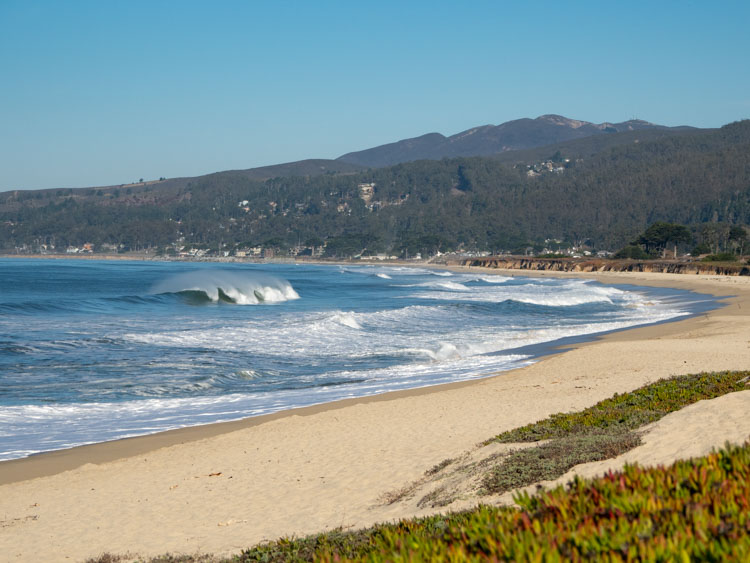 The California Coastal Trail From Surfer's Beach to Francis Beach
Distance: 6.2 miles round trip
Elevation: negligible
Parking: Street parking at Surfer's beach, and state beach parking lots at Dunes, Venice and Francis beaches.
Dog-Friendly?: The pedway along the bluff is very dog-friendly, but they can't go on the beach.
The California Coastal trail is part of an ambitious plan to make the entire coastline of California walkable. About 50% of the trail is complete and sections in the Bay Area include the Golden Gate Bridge, through the Lands End hike and down through Ocean Beach. There are bits and pieces of it through Pacifica, and then the trail lands firmly once again at the Devil's Slide.
But one of the nicest Coastal Trail sections is the uninterrupted chunk of it south of Pillar Point Harbor and Surfer's Beach. This paved pedway is dog, kid, bike and stroller friendly. You transit through cypress trees along a bluff that features lovely beach landscapes. You can do it on the paved trail or even do it on the beach (although some sections would need to be navigated at low tide.)
Your start and end points are totally flexible, but if you do the full loop, it's 6.2 miles. You can also check out our full guide for Half Moon Bay State Beach, which is strung all along this bit of Coastal Trail.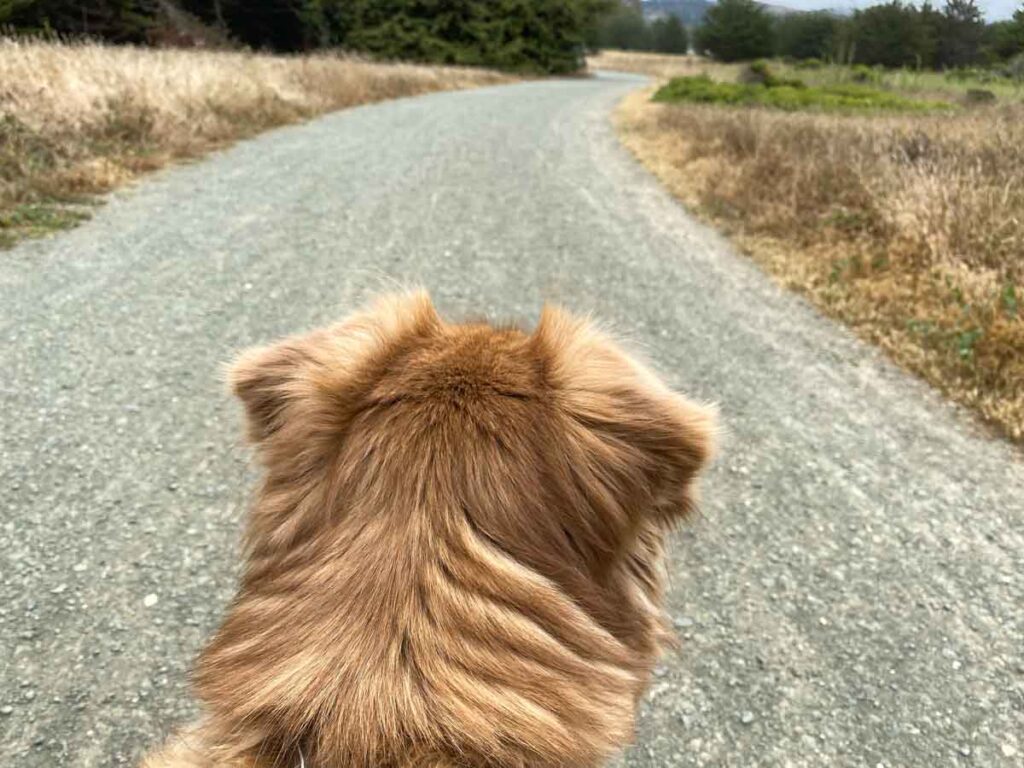 The California Coastal Trail South of Poplar
Distance: 3.5 miles
Elevation: negligible
Parking: There is a paid lot at Poplar beach.
Dog-Friendly?: Yes
This section of the Coastal Trail starts just south of the Poplar parking lot. The turnaround point for me is short of Redondo Beach at a large rift in the bluff. It's in sight of the Ritz Carleton Hotel. You can even walk further to the hotel if you wish. You can also do it as a loop with one-way on the blufftop and back on the dog-friendly beach. But getting up and down the bluff at the Redondo Beach end is tricky.
When I lived in Half Moon Bay, I spent more time on this section of trail than any other, primarily because my dog demanded it. If you have your dog under voice control, you can go off-leash. Keep you eyes open for the many Red-Tailed Hawks that hunt on this section of bluff.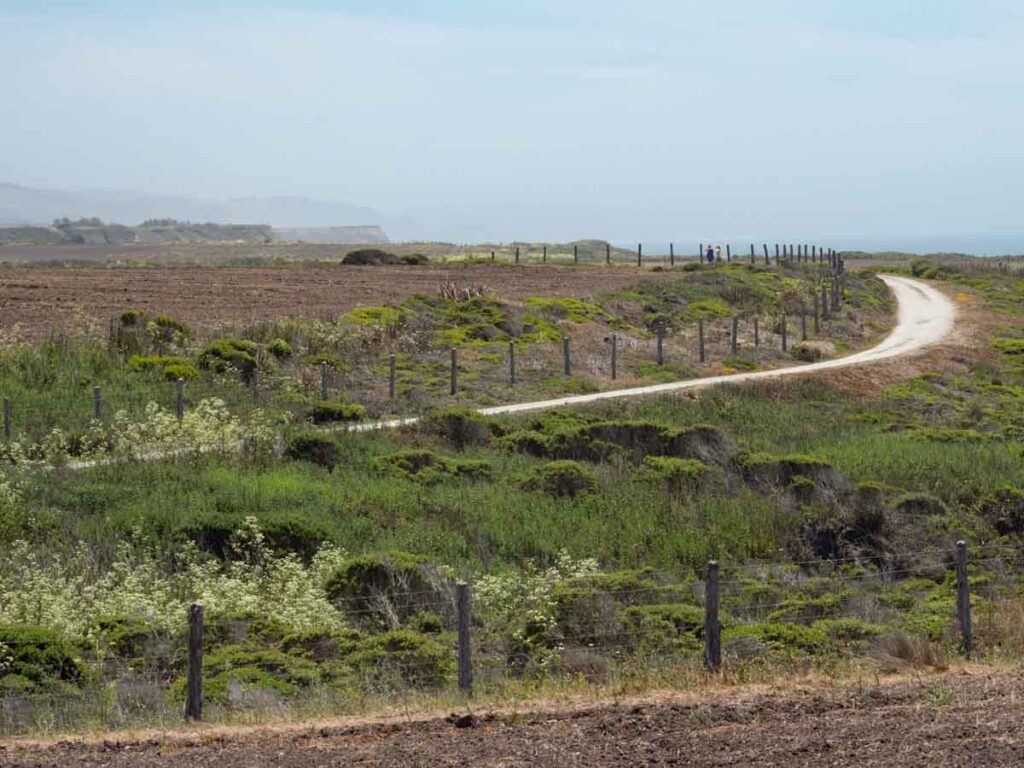 The California Coastal Trail at Cowell/Purisima
Distance: 7 miles out and back
Elevation: 400 feet
Parking: There is small parking lot at the Cowell Ranch Beach and limited street parking on Highway 1.
Dog-Friendly?: No
The nice thing about this section of the Coastside trail is that it's not jammed with people. A lot of folks just don't get south of Poplar. But this section of the coastal trail has all of the views you'd expect. Since it's an out and back, you can do as much or as little as you wish.
If you have time after, be sure to walk down to Cowell beach. It's a lovely little crescent of sand and a great spot for a picnic.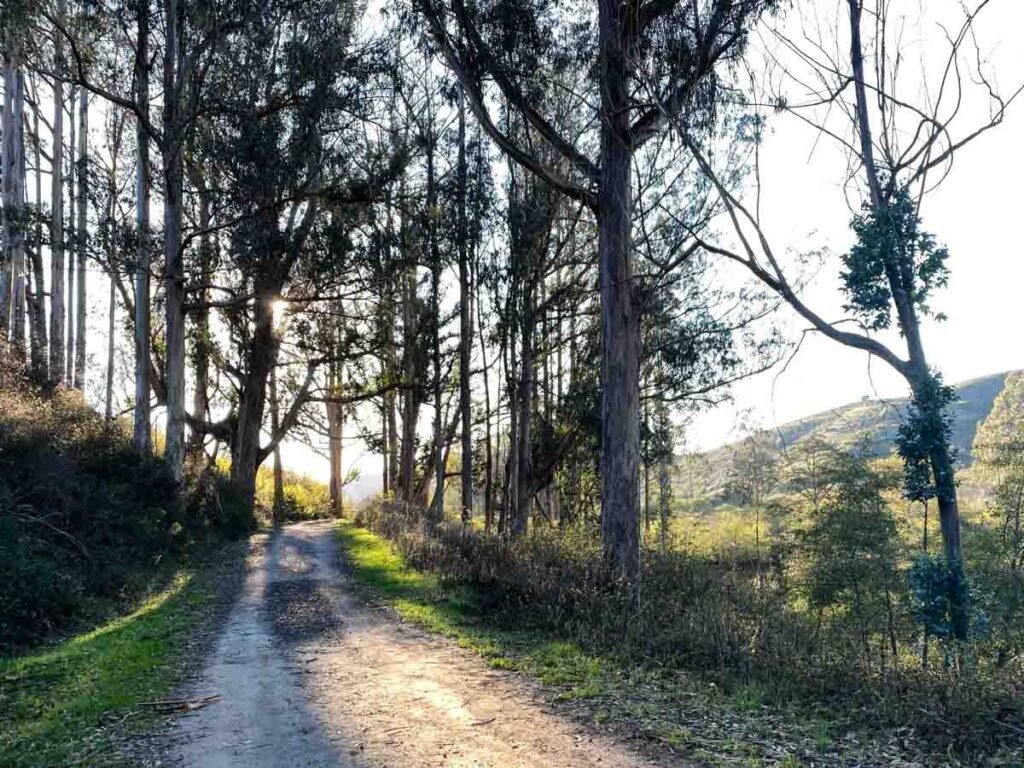 Burleigh Murray State Park Trail
Distance: 3.9 miles out and back
Elevation: 301 feet
Parking: There is parking at the trailhead.
Dog-Friendly?: No
This little state historic park is a former ranch property hidden in a quiet valley south of HMB. The site has an old historic barn and outbuildings. The hike itself is an easy, wide trail with a mix of open area and trees. You walk along a small river for the duration.
This is a nice hike if you want some quiet time to yourself. It's tucked away up the valley and is more of a local's only secret.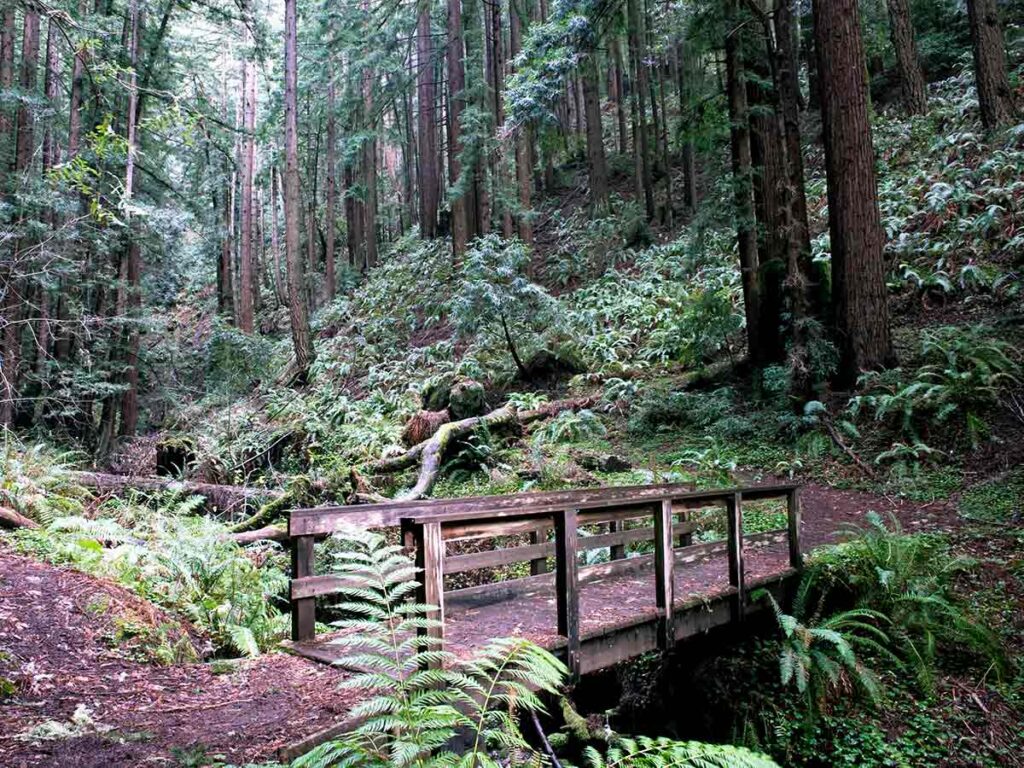 Purisima Creek to Grabtown Gulch to Borden Hatch Mill Loop
Distance: 6.3 miles
Elevation: 1,624 feet
Parking: There is small parking lot at the trailhead and some limited road parking.
Dog-friendly?: No
Purisima Creek Redwood Preserve is managed by Midpen Open Space organization. This 5,400 reserve features towering Coast Redwoods, canyons, creeks and ferns. It's a great spot for forest bathing. The Grabtown Gulch/Borden Hatch Mill loop is one of the most well-rated hikes in the park. It features the best-of what the park has to offer and is a good long distance with elevation.
Purisima Creek has a pretty extensive trail network with 17 distinct trail options. You can also consider the long 9.6 mile (1,800 elevation) Purisima Creek/Whittemore Gulch loop or the easier 3.5 miles (1,000 elevation) trail from Purisima Creek to Craig Britton. Check the Midpen site for a full trail map.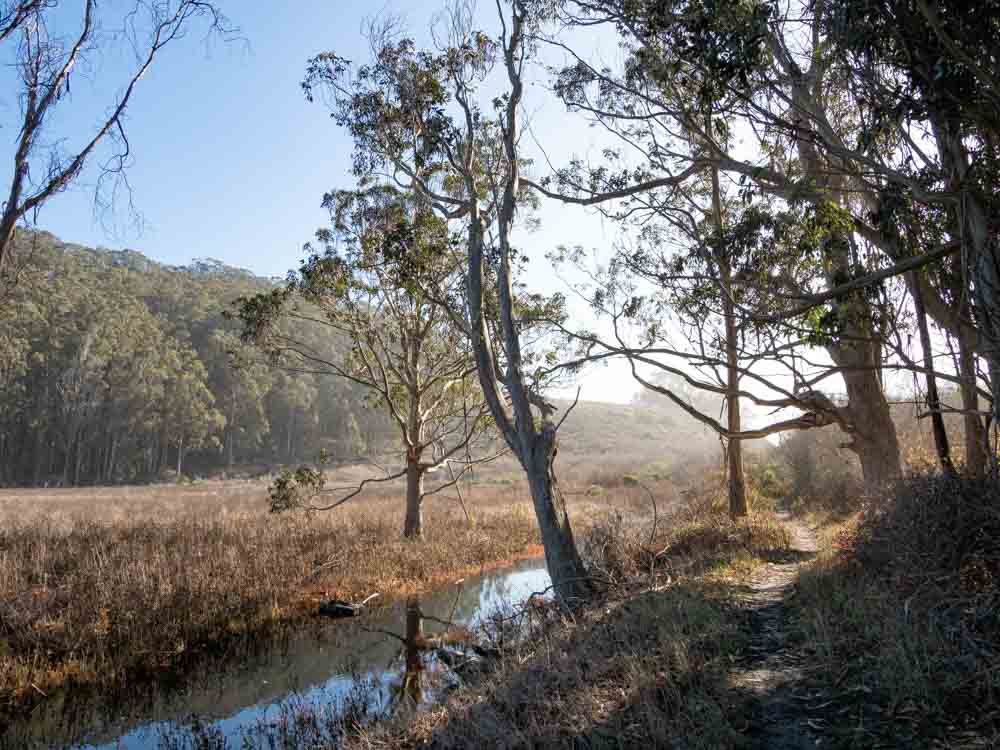 Pescadero Sequoia Audubon Trail
Distance: 1.8 miles
Elevation: negligible
Parking: There are three parking lots at Pescadero Beach and another on Pescadero Creek Road.
Dog-Friendly?: No
This nice little walk takes you into the marsh along Pescadero Creek. It's a great spot for bird-watching and seeing the wildlife that feeds on the creek. You could also combine this walk with the 1.7 mile Pescadero Pond loop, which includes a nice stretch along Pescadero Beach.
Pescadero is a popular beach for families and the Audubon Trail has a beach section just before the bridge with cool driftwood sculptures. Check out our full guide for how to maximize your time at Pescadero State Beach.
Explore More of the Bay Area
More Bay Area Hikes & Walks
Share these Half Moon Bay hiking trails on Pinterest: