There are only three types of giant Redwoods in the world, and two of them are found only in California. These massive trees are nothing short of a natural wonder and wandering among them will fuel your love of nature and feed you with a strong sense of peace. Fortunately, you have a lot of options, because there are many California redwood parks with stands of old growth and second growth trees.
This comprehensive guide has 43 forests and parks which feature either California Coast Redwoods or Sequoias. Each listing will give you a bit of information regarding the park or preserve with a link to either an itinerary or more information about hiking and visiting the park.
Please note that in the past 5 years, wildfires have impacted our redwood forests. The trees themselves are pretty resilient, but the parks can sometimes close due to road or infrastructure damage and hazard trees. As of this writing, Big Basin, Mountain Home Demonstration Forest, Kings Canyon National Park Sequoia National Park and Giant Sequoia National Monument are affected in some way, so check for notices before you visit.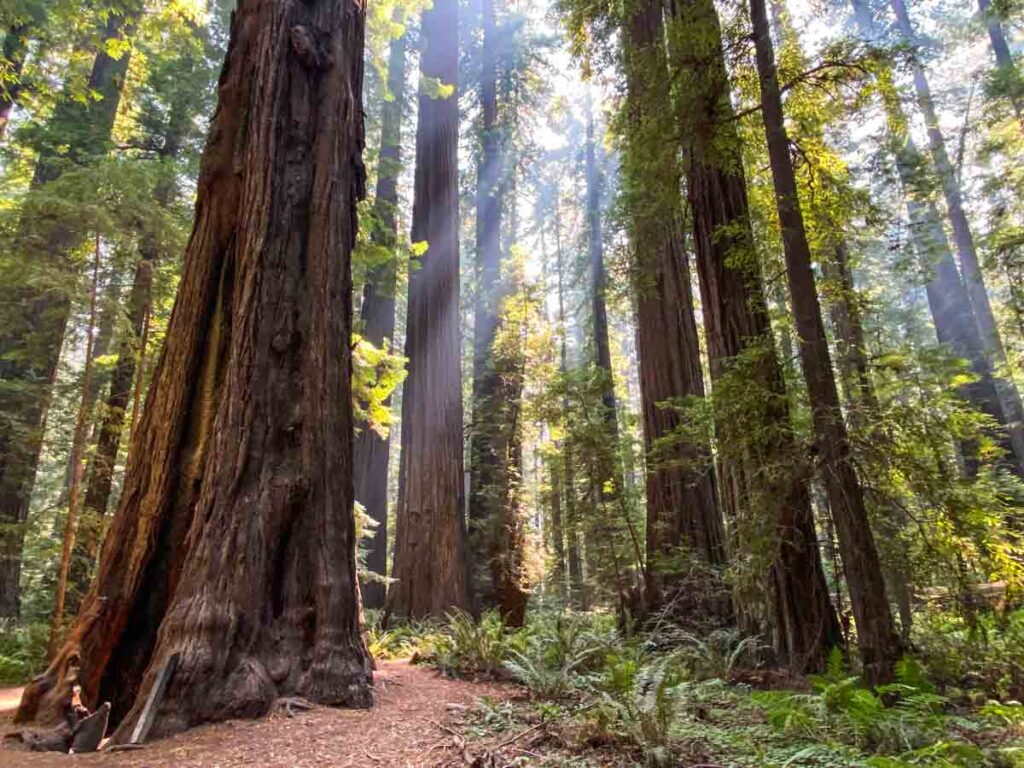 (This article contains affiliate links. This means that if you choose to purchase, I'll make a small commission.)
Tips for Planning a Redwoods Trip
Most of the sites listed here are California State Parks and many (but not all) charge a day use fee. Consider getting an annual park pass. Our California parks pass guide will help you determine whether a pass makes sense for you.
If you are planning to visit Kings Canyon, Yosemite and then one other national park, you will save money if you get an annual America the Beautiful pass.
If you are planning to camp (especially during high season), book it early because most of these park campgrounds fill up fast.
The same goes for any kind of lodging in Yosemite, Kings Canyon or Sequoia National Parks.
Just assume that you'll have rotten mobile service in these regions. Take your phone to the north coast redwoods, Big Sur, any national forests and even some remote Bay Area locations and your carrier will tease you with a hint of a bar, and then not deliver the goods. So, cache or print maps in advance.
Give yourself plenty of time for driving between the redwood parks in California. Our roads are winding and can be slow.
If you are mad for California state parks, be sure to check out our list of ALL CA state parks.
Best Time to Visit the California Redwoods
Most of the parks listed here can be visited year round. But just because they are open and accessible, doesn't mean that there isn't an ideal season.
For the Coast Redwoods in far northern California, May through October is the best time to visit. The weather is wetter there than elsewhere in California and you'll avoid the worst of it by sticking to a late spring to early fall schedule, which is our favorite time to explore most of California anyway.
For the San Francisco Bay Area and Central Coast redwoods, any time of year is fine. But for no fog and warm weather, the sweet spot is late March through May and September through November.
The Sequoia Redwoods all live in a narrow band in the lower western Sierra Nevada mountains. The most accessible groves sit at 1,200-5,000 feet. This means that even though the parks are open year round, the higher elevation groves may be inaccessible during heavy winter weather. And the summer months are great, but super busy. The sweet spot for the Sequoias are late April through November.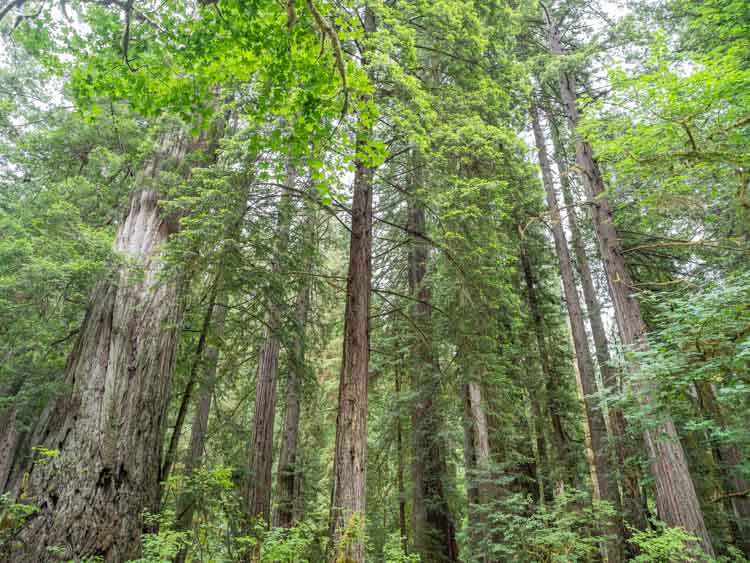 The Top 10 Redwood Parks in California
If 43 parks are just too daunting for you, check out our top 10 list of the best parks in California with Redwoods. It's been curated to feature county, state and California national parks that are popular, have a good visitor infrastructure and easy-to-access groves. You could even combine them all into one massive 10-14 day Northern California road trip.
Clicking on the link for each park will jump you down to the listing, which will give you more information on what the park offers.
If you are interested in a particular region, you can also skip ahead to:
As for the rest of these CA redwood parks, I've selected sites that are primarily known for their redwoods. This means that they have a lot of trees, or notable groves. There are plenty of other parks that have <some> redwoods. Heck, the street in front of my house has redwoods. But I'm not including them here.
For each regional section, I've listed the parks in rough north-to-south order.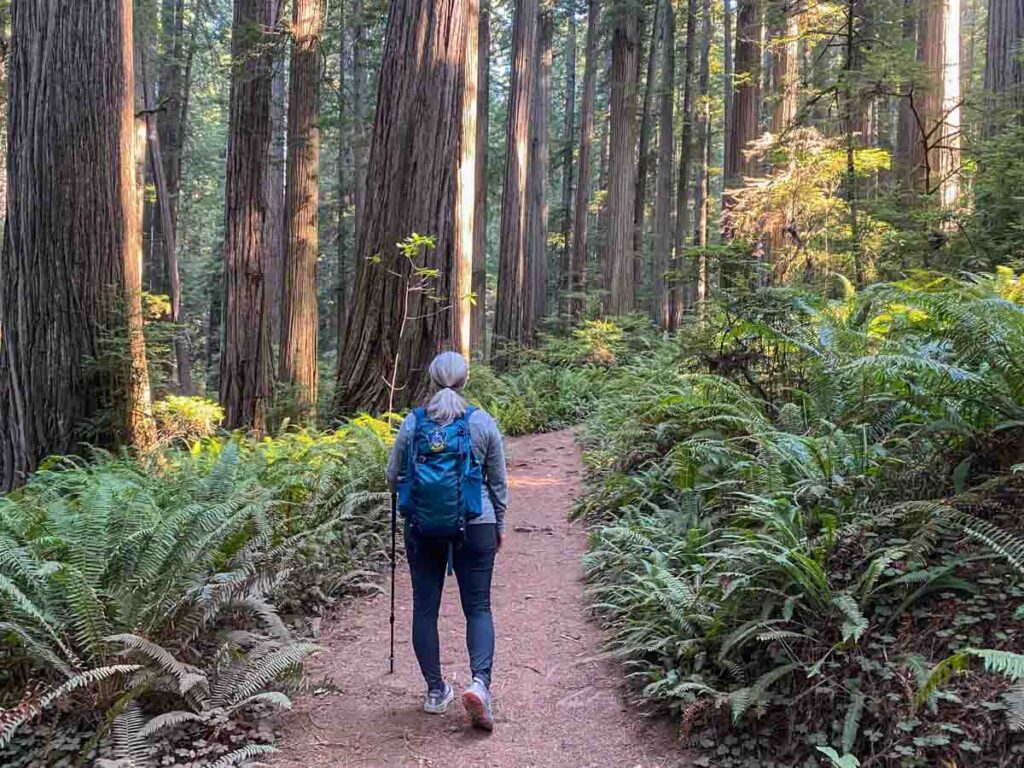 Far Northern California Redwood Parks
You can easily combine Jedediah Smith State Park, Prairie Creek Redwoods State Park, Humboldt Redwoods State park and a bit of the Redwoods National Park into one tree-tastic road trip. If you are unsure about whether to fly or drive, use our Redwoods airport guide or our Sonoma County airport guide.
We have an insanely detailed itinerary for driving San Francisco to Redwoods National Park (and key stops in between). It covers 5 days and all of the coolest groves, along with kooky roadside attractions like the Trees of Mystery.
Jedediah Smith Redwoods State Park
Jedediah Smith Redwoods State Park is fantastic! The park has quite a few easily accessible groves, right off of the Highway 199 corridor. These include the Peterson, Templeman and Stout Memorial Groves. Don't miss the scenic Howland Hill drive and the Boy Scout hike. You can camp on-site or stay in nearby Crescent City.
More info on Jedediah Smith State Park.
Redwood National & State Parks
Redwood National & Sate Parks is an unusual multi-jurisdictional reserve that is co-managed by the National Park Service and California State Parks. Beyond what the state parks offer, the "national" part also has some remote backcountry drives and hikes. You can also visit the more accessible Lady Bird Johnson grove.
More info on Redwood National & State Parks.
Del Norte Coast Redwoods State Park
Del Norte has 8 miles of wild California Coastline with inland groves. You can do a looong hike along the coastal trail with mixed growth forest and spectacular ocean views. Or go inland to the Mill Creek area and hike the Hobbs Wall Trail for old growth and spring wildflowers.
More info on Del Norte Coast Redwoods State Park.
Prairie Creek Redwoods State Park
Prairie Creek is one of the jewels of California's Redwood Park network. It has 2 campgrounds, 75 miles of hiking trails, a lush fern canyon, the 10-mile scenic Drury Parkway (with tons of pull-outs) and herds of enormous Roosevelt elk. If you are just driving through and not hiking, be sure to stop at a number of pull-outs to see the groves. They are easily accessible from the road.
More info on Prairie Creek Redwoods State Park.
Grizzly Creek Redwoods State Park
Do you remember that scooter chase scene from Return of the Jedi? Yep, they filmed that in Grizzly Creek. In addition to The Force and a band of plucky Ewoks, the park also features 4.5 miles of hiking, a campground and the impressive Cheatham Memorial Grove.
More info on Grizzly Creek Redwoods State Park.
Humboldt Redwoods State Park
Like Prairie Creek, this is one of my favorite redwood parks in California. It's comprised of little pearls of redwood groves mixed in with private lands. It's all strung along the scenic 32 mile Avenue of the Giants scenic byway. Be sure to stop at the Visitor Center, Founder's Grove, Women's grove, the Eel river overlook and any of the many pullouts along the drive.
More info on Humboldt Redwoods State Park.
John B. Dewitt Redwoods State Nature Reserve
There is not a lot of information available about this little known nature reserve. But they do have several strands of old growth forest. It's located just south of the Avenue of the Giants but before you get to Garberville. It's worth a quick stop.
Richardson Grove State Park
This 1,800 acre park is located south of the Avenue of the Giants. It offers 3 campgrounds, 9 miles of trails, a walk-through tree and watersports on the Eel River. Be sure to walk the "racetrack" path, which passes many unusual redwoods, including a chandelier tree with multiple trunks.
More info on Richardson Grove State Park.
Smithe Redwoods State Nature Reserve
This nature reserve is located just a few miles north of Standish-Hickey. It's accessed by a poorly marked pull-out right off of the west side of Highway 101. There aren't formally marked trails, but you can wander the grove and go down to the Eel River .
More info on Smithe Redwood SNR.
Standish-Hickey State Recreation Area
Standish-Hickey is billed as the southern gateway to Northern California's redwood parks and it marks the start of the Redwood Highway (which is really just Highway 101, but the pretty section). The park has 10 miles of trails that wind through old growth and second growth forest. Be sure to check out the 1,200 year old Miles Standish Tree, which is on the Mill Creek Trail.
More info on Standish-Hickey SRA.
Sinkyone Wilderness State Park
They aren't kidding when they named Sinkyone a wilderness. This park is named for the Sinkyone Native Peoples who lived in the area for thousands of years. The land is now part of California's rugged Lost Coast. The campgrounds are not accessible by car. So, it's more of a back country experience. You'll be earning your solitude among the old growth redwoods by hiking through the groves on the Lost Coast Trail.
Here's some advice on how to hike the Sinkyone Wilderness.
Admiral William Standley State Recreation Area
This modest park has 45 acre grove is named for a Ukiah native who was also the Chief Naval Officer for the US from 1933-1937. If you are visiting Fort Bragg or Mendocino, you take a detour from 101 via Branscome Road to access the grove. There aren't any trails, but you can walk down the dirt road through the trees.
More on Admiral William Standley SRA.
Jug Handle State Nature Reserve
Jug Handle is conveniently located in between Fort Bragg and Mendocino. The main event at the park is a 5 mile round trip hike on the Ecological Staircase Trail. This trail features some truly unique terraced coastal and woodland geology. In addition to a grove of coast redwoods, you'll also be seeing pygmy cypress, rhododendron, and various pine species.
More on Jug Handle State Nature Reserve.
Russian Gulch State Park
This park is just 2 miles north of Mendocino. It offers a dramatic mix of rocky, windswept coastline and leafy canyon. The canyon goes inland for three miles and has ferns, redwoods and a dramatic 36 foot waterfall. There is a 6 mile loop trail covering all of that, or you can do some shorter out-and-back trails.
More on Russian Gulch State Park.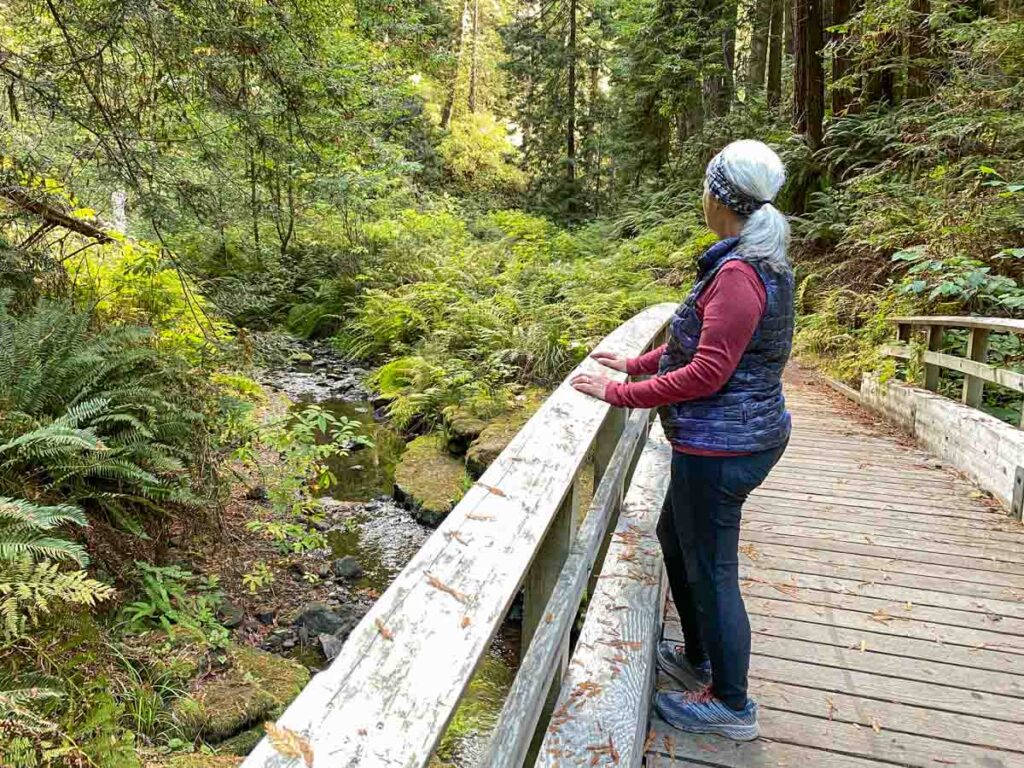 Van Damme State Park
Van Damme State Park is a twin to Russian Gulch. It's located a few miles south of Mendocino and it also features a fern canyon and pygmy forest. You can take the 4 mile loop of the Fern Canyon and Old Logging Road Trails. Alternatively, if you are in a hurry, you can simply access the pygmy forest from the Airport Road.
More on Van Damme State Park.
Mendocino Woodlands State Park
Mendocino Woodlands is located in a canyon, inland from Mendocino. The park features groves of second and third growth redwoods, 25 miles of hiking trails and a group camp. The Big Tree and Old Jeep Trails will take you through old growth forest.
More on Mendocino Woodlands State Park.
Jackson Demonstration Forest
This state forest is managed by Cal Fire. In it, they perform research, test forest management techniques (such as prescribed burns) and perform selected logging. The forest also has a seasonally available campground and hiking throughout the year. Notable hikes include the 3.7 mile Forest History interpretive Trail and the .7 mile Waterfall Grove Trail with old growth forest.
More on the Cal Fire website.
Montgomery Woods State Nature Reserve
Montgomery Woods is located off a quiet road just west of Ukiah. The site offers a steep 2 mile trail into the quiet woods. They don't have a campground but you can have a hot soak after your hike by staying at Orr Hot Springs.
More on Montgomery Woods.
Navarro River Redwoods State Park
Navarro River Redwoods State Park is a 600 acre patch of second growth redwoods. It's located right on Highway 128, which is the feeder road for Mendocino. The highway travels through Anderson Valley and then plunges into an 11 mile "redwood tunnel to the sea". While there, stop to see the Dimmick Memorial Grove or simply take it slow through the tree tunnel.
More on Navarro River.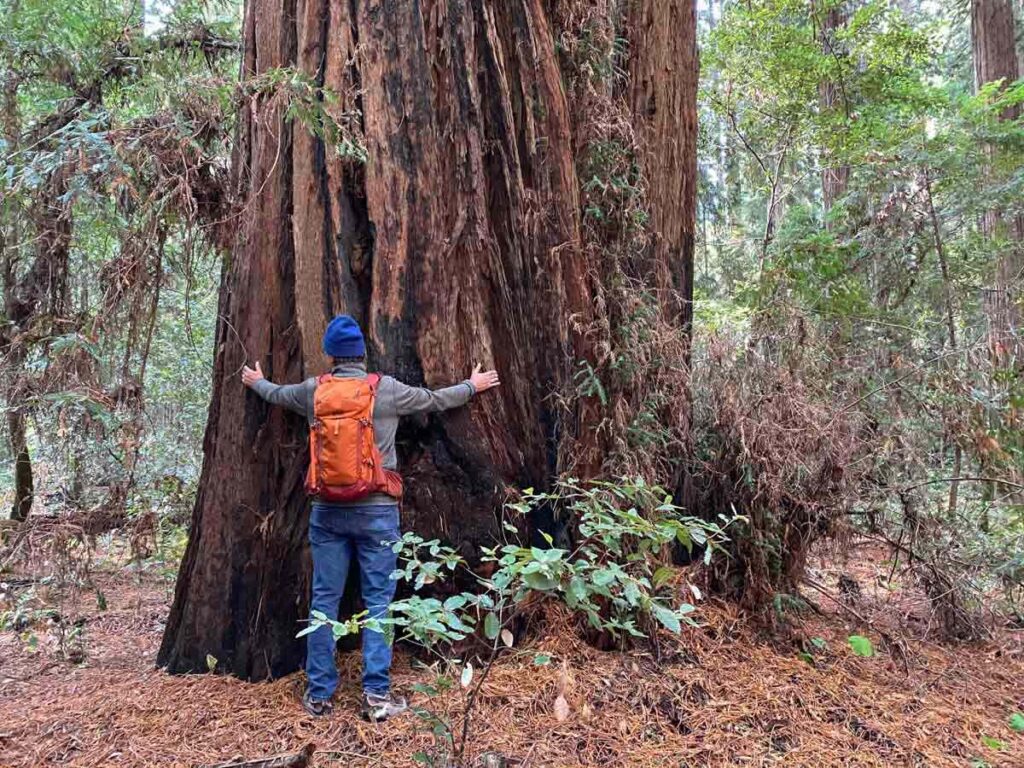 Hendy Woods State Park
Hendy Woods is also located off of Highway 128 and like Navarro River, the park offers swimming, kayaking, camping and hiking. The Big Hendy Grove is easily accessible from the day use area. You can access the Little Hendy Grove and take the 4.5 mile Grand Tour Loop.
More on Hendy Woods.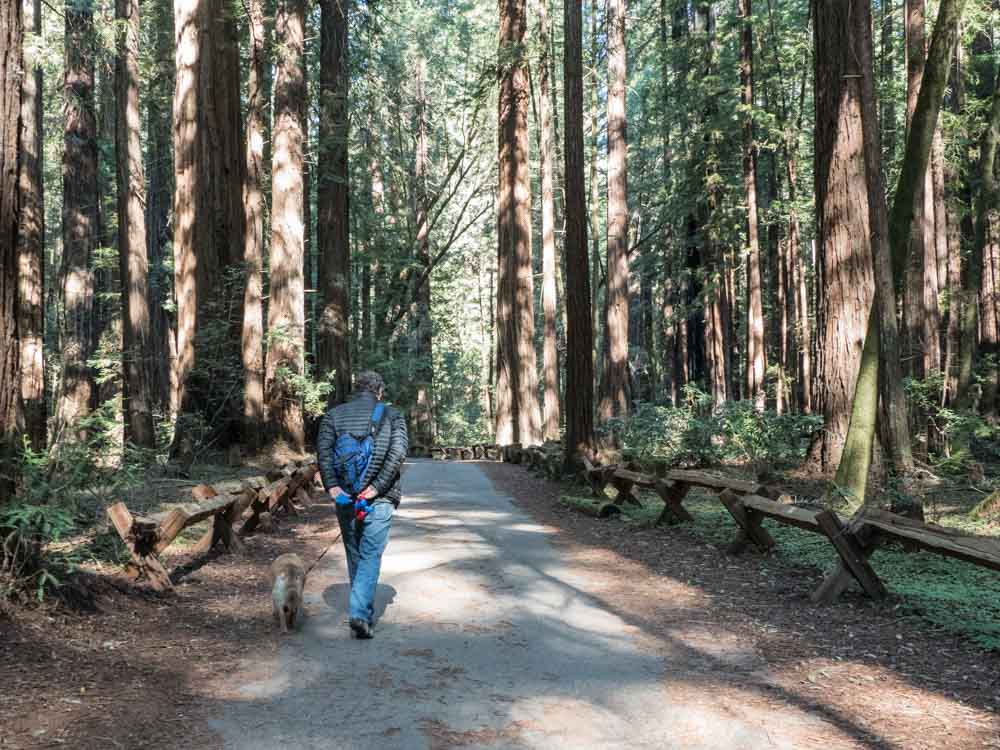 Armstrong Redwoods State Nature Reserve
Armstrong Woods is a lot like Muir Woods, but far less crowded. Take the easy Pioneer Trail which goes past the Parson Jones and Colonial Armstrong Trees. There are also several loop hikes that range from 1.6 to 6 miles.
Austin Creek State Nature Reserve is also adjacent to Armstrong Woods. It offers 12 miles of hiking trails and four campgrounds, most of which are accessible from a dirt road.
More information on both Austin Creek and Armstrong Woods. And here's a weekend itinerary for nearby Guerneville.
Bothe-Napa Valley State Park
Bothe-Napa Valley State Park is located on Highway 128 between St Helena and Calistoga. It's a great nature stop if you are otherwise wine tasting in the Napa Valley. The park boasts 1900 acres of coast redwoods, douglas fir and madrone trees. The park has the 5 mile Ritchie Canyon/ Coyote Peak Loop Trail with options for shorter hikes. There is also a Native American garden and nearby historic grist mill.
More on Bothe-Napa Valley State Park.
Coast Redwoods Near San Francisco
Samuel P. Taylor State Park
Samuel P. Taylor State Park's 2,882 acres offer shady strolls through the peaceful redwoods along Lagunitas Creek. There are a number of other hikes, including the Barnabe Peak Loop, which has spectacular views of Marin County. The park is located near Point Reyes National Seashore and it has two campgrounds and several day use areas.
More on Samuel P. Taylor State Park.
Mount Tamalpais State Park
There is quite a variety of terrain on Mount Tam- from redwood forest, to chaparral and epic coastal views. The park has 60 miles of trail, so you have a lot to choose from. For the best redwood trails, take the Steep Ravine to Dispsea Trail (7.5 miles), the 10.5 mile Redwood Creek Trail, the 6 mile Ben Johnson/Bootjack/Coastal Fire Trail, or the 3.4 mile Lost Creek/Canopy/Fern Creek Loop. There are many day use picnic areas but only three campgrounds.
More info on Mount Tamalpais State Park.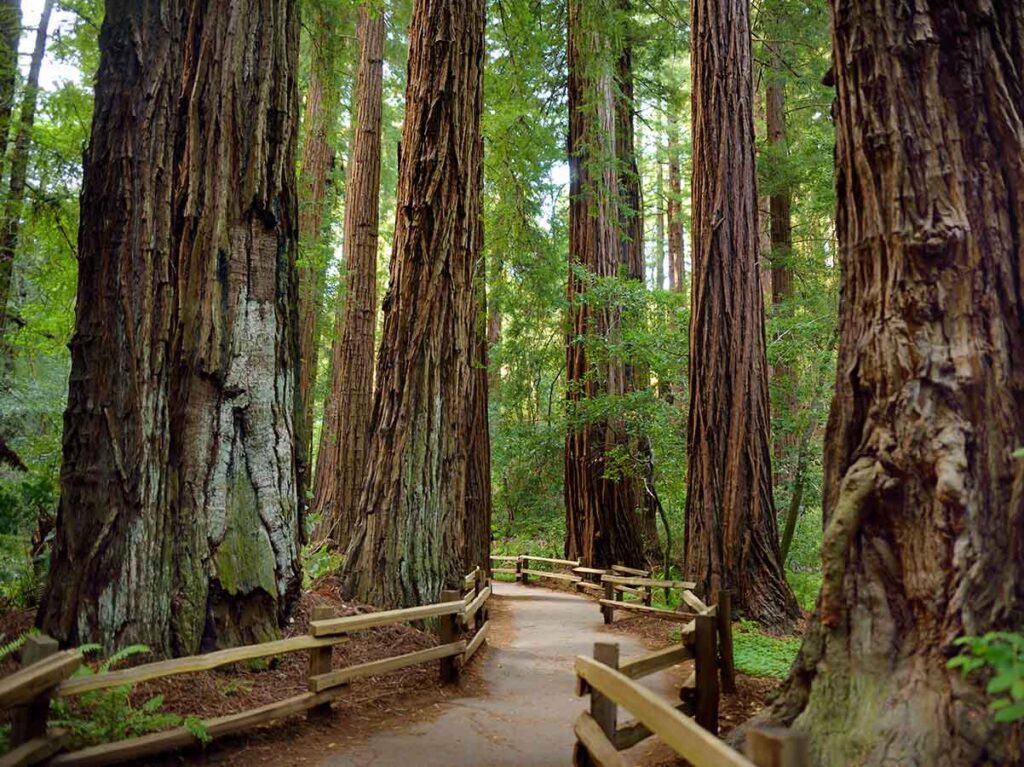 Muir Woods National Monument
This lovely forest of old growth trees has been federally protected since 1908. The monument has six miles of trails, and the main Redwood Creek Trail is very accessible for people using wheelchairs, strollers or the like. There are also four trails which connect to the Mount Tam State Park trail network.
We did include Muir Woods on our top 10 list, primarily because of the dense abundance of the large trees. But here's the rub– because of its proximity to San Francisco, the park has become so busy, that you need to make parking reservations just to visit. If you want to avoid that and don't mind taking a longer hike, you can park near Mountain Home Inn and take the Lost Creek loop mentioned above. It connects with the Muir Woods Redwood Creek trail.
More info on Muir Woods and some mighty inspirational quotes by John Muir himself. And our guide for the 11 other National Park sites in the Bay Area.
Roy's Redwoods Open Space Preserve
This small county park has a few things going for it. It's quite close to Samuel P Taylor and Mount Tam. So, if you are staying in the area, you can hit up all three. And the park is also dog-friendly, which not something that the state and national parks allow. Take the Meadow Trail and the Roy's Redwood Trail to see the redwoods, fir, madrone and oak trees.
More info on Roy's Redwoods Open Space.
Indian Tree Preserve
Indian Tree is a 242 acre county reserve near Novato. It has ferns, mature redwood groves and vistas of the surrounding area. Take the 4.5 mile Deer Camp/Big Trees/Upper Meadow Loop.
More on Indian Tree Reserve.
Reinhart Regional Redwood Park
This lovely county park shades eastern Alameda county with a canopy of redwood trees. The area was logged in the 1880's, but a forest of 180 foot second growth redwoods have filled in. The park is very large for an urban reserve, boasting 1,800 acres and five major entrances, each with trailheads and picnic areas. For the best of the trees, take the 6 mile Stream Trail/French Trail/Chown Trail loop from Canyon Meadow. Bonus– Reinhart is dog-friendly.
More on Reinhart Regional Redwood Park.
Joaquin Miller Park
Joaquin Miller is an Oakland city park which is literally adjacent to Reinhart. For a wooded walk, try the 3 mile Sequoia Bayview Trail. You can also slide into nearby Robert's Regional Recreation Area for an additional 3 miles on the West Ridge/Graham/Dunn Trail Loop.
More on Joaquin Miller and Robert's Regional.
Portola Redwoods State Park
This 2,800 acre park is so close to the busy Bay Area but it feels like the Jurassic era. The park has a 55 site campground as well as group spots. The 18 miles of hiking trails include the easy .8 mile Old Creek Trail, the moderate 5.4 mile Slate Creek Loop or the harder 11 mile Old Tree/Slate Creek/Bear Creek Loop.
More on Portola Redwoods State Park.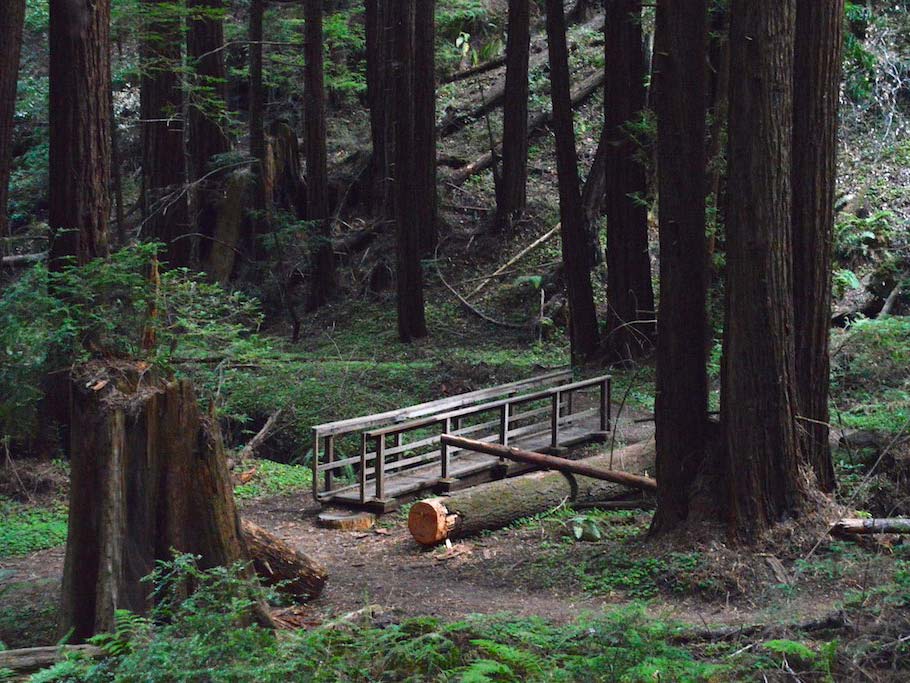 Butano State Park
This quiet park has 40 miles of hiking in forest and upland areas. It's covered in second and third growth forest that also includes oak trees. You can take the gentle 1.5 mile Little Butano Creek Trail, or extend it to include Año Nuevo/Goat Hill for a 4.7 mile loop. The park also has a seasonal campground.
More on Butano State Park and things to do in nearby Half Moon Bay.
Purisima Creek Redwoods Open Space Preserve
Purisima Creek is a huge 5,400 acre preserve overlooking Half Moon Bay. It's stuffed full over towering redwoods, ferns and wildflowers. Try the 5.3 mile Grabtown Gulch/Purisima Creek Trail loop or an out and back on the 4 mile Purisima Creek Trail.
More on Purisima Creek.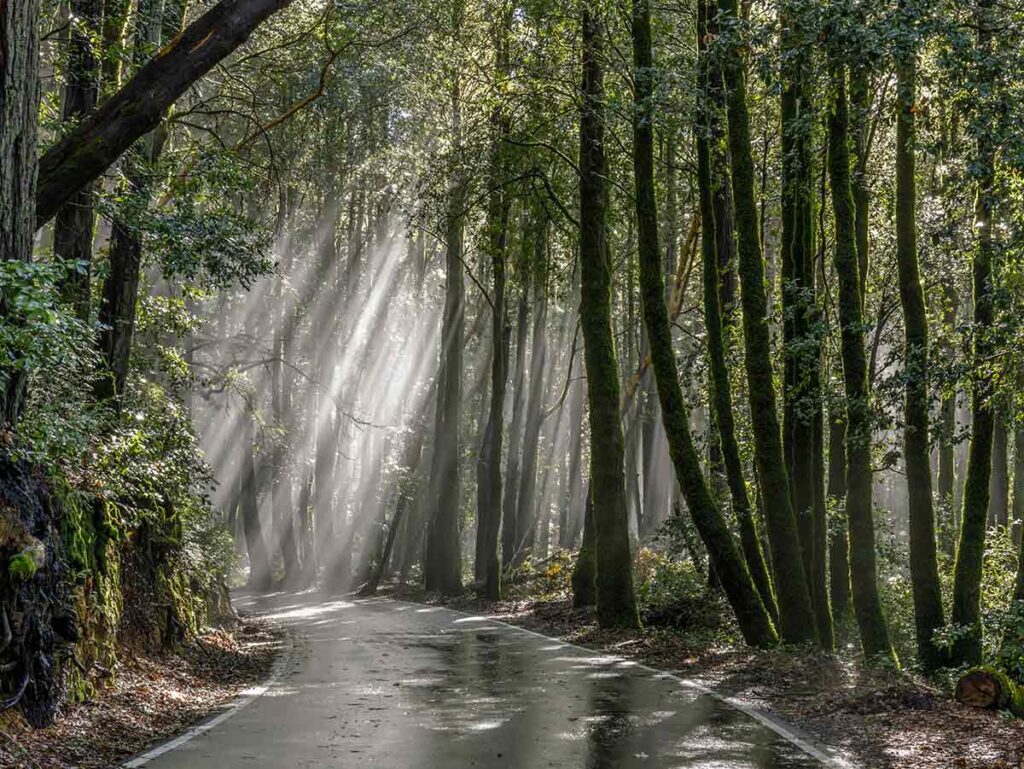 Big Basin Redwoods State Park
Big Basin was established in 1902, making it California's oldest state park. It houses the largest continuous stand of ancient coast redwoods south of San Francisco, with old and second growth trees, mixed conifer, oaks and chaparral. Sadly the park was damaged in a major 2020 fire and parts of the park roads and infrastructure (including historic buildings) were damaged. When fully open, the park has 80 miles of trails, including the popular Berry Creek Falls Loop, Sequoia Trail and Berry Creek Falls Trail.
As of this writing, some trails have re-opened. And even though the park isn't fully open, we still put it on our top 10 list because it's a stunning example of California conservation ethic with regards to old growth forest.
More on Big Basin State Park, keep and eye on park updates.
Henry Cowell Redwoods State Park
Henry Cowell has a lovely 40 acre patch of old growth redwoods along with another 4,000+ acres of second growth and chaparral. This is a disconnected park with the old growth grove to the south but some lovely hikes in the Falls Creek unit to the north. This area was also hit by the same 2020 fire, but it appears that more trails are now open. Try the popular 3.3 mile Falls Creek to Lime Kiln Trail, .7 Redwood Grove Loop Trail or the dog-friendly Pipeline Road Loop.
More on Henry Cowell State Park.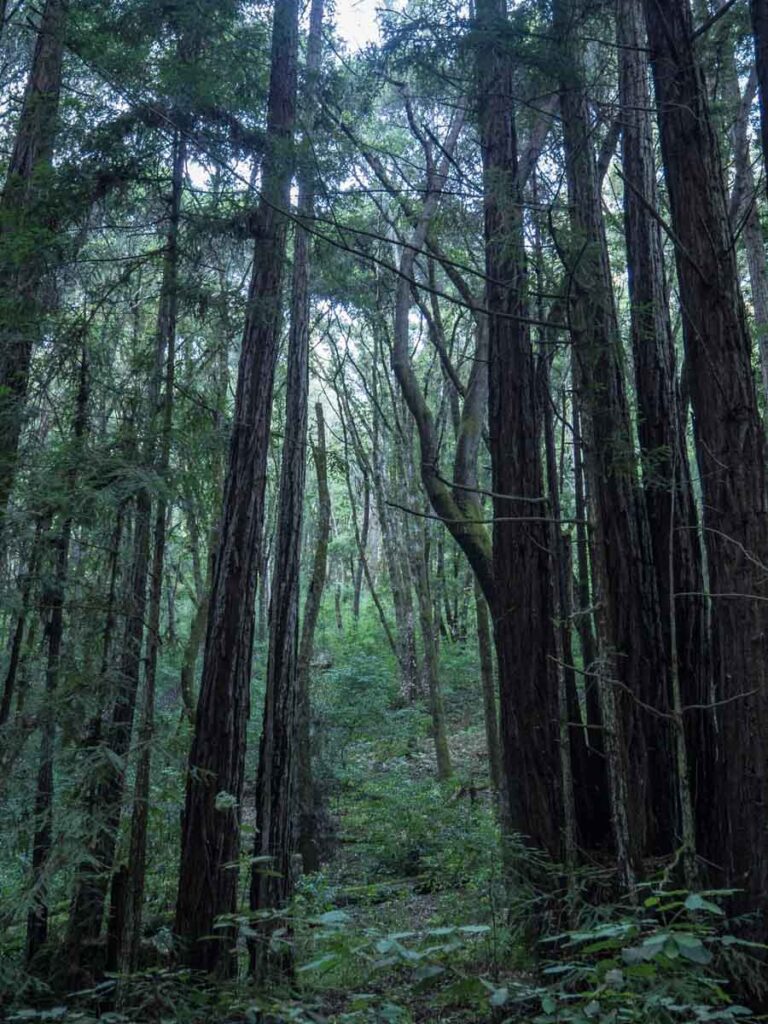 The Forest of Nisene Marks State Park
Like Big Basin and Henry Cowell, this park is also in the Santa Cruz Mountains. But it's tucked away above Aptos and a bit off the radar, so you can hang out in this second and third growth forest with plenty of peace and quiet. Nisene Marks has 30 miles of trails and some interesting mining ruins. Try the 5.6 mile Medicine Buddha Loop Trail, the 11 mile Bridge Creek Trail to Maple Falls or the dog-friendly Aptos Creek fire road.
More info on The Forest of the Nisene Marks and why we included it on our Santa Cruz weekend getaway. You should also check-out these treehouses that you can rent in Santa Cruz. They are ALL in the forest.
Central Coast Redwoods
Big Sur is most famous for its eyepopping coastal views. But if you head east, rather than west, you can also find some lovely strands of Coast Redwoods. The following state parks have hikes that will cover that territory for you. A word of warning– every other thing in Big Sur is is named Pfeiffer-something. So, you'll want to be exacting about the names if you are mapping these parks.
Pfeiffer Big Sur State Park
This park sits on the western slopes of the Santa Lucia Highlands. The eastern side grows delicious pinot noir grapes, but the western side is a wild tangle of redwoods, conifers, oaks, sycamores, cottonwoods, maples, alders and willows. The easy 1.9 mile Leiwals Flat hike has some lovely trees as does the even easier .8 mile Big Sur Nature Trail. This park has three family campgrounds, two group campgrounds and even a few cabins for rent.
More info on Pfeiffer Big Sur State Park, our advice on how to spend an epic day in Big Sur and our 5-day Pacific Coast Highway itinerary.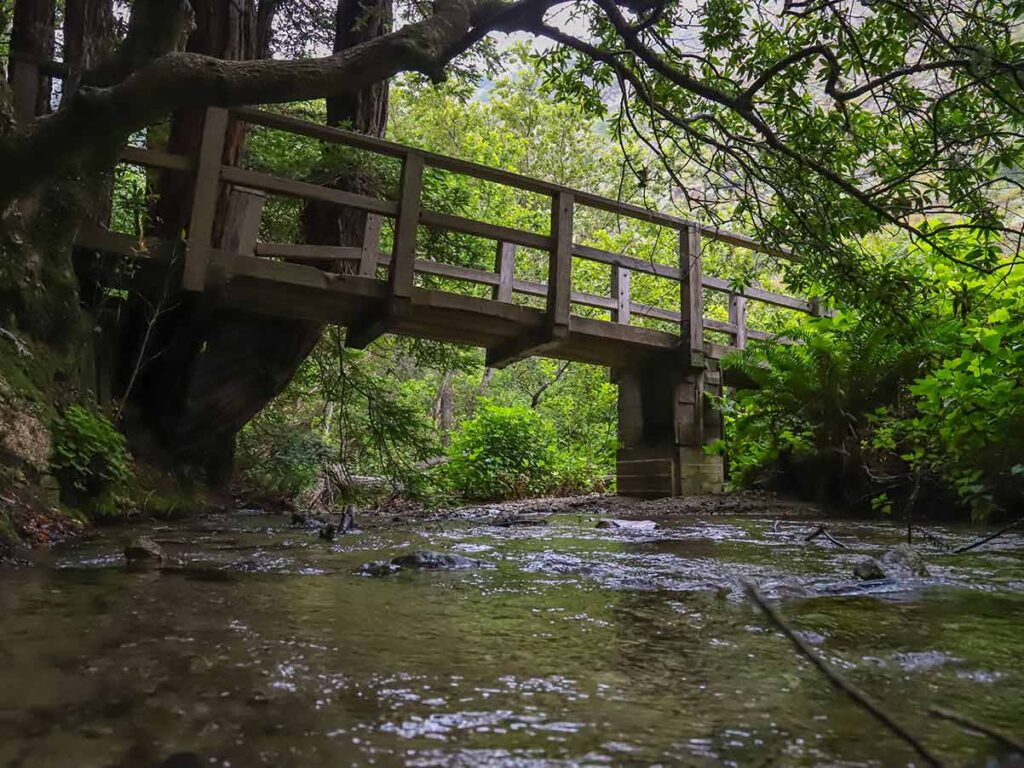 Julia Pfeiffer Burns State Park
The Julia Pfeiffer Burns State Park is most famous for McWay Falls, which dramatically spill off the cliff into the awaiting ocean. But, if you go inland, you can find redwoods, tan oak, madrone and chaparral stretching up to the ridges of the Santa Lucia Highlands. Consider taking the 1.1 mile Partington Cove Trail or the harder 6 mile Tanbark Trail. The park has one small campground.
More info on Julia Pfeiffer Burns State Park.
Limekiln State Park
This park got nailed by the 2020 Dolan fire. But I'm mentioning it here, hoping that it will eventually reopen. Popular trails include the 1.4 mile Lime Creek Falls Trail, the 2.2 mile Lime Kiln and Hare Creek Trails and the difficult Twin Peak Trail.
More info on Limekiln State Park.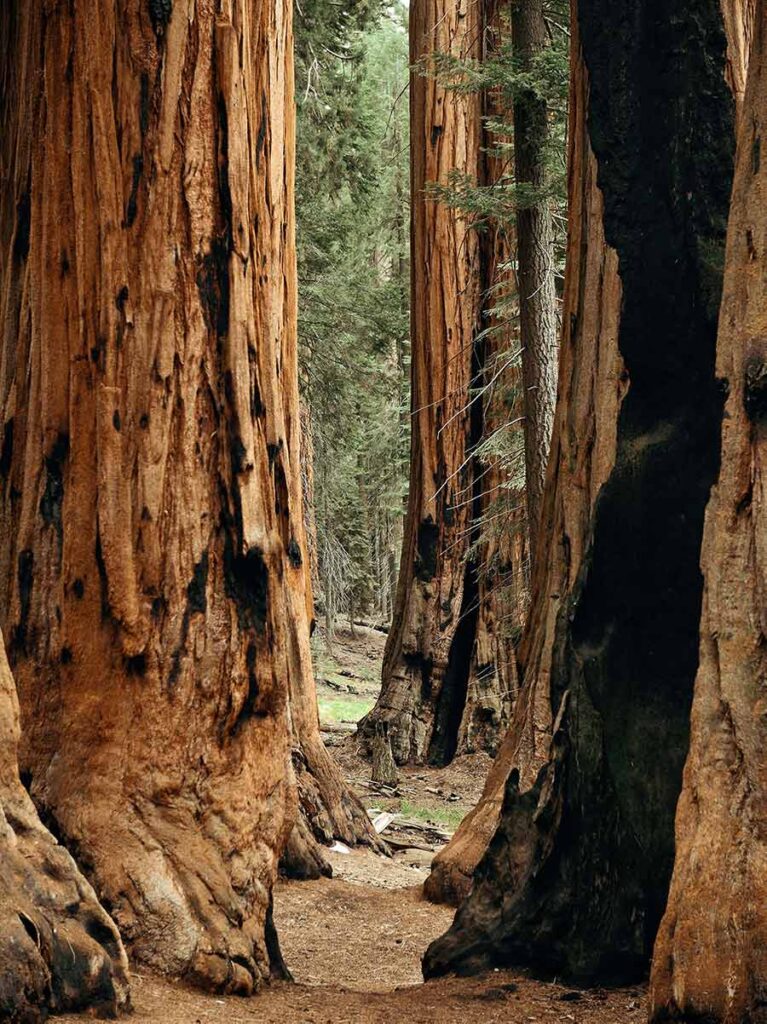 Sequoia Redwoods in the Sierras
Just to make things confusing for you, many of the following locations have "Sequoia" in their name. So, it may sound like the groves are all in the same place, but they are actually distinct jurisdictions with spread-out locations. The Kings Canyon and Sequoia National Parks are nestled in the middle of three different National Forests. This includes the Sequoia National Forest, which is to the west and south of the national parks. The Sequoia National Monument is located within the Sequoia National Forest and is managed by the Forest Service.
I'm calling this out because paying attention to jurisdiction matters if you have a dog. The national and state parks only allow dogs on roads and campgrounds. However, the national forests are extremely dog-friendly. Also the national forest lands tend to have better campground availability.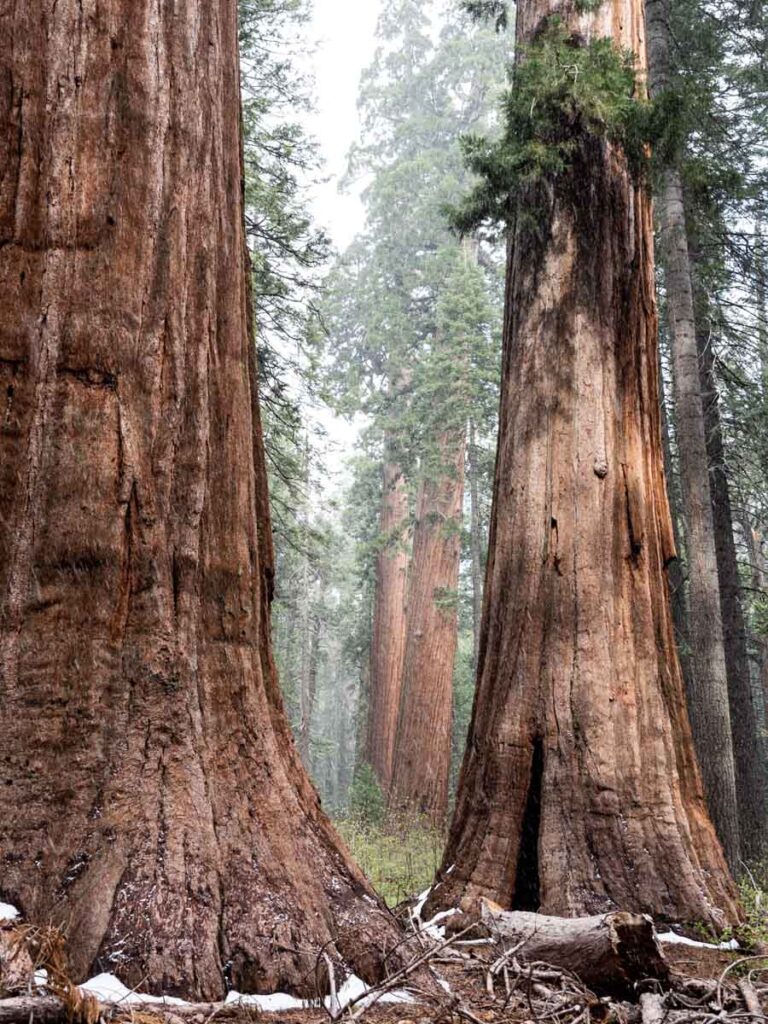 Calaveras Big Trees State Park
All that said, let's start with a cool state park that doesn't have "Sequoia" in its name. Calaveras preserves two sizeable groves of Giant Sequoia. Each grove has its own constellation of hiking trails and a campground. If you are just doing a loop of the groves, each one is about 1.5 miles long. But you can add on distance to see more trees.
This area is also smack in the middle of Gold Country, so you can add on a visit to Sonora, Murphys or Columbia State Park.
More info on Calaveras Big Trees State Park.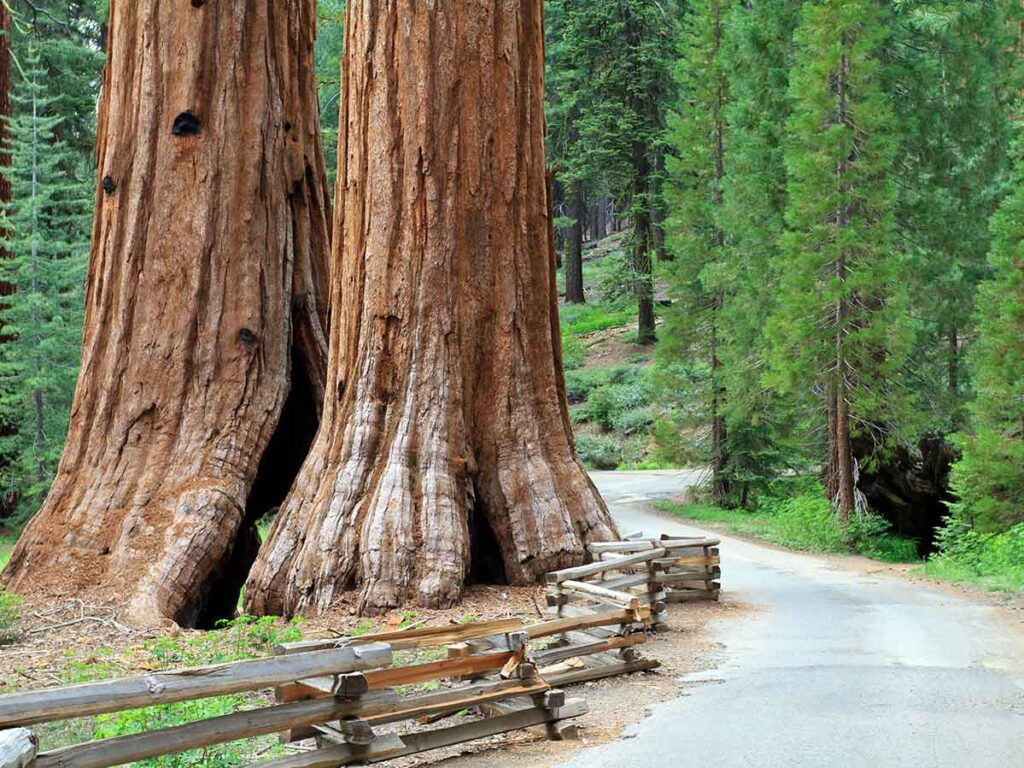 Yosemite National Park
Yosemite has the whole package– granite peaks, high mountain meadows, meandering rivers and scented pine forest. They also have three groves of giant Sequoia. The Mariposa Grove is near the southern entrance to the park, which is 1.5 hours from Yosemite Valley. The grove has a variety of different trails which accommodate varying distances and abilities. The Touolumne Grove is located off of Tioga Pass, just east of Crane Flat. Getting there is a 3 mile steep hike. The Merced Grove is also on Tioga Pass 6 miles west of Crane Flat. It's a 4 mile steep hike.
More on Yosemite's groves and a road trip from SF to Yosemite that includes the Mariposa grove.
Kings Canyon National Park
Grant Grove is located in Kings Canyon National Park, accessible by a short spur road from Highway 180, just 1.5 miles from the Kings Canyon Visitor Center. You can see the best-of on the .7 mile General Grant loop trail. But there are longer connecting trails to overlooks and the North Grove. Not far away is the Big Stump Grove, accessed by a short walk from the parking area. And the Sugar Bowl loop or Fallen Goliath loop will get you access to the groves in the Redwood Canyon Area.
More on the groves in both Kings Canyon and Sequoia National parks. Don't head out before checking the status of trails and infrastructure from the KNP Complex fire.
Sequoia National Park
Giant Forest is a large sequoia grove, perched on Marble and Middle Forks of the Kaweah River. It is the largest of the unlogged groves. It features the General Sherman tree and the grove contains more exceptionally large sequoias than any other. There are hikes of varying distances in the grove. If you want something less busy, try the Muir Grove, which is access by 3.8 miles trail near Stony Creek Village.
Giant Sequoia National Monument
The forest service manages 23 different groves in the Giant Sequoia National Monument. The Converse Basin Grove is one of the largest in the Sequoia conservation range, and is located not far from Grant Grove Village. Take the 2.5 mile Boole Tree Trail or the easy Chicago Stump Trail. The India Basin Grove also has a nearby campground.
In the south unit, check out the 1.5 mile Trail of 100 Giants Grove, the 1.5 mile Belknap Grove Trail, and the slightly harder to find Freeman Creek Grove. But be aware that recent fire damage may impact your visit.
Nestled within the southern unit of Giant Sequoia National Monument is the Mountain Home State Demonstration Forest. It's managed by the state rather than the forest service, but you can access some of the same campgrounds and hikes from the state lands. Look into doing the Adam Tree loop trail near the Shake campground.
More info on the National Monument and a (sorta) easy to read map with the groves.
More info on the Mountain Home forest and a map.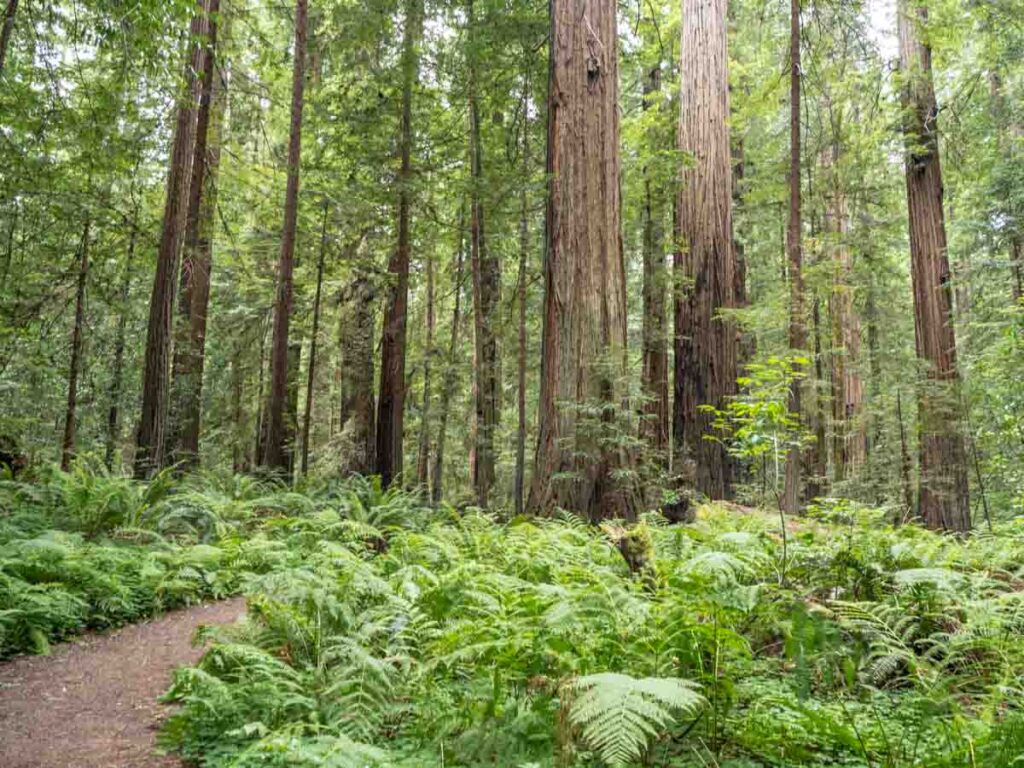 California Redwood Forest Map
Bookmark this page because when you are road-tripping, you are going to want easy access to our map of all of the redwood parks in California.
Things to Pack for a Redwoods Road Trip
As we mentioned above, these parks have rotten cell reception. This is one of those times when an old school map will serve you well. We love the Benchmark California Road Atlas. It has a lot of detail, showing state parks and campsites as well as both paved and dirt roads.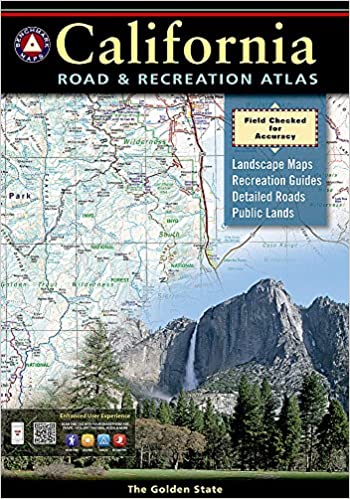 If you need a rental car, find your best pricing by comparing all of the different rental car providers on Rentalcars.com.
In addition to topping up your fluids and checking your tires, you may also want to bring a roadside safety kit which includes things like a warning triangle, jumper cables and the like. These kits also make a thoughtful, if tragically practical, Christmas or birthday gift. You should also pack a plug-in cooler, which uses your car's 12 volt plug to keep lunch items and drinks cold.
And finally, pack clothing layers. These redwoods thrive in cool climates and you'll want to give yourself options for your hikes.
More California Getaway Ideas
In addition to the redwoods, there are also quite a few other gobsmackingly beautiful scenic drives in California. The list includes coastal, forest and desert landscapes.
Add onto your north coast itinerary and spend some time in one (or three) lovely Norcal coastal towns.
See more trees with our Lake Tahoe scenic drive.
Share these California Redwood Parks on Pinterest: