The Trees of Mystery are a must-do roadside attraction if you are roadtripping the redwoods. It's located smack in the heart of the Redwoods National and State Park. It's a perfect blend of kitschy attraction and reverence for nature, with a nice nod to Native American culture.
This attraction has been around since 1946. Unlike much of the surrounding area, the Trees of Mystery is on private land, but they've done a lot to protect their groves of coast redwoods, and also to educate the public about the value of these huge trees.
This guide will give you practical information on how to visit and also tell you all of the fun stuff you can do there (which includes getting yelled at by Paul Bunyon).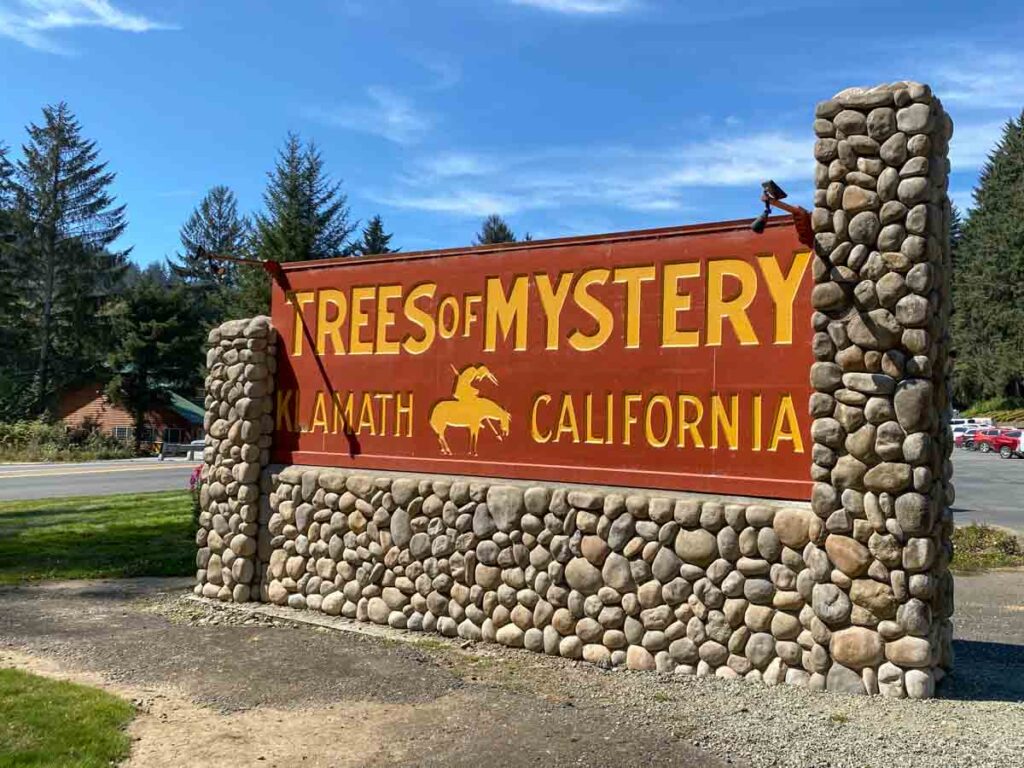 (This article contains affiliate links. This means that if you choose to purchase, I'll make a small commission.)
Plan Your Redwoods Trip
Get a pre-baked itinerary with our North Coast redwoods road trip guide. It has all of the key stops, including state parks and roadside attractions along with lodging suggestions. Check out our complete list of ALL redwood parks in California. It will help you decide which ones you want to tackle. Many are California state parks, so you may want to look into whether getting an annual CA parks pass would make sense for you. We also have info on the closest airport to Redwood National park.
We also have specific guides for Van Damme State Park and Hendy Woods State Park, both of which have redwood groves. Or check out some of these chill Northern California Coastal towns.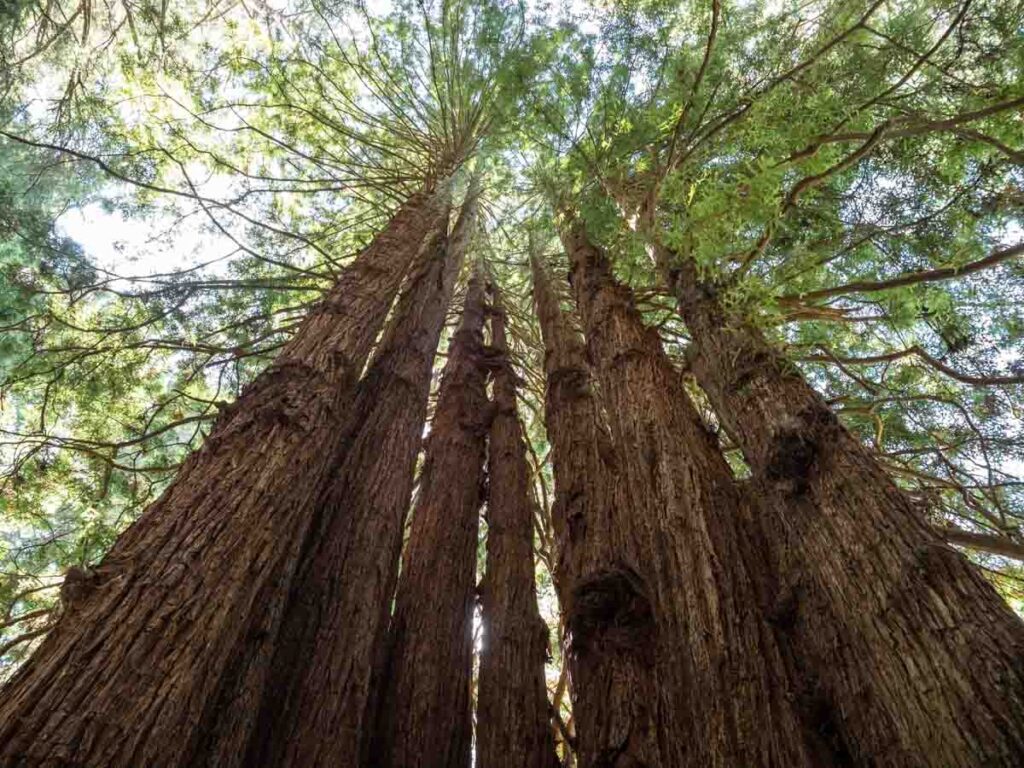 Can You Drive Through the Trees of Mystery?
No. The Trees of Mystery is not a drive-through tree situation. It's more of a theme park attraction. If you want a drive through tree, do the Chandelier Drive-Through Tree (in Leggett) or the Shrine Drive-Through Tree (in Myers Flat).
How Long Does it Take to Go Through the Trees of Mystery?
Give yourself 1.5-2 hours if you want to do everything.
Does the Trees of Mystery Allow Dogs?
Yes! The Trees of Mystery is very dog friendly. They can do everything except for the tree canopy trail.
Is Trees of Mystery Worth It?
Yes. I was skeptical at first, but I really enjoyed it. You'll pay $10 just to drive through a tree. But for $20, you get all of the things listed below, and it's very family friendly.
Do They Have Accessible Trails?
The main trail through the park is paved (but hilly). They also offer a shuttle for the SkyTrail gondola for those with mobility issues.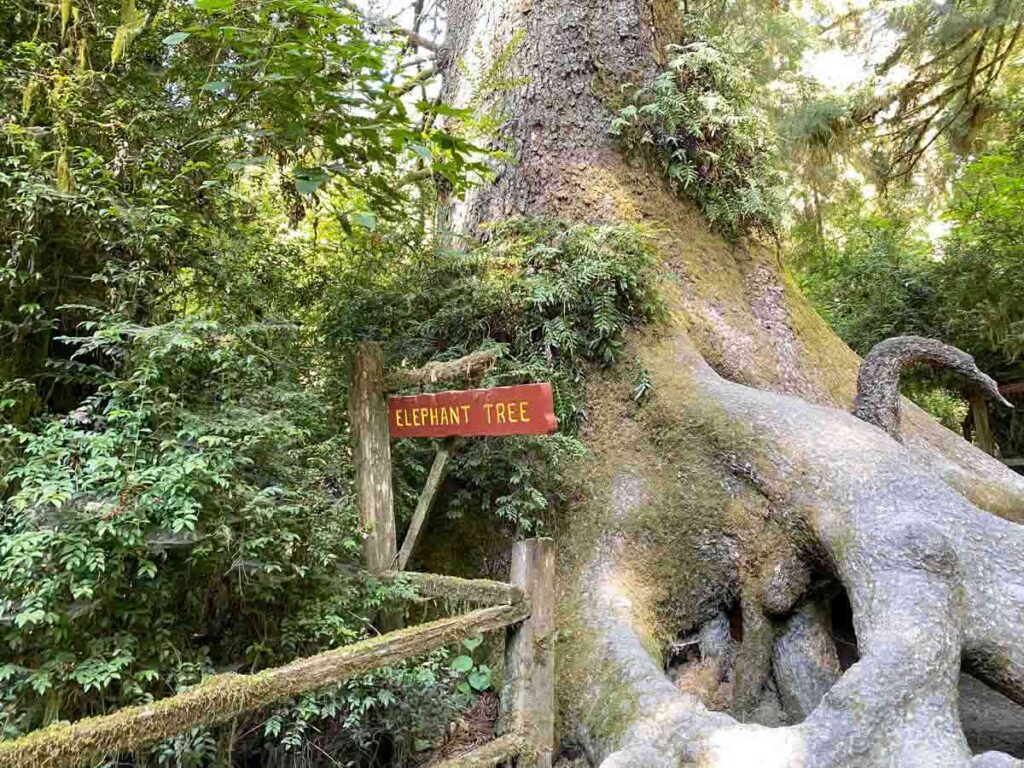 How To Visit the Trees of Mystery
Hours: Open daily from 9:00am-3:30pm.
Cost: $20 for adults, $16 for seniors, $11 kids 6-12, kids under 6 are free.
Location: Just north of Klamath on Highway 101. It's 18 miles south of Crescent City and 46 miles north of Trinidad.
Where to Stay Nearby: There's a Holiday Inn Express right in Klamath, just a few minutes from Trees of Mystery. It's also easy enough to visit the attraction while based out of Crescent City. There, we recommend The Lighthouse Inn, which is a full-service hotel with ocean views. It's walkable to downtown Crescent City and the actual lighthouse. The Westward Inn is a well-rated, conveniently located budget option.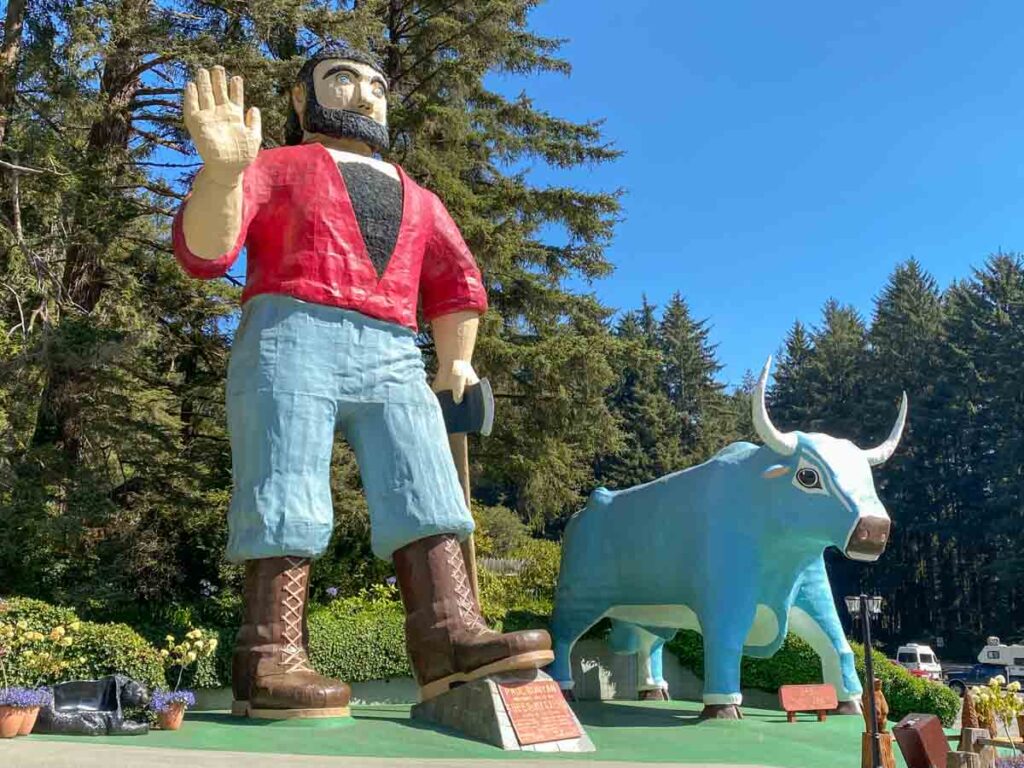 Things to Do at the Trees of Mystery
There are a lot of fun things to do in the Trees of Mystery, so be sure to leave yourself plenty of time to take advantage of their offerings.
Have Paul Bunyon Yell at You
Paul Bunyon is the legendary uber-logger, whose epic strength and exploits have been passed down through North American logging lore. At the Trees of Mystery, he's been recruited to welcome you to the attraction. There is an enormous statue of Paul and another of his blue ox Babe, right at the entrance. As you approach the statue, he'll start booming at you, giving you information and kind of demanding that you sit on his foot for a picture. I declined.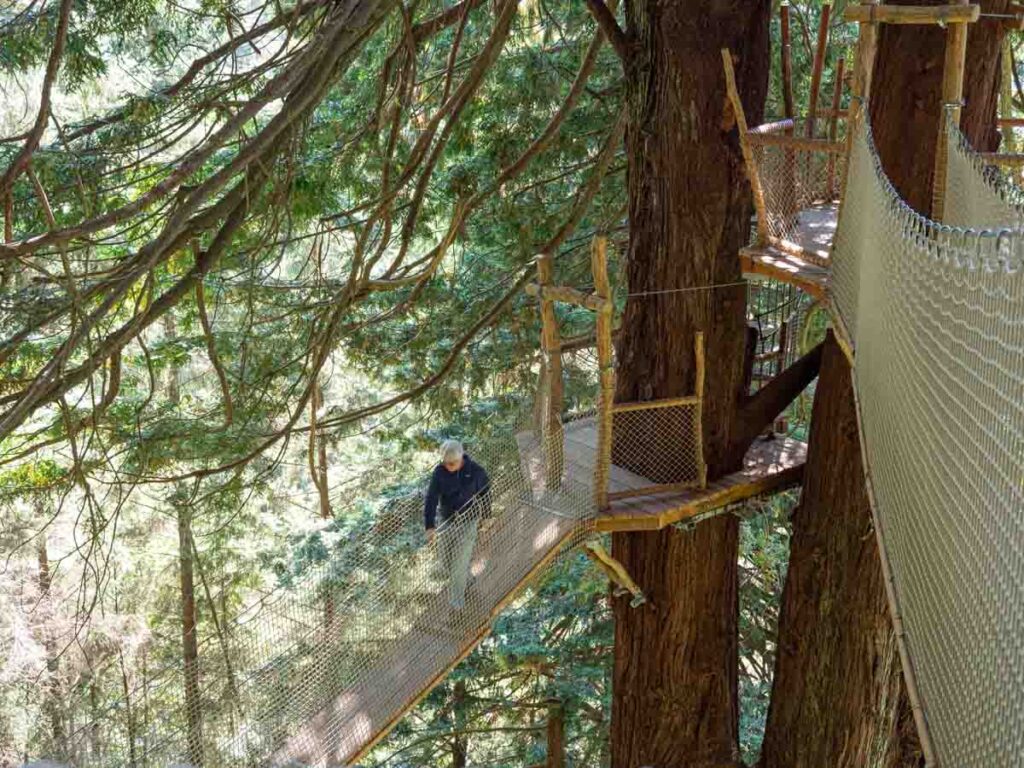 The Redwood Canopy Trail
Get yourself up into to the trees on this series of decks and platforms which are held up by suspension cables. It includes two tree platforms and eight bridges between the trees. It's not great for people who are afraid of heights. But otherwise, it's a really cool experience to feel like you're flying between the trees.
Take the SkyTrail
This gondola ride takes you through the trees and 1,500 vertical feet up the mountain. The platform at the top has killer views of the surrounding redwood forest and you can see the tops of these massive trees. There is also a cool info-center near the base of the gondola that has explanatory information regarding the local forest ecology.
Take the Redwoods Trail
The redwoods trail through the park winds you past notable trees like the Cathedral Tree, the Elephant Tree and the Brotherhood Tree. There is also a nice tribute to Joseph B. Strauss. Strauss was the lead designer of the Golden Gate Bridge, and also a poet who loved nature.
This is their temple, vaulted high.
And here we pause, with reverent eye, 
With silent tongue and awe-struck soul;
For here we sense life's proper goal. 
To be like these, straight true and fine, 
To make our world, like theirs, a shrine;
Sink down, Oh traveler on your knees,
God stands before you in these trees.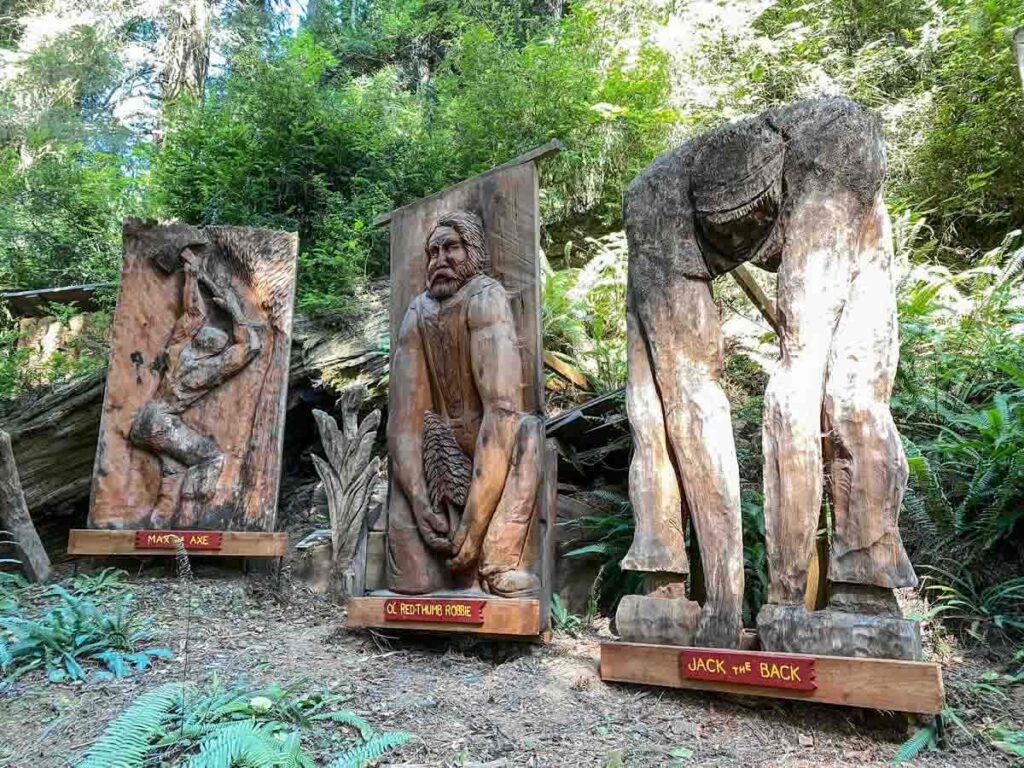 Redwood Sculptures
Toward the end of the forest trail, there is a fun gauntlet of chainsaw tree sculptures. They offers stories of loggers and mythical tree creatures like elves and gnomes.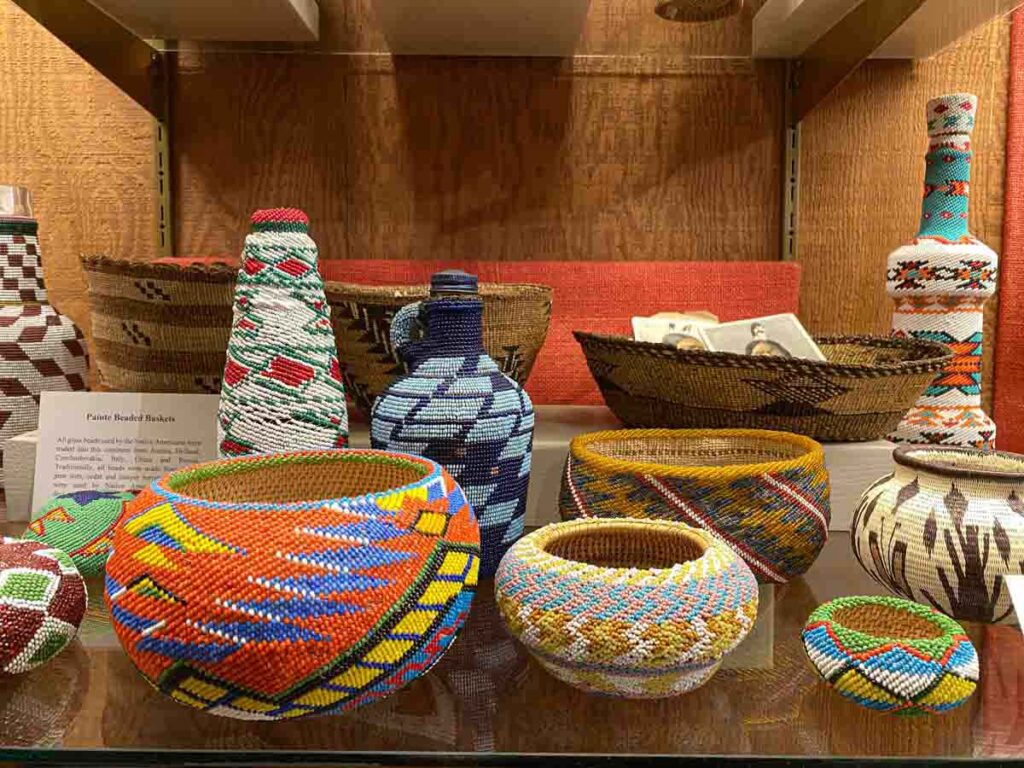 The Marylee Thompson Smith Private Collection
What a surprising find! This is a lovely and well-curated selection of Native American artifacts, art and crafts. There are beautiful examples of woven baskets, beadwork and ritual artifacts from throughout North America. It's located adjacent to the gift shop.
Share the Trees of Mystery on Pinterest: