If you are trying to figure out the closest airport to Redwood National Park and are very confused, we hear ya. There are quite a few options and the absolute closest airport may not actually be your best choice. Don't worry, we'll help you figure out the best choice for you.
For background, Redwood National Park is stretched along a 50 mile patch of forest and coast which goes between Trinidad, CA (north of Eureka) and Crescent City. But if you factor in the Avenue of the Giants, a full redwoods road trip can extend to 143 miles. Use our full redwoods road trip itinerary to help you plan your trip.
This area, known as California's Redwood Highway is far more than the one National Park– it's a multi-jurisdictional mix of redwood forest that includes Redwood National Park, Prairie Redwoods State Park, Jedediah Smith State Park, Del Norte Coast Redwoods State Park, Humboldt Redwoods State Park, the Avenue of the giants, numerous state beaches, the Six Rivers National Forest and the towns of Eureka and Crescent City.
There are also a lot of kooky roadside attractions nearby, like the Trees of Mystery.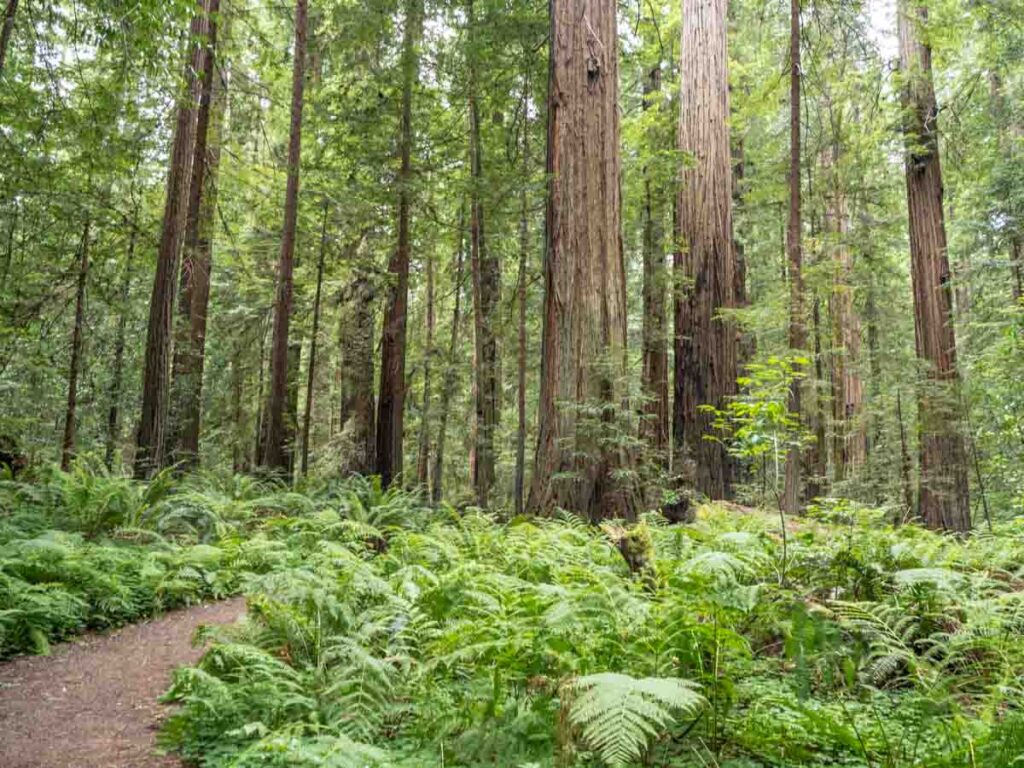 For shorthand, this article calls all of this area "The Redwood National Park" or "The Redwood Highway". And by that, we are referring to the whole redwoods region.
Because of the large geography, determining the best airport near Redwood National Park really depends upon what you intend to do there. So we'll offer you several options and you can pick the best choice for you.
(This article contains affiliate links. This means that if you choose to purchase, I'll make a small commission.)
Is Redwood National Park Actually Where You Are Going?
If by "Redwood National Park", you actually mean any California national or state parks that also have redwoods, this may not be the right article for you. If you are visiting the groves in Yosemite National Park, Kings Canyon, Sequoia National Park or Columbia State Park, then use this article on airports near Yosemite.
If you want to see Muir Woods or some of the other many Redwood Groves in the Bay Area, then fly into San Francisco airport (SFO), San Jose airport (SJC) or Oakland (OAK).
If you are interested in hiking the redwoods on California's Central coast, then use this article on airports near Big Sur.
Regardless of which airport you chose, make sure to get the best deal on your rental car by comparison shopping at Expedia.com.
If you are keen to visit the redwoods all over California, check out our guide to ALL 43 California redwood parks.
The Closest Airports to Crescent City, CA
Use one of the following options if you simply need to get to Crescent City or are restricting your visit to Jedediah Smith State Park, the Redwood National Park north unit and/or the Smith River area.
Del Norte Regional Airport (CEC)
Drive time to Crescent City or Jedediah Smith SP: 7 miles, 10 minutes
This very small regional airport is located in Crescent City, CA (CEC). The only commercial flights are with Contour Airlines, which runs small jets from Oakland for 1-2 flights a day. Round trip flights are usually ~$200. The airport has Avis and Budget car rental services.
This is fine if you live in the Bay Area and want to skip the 7 hour drive. But doing a connecting flight from elsewhere in California or the US could get quite tricky.
Rogue Valley Medford International Airport (MFR)
Drive time to Crescent City or Jedediah Smith SP: 108 miles, 2+ hours ( more with wet winter weather).
The Medford Oregon Airport (MFR) is a medium sized airport with flights to and from Denver, Seattle, Portland, Salt Lake City, Phoenix, Las Vegas, Burbank, Orange County, San Diego, Los Angeles and San Francisco. Seattle offers the most frequent connections. Medford is served by United, American, Delta, Allegiant and Avelo airlines.
Medford can be a good choice if you'd also like to visit Grants Pass or Ashland, or you can get a very convenient connecting flight. But if you have to connect to Medford through a very long layover, San Francisco or Oakland (below) may be your better choice.
The Closest Airport to Redwood National Park (South) and Eureka
Drive time to Eureka: 16 miles and 20 minutes.
Drive time to Prairie Creek Redwoods: 32 miles, 42 minutes
The closest airport to Eureka and the south area of the Redwood National Park is the Humboldt County Airport (ACV), which is located in Mckinleyville. This works if your specific destination includes Eureka, Arcata, the southern reaches of Redwood National Park and/or the Prairie Creek State Park. The airport has Enterprise and National car rental on-site.
Humboldt County Airport is served by United, American and Avelo with flights to Denver, Phoenix, San Francisco, Burbank and Los Angeles. The carriers run (at most) just two flights a day.
This option works best only if you can get a decent connection time and don't have to pay a huge fare premium.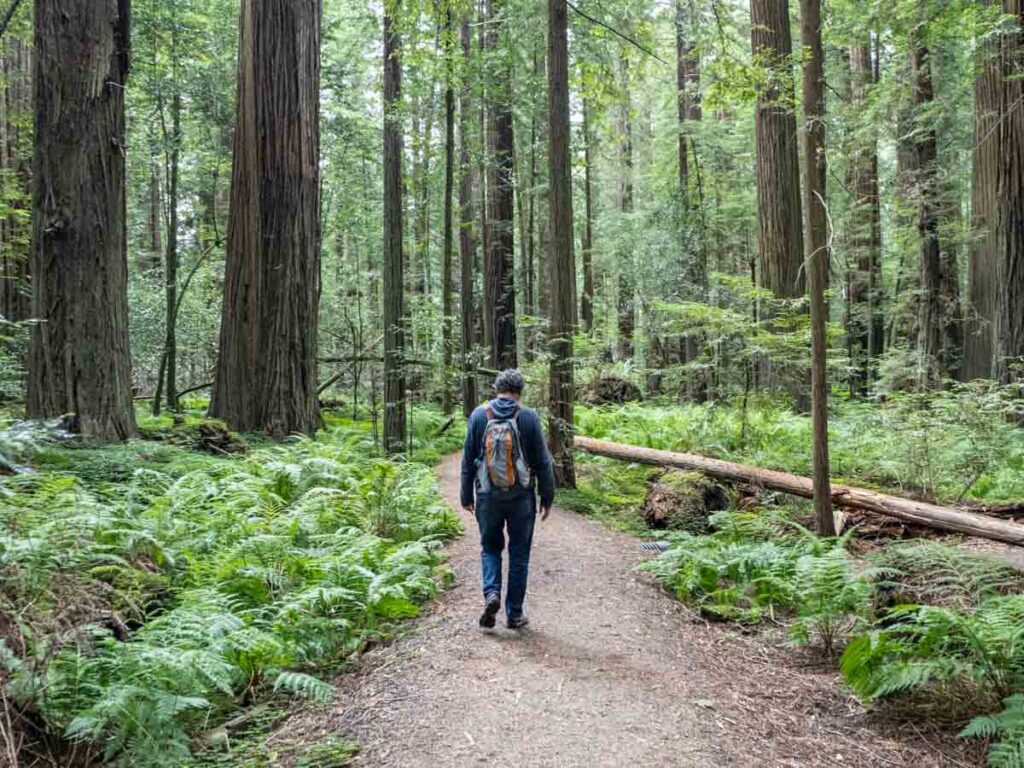 The Best Airport for Doing the Full Redwood Highway Drive
If you are thinking of doing the full Redwood Highway road trip, the gauntlet starts in Phillipsville and runs north to Crescent City for 143 miles of redwood forest. Here are the key stops:
Start in Phillipsville > Avenue of the Giants Scenic Byway > Lady Bird Johnson Grove in Redwood National Park > Drury Scenic Byway in Prairie Creek Redwoods State Park > Del Norte Coast Redwoods State Park > Crescent City > Jedediah State Park.
For that itinerary, your best airports are either San Francisco (SFO) or Oakland (OAK).
San Francisco International Airport (SFO)
Drive time to Phillipsville (Avenue of the Giants): 234 miles, 4 hours.
San Francisco is the closest major airport for doing any of the coastal redwoods in Northern California. It's served by all US carriers with direct service to most US states. SFO is also an international gateway serving the world with 16 international carriers. A spot check of fares shows that domestic flights to SFO are usually quite a bit cheaper than going into the smaller airports. So if you have more time than money, SFO is a better budget option.
Yes, using SFO gives you a longer drive, but if a connecting flight into Crescent City, Medford or Eureka is going to cost you a 4 hour layover, then you are definitely better off simply flying into SFO and picking up the car there. SFO also has far more rental car inventory and more competitive rates than smaller airports.
Charles M Schulz Sonoma County Airport (STS)
Drive time to Phillipsville (Avenue of the Giants): 153 miles and 2.5 hours.
The Sonoma County airport isn't the closest (or even the largest) airport for the redwoods, but it can be a good choice if you can find a cheap, direct flight. It's also a good airport choice for Fort Bragg and Mendocino. The airport is is located just north of Santa Rosa and south of Healdsburg.
STS offers direct flights from the following airports:
On Alaska Air: Los Angeles, Orange County, Portland, San Diego, Seattle,
On American: Los Angeles, American, Phoenix
On United: Denver, San Francisco,
On Avelo: Burbank, Las Vegas
For rental cars, they are served by Avis, Budget, Enterprise, National and ACE.
STS can be a great option if you can get a conveniently timed direct flight from one of the above locations. Since the airport is north of the Bay Area, you'll avoid any crazy rush hour traffic. And a smaller airport is easier to navigate.
That said, you will have less rental car choice (for a higher price), and slightly higher airfares relative to the San Francisco or Oakland airports. Another disadvantage comes into play if you need to have a connecting flight to STS. If your connecting layover is longer than 1.5-2 hours, you will save time by flying into SFO.
Oakland International Airport (OAK)
Drive to Phillipsville (Avenue of the Giants): 226 miles, 4 hours.
Oakland is about the same drive-time as SFO. OAK is served by most major carriers, but it has far fewer international flights and fewer overall flights around the country. That said, Oakland is has better service from Southwest Airlines than does SFO. So, if you can get a screamin' deal or great flight time into Oakland, chose that.
Should You Fly Into Sacramento?
No. I've seen some articles suggesting that Sacramento is the best/closest airport to Redwood National Park. Errr…..no. Sacramento is a fine airport, but if you are going to have to drive for 4 hours anyway, you'll have more/better flight choices from SFO or OAK.
We hope that this gives you enough information to make a decision regarding your best airport for the Redwoods. Enjoy your trip and happy trails!
Share this Redwood National Park flight guide on Pinterest: