The epic coastal views and the fragrant redwood forests make camping in Big Sur one of the choices spots in California to lay down your head. There's no shortage of eye candy on this coastline what with the craggy coast at Point Lobos State Park, the wide sandy beach at Garrapata, forest hikes in Pfeiffer Big Sur and elephant seals at Piedras Blancas.
But here's the thing, because Big Sur is beautiful…it's also popular. So you'll need to get on the ball in order to snag a campsite on the coast. But don't worry, we've got you covered. What follows is a complete list of all 11 Big Sur campgrounds (that are available by car). Each listing includes what makes the campground nice and details on how many spots are available, where to get reservations and on-site amenities.
We've also got a detailed FAQ for what to expect and links to various itineraries and things to do.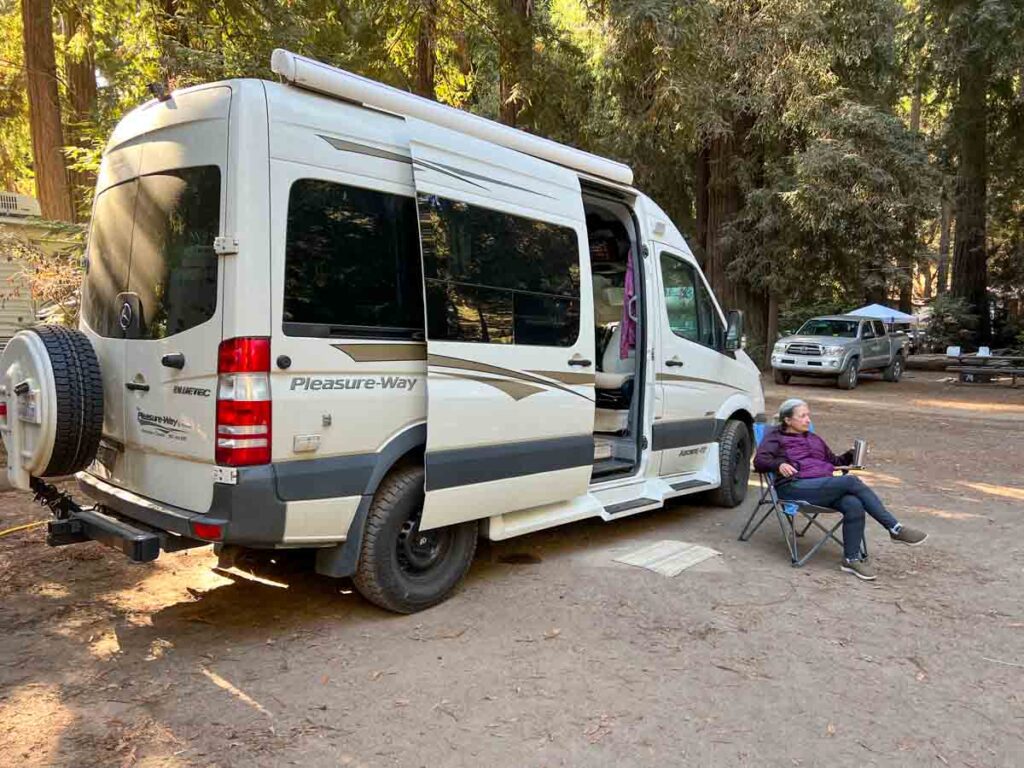 (This article contains affiliate links. This means that if you choose to purchase, I'll make a small commission.)
Tips for Camping in Big Sur
If you are driving through Big Sur as part of a larger Pacific Coast Highway road trip, then be sure to use our PCH itinerary to help you plan the trip. Just north of Big Sur, we have suggestions for things to do in both Carmel-by the-Sea and also nearby Carmel Valley. And just south of Big Sur, we have profile for the quirky town of Harmony and things to do in coastal Cayucos.
If this is a quick trip, use our Big Sur day trippers guide to get the highlights.
And check out the following Big Sur FAQ so that you know what to expect.
Can You Camp in Big Sur Without a Reservation
Generally no. Camping in Big Sur is very popular and most of the public and private campgrounds book up very quickly. That said, the federal campgrounds at Plasket Creek and Kirk Creek do hold out two spots each for first come/first served (f/f). Because Andrew Molina State Park is a walk-in site, they tend to be more available. And Hearst San Simeon State Park is very large and often has openings.
Do the Big Sur Campgrounds have Wifi or Mobile access?
Mobile reception throughout Big Sur is notoriously poor. A few of the private campgrounds in Big Sur do offer wifi, but most don't. You'll get the odd bar or two on your phone, but plan to cache any of your maps, itineraries and reservations for offline access.
Are There Gas & Groceries Available in Big Sur?
There are about 9 gas stations scattered along the 90 mile Big Sur coast. So you should be fine for gas. But between Carmel and Cambria, you won't find any major grocery stores. There are a handful of general stores with basic supplies. But stock up your food and drinks before you head into Big Sur.
Can You Sleep By The Side of The Road in Big Sur?
You are not allowed to camp by the roadside or in the coastal pullouts, and there is a $1,000 fine if you are caught doing it. If you are in a car and need a place to crash, try getting a last minute spot at one of the tent campgrounds or get a motel room. If you are in an RV, you can use one of the "en-route" spots in Pfeiffer Big Sur State Park. More info on that below.
Are Dogs Allowed in Big Sur?
Dogs are allowed in most of the campgrounds. They are not allowed on the State Park trails (including the popular Point Lobos) and they aren't welcome on some of the beaches. But you can take dogs to Garrapata Beach, Sand Dollar Beach, Pfeiffer Beach, the Piedras Blancas Elephant Seal rookery walkway and William H Hearst State Beach.
Why Is Everything Called Pfeiffer?
It's a family legacy of Michael and Barbara Pfeiffer. In 1869, they settled at Sycamore Canyon and commenced ranching, farming and beekeeping. Rather than sell out to a developer, their son John sold 680 acres to the state of California in 1933. Their daughter Julia also donated land.
Pay attention to the naming, because Pfeiffer Big Sur State Park, Pfeiffer Beach and Julia Pfeiffer State Park are in three different locations.
When is the Best Time to Visit Big Sur?
August through October are great times for visiting Big Sur. They are the warmest months and the skies are very likely to be clear. Big Sur has moderate, but cool weather year round and December through March are the rainiest months. Check out our guide for the best time to visit Big Sur. It has a weather chart.
In addition, be aware that the Andrew Molera campsites and some of the Pfeiffer Big Sur spots are not available in the winter and early spring months.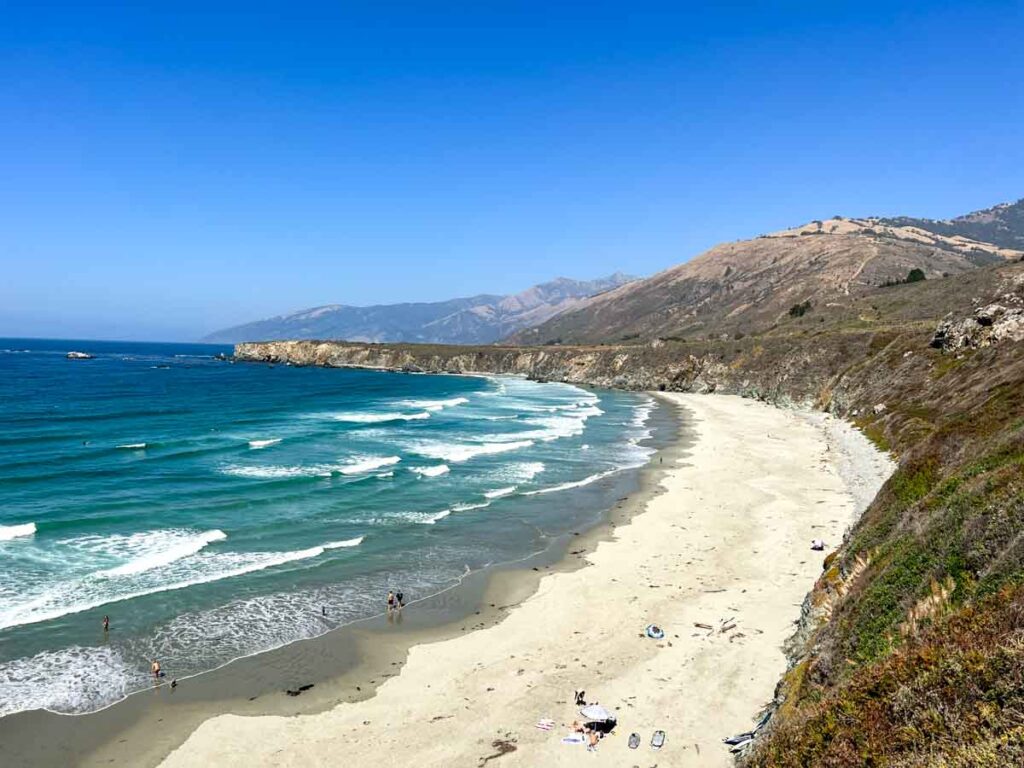 11 Big Sur Campgrounds: From North to South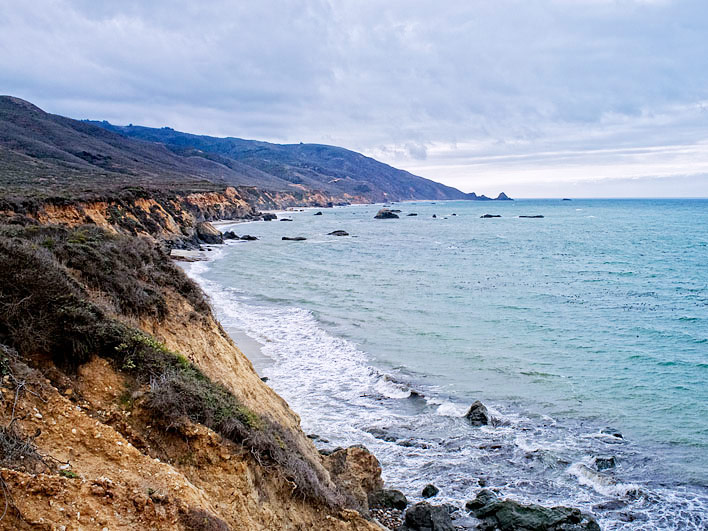 Andrew Molera State Park
While we aren't including deep backcountry camp spots on this list, Andrew Molera's walk-in sites are worth noting nonetheless. They are located just 1/4 mile from the day use lot. So, if you have a wagon or hand-truck, it's easy enough to set up a very comfortable spot. The sites are fairly open with a modest amount of shade.
The park features 22 miles of hiking trails with ridge-top views, bluffs and beach.
Because the sites are walk-in, it may be a bit easier to get reservations at Andrew Molera, especially during mid-week.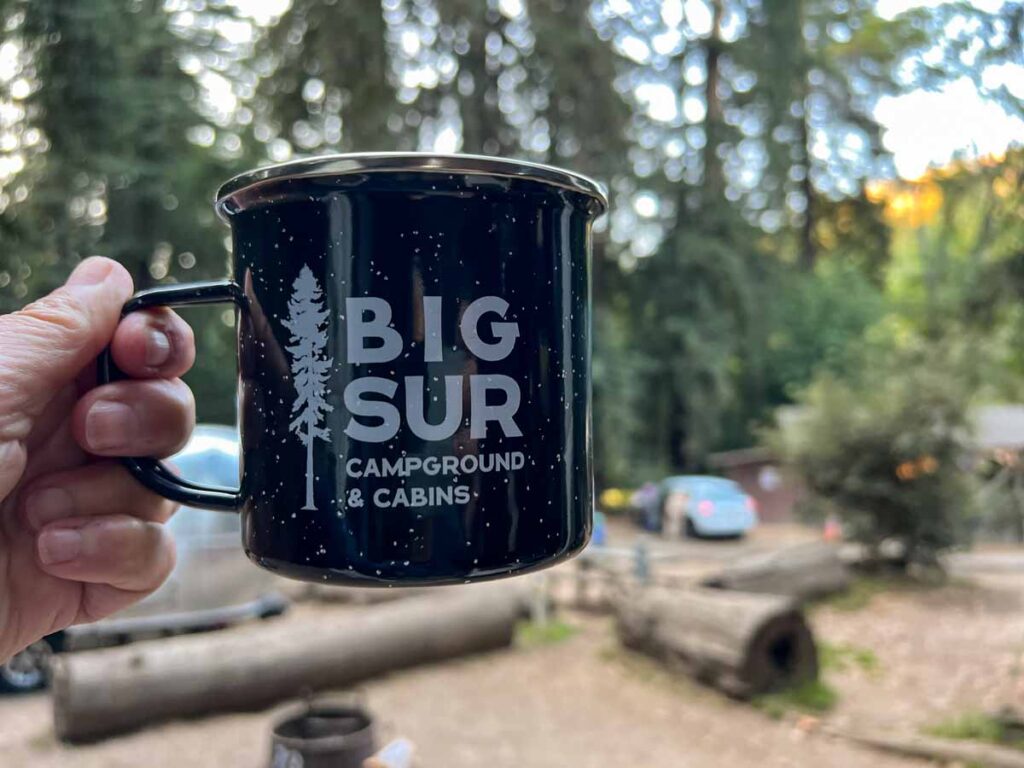 Big Sur Campground and Cabins
Big Sur Campground is a privately run operation in the inland central part of Big Sur. It's located right on the river and is only a few miles from the trails at Pfeiffer Big Sur State Park and Pfeiffer Beach.
If you are up for some glamping, they offer 15 fully serviced cabins and 3 camping cabins (without a kitchen). They also have regular tent sites and full hook-up RV sites. They have a small store, info on nearby hikes, flush toilets, showers, laundry and a basketball court.
Riverside Campground and Cabins
Riverside is located right next to Big Sur Campground. They offer cabins, studios, tent sites and RV camping. They have a sushi food truck on site along with a small store. They offer flush toilets and showers, but they do not have an RV dump site.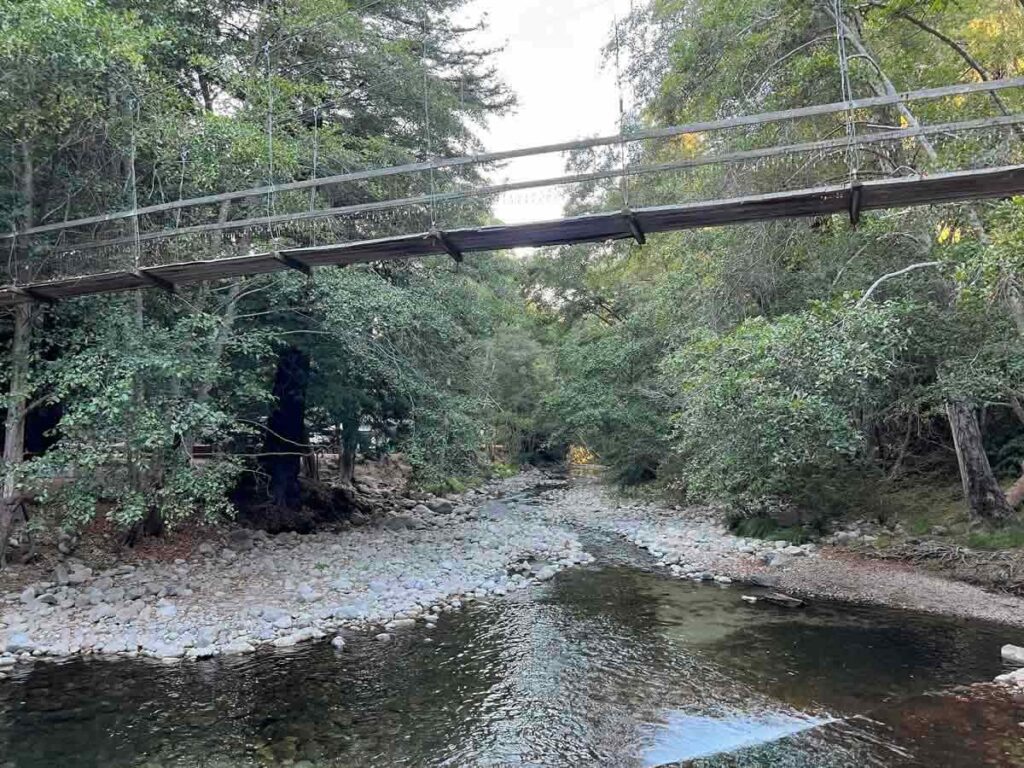 Fernwood Campground and Resort
Just further down the road is Fernwood. They are close enough to Pfeiffer Big Sur State Park that you can hike directly in without getting into the car. On site, they have a bar & grill with good pub food, and a small store that also sells ice cream and coffee. They have 12 motel rooms and six cabins along with a mix of tent spots, RV camping, and glamping "adventure tents". And unlike most of the Big Sur campgrounds, you can get wifi in the restaurant.
Getting down to the campground is a tight road behind the bar & grill, so they restrict RVs to less than 30 feet.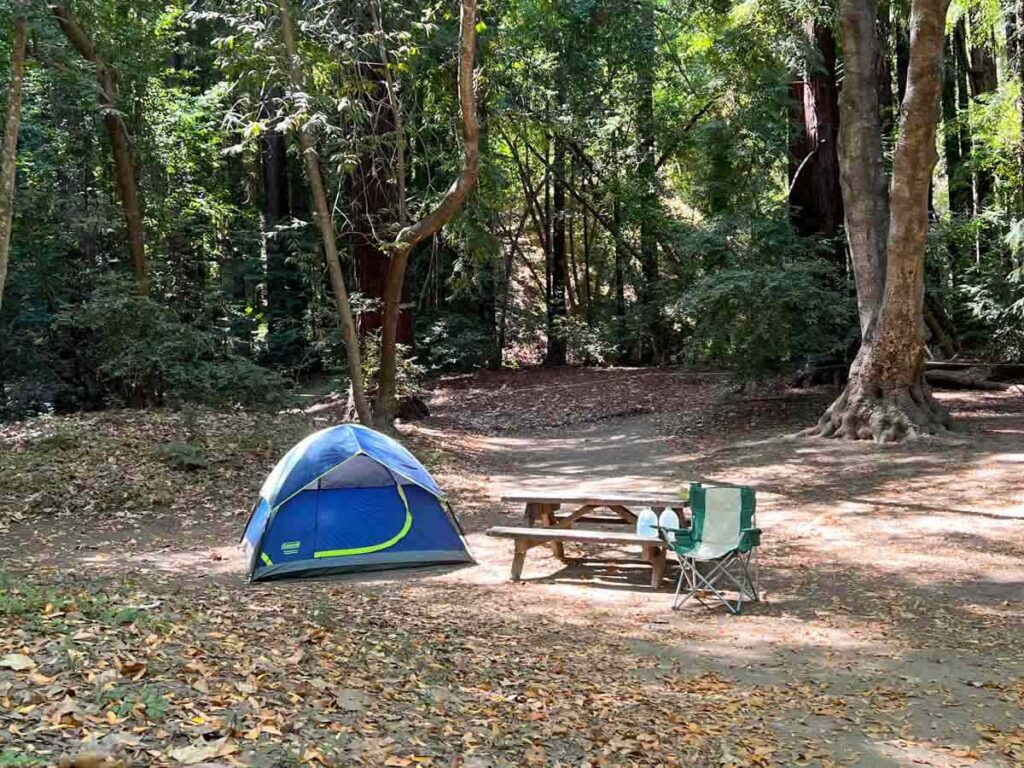 Pfeiffer Big Sur State Park
This park is extremely popular, even in the winter. So get your reservations way in advance. If you are traveling mid-week in the shoulder seasons, you may be able to snag a spare spot.
This state park has a very large campground as well as generous day use parking, a cafe, small store, laundry and a nature center. The camping spots are nestled in a shaded redwood forest along the river. And nearby hiking includes Pfeiffer falls and ridge hikes with great views. Dogs are allowed in the park, but not on most of the trails. However, they can do the River Path/Warden's Path loop and any of the 3+ miles of paved roads.
The campground fills up, even in the winter, so you'll want to book way in advance. Pfeiffer Big Sur also offers an "en-route" program. Overnight camping is not allowed along Highway 1's pullouts, and if you do it, you risk a $1,000 fine. In order to help tired travelers, the state park offers a one night stopover in their south day-use lot. But, you need to be a fully contained RV with your own flush toilet to qualify.
Ventana Campground
Ventana (which is part of Hyatt hotels), is also located in the redwood core of Big Sur, just a few miles south of the campgrounds noted above. They are located in a 40-acre redwood canyon. They are specifically designed for tent camping. So, RV's, vans, pop-ups, roof tents, and trailers are not allowed. They have a on-site restaurant and showers. Wifi is only available for the glamping guests.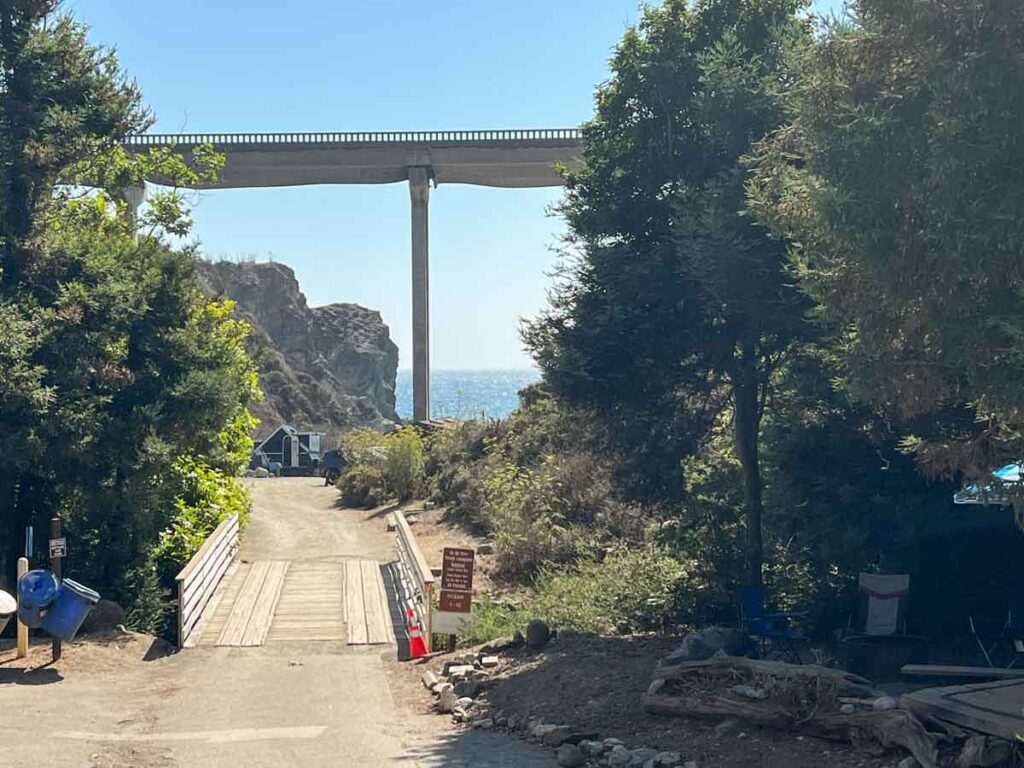 Limekiln State Park
Limekiln is so named for the stone and iron furnaces that were used to process limestone during the late 1800's. The campground sits in a canyon that offers ferns, waterfalls, redwoods and ocean access.
Dogs are allowed, but only on leash and not on the trails. RV's are allowed but the spots are tight so there's a 24′ limit.
** Please note that the trails at Limekiln have been closed due to fire damage. They are due to open in 2023.** But because of this, it's a less popular Big Sur campsite and you may be more likely to get last minute reservations.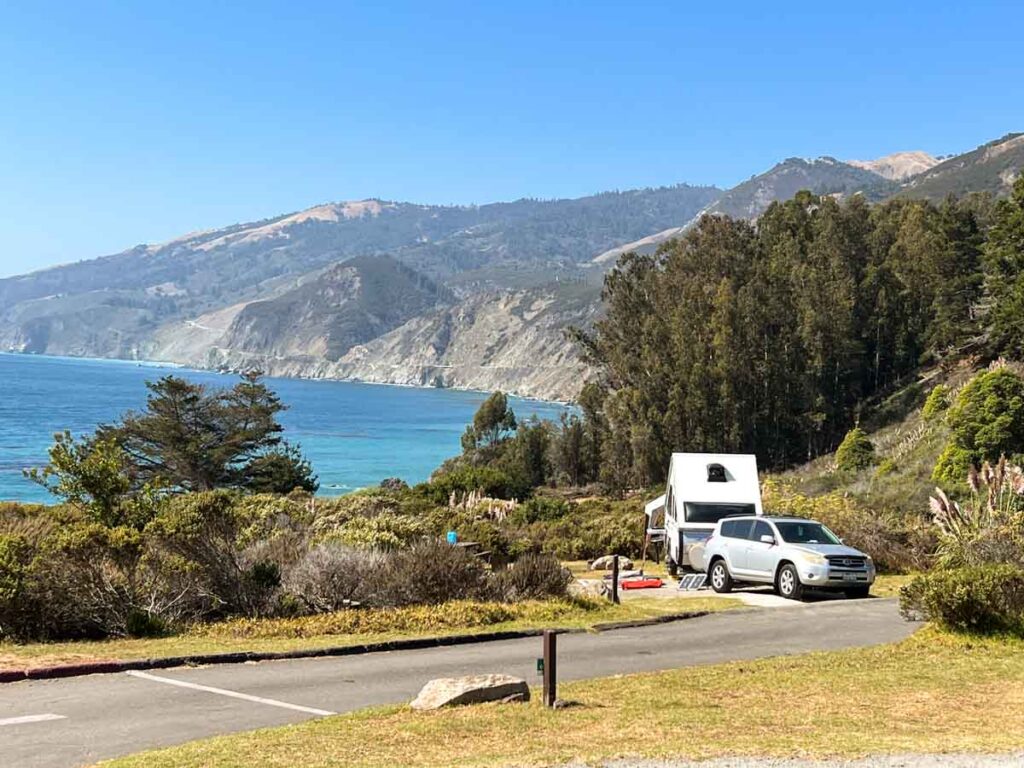 Kirk Creek Campground
Kirk Creek is part of the Los Padres National Forest and as such, is managed by the federal Forest Service. Hands down, it's the best campground in Big Sur for epic ocean views. The camp sites sit right on the bluff above the ocean! That said, this is not a glamping spot. They have pit toilets and do not have potable water on site. So bring everything that you'll need.
Kirk Creek and Plasket Creek each offer two first-come/first-served (f/f) camp spots. So you may luck out and be able to grab a spot on fly. But there is no guarantee that the f/f spots will be available on any given day because once taken, you are allowed to stay there for up to 14 days.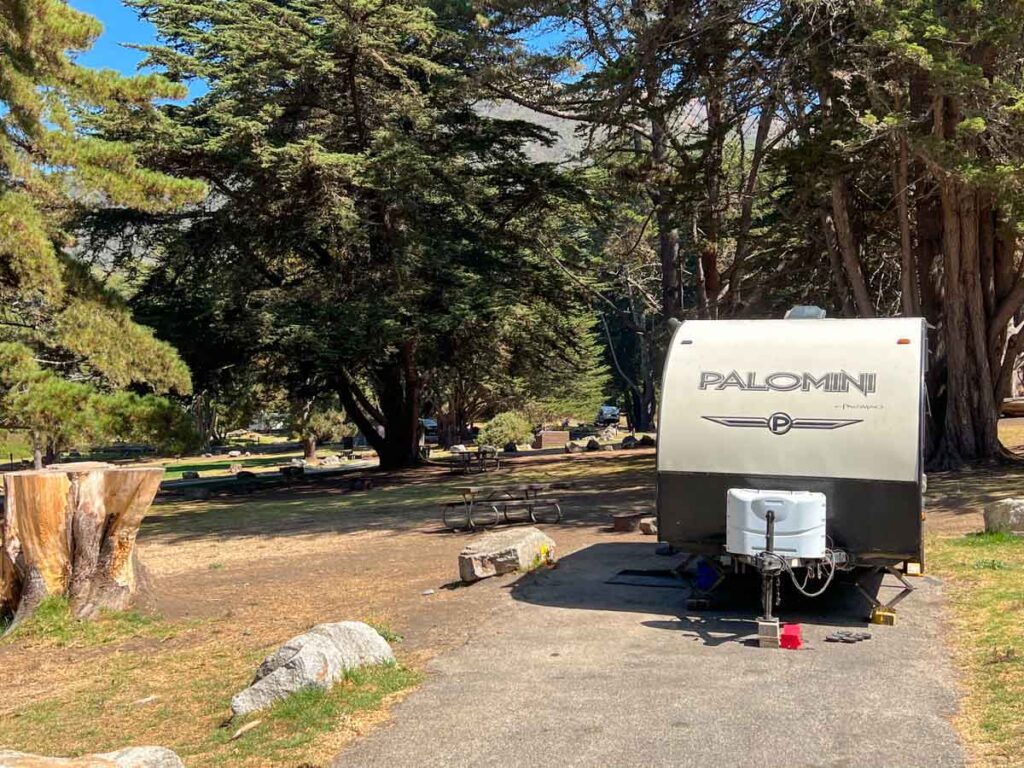 Plaskett Creek Campground
Plasket Creek is also part of the Los Padres National Forest. It's located just south of Kirk Creek. But it's on the east side of the road, so the landscape is more shady trees, than coastal views. That said, the camp spots are pretty flat and roomy, with a lot of open space for the kids and dogs to run around.
Plaskett Creek is located a easy walk south of Sand Dollar beach. The beach is long, lovely and dog-friendly. You can go surfing there and also check out the cave at the north end of the beach. Sand Dollar charges a day use fee if you park there, but if you walk in, it's free.
This campground has water, but when I was last there, there were signs saying it wasn't potable. This may be a temporary drought thing, so email the campground to be sure…or bring your own water. The sites are suitable for RV's but there are no hook-ups.
Treebones Resort Glamping
Treebones is located high on the mountain, offering killer ocean views. They are really more of a glamping resort than a campground. They have yurts and "autonomous tents", "human nests" and a twig hut. But they also do have a handful of regular tent sites.
The walk-in tent sites have nearby water, picnic tables and access to the resort facilities, which include a pool, hot tub, and breakfast. They also have wifi at the lodge.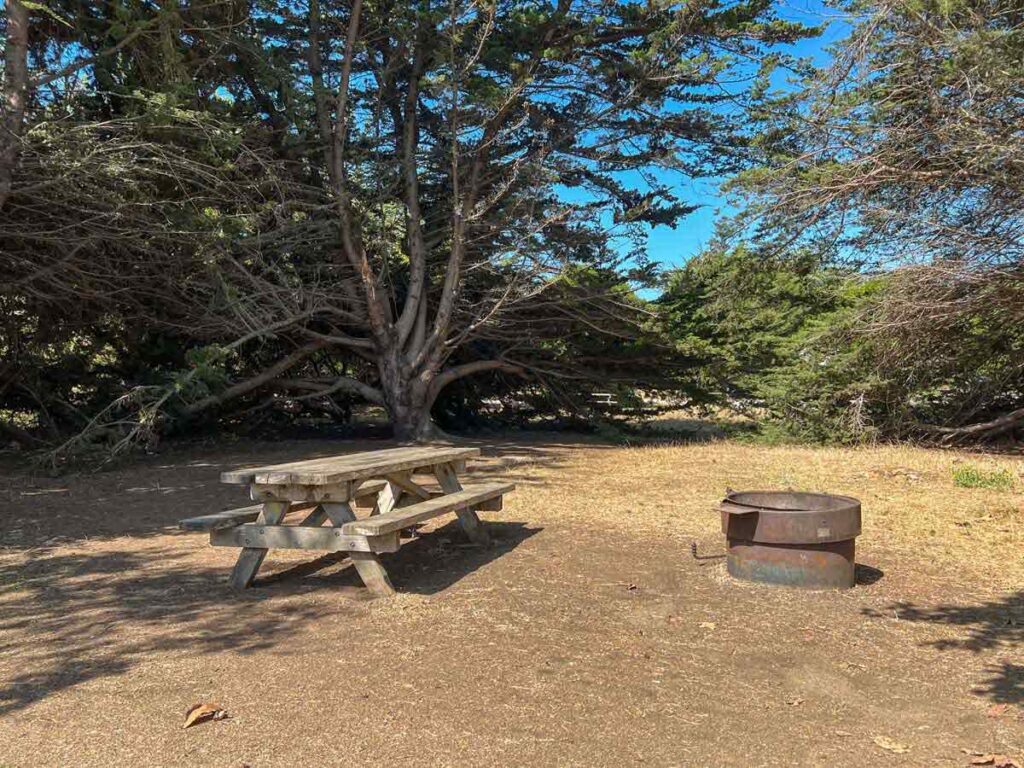 Hearst San Simeon State Park
This state park is in the far south of Big Sur. It has a large, shady campground with walkable access to the beach. They also have a 3.3 mile trail that runs through the San Simeon Natural Preserve. They have a traditional campground with flush toilets, water spigots, picnic tables and the like. And they also have the more primitive Washburn Unit up on a plateau.
The camp sites are pretty generous and can accommodate RV's up to 35 feet.
Because this campground is on the southern reaches of Big Sur, it's not as popular as the campgrounds noted above. And it has more camping spots than anywhere else in Big Sur. So the good news is that you can often snag reservations last minute. And don't discount hanging out there because there's a lot to do nearby including: Hearst Castle, the dog-friendly William H Hearst State Beach, the elephant seal rookery and the Piedras Blancas light station.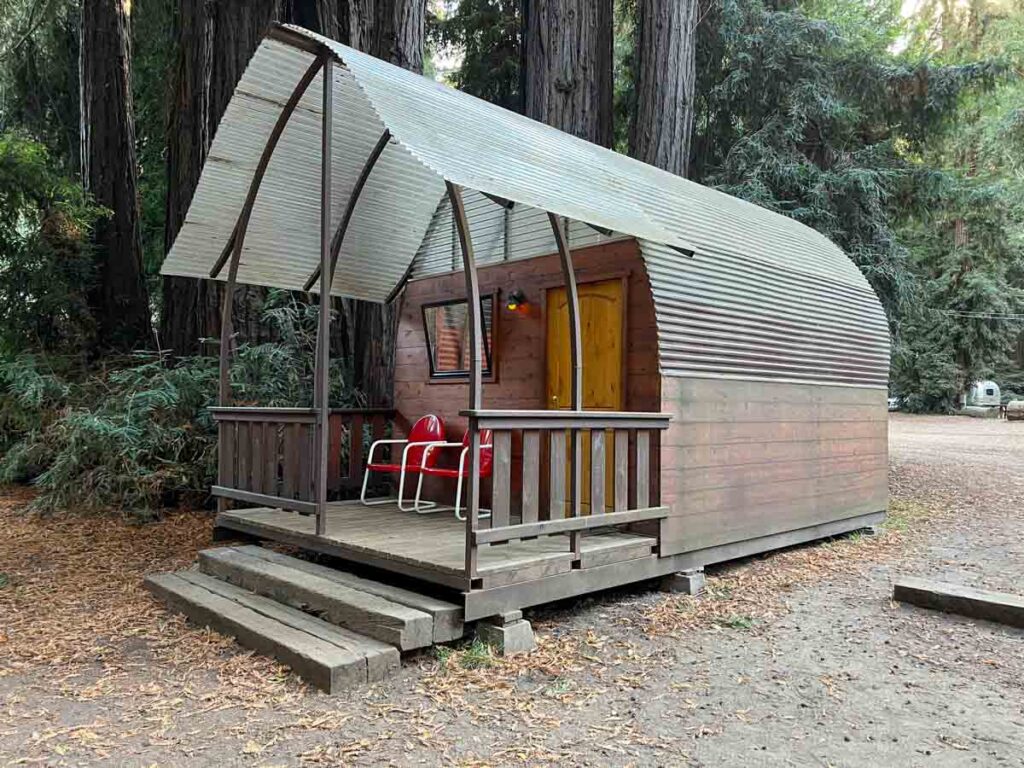 What to Pack for Big Sur Camping
Obviously you need to bring your tent, camp chairs, cooler and other standard camping gear. But here are a few suggestions that will be particularly useful in Big Sur.
More Camping in California
State & National Park Resources
Camping-Friendly Itineraries
Share camping in Big Sur with your friends: