Malakoff Diggins State Historic Park mixes the beauty of Northern California's landscape, with the history of gold mining that includes a ghost town in the whole package. If that isn't enough to get you to visit, there are also the remnants of the hydraulic mining pit, with cliffs that are strangely reminiscent of Utah's Bryce Canyon (albeit on a much smaller scale).
This guide to Malakoff Diggins, as it is more colloquially known, gives some of the history of the mining town that skaprung up here in the 1800s, all the information you'll need to plan your trip, and a list of some great things to see and do while you're there.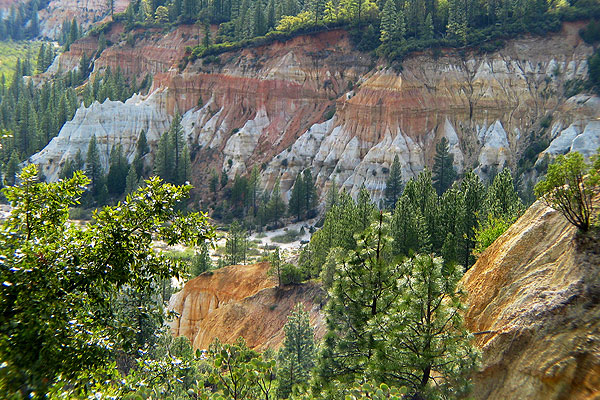 The History of Malakoff Diggins State Historic Park
The land that Malakoff Diggins inhabits was once the home of the Native American Nisenan people, who spent the winters in valleys and canyons, venturing to higher elevations to hunt for food in the warmer months. Many succumbed to the 1833 malaria epidemic, but the true death knell came when miners swarmed the area in 1848, bringing diseases with them.
Miners struck gold in Humbug Creek in 1852 and the town of Humbug was built to accommodate the influx of miners from all over the world. They used liquid mercury to capture the gold – a method that would be used for years and which resulted in tons of heavy metals being deposited in the environment.
But gold proved to be elusive here, and many abandoned their claims to follow richer deposits closer to Nevada and elsewhere. Their claims were scooped up by French immigrant Julius Poquillion and a few others, who convinced a group of San Franciscans to finance a hydraulic gold mine on the 1,535-acres of land. The North Bloomfield Gravel Mining Company was born. Meanwhile, Humbug had been renamed to the nicer-sounding North Bloomfield, and the town burgeoned around the world's largest hydraulic gold mining pit.
However, the damage that this type of mining did to the environment was so devastating that almost 20 years later the first environmental law passed in the US, effectively shutting down the mine. More than 2000 people were supported by the North Bloomfield town at one time, but those numbers dwindled by 1900.
It became a state park in the 1960s when Nevada County residents started a campaign to preserve the history of the area. Malakoff Diggins was designated as a State Historic Park in 1965.
If you are keen to visit more gold country relics, be sure to read this article on the best ghost towns in California. It has nine other towns, with three more state parks, a private mine that you can tour and several "almost" ghost towns where a few stragglers are still hanging on.
Read More: Get the full downlow on all CA parks with our complete California State Parks list (with map).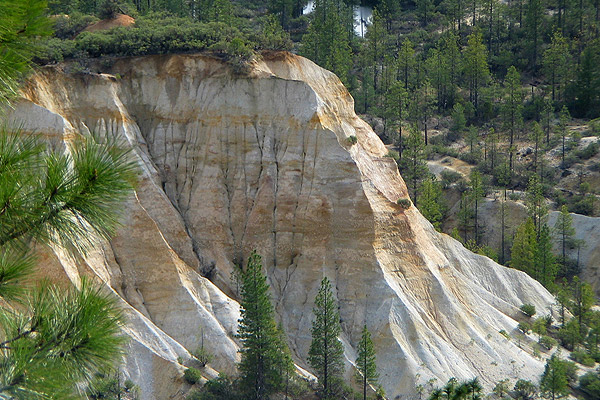 (This article contains affiliate links. This means that if you choose to purchase, I'll make a small commission.)
Malakoff Diggins FAQ
How much does it cost to visit Malakoff Diggins?
Malakoff Diggins State Historic Park charges $10 entry fee per vehicle from Memorial Day weekend through to Labor Day. Over the rest of the year you'll pay a $5 entry fee. Pay this fee at the museum within the park. The park also accepts the annual California State Parks hangtag as well as the annual Historian Passport. Use our guide to figure out which pass is right for you.
Are dogs allowed at Malakoff Diggins?
Yes, dogs are allowed inside Malakoff Diggins State Historic Park, although they must remain on a 6 foot leash. Only service animals are allowed inside the park's historic buildings. Dogs must kept in a tent or a vehicle at night.
Malakoff Diggins is one of 63 state parks that are fully dog friendly. The other 218 either don't allow dogs or have restrictions. If you subscribe to our newsletter using the form at the top of this page, you'll get access to a spreadsheet that lists all of the state parks, which you can sort by features like "camping" and "dog-friendly".
Malakoff Diggins Weather Expectations
Bring layers to this Northern California state park. You can expect warm, dry summers with temperatures ranging from the low 70s to the mid-80s. The park sits at 3,400 feet and winter can bring up to 25 inches of snow each month, with temperatures to match.
Is There Camping at Malakoff Diggins?
Yes. There are 30 campsites available at Chute Hill Campground, within the state historic park. The sites are quite large and can also accommodate motorhomes and RVs. Your motorhome or RV will need to be 24 feet in length or smaller to order be able to back into these camp sites. The maximum trailer length allowed is 18 feet.
You won't find any hook ups here, so make sure you have enough water with you. The closest dump station is in Nevada City. Each campsite has a fire ring, picnic table, and bear box. You can make camping reservations here.
There is also disbursed camping allowed on nearby BLM land on the South Yuba Recreation Area. It has 16 tent sites, 6 sites for smaller trailers and RVs. It costs $5 and is first come first served.
Are There Cabins at Malakoff Diggins?
Yes. If you don't like the idea of tent camping or don't have an RV, you can also book one of three cabins at the North Bloomfield Cabin Colony to stay in. They each have a sink and running (cold) water, bunk bed style platforms to sleep on, and a table with bench seating. Use the link above for reservations.
Which Hotels are Closest to Malakoff Diggins?
There are quite a few motels, B&Bs and inns in nearby Nevada City. Check listings and prices at Booking.com. If you want a kitchen, there are some very cute forest cabins and cottages in and around Nevada City, which you can find on Airbnb.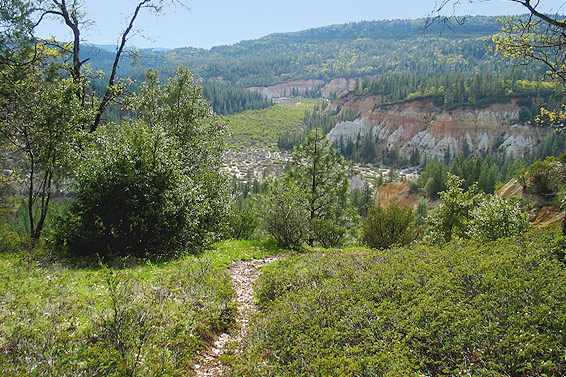 Things to do at Malakoff Diggins State Historic Park
Go Hiking or Bike Riding
There are more than 20 miles of hiking trails within the park to keep you occupied and they vary from easy, flat hikes, to more strenuous walks.
To explore the mining pit created by hydraulic mining, take the 2.6 mile Diggins Loop trail and look up at the colored cliffs above you, and the pebbles and stones left behind under your feet. You can also see the pit from above on the 5.5 mile Rim Trail and Slaughterhouse Trail loop.
Bikes are allowed to join hikers on the Church, Missouri Bar, Rim, Slaughterhouse, and North Bloomfield Town trails.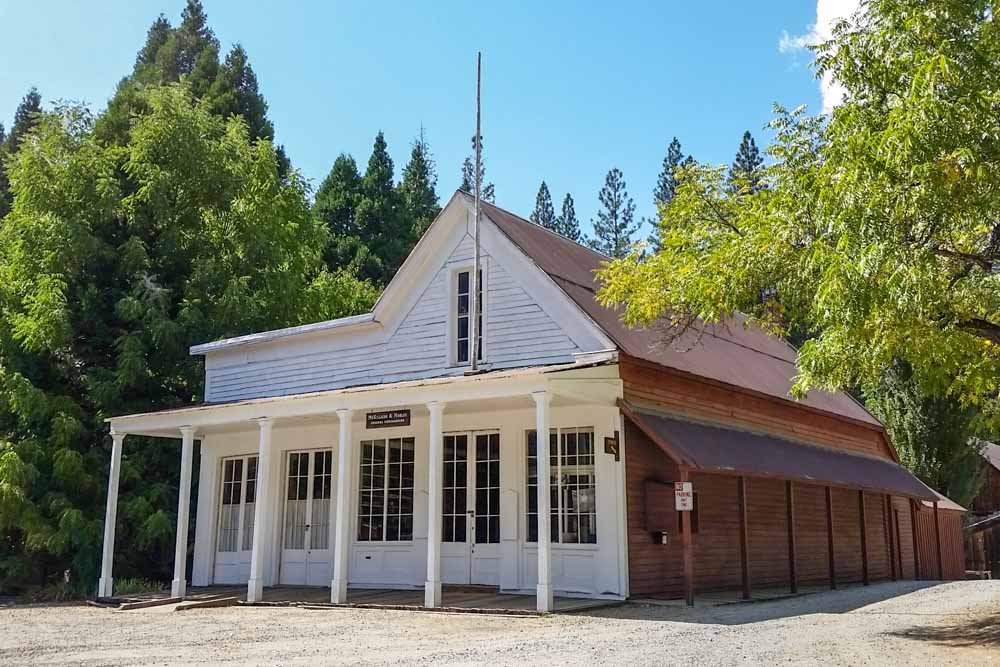 Tour North Bloomfield Ghost Town
During the summer months, park employees lead daily tours of the historic buildings that make up the North Bloomfield historic ghost town. Some buildings are still standing more than 100 years after they were built, but others have been rebuilt to show what the town was like when it was booming.
You'll get to explore homes, a saloon, the drugstore and the general store on the tour, and peek into the barber shop. The town also has the remnants of the hydraulic hoses used to mine, and a museum packed with mining memorabilia in the visitor's center.
Go Swimming & Fishing in Blair Lake
Take the Blair Trail to the lake and go for a swim in part of the 100-acre lake. The lake was originally built to be a holding pond for the mine and is surrounded by ponderosa pine and cedar trees. Swimming is only allowed in the section of the lake near the picnic area, and no lifeguards are on duty so be sure that you're a confident swimmer and watch any children.
You can bring a fishing rod and try your luck for bluegill, black bass, and rainbow trout. But make sure anyone over 16 who is fishing, has a California fishing license.
Pan for Gold
You can follow in the footsteps of many miners before you and go panning for gold near China Gardens. It's named for the Chinese miners who grew vegetables to ensure they had enough food during the winter months.
The section of Humbug Creek that runs from the China Gardens to Relief Hill bridge allows panning, and you can rent a pan from the museum.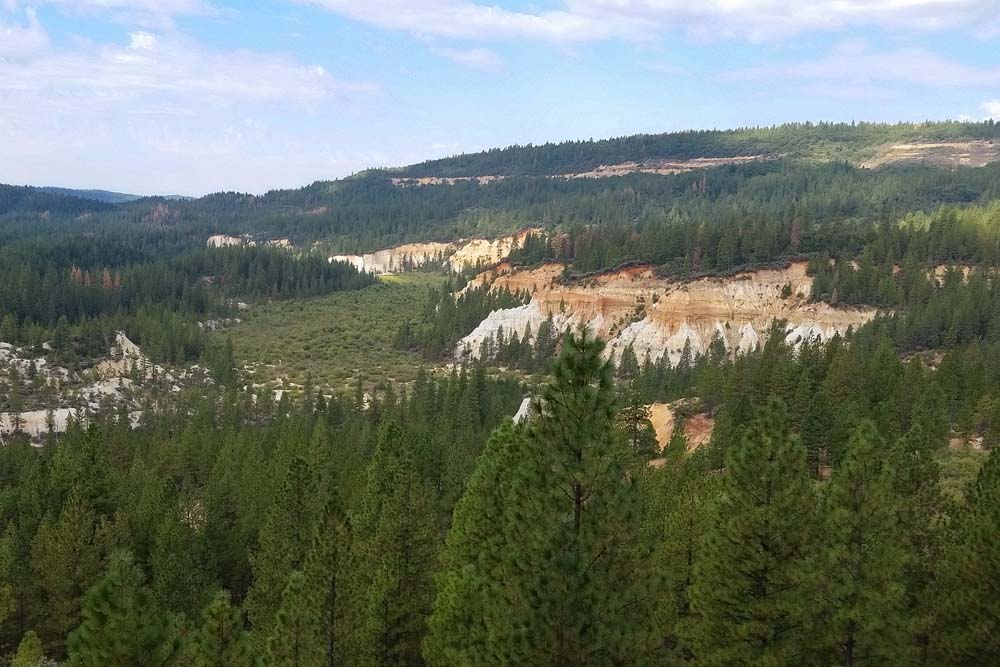 Other Things to do Near Malakoff Diggins State Park
There is plenty to do near Malakoff Diggins State Historic Park. If you're planning a Bay Area weekend getaway, this guide includes 25 fantastic trips from San Francisco. Other ideas include:
Visit Nevada City for small town charm and a cute historic district. It's 26 miles west of the park.
Visit Empire Mine State Historic Park, which one of the oldest and richest mines in California. It's just 5 miles south of Nevada City.
Take a hike on nearby Table Mountain in Oroville– the spring wildflowers are amazing there.
Add on some days to your trip and visit Lake Tahoe, which is 2.5 hours away. While there, you can take a scenic drive around the lake, hike the abandoned Donner Pass rail tunnels and then relax with a cold one from one of Tahoe's craft breweries.
More CA Campground Guides
This article is a guest post courtesy of Katherine Fenech. You can find more about how she is living her best expat life in San Francisco at Bright Lights of America.
Share Malakoff Diggins State Park with your friends on Pinterest: