Whether you are doing winter skiing or summer hiking, the outdoorsy activities in Lake Tahoe will make certainly you thirsty. Fortunately, they have a booming craft beer scene with twelve Lake Tahoe Breweries, brew pubs and beer-friendly tap houses.
The following guide will tell you where to go for Tahoe beer, whether and what they serve for food and each brewery's specialties.
Three Ways to Work Up a Thirst for Lake Tahoe Beer
Step one: work up a powerful thirst. Here are a few activities that you can do in Tahoe that will use your stamina and require that you do a proper hydration once done.
This Lake Tahoe drive has 13 scenic stops with hikes, historic sites and water sports all around the lake. It starts and ends in south shore and by the time you're done, you will definitely have earned a beer at one of the South Lake Tahoe breweries.
The Donner Tunnels hike is a curious mix of classic Tahoe forest hiking, historic interest and urbex. You can do up to a five mile round trip and then rehydrage at one of the breweries in North Lake Tahoe.
These things to do in South Lake Tahoe in the winter are optimized for people who aren't keen to ski. Alternatively, if you do ski but are a novice, check out our guide for beginner skiers in Lake Tahoe. And dont' forget your packing list!
South Lake Tahoe Breweries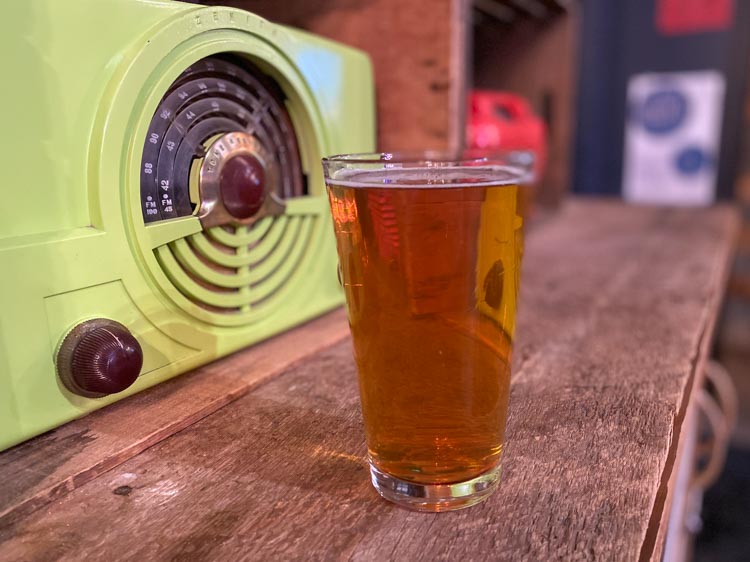 South of North Brewing
Location: 932 Stateline Ave, South Lake Tahoe (at the Basecamp Hotel)
This adorable little spot is walkable from Heavenly Village and a nice place for an apres ski beer. They have an outdoor playspace with chairs, fire pits and bocce ball. Their Blonde Ale and Motorcycle Mama are popular choices. They also have a food menu with starters like pretzels, sandwiches and grain bowls.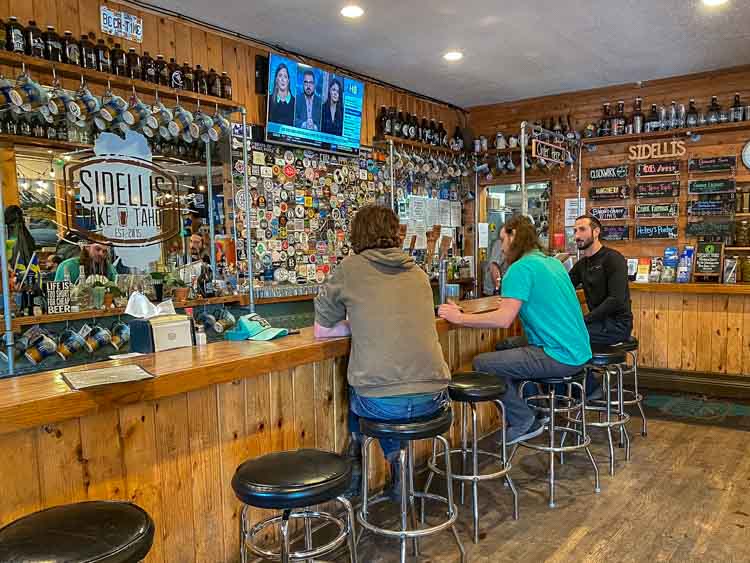 Sidellis Brewery
Location: 3350 Sandy Way, South Lake Tahoe (near the Safeway)
This brewery is like your cozy neighborhood bar. They are dog-friendly and they have good pub grub like taco salads, artichoke dip and french dip sandwiches. Their most popular beers are the Pop White and the Bureaucracy IPA. But they are always doing seasonal brews and have quite a few sours on tap. And, if they have an open slot in the brewing schedule, they will try weird experiments, like the "milk beer" made with lactic acid. So, be sure to ask about the specials.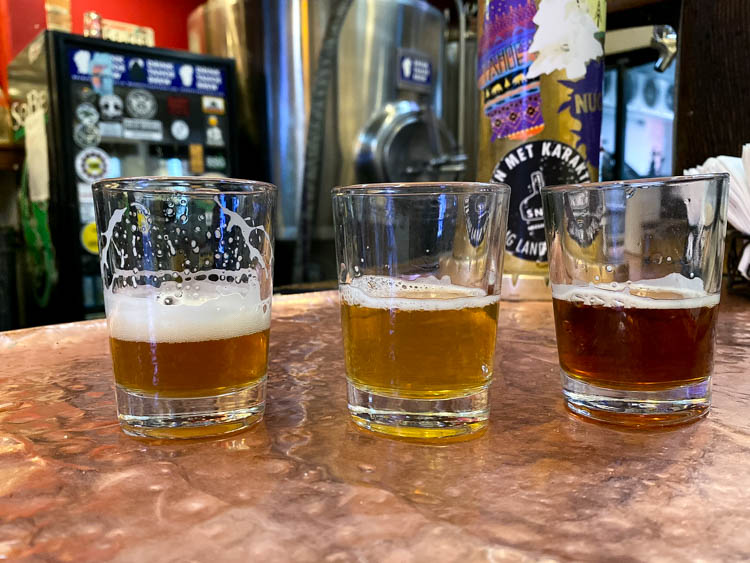 The Brewery at Lake Tahoe
This location is listed as temporarily closed. We are still listing it here in case they reopen.
Location: 3542 Lake Tahoe Blvd, South Lake Tahoe
These guys are the grand daddy of brewing in South Lake Tahoe. They built their business on hand-crafted ales, and while they now have a full roster of beers, their ales are still very popular. Try the Needle Peak Ale (which does indeed have piney notes) and the Alpine Amber. They also serve pub grub and their pizzas and fish and chips are popular. The bar is small but cozy and has friendly bar staff and customers.
These unusual piney beers are just one of many cool facts that you can learn about Lake Tahoe.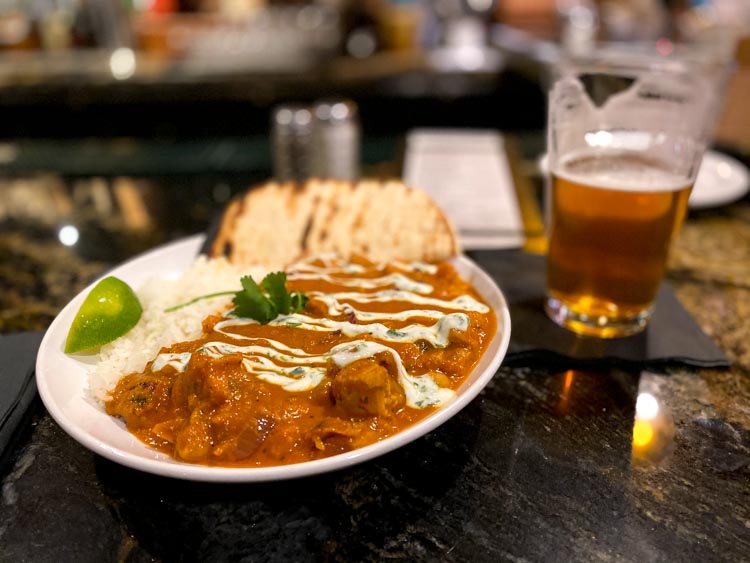 Cold Water Brewing
Location: 2544 Lake Tahoe Blvd, South Lake Tahoe
Cold Water's beer is good and their food is outstanding. They run a 7 barrel brewhouse heavy on the IPAs and ales. But they also offer some wheat beers and ryes as well. They run a secret Wednesday special that includes dinner and a pint for only $10. They use the special to try out new menu items. I had the chicken masala and the Feel Good IPA, and didn't break a sweat paying the bill.
South Lake Brewing
Location: 1920 Lake Tahoe Blvd, South Lake Tahoe
South Lake Brewing bills themselves as a small-town community focused brewery with a big passion for beer. They are a family-friendly, dog-friendly tap room with plenty of space for hanging with friends. They rotate 16 taps, heavily focused on IPAs. Their Marlette Sunrise Blood Orange blonde is popular but I like the Trailblazer Pale Ale. It has piney notes, tasting like the perfect Lake Tahoe beer for the pine forest setting.
South Lake Brewing doesn't make food, but they have food trucks and delivered food from local restaurants. They do also do a lot of local distribution, so look for their beers in other Tahoe bars and restaurants.
Stateline Brewery & Restaurant
Location: 4118 Lake Tahoe Blvd, South Lake Tahoe (at the bottom of the Heavenly Gondola)
Like Cold Water, this brewery in South Lake Tahoe is also a full-service restaurant. Their beer friendly menu has heavy appetizers (like pretzel bites) along with pizzas and burgers. As for beer, they make their own IPA, Pale Ale, Wit and Blonde on a regular basis, while also leaving space in the vats for some seasonal brews. They also carry beers from other local Lake Tahoe breweries.
They have a generously sized (and heated) outdoor patio. They are also located at the foot of the Heavenly gondola. So, it's a great spot for an apres beer after skiing.
The Hanger
Location: 2401 Lake Tahoe Blvd suite b, South Lake Tahoe
The Hanger isn't strictly a brewery, but it feels like one. They have 30 beers on tap, most of them local. Consider a sampler tasting before heading out to one of the many other Tahoe breweries on this list. The barkeeps are knowledgeable and friendly and so is the atmosphere. They have a large grassy area (with tents and heaters for the cooler weather).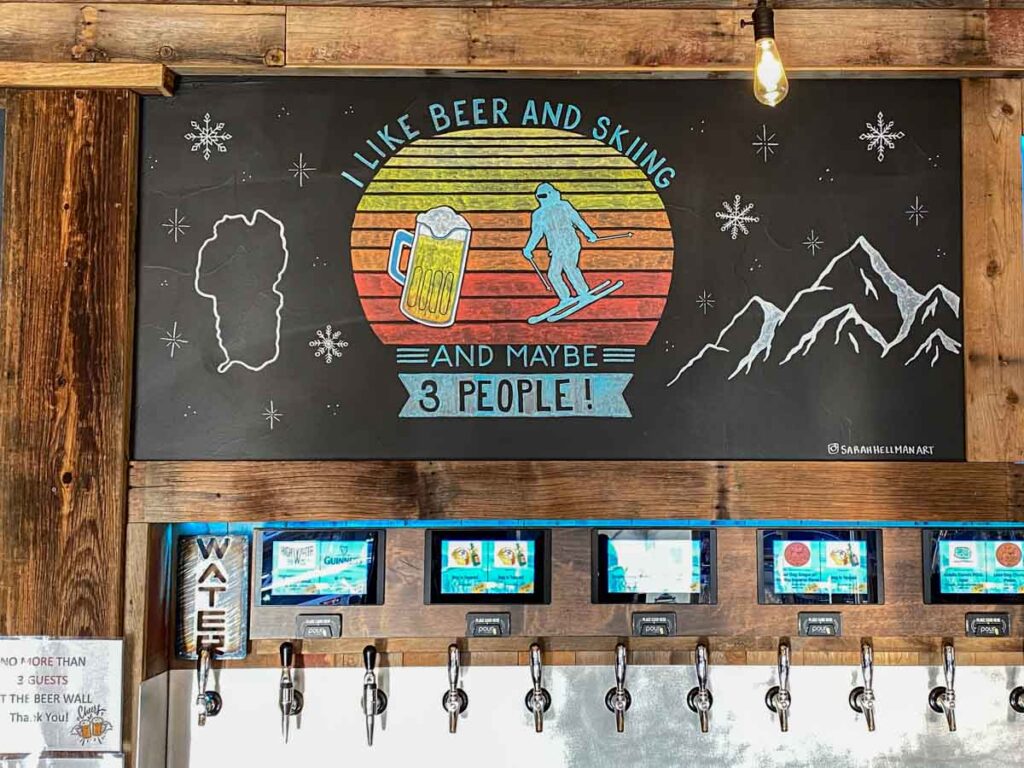 Lake Tahoe AleWorX
Locations: 2050 Lake Tahoe Blvd Suite #2050, South Lake Tahoe (at the Y), 31 US-50 #105, Stateline (next to Monbleu Casino)
Like the Hanger, AleWorX isn't a brewery either. But they have excellent pizzas, which pair well with beer. They have a self-serve bank of beer taps, so you can pour a much or as little as you like from the taps. And you can also sample the special AleWorX house beer, which is brewed especially for them by Alibi Ale Works. Both locations have a large patio and fire pits.
Breweries in North Lake Tahoe
A lot of attention is paid to South Lake Tahoe breweries, but North Shore isn't a slouch either when it comes to beer. Check out these four North Lake Tahoe breweries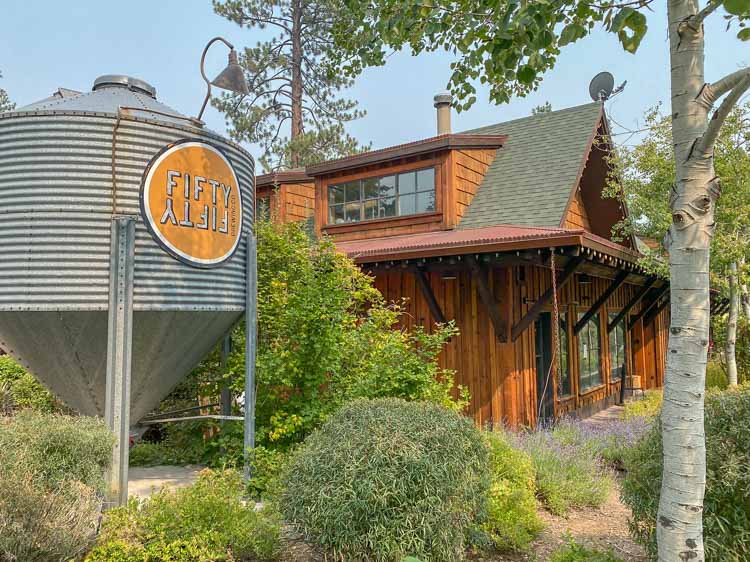 FiftyFifty Brewing
Location: 11197 Brockway Rd #1, Truckee
FiftyFifty has a perfect chill Truckee vibe with solid food and great beer. They are known for their aged beers, like the Eclipse Porter which is aged in whiskey barrels. Also popular are the West Coaste Haze IPA and Leg Lifter Pale Ale. I like the Malty Marzen. Like most of the Tahoe breweries on this list, they also offer crowlers (32 oz. cans) and growlers (64 oz. jugs) for most of their beers. While there, ask about the $3 pint special.
For food, they offer a range of beer-friendly comfort foods like salads, sandwiches, burgers and pizza. FiftyFifty Brewing has a nice large patio area and a wood paneled indoor bar. And unlike some of the smaller Tahoe breweries, they also offer a full bar menu. So, it's a nice place to visit if your companions prefer wine or mixed drinks.
Tahoe Mountain Brewing
Location: 10292 Donner Pass Rd, Truckee, CA 96161
Tahoe Mountain is located in the lovingly restored historic Kruger White House, which was built in 1874. They are located right on downtown Truckee and are a great place for dinner and a beer if you've been wandering around town. They don't do a ton of different kinds of beers and their bar only runs four taps. But they are known for their sours and saisons. The food is good with an emphasis on more formal entrees like fish and chips.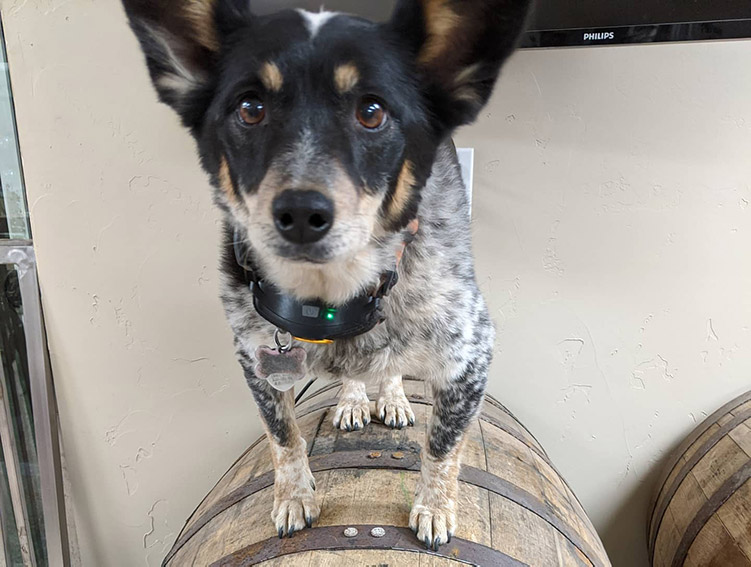 Bear Belly Brewing Company
Location: 8428 Trout Avenue, Kings Beach
Bear Belly is tiny little nano brewery right in Kings Beach. Founder Adam Latham transitioned from ski bum to brewer when he became frustrated that his area of North Shore didn't have its own brewery. He brews fewer than 3 barrels at a time and leans toward doing IPAs. He runs 5 draft handles and just recently released a Coya the Destroya Imperial Stout, which is named after his adorable dog, Coya.
Alibi Ale Works
Locations:
Alibi Ale Works is actually three different entities. They run their north Tahoe brewery and barrel house in Incline Village. This is pretty much just a tap room, although they also have a food truck available. But they also have brew pubs with full service, family-friendly menus in both Incline Village and Truckee. They brew their beer with water straight out of Lake Tahoe. They also pride themselves on producing a gluten reduced beer.
They do mellow, well balanced beers in the full range of IPAs, stouts, pale ales and stouts. Their daily beer menu is pretty extensive, with 19 beers, cider and kombucha. They also have fruity seasonal offerings. For food, they have a twist on the usual pub fare with bison and elk burgers, sausages and beer food like pretzels.
Enjoy your Lake Tahoe brewery tour. In the immortal words of Henry David Thorough (a man who liked both his pine forest and his beer):
"Instead of water we got here a draught of beer…a lumberer's drink, which would acclimate and naturalize a man at once—which would make him see green, and, if he slept, dream that he heard the wind sough among the pines."
True that Hank.
Share these Tahoe beers with your friends on Pinterest: