South Lake Tahoe's winter playground sits at a crisp 6,200 feet, delivering one world class ski resort right in town and seven other ski areas within an hour. But what if you don't ski, or don't want to ski everyday? There are tons of things to do in South Lake Tahoe in the winter for non skiers, and the following list will help you fill 2-3 days of winter weekend fun.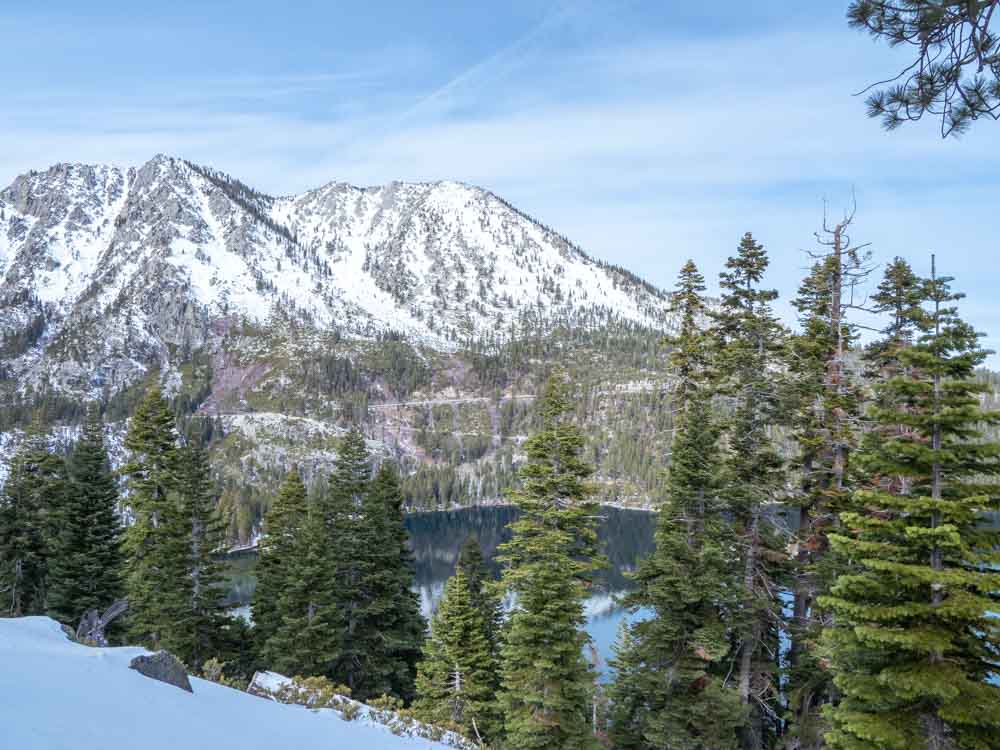 I've been fortunate enough to be able to spend a lot of time in the pine forests that surround Lake Tahoe, both in the winter and in the summer. And that crisp mountain air and fresh pine scent cannot be beat. So, whether you are a skier or not, you will definitely have a great winter trip to Lake Tahoe.
What follows are some non-ski suggestions for Tahoe winter activities. And even if you ski, hopefully you can squeeze in some time for these fun activities.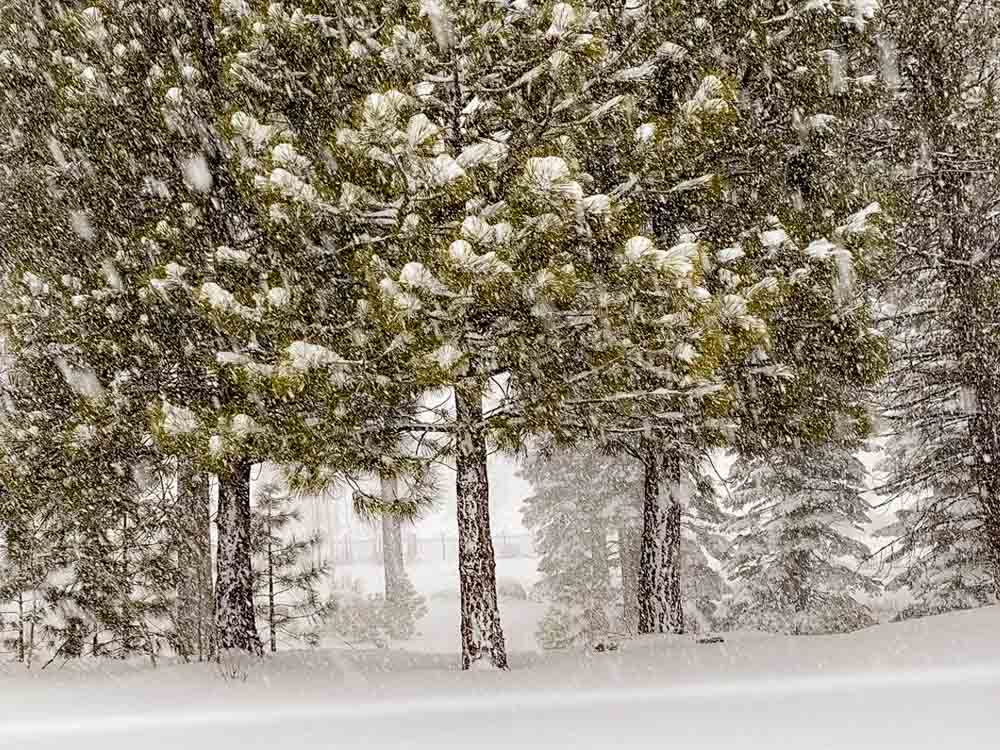 (This article contains affiliate links. This means that if you choose to purchase, I'll make a small commission.)
WHERE TO STAY IN SOUTH LAKE TAHOE
If you are going to spend more time outside than in, then go budget and book one of the many motels all along the main drag in South Shore. The Black Jack Inn is well rated.
If you are more keen on a full-service hotel, but are also bringing a dog, then consider the Hard Rock at Stateline, you get the benefit of a full service hotel and it's not far from the Heavenly gondola.
10 Things to Do in Lake Tahoe in the Winter (For Non Skiers)
Now that you've figured out where to stay, let's help you figure out what to do. South Lake Tahoe's winter activities for non skiers encompass a wide range of indoor and outdoor activities and you can stay plenty busy.
And if you do ski, but not frequently, or if you are a beginner, check out our guide for ski resorts in Tahoe for beginners.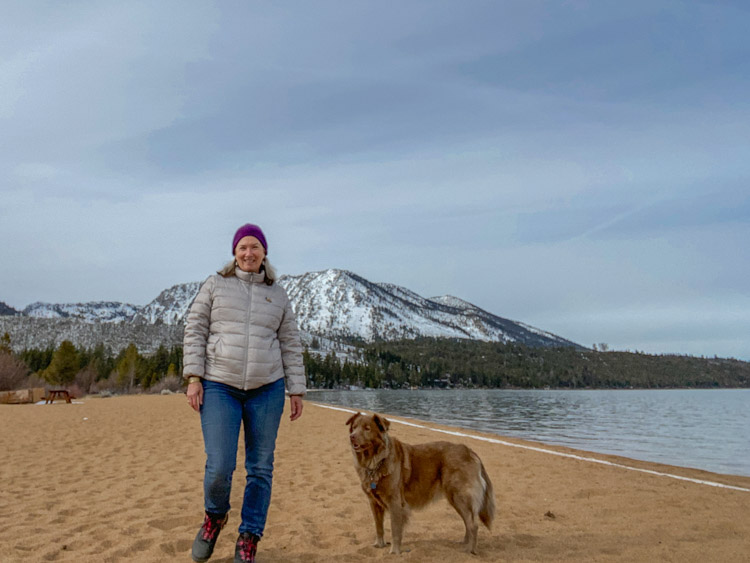 1. Go Hiking at Baldwin Beach
In the summer, this beach is bristling with sweaty swimmers, but in the winter, it's a calm patch of nature. The beach sits on a mile-long stretch of Tahoe's southwestern coastline. To access the beach, you'll want to park in the lot across the street from Baldwin Beach road. The gate will be closed to cars but you can skirt it and walk in .5 miles along on the access road.
The beach and park is managed by the forest service, which means that it's dog-friendly. You'll need to keep your dog on a leash (unless you are the only one on the beach and your dog gives you that look and you cave in and take her off leash because you want her to be happy).
2. Hike the Lam Watah Nature Trail to Nevada Beach
This nature trail is also managed by the Forest Service. The ~4 mile round trip starts in a wetland meadow and meanders through peaceful pine forest before ending up at Nevada Beach. The trail head is easily walkable from the Hard Rock Hotel, but there's also a small parking lot nearby.
Either Baldwin Beach or Lam Watah can be done in normal hiking shoes or snow boots. However, if it's been dumping, then you may want to turn the outing into a snow shoeing excursion.
You can rent snowshoes from any of the ski shops. It's worth shopping around because the rates vary from $15 to $30 per day. There is a cluster of rental shops on Ski Run Blvd, which is the street that goes up to the Heavenly base.
If you don't want to hike alone, then you can also schedule a snowshoeing tour. Tahoe Snow Shoe Tours and this scenic snowshoe adventure both have regularly scheduled daytime and sunset tours.
3. Take a Tour on or Above the Lake
People vacation here because the lake presents such a dramatic contrast to the mountains. So, it's worth carving out some time to explore this lovely body of water. There are several tours that are suitable for taking in the winter.
The first is ON the lake. This 2-hour boat tour takes in some of the prettiest spots on the lake. You can do the tour during the day or as a sunset cruise.
The other suggestion is to go ABOVE the lake. This tour is a :20 minute helicopter ride that takes you from South Shore over Zephyr Cove, past Fallen Leaf Lake and around Emerald Cove.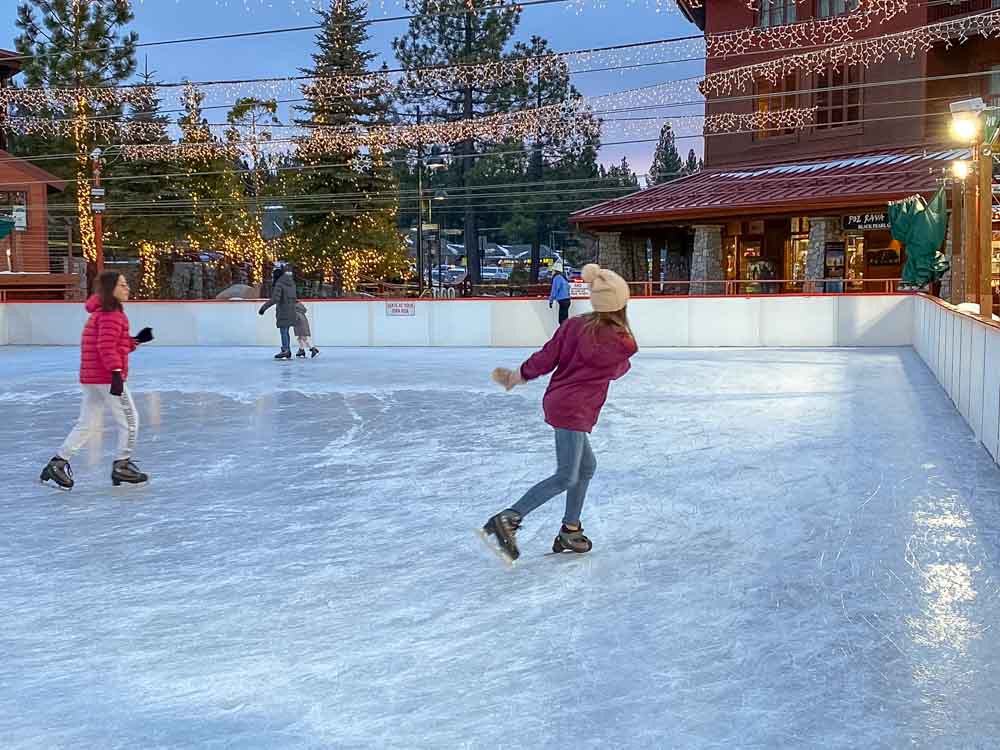 4. Go Ice Skating at Heavenly Village
Ice skating is perfect non skiing Lake Tahoe winter activity, especially for kids. There is a rink at the base of Heavenly village. I wish they rented the skates by the hour, but alas they don't. However, they do sell a pass for $20 for the full day.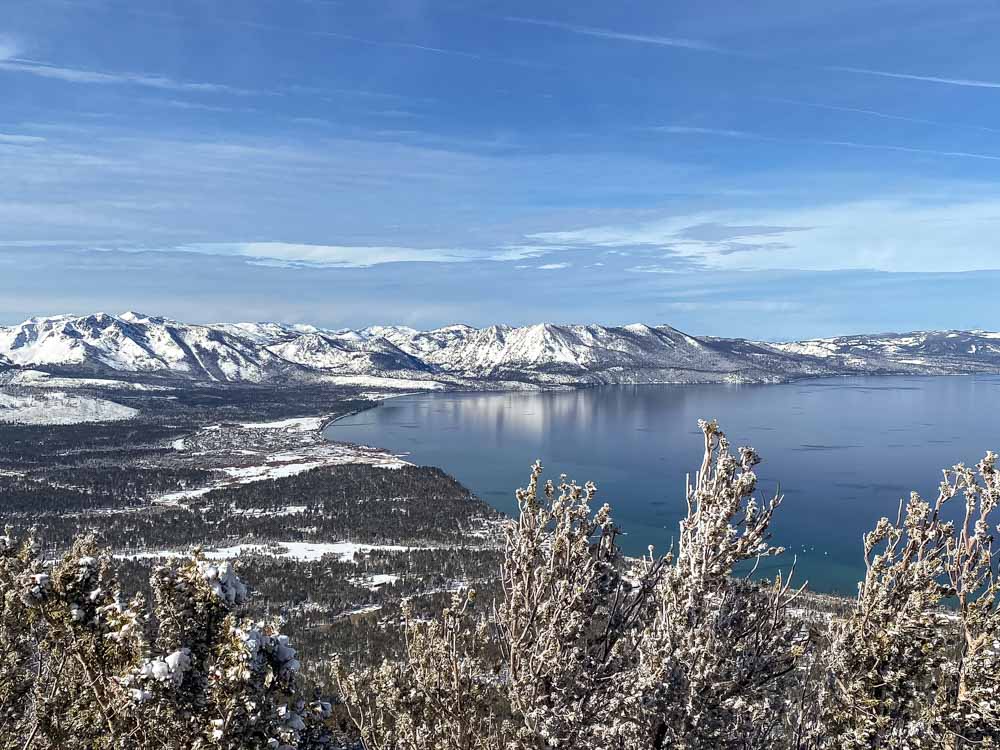 5. Take the Gondola to the Top of Heavenly
Heavenly Ski resort has done an excellent job at developing wintery things to do in South Lake Tahoe for non skiers. Simply get the non skier gondola pass and head up to the top of the mountain.
About 2/3 of the way up, they've installed a viewing platform that has stunning 360′ views of South Shore, the lake and the surrounding mountains. It's mostly non skiers getting off for the viewing platform. But, even if you are skiing that particular day, I would encourage you to get off and check out the views because they are amazeballs.
To visit viewing platform, get off at the way station on the way up, because it the gondola doesn't stop there on the way down. There is also a small cafe on site that sells warm drinks (and adult add-ons).
A day pass for the gondola will cost $92-102.
6. Go Tubing and Sledding
There are several adventure parks where you and the kids can go tubing and sledding.
Hansen's resort has a tubing hill located (sorta) near the bottom of Heavenly. They charge $40/hour.
There is also a tubing spot in South Shore, (kinda) near the small airport. Check TubeTahoe for pricing and hours.
Adventure Mountain is located west of South Shore at Echo Summit on Highway 50. They offer groomed tube runs at $20 for two hours ($15 for the kids.)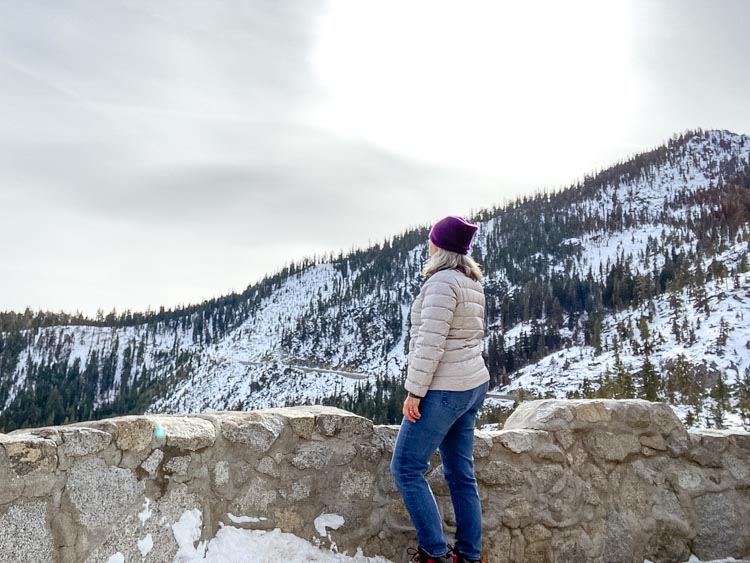 If all of that activity is too wintry cold for you, the following are also some inside things that non skiers can do in Lake Tahoe.
7. Drive Around Lake Tahoe
Heavenly's viewing platform isn't the only place to get killer views of the lake. You can also find plenty more if you spend a day driving around the lake. The drive takes about 2 hours and 15 minutes without stops, lunch or snow.
But don't be in a hurry. Take the time to stop at various viewpoints, such as the Memorial Point (east side) and Emerald Bay Viewpoint (west side). Check out the beaches on Zephyr Cove, Lakeside and Incline Village (east side) or Patton Beach, Tahoe City or Meeks Bay (west side).
Tahoe City, is roughly the halfway point and it's a good pit stop for lunch. Try Jakes on the Lake, which offers soups/salad/sandwiches and a deck overlooking the harbor or Za's Lakefront with pizza/pasta/salads and large windows overlooking the lake.
Here's is the full guide for diving around Lake Tahoe (winter or summer), which includes 13 killer tops. And here are a few tips:
If it's snowing heavily: Don't do the drive, as the road is narrow and will become treacherous when icy and the west side sometimes closes.
If you are driving in from the Bay Area: Do a partial lake tour by taking I-80 to Tahoe City, then driving down the west side of the lake via hwy 89 to South Lake Tahoe.
If you are driving in from Reno: Drive to Incline Village via hwy 431 or I-80/hwy 269 and then go down the east side of the lake via hwy 28/hwy 50 to South Lake Tahoe.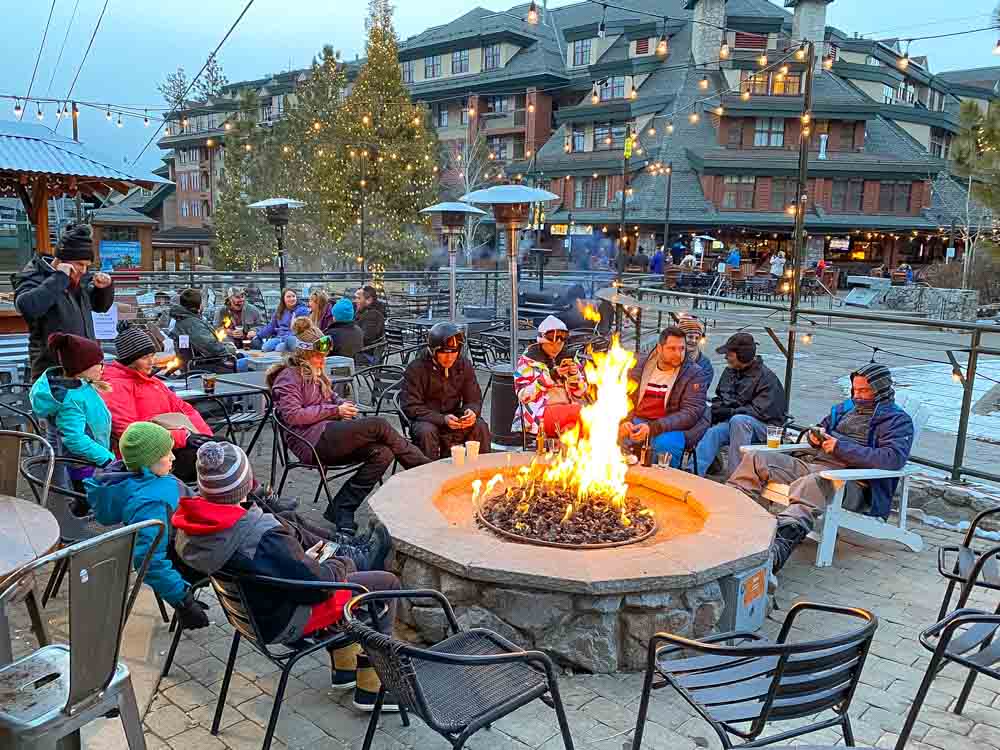 8. Apres-Ski, Without the Skiing Part
Just because you aren't skiing during your South Lake Tahoe winter weekend getaway, doesn't mean that you can't do the apres part. You've earned a cozy beverage, what with all of the hiking and snow shoeing and sightseeing.
If you are doing the Heavenly gondola, then stay up top until end of the ski day because the Tamarack lodge has a happy hour from 3-5pm. Just keep an eye on time because you don't want to miss the last gondola off the mountain.
Heavenly village has several cool apres ski spots complete with happy hour specials, live music and fire pits. Check out the Gun Barrel Tavern or the California Burger Company.
9. Drink Some Serious Beer
South Lake Tahoe takes it's beer seriously! South Shore has eight breweries, plus a dozen taverns and tap houses. Here are a few worth visiting:
South of North Brewing (At the Basecamp Hotel): This adorable little spot is walkable from Heavenly Village and a nice place for an apres ski beer. They have an outdoor play-space with chairs, fire pits and bocce ball. Their Blonde Ale and Motorcycle Mama are popular choices.
Sidellis: This brewery is like your cozy neighborhood bar. They are dog-friendly and they have good pub grub like taco salads, artichoke dip and french dip sandwiches. Their most popular beers are the Pop White and the Bureaucracy IPA. But they are always doing seasonal brews. And, if they have an open slot in the brewing schedule, they will try weird experiments, like the "milk beer" made with lactic acid. So, be sure to ask about the specials.
The Brewery at Lake Tahoe: These guys are the grand daddy of brewing in South Lake Tahoe. They built their business on hand-crafted ales, and while they now have a full roster of beers, their ales are still very popular. Try the Needle Peak Ale (which does indeed have piney notes) and the Alpine Amber. They also serve pub grub and their pizzas and fish and chips are popular. The bar is small but cozy and has friendly bar staff and customers.
But there are lots of breweries around the lake so click for this article for a list of all of Lake Tahoe breweries.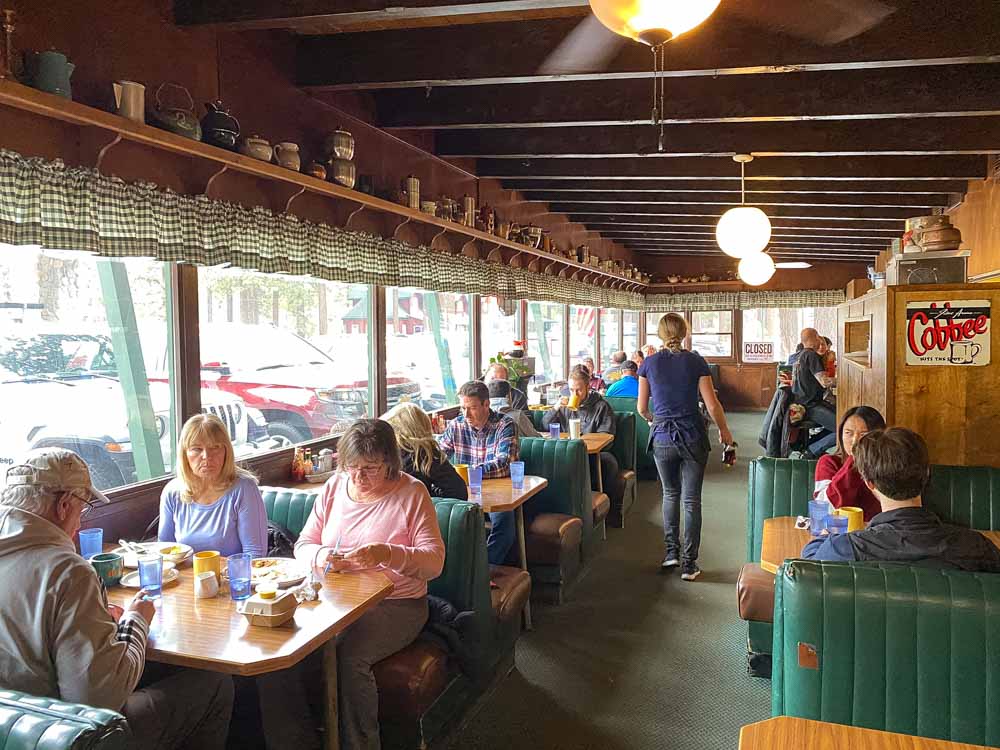 10. Eat Some Serious Food
Breakfast at Bert's Cafe. This is like your favorite greasy spoon, except without the grease. They make their food from scratch, plating up classics like eggs benedict, huevos rancheros and some seriously delicious omelets. Their counter waitress actually called me "hon", which was a delightful throwback.
Dinner at Coldwater Brewing. Coldwater is actually a brewery, but I'm recommending them here because while their beer is good, their food is outstanding. Coldwater does a secret Wednesday special that includes dinner and a pint for only $10. They use the special to try out new menu items. I had the chicken masala and the Feel Good IPA, and didn't break a sweat paying the bill.
Getting to Tahoe
By air: This guide will help you find the best airport near to Lake Tahoe.
From the Bay Area: Take your easiest route east (I-80 or I580/I-5) to Sacramento. Then take Highway 50 west. On a good day, it will take 3.5 hours. On a Friday it will take 5.5 hours. When it's snowing, it could take up to 7 hours (more on that below). We also have a article that has advice on the best way to get to Tahoe from SF (with some fun stops along the way.)
From Los Angeles: Take either I-5 north to Sacramento and then hwy 50 or take hwy 395 up the eastern Sierras and then hwy 50 west into South Shore. On a good day, it will take 7 hours. On a Friday, it will take up to 9. If it's snowing, add another two hours.
From Reno: It will take about 1:40 on any given day, but add an hour if it's snowing.
If You're Renting a Car
You will definitely want to rent a car with all wheel drive. When the roads are clear, you can take any passenger car. When the roads are snowy, the mountain passes into South Shore will usually require all wheel drive, snow tires, chains or some combination.
Renting an SUV can be pricey, so use Rentalcars.com to get a price comparison from nine different Reno car rental companies.
If You're Driving Your Own Car
Whether or not you have all wheel drive, you should never drive up to South Lake Tahoe in the winter without carrying chains or snow cables. Buy your chains here, but be careful about choosing the right tire size.
If you've never used chains or cables, it's a good idea to practice putting them on before you find yourself on a frozen roadside, covered in muddy slush, swearing mightily while your hands go numb with frustration. Not that it happened to me or anything.
If You Don't Want to Drive at All
Having a car is best, but you can do everything on this Tahoe winter activities list (except the loop drive) without a car. If you stay centrally, you can walk to many of the suggestions above and you can taxi and Uber services to get to the rest.
If you are flying into Reno, you can take the South Tahoe Airporter to get to South Shore. It runs on a fixed schedule and costs $59 round trip. If you have a larger group, you can book a private van with North Tahoe Executive Shuttle, Reno Tahoe Limo, or Tahoe Elite.
Lake Tahoe Non Skiers Packing Suggestions
Just because you're not skiing in Lake Tahoe doesn't mean that you can get away with civilian clothes. Winter hiking, tubing, snow shoeing even hanging outside at the Tamarack lodge, all require cold weather gear and sensible footwear.
Check out full Tahoe winter packing list for a full accounting of what you should bring on the trip. For the quick version, here are a few suggestions:
Bring proper snow boots or winter hiking boots. I don't mean Uggs, which might be cozy but they don't grip ice. I have both Merrill winter hiking boots and Sorels and both are warm and sturdy. If you don't wear winter boots often enough to justify the investment, bring your waterproof hiking shoes and consider renting a pair of winter boots from a local ski shop.
Bring a waterproof bottom layer. This could be ski pants (I like the North Face pants for their adjustable waist, which is necessary if you drink all that beer beer, and eat extra large breakfasts and the chicken masala). But you could also bring some fleece pants and rain shell pants (I like Colombia brand because they have good prices). Either can be re-purposed for spring and fall hikes and rainy weather activities.
Grippy Polartec gloves. I love my grippy glove liners. They are great on their own if it's not too freezing and they are a good mitten liner. The grippy texture actually allows you to use your phone's touch screen without removing the gloves.
There are so many fun things to do in South Lake Tahoe in the winter that you can fill a whole weekend getaway and not even miss the skiing. Use this guide, enjoy your trip and report back if you have any suggestions to add.
As Mark Twain said of Lake Tahoe- "The air up there in the clouds is very pure and fine, bracing and delicious. Any why shouldn't it be? It is the same as the angels breathe."
True that Mark!
More Tahoe Area Activities
Help your friends figure out what to do in South Lake Tahoe for non skiers by sharing on Pinterest: