Lake Tahoe itself is not served by a major airport. However, you have several options for finding airports near Lake Tahoe. This guide will help you figure out which airport is best for your Tahoe trip. We also offer advice for how long it will take to get from the airports to Lake Tahoe with details about car rentals and ground transportation.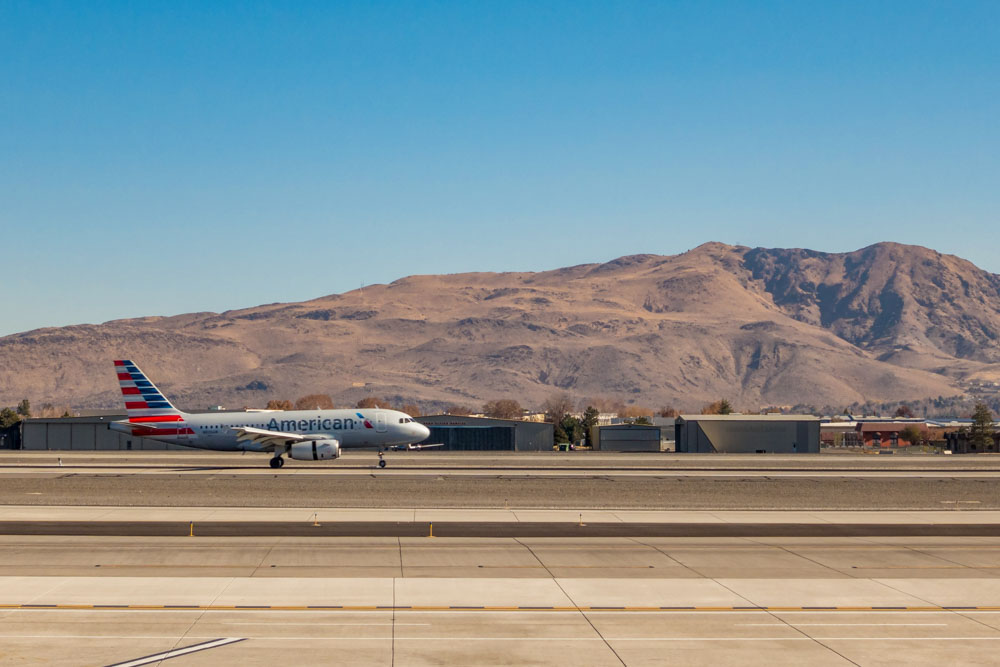 (This article contains affiliate links. This means that if you choose to purchase, I'll make a small commission.)
The Three Closest Airports to Lake Tahoe + Which to Pick
Reno has the closest airport to Lake Tahoe, and it's located just 58 miles away. They have nonstop flights from ~25 destinations. Reno Airport (RNO) is a good choice if you are short on time, can get a direct flight or a connecting flight with a shorter layover.
The Sacramento airport (SMF) is the next closest airport to Tahoe. It's located 120 miles from the lake. While it's further away, Sacramento Airport offers more direct flights than Reno, particularly from some of the smaller airports in California. Sacramento is a good choice if you can get a screamin' deal on a direct flight. Their rental cars are also often less expensive than Reno's.
The San Francisco airport (SFO) is located 200 miles from Lake Tahoe. It's the closest major airport to Tahoe. SFO offers direct flights from all California airports as well as all major (and many minor) airports in the US. It's 3.5 hours to the lake, but even with the extra drive time, SFO can be a good choice if your only option for a connecting flight to Reno has a very long layover. It also works if you want to road trip between Tahoe and San Francisco.
SFO also has the least expensive rental cars of any airport near Lake Tahoe.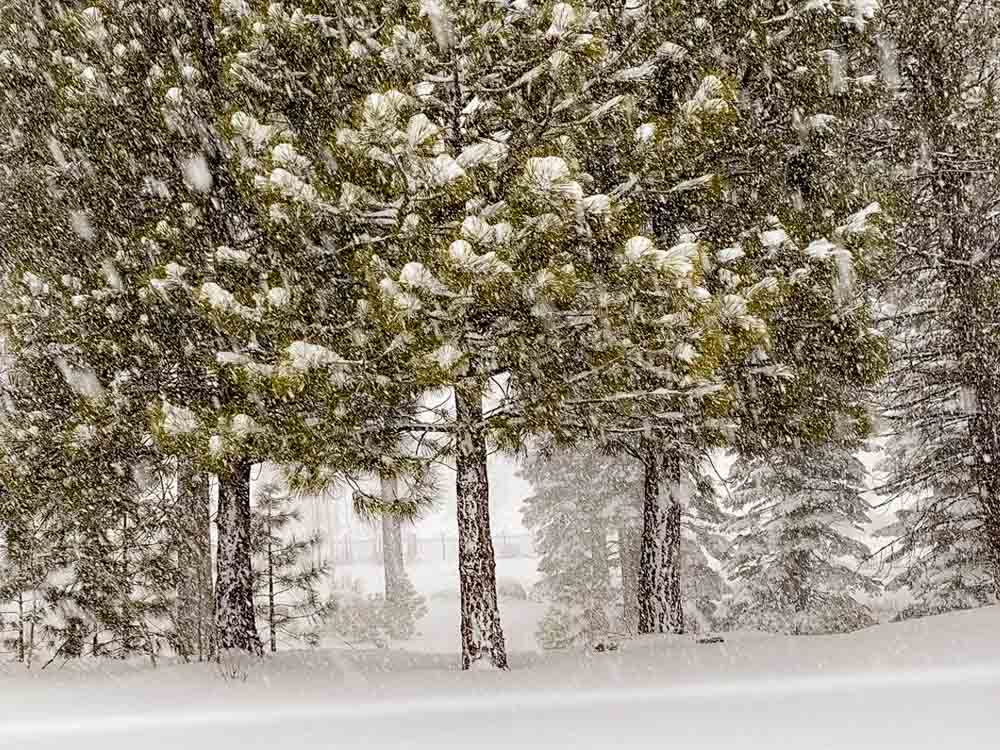 Reno Airport (RNO) Logistics
Since your most likely option is indeed the Reno airport, here is some additional information to help you plan your trip to the area.
Non-stop Flights to Reno
Reno airport (RNO) serves the Lake Tahoe region from the following nonstop destinations:
Flights Within California
Arcata/Eureka (ACV) – Seasonal
Burbank (BUR)
Los Angeles (LAX)
Orange County Santa Ana (SNA)
Long Beach (LGB)
San Diego (SAN)
Oakland (OAK)
San Francisco (SFO)
San Jose (SJC)
Direct flights from Elsewhere
Atlanta (ATL) – Seasonal
Austin (AUS)
Charlotte (CHS) – Seasonal
Chicago/Midway (MDW) – Seasonal
Chicago/O'Hare (ORD) – Seasonal
Dallas/Ft. Worth (DFW)
Dallas Love Field (DAL) – Seasonal
Denver (DEN)
Guadalajara, Mexico (GDL)
Houston/Hobby (HOU) – Seasonal
Houston/Intercontinental (IAH)
Jackson Hole (JAC)
Las Vegas (LAS)
Minneapolis/St. Paul (MSP) – Seasonal
New York (JFK)
Palm Springs (PSP
Phoenix (PDX)
Portland (PDX)
Salt Lake City (SLC)
Seattle (SEA)
The following airlines service the Reno/Tahoe region: American, Delta, Alaska, Allegiant, Frontier, Jet Blue, JSX, Southwest, United and Volaris.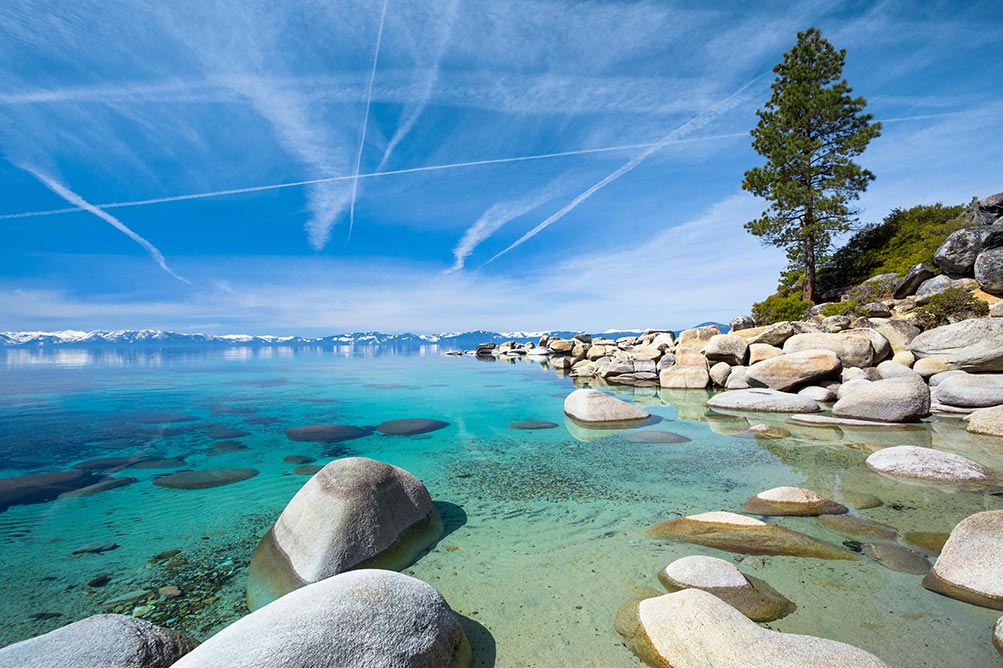 Car Rentals in Reno
Reno is serviced by all of the major car rental providers including: Alamo, Avis, Budget, Dollar, Enterprise, Hertz, National, Payless and Thrifty.
Our normal hack for getting a good deal on a car rental is to rent the smallest car available (which are often in short supply) and then hope for a free upgrade. This usually works. But size matters if you are visiting Tahoe for skiing and a smaller car may not hold all of your gear. So, be sure to book an appropriate car for your needs.
Be aware that most rental car companies don't rent snow chains or cables. If you are going to Tahoe for a winter trip, you may want to buck up for a more expensive rental car with all wheel drive.
The Reno can also be a good airport for a Yosemite road trip, but only if you are going in the summer and fall when Tioga pass is open.
Getting from Reno Airport to Lake Tahoe Without a Car
We do advise you to rent a car, because it will give you much more flexibility for exploring the ski resorts, state parks, museums and restaurants that dot the circumference of the lake (which bytheway, you can navigate on this scenic tour around Lake Tahoe.)
But, if you'd rather not, here are your options for getting from Reno airport to Lake Tahoe using ground transportation.
Taking an Uber/Lyft/Cab from Reno to Lake Tahoe
Be sure to request an XL ride so that your gear and suitcases will fit. From Reno to Tahoe City an Uber will cost ~$150. From Reno to South Lake Tahoe, an Uber will cost ~$170.
You can also schedule a private car service for ~$250-300. This page on the Reno airport site lists a number of providers.
Taking a Shuttle from Reno to Lake Tahoe
North Lake Tahoe Express runs a route from the airport, stopping at most major hotels and ski resorts on North Shore. The cost is ~$60.
South Tahoe Airporter does the same for South Shore and it costs ~$35.
Book either in advance.
Plan Your Tahoe Trip
More Airport Resources for California Vacationers
Pin this guide for the nearest airports to Lake Tahoe: