Yosemite National Park is not served by a major California airport. However, you have several options for finding airports near Yosemite. This guide will help you figure out which airport is best for your Yosemite trip. We also offer advice for how long it will take to get from each airport to Yosemite and details about car rentals and trip planning tips.
Planning Your Trip to Yosemite
(This article contains affiliate links. This means that if you choose to purchase, I'll make a small commission.)
Yosemite is the most famous national park in California. As such, you'll definitely need to plan ahead so that you can optimize your time in the park. This is a useful guide for road tripping from SF to Yosemite. It's got a bunch of top stops, not only in but also around the park.
Summer is the most popular time to visit Yosemite, because the dry conditions are great for camping and hiking. If you go in late spring, you can find lovely spring wildflowers and flowing waterfalls. Fall is great for the turning leaves, and there also far fewer crowds during that time of year. Use our Yosemite packing list to help you figure out what to take, regardless of the season.
You can visit Yosemite Valley in the winter. However, the scenic Tioga Pass isn't open at all in the winter. You can usually transit Tioga from mid-June through November. If that sounds like your jam, check out our article on the best scenic byways in California. Tioga is on that list, but so are nearby Lake Tahoe, Highway 395, Highway 49 Gold Country and Kings Canyon/Sequoia National Parks.
Here's our full guide for visiting Yosemite in the winter.
Yosemite Valley offers shuttle services that stop at key points in the valley. This is designed to cut down on traffic jams in the park. That said, the whole of Yosemite is best done by car. This will allow you to explore southern Yosemite's giant sequoia groves, northwestern Yosemite's redwood groves and Hetch Hetchy dam, and the northern Tioga Pass and Tuolumne Meadows.
And finally, John Muir is the grandfather of Yosemite as a national park. Get inspired by him by reading up on Muir's best quotes and also these fun facts about Yosemite.
Where to Stay in Yosemite
There are five lodges and camps located within Yosemite Valley. They all book up way in advance so plan ahead.
Fancy: The Ahwahnee is Yosemite's most historic hotel with wood and stone accents and soaring ceilings. It's located right on the valley floor. Check reviews and book it here.
Super Convenient: The Yosemite Valley Lodge is a modern, family friendly hotel located in Yosemite Valley right on the Merced river. Check reviews and book it here.
Budget Glamping: Curry Village is located in the heart of the valley, just 1.1 miles from Vernal Falls. These glamping tents are cheaper than the hotels but still offer the great location. Check reviews or book it here.
You can usually find more choice and less expensive room inventory just outside of the park. Consider staying in either Fish Camp (which is near the Mariposa sequoia grove) or around Midpine and Mariposa (which is a lovely drive into the valley along the Merced river). From either location, you can avoid summer traffic hassle in Yosemite valley by catching the Yarts bus right from town.
Fish Camp Full Service: The Tenaya Lodge is a full service resort with a great pool and spa. Check reviews and book it here
Midpines Glamping: The Autocamp in Midpines takes glamping to a whole new level. They have adorbs airstream trailers and also BBQ facilities, a terrace, pool and concierge service. Check reviews and book it here.
Budget basic: The Miners Inn in Mariposa ain't fancy, but it gets the job done for people who want to spend more time outside than in. Check reviews and book it here.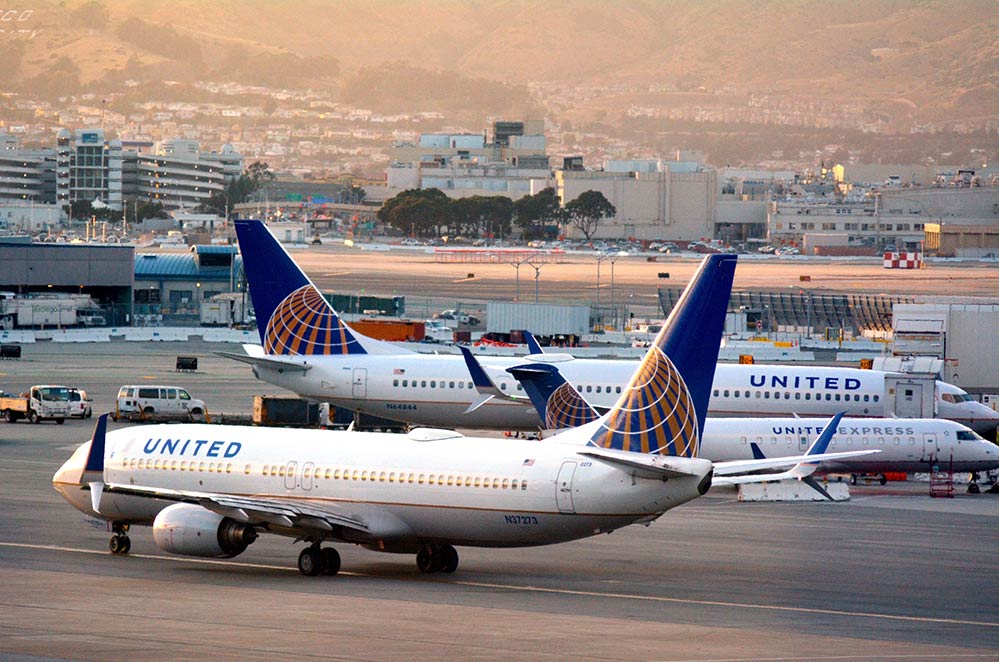 The Closest Airports to Yosemite
There is not an airport in Yosemite National Park, nor terribly nearby. Yosemite is best visited as part of a larger California road trip that starts at one of the more populous metro areas. That said, you do have several options regarding the closest airports to Yosemite and choosing the right one will depend upon the time of year, which part of the park you're visiting and what else is planned for your itinerary.
All of the drive times and distances below are calculated from the airport to Yosemite Valley. Be aware that you may also experience traffic jams going into and out of the valley at popular times of day, so factor some buffer into your drive times.
Fresno Yosemite International Airport (FAT)
Distance to Yosemite: 95 miles
Drive time: 2.5 hours
The absolute closest airport to Yosemite is the Fresno Airport. The "international" and "Yosemite" in the airport name implies that it's some sort of major airport. It is in fact, a modest regional airport, but that doesn't mean that it won't work for you.
Fresno is served domestically by Alaska Airlines, American, Delta, Frontier, Southwest, United and Allegient. They also serve some Mexican destinations through Volaris and Mexicana.
They offer nonstop US service to/from: Chicago, Dallas, Denver, Las Vegas, Los Angeles, Phoenix, Portland, Salt Lake City, San Diego, San Francisco and Seattle.
Flights into Fresno are usually more expensive than flying into one of the San Francisco Bay Area airports. But if you have more money than time, using FAT will save you at least four round trip hours of driving time. That said, if getting into Fresno means waiting out a long layover somewhere in transit, then it probably isn't worth it.
Fresno Airport can also be a good choice if you are mostly visiting Yosemite Valley and you don't want to drive. You can take the YARTS bus service directly from the airport to Yosemite Valley. They make some key stops at Mariposa Grove and even go over Tioga Pass. Once in the valley, you can simply use the shuttle service to get around.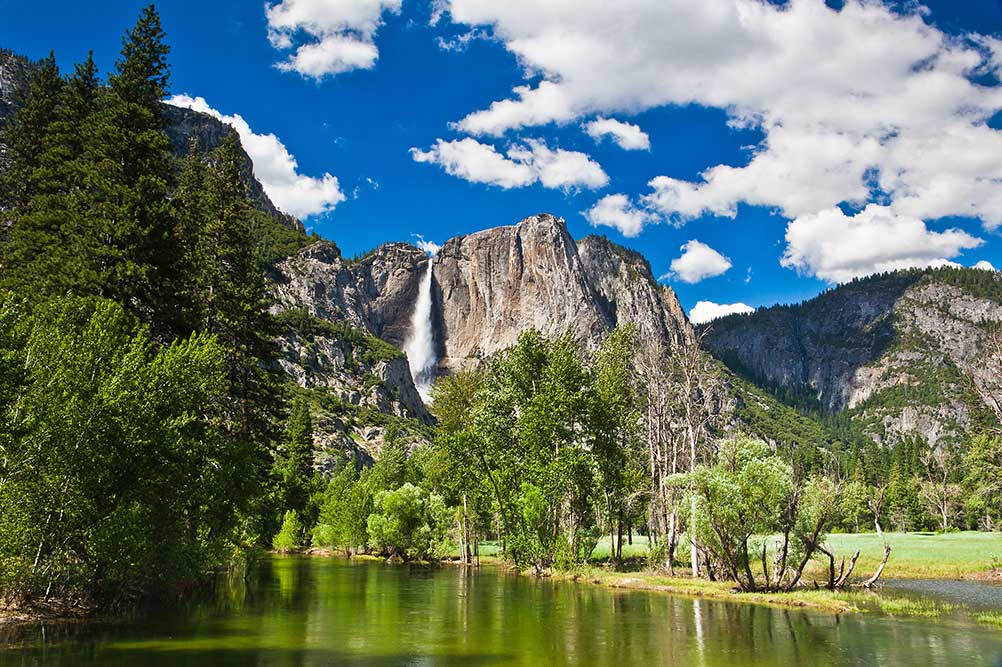 San Francisco International Airport (SFO)
Distance to Yosemite: 190 miles
Drive time: 4-4.5 hours
San Francisco is the next closest major airport to Yosemite. It's served by all US carriers with direct service to most US states. SFO is also an international gateway serving the world with 16 international carriers. A spot check of fares shows that domestic flights to SFO are usually quite a bit cheaper than going into Fresno. So if you have more time than money, SFO is a more budget option.
SFO also has far more rental car inventory.
SFO is a good choice if, addition to visiting Yosemite, you also want to spend time in downtown San Francisco, hit up the scenic Big Sur drive or go north into the Redwoods.
You can also consider one of the other two Bay Area airports, especially if you can find an inexpensive direct flight from your location. Both of the following airports have most major US carriers and they are each better served by Southwest Airlines than SFO.
San Jose Mineta International Airport (SJC)
Distance to Yosemite: 178 miles
Drive time: 4-4.5 hours
If for some reason you need to transit between airports use this guide for getting from SJC to SFO and this guide for getting from SFO to SJC.
Oakland International Airport (OAK)
Distance to Yosemite: 180 miles
Drive time: 4-4.5 hours
Reno Airport (RNA)
Distance to Yosemite: 213 miles
Drive time: 4.5 hours
Reno is actually the closest airport to Lake Tahoe. They have nonstop flights from 25 destinations in the US, including 6 cities within California.
Reno can be a good option if you are also visiting Tahoe and/or planning to do sightseeing along the Highway 395 scenic corridor. Reno is a terrible option if you want to visit Yosemite in the winter or late spring because of the seasonal Tioga Pass closure. This same advice goes for the smaller Mammoth Lakes airport.

We hope that this gives you enough information to make a decision regarding your best airport for Yosemite. Enjoy your trip and happy trails!
More Airport Resources for California Vacationers
Share on Pinterest: