The greater Los Angeles area is served by five airports. So it's no wonder that you aren't sure which one will be the best for your Disney vacation. And while the John Wayne Santa Ana Airport is the closest airport to Disneyland, other airports may work better for you, depending upon your home airport and your trip plans.
This guide is designed to help you figure out the best airport to fly into for Disneyland. AND, we've also got some tips for planning your trip.
(This article contains affiliate links. This means that if you choose to purchase, I'll make a small commission.)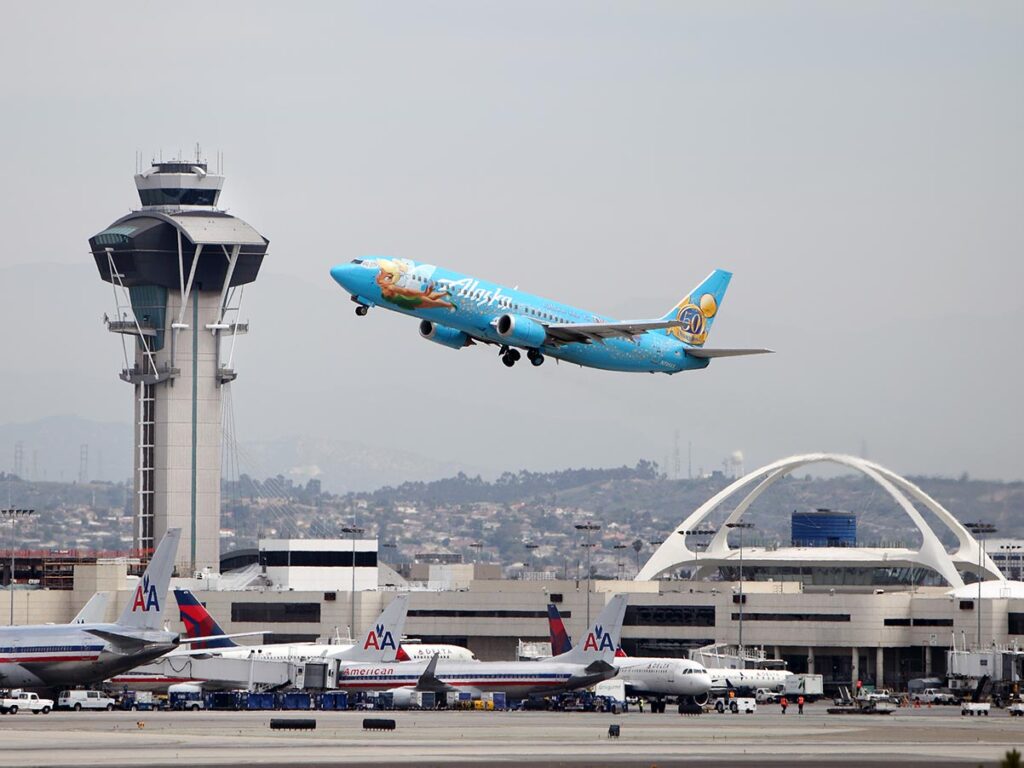 The Closest Airports to Disneyland, California + Which to Pick
Even though there are five airports that serve the LA metro, I'll say right up front that Los Angeles International Airport (LAX) or Santa Ana John Wayne Airport (SNA) are likely to be your best airport options.
SNA is absolutely the closest airport to Disneyland and likely the best choice for most people. It's located just 14 miles and 30 minutes from Disney. It's well-served with a lot of direct flights from across the country.
LAX is not the next closest airport to Disneyland…but it is your second best option nonetheless. LAX is located 33 miles and :45-1hr from Disney. It's the largest airport in California and the closest major airport to Anaheim. LAX offers direct flights from all major US airports and most US states. Not to mention the many international destinations that it serves. A spot check of airfares show that it's **slightly** cheaper than SNA for both airfares and rental cars.
The best airport for your trip may not necessarily be the airport that's nearest to Disney. Here are some things that you should consider before booking your airfare.
Consider the value of your time. If you need to do a long layover on the way to Disney, flying into LAX (even though it's further away from SNA), may actually save you time, even with the longer distance and heavy traffic. The quick math is that any layover will cost you an additional 2-4 hours of time.
Is this a Disney-only trip? Or will you do other things in LA? If the former, Santa Ana may make more sense. If the latter, LAX may be better, because it's much closer to popular tourist places like Universal Studios, Santa Monica and Hollywood.
Do you need a rental car? If yes, then choose an airport with cheaper fares and simply drive to Disney. But you don't strictly need a rental car if you are just doing Disney. In that case, you could simply take a shuttle or taxi/Uber to your Disney hotel.
And search for deals from thousands of California hotels using Booking.com (their Genius discounts are truly genius!)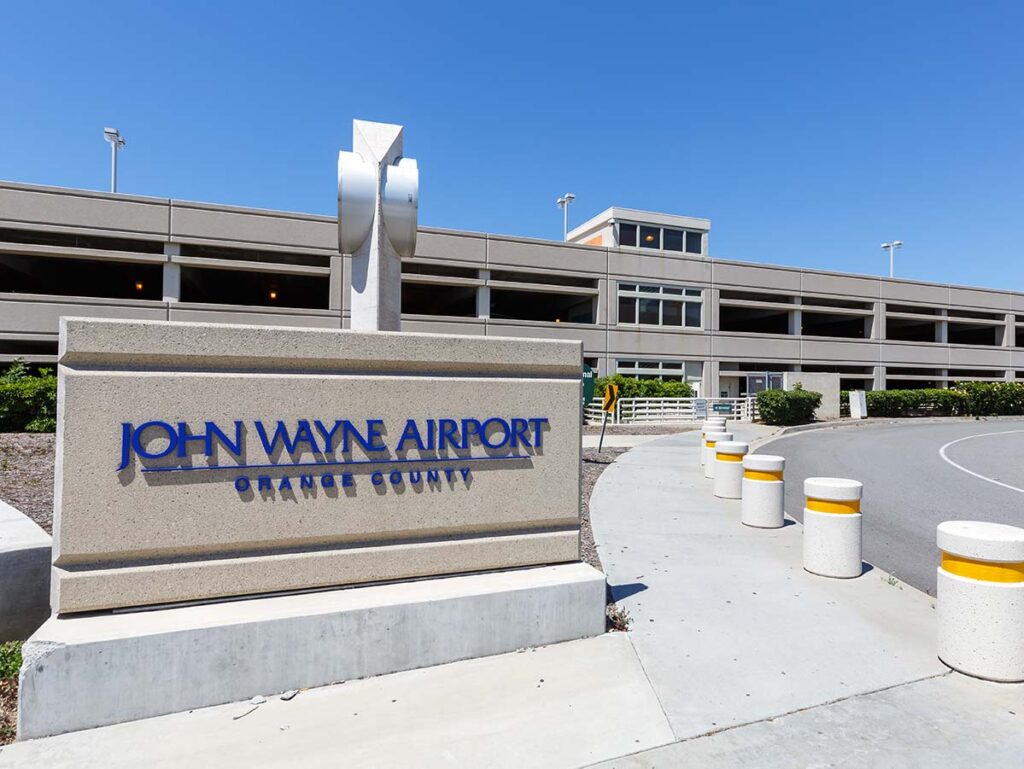 Here are some specifics on what each LA airport offers.
Santa Ana John Wayne Airport
Airport Code: SNA
Distance to Disney: 14 miles and 30 minutes
Domestic Airlines: Alaska, Allegiant, Delta, American, Frontier, Southwest, Spirit, Sun Country and United.
International: Air Canada and West Jet.
Destinations Served: You can get direct flights from Aspen, Atlanta, Austin, Boise, Chicago, Concord, Dallas, Denver, Des Moines, Detroit, Eugene, Everett, Honolulu, Houston, Idaho Falls, Kansas City, Las Vegas, Mammoth, Medford, Minneapolis, Missoula, Nashville, New York JFK, Newark, Oakland, Phoenix, Portland, Provo, Reno, Sacramento, Salt Lake City, San Jose, Santa Rosa, Seattle, and Sioux Falls, St. Louis. SNA also serves Calgary, Vancouver, Puerto Vallarta and San Jose del Cabo.
There are a number of shuttle services operating at SNA, they run $50-70pp for a shared ride to the resort area. But if you have a large group, you can schedule your own ride. An Uber or Lyft from SNA to Disney is ~$20 and a taxi will be $60. Even though the taxis are more expensive, they can be a great deal if you are a larger family because many of them are minivans.
Los Angeles International Airport
Airport Code: LAX
Distance to Disney: 33 miles and :45-1hr.
Domestic Airlines: American, Delta, United, Allegiant, Alaska, Jet Blue, Southwest, Mokulele, Sun Country and Spirit.
International: Aer Lingus, Aeromexico, Virgin Atlantic, WestJet, Air Canada, Aeorflot, Air China, Air France, Air New Zealand, Air Tahiti Nui, Alitalia, All Nippon, Asiana, Austrian, Avianca, British Airways, Cathay Pacific, China Airlines, China Eastern, China Southern, Copa, El Al, Emirates, Etihad, EVA, Fiji, Finnair, Hainan, Iberia, Japan Airlines, KLM, Korean Airlines, LATAM, LOT Polish, Lufthansa, Norwegian Air, Philippine Airlines, Quantas, Qatar Airlines, Saudia, Viva Aerobus, Volaris, and Xiamen.
Destinations Served: All major US airports, most US states and 15 California airports. LAX also serves many destinations in Asia, the South Pacific, Central and South America, Europe and the Middle East.
Karmel offers a shuttle from LAX to Disneyland. The cost is ~$126 per person and they make limited stops. A taxi will be ~$100, which like above can be a good choice for a larger family. An Uber will run ~$50.
Long Beach Airport
Long Beach can be a good choice if you can get a good deal on a direct flight. But it's probably not worth it if you have to do a connection.
Airport Code: LGB
Distance to Disney: 21 miles :45 minutes.
Domestic Airlines: American, Hawaiian and Southwest.
International: None.
Destinations Served: Direct flights from Honolulu, Maui, Sacramento, Oakland, San Jose, Reno, Salt Lake City, Chicago, St. Louis, Denver, Dallas, Houston, Austin.
Hollywood Burbank Airport
Airport Code: BUR
Distance to Disney: 40 miles and 1-2 hours.
Domestic Airlines: American, Jet Blue, Southwest, Delta, Alaska, United, Spirit, Avelo and Frontier.
International: Flair.
Destinations Served: 13 US states, including 9 California cities. BUR also serves Nogales, Edmonton and Vancouver.
Ontario International Airport
Airport Code: ONT
Distance to Disney: 35 miles and 1-2 hours
Domestic Airlines: Alaska, American Delta, Frontier, Hawaiian, Jet Blue, Southwest and United.
International: Avianca, China Airlines and Volaris.
Destinations Served: 14 US states, including 9 California cities. ONT also serves Taipei, Guadalajara, Mexico City and San Salvador.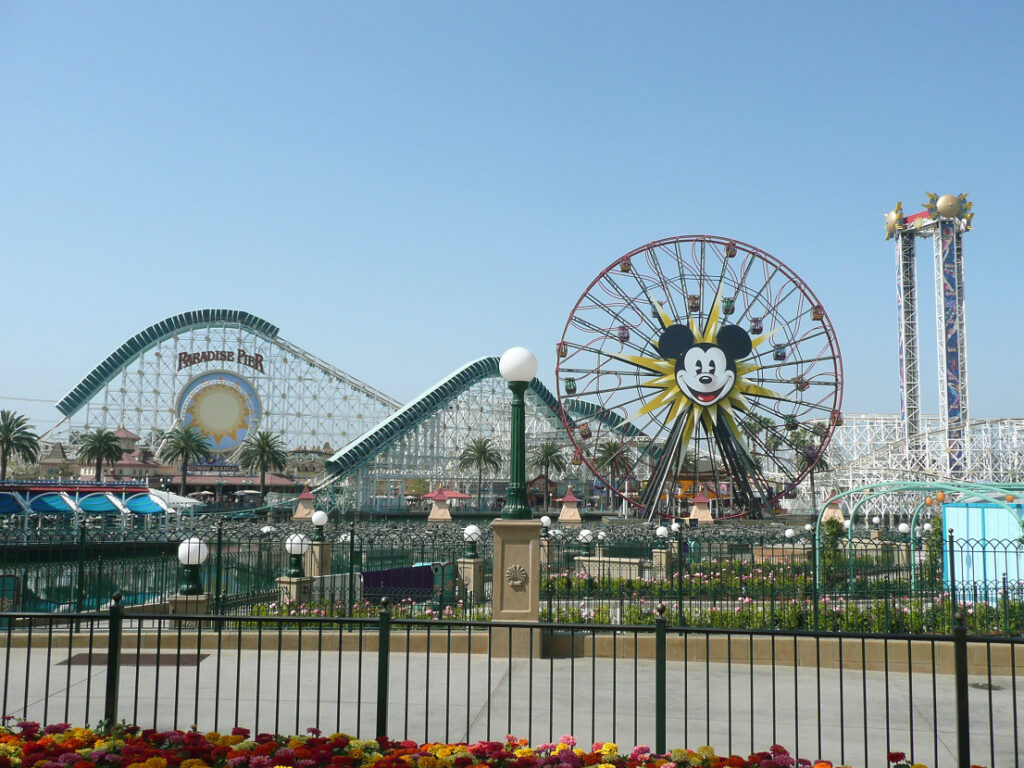 Planning Your Disneyland Vacation
Start with these resources for a 2-day itinerary and this one for 3-days. If you've never been to before, check out this lovely essay from a first timer to Disneyland. And also some advice on how to tackle Disney with toddlers.
Disney's skip the line options are really confusing. So use this guide for the Maxpass to help you decode which option is right for you.
Figure out where to eat at Disney. And also, stay adorable and fashionable while carrying your drinks and snacks by buying the cute Disney-themed Loungefly backpacks, which are available throughout the park.
Keep the kids busy by taking this scavenger hunt guide which has fun spots in both the Magic Kingdom and California Adventure. And try this Secret Mickey guide which is also a type of scavenge hunt…but for all the hidden places where you can find Mickey Mouse. And this unofficial Disneyland guide promises to save you 4 hours a day of line time with field-tested strategies.
Where to Stay Near Disneyland
Here is a selection of off-property hotels that are close enough to walk to Disneyland and the California Adventure park.
Lux beds with a pool: The Westin Anaheim is a well-rated 4-star hotel that has comfy beds and a touch of luxury. That outdoor pool is pretty nice too! Some of the rooms have views of California Adventure and the fireworks at night. Check reviews and book it here.
Family-friendly fun: The Howard Johnsons is really geared for families. They have a variety of room configurations, some of which include bunk beds, a fridge and a microwave. They have 2 pools with fun kid's play structures and slides. Check reviews and book it here.
Budget friendly: Look, the Americas Best Value Inn is never going to be a swank joint. But, it's super close to the resort, has perfectly serviceable rooms and a pool. They provide a microwave and a mini-fridge for snacks and quick meals. This is a good choice if you'd rather spend your hard earned cash inside the park rather than outside of it. Check reviews and book it here.
More Airport Resources for California Vacationers
Share this Disney resource with your friends: