Mammoth Lakes and Bishop are not served by a major California airport. However, you have several options for finding airports near (or kinda near) both. This guide will help you figure out which airport is best for your trip and we offer advice for how long it will take to get from each airport to either Bishop or Mammoth Lakes, along with details about car rentals and trip planning tips.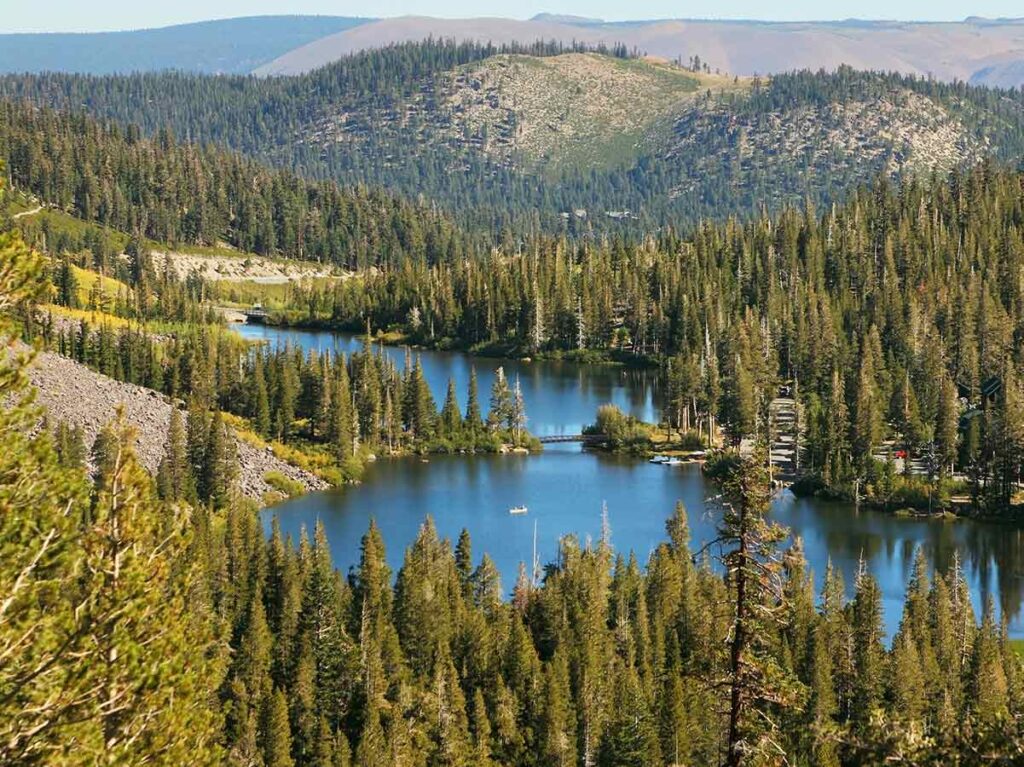 Plan Your Trip to Mammoth Lakes & Bishop
There is soooo much to do in the whole Eastern Sierra Highway 395 corridor. For starters, we have a whole road trip itinerary for 395, with five days of action packed fun. We've also got information on things to do in Bishop, things to do in Lone Pine and a guide for Convict Lake. If you are visiting in the fall, we also have an Eastern Sierra fall color guide.
If you're into California history, check out our guide for visiting Bodie Ghost Town State Park and also our guide for Death Valley ghost towns (some of which are in the southern 395 corridor).
Some advice on renting a car. If you are planning a winter trip, you'll need to pay careful attention to what kind of car you get. Our normal hack for getting a good deal on a car rental is to rent the smallest car available (which are often in short supply) and then hope for a free upgrade. This usually works. But size matters if you are visiting the region for skiing and a smaller car may not hold all of your gear. So, be sure to book an appropriate car for your needs. And expect limited hours and inventory at the two smaller airports listed here.
Be aware that most rental car companies don't rent snow chains or cables. If you are going to Mammoth for a winter trip, you may want to buck up for a more expensive rental car with all wheel drive, or buy chains locally.
Where to Stay in Mammoth Lakes & Bishop
In Bishop
Bishop is well-served by plenty of mid-range motels like Days Inn, Travelodge and Comfort Inn. Check for deals and book here. If you are on a tight budget, consider bunking at consider bunking at The Hostel California, a mixed bed dorm room goes for $28. If you like something with more amenities, the Creekside Inn is one of the nicest places in town. They have a comfy lobby, indoor pool and breakfast.
In Mammoth
Mammoth Creek Inn is a well-rated, a full service hotel offering a hot tub and a billiard room. The Village Lodge is a condo resort with an excellent location right in town. They have condos of various sizes, full kitchens, an outdoor pool, 5 hot tubs and three gyms. The Cozy Mammoth Condo is right near the the town loop trail. It has a deck, BBQ and full kitchen.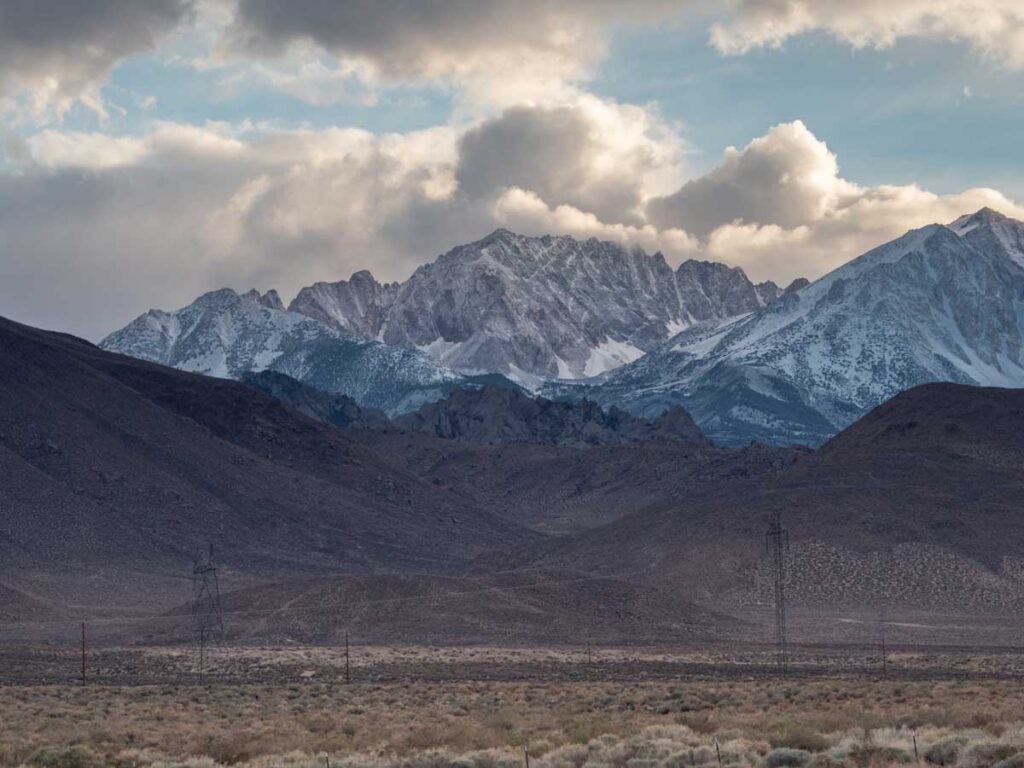 The Closest Airports to Mammoth Lakes & Bishop
Let's start with the not-closest airports to Mammoth/Bishop. That would be San Francisco (SFO) and Los Angeles (LAX). Each are ~300 miles and 6.5 hours from the region. However, if you are planning a larger California vacation, those airports can make sense. They have the most direct flights within California and to the country at large.
Mammoth Yosemite Airport (MMH)
Distance to Mammoth Lakes: 8 miles
Distance to Bishop: 38 miles
Mammoth Yosemite Regional is the absolute closest airport to Mammoth Lakes. But it's a very small and it only runs seasonal service. Advance Airlines runs service between MMH and Hawthorne Municipal (HHR) in LA, Carlsbad (CLD) airport near San Diego and Burbank (BUR) near Hollywood. They usually fly December to April and their flights are scheduled around long weekend getaways.
Don't let the "Yosemite" part of the airport name fool you. This airport is in the Eastern Sierra. Access to the heart of Yosemite Valley from this side of the mountains is only available via Highway 120 in late spring through fall, which contradicts the Advance Airlines winter flights into the area. If you want to get to Yosemite Valley, use our Yosemite airport guide to figure out your best option.
That said, choose MMH if you are doing a quick ski weekend from the greater LA or San Diego metro area.
You can rent a car from Enterprise or National from MMH. Check pricing here.
Bishop Eastern Sierra Regional Airport (BIH)
Distance to Mammoth Lakes: 44.6 miles
Distance to Bishop: 2.5 miles
Bishop Eastern Sierra Regional Airport is the absolute closest airport to Bishop…it's right downtown! United Airlines is running seasonal service into Bishop for the winter season from December to April. Although the local tourism bureau is hoping that they will expand to year-round service.
United flies from Bishop (BIH) to San Francisco (SFO) and Denver (DEN). And like with the Mammoth Airport, the flights are optimized for a weekend getaway.
Choose MMH if you want to get to the region in the winter, from somewhere outside of LA and San Diego.
You can rent a car from Enterprise from BIH. Check pricing here.
Reno Airport (RNO)
Distance to Mammoth Lakes: 166 miles (3 hours)
Distance to Bishop: 202 miles (3.5 miles)
Reno sounds like an unlikely choice, but it's actually the closest major airport to both Bishop/Mammoth and Lake Tahoe. They fly direct to most major airports in California. They also have regular service to Austin, Dallas (DFW), Denver, Guadalajara, Houston (IAH), Jackson Hole, Las Vegas, New York (JFK), Palm Springs, Phoenix, Portland, Salt Lake City and Seattle. They also offer seasonal service to Atlanta, Charlotte, Chicago (O'Hare and Midway), Dallas Love, Houston Hobby, and Minneapolis.
So, it's the better gateway for most of the country…and for all of the year.
Choose Reno Airport of you want spring through fall service or a wider range of airline and destination choices along with more rental car options.
More Airport Resources for California Vacationers
Enjoy your trip to the Eastern Sierra and happy trails!