If you are embarking upon a San Francisco to Lake Tahoe road trip, there are a couple ways that you can tackle the drive. There is no one right way to do it, but your own best route may depend upon how much time you have, the season and where you plan to spend the bulk of your time at the Lake Tahoe.
We have some recommended routing that will get you to the lake in good time. But, if you'd like to take it easy, we've also got some fun suggestions for what there is to see between San Francisco and Lake Tahoe.
(This article contains affiliate links. This means that if you choose to purchase, I'll make a small commission.)
Prepare for Your San Francisco to Lake Tahoe Drive
If you need a rental car, find your best pricing by comparing all of the different rental car providers on Rentalcars.com.You will have to pay a bridge toll getting out of the Bay Area, so ask your rental car provider about the best way to cover that.
In addition to topping up your fluids and checking your tires, you may also want to bring a roadside safely kit which includes things like a warning triangle, jumper cables and the like. These kits also make a thoughtful, if tragically practical, Christmas or birthday gift.
If you are road tripping to Tahoe in the warmer months, you may want to pack a plug-in cooler, which uses your car's 12 volt plug to keep lunch items and drinks cold. If you are traveling in the winter, then you absolutely must bring tire chains or cables. You can pick them up at any auto supply store.
You'll encounter quite a few California State Parks in Lake Tahoe. So, look into getting the annual California State Parks Poppy Pass (which is $125 and good at almost all CA state parks). But California also has 11 other discounted passes, so use our guide to find a park pass that is right for you.
Google Maps is fine and all but sometimes an old school map is better for finding backroads and byways. We love the Benchmark California Road Atlas. It has a lot of detail, showing state parks and campsites as well as both paved and dirt roads (including in the Forest Service roads that surround Lake Tahoe).
Tips for Driving to Lake Tahoe
Here are some key tips for your San Francisco to Lake Tahoe road trip.
What is the Distance from San Francisco to Lake Tahoe?
From SF to South Lake Tahoe is 188 miles.
From SF to Tahoe City (north lake) is 199 miles.
How Long Does it Take to Get to Lake Tahoe?
In light traffic, it will take 4 hours, 15 minutes to get to either South Lake Tahoe or North Shore. BUT, Friday afternoon traffic will add 1+ hours to the drive. Going during a winter storm with chain controls can take 8+ hours.
We travel to the forest near South Lake Tahoe frequently in the summer and our trick (especially on a Friday) is to leave by 10am. This will also give you plenty of time to stop off at some of the spots that we recommend below.
Can You Drive Around Lake Tahoe?
Yes! In fact, it's worth factoring in the time for that drive as part of your itinerary as you can get lovely 360′ views of the lake, any time of year. We have a whole guide for the scenic Lake Tahoe drive, that has 13 killer stops.
Is the Drive to Lake Tahoe Safe (or is it Scary)?
The bulk of the drive is as safe any any other freeway driving in California. Once you get into the mountains, you will have to choose one of two mountain passes for getting to Lake Tahoe.
Donner Summit is the pass going to Truckee (North Shore). It's a 4 lane, well maintained freeway. It's also a major interstate, so expect truck traffic. If you are a nervous driver and don't like seeing drop-offs, this may be the better routing for you.
Echo Summit is on Highway 50 on the way to South Lake Tahoe. Highway 50 is a narrower road with primarily 1 lane in each direction,. There are regularly spaced passing lanes. If you like a slower, more scenic road, this may be the better routing for you.
During modest winter storms, the roads are plowed regularly. During medium winter storms, Caltrans may require 4WD or chains/cables over the passes. During severe winter storms, Caltrans may close the route entirely until they can catch up with the plowing.
During the summer, there is the odd summer thundershower, but nothing that usually affects traffic.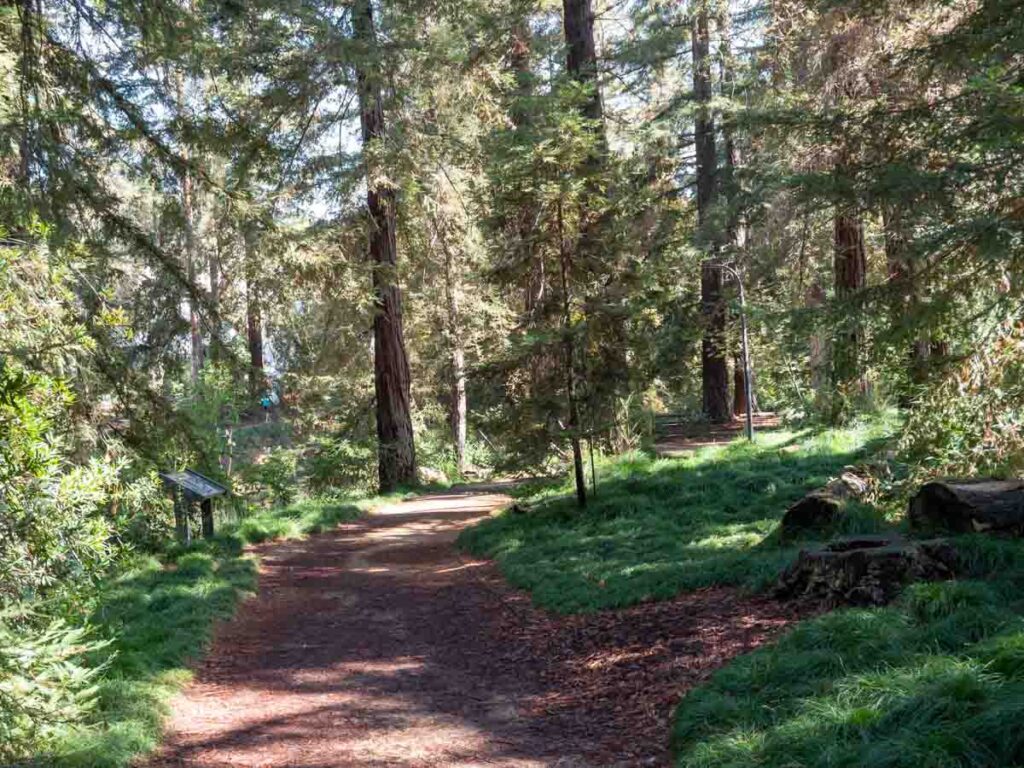 San Francisco to Lake Tahoe Routing
Between San Francisco and Sacramento, the routing is the same, regardless of where you are going in Lake Tahoe. Just take the Bay Bridge over to Berkeley and head northeast on I80. Check your mapping app because I80 can clog up. It's sometimes much faster to take Highway 24 through the Caldecott tunnel to I680 and then north to I80.
Once approaching Sacramento you have the option on continuing on I80 to North Shore via Donner Summit or taking Highway 50 to South Shore via Echo Summit.
But before you do that, here are a few fun stops along the way.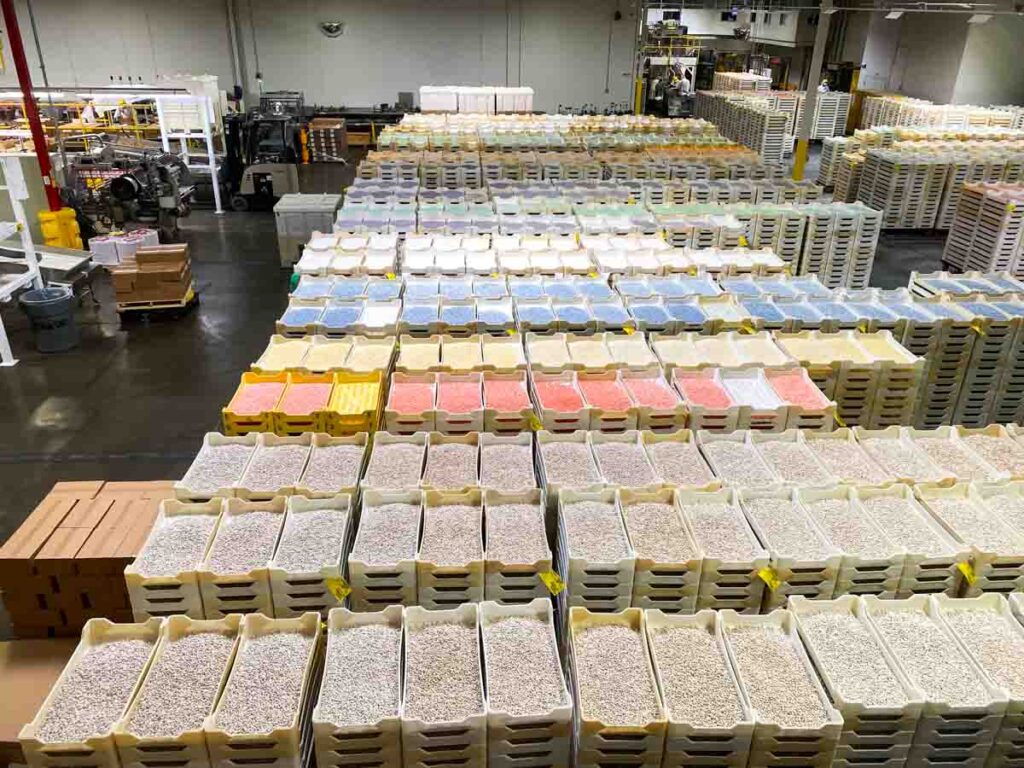 If you are with the kiddos and they like candy, then you must stop at the Jelly Belly Factory in Fairfield. They offer a self-guided tour that will give you the history of how Jelly Belly got started, why they choose to use natural ingredients and their super-automated manufacturing process. It's really fascinating to see how they manufacture and package up all the candy. And their company store has every flavor of bean that you can imagine.
Your next stop is the Pedrick Produce stand in Dixon. This stop is before Davis and it's a must-do, especially if you are doing a vacation rental in Tahoe. This produce stand carries whatever is fresh and local…for killer prices. In addition to whatever is in season, Pedricks also always carry some pantry staples, nuts, candies and condiments. They also have warm tamales to go.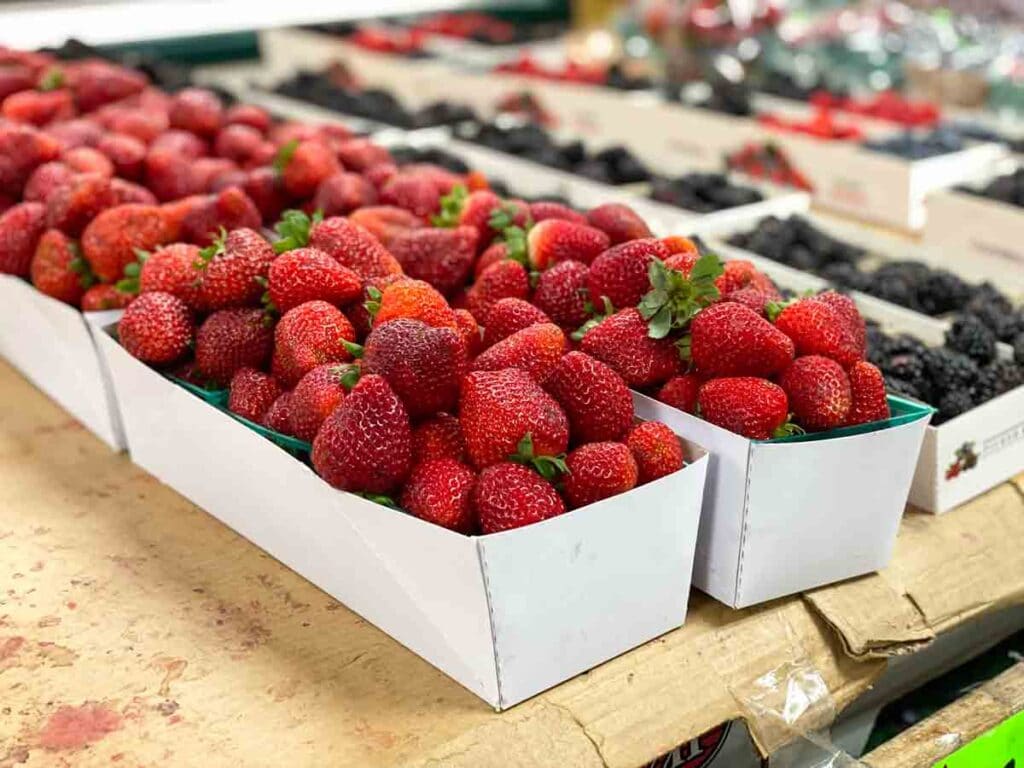 The next stop is Davis. The University of Davis hosts a lovely botanical garden. They carry many native California plants, including redwoods, with a nice stroll along the Putah Creek. Davis also has a nice downtown with shops, a great indy bookstore and lots of restaurants. Try Sophia's Thai Bar & Kitchen or get some takeout sandwiches at Zia's Deli.
But wait, there's more! Once you hit Sacramento, you'll find a ton to do. If you are into California history, check out the California State Railroad Museum in Old Sacramento or visit the historic Sutter's Fort in Midtown. If you are more into urban adventures, check out the cool street art in Sacramento. It's all over the city, but you can find a concentration of it on the R street corridor in Midtown. This neighborhood is also a nice lunch spot. Try the weekend brunch or bangers at the Fox & Goose. Or eat at the Urban Roots brewery, they have succulent smoked meats and they sell cans out the door for you to take with you to Tahoe.
From here, the road splits. So check out more things to see on the SF to Lake Tahoe drive from both I80 and Highway 50.
San Francisco to North Lake Tahoe Stops
This routing takes Highway 50 south of Sacramento's downtown. If you want to stretch your legs, consider a stop along the American River and Lake Natoma. If you park near the Folsom Powerhouse State Park, you can take the Folsom Trail for up to 9 miles. The next major stop is Placerville and there is a ton to do there. It's one of California's original gold rush towns. You can simply stroll the historic downtown. There are cute shops and galleries, and be sure to stop into Placerville Hardware because they have some cool and kitschy stuff in there. For a quick bite, try the Main Street Melters.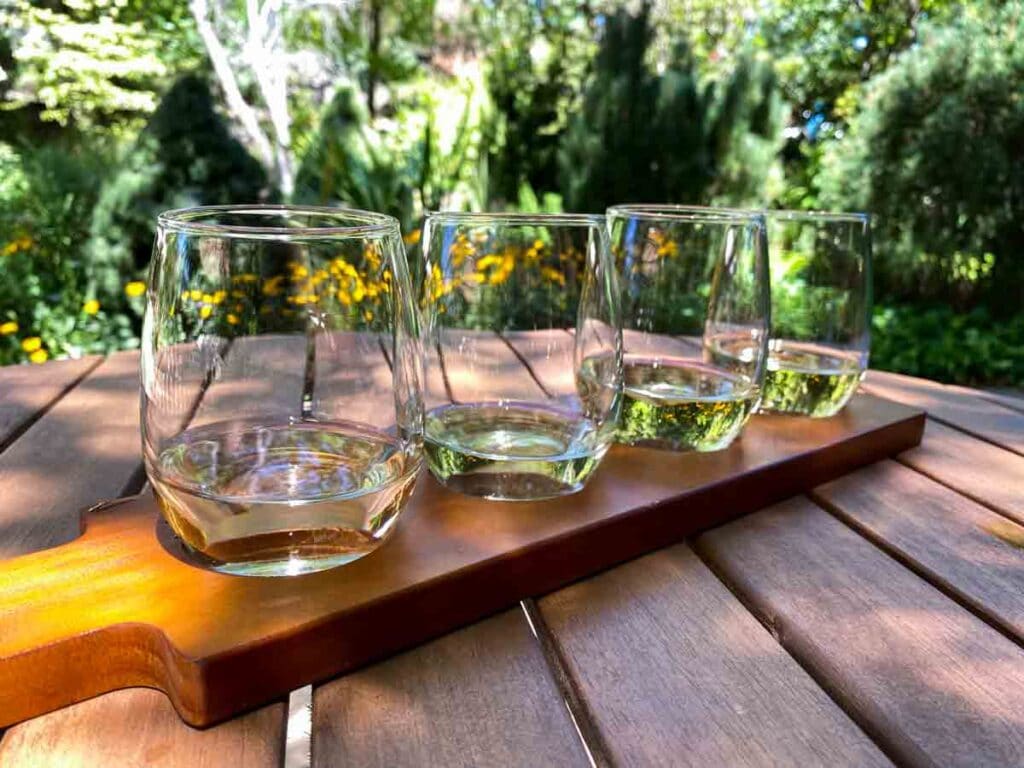 Placerville has a remarkably robust wine scene. There are quite a few wineries along Carlson Road, which parallels Highway 50. Boeger in particular has a really nice outdoor seating area. And if you are traveling the area in fall, be sure to visit some of the you-pick apple orchards (which are also along Carlson). And even if you miss the fall, you can stills top into the Hidden Star bakery and cider tasting room. They grilled cheese sandwiches and donuts are yum!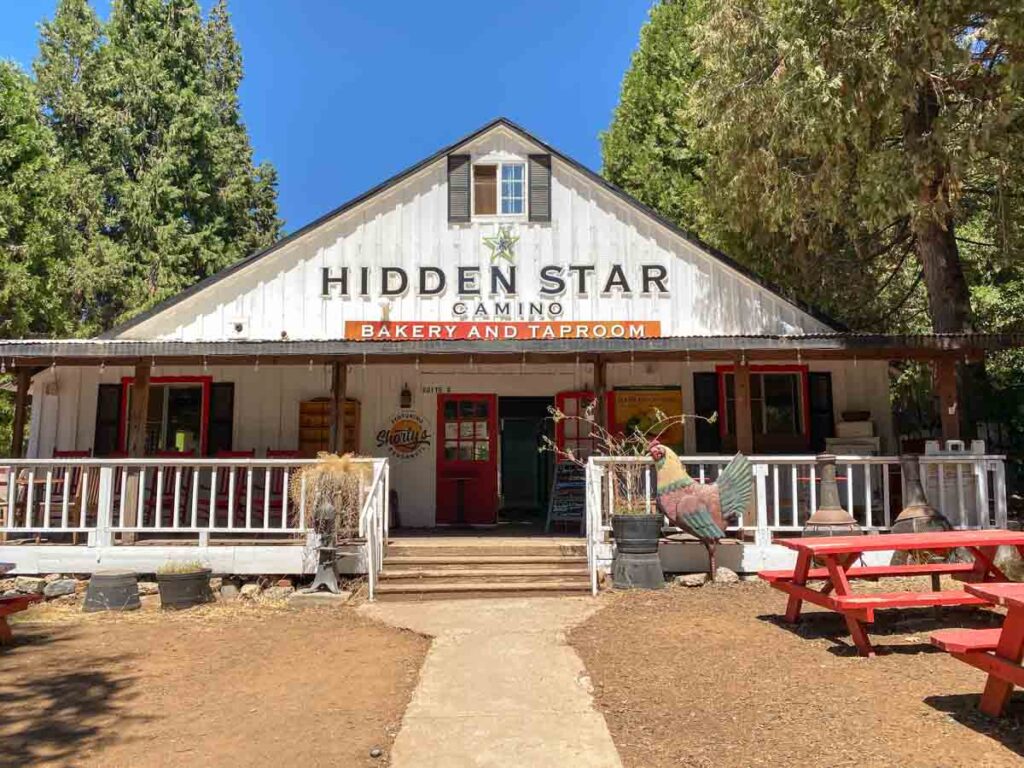 Continuing on Highway 50, slow down as you approach Echo Summit and pull out at the scenic overlook. Unfortunately this area got nailed hard during a recent fire, but the mountain views are still fantastic. Then roll on into South Lake Tahoe.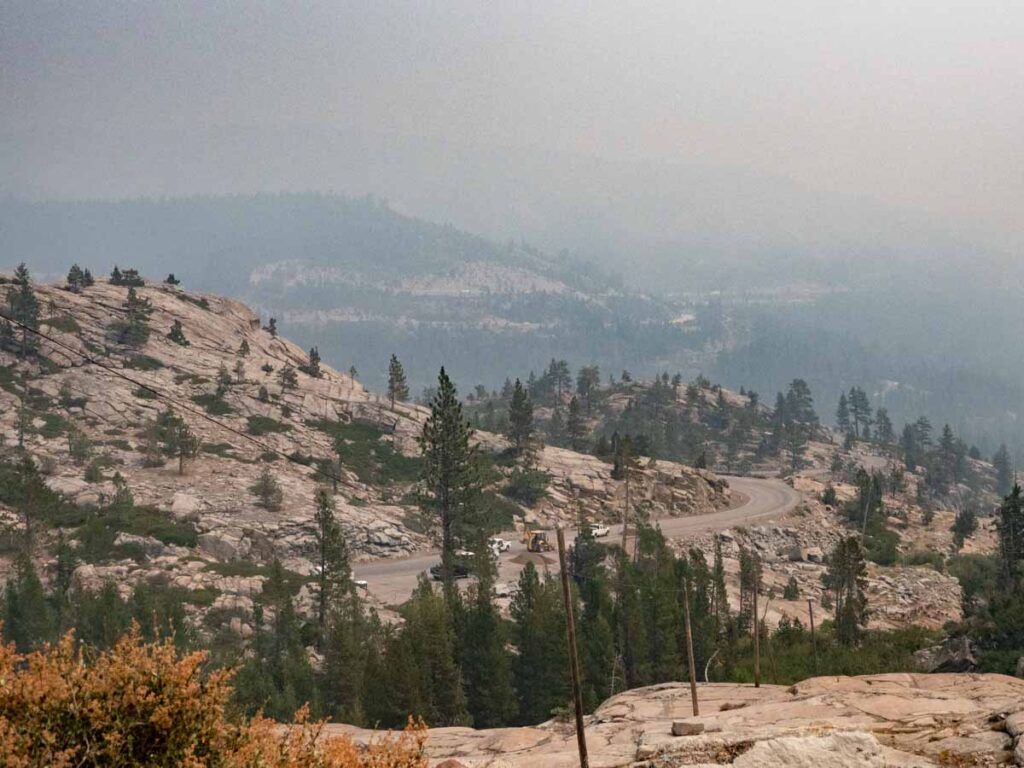 San Francisco to North Lake Tahoe Stops
This routing stays on I80 and veers north of Sacramento. Like Placerville, Auburn is another original California gold rush town that managed to keep going, even after the rush ended. You can stop there and take a self-guided walking tour of their historic downtown. They also have a ton of shops, restaurants and galleries. Grass Valley and Nevada City are a short 23 mile detour north of Auburn. Both towns are also part of CA's gold rush history and you can explore more at either Empire Mine State park or Malakoff Diggins State Park.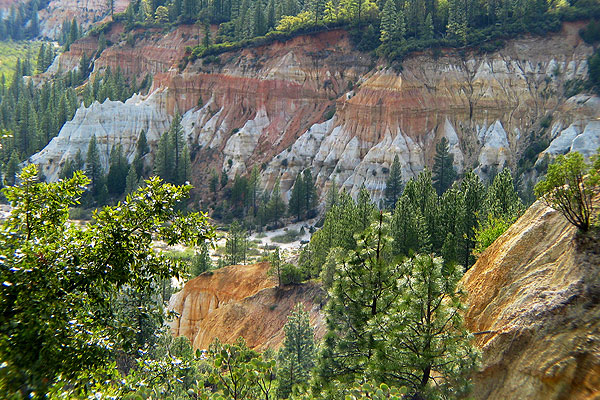 Once you are back on I80, be sure to pull out for the Donner Summit overlook. Take the Donner Pass road exit at Soda Springs and wind along the road to the overlook. If you are visiting in good weather, you can also hike the Donner Pass Summit tunnels. These cool graffiti-covered tunnels are part of the area's original rail system. There are also some historical exhibits at the Donner Lake State Park visitor center. Then roll on into Truckee or head south to Tahoe City.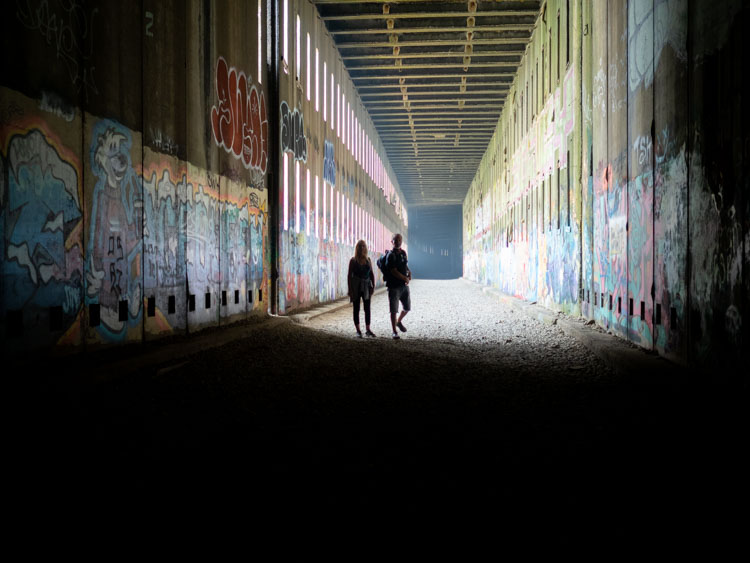 Where to Stay in Lake Tahoe
If you want to stay in South Lake Tahoe, you'll have a ton of choice. If you are looking for a vacation rental, this 5-star retro cabin sleeps 4, with an open floor plan and a deck. If you are bringing your dog, this waterfront house has a hot tub and a pool table.
South shore also has a ton of hotel and motel options. The Basecamp is a boutique hotel located close to Heavenly tram…and they have an on-site brewery and lawn games. The Hotel Azure is super close to the lake and they have an on-site pool.
If you want to stay in North Shore, there are a cluster of vacation rentals in and around Truckee. This pet-friendly place has both a hot tub and a wood burning stove. Or you can't get any closer to the lake with this place in Tahoe City. It has a deck overlooking the water.
For hotels, try the luxe Cedar House Sport hotel near the action in downtown Truckee. Or get lakefront views at the Sunnyside Resort, which sits right on the water.
What do Do in Lake Tahoe
Here are some ideas for what you can do while in Lake Tahoe.
Share this San Francisco to Tahoe road trip on Pinterest: