The Donner Pass summit tunnels present a fascinating opportunity to explore California's railroad history along with some gritty urbex graffiti. This guide will give you some history on the Donner tunnels along with practical advice for when and how to visit them.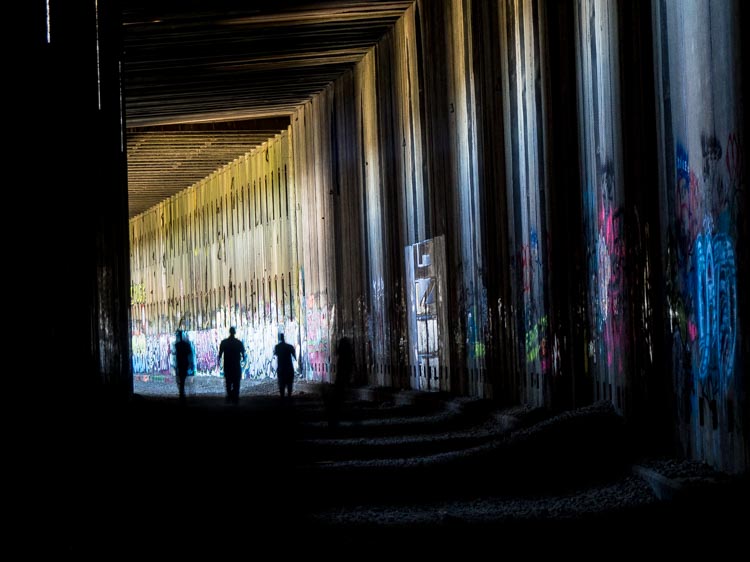 What Are the Donner Pass Summit Tunnels?
Donner Pass in California's Sierra Nevada is one forbidding mountain gauntlet. It sits over 7,000 feet and its 300-500 inches of annual snowfall is more than just about anywhere else in the Continental US. In the 1800's, the long rugged chain of mountains on California's eastern border presented a huge challenge to those who wanted to settle here. In an effort to avoid the formidable mountain passes, most pioneers went north, using the Oregon trail. But there were some intrepid folk who attempted the Sierras at Donner. The beleaguered Donner Party of 1846, made a go of it. But their ill-timed October arrival to the area, combined with inexperience and bad luck did them in. Only half of their party survived the brutal winter.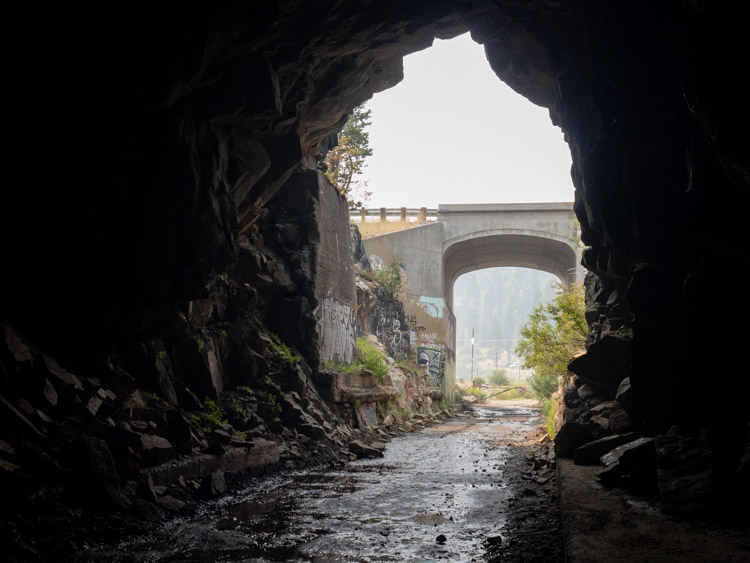 Railroad engineer Theodore Judah was instrumental in bringing awareness to the need for a railroad over the pass. He surveyed the construction of four tunnels and snowsheds over the summit. He lobbied both railroad businessmen and the federal government in an effort to put some money and effort behind the completion of the transcontinental railroad. Sadly, he died in 1863 of yellow fever. He contracted it on a land transit of the Panama isthmus- a trip he probably wouldn't have undertaken had the railroad been in place.
In 1862, President Lincoln signed the necessary legislation to fund the transcontinental railroad and in 1868, it was completed. Digging out those granite Donner Tunnels required backbreaking manual labor, most of it performed by contract Chinese labor. In fact, Chinese laborers built a lot of the California infrastructure in the 1800s. They weren't paid well, they were mistrusted, and in 1882, strict immigration laws excluded them from citizenship. But we owe the backbreaking construction of the railway to their efforts.
Read More: If you are keen on this aspect of California history, I would also encourage you to visit Angel Island State Park in San Francisco. They have excellent exhibits on Chinese immigration to the US.
The Donner Pass summit tunnels were in use until 1993, when Union Pacific decided that a longer, taller tunnel would be more reliable and suitable to modern railcars. The current rail line runs a bit south of the old Donner Pass summit tunnels, through the aptly named Judah mountain.
These tunnels are an import part of Lake Tahoe's history. You can learn more about the area with this 25 fun facts about Tahoe.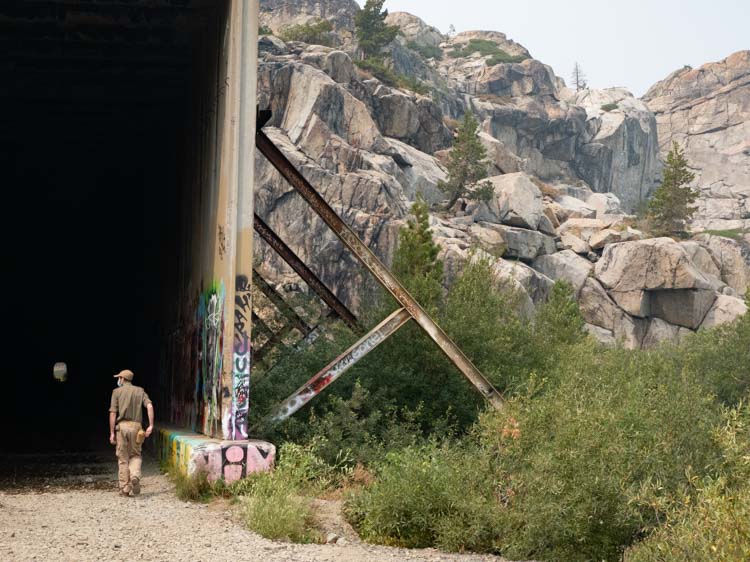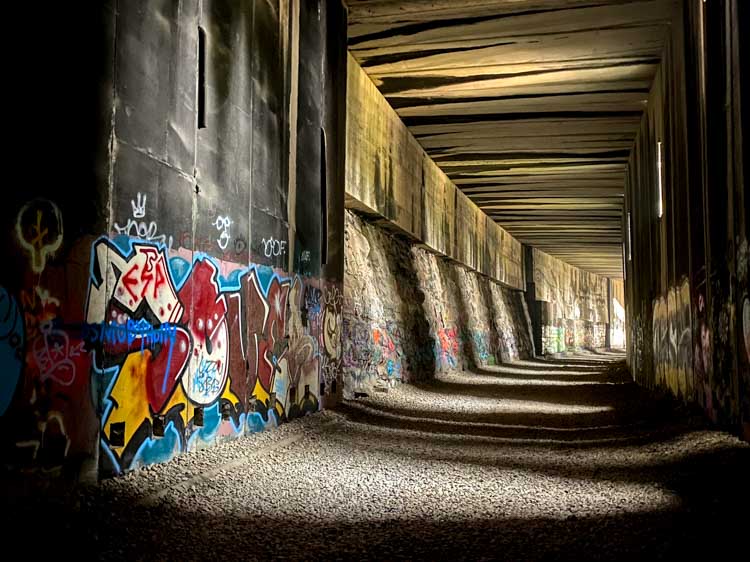 Read More: You'll also find a ton of history on this scenic drive around Lake Tahoe. It also has some railroad history and historic buildings from Tahoe's recreation boom in the early 1900's, including information on the lovely Vikingsholm Castle.
Visiting the Tunnels Today
All that being said, California history is not the only reason to visit the Donner Summit tunnels. If you are a fan of urban exploration (urbex) and/or graffiti, the tunnels are worth a visit. I first visited there on a photography excursion with my urbex photography group and visited again on my own this past summer. I know that some history purists may look askance at the graffiti that lines the tunnels, but I'm a fan. If you look carefully at the graffiti, you'll find messages that resonate with the modern condition. Most of the graffiti in the tunnel is of the "spray can 101" variety and not particularly skilled. But a closer look reveals some pretty artful works that call attention to topical political themes and colorful caricatures.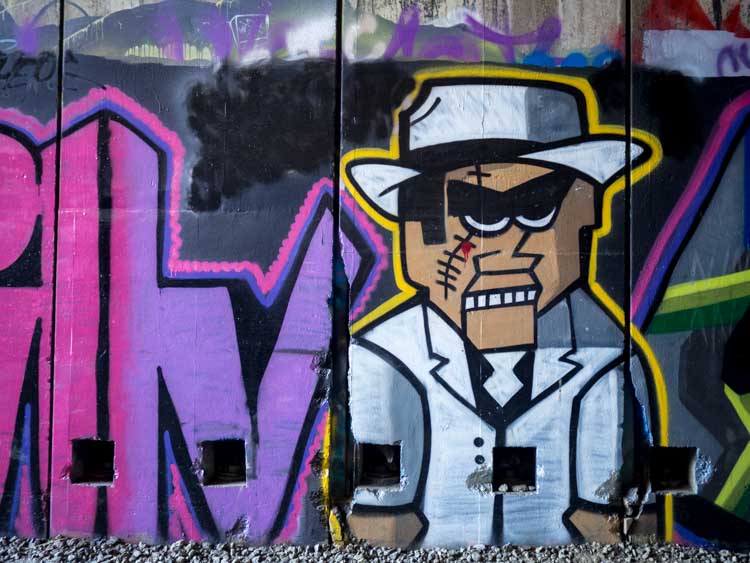 Most of the street art that I've explored (and I've explored a LOT of it) has been on actual city streets (like San Francisco's Mission Murals, San Diego's Chicano Park or in some of these other California street art cities). I like the Donner Tunnels graffiti because it's a splashy contrast to the pristine alpine environment that surrounds it.
That's should give you enough of the "why" to visit the tunnels. What follows is some practical advice on how to find the Donner summit tunnels and how to explore them.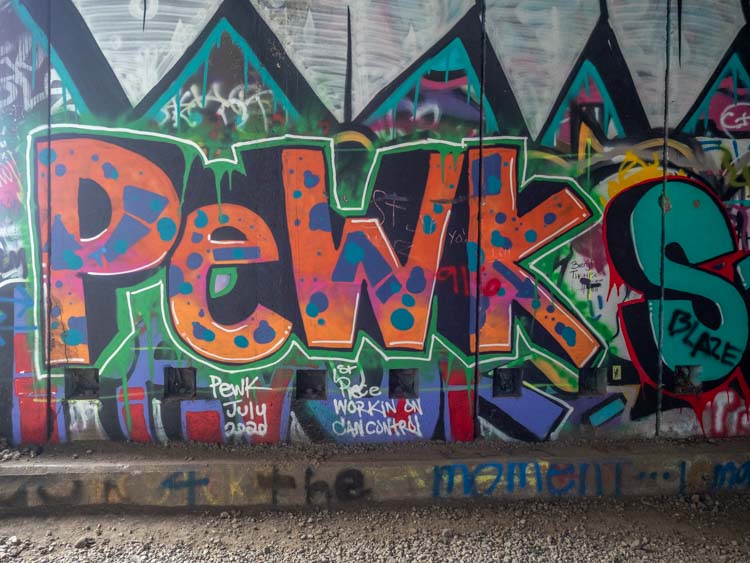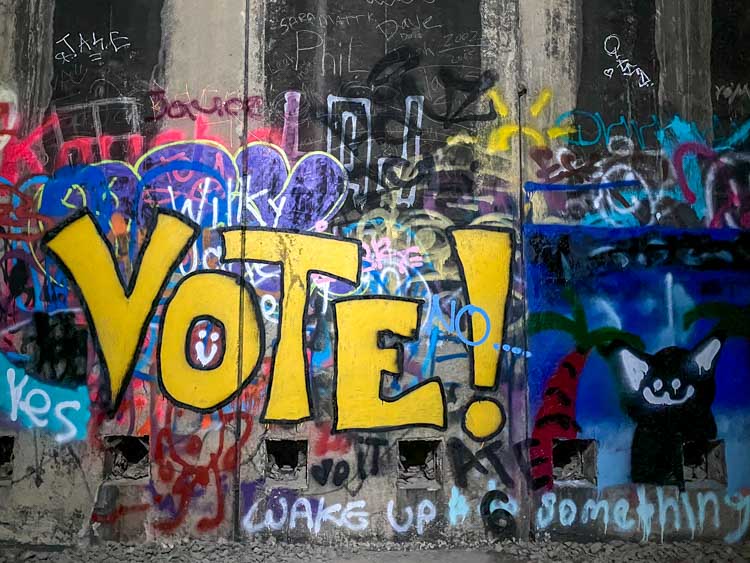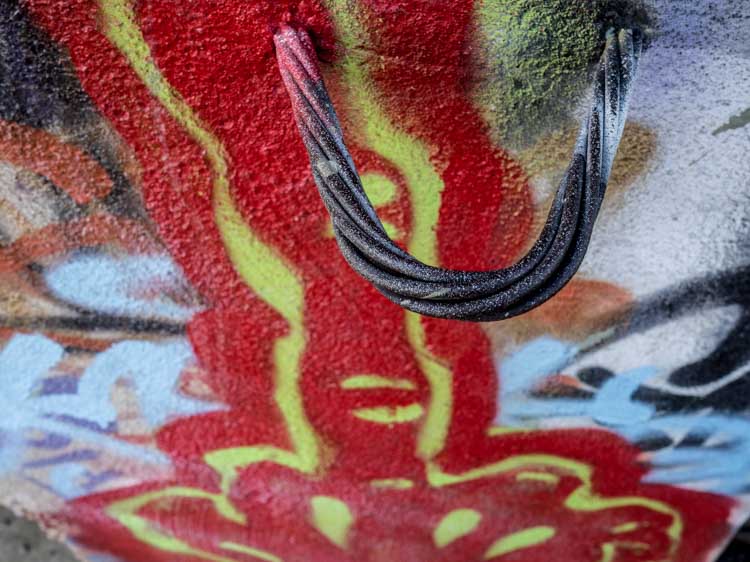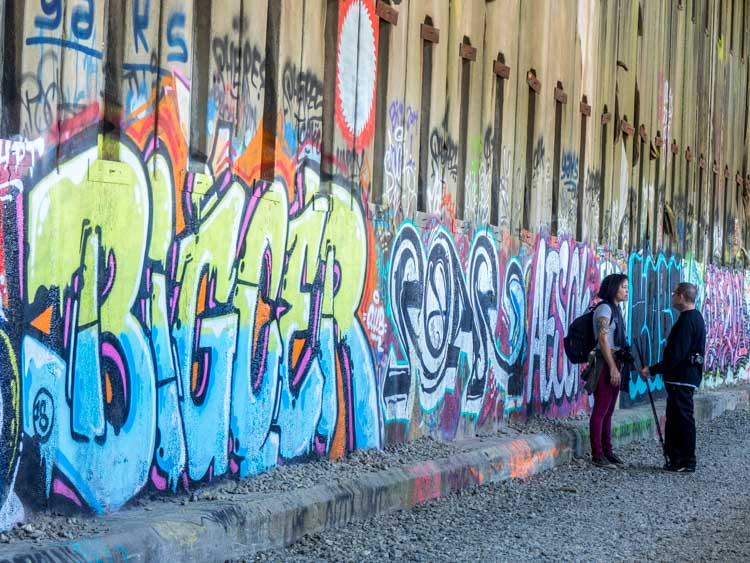 Read More: After you hike, be sure to stop into one of these 12 cool Lake Tahoe breweries so that you can rehydrate.
How to I Get to Donner Pass Tunnels?
The Donner tunnels are on the east side of the pass, just south of I-80. The best access is from Donner Pass Road, before you get to Donner Lake. From the Bay Area, it will take approximately 3.5 hours (no traffic, no snow). If fact, you can check out our guide for driving SF to Tahoe, it has practical advice on how to get there, routing choices and some key stops (in addition to the Donner Tunnels).
From Truckee, it will take 20 minutes and from South Lake Tahoe, it will take 1.25 hours.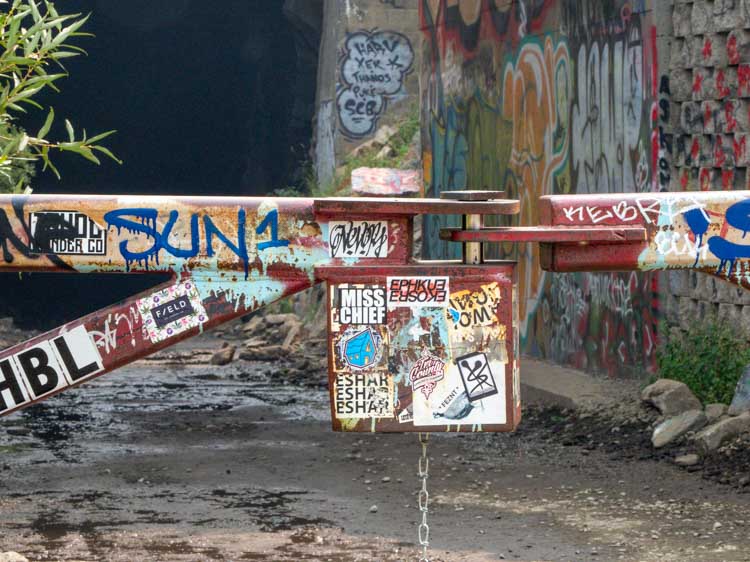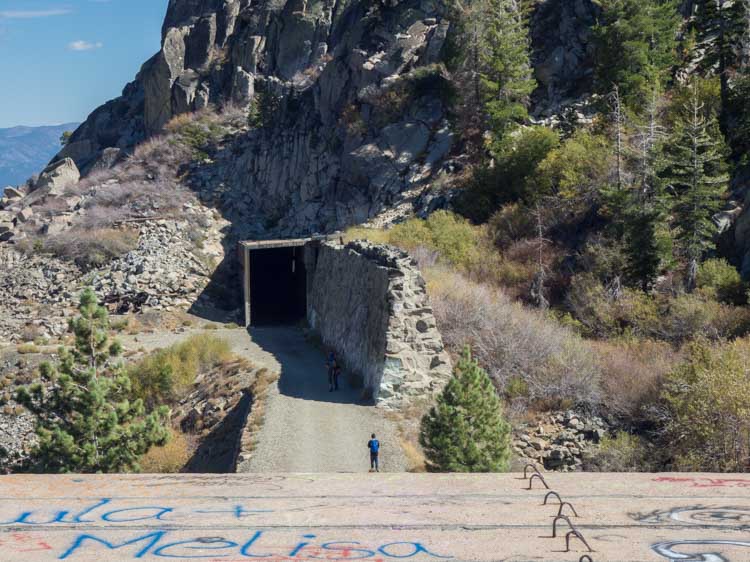 Donner Train Tunnels Map
The tunnels themselves aren't that easy to spot from the road, so you may want to bookmark this page for reference. There are two primary access points to the tunnels: China Wall, and the west end of Tunnel 6. There are three places where you can park to access the Donner Tunnels.
China Wall pull-out: This is a small pull-out and the the eastern most point where you can park. This location also gives you access to some Native American petroglyphs and the "China Wall", which was was a retaining wall for the tunnels and is now a historical marker. You can see the tunnels from the lot so simply park at the pull-put and hike up the granite.
Donner Ski Ranch parking lot: If you were visiting the tunnels in the winter (which you shouldn't), the Donner Ski Ranch would probably charge you to park there. But in the shoulder season and in the summer, they are running a bare bones restaurant operation with a wide open lot. I parked there recently without hassle.
Random dirt lot across from Donner Ski Ranch: Just before Donner Ski Ranch, you can hang left sort of onto Lake Angela Road (but before Sugar Bowl road). There's a wide open dirt lot where many Donner Tunnel hikers park. It's private land but no one seems to be in charge or caring much about the parked cars. However be respectful and park at your own risk.
Here's the Donner Pass Tunnels map. You can click on the image or this link to pull up a full Google map. I do recommend that you save this as the cell signal on the pass is iffy.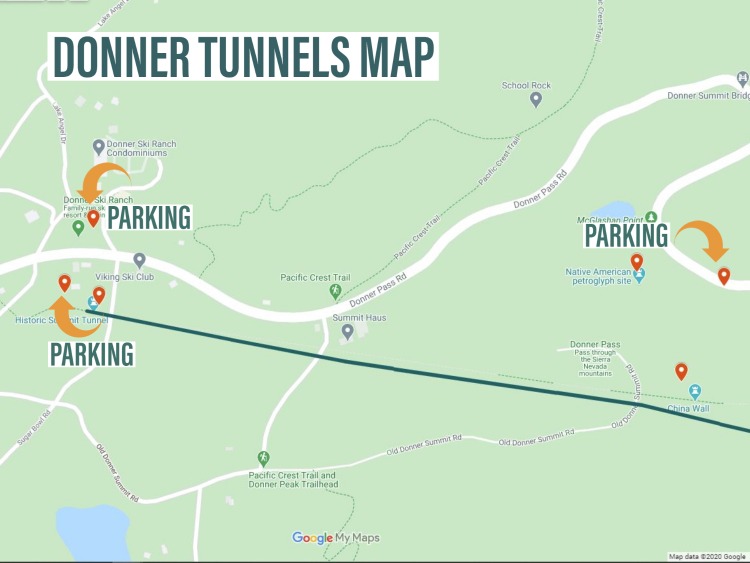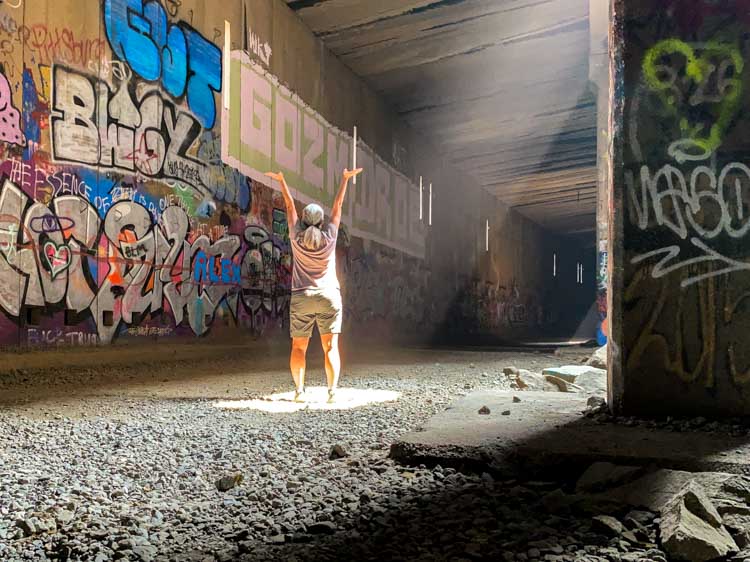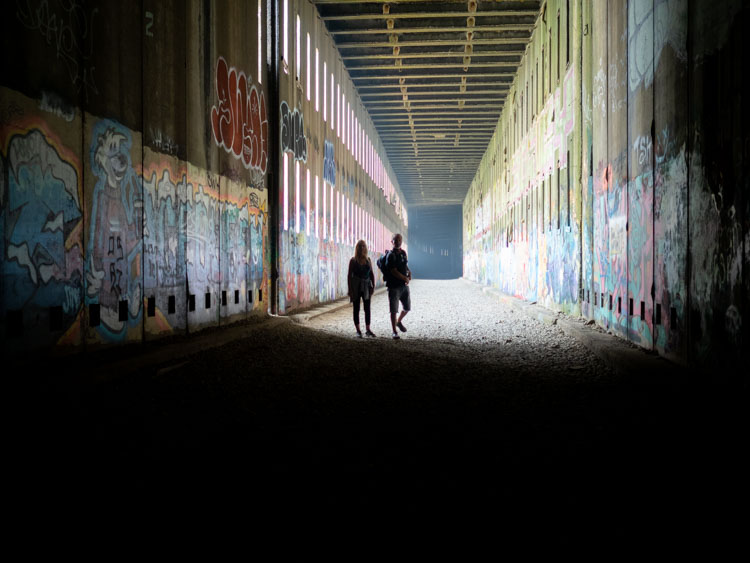 FAQ and Tips for Hiking the Donner Pass Tunnels
How Long is the Donner Pass Summit Tunnels Hike?
Starting from the west end at Tunnel 6, the trail goes east through several additional tunnels. It's approximately 2.25 miles, making the hike a 4.5 mile round trip. This should take you 2-3 hours if you do a lot of stops for pictures. However, you can do as much or as little as you have time for.
What is the elevation for the Donner Tunnels Hike?
The hike starts at 7,031 feet, with just 250 feet of elevation gain, mostly at the beginning.
What are the Trail Conditions?
The tail is primarily a wide dirt pathway, but expect some rocks and rough ground. Be sure to wear sturdy shoes. You will be walking through multiple tunnels, some of which can be quite dark. It's best to bring a flashlight, but your cell phone light will do in a pinch. Expect some wet conditions, even in the summer. Tunnel #6 is particularly dark and wet but the other tunnels have more light.
If You Park at China Wall
You'll need to scramble up the granite to get to the tunnels. Be sure to double back to the west to see tunnel #6, then go east for the rest of the tunnels.
Is this Hike Dog-Friendly?
Yes, but please keep them on a leash.
When Can I do the Donner Tunnels Trail?
June-October are the ideal months. Under no circumstances would I recommend attempting this hike in the winter through late spring. Remember the Donner Party? Don't be them. Ideal conditions start once the snow has melted from the surrounding ground (usually sometime between late May to late June). This elevation is usually pretty clear of snow until early November. However, if you do want to visit the area in the cold weather, check out my guide for things to do in South Lake Tahoe in the winter.
Explore More Outdoorsy Activites in Northern California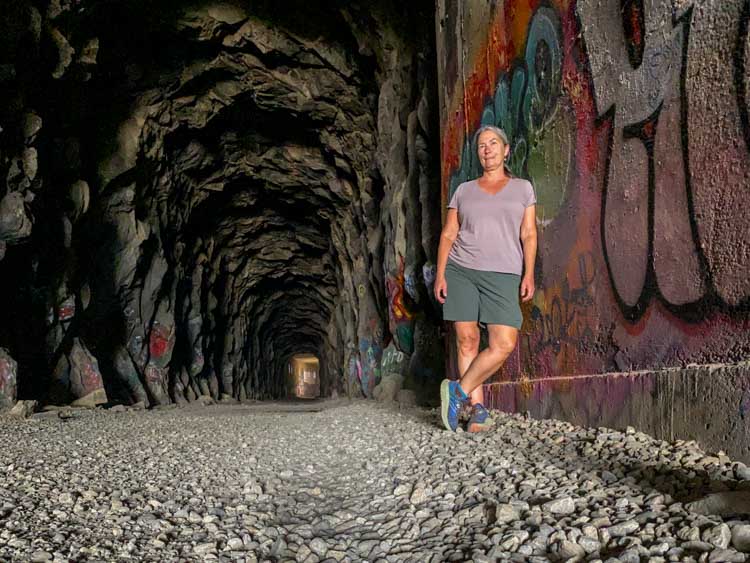 Have fun in the Donner train tunnels and share them with your friends on Pinterest: